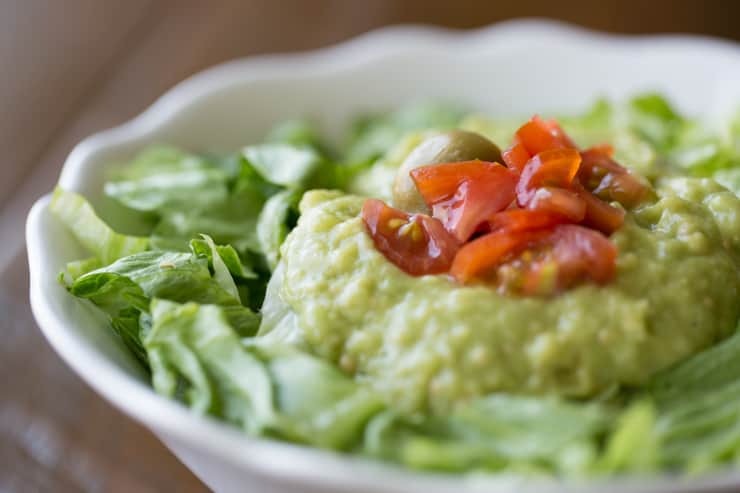 In Arlington, Texas there is a teeny hole in the wall restaurant with so much character you feel like it has to be some kind of fictional oasis… like that crazy bar in star wars.
Tables are snuggled close to one another, covered in red and white checkered cloths, dim multicolored Christmas lights hang from above casting everything in a halo of shimmery light. Individual privacy booths boast tiny personal jukeboxes at each table. There is (of course) red glass, globe candle holders flickering and casting long dramatic shadows around the place.
Privacy netting hangs on the booths where hundreds of couples have engraved their names with little hearts. If you know where to look you'll find a little D & S surrounded by a heart, marking a date and a love that blossomed into more.
It's a honky tonk, and a dive. It is home.
It's a funny place because they serve several types of fare. The meal is always started with chips and salsa. I order a coke but the waitress always brings an RC cola. But after that, all bets are off.
The Special Mexican Dinner is the house favorite.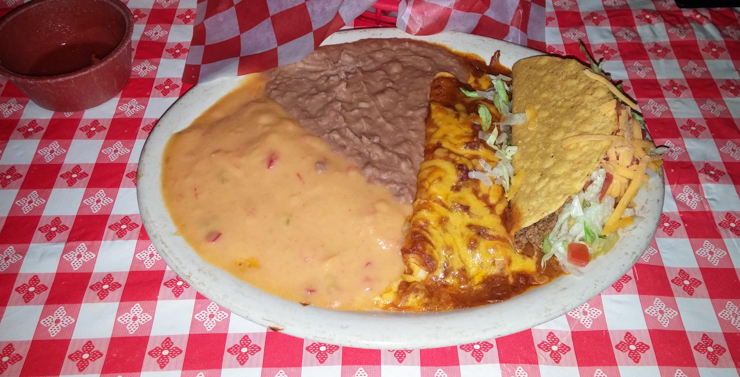 It wouldn't be out of the ordinary to have an entire 10 top come in and every single one of them order the Special Mexican. It's 2 courses and the first starts off with a queso tostada, a beef taco, and THE GUACAMOLE SALAD. Served as a salad dressing to thin sliced ribbons of lettuce, this tangy and luscious avocado creation is unlike any guacamole I've ever had. And I've had All. The. Guacamole.
They also happen to cook Italian (usually pronounced eye-talian by the old timers) and they don't mess around. The pizzas are thin and the dough is boozy. The cheese just runs —but in a good way. The spaghetti and meatballs are unlike anywhere else I have ever been; sweet, herbaceous, and addicting. They are served up with Texas Toast Garlic Bread.
Every dish is euphoric. There's a reason it's been here so long. It has a Texas Soul.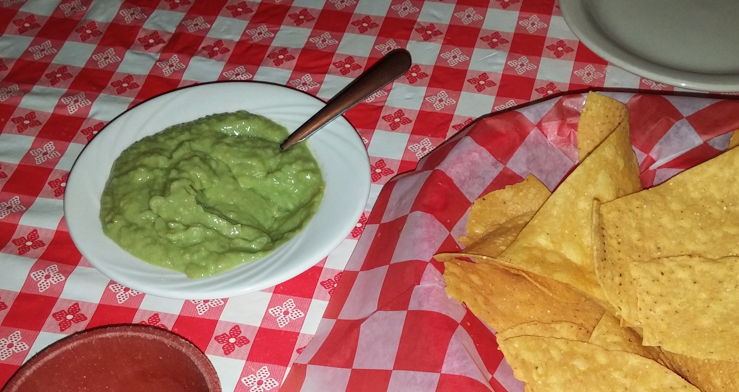 Guacamole is a lonestar favorite I have toyed with since I was a young girl. But the guacamole salad I'm referring to, became infamous in my home! I can close my eyes and go right back to that moment in my childhood kitchen with my mother hollering for me to try more lime juice, because we still hadn't quite managed it.
We tried unsuccessfully for years to figure out what made that Guacamole Salad so special. It was illusive, the flavor we sought, but I WOULD acquire it.
Then, working on the line in an upscale 4-star hotel on the River Walk I finally found a savior in the form of a Mexican cook named Jorge. While we made refried beans for the breakfast rush at Las Canarias, I shared my lifelong quest and subsequent misery with him.
He chuckled at me and said, his eyes sparking with inspiration, "You don't cook the tomatillos, Sarah. That's where the bright flavor is coming from".
I didn't even know you could use raw tomatillos in anything. They are so TART. My mind was blown. So I went home that night, and after half a lifetime searching, I finally captured it. The famous Candlelite Inn guacamole salad recipe was mine at last!
Simple, yet refreshing and delicious. It's easy to see why this is a beloved dish at this iconic Texas restaurant.
Yield:

4 salads
The Famous Candlelite Inn Guacamole Salad
In Arlington, Texas there is a cozy "hole in the wall" restaurant with an iconic guacamole dip, that they also served atop iceberg lettuce as a Tex Mex side salad. This iconic recipe remained a secret for years, but we think we've finally correctly reverse-engineered it. Give it a try on your next taco night!
Ingredients
3-4 c. Freshly sliced iceberg lettuce, sliced thin in ribbons
1 c. diced tomatoes
2 Haas avocados
3 large tomatillos- measure them into 1 c. of puree
1 t. salt
1t. garlic powder
1t. onion powder
1 T. plain white vinegar
1 T. about ¼ of a large lemon
1 T. FRESH flavorless oil (sunflower, canola, safflower)
2 T. water
In the restaurant they serve them topped with a green olive and a thick slice of white onion, we usually pick those off, but if you're a purist you must have them!
Instructions
If the tomatillos still have the papery husky remove it and wash them well. Roughly chop them and put them in a food processor or blender.
Process the 3 tomatillos until they are a puree. Measure out enough puree to 1 c. Discard the rest. It should be very close to 1 cup.
Remove the avocados from their skins and place them in the bowl of the food processor or blender. Pulse just until smooth along with the tomatillo puree, salt, garlic powder, onion powder, 1 T plain white vinegar, 1 T fresh lemon juice, 2 T. water, and 1 T. oil. Make sure not to pulse it too long or it will become mousse-like from whipping so much air into the avocados!
Serve as a salad dressing on top of the thinly shredded iceberg lettuce. Top with a sprinkling of diced tomato.
Simple, yet refreshing and delicious! It's easy to see why this is a beloved dish at this iconic Texas restaurant.
Notes
Serves 2-4 salads as a dressing, or makes a large bowl of guacamole to serve with tortilla chips.
The current owner has commented on the recipe saying this is pretty much accurate, but that he uses green tomatoes instead of tomatillo. I've never found green tomatillos in local markets but I can say that (to me at least) there is no noticeable difference when using tomatillos.
Nutrition Information:
Yield:
4
Serving Size:
1
Amount Per Serving:
Calories:

249
Total Fat:

19g
Saturated Fat:

2g
Trans Fat:

0g
Unsaturated Fat:

15g
Cholesterol:

0mg
Sodium:

689mg
Carbohydrates:

20g
Fiber:

11g
Sugar:

8g
Protein:

5g
These nutritional values are an estimate only and provided as a courtesy. Different brands of ingredients may result in different calorie counts, and the software does not account for these differences. Consult with your dietician or doctor for precise nutritional values.