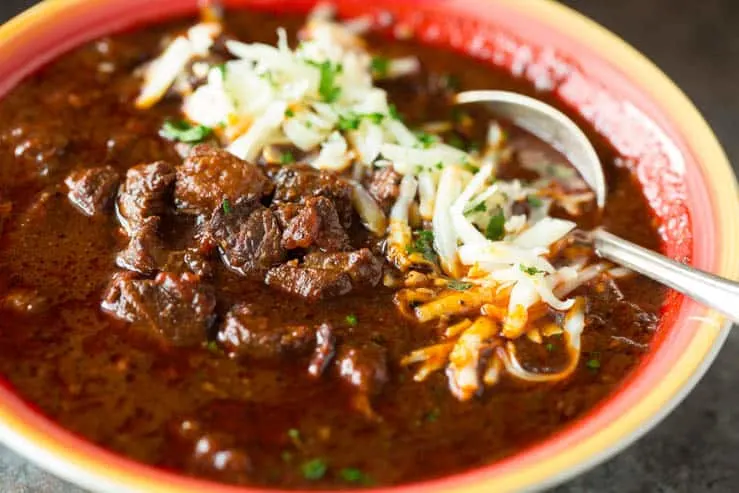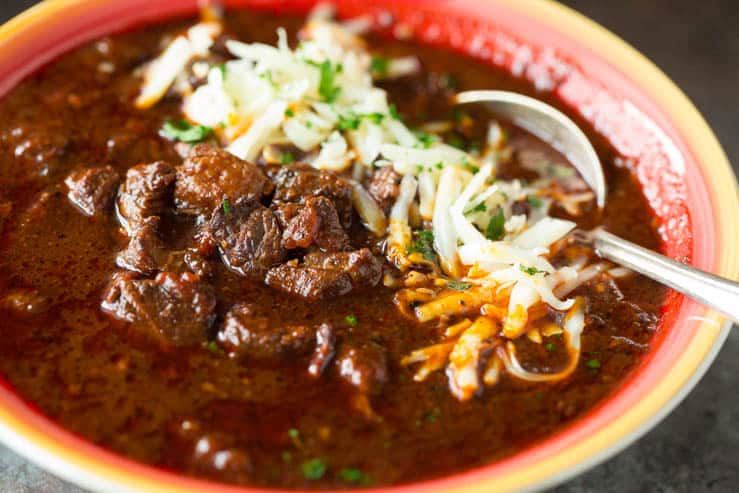 This award winning recipe for Texas Brisket Chili has been in my family for 4 generations, and was served at all of my grandparent's north Texas cafe's and drive ins in the 60's.
Funny that I didn't realize it was something special until I posted a bowl of it on Instagram and my phone blew up with messages asking how to make it. 😀
This is a bean free chili recipe, and what many would say to be authentic Texas chili, (though every Texan has walked a different path and I find all the recipes to be valid with a hint of the region of Texas that you grew up in).
I've won 4 chili cook-offs with this recipe, AND 3 other people have emailed me letting me know they won chili cook-offs with this recipe too, so you know its gonna go down like a fat kid on a see-saw. 😀
But if you're not into all that hoopla, it's just as good shared with friends or family, and can even be finished off in a slow cooker while you go about your daily errands.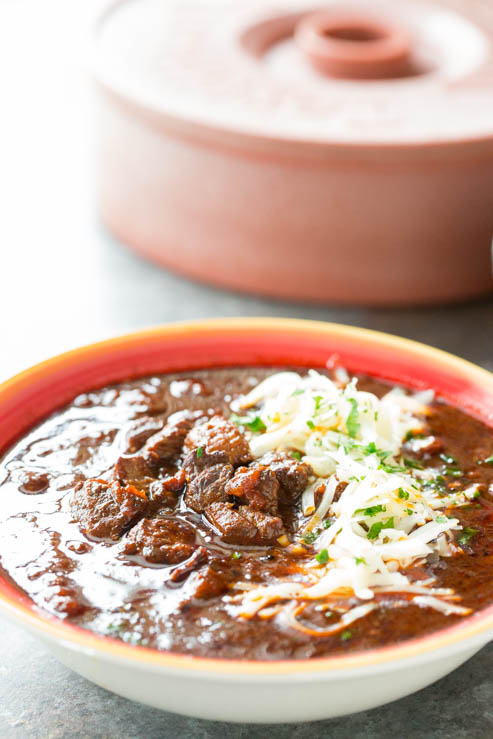 So today we'll be learning how to make brisket chili, with step by step instructions and photos, that will help you understand what is crucial in each portion of the recipe.
(For example, searing and seasoning the meat develops a rich, brown crust which will slowly melt back into your pot of chili. I'll help you work through how to do that in photos.)
This chili may not be that different from your own favorite recipe— except when it comes to the meat. This is a beef brisket chili recipe.
For Texas style brisket chili, I look for a brisket on the smaller side (9-10 lbs.) or I purchase a brisket flat when the grocery store sells split briskets. (See my doodles below for an illustration.)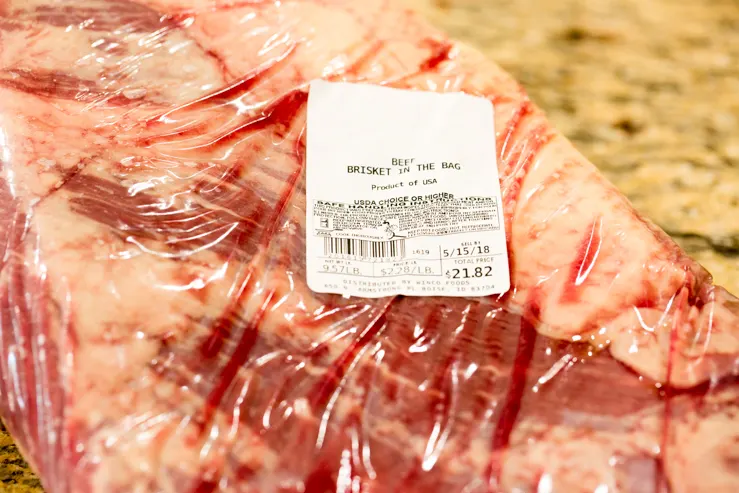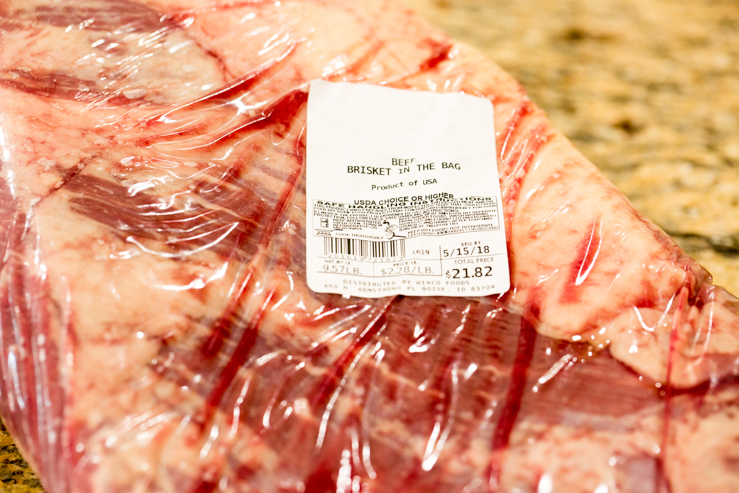 For this recipe, I only use the flat of the brisket and save the point for smoking brisket for my Brisket Deviled Eggs with Candied Jalapeno, or topping on my Brisket Queso. It's easy to freeze that brisket point and pull it out when you are doing some smoked meats and just add it along to your barbecue. So, for this recipe I will clean and trim the brisket, AND THEN separate the flat from the point as shown below.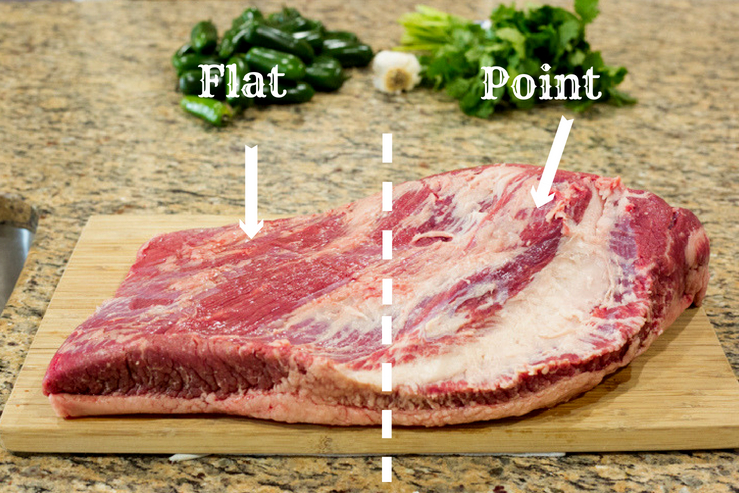 After it's been cleaned up and trimmed, I just cut it right in half and wrap and store the brisket point in my freezer for later in the week.
Now we can cut the flat into 1/4 inch cubes like this. I toss them liberally in kosher salt, pepper, garlic powder, and onion powder, the same seasonings I use to sear steak.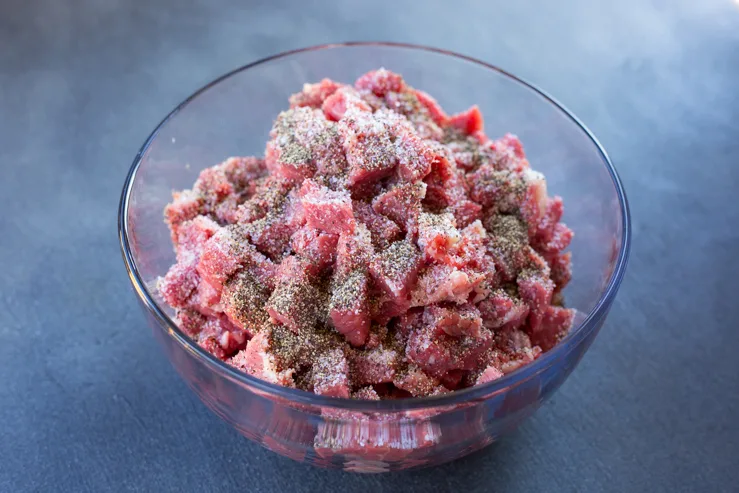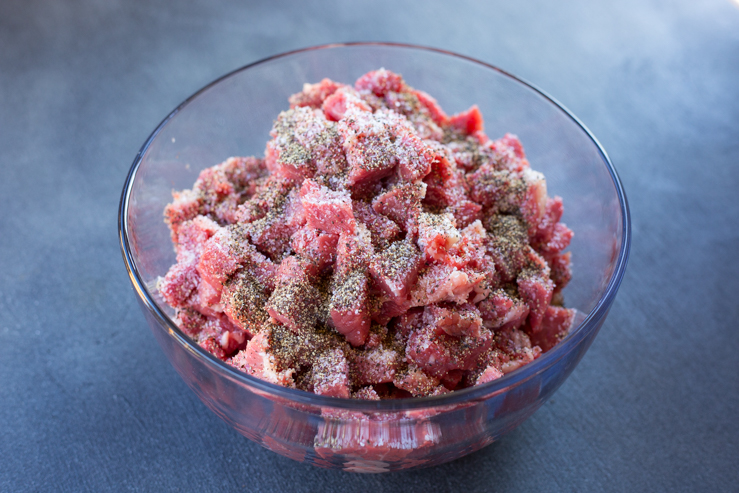 Meanwhile, fry 4 pieces of bacon in a heavy bottomed stock pot, le creuset, or dutch oven. Remove to a plate to cool the bacon, but leave the bacon fat in the pot. Bacon fat is crucial to the savory flavor in any Texas chili with brisket, as it adds a smokey richness and depth to the final chili.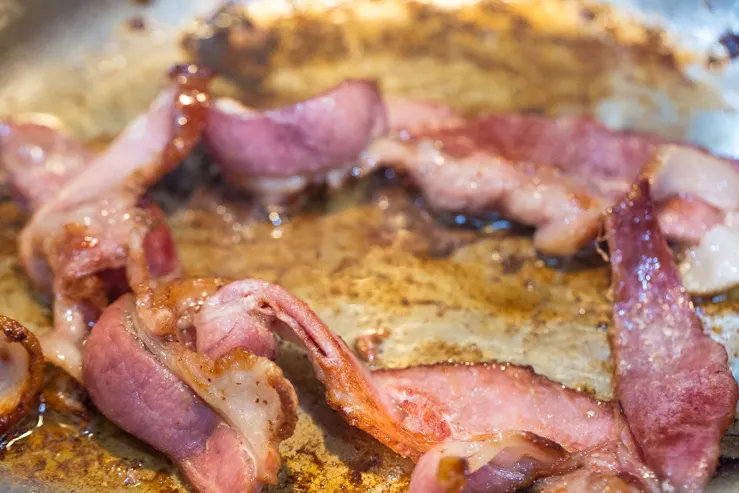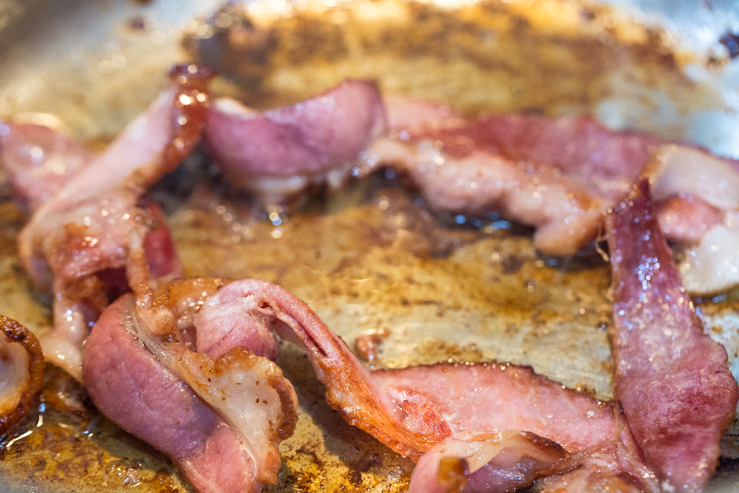 SEARING THE BRISKET CUBES:
In small batches, over medium high heat, sear the brisket cubes in the bacon fat… sprinkle with additional salt, pepper, and onion powder. Add additional cooking oil or bacon grease when necessary (when the pan gets dry between batches) from whatever you have in the pantry. Just make sure whatever oil you use is safe for high heat so think safflower, sunflower or peanut oil, not extra virgin olive oil.
The brisket cubes need space to brown so they must be seared in batches, otherwise they will weep moisture all over each other and the liquid will prevent browning. This is the most important step. Think of every little morsel as a steak that would be best with that nice brown crust around it!
Give them space and time as they are creating the primary flavor foundation for the chili.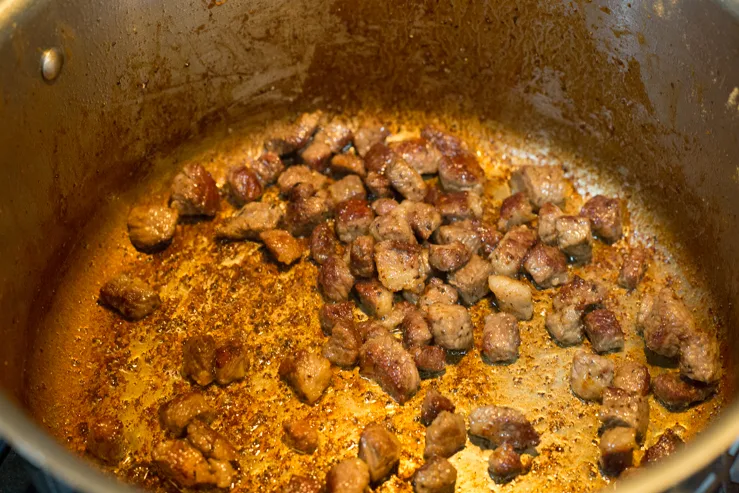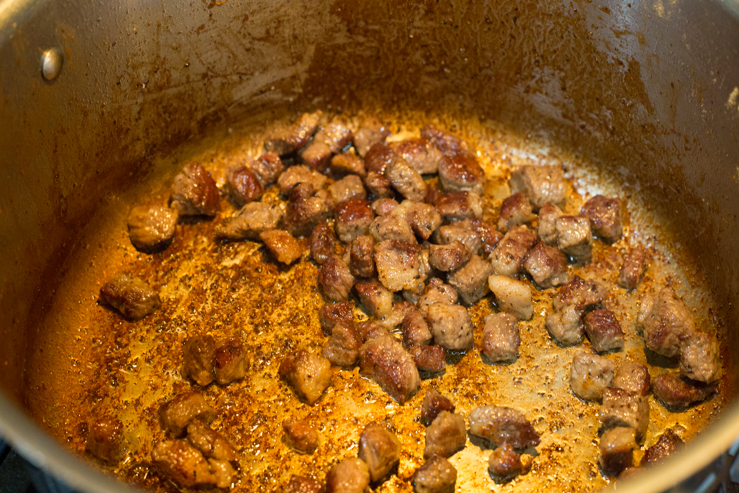 All of the seared brisket cubes reserved after cooking…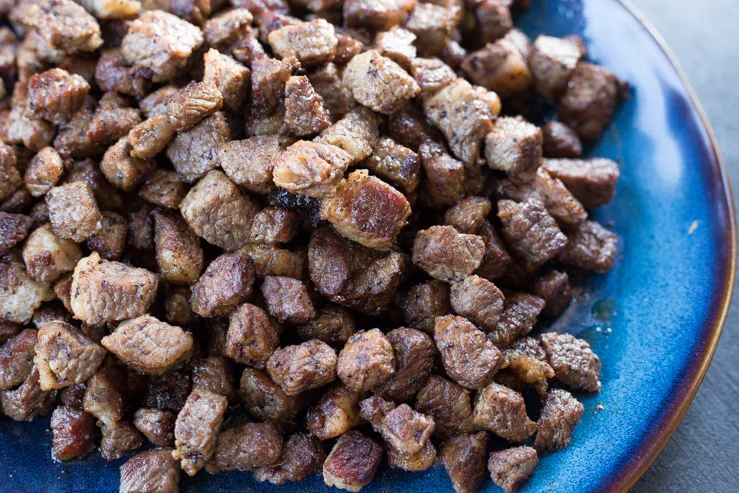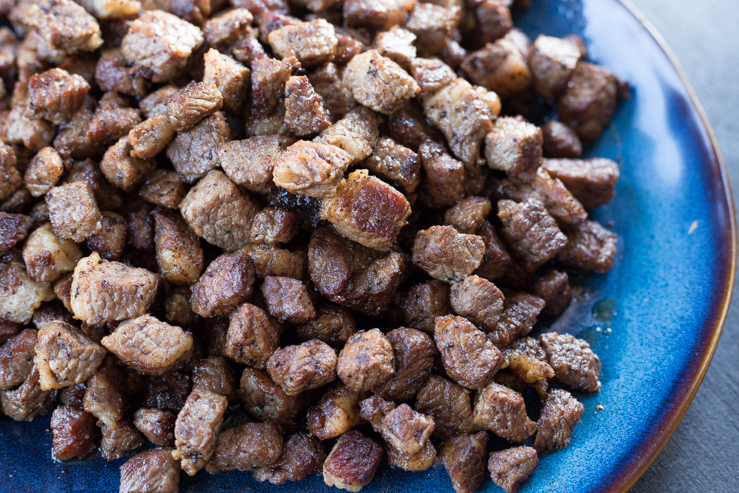 Making the Base of the Brisket Chili:
Now begin to add the onion, garlic, and spices.
Here is the second most important tip: Make sure to use only Texas chili powders like Gebhardt's or Mexene for the best, most authentic, Tex Mex flavor. Gebhardt's and Mexene are Texas chili powders with recipes that are over 100 years old, incredibly smooth and flavorful, they have overcome the test of time. If you can't get them in time for your chili you must have a Texas style chili powder of some kind.
Note: I've tried making my own chili powder and hated it! After you make homemade chili powder and do a taste test it's never as robust as the brands I listed above. Do what you want but keep in mind Texas chili powders have other ingredients like cumin, and mexican oregano in them, so standard chile powder (fine ground chiles), is technically not the same thing.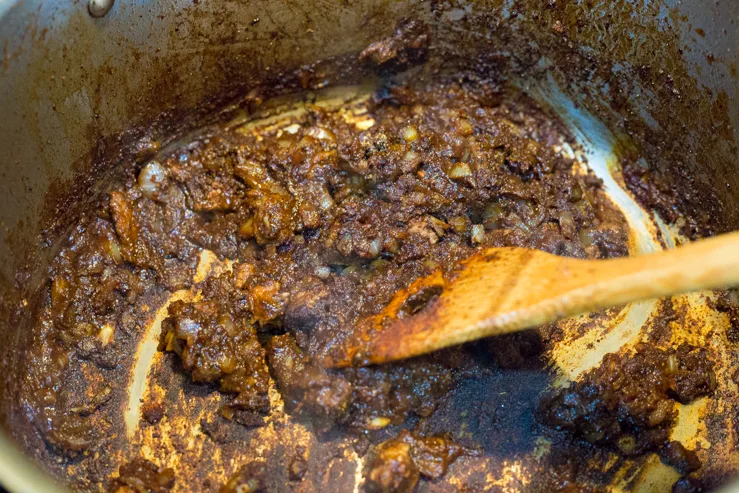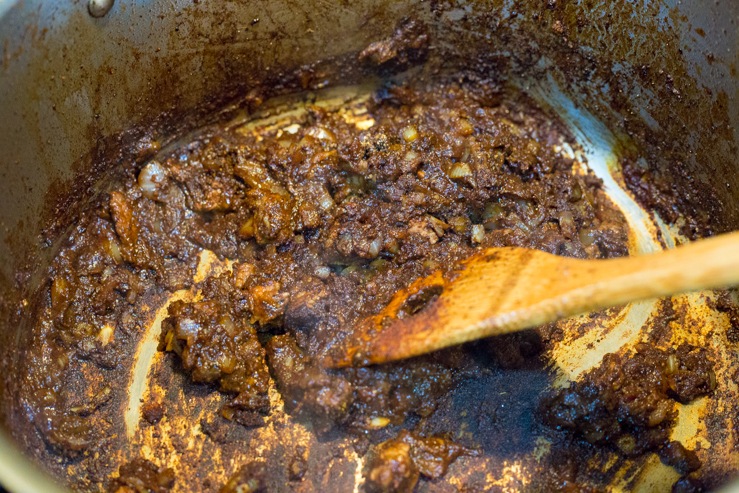 Add back in the seared brisket cubes, crumbled bacon, beef stock, strong coffee, and one can of whole tomatoes which you crush up in your palms before adding to the pot.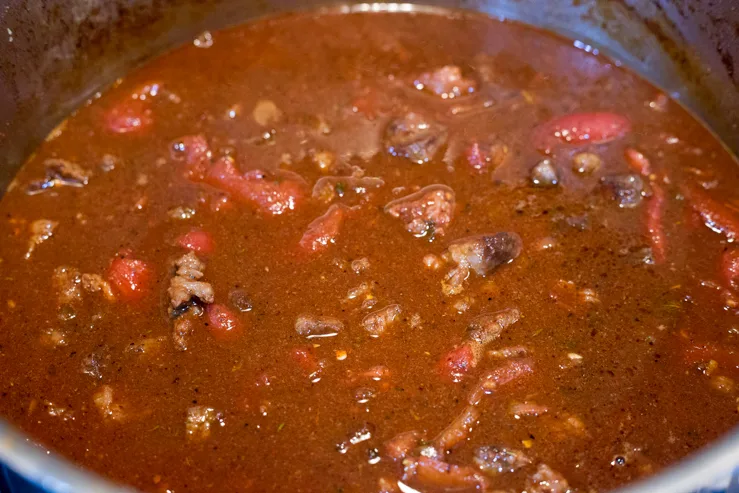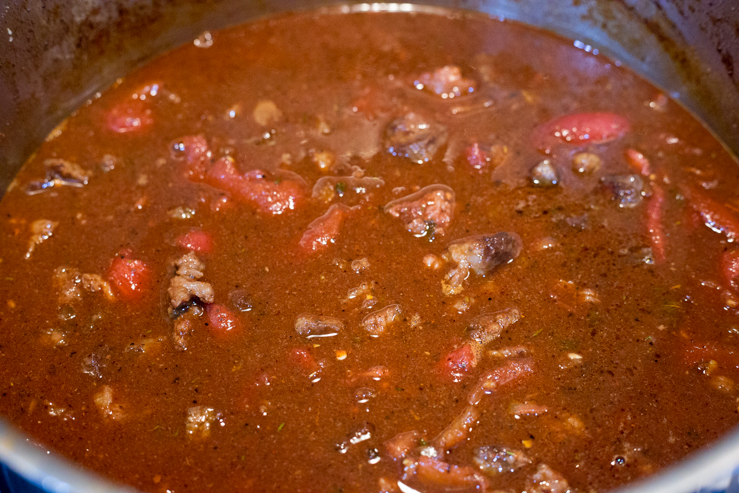 And now we cover and wait 🙂 This brisket chili simmers 4-5 hours before the brisket and tomatoes melt into the broth. At hour 3-4 the brisket will be tender, but it's not really done until the brisket has completely fallen apart in the chili.
You may need to add additional water, and stir to prevent the bottom from browning, depending on what kind of pot you are using.
I stir mine every 25-30 minutes and usually cook this in my le creuset pot, which insulates well from hot spots on the stove. Please modify for your particular pot so your chili doesn't burn on the bottom.
You can top brisket chili with cheddar cheese, monterey jack, and any mexican cheese you like such as queso fresco, cotija, and grated quesadilla cheese. I also add chopped cilantro and put out crema (it's like sour cream) and Fritos for my family.
As you have no doubt realized by now, this brisket chili makes a wicked frito pie, so save your leftovers.
Got questions? I'm right below in the comments eager to help!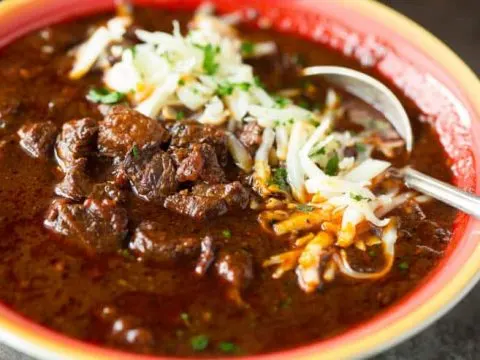 Yield:

Serves 12 or more
Texas Brisket Chili Recipe
Total Time:
4 hours
30 minutes
This authentic Texas chili recipe has won over 30 blue ribbons & trophies at Chili Cookoffs throughout the country! This iconic brisket chili recipe was served at my Grandparent's cafes since the 1950s and now I want to share it with your family!
Ingredients
4 slices thick cut bacon
3-4 lb. beef brisket, trimmed
NOTE: (I use the brisket flat, as opposed to the point. Check out my tutorial on brisket trimming for help understanding which side to use, and how to trim your brisket. Also, occasionally you can buy half briskets at the market. Check with your butcher.)
Kosher salt, pepper, onion powder – for liberally sprinkling on the meat while browning.
2 c. white onion, small diced (one large onion)
5 garlic cloves, pressed through a garlic press
1 T paprika
1 T. cumin powder
3 ½ T Texas chili powder, such as Mexene or Gebhardt's
½ t. dried thyme
½ t. chipotle chile powder
½ t. salt
1 quart beef broth
½ c. strong black coffee (you can save this from your morning coffee)
28 oz. can whole tomatoes, in juice
Garnish: Sharp cheddar cheese, freshly grated. White onion, fritos, tabasco sauce, and jalapenos.
Instructions
For the brisket, clean and trim the brisket. You will only need 3-4 lbs. Cube the brisket into small ¼" cubes. Reserve the brisket point for another meal.
In a large stockpot, cook 4 pieces of bacon until crispy. Remove from pan and set aside until later.
Increase the heat to medium-high. In the bacon fat, brown the brisket cubes in 3 batches making sure not to crowd the pan. You want to develop as much browning on the cubes as possible and browning in 3 batches will ensure that moisture coming from the meat won't crowd the pan and prohibit the browning process.
Season liberally with salt, pepper, and onion powder while browning to season the meat.
Remove the previous batch to a bowl before starting on the next batch. You can add additional cooking oil if you need to. Cook all 3 batches and reserve.
In the same pot, add the diced white onion and stir in a pinch of salt. Cook down, scraping the bottom of the pan to release the brown bits and brown the onion. Reduce the heat if necessary to cook the onion down and slightly caramelize it.
Add in all of the spices and stir into the onions. Cook 2 minutes.
Add the pressed garlic and stir. Cook 1 minute.
Add the seared meat back into the pan. Add the coffee and 2 c. of the beef broth. Stir well.
Open the tomatoes, and using your hands, break them up as you add them to the pan. Add tomato juice to the pan.
Stir well and crumble in the bacon. Place the lid back on the pot and cook over low-medium (simmer gently) for 2 ½ - 3 hours. Add the additional 2 c. beef broth as necessary.
Finish off with fresh tabasco pepper sauce if desired.
Serve topped with freshly shredded sharp cheddar cheese, freshly minced white onion, and Frito chips.
Notes
This chili can be made in the Instapot! Follow all of the instructions up to the simmering. The chili at this point can be placed in the Instapot and cooked 1.5 hours. To further break up the meat I use an immersion blender to blend it into a rich and thick chili.
Nutrition Information:
Yield:
12
Serving Size:
1
Amount Per Serving:
Calories:

1436
Total Fat:

89g
Saturated Fat:

35g
Trans Fat:

0g
Unsaturated Fat:

42g
Cholesterol:

496mg
Sodium:

858mg
Carbohydrates:

14g
Fiber:

3g
Sugar:

7g
Protein:

138g
These nutritional values are an estimate only and provided as a courtesy. Different brands of ingredients may result in different calorie counts, and the software does not account for these differences. Consult with your dietician or doctor for precise nutritional values.