This recipe for Texas Brisket Chili has been in my family for 4 generations, and was served at all of my grandparent's North Texas cafe's and drive ins in the 60's! 
(So naturally, I didn't realize it was something special until I posted a bowl of it on Instagram and my phone blew up with messages asking how to make it. 😀 )
It is a bean free chili, and what many would say to be authentic Texas chili, though every Texan has walked a different path and I find all the recipes to be valid (with hints of which region of Texas you grew up in).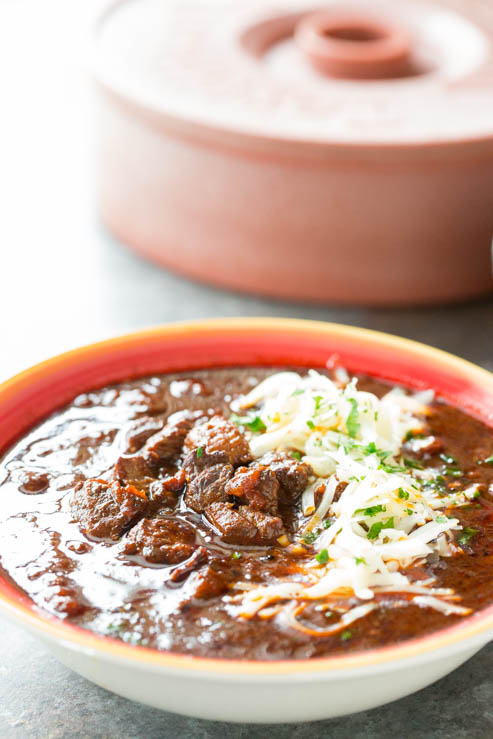 I'm so delighted to share it today because the history is special to our family, and you Urban Cowgirls have turned out to be, in many ways, an extension of my family. 🙂
So here is my family's 75 year old brisket chili recipe and I'll try to teach you a few of our tricks along the way!
This chili may not be that different from your own favorite recipe— except when it comes to the meat, we use brisket. I look for a brisket on the smaller side (9-10 lbs.) or I purchase a brisket flat when the grocery store sells split briskets.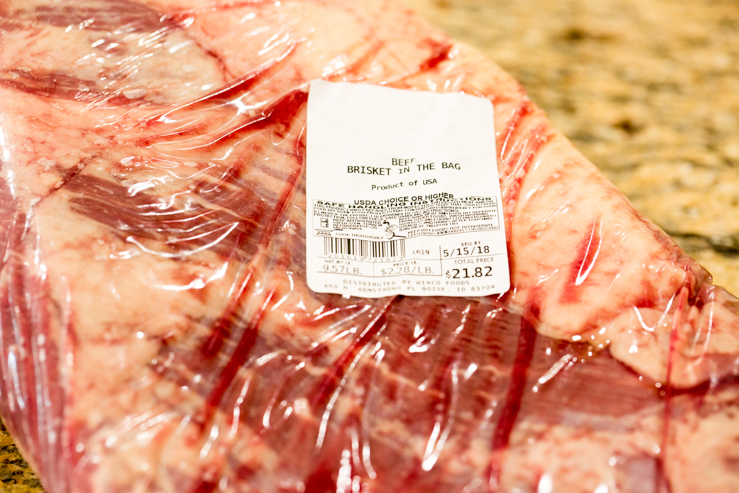 For this recipe, I only use the flat of the brisket and save the point for smoking brisket for deviled eggs, or topping on my brisket queso. It's easy to freeze that brisket point, and pull it out when you are doing some smoked meats and just add it along to your barbecue. So for this recipe I will clean and trim the brisket, AND THEN separate the flat from the point as shown below.
Here is my tutorial for cleaning and trimming brisket.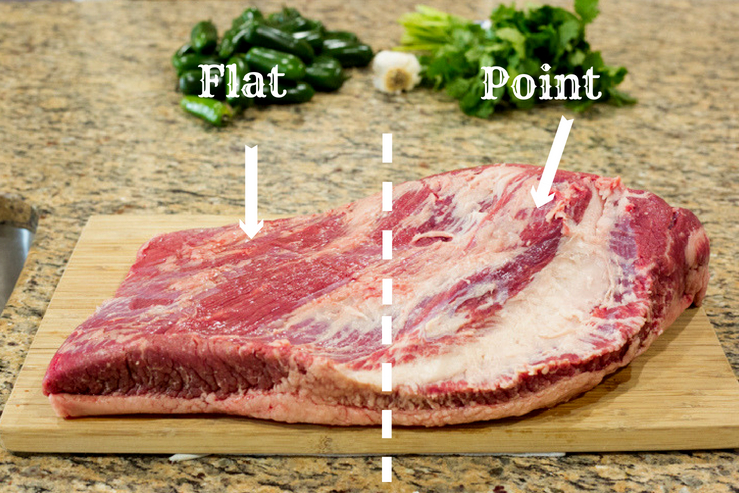 I just cut it right in half and wrap and store the brisket point in my freezer for later in the week.
Now we can cut the flat into 1/4 inch cubes like this…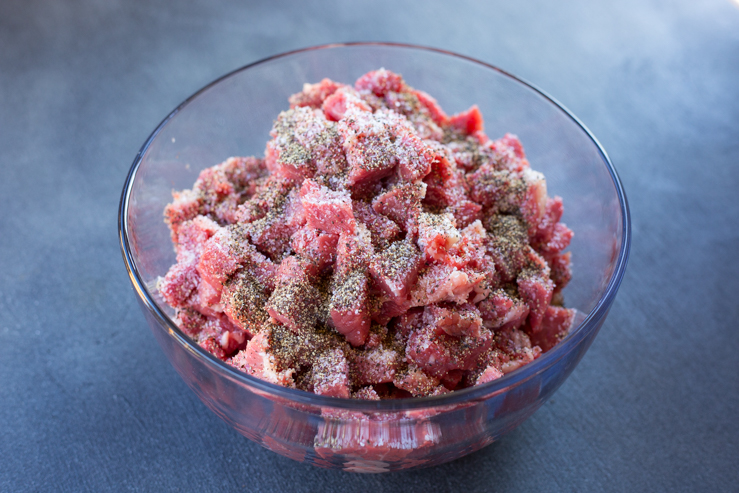 Meanwhile, fry 4 pieces of bacon in a heavy bottomed stock pot, le creuset, or dutch oven. Remove to a plate to cool, but leave the bacon fat in the pot.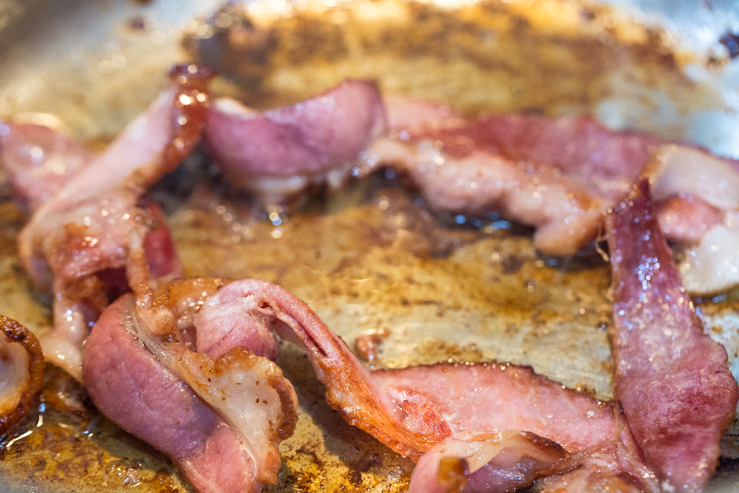 In small batches, sear the brisket cubes in the bacon fat… sprinkle with additional salt, pepper, and onion powder. Add additional cooking oil or bacon grease when necessary from whatever you have in the pantry.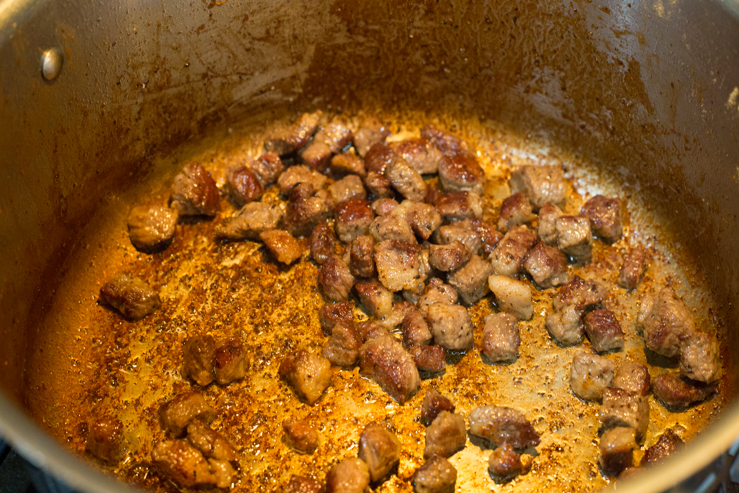 All of the seared brisket cubes reserved after cooking…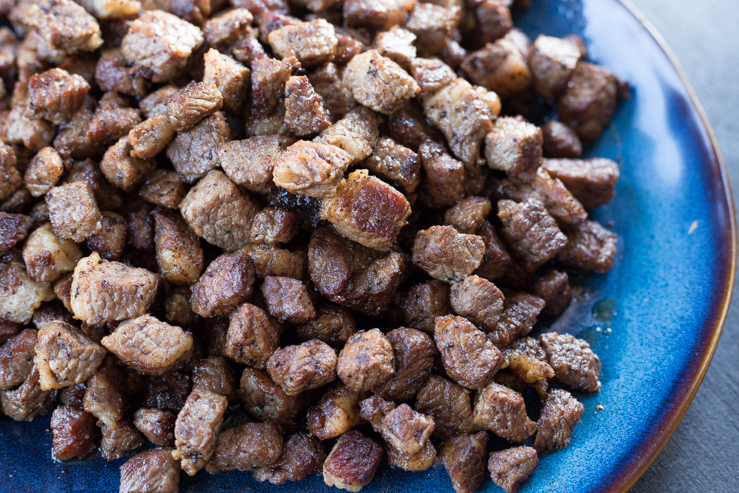 Now begin to add the onion, garlic, and spices. Make sure to use only Texas chili powders like Gebhardt's or Mexene for the best, most authentic flavor.
Note: I've tried making my own chili powder and hated it. After you make homemade chili powder and do a taste test it's never as robust as the brands I listed above. Do what you want, but keep in mind Texas chili powders have other ingredients like cumin and mexican oregano in them, so standard chile powder (fine ground chiles) is technically not the same thing.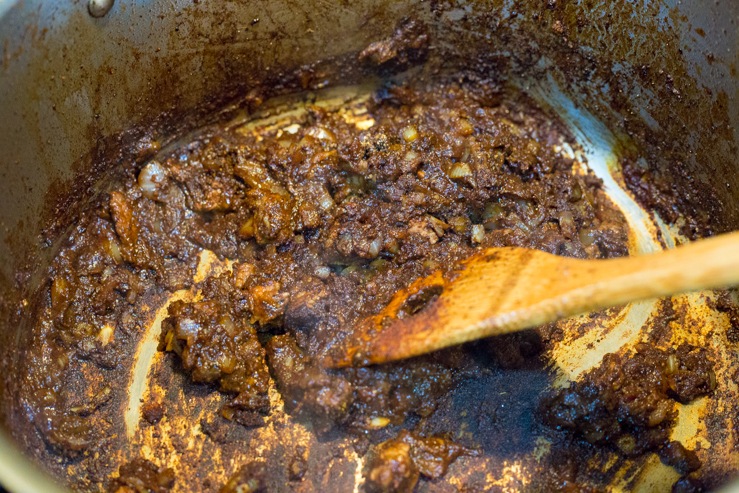 Add back in the brisket cubes, bacon, stock, coffee, and one can of whole tomatoes which you crush up in your palms before adding to the pot.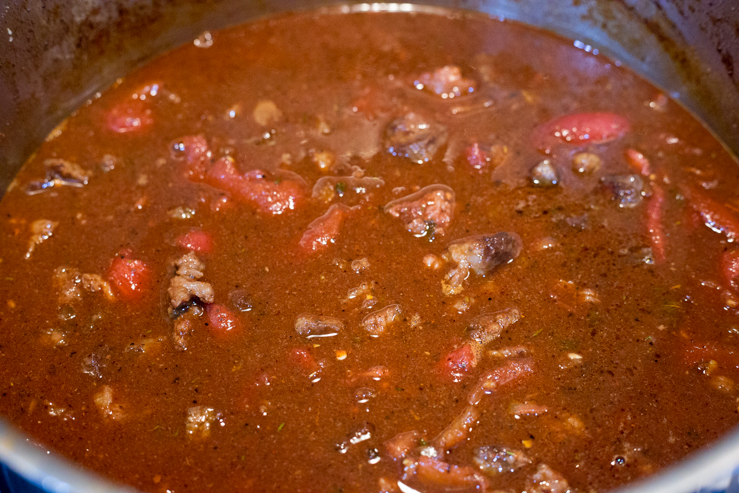 And now we cover and wait 🙂 This brisket chili simmers 4-5 hours before the brisket and tomatoes melt into the broth. At hour 3-4 the brisket will be tender, but it's not really done until the brisket has completely fallen apart in the chili.
You may need to add additional water, and stir to prevent the bottom from browning, depending on what kind of pot you are using. I stir mine every 25-30 minutes and usually cook this in my le creuset, which insulates well from hot spots on the stove. Please modify for your particular pot so your chili doesn't burn on the bottom.
You can top brisket chili with cheddar cheese, monterey jack, and any mexican cheese you like such as queso fresco, cotija, and grated quesadilla cheese.
I also add chopped cilantro and put out crema and fritos for my family.
(This brisket chili makes a wicked frito pie!)
Here is the recipe for the Texas Brisket Chili
If you make the recipe, post it to social media and tag Urban Cowgirl!
I'd love to see how it turns out!
Yields 6
Texas Brisket Chili
Ingredients
4 slices thick cut bacon
3-4 lb. beef brisket, trimmed
NOTE: (I use the brisket flat, as opposed to the point. Check out my tutorial on brisket trimming for help understanding which side to use, and how to trim your brisket. Also, occasionally you can buy half briskets at the market. Check with your butcher.)
Kosher salt, pepper, onion powder – for liberally sprinkling on the meat while browning.
2 c. white onion, small diced (one large onion)
5 garlic cloves, pressed through a garlic press
1 T paprika
1 T. cumin powder
3 ½ T Texas chili powder, such as Mexene or Gebhardt's
½ t. dried thyme
½ t. chipotle chile powder
½ t. salt
1 quart beef broth
½ c. strong black coffee (you can save this from your morning coffee)
28 oz. can whole tomatoes, in juice
Garnish: Sharp cheddar cheese, freshly grated. White onion, fritos, tabasco sauce, and jalapenos.
Instructions
For the brisket, clean and trim the brisket. You will only need 3-4 lbs. Cube the brisket into small ¼" cubes.
In a large stock pot, cook 4 pieces of bacon until crispy. Remove from pan and set aside until later.
Increase the heat to medium high. In the bacon fat, brown the brisket cubes in 3 batches making sure not to crowd the pan. You want to develop as much browning on the cubes as possible and browning in 3 batches will insure that moisture coming from the meat won't crowd the pan and prohibit the browning process.
Season liberally with salt, pepper, and onion powder while browning to season the meat.
Remove the previous batch to a bowl before starting on the next batch. You can add additional cooking oil if you need to. Cook all 3 batches and reserve.
In the same pot, add the diced white onion and stir in a pinch of salt. Cook down, scraping the bottom of the pan to release the brown bits and brown the onion. Reduce the heat if necessary to cook the onion down and slightly caramelize it.
Add in all of the spices and stir into the onions. Cook 2 minutes.
Add the pressed garlic and stir. Cook 1 minutes.
Add the seared meat back into the pan. Add the coffee and 2 c. of the beef broth. Stir well.
Open the tomatoes, and using your hands break them up as you add them to the pan. Add tomato juice to the pan.
Stir well and crumble in the bacon. Place the lid back on the pot and cook over low-medium (simmer gently) for 2 ½ - 3 hours. Add the additional 2 c. beef broth as necessary.
Finish off with fresh tabasco pepper sauce if desired.
Serve topped with freshly shredded sharp cheddar cheese, freshly minced white onion, and frito chips.
7.8.1.2
42
https://urbancowgirllife.com/texas-brisket-chili/