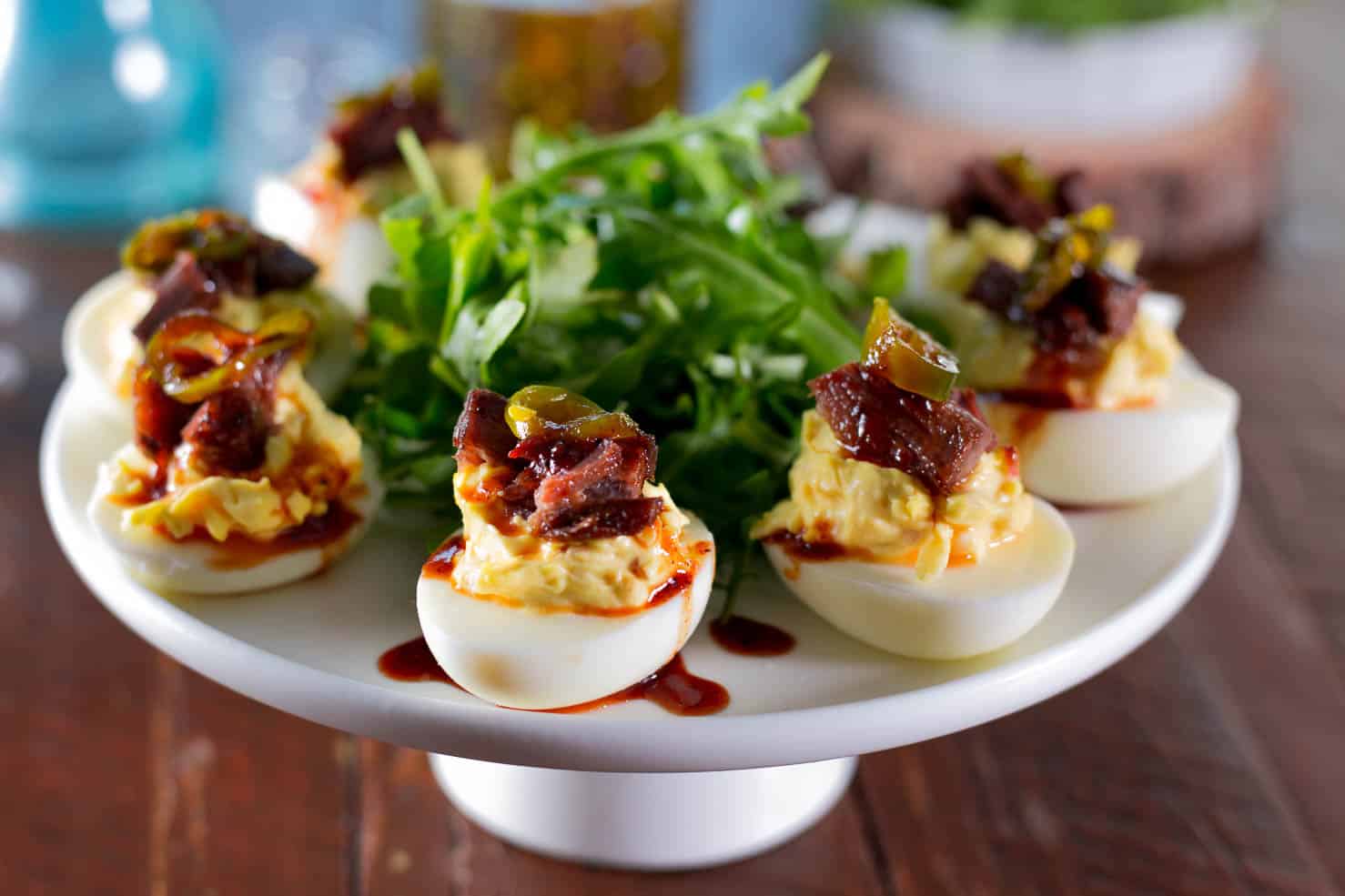 Up your appetizer game with these absolutely decadent, brisket deviled eggs!
We invited these deviled eggs straight to Cow Town with an infusion of creamy, smoked gouda and crisp apple. We'll gently top them with morsels of tender brisket, and a zip of fresh barbecue sauce…with a crown of candied jalapeno, these brisket deviled eggs are fit for a king!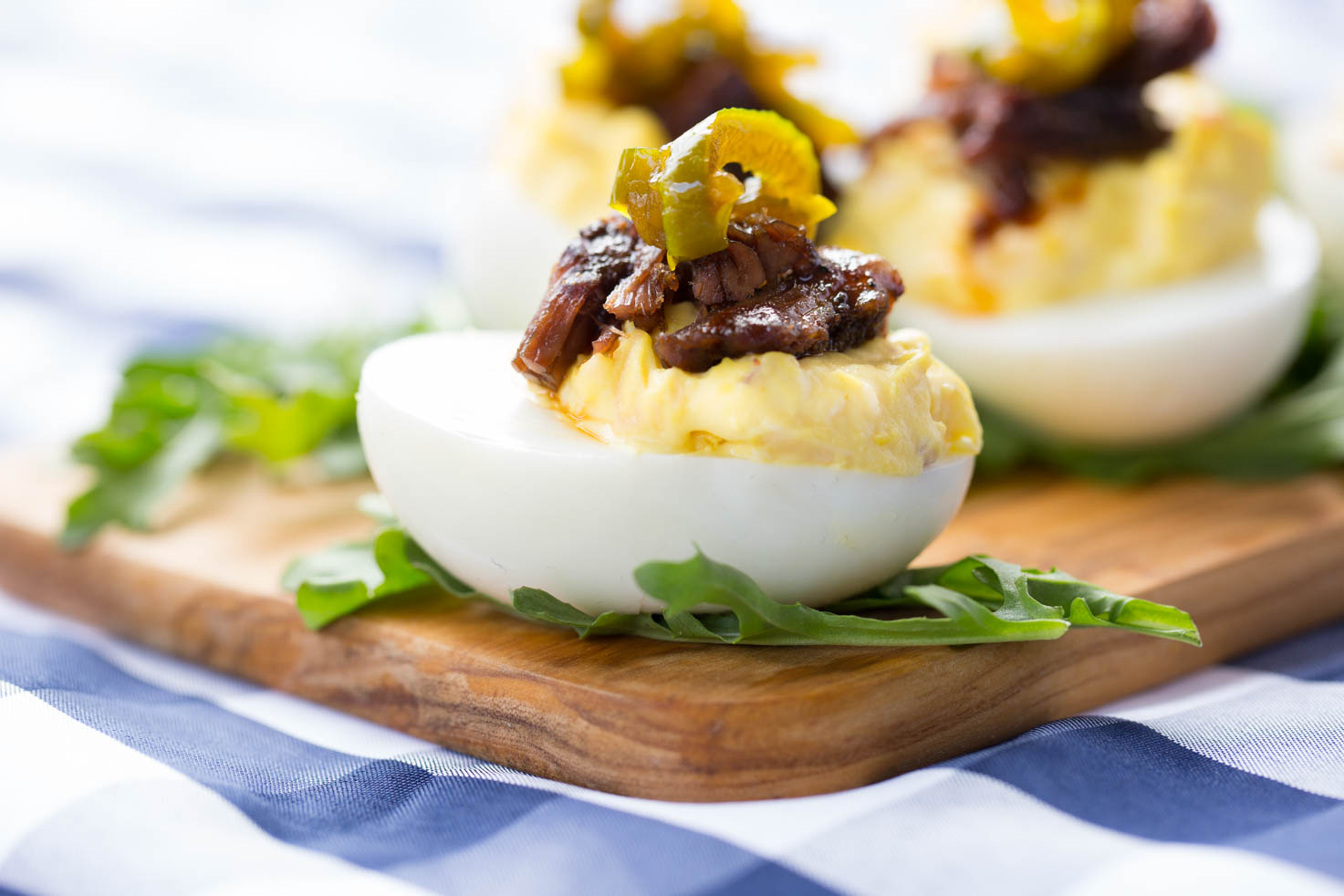 I created these brisket deviled eggs last 4th of July with a simple challenge in my mind. What would be a reasonably easy dish to bring to a potluck barbecue, that would still land you on the best cook in the neighborhood list?! I was hoping to create something visually exciting, totally decadent, and easy to prepare. Sounded like a tall order but I got to work!
Deviled eggs are a classic for a reason. Everybody loves em!
So first I elevated simple deviled egg filling with smoked gouda cheese and a little crisp shaved apple. (My grandma always did the apple in the egg filling trick and everyone loves it.) The smoked gouda lays the foundation for the barbecue style flavor profile in these beauties without ever having to slave over a smoker. The apple lends a subtle sweetness and a wonderful crunch.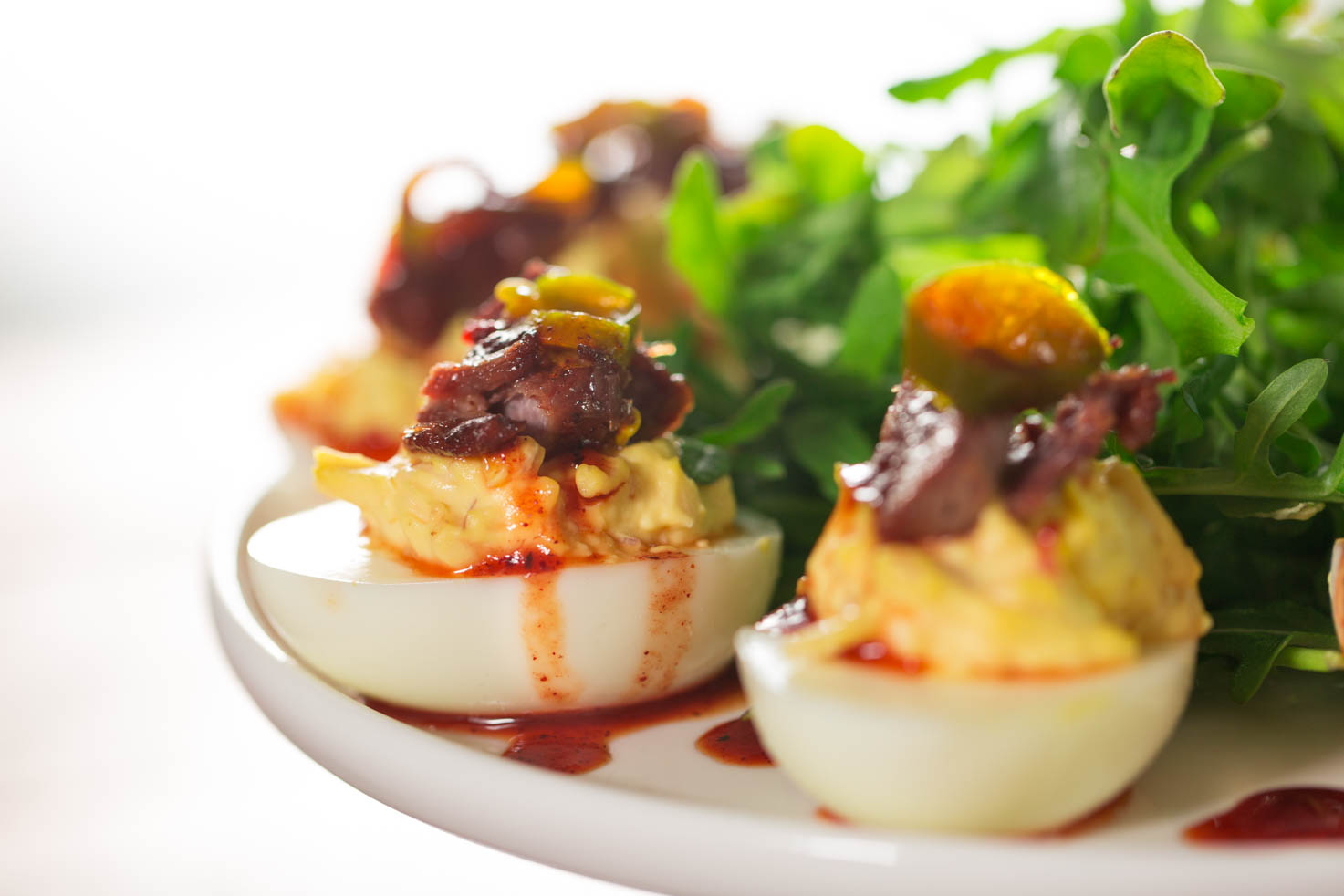 Topping these eggs with brisket just felt like second nature to me… I use it ALL. THE. TIME in my recipes because we usually smoke a brisket for special occasions… or if I'm not in the mood, I have access to excellent store bought brisket just a mile from my house.
I figured you do too, so these eggs are only as difficult as you want them to be! Smoke the brisket yourself or just pick some up on the way home.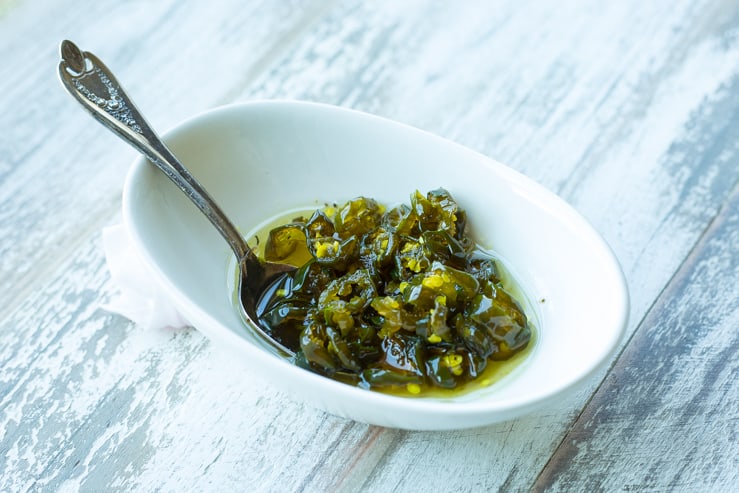 The Cowboy Candy is a staple at our house so it's as easy as opening the fridge and grabbing a jar! Get the recipe here!
I drizzle these eggs with any of my homemade barbecue sauces from Dr Pepper Barbecue Sauce to Cherry Bourbon Barbecue Sauce. You can also use the sauce they include with the brisket if your purchasing from your favorite barbecue joint.
Here is the recipe for the Brisket Deviled Eggs with Candied Jalapeno…
If you make the recipe, post it to social media and tag Urban Cowgirl!
I'd love to see how it turns out!
Yields 24 deviled eggs
Brisket Deviled Eggs with Candied Jalapeno
Ingredients
12 large eggs
1 ½ c. smoked gouda, freshly shredded
¾ c. mayonnaise
2 T. yellow mustard
3 T. minced shallot
2 t. red wine vinegar
¼ t. kosher salt
½ apple, grated on the cheese grater (I used honey crisp)
½ lb. brisket, homemade or bought from your favorite barbecue joint
1 recipe for candied jalapenos (cowboy candy)
Drizzle of your favorite barbecue sauce or use one of mine! (Dr Pepper Barbecue Sauce Recipe, or Cherry Bourbon Barbecue Sauce Recipe)
Instructions
For Perfect Boiled Eggs:
Fill a medium sauce pan with water and bring to a boil. Place eggs into the boiling water. Cook 11 minutes at a medium simmer. Remove from the heat and drain. Peel the eggs. (I have better luck peeling them under warm to hot running water to prevent shells from sticking.)
On a cutting board, slice the eggs in half and place the white halves in a casserole dish and chill, place the cooked yolks in a bowl.
In the bowl with the yolks, add the shallot, mayonnaise, mustard, red wine vinegar, salt, and shredded apple and cheese. Fluff and mix well with a fork. Chill this mixture 30 minutes or overnight for great flavor.
Make the Cowboy Candy Recipe according to the instructions. Chill.
To Assemble:
Using a small scoop, place a scoop of the filling in each egg until the filling is gone. You can be generous. Place the eggs on the serving platter of your choosing. On each egg place one square of chopped brisket.
(Room temperature or lightly warmed brisket is best.)
Place a piece of candied jalapeno or cowboy candy on each deviled egg. Drizzle with barbecue sauce. Serve immediately.
Notes
Brisket can be purchased at your favorite barbecue joint.
7.8.1.2
48
https://urbancowgirllife.com/brisket-deviled-eggs-with-candied-jalapeno/