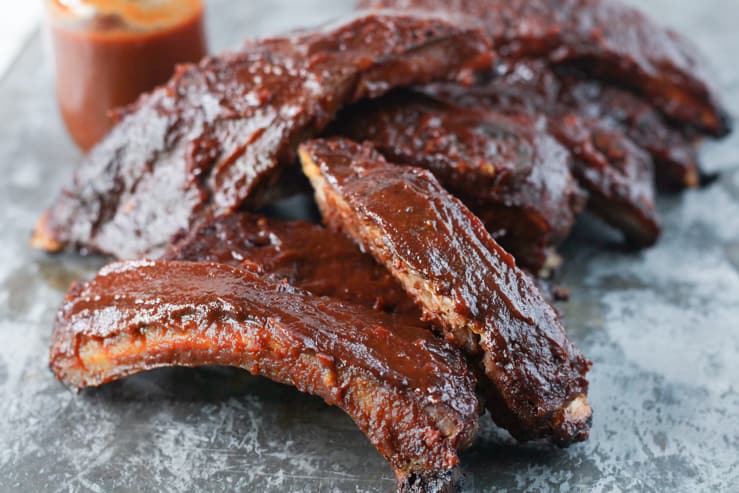 Cherry Vanilla Bourbon Barbecue Ribs
I mean just say it outloud with me… Cherry Vanilla Bourbon Barbecue RIBSssssssssss.
How could THAT combination not be fantasmo deliciousness?! Bite right into one of these tender pork ribs smothered in a sticky, homemade, TA DIE FOR barbecue sauce.
The sauce is absolute perfection… Smooth cherry flavor infused into a traditional barbecue sauce recipe, with creeping heat and mild whispers of vanilla and high end bourbon. It's still very much a robust and classic barbecue sauce, just done up for a night on the town.
So let's MAKE IT YALL…
For the ribs, we're using spare ribs or baby back ribs. Sweet barbecue sauce (like this recipe) goes well with pork AND you get to sing the baby back ribs song while you work. Yasssss.
Remove the membrane that runs along the back of the ribs… I give specific instructions in the recipe below.
For the rub, I am using any classic pork rub which can be store bought, or handmade. This is a pork rub I whipped up for another recipe.
Pork Rubs will consist of salt, brown sugar, and paprika with things like onion powder, garlic powder, perhaps dry mustard and other herbs thrown it. Don't overthink it. They all taste very similar. Sprinkle it all over the ribs.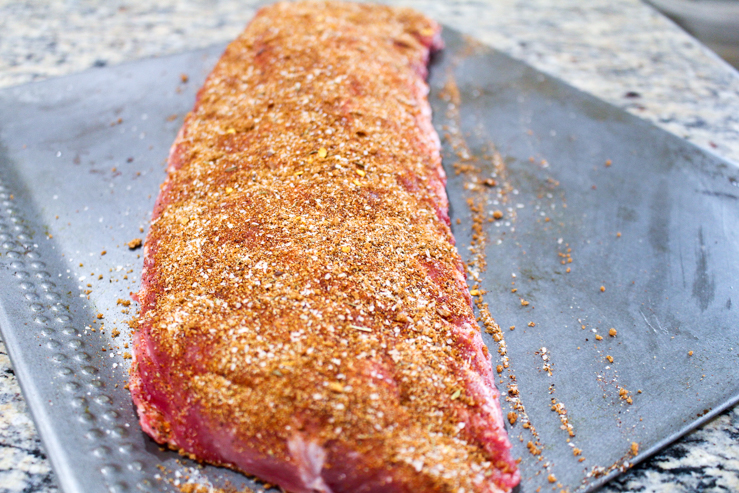 2. Now, you can wrap them in saran and let them sit overnight. We do this in restaurants. But if you are so excited that you can't wait, then don't worry… they're still going to be ridiculously good.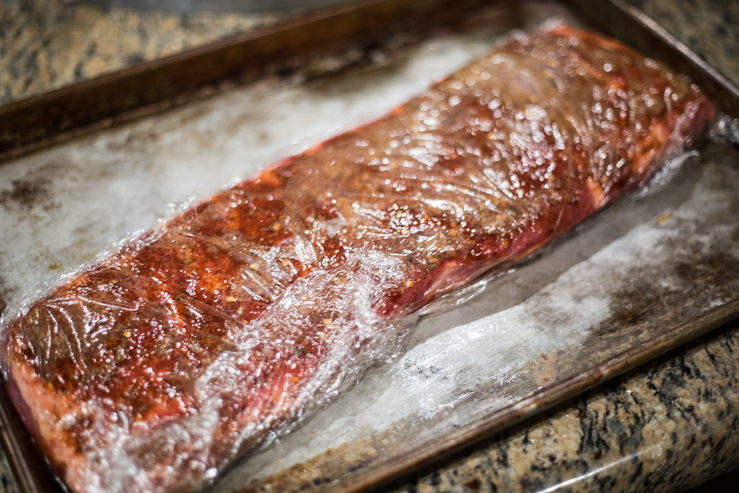 3. Now we can take them out of the refrigerator, unwrap the ribs, and start the smoker.
I am smoking at 235 degrees with hickory chips. Hickory wood has a pleasant, woody aroma, not too fruity and certainly not as robust as oak. You'll enjoy sitting next to the smoker and catching wisps of it creeping out of the smokebox. It has a calming, incensy thing going on.
Great! So put the ribs in, and tell them night night!
I use the 3-2-1 method for ribs. 3 hours smoking, 2 hours, braising, 1 hour to sauce and set.
Smoke the ribs for 3 hours, while you prepare the barbecue sauce.
After 3 hours, remove the ribs and wrap in foil. You can add a bit of the barbecue sauce, or apple juice for moisture if you like, but the ribs will also weep their own juices, marinating themself in a way. (You don't have to add smoke chips anymore, just maintain the temperature between 225-240.)
For the last hour to half hour- remove the foil, and glaze the ribs with sauce. Put them back in the barbecue smoker and close it up. For the next hour you can baste them with barbecue sauce several times to get that sticky, well-set sauce look. Then, remove them to a cutting board and slice between the bones into individual ribs.
Serve with extra sauce if desired!
Cherry Vanilla Bourbon Barbecue Ribs
Ingredients
Cherry Vanilla Bourbon Barbecue Sauce:
2 c. tomato sauce
¼ c. apple cider vinegar
1 T + ½ t. tart cherry concentrate
2 ½ T. Worcestershire
2 T. molasses
2 T. yellow mustard
1 t. vanilla extract or ½ a vanilla bean (scraped)*
¼ c. packed brown sugar
1 T honey
¼ t. garlic powder
¼ t. black pepper
1/8 t. cayenne
1/4 t. red pepper flakes
Pinch salt
1/2 t. freshly grated ginger, stirred in last
1-2 T. knob creek bourbon, stirred in after cooking and simmering, whisk in right before using the sauce
Note: This sauce is super tasty anytime you require a sweet and interesting barbecue sauce.
Ribs:
Rib or Pork Rub (Any basic pork rub will do… Here is mine)
1-2 racks pork ribs (baby back or spare ribs)
Foil
Hickory wood or wood chips for your smoker (or you can cook these oven style)
Instructions
For the sauce, add all the ingredients except the fresh ginger and bourbon to a large sauce pan. Bring the mixture to a simmer while whisking.
***If using the vanilla bean over the vanilla extract, pierce the vanilla bean slice it in half. Scrape out the black interior of the bean. You will add half of the scrapings of a vanilla bean to the sauce. Use the rest of the vanilla bean for another use. (Such as making vanilla sugar or vanilla coffee syrup!)
Simmer the mixture on low for 10-20 minutes. Add the freshly grated ginger and season to taste. It might need a pinch of salt! Keep the sauce on the back of the stove until you are ready to coats the ribs. Right before using, add the bourbon and whisk well.
For the ribs:
Unpackage the ribs and using a sharp knife remove the membrane on the backside of the ribs. This is best accomplished by slipping the knife between the membrane and the bone, lift and loosen a big enough portion of the membrane that you can grip it tight and pull it all off in one swoop. Discard the membrane.
Season the ribs liberally on both sides with the rub. Either wrap in plastic wrap overnight or proceed to the next step.
Preheat and pre-smoke your smoker. I currently use an electric smoker on most days. If it is cold out I begin by heating the smoker to 250 degrees, but it stays around 235 as heat escapes. The proper temperature is 225-240 but we all know that barbecue smokers seldom behave! I can get my ribs done in 5-6 hours, using this method.
The proper barbecue answer would be 3 hours smoked at 225-235. Remove,wrap in foil and introduce ½ c. barbecue sauce, butter, or broth for moisture. Wrap securely.
Cook another 2 hours, and then unwrap and discard the foil, slather with sauce and cook an additional 30 min- 1 hr to finish the ribs, and make the sauce sticky and well set.
This can also be done in an oven if you do not own a smoker… but please child, even an electric smoker is better than no smoker. Consider obtaining a basic smoker second hand to really enjoy good barbecue! ?
7.8.1.2
32
https://urbancowgirllife.com/cherry-vanilla-bourbon-barbecue-ribs/