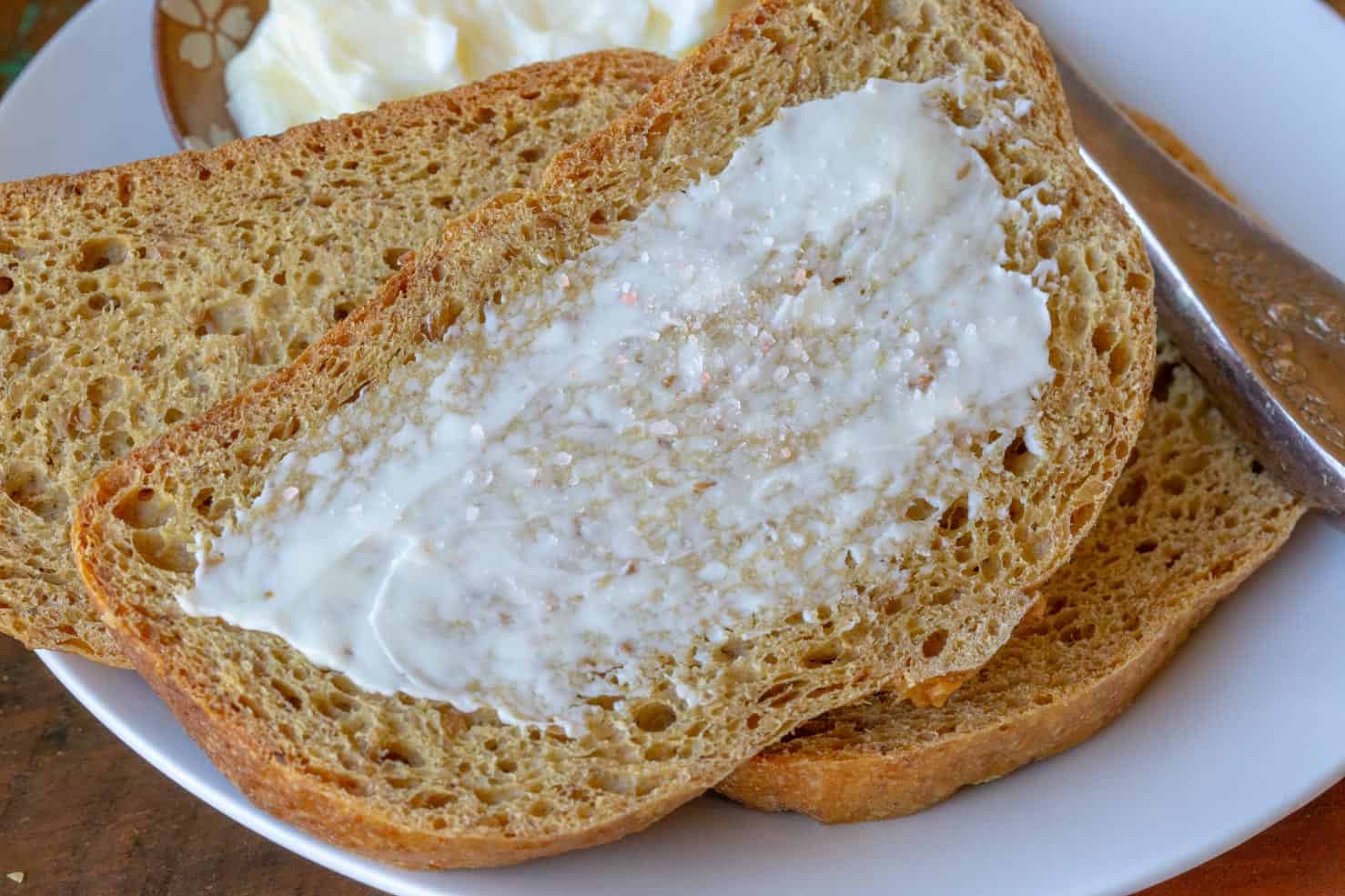 I know I've been making it REAL CLEAR on Instagram that I'm wrapping everything in lettuce cups these days, but that's only because every self proclaimed "best low carb bread recipe", we've had is just– GROSS.
I'm sorry it's not happening. We've even ordered them from all over the country and although we've found some low carb pastas we like, we're just not here for the bread products. (But if you find some good ones let us know below!)
So, when my husband started fussing around the kitchen with this keto friendly bread recipe, I was soooo skeptical.
And then one morning he was chowing down on FRENCH TOAST, and I was like, Uhhhh, what the heck is going on here? BITE PLEASE.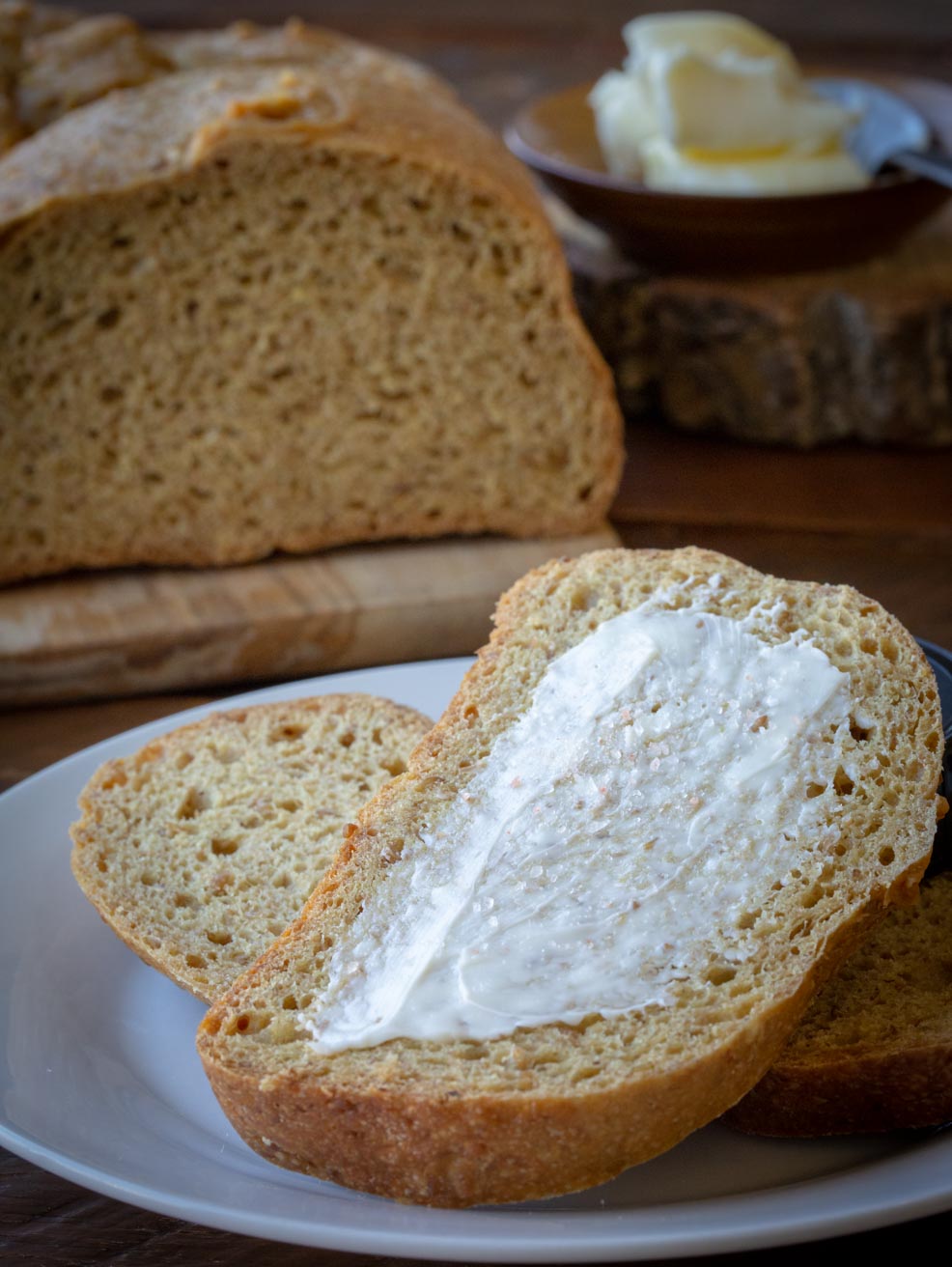 DAAAAYYUUUUMMMMMMM!
Okay you guys, I don't often ask my cooking impaired husband to share his recipes with us, but this bread is THE BOMB.
First off, this is a low carb bread recipe for a bread machine. I saw him drag in his new toy after he got home from work one day. We use the Zoji Rushi Bread Machine, which makes 2 pound loaves, and can also make cakes and other pastry doughs.
If you get serious about keto or low carb bread making, I highly recommend this bread machine because the recipe is so easy! The bread machine literally does everything from mixing, rising, timing, proofing, and baking. We just dump everything in and 5 hours later there is fresh bread in the machine.
(FYI: If you've been paying to have keto bread shipped to you, this thing is going to pay for itself in a couple of weeks.)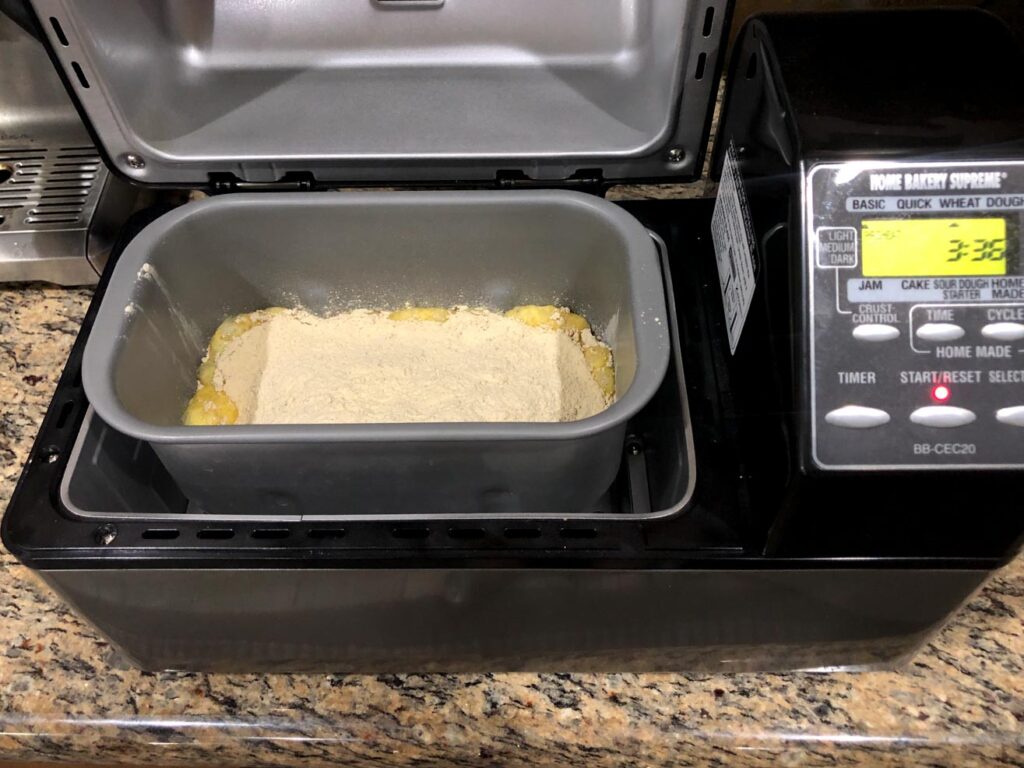 Now onto the recipe…
How To Make Keto Bread In The Bread Machine
For this bread, we just make a bowl of the measured dry ingredients, a bowl of the wet ingredients, and a bowl for the yeast.
That's right, he always add the yeast last, so it gets it's own bowl. I tried explaining to him that bakers always add the yeast to the warm liquid, so it can activate and begin feeding on the honey, but he's made it 20 times and he swears yeast on top!
If you want to argue with him, please do. Here is his Instagram handle: @dereck_penrod. 😛 Tell him I said to bring home bacon.
Make a bowl of the dry ingredients first. We use Anthony's Oat Fiber…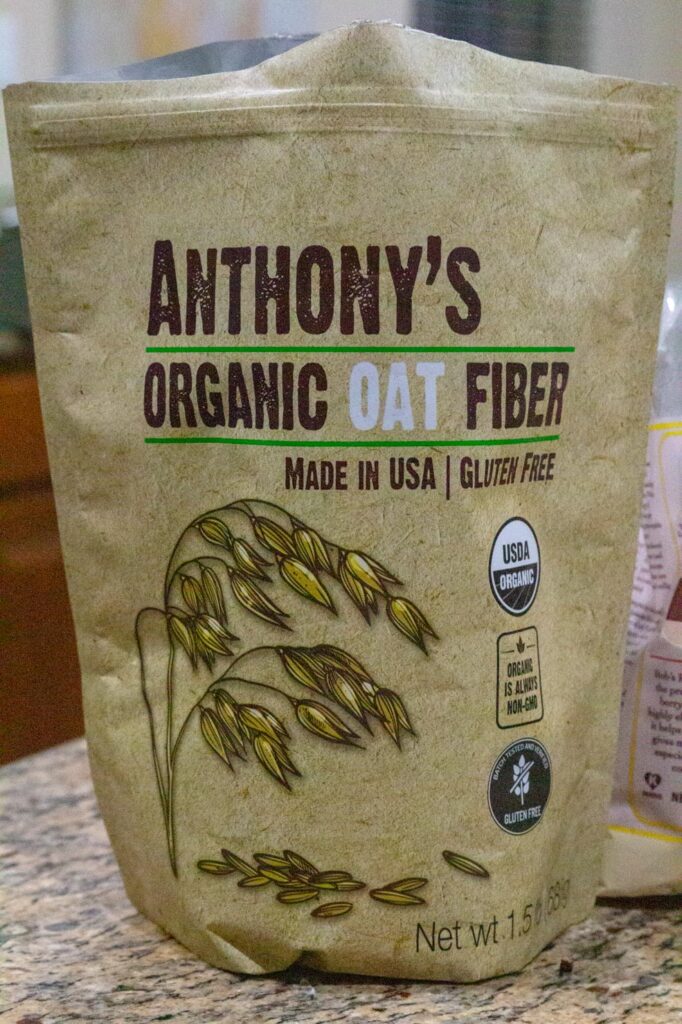 Bob's Golden Flaxseed Meal. Pour it all in the bowl…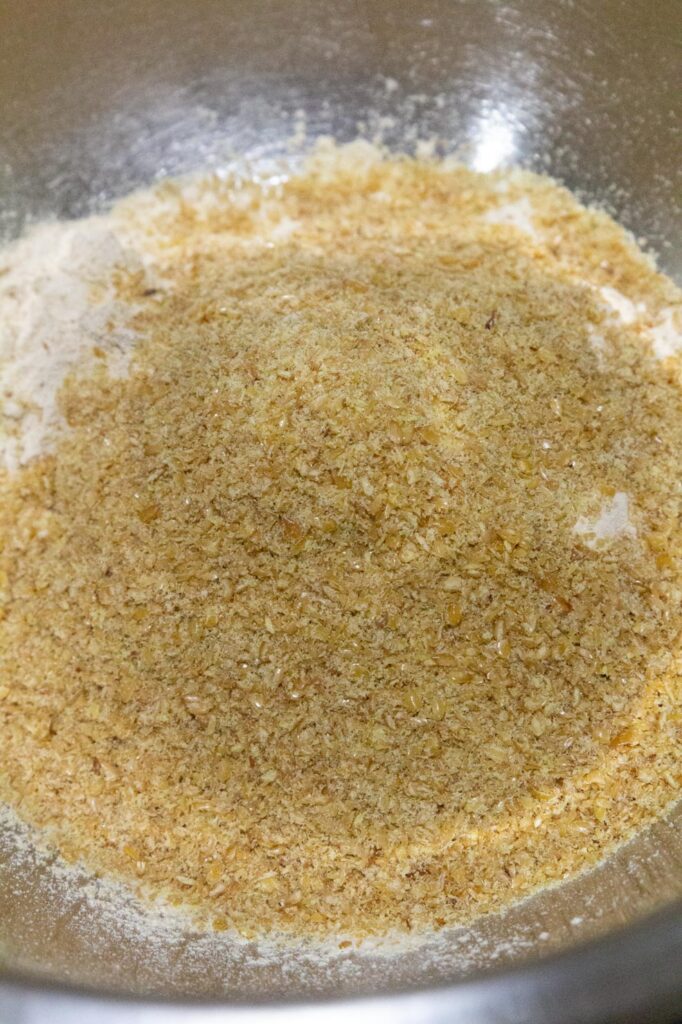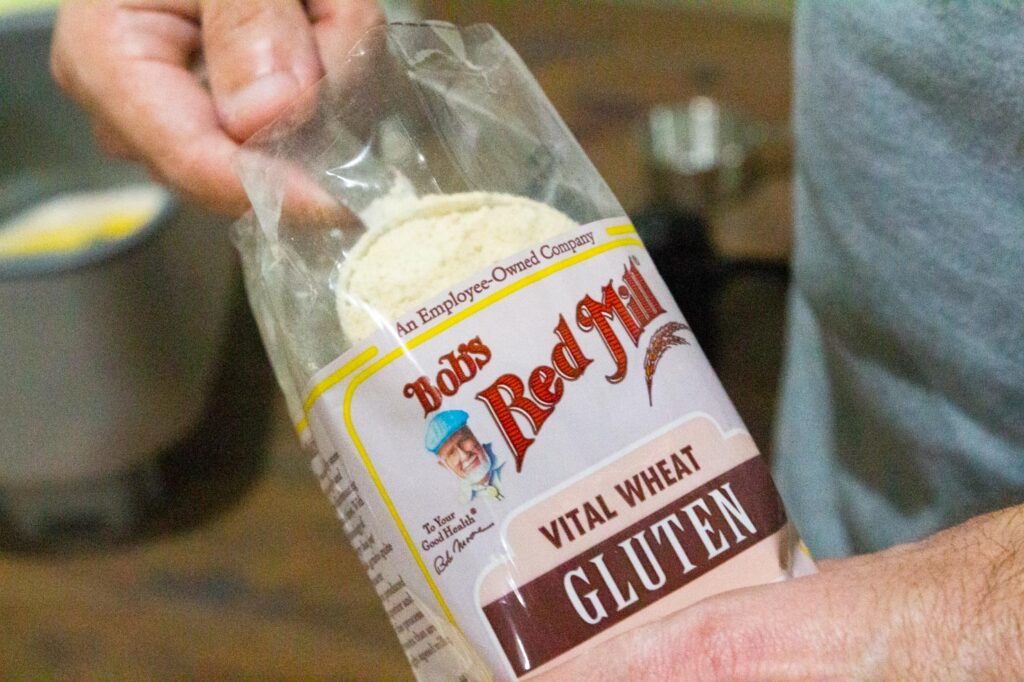 And a bunch of other stuff that you just measure and dump in your bowl. I won't bore you to death.
Wet ingredients can be poured directly into the bread machine pan. He wants you to know the BUTTER MUST BE SOFT!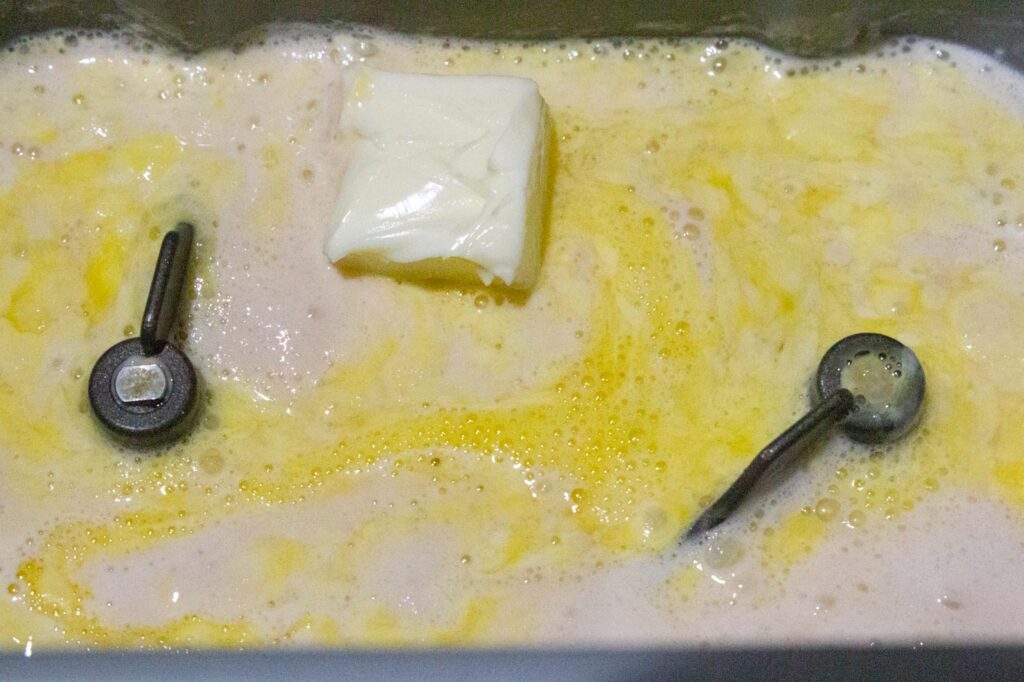 Pour the dry ingredients on top of the wet. Then pour the yeast on top.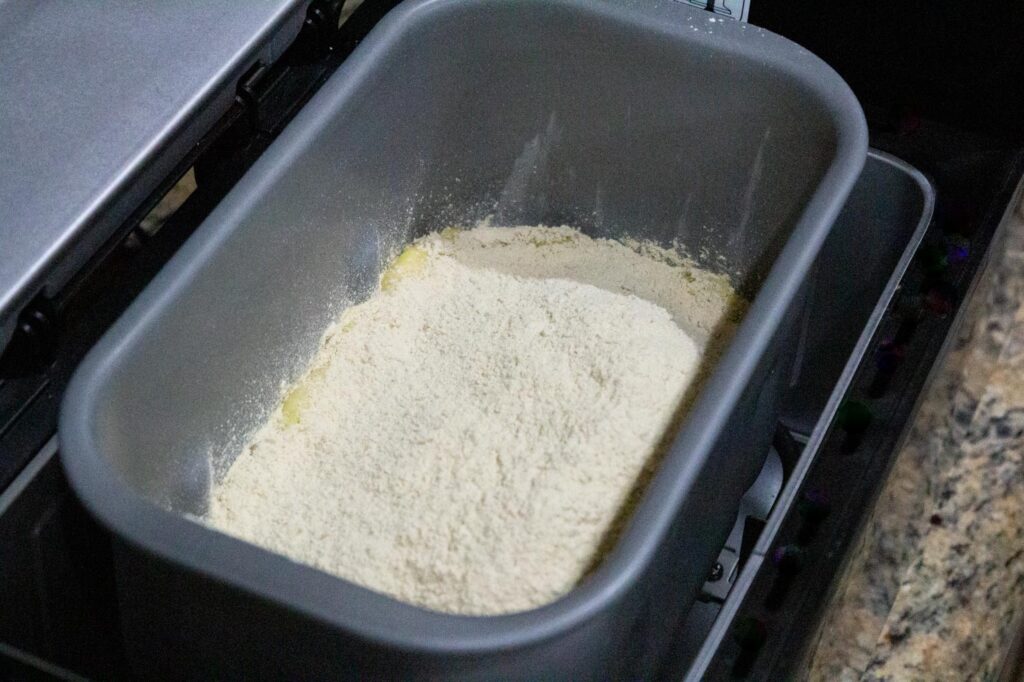 And set the bread machine to standard bread. Nothin fancy!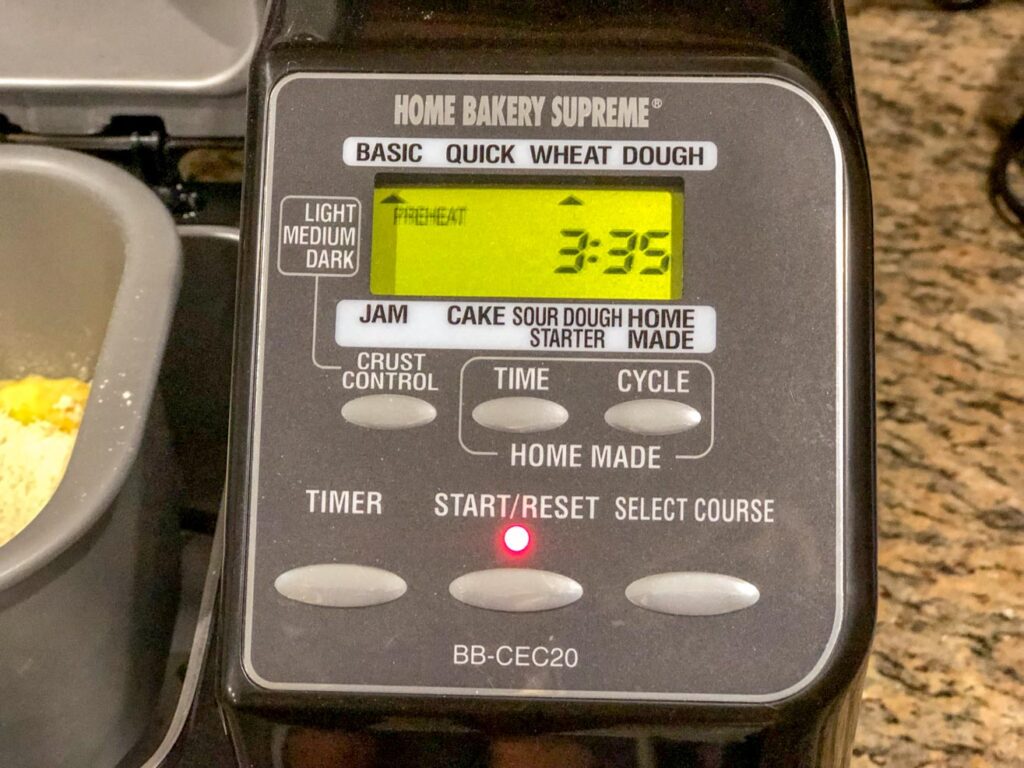 Then you literally go about your day because there is nothing left to do!
5 or so hours later… TA DA!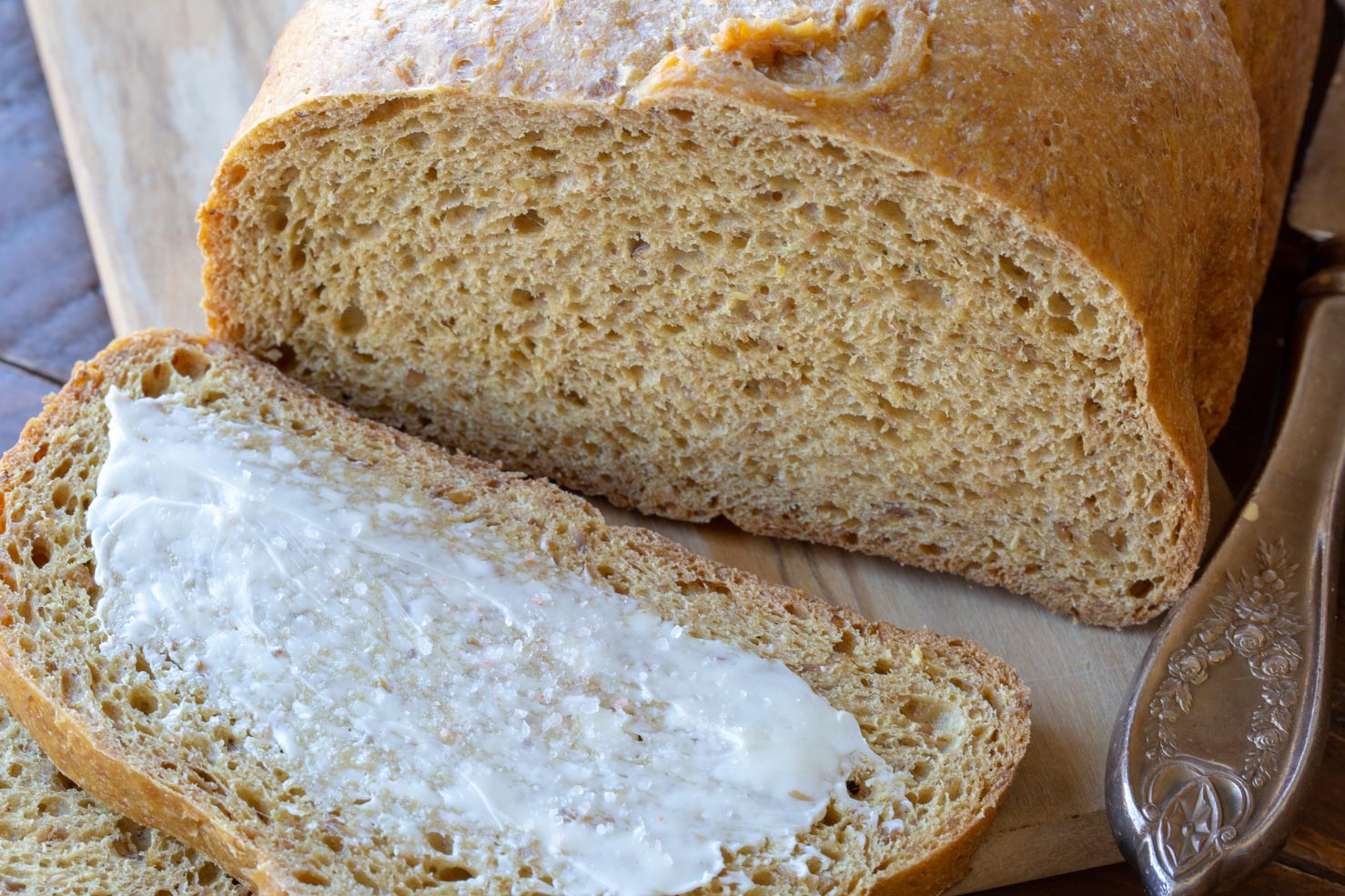 And one more beauty shot because COME ON…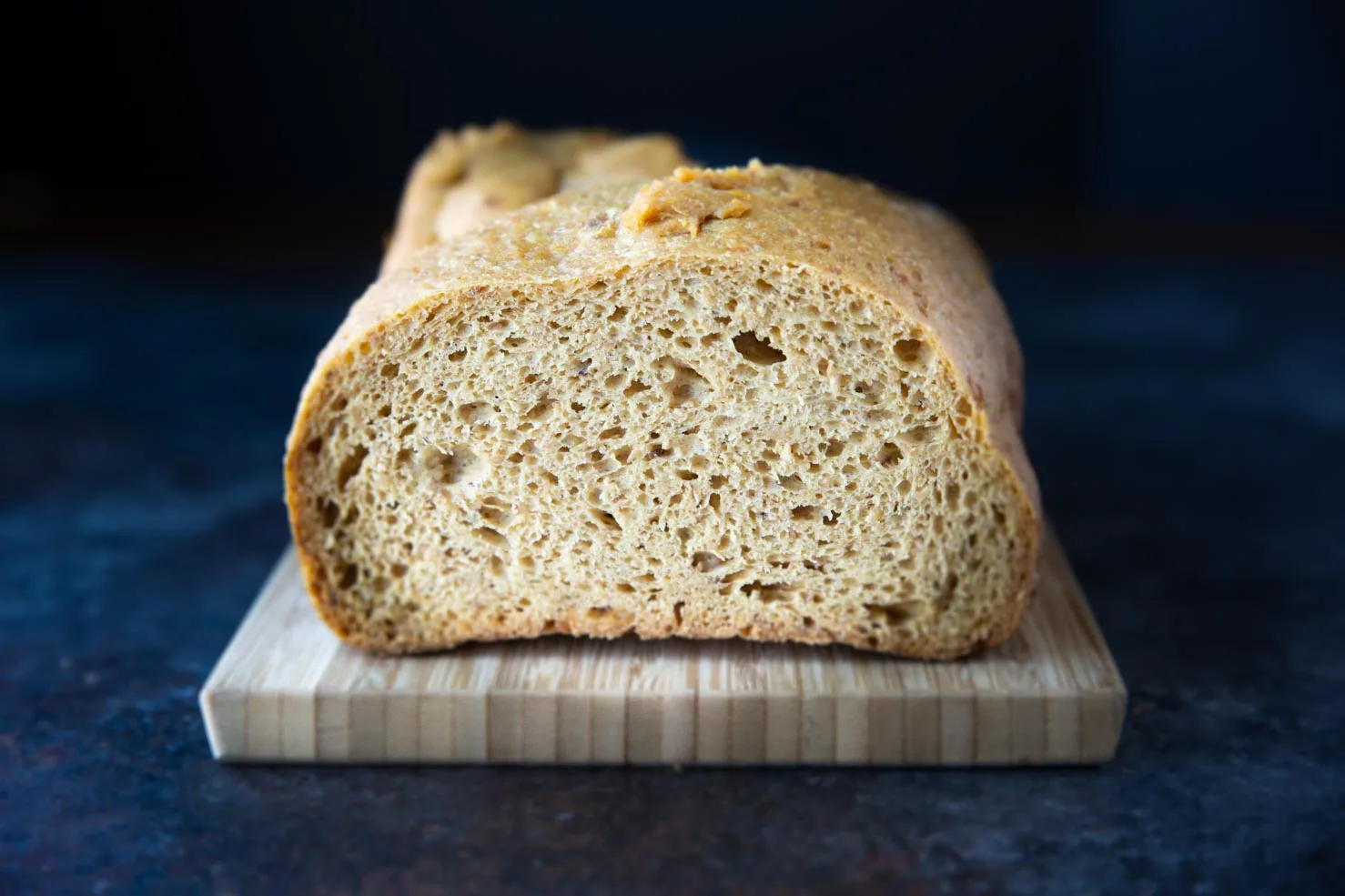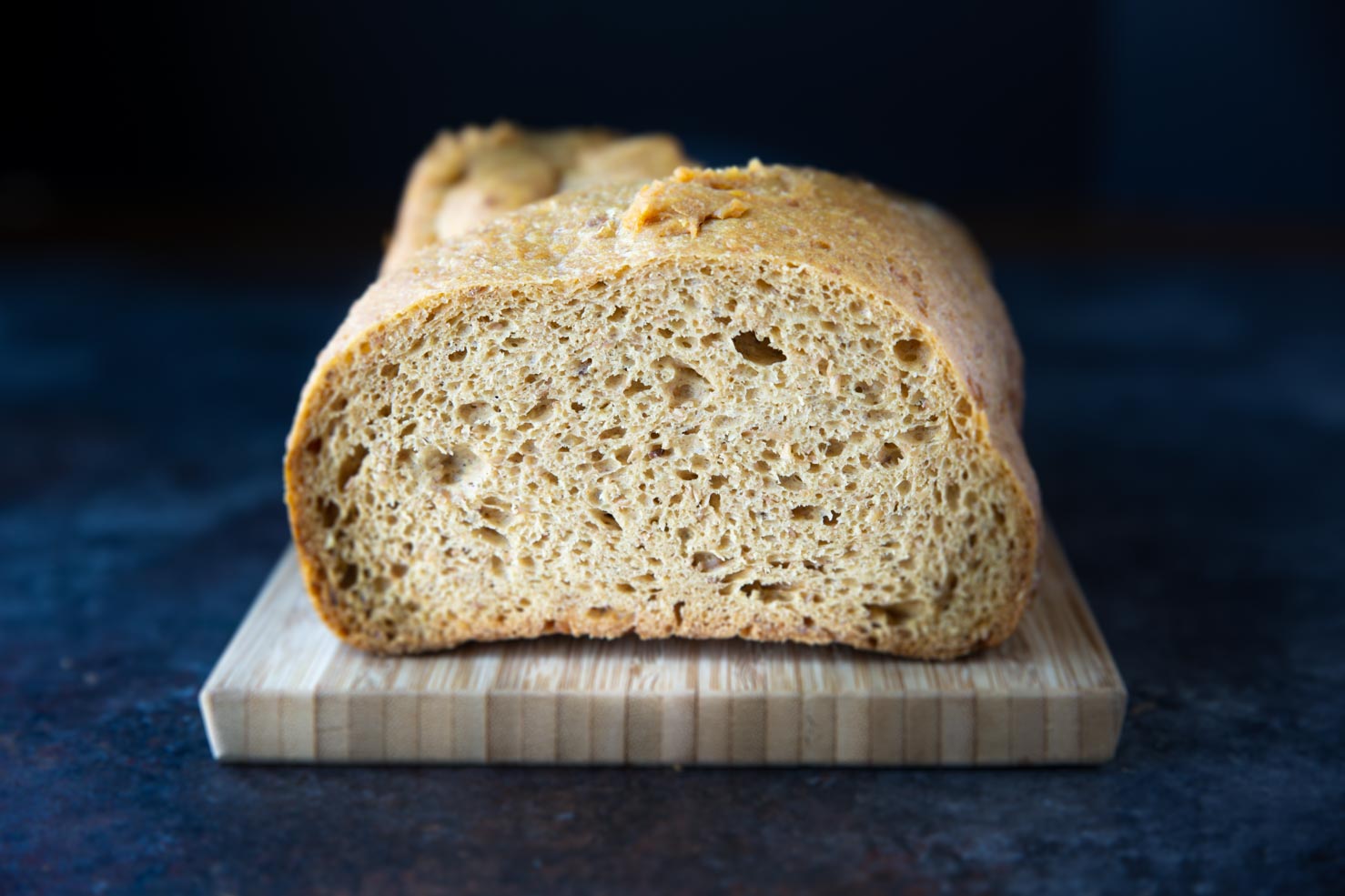 This recipe for homemade low carb bread is moist and satisfying, which is something that we have not found from purchasing from any ship-to-your-door keto bread companies.
I'm not saying I'll give up on my lettuce wrapped burgers and tacos because I have really grown to love them, but you guys, I CAN EAT TOAST WITH BUTTER NOW. This bread actually toasts!
Alright, enough from me. Time for the recipe. Let me know how it turns out for you!
A Note From Me To You: I have added this recipe to the Carb Manager app, which I use to track my carbs for the day. It is public under "Urban Cowgirl Bread Recipe".
You will see this listed as 5 g carbs per serving, but that is because the software will not account for the yeast consuming the honey and converting it into carbon dioxide. This surely happens because you can see in the photos the beautiful air bubbles from the leavening. Just understand that the honey has been consumed by the yeast during the rise, and therefore the honey really should not be apart of determining the carbohydrate counts in a serving. Their software cannot account for this chemical process in bread making. Thanks! Love, Sarah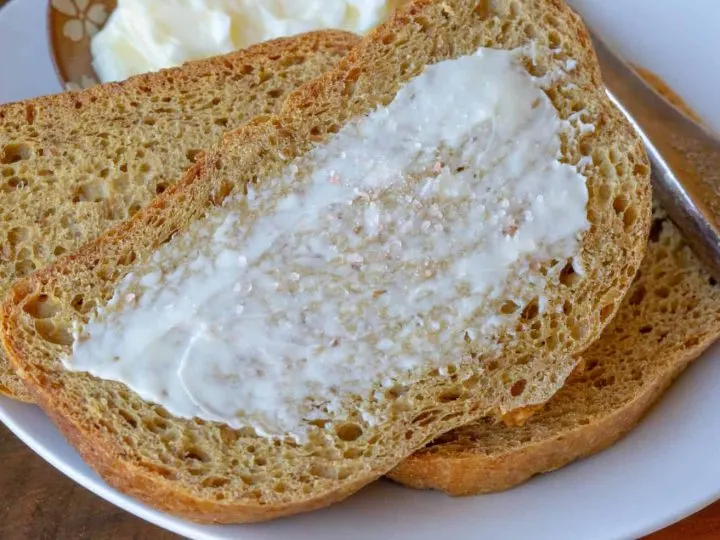 Yield:

1 loaf of bread
Low Carb Bread Machine Recipe
This low carb bread is just 3g net carbs per slice, with all the flavor and texture of real bread. It makes great toast, french toast, and sandwiches. You can even use it as a base for cheese bread, cinnamon bread, and flavored keto breads.
Ingredients
Dry Ingredients:
1/2 c. Anthony's Oat Fiber
2/3 c. Flaxseed Meal
1 1/4 c. Anthony's Vital Wheat Gluten
1 t. salt
1/4 c. Xylitol
1/2 t. Xanthan Gum
Wet Ingredients:
1 c. Room Temp Water
2 eggs, beaten
1 t. honey
2 T room temp butter
1 T Active Dry Yeast (Must be Active Dry Yeast)
Instructions
In a bowl, combine all the dry ingredients and whisk well to combine.
In your bread machine bowl, add all of the wet ingredients, besides the yeast.
Add the dry ingredients on top. Then pour in the yeast.
Close the machine and start the bread machine on the regular setting.
Notes
A Note About Honey: The honey in this recipe exists to feed the yeast, which must have a food source in order to activate and leaven the bread. The honey is calculated into the carb count, but only trace amounts of it remain in the final loaf.
Nutrition Information:
Yield:
16
Serving Size:
16
Amount Per Serving:
Calories:

155
Total Fat:

5g
Saturated Fat:

2g
Cholesterol:

25mg
Sodium:

202mg
Carbohydrates:

14g
Sugar:

1g
Protein:

13g