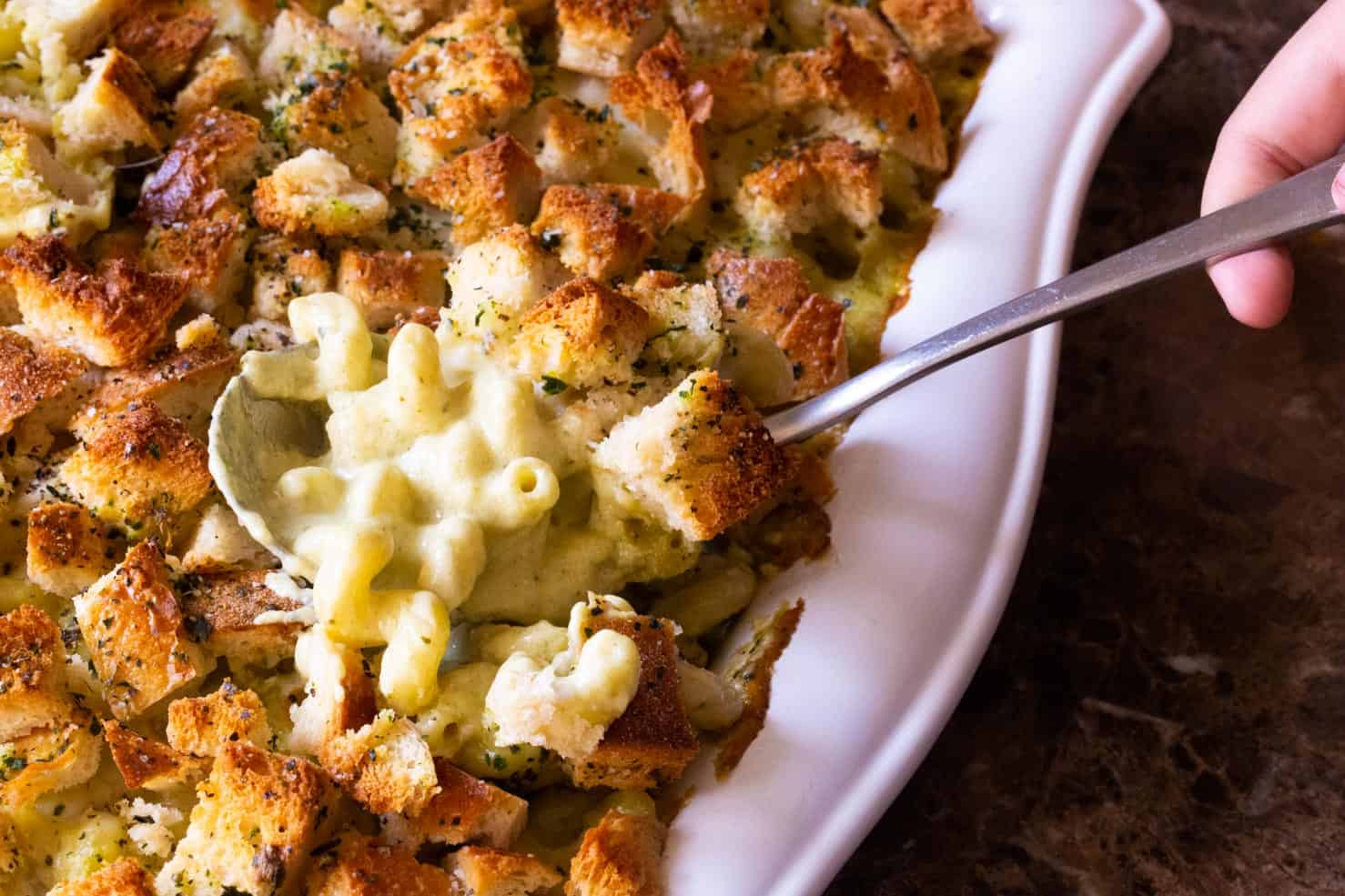 It's not the holidays without a decadent homemade mac and cheese recipe, so today I'm sharing one for the books!
This roasted poblano mac and cheese recipe has all the charms of classic rich and creamy macaroni and cheese, plus a healthy dose of freshly grated cheese (for that glorious cheese string you gotta see when you lift your spoon up), and lively infusion of smoky, roasted poblano chiles. As if all that weren't enough, the crunchy white truffle crouton topping does all the talking for you— it says, Hey it's the holidays, this is a special night, and we're here to party!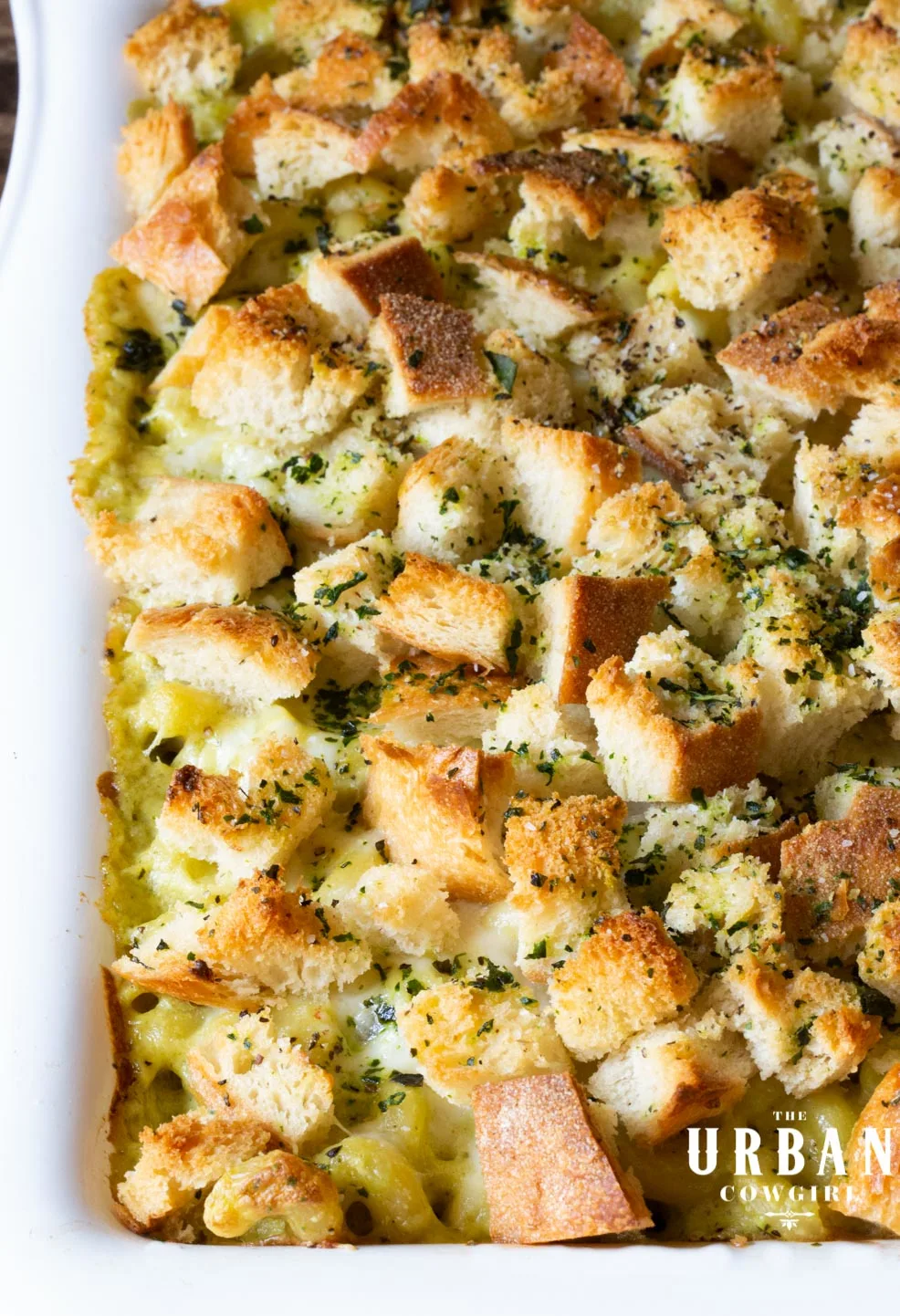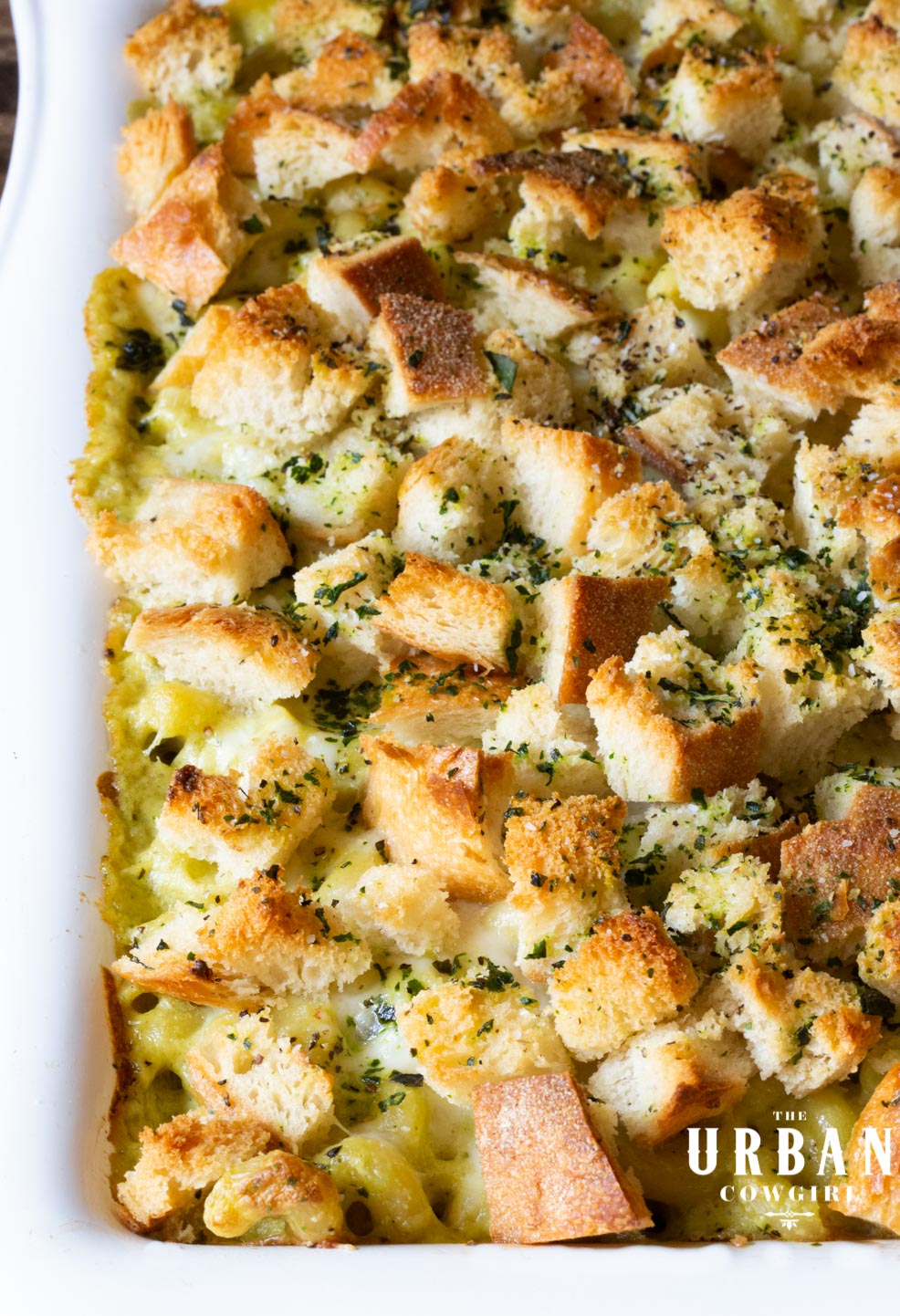 My Secret Special Ingredients For Mac and Cheese:
For the roasted poblano mac and cheese with white truffle croutons, I bought a few special things that make this mac and cheese recipe SO GREAT, you might have to hunt down.
First, the cavatappi pasta is a GAME CHANGER for mac and cheese fans. The outside of the shape has ridges to catch as much sauce as possible and the curly, hollow noodle catches sauce within the tube, making for an explosion of flavor and saucy goodness in every bite!
Cavatappi pasta is available here on amazon.
And for my low carb peoples, I recommend Banza chickpea pasta in cavatappi form. It has more protein than traditional pasta, and yet doesn't fall apart as much as the low carb pasta we have tried. It's available by clicking here.
Also, it's so pretty doesn't it just look like something special!!
Next up, it's all about the white truffle oil!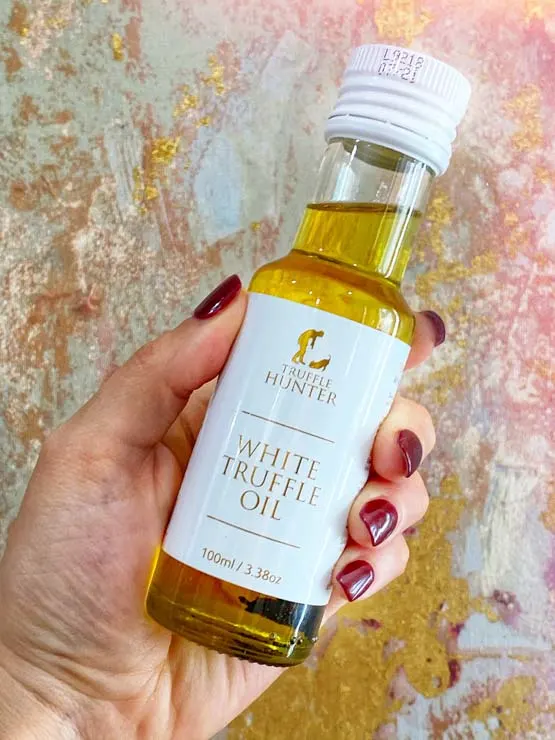 If you've heard foodies talk about white truffle oil and you've always wanted to try it, this is a great recipe to give it a whirl because it naturally blends well with the mellow flavors of cheese sauce and freshly toasted french bread. If you realize you don't love it (shudder), you can always scoop the croutons off your portion of the poblano mac and cheese, and you won't need a super large bottle to experiment with for this recipe.
I purchased this bottle of Truffle Hunter White Truffle Oil.
It's divine and tastes just like the white truffle oils we used in many of the 4 star restaurants I worked as a young chef. Make sure to keep it refrigerated after opening to keep it fresh as long as possible.
If you don't feel like experimenting with the white truffle croutons, no biggie! Just replace the oil with olive oil or butter, and toast the croutons as instructed in the recipe below.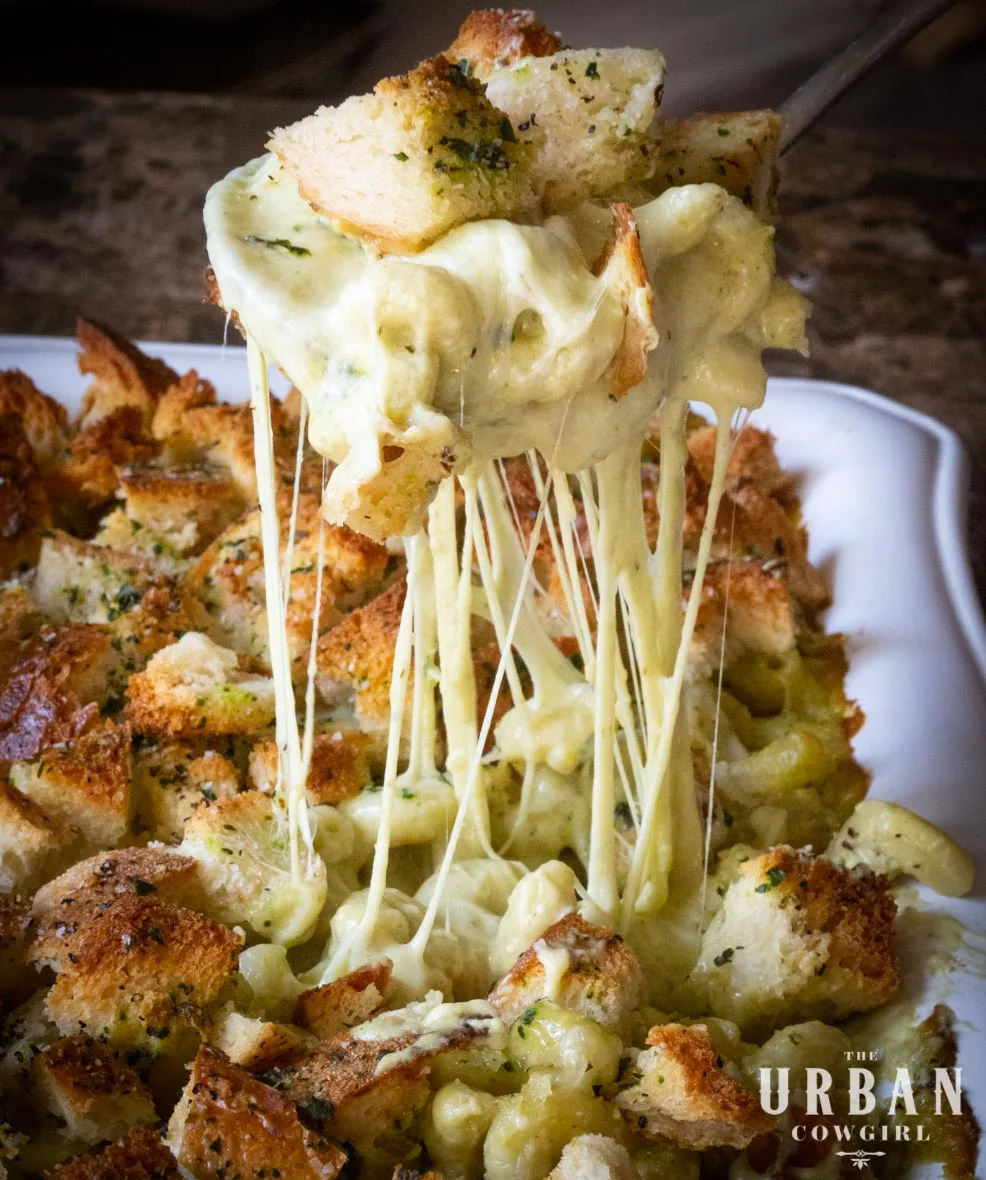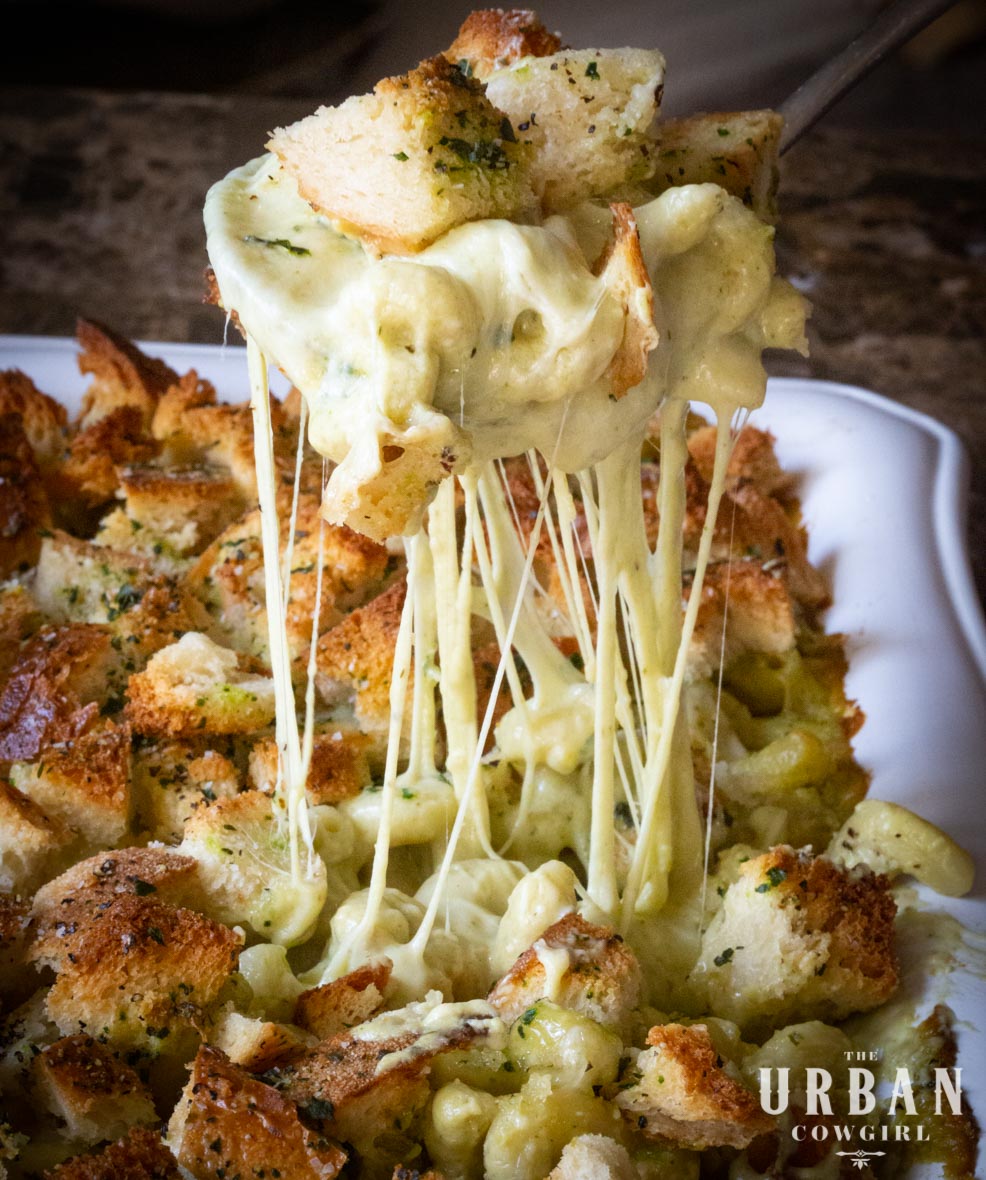 For the cheese blend in this roasted poblano cheese sauce, I went with a classic!
Fontina cheese is a beautiful melting cheese and sharp white cheddar punches up the flavor of the sauce! Bland mac and cheese recipes beware! This recipe is loaded with buttery sharp aroma and silky texture. I also reserved a bit of the freshly grated white cheddar to sprinkle in before baking, giving the cavatappi pasta lovely pockets of molten cheese!!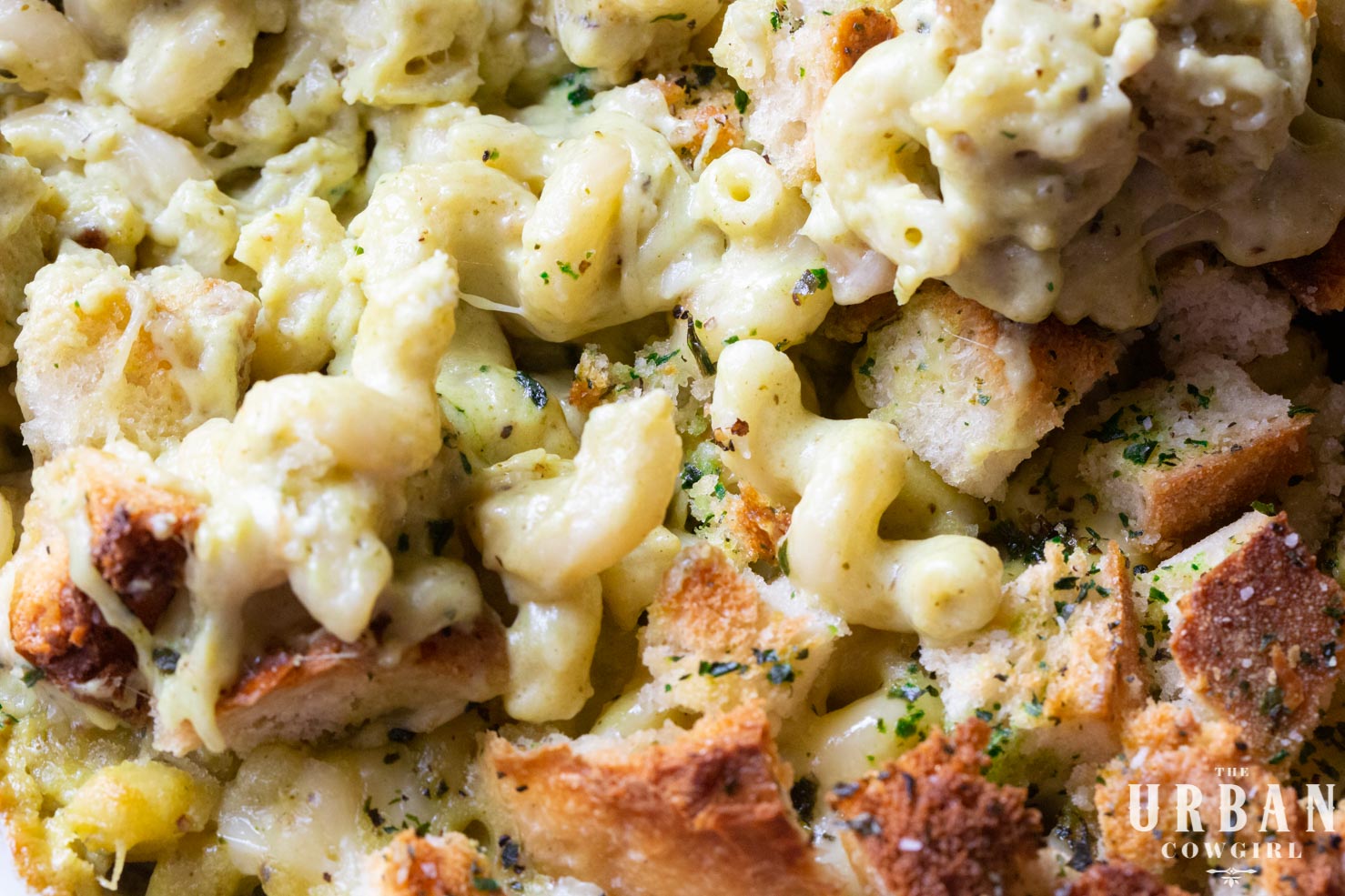 This poblano mac and cheese is mild and delicious, not spicy! (The little people in your life will love it just as much as the foodies of the family!)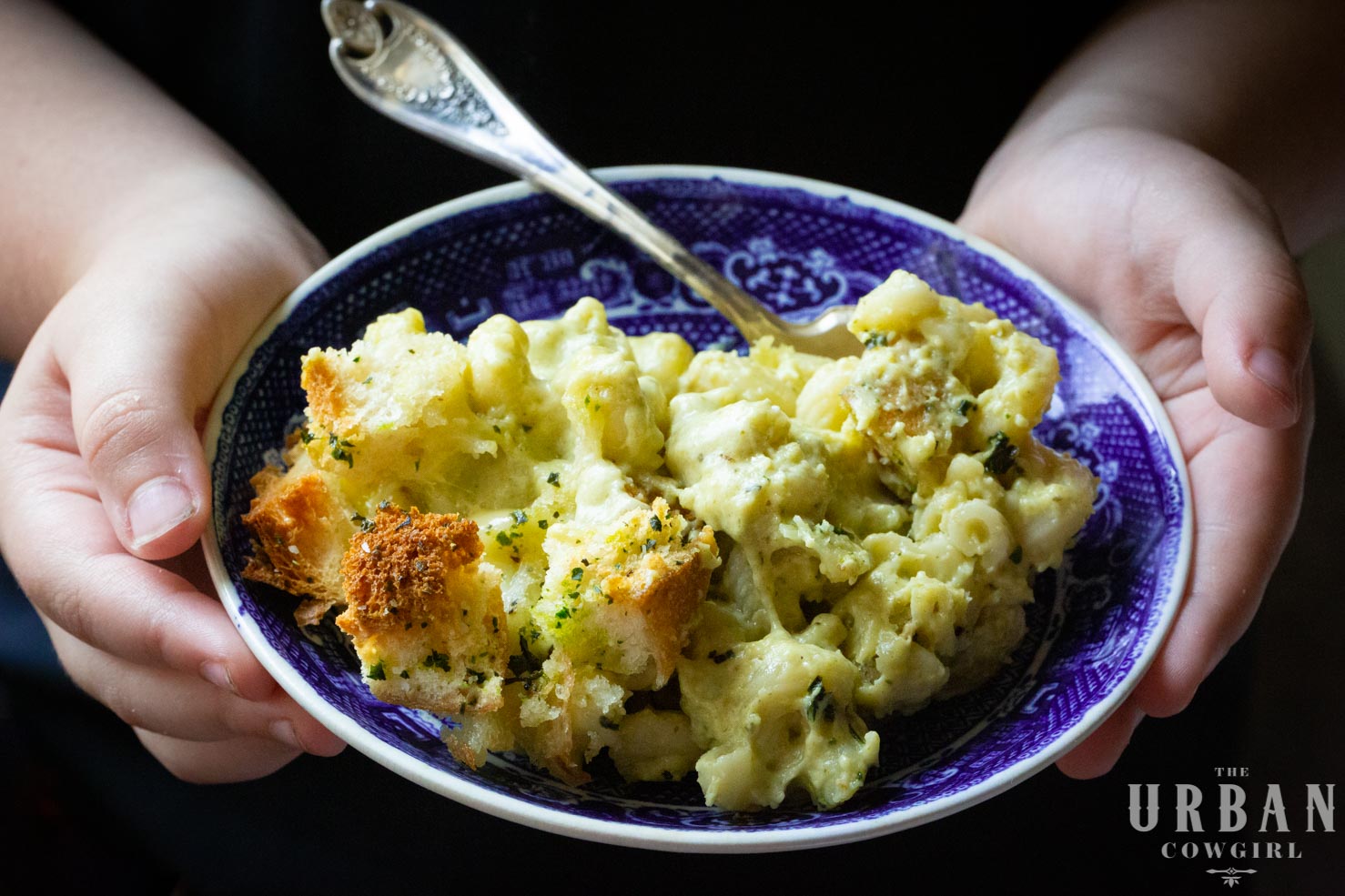 If you would like to see a visual of how I roasted the poblano peppers, check out my tutorial on Torchy's Queso Recipe, which includes photos of how I roasted the poblano peppers.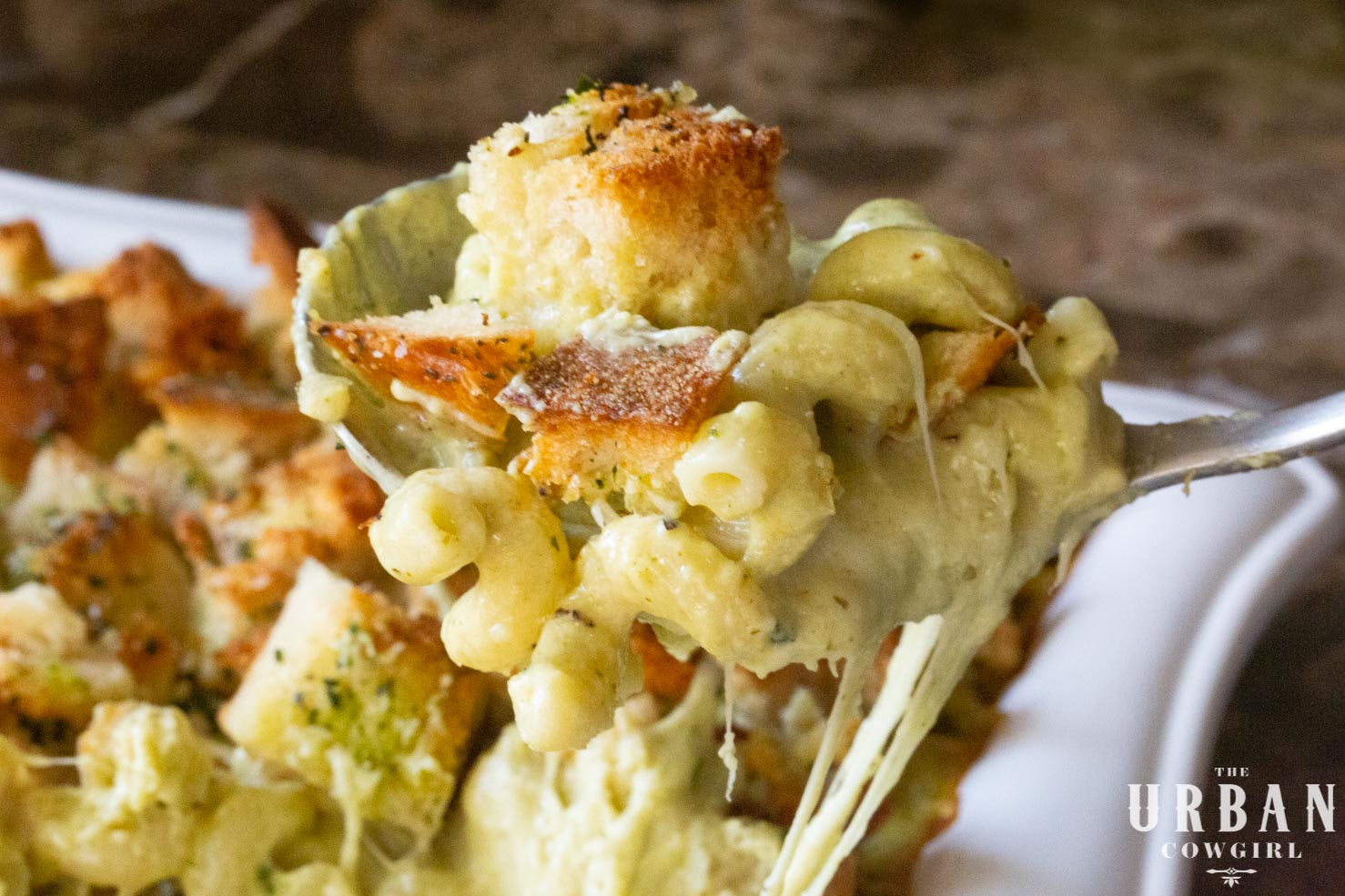 If you make the Poblano Mac and Cheese, we'd love to see!
Post a picture to Instagram or Facebook and tag @UrbanCowgirl!!
Yield:

6-8
Poblano Mac and Cheese Recipe
This ooey-gooey, southwestern, Poblano Mac and Cheese is fancied up with white truffle croutons for special occasion holidays like Thanksgiving and Christmas! No truffle oil? No problem, just substitute a little olive oil to complete this crispy topping that will have the family raving for seconds!
Ingredients
1 pound cavatappi pasta (or other shapes)
6 poblano peppers
6 T. butter
½ c. flour
1 quart whole milk, warm
2-3 garlic cloves, pressed through a garlic press
1 1/2 t. kosher salt (plus additional to taste)
1 t. onion powder
7 oz. white cheddar
9 oz. fontina
1-2 t. lemon juice, for brightness
White Truffle Croutons:
2 T. butter
½ of a one-pound boule crusty bread, sliced into cubes
2 t. white truffle oil (or substitute olive oil or melted butter!)
Salt, pepper, to taste
2 T. finely minced parsley
Instructions
To Roast the Poblanos
Turn the to 425 degrees. On a cookie sheet lay out the poblano peppers and roast for 20 minutes. Carefully remove from the oven and using tongs place the roasted peppers into a glass bowl, cover with a plate so that the skin of the peppers steams off. This takes about 15 minutes.
Then, using your fingertips, a small pairing knife, or the water from the faucet, scrape the softened and blackened skin off and down the sink, along with the seeds. Reserve the flesh of the peppers and place into a blender until the sauce is done.
To Make the Macaroni:
Fill a large pot ¾ of the way full with water. Salt well and bring to a boil. Cook the pasta 10-12 minutes, keeping it al dente. Do not overcook. Drain in a colander and reserve.
Spray a large glass casserole dish with pan spray or rub with butter to grease. Fill with pasta and preheat the oven to 375 degrees.
In a large pot, melt the 6 T. butter fully and stir in the flour. Whisk well to create a roux. Heat gently for 1-2 minutes. Add the garlic and cook another 30 seconds. Whisk in the warm milk until completely combined. Whisk well to eliminate any lumps and make the sauce smooth.
Bring to a simmer whisking well. As it simmers it will thicken. Add in salt, onion powder, and lemon juice. Turn down the heat to low.
Grate both cheeses and mix well. Take about ½ cup and sprinkle it onto the pasta in the casserole dish and add the rest to the cream sauce. Whisk well to melt the cheese into the sauce. Season to taste.
Pour the cheese sauce into the blender on top of the roasted poblanos and blend well. Pour on top of the pasta noodles and shredded cheese. (You may have extra depending on the size of the casserole dish you use.)
Top with the croutons and bake at 375 for 20 minutes to brown the croutons. Enjoy!
Optional White Truffle Croutons:
Melt the butter in a large microwave-safe bowl. Toss in the bread cubes, drizzle with white truffle oil, and toss well with salt, pepper, and parsley. Place on top of the macaroni in the casserole dish. Bake as directed. Substitute olive oil or additional butter if you are not using the white truffle oil.
Notes
Substitute olive oil or extra melted butter for the white truffle oil if preferred.
Nutrition Information:
Yield:
8
Serving Size:
1
Amount Per Serving:
Calories:

702
Total Fat:

38g
Saturated Fat:

21g
Trans Fat:

1g
Unsaturated Fat:

13g
Cholesterol:

105mg
Sodium:

1370mg
Carbohydrates:

63g
Fiber:

4g
Sugar:

12g
Protein:

28g
This nutritional information is provided as a courtesy as an estimate only. Consult with a dietician for precise estimates.