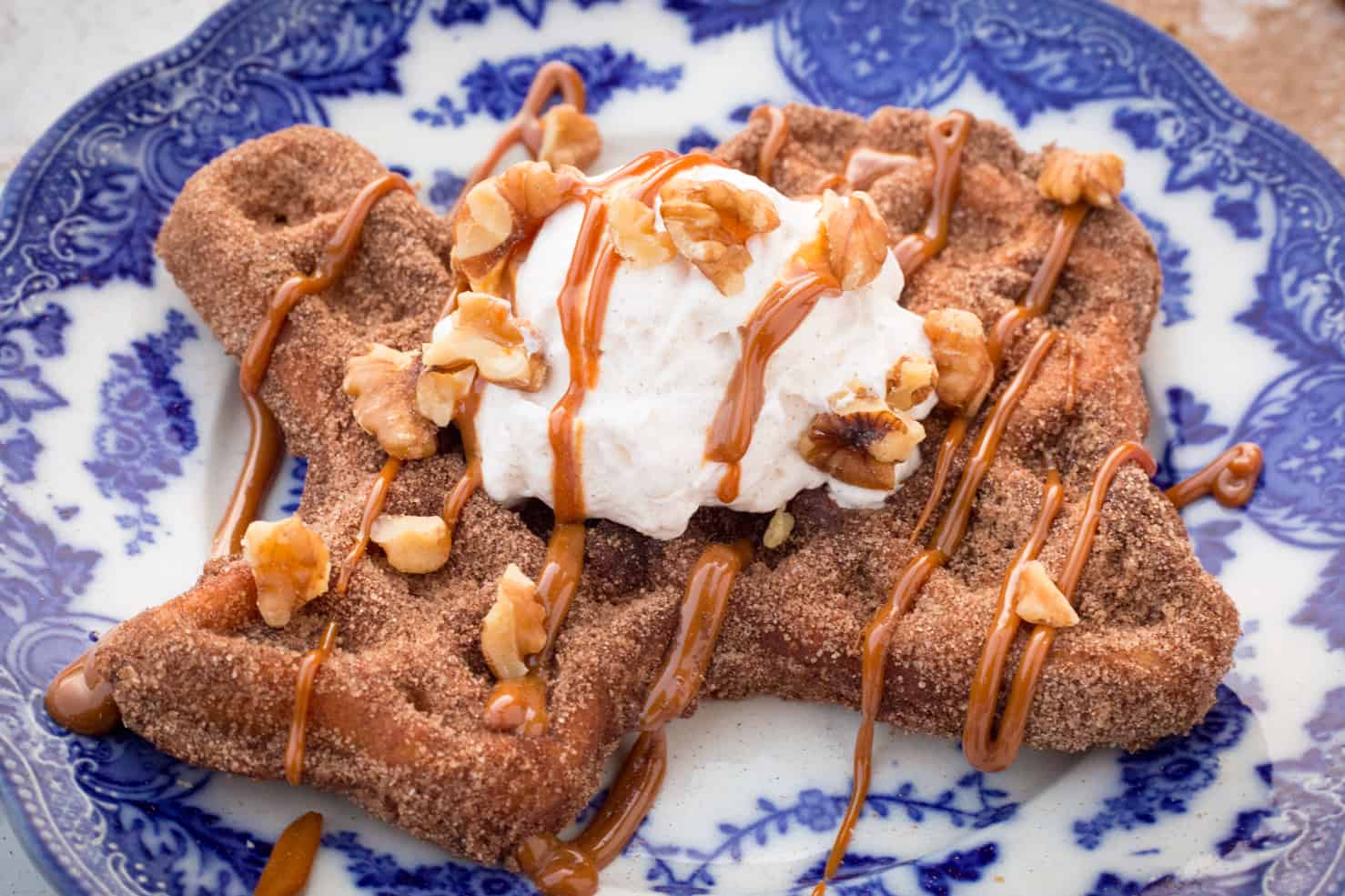 I mean, COME ON. I'm trying not to lick my screen right now! — It's CHURRO WAFFLES, GUYS! A Christmas morning breakfast recipe we can all agree on!
And technically, our Texas churro waffle recipe really takes it to the next level.
We've got our Texas shaped waffles, because of course they are (and yes I will tell you where I got the waffle iron 😉 ), we've dusted them in a sweet mix of mexican cinnamon and sugar, we've got a fluffy, unsweetened, nutmeg whipped cream to balance out all that sweetness and melt into every waffle hole like hot butter, we've got crunchy, toasted walnuts, and instead of syrup, meet your new favorite sweet treat, mexican dulce de leche.
(You don't even have to make the dulce de leche from scratch, I found an incredible grocery store brand!)
Between this baby, a side of sizzlin bacon, and a hot cup of joe, we've got Christmas morning breakfast ideas covered!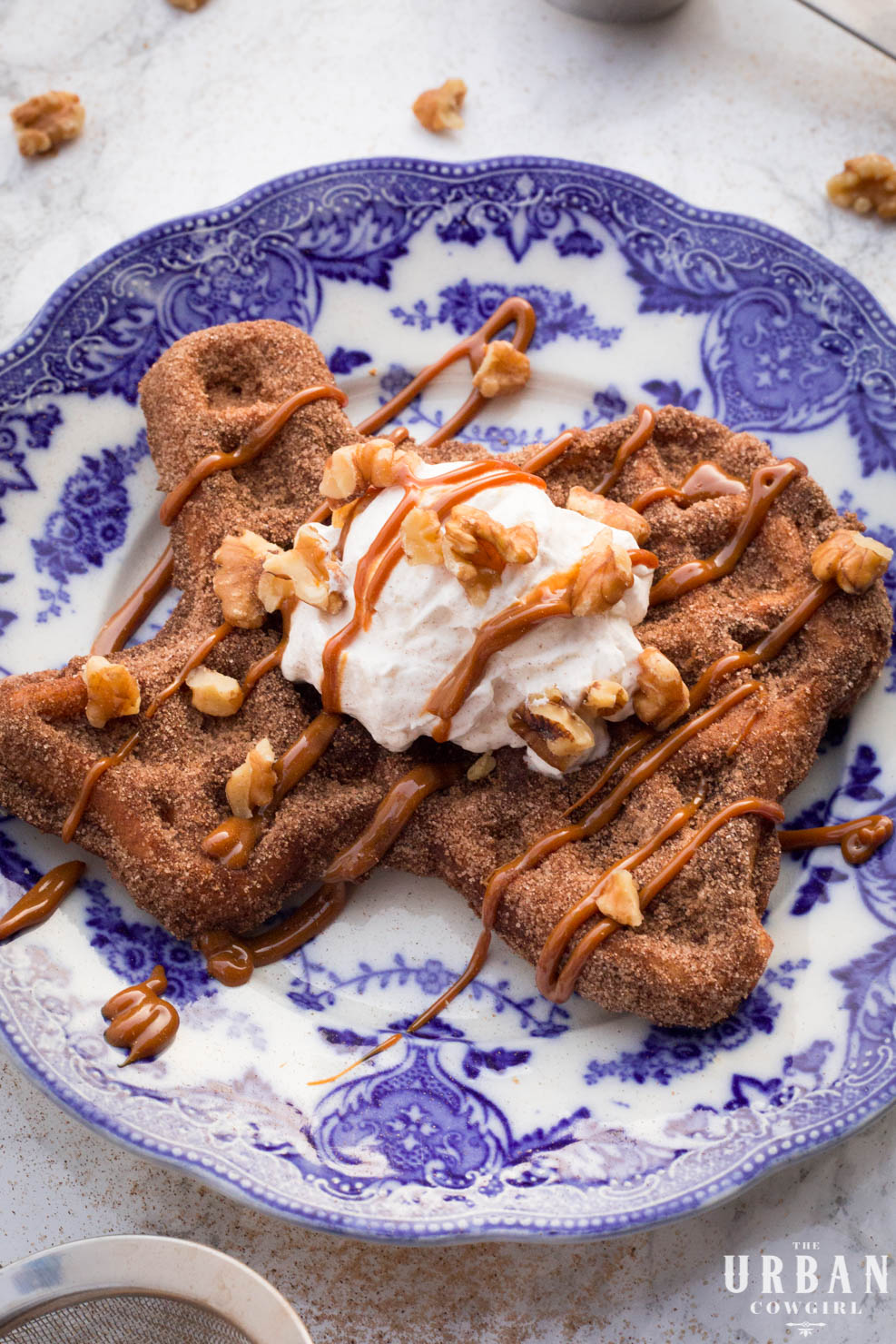 How To Make Churro Waffles:
These are my easy churro waffles recipe! Also, the majority of the prep can be made the night before including the waffle batter, nutmeg whipped cream, and technically even the waffles themselves if you want to premake the waffles and fry them the next morning to order!
Premaking the batter doesn't change the flavor at all, as I made waffle batter in large batches every few days as a hotel chef for the morning crew to use as they needed.
For any waffle recipe you'll measure the wet ingredients into one bowl, and the dry ingredients into another bowl. We always add the melted butter last. Whisk the dry ingredients with a whisk, whisk the wet ingredients together well.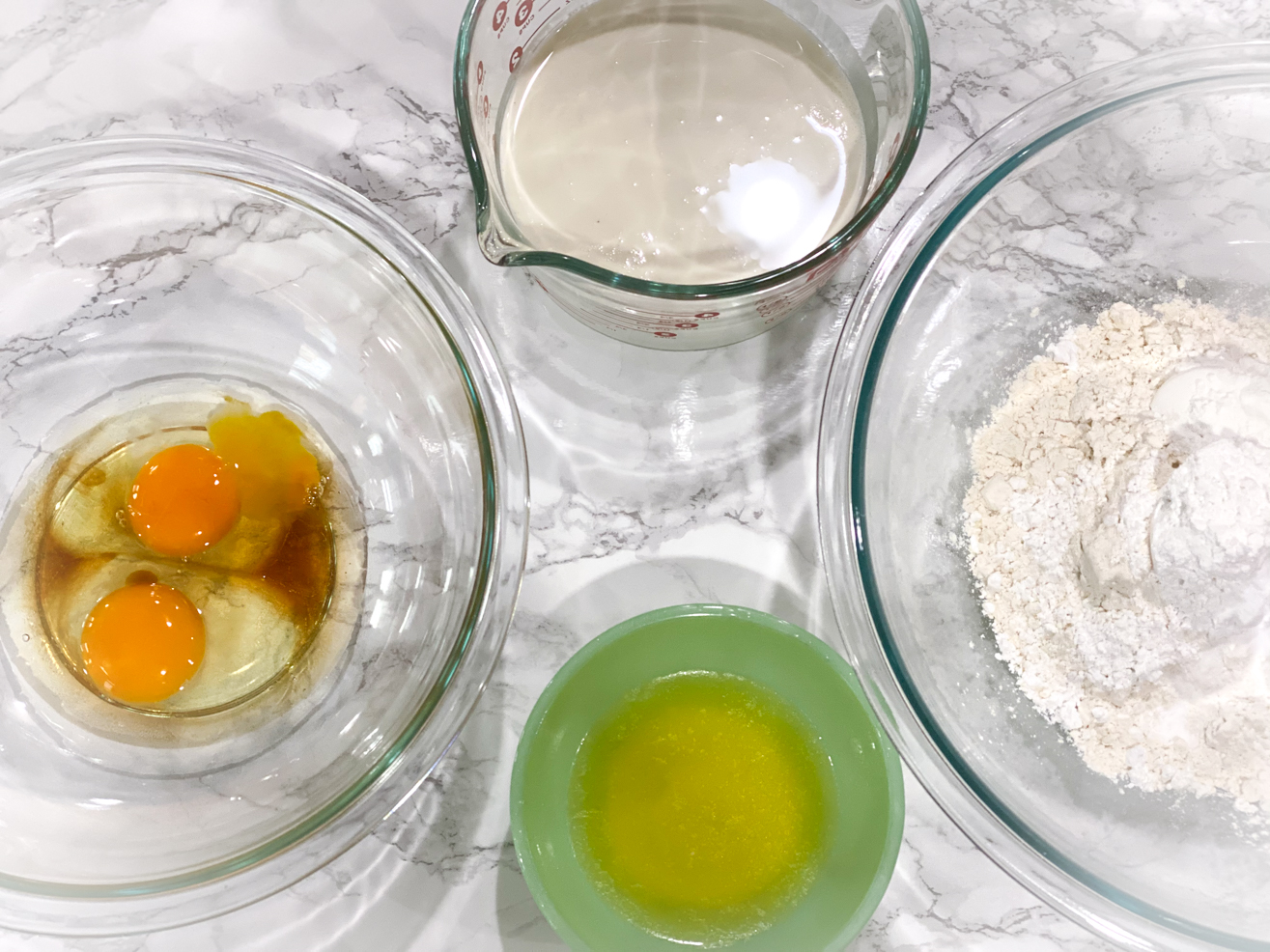 Then add the wet to the dry, add the melted butter, and whisk until the batter comes together.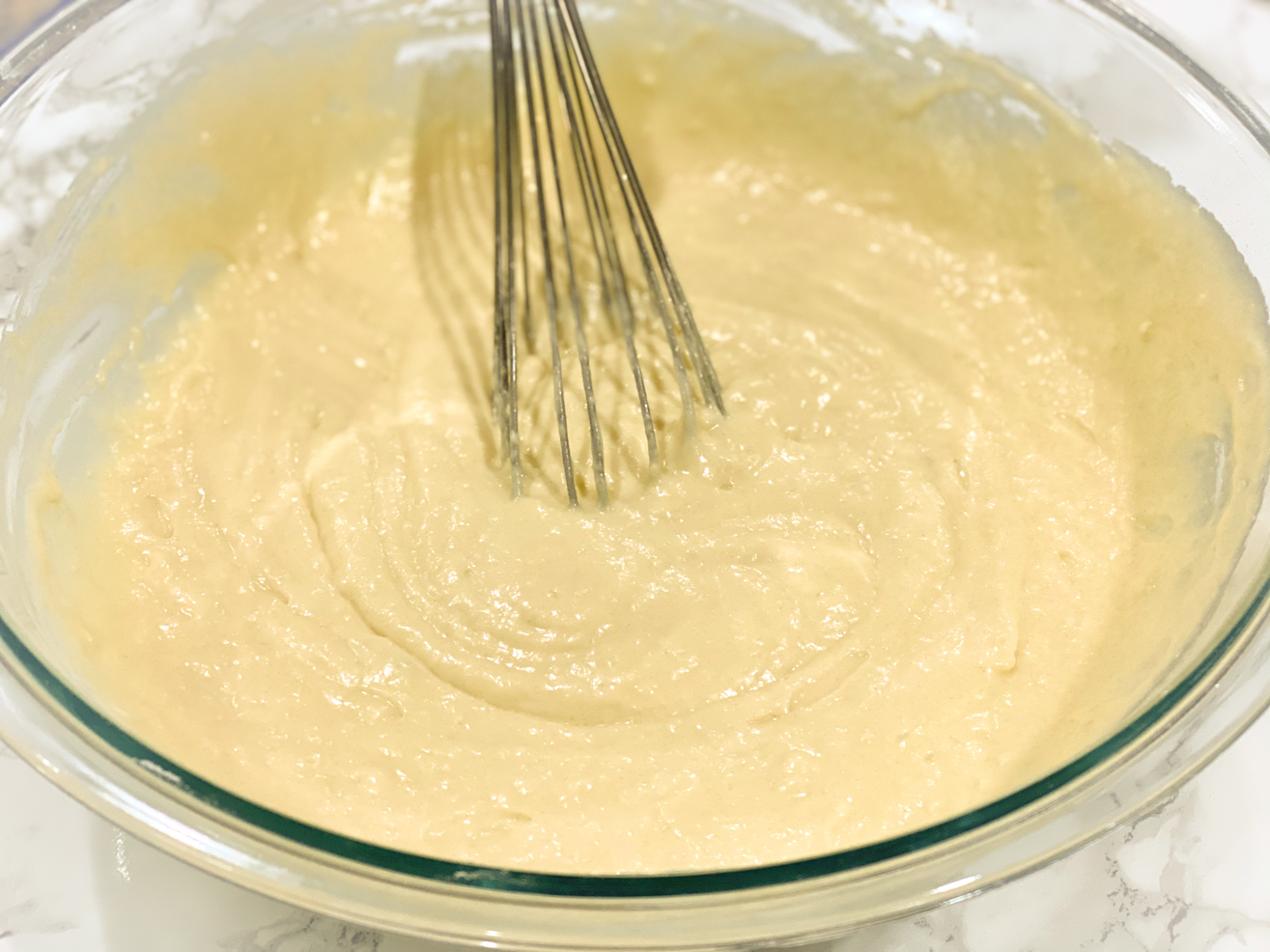 Spray yo waffle iron with pan spray and heat it up. When it's hot, add 1/2 cup batter to the waffle iron. (1/2 c. for the Texas shape, 3/4 c. for normal, waffle irons.) I used my spatula to spread it around and into the curves of the shape. This is the Texas Waffle Maker I used…
Waffle iron churros recipes can use any waffle maker, I just prefer mine Texas shaped. 😀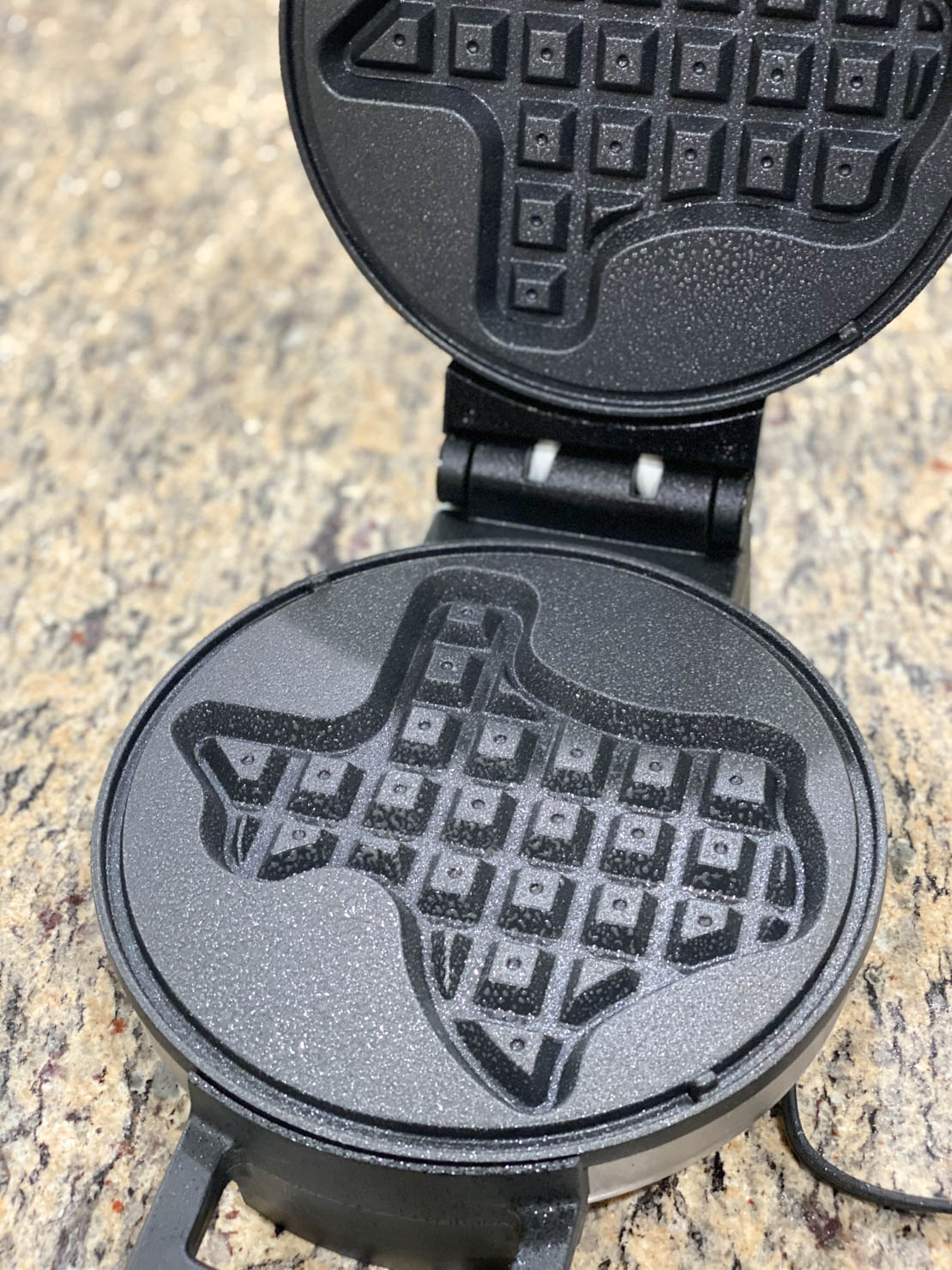 Cook for 1 1/2 – 2 min. Just test your waffle iron to see if that's a good time frame. Not one of my waffles had a problem being too gooey or burnt. They all came out just right!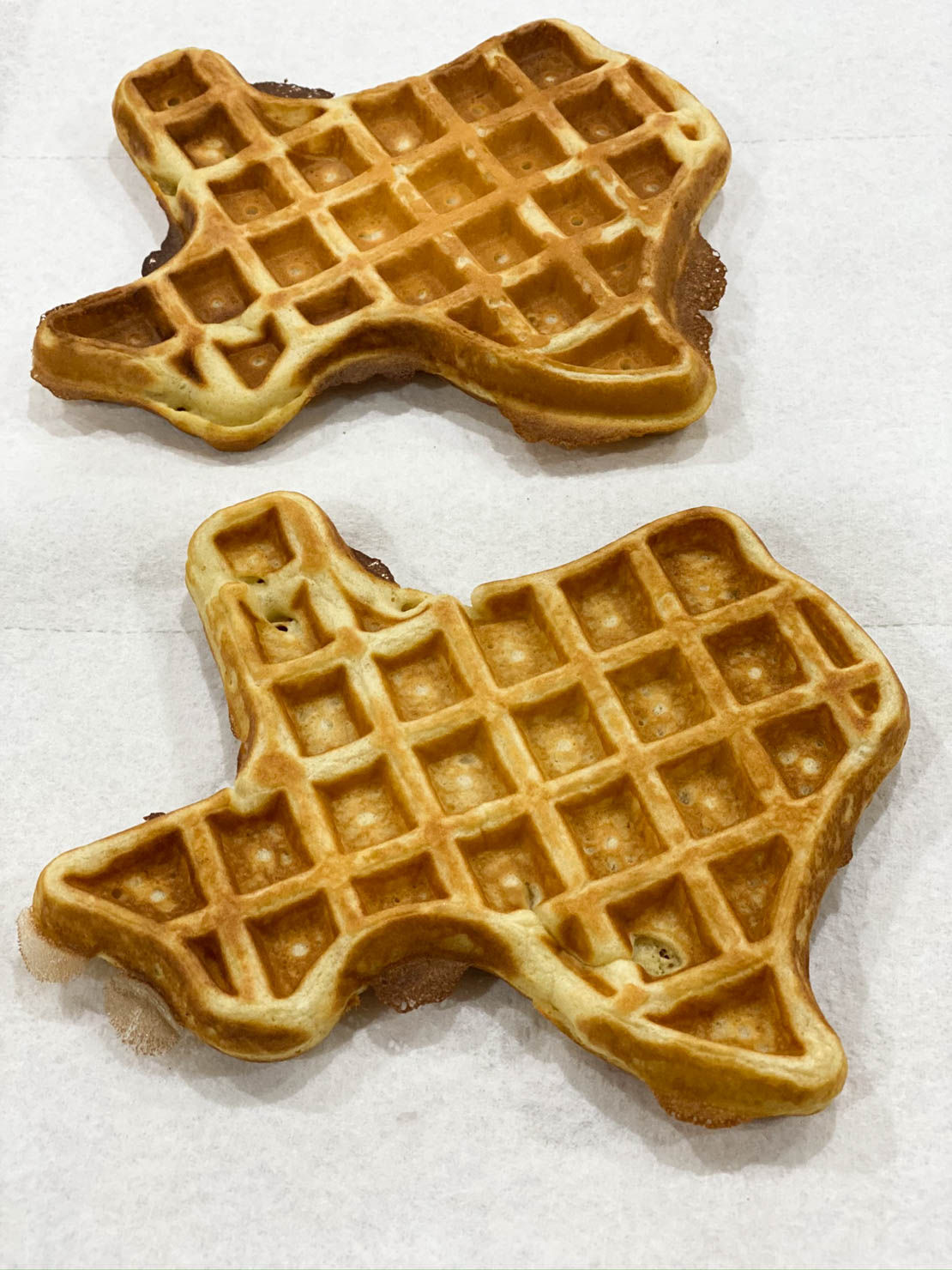 While I'm cooling the waffles on paper towels, I'm just whisking up some mexican cinnamon, aka canela, and a cup of sugar. Canela is a softer more aromatic cinnamon, but it can be difficult to find nationwide. If you can't find it, just use regular cinnamon which is perfectly delicious.
I will reserve the cinnamon mixture, and start a small non stick skillet with a little oil on the stove. I'm using about a cup of oil, and using an infrared thermometer (My infrared thermometer is linked below), I will take this up to about 325 – 340 degrees. Then gently place a waffle into the hot oil. Cook for 20-30 seconds, and flip the churro waffle onto his other side for 20 sec.
Boom! Now straight into the cinnamon sugar mixture, spoon sugar into the holes, flip, repeat, then SHAKE WELL!
You want a light dusting— the dulce de leche is sweet as well so let's not go overboard here.
Previously, I prepared this easy nutmeg whipped cream. I've left it unsweetened because this is already a very sweet recipe, and I wanted the richness in the cream to provide a lush, milky contrast to the sweetness.
The nutmeg whipped cream can easily be made ahead of time, and it is best to do so, so that it may absorb the wintery aroma of the nutmeg. 🙂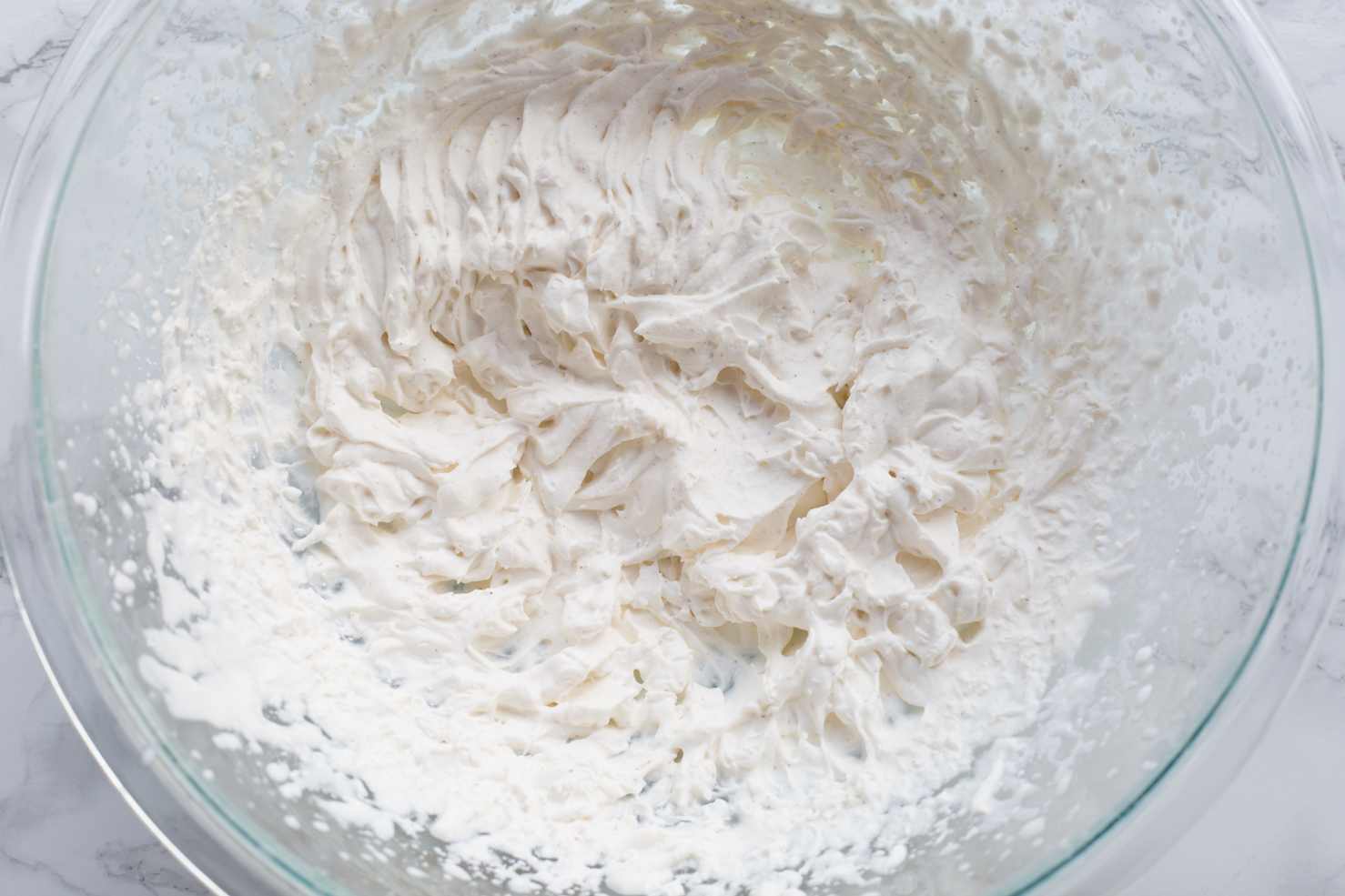 I swear we're almost done… like that is about to happen IN. YOUR. KITCHEN!!!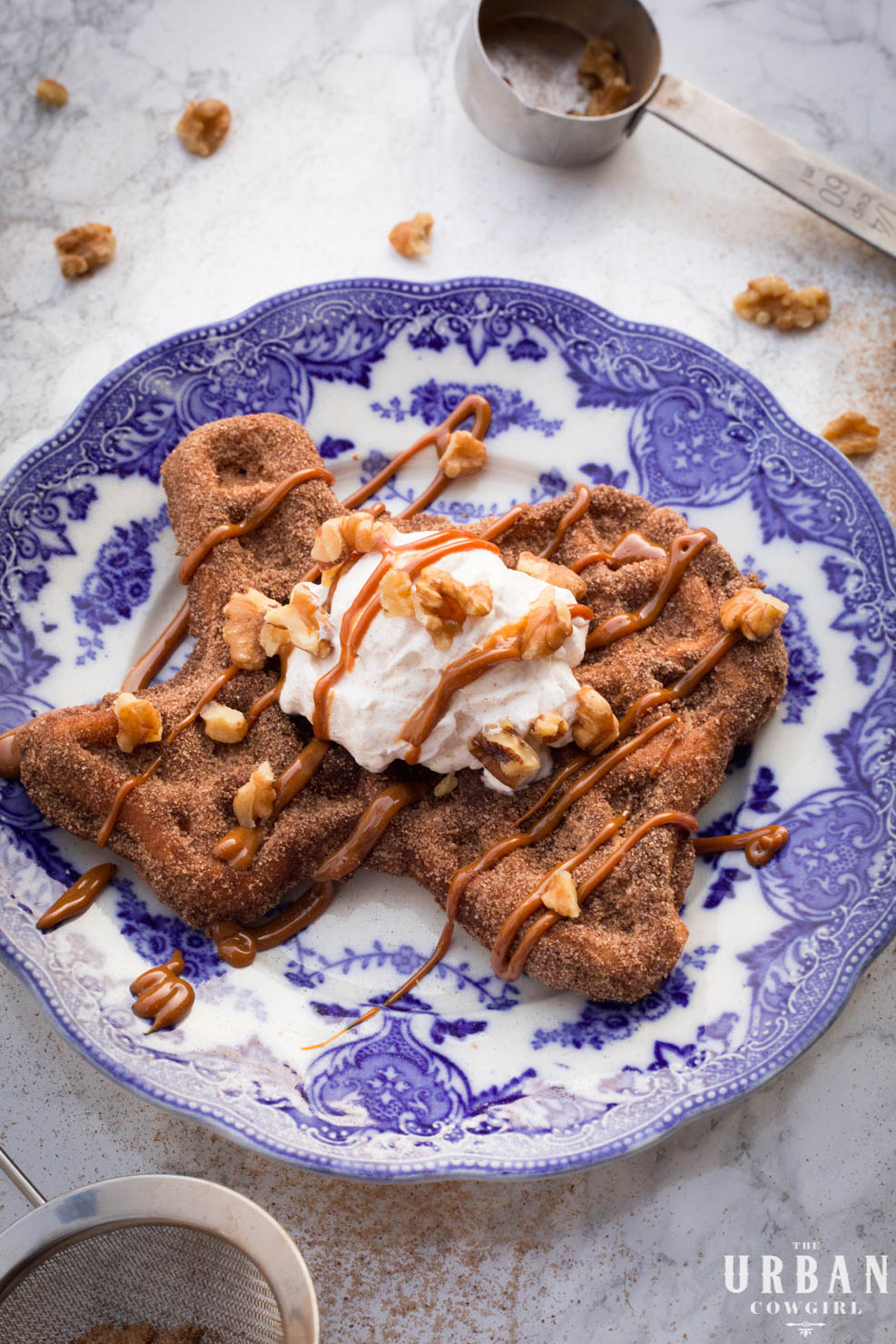 Dulce de leche is here for the final touch!
Dulce de leche is a Mexican and South American dessert sauce made by slowly cooking sweetened milk. It's similar to caramel but it's not as sticky, it's close to a toffee sauce if you're a fan of another Christmas favorite, Sticky Toffee Pudding—the best part is you don't have to make it from scratch.
I picked this up at my local Mexican grocery store and it's very close to the taste of homemade. Like it's so good, we can't stop finding new things to put it on!
And would ya look at that… the label shows that lovely milk maid pouring it on pancakes. (See, it's like a thing yall.)
Like I said, I found it at the mexican grocery store, Azteca. If you want to order it via Amazon, it's right here.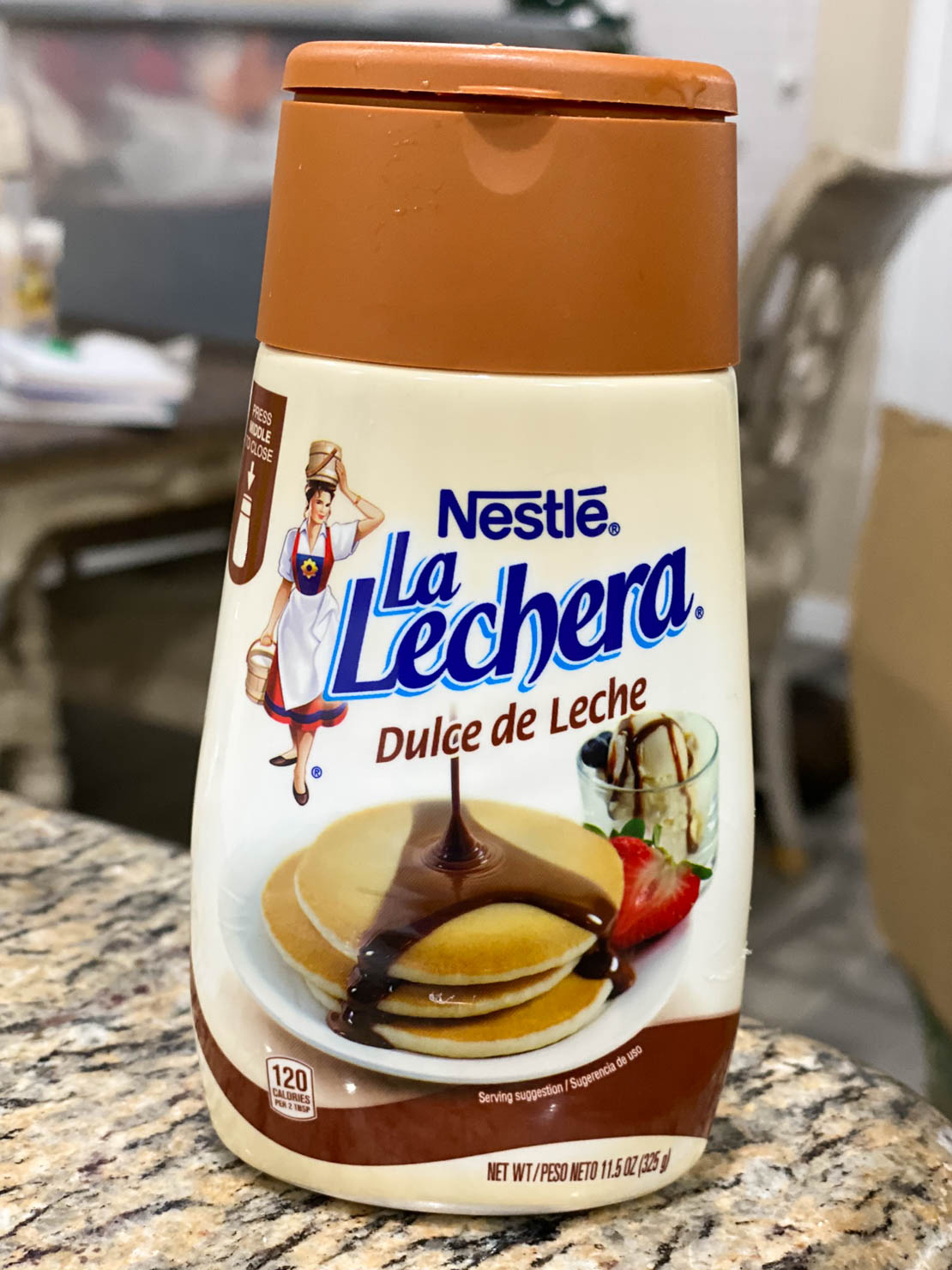 Sprinkle with toasted walnuts, and dress it up like the picture!
And yes, it is like a churro inside!
For more special occasion breakfasts, with lots of southern flair try my Jalapeno Cinnamon Rolls with Brown Butter Frosting!
My other favorite special occasion dishes are Torchy's Queso, Texas Twinkies, Poblano Mac and Cheese with White Truffle Croutons, and my Crab and Brie Stuffed Mushrooms! 😀
Here is the recipe for the…
Churro Waffles with Nutmeg Cream and Dulce de Leche!
If you make this recipe, tag Urban Cowgirl on social media! I love to see your food pictures! ????
Yield:

8-10 waffles
Churro Waffle Recipe – How to make Churro Waffles
These Texas churro waffles with nutmeg whipped cream and dulce de leche are a breakfast made for a king! We serve these on birthdays and Christmas morning for a Lonestar treat the whole family will love!
Ingredients
Dry Ingredients:
2 c. flour
1/4 c. powdered sugar
4 t. baking powder
3/4 t. baking soda
1/2 t. salt
Wet Ingredients:
2 eggs
1 1/2 c. milk
1/4 c. melted butter
1 1/2 t. vanilla extract
Sugar Mixture:
1 c. white granular sugar
1/4 c. ceylon cinnamon
For Frying:
1 1/2 c. fresh canola oil
Whipped Cream:
2 c. cream
1-2 t. ground nutmeg
Toppings:
Chopped toasted walnuts
Dulce de leche (nestle product), or homemade if desired. We loved the nestle squeezable brand.
You will also need pan spray for you waffle iron
Instructions
To make the waffle batter:
Place all the dry ingredients in a bowl and mix well. Place all the wet ingredients in a bowl (besides the melted butter) and whisk well. Add the wet mixture to the dry mixture and mix until they are just incorporated, do not over mix. Stir in the melted butter.
Heat the waffle iron and spray with pan spray. Pour 1/2 c. batter into the waffle maker (for Texas-style waffles, your waffle iron may need more), use a small spatula to get the batter into small curves of the shape. Close the waffle iron and cook for about 2 minutes. Every waffle iron is different so you may need to adjust the timing. Place each completed churro waffle on paper towels to cool. Repeat.
To Make the Nutmeg Whipped Cream:
In a bowl beat 2 cups of heavy cream with beaters until peaks form. Sprinkle in nutmeg. Chill until time for plating the waffles.
To Fry the Waffles:
In a non-stick skillet heat about 1-2 c. oil to 325-340 degrees. Fry each waffle 30 seconds on each side and immediately place it into the cinnamon-sugar mixture. Spoon cinnamon sugar into the waffle holes, flip and repeat. Shake well to remove excess.
Place on plates and top with nutmeg whipped cream, toasted walnuts, and a drizzle of dulce de leche. Serve hot!
Nutrition Information:
Yield:
8
Serving Size:
1
Amount Per Serving:
Calories:

938
Total Fat:

73g
Saturated Fat:

22g
Trans Fat:

1g
Unsaturated Fat:

48g
Cholesterol:

140mg
Sodium:

663mg
Carbohydrates:

66g
Fiber:

3g
Sugar:

32g
Protein:

9g
This nutritional information is provided as a courtesy as an estimate only. Consult with a dietician for precise estimates.