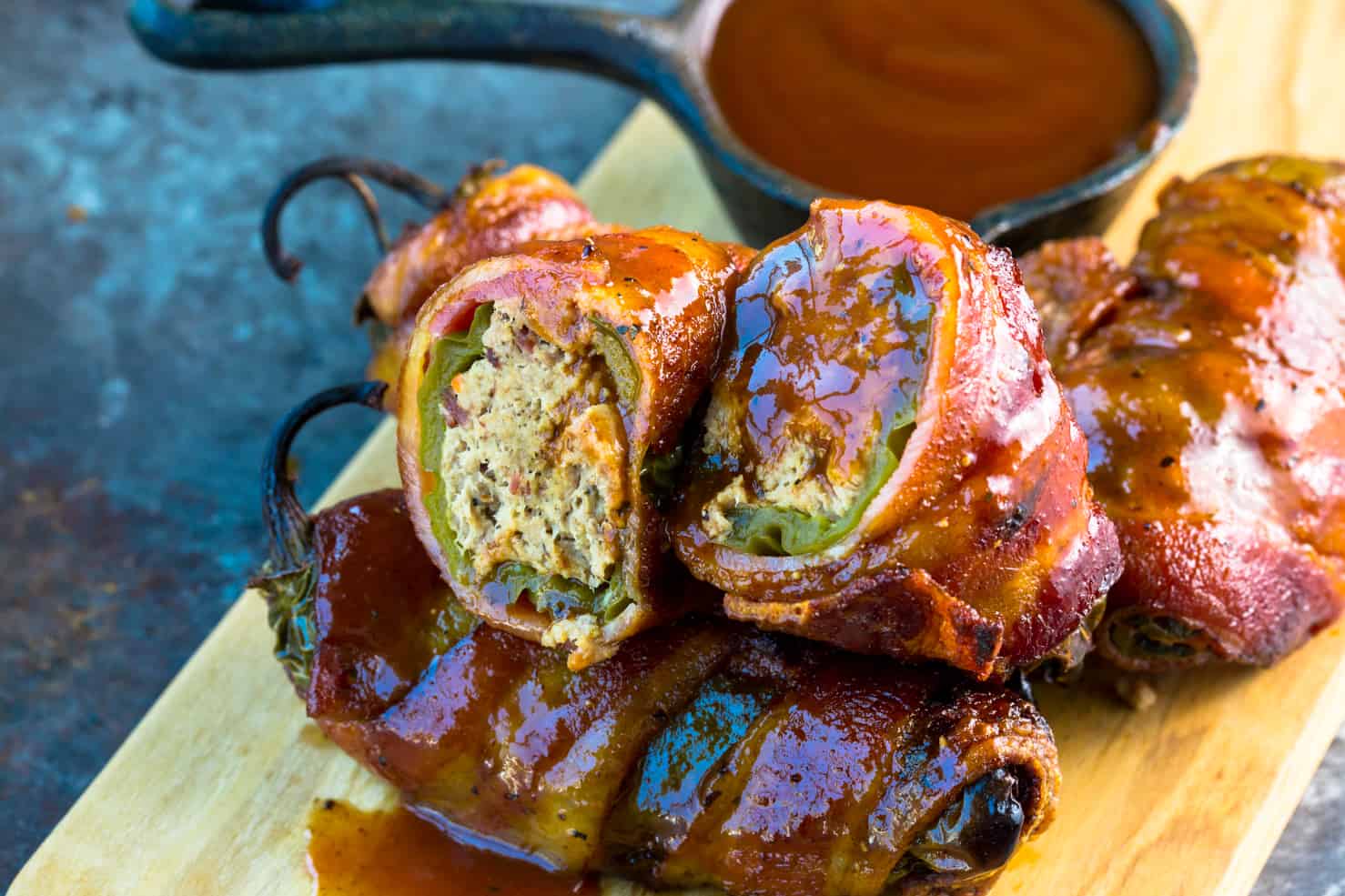 I should have just named my blog, "Ways To Use Up Leftover Brisket"… cause let's face it. I spend a lot of time creating tasty new recipes from my husband's barbecue obsession.
Oh, you're new here? Just check out any of these recipes for my favorite ways to use leftover brisket.
Brisket Walking Tacos with Chipotle Bacon Crema
Brisket Deviled Eggs with Candied Jalapeno
But today I was over the moon to have leftover brisket because I wanted to create my own version of a reasonably new offering popping up at Texas barbecue joints, The Texas Twinkie!
Yep, we played around with all of the ingredients to write you the ultimate guide on how to make these babies, including which bacon is best, how thick of bacon should you use, what style of barbecue sauce to use for Texas Twinkies, and where to find the jumbo jalapenos that are required.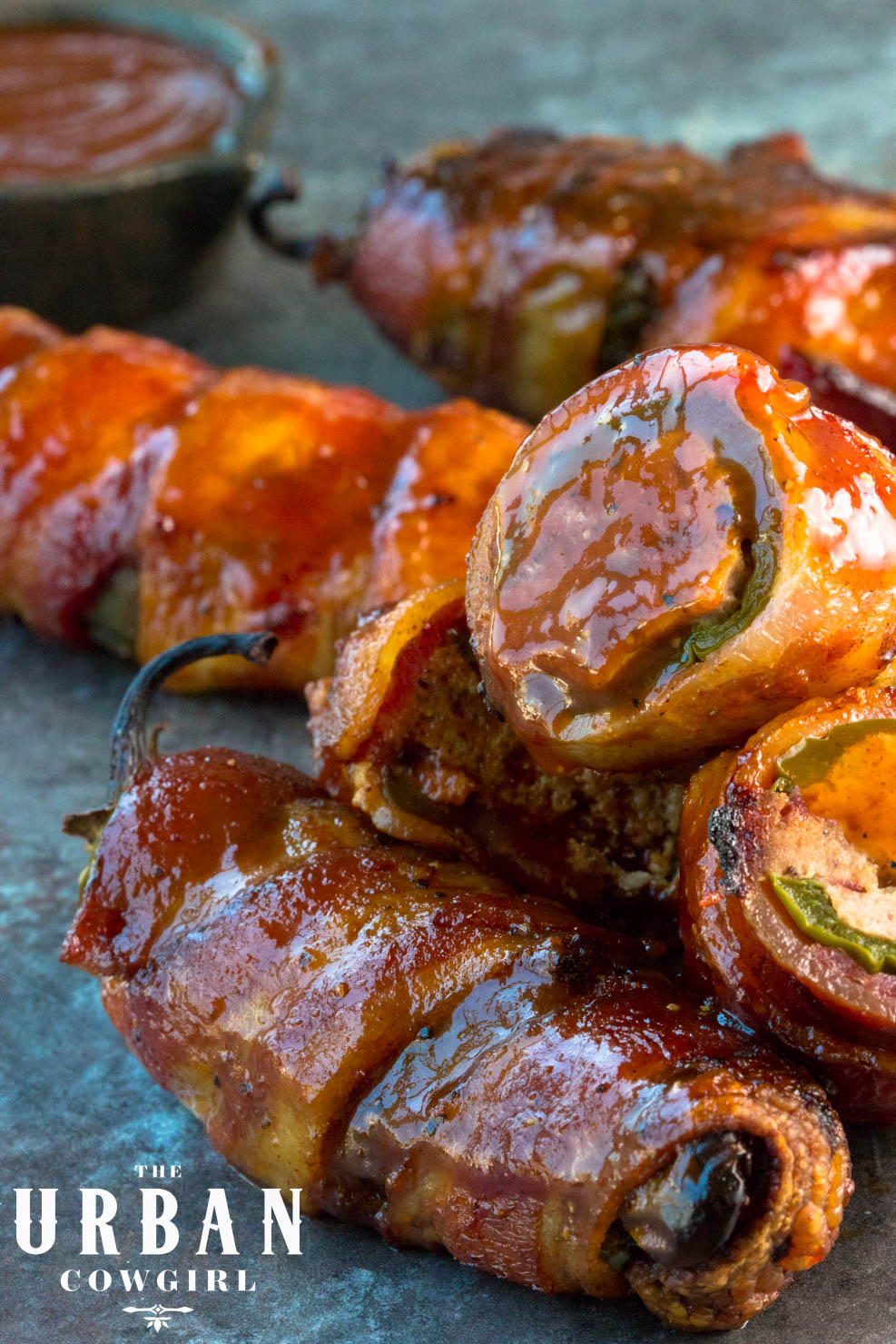 (As an Amazon Associate I earn from qualifying purchases.)
I'm thrilled to share the recipe because it wasn't near as daunting as it originally looked. Let's take a look at the ingredients we need. (OBVIOUSLY, BRISKET.)
This is chopped brisket from the point of the brisket. The point is the fatty part that is usually chopped and made into sandwiches (instead of the flat which we use to make sliced brisket). I chopped it up into tiny pieces.
To spice things up and make our recipe speeeeeecial, we're adding in some freshly grated pepper jack cheese, cream cheese, hickory-smoked bacon, and jumbo jalapenos.
For the Texas Twinkies Recipe, you need extra large jalapenos which are abundant in July and August. They're also available at mexican grocery stores like Azteca Meat Market. The jalapeno needs to be pretty big, hopefully, bigger than your palm. You can still make them with smallish jalapenos but you'll have a lot more labor.
I will combine the chopped brisket, pepper jack cheese, and cream cheese in a food processor, and pulse until it all comes together. The cream cheese acts as a kind of binder and the pepper jack cheese provides some ooey gooey goodness.
For the jalapenos, I simply slice them down one side (NOT all the way through! See the picture below) with a sharp paring knife. One by one I pull out the seeds and ribs of the pepper. I used a small spoon to help me scrape them out and I washed my hands several times with soap and water before touching anything else.
You can also use gloves like these and not have to worry about touching anything afterward. My hubby loves the gloves because he hates it when he rubs his eyes after prepping these! I can't say I blame him.
Then, I fill the inside with the brisket and cream cheese mixture. It's very dense so you can just mash it in and it holds together really well.
Here is a close-up. You can see the slit from the top to bottom of the jalapeno, and the brisket mixture which becomes firm and holds together well.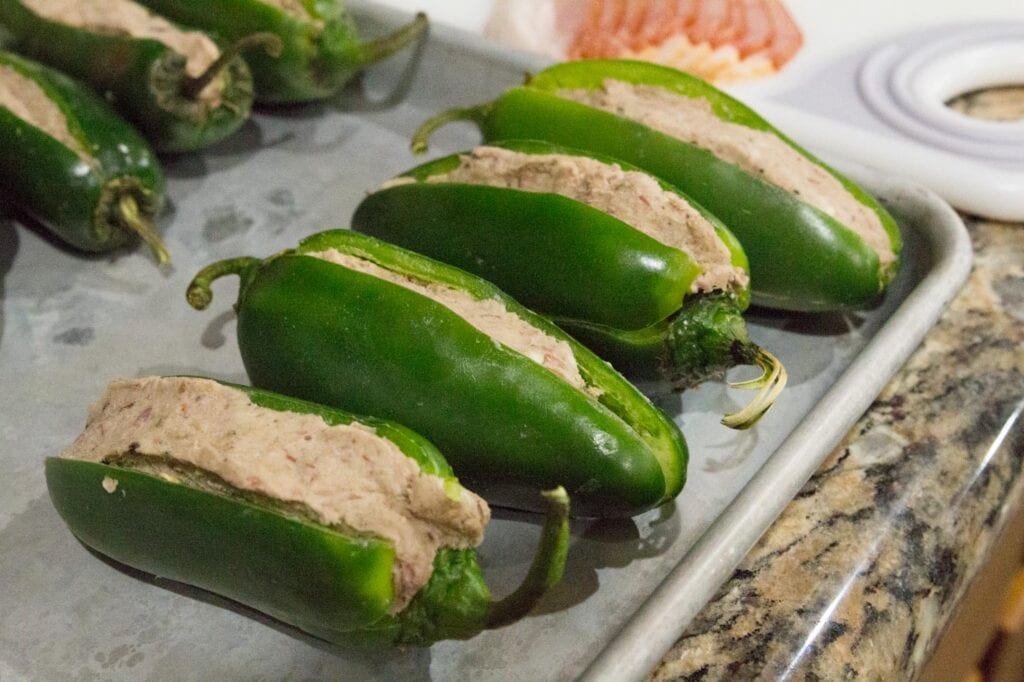 Which Bacon is Best for Texas Twinkies?
Here is what I learned with trying several types of bacon… One piece of bacon is not enough. It's a big ole jalapeno and it needs 1 1/2 to 2 pieces of bacon per pepper to cover it fully. So, keep your paring knife close and trim your bacon as needed. Don't worry about 2 pieces of bacon not coming together properly, they will glue to each other as they roast.
Secondly, I assumed thin bacon would be better than the super thick bacon (Wright's brand of bacon). Both work beautifully. We didn't see a significant difference in the final product. The thick cut bacon will render down and become crispy, just as well as the standard bacon. Let's look at how to wrap them.
Set up your workspace with your unwrapped bacon, paring knife, cutting board, jalapenos, and toothpicks within reaching distance. Lay a slice of bacon out and place a filled jalapeno pepper on top of it, always starting near the stem. Wrap the bacon tail up and over the pepper tightly.
Fasten with a toothpick whenever you need to to keep it reasonably tight and secure. And keep wrapping.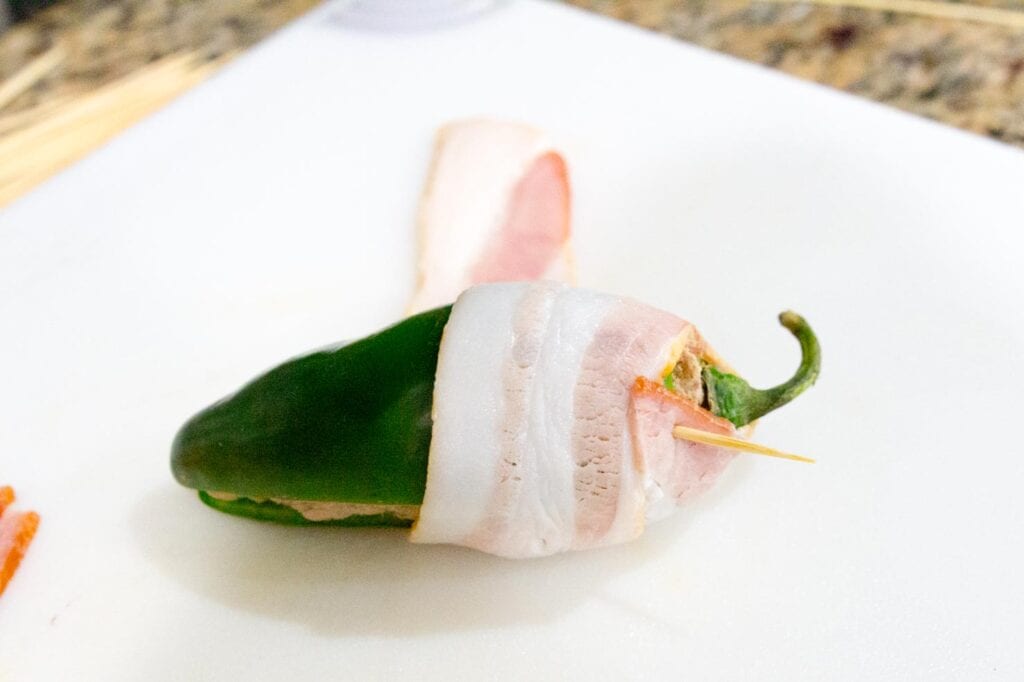 One piece of bacon is never enough! Just secure another piece of bacon on the toothpick and keep rolling.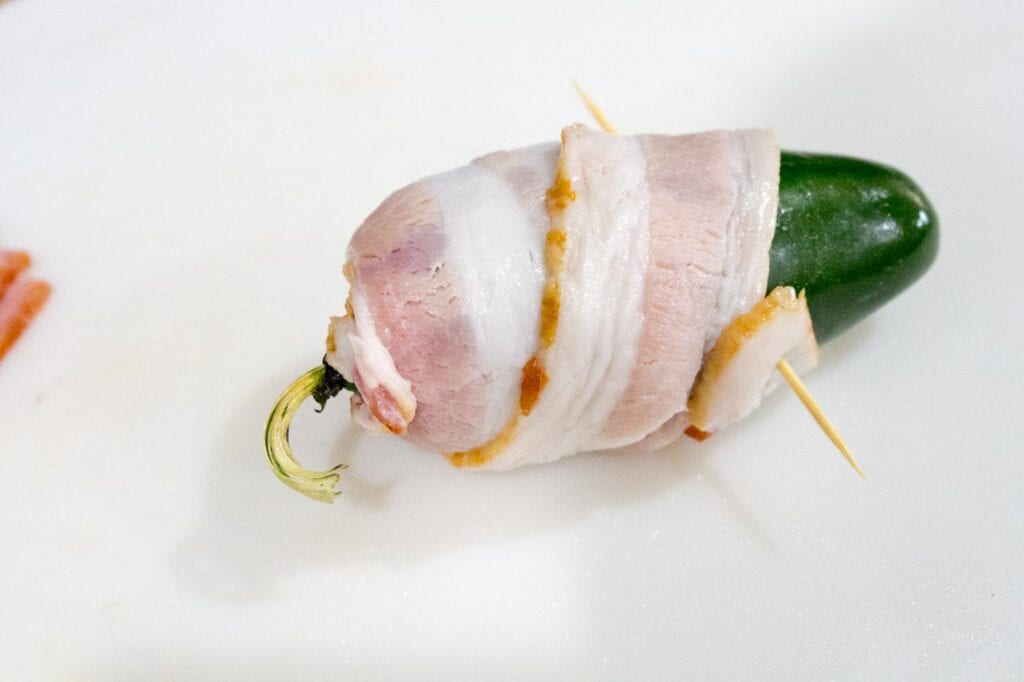 You can trim the extra bacon off with your paring knife, and maybe use it for another pepper. Keep sticking in tooth picks. Repeat with the remaining Texas Twinkies.
These look great! I've turned my REC TEC smoker on to 375.
If you have grilling mats, I suggest using them. It keeps everything above the grill grates and cleanup is much easier.
I would assume you could also roast these in an oven at the same temp, but they wouldn't get the extra flavor from the smoke. Smoke them for 45 minutes.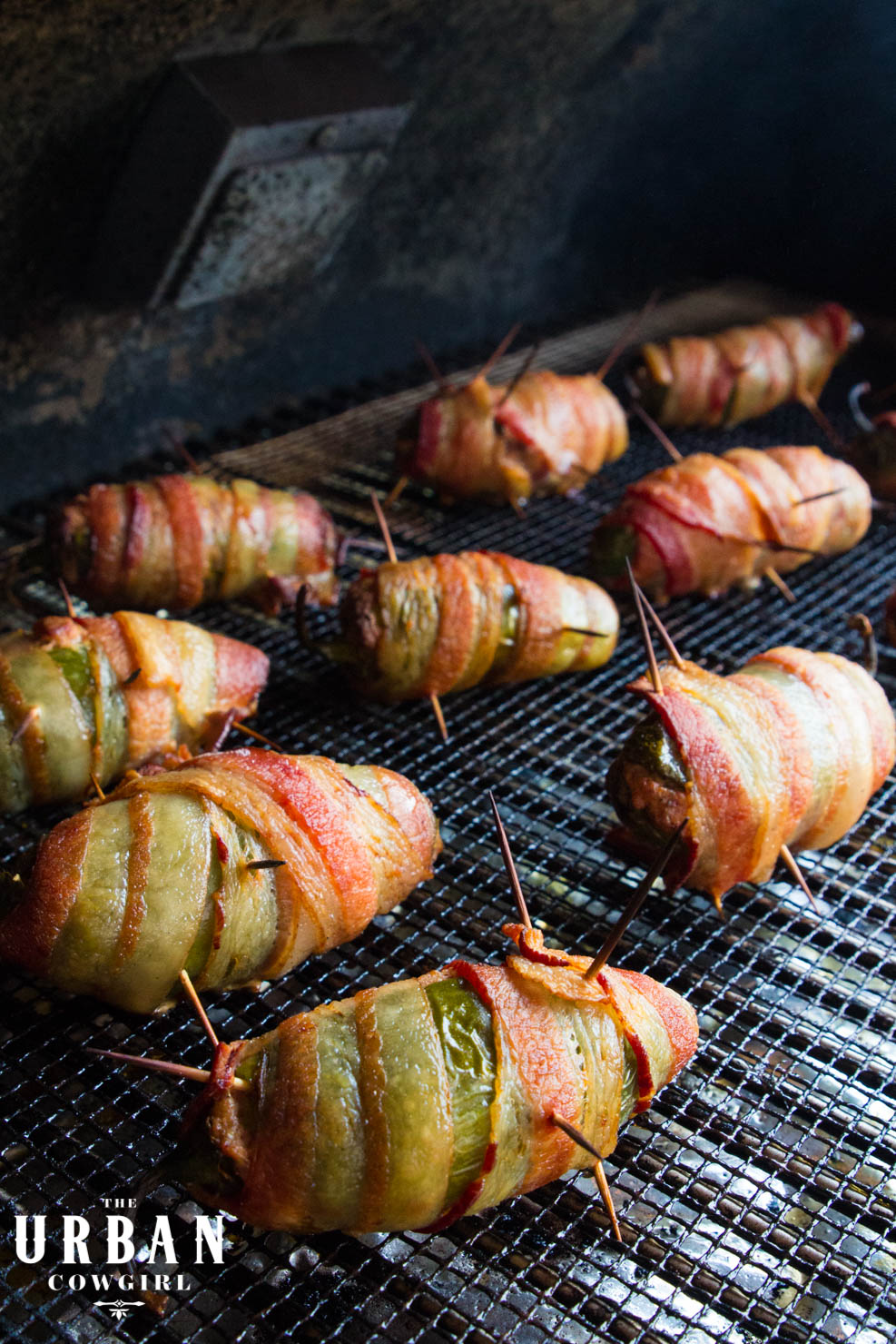 SHOOOOOO! As my grandma would say. These look awesome! Now we will glaze them with barbecue sauce. We prefer a sweet barbecue sauce to balance out the spice from the jalapeno and the kick from the pepperjack cheese. Our favorite barbecue sauces are my Dr Pepper Barbecue Sauce or my Cherry Bourbon Barbecue Sauce. If you're a Keto or Low Carb Dieter, these are totally in your diet you'll just need to use this sweet but sugar-free barbecue sauce.
We used this mini basting brush to easily get the sauce on our twinkies.
Glaze em up! And throw them under the broiler just until the barbecue sauce caramelizes.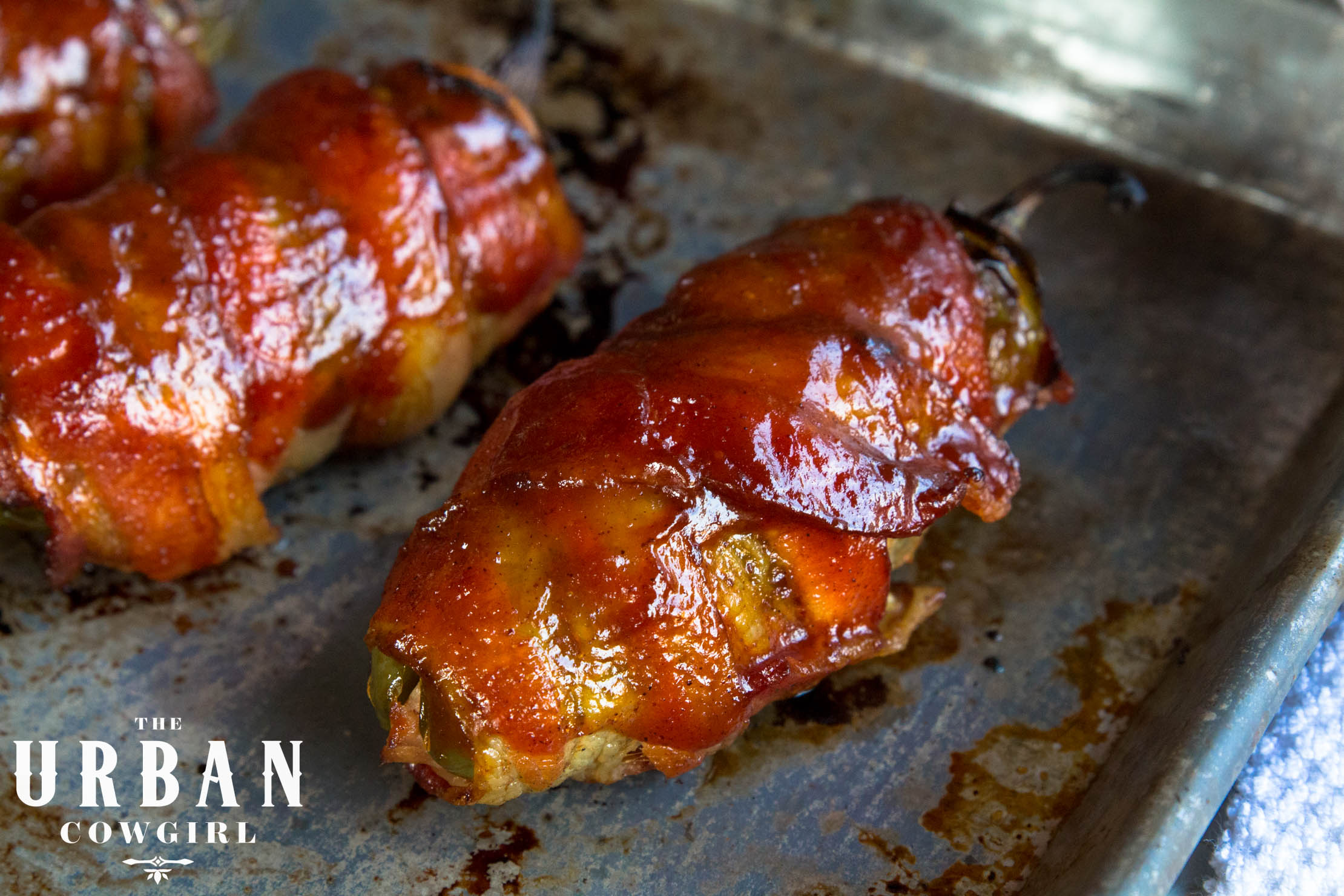 When you bite into your Texas Twinkie you get the snap from the juicy, crisp bacon, and a pop of sweet barbecue sauce that balances out the creeping heat of the jalapenos. The brisket is moist and succulent and holds well paired with the cream cheese. It's a lot of flavor out of one perfect bite!
The Texas Twinkies can be served and eaten immediately, but they also hold up well if you're taking them to a barbecue, pool party, or anywhere else you're looking to have a great time!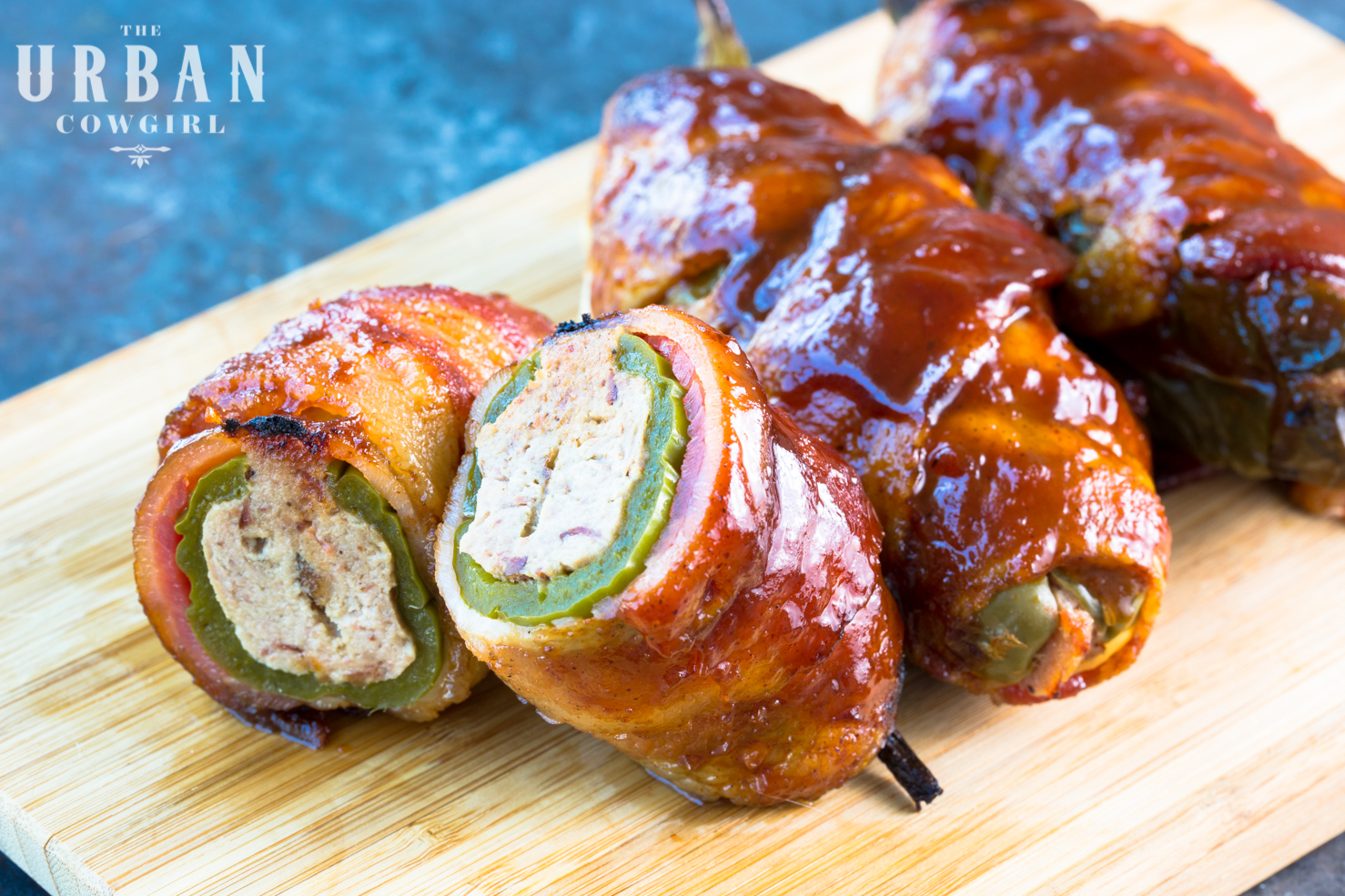 Yield:

28 peppers
Texas Twinkies Recipe
Total Time:
1 hour
20 minutes
It's the most famous Texas cooking trend since frito pie! Learn how to make these authentic smoked Texas Twinkies with cream cheese and chopped brisket, wrapped in bacon! WE'LL EVEN SHARE HOW TO MAKE THESE IN YOUR AIR FRYER!
Ingredients
1 lbs chopped brisket from the fatty side (the point), or store bought
1 1/2 T. salt
1 1/2 T. black pepper
1 t. cumin
1 c. pepper jack cheese, freshly grated
8 oz. cream cheese
2 packages of bacon (about 24 strips)
14 extra large jalapeno peppers
Sweet Barbecue Sauce Of Your Choice
Special Tools: Toothpicks
Instructions
In a bowl or food processor, combine the cream cheese, shredded cheese, chopped brisket, and spices. Pulse several times to combine and mix well. Chill the mixture while you prepare the jalapenos.
For the jalapenos, make one cut from the stem all the way down to the tip with a sharp paring knife. Repeat with the remaining jalapenos. Over the kitchen sink, use a small spoon with a sharp edge to scrape the seeds and ribs from the pepper. Wash the seeds and ribs down the sink. Repeat with the remaining jalapenos and then wash your hands well.
Fill every jalapeno with the filling, nearly to overflowing (see photos). Prepare all the items you will need to wrap with bacon-- a cutting board and sharp knife, toothpicks, filled peppers, and bacon slices already opened and laid out for easy access.
Using the photos above as your guide wrap the bacon around the stuffed jalapenos starting at the stem and traveling around the pepper. Most peppers need 2 pieces of bacon depending on the size of your jalapenos. Secure with toothpicks and reserve. Repeat with the remaining peppers.
Preheat your smoker to 375 degrees. (We assume it would work to use an oven set to the same temperature, but we have never tested this.) Lay the peppers on the smoker. Smoke at 375 degrees for 35 minutes.
Turn the broiler of your oven on high. Place the Texas Twinkies on a cookie sheet lined with foil and coat with sweet barbecue sauce. (We recommend our Dr Pepper Barbecue Sauce or the Cherry Bourbon Barbecue Sauce on Urban Cowgirl!) Coat well and broil just for a minute until the sauce thickens and becomes sticky. Repeat if desired. Serve hot with additional barbecue sauce or a drizzle of homemade ranch dressing.
Notes
This recipe works well in an air fryer. Set to the same temperature and bake until the bacon is crispy.
Nutrition Information:
Yield:
28
Serving Size:
2 peppers
Amount Per Serving:
Calories:

101
Total Fat:

7g
Saturated Fat:

4g
Trans Fat:

0g
Unsaturated Fat:

3g
Cholesterol:

30mg
Sodium:

460mg
Carbohydrates:

2g
Fiber:

0g
Sugar:

1g
Protein:

7g
This nutritional information is provided as a courtesy as an estimate only. Consult with a dietician for precise estimates.