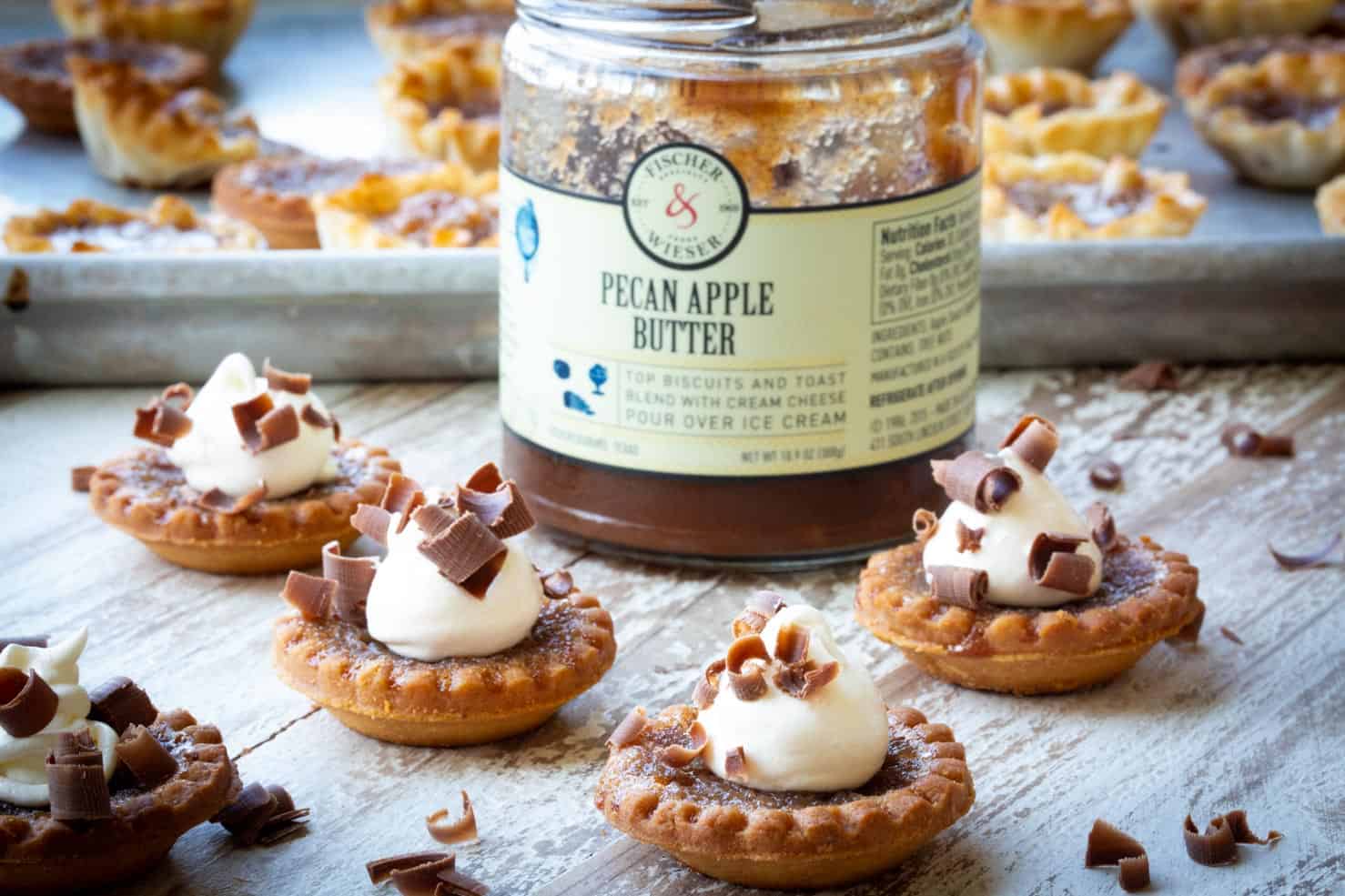 Imagine it's late at night on a Wednesday, and your child reminds you that they need to bring a treat for the class Fall Festival.
Maybe, it's your own office Halloween party.
Or perhaps, *SHUDDER* it's Thanksgiving with your in-laws and you've been asked to bring a dessert.
How do you handle this pickle?!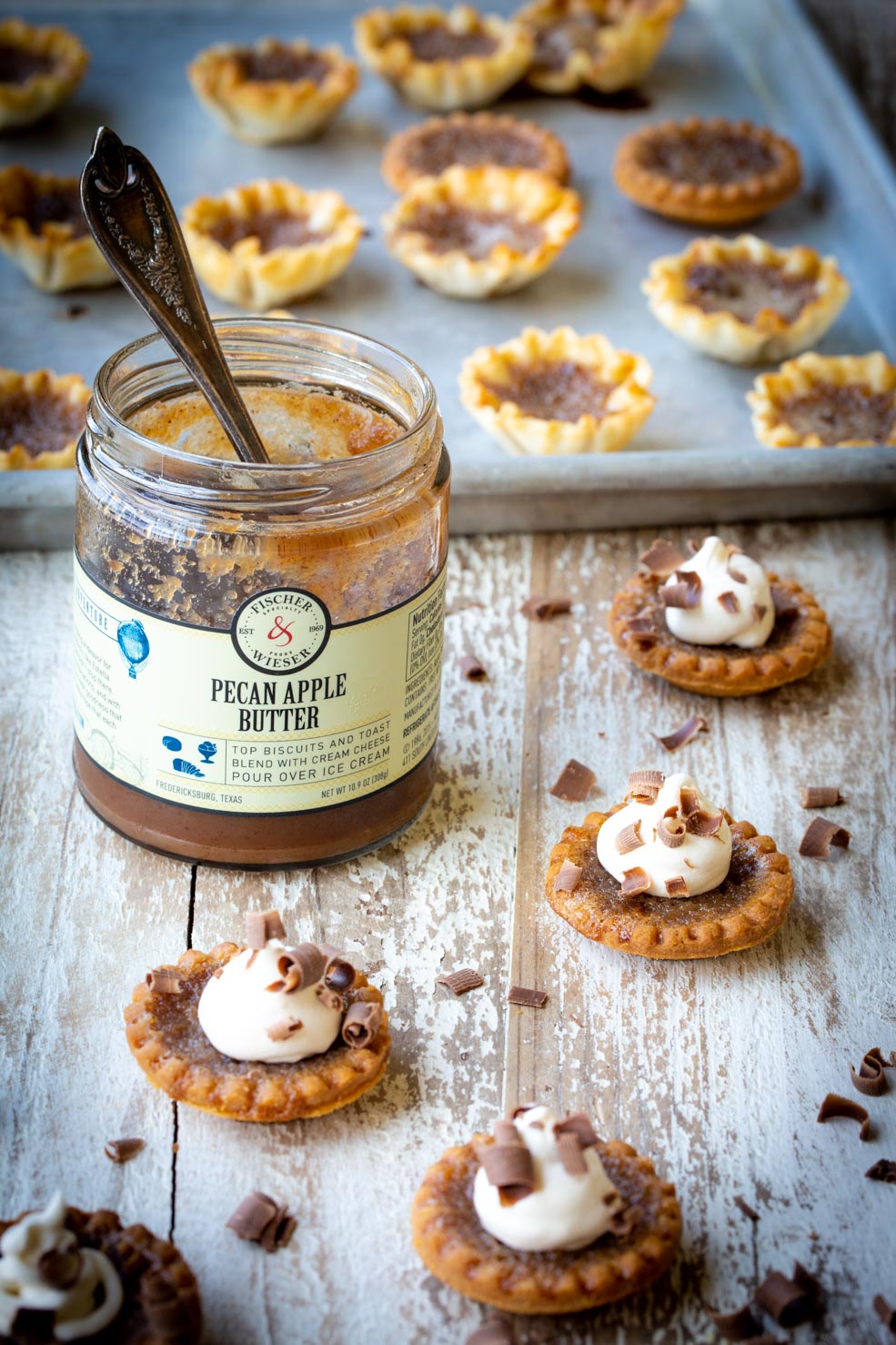 (Babe, I got you.)
20 MINUTE APPLE BUTTER TARTS.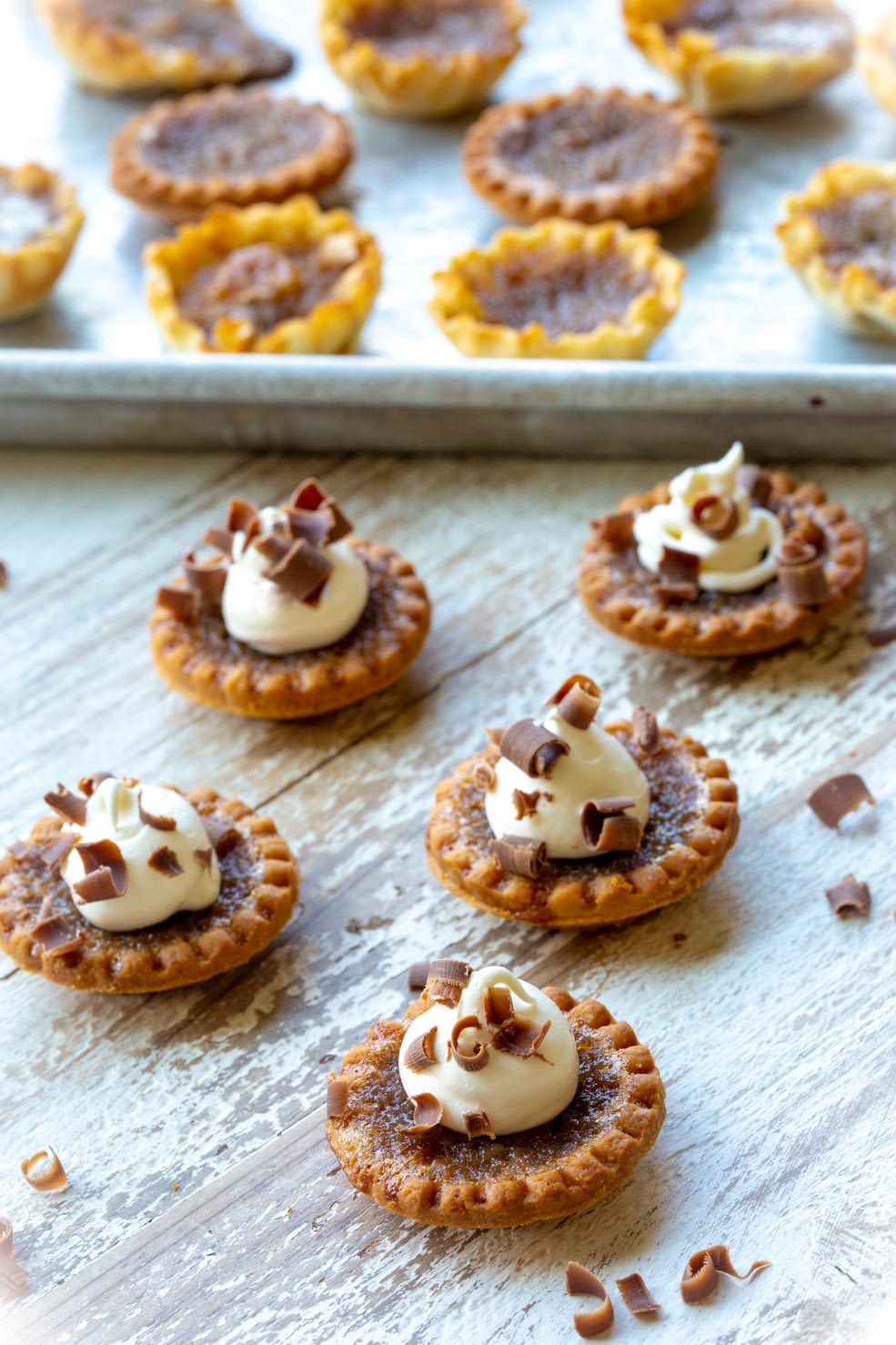 20 minutes people. That's all you need to whip up a whole bunch of these little beauties and your work here is done!
Warm, like newly baked bread fresh from the oven, glazed and caramelized like crème brulee, these apple butter laden bites will leave you nibbling your way through Fall with a festive grin. (We think your friends and family are going to be pretty impressed with your baking skills too, amirite?!)
Did I mention they only take 20 min? OK GOOD, JUST MAKING SURE.
Let's get our aprons on and get started.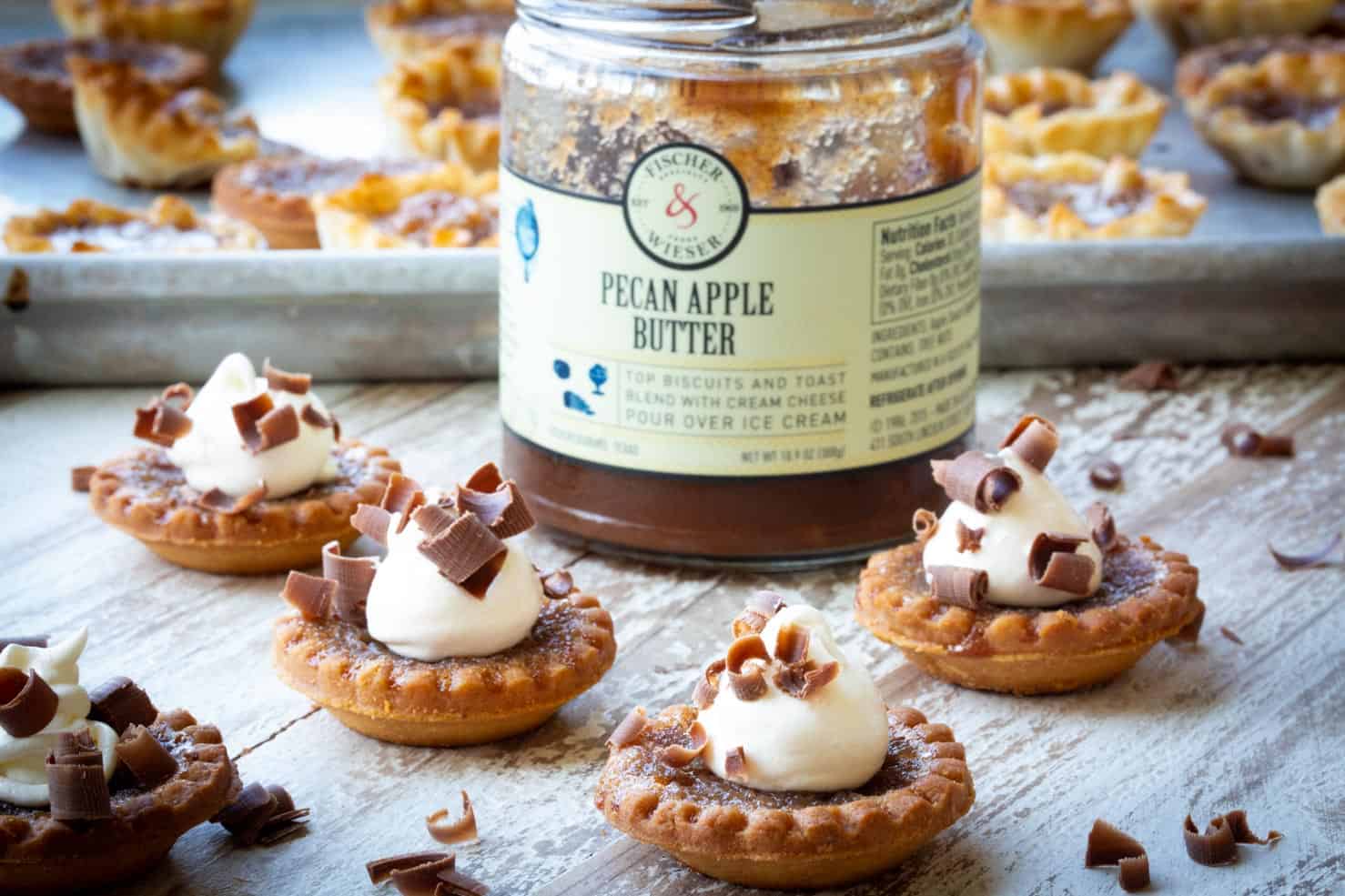 How to Make Apple Butter Filling for Tarts:
This tart filling takes 5 minutes to throw together. If even that.
It all starts with my new favorite toast topper, Fisher and Weiser's Pecan Apple Butter!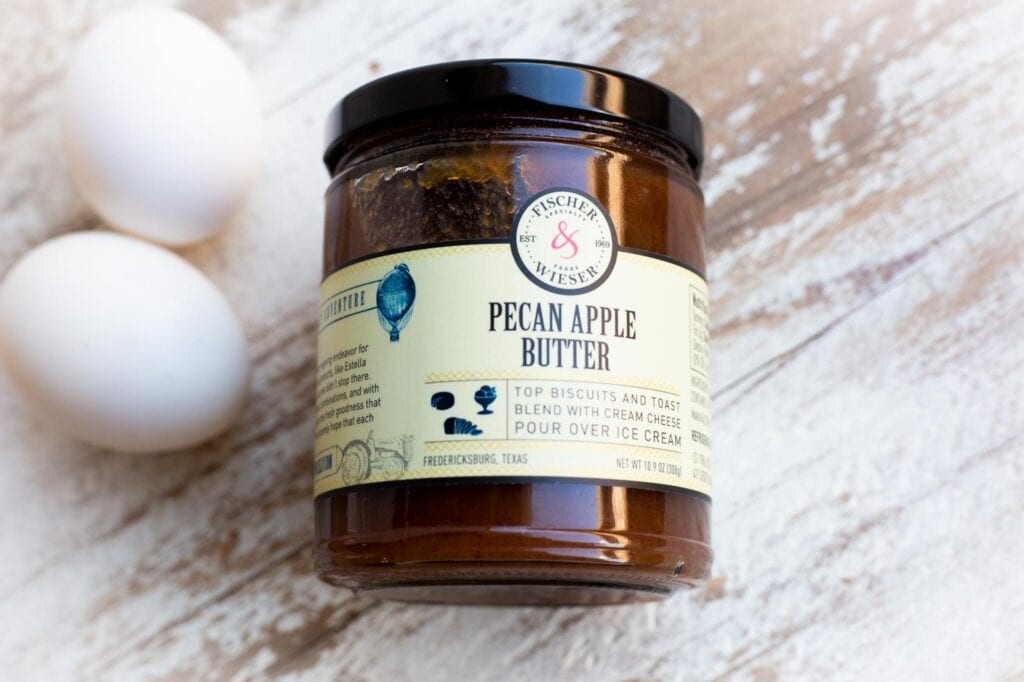 For my fellow Texans, the Fischer and Weiser name is synonymous with tasty and creative sauces, jellies, and mixes, that make cooking easy and flavorful. They're an approachable gourmet food company from Fredericksburg, Texas that's been owned and cared for by the same two founding families for over 45 years.
Now they're available all over the place, YAY! (I told you they were good ???? )
Locally, you can pick up the Pecan Apple Butter at Walmart.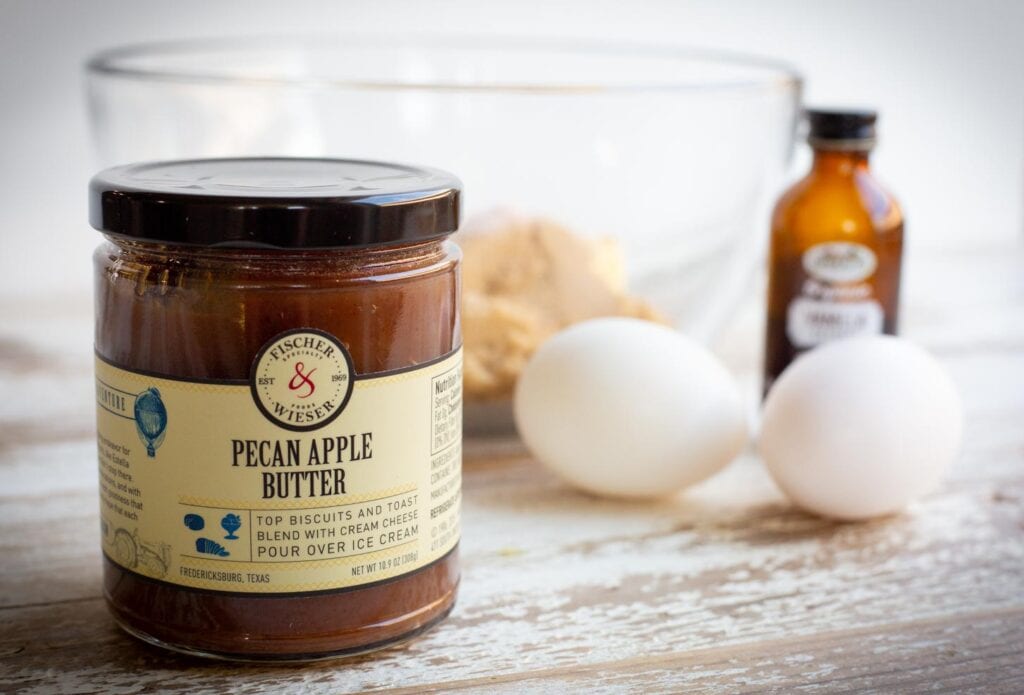 If you want to take a look at all the cool culinary goodies created by Fischer and Weiser, CLICK HERE!
Once we have the apple butter, we will begin by melting a stick of butter, brown sugar, vanilla, and a pinch of salt, just until melted, about 30-45 seconds.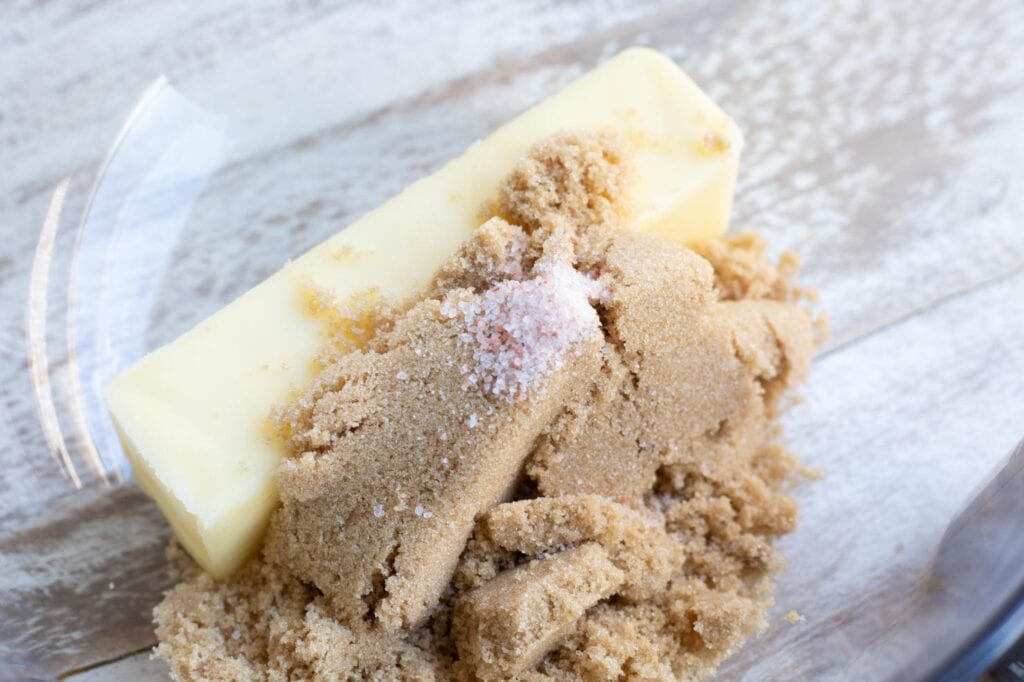 Add the half cup of apple butter and whisk well, then crack in 2 large eggs and whisk until smooth. You should have about 2 c. of batter.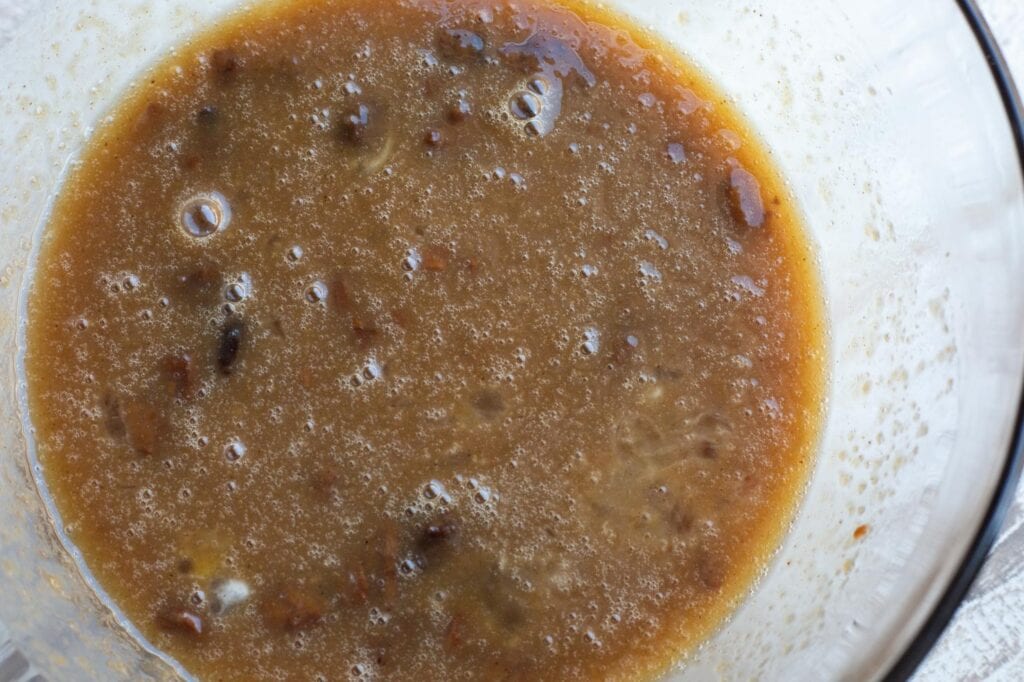 How to Bake Apple Butter Tarts:
Preheat the oven to 375 degrees.
On 2 baking sheets (lined with foil for easy disposal of messes) lay out the shortbread tartlet shells or the phyllo shells. I greased my foil lined pans with baking spray or a little bit of butter just to make sure they didn't stick if any filling leaked out.
The shortbread tartlet shells are available in the baking aisle and the phyllo shells are available in the frozen dessert aisle. Neither of these products require any preparation. They can go straight from their box to your baking sheet.
Now all of that being said, we ended up preferring the shortbread tartlet shells over the phyllo shells but try both and figure out which YOU prefer!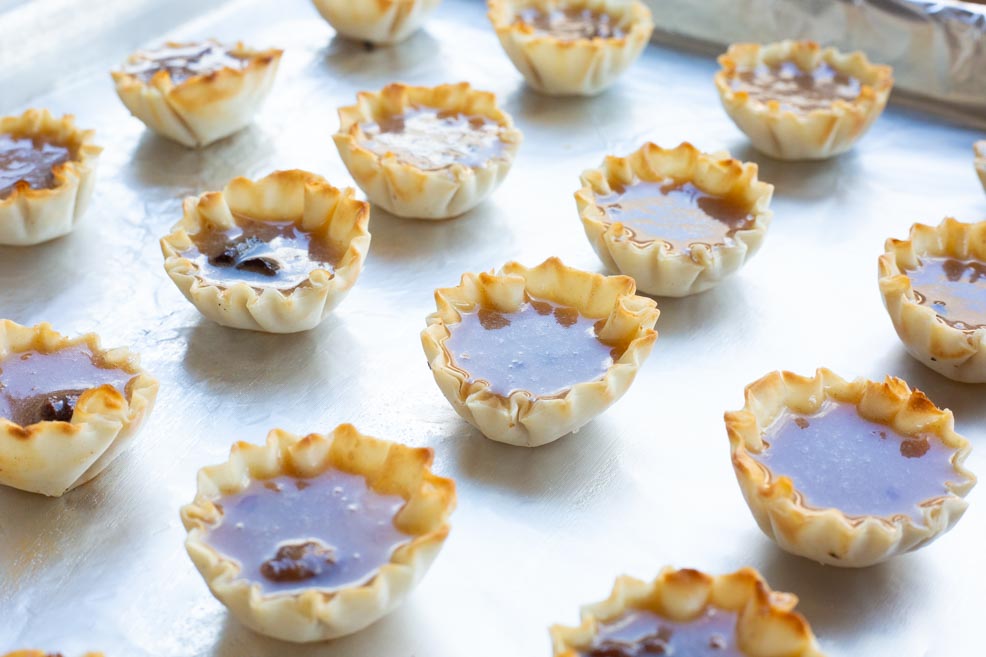 Now using a large spoon just carefully fill each tartlet shell ¾ full. This filling does not expand as much as standard butter tarts, so fill it nearly as high as you want it to be when you cool and decorate them.
This recipe fills 56 tartlets when the shells are 1 ½ to 1 ¾ in width. Larger tart shells may be used, and you can estimate how much filling you will need by calculating the volume of your own tart pans and comparing to this formula. 2 cups of this filling fills 56 tartlets.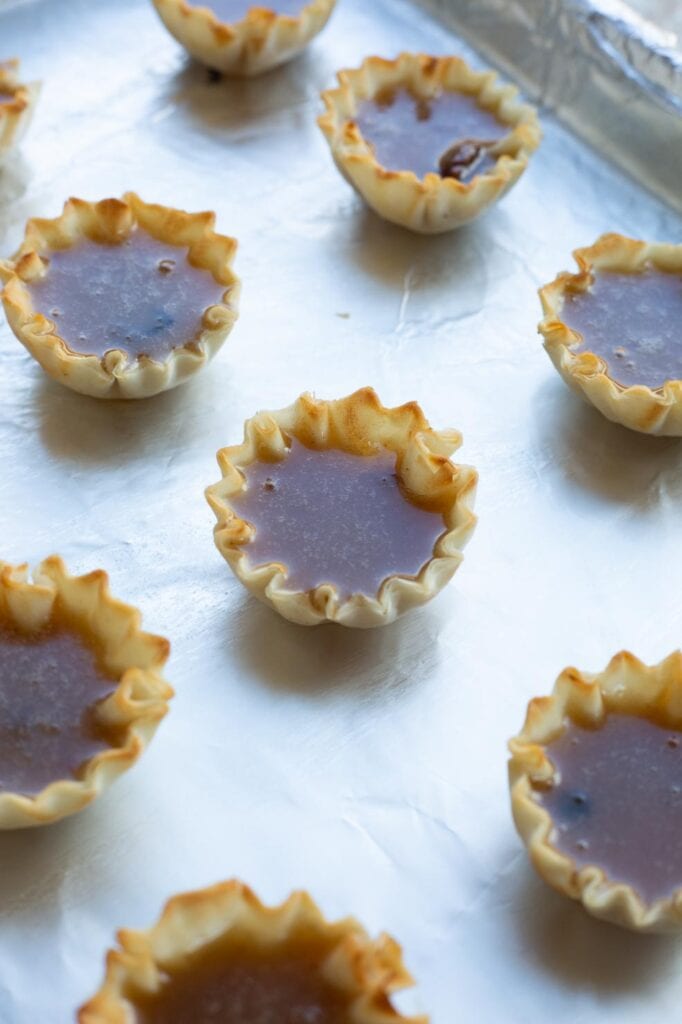 If you experiment with different sizes of premade or homemade tarts, please leave a comment below so other people can be inspired by your work! If you need help, leave a comment on the size of your tart shells and I will try and do the math for ya with my bonafide caterers' brain!
Now we will place in the oven and bake for 12-14 minutes.
While they bake, place 1 chocolate bar in the freezer, and scoop about 1 cup of cool whip into a sandwich size zip lock baggie. (Just eyeball it, no need to measure.)
Snip the tiniest hole on one corner of the ziplock baggie to create a piping bag. Refrigerate until ready to use.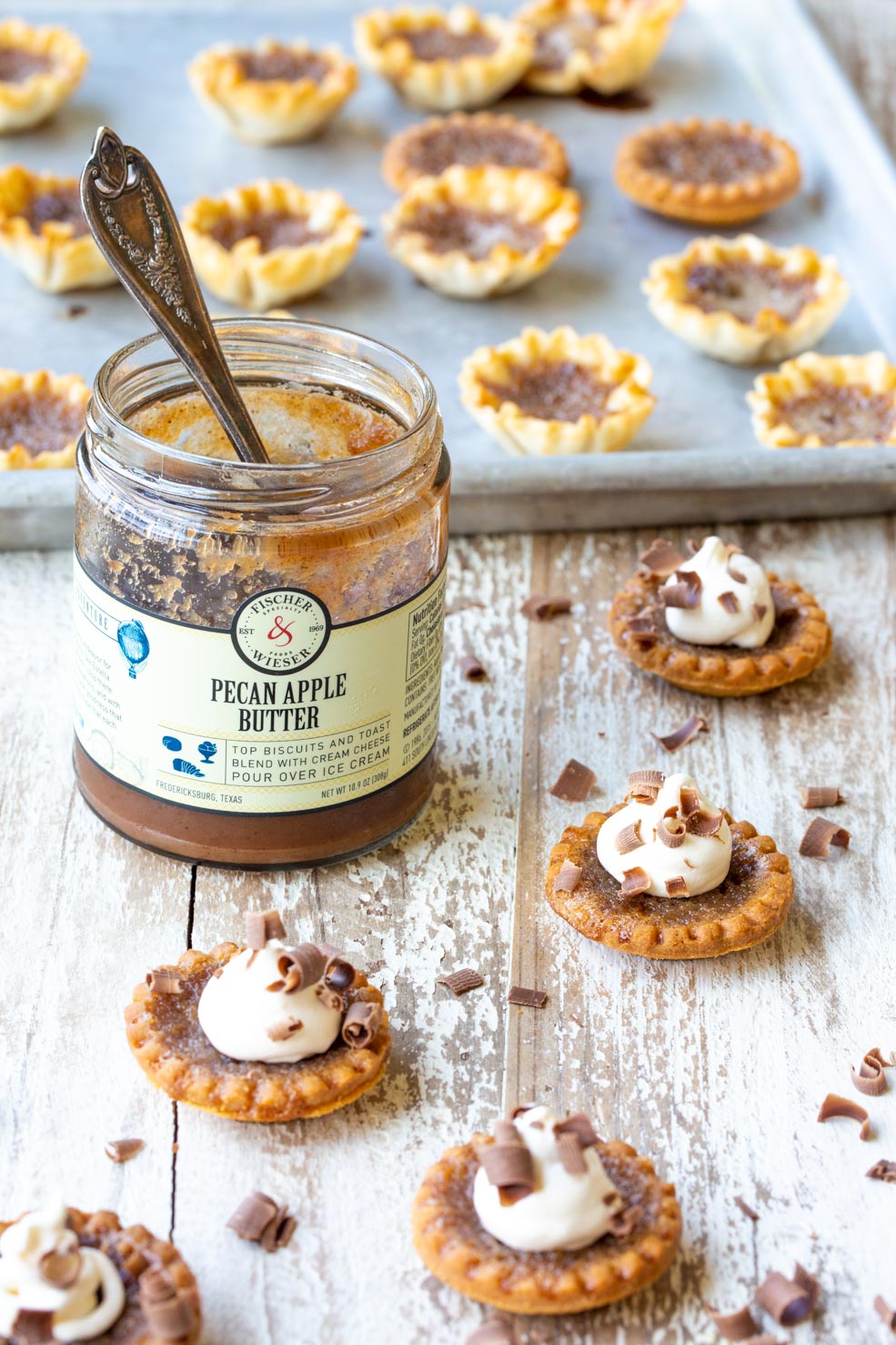 How to Decorate the Tartlets:
When the tarts come out, they need a couple minutes to cool off. I have a spare refrigerator, so I shove them right in there once the baking sheets have cooled off.
Once cool, pipe a little cloud of cool whip on each tart.
How To Make Long Chocolate Curls:
Take the chocolate bar out of the freezer and using a vegetable peeler, make chocolate curls for the top of each tartlet. The chocolate must be cold to create the longer curls. At first, the chocolate will come out like shavings, but within a minute of being out of the freezer it will come out in long, beautiful curls.
Freezing the chocolate is the only way this happens!
Refrigerate until you're ready to display or eat these little ladies.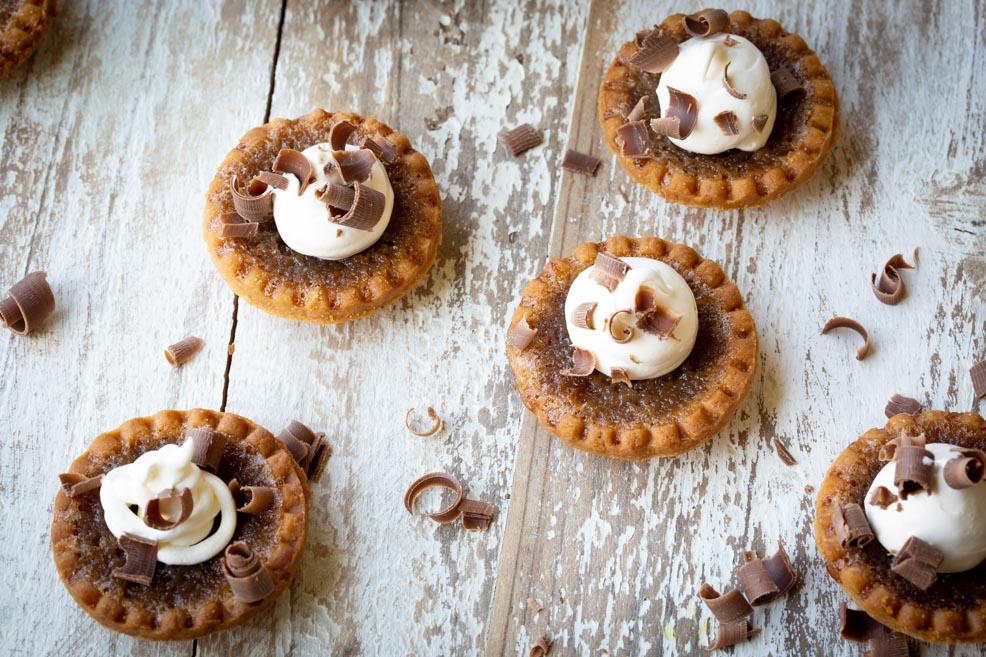 COOL WHIP TIP TIME:
For discussion purposes, yes you could use whipped cream, but I have gotten away from that with these potluck style desserts because whipped cream melts quickly sitting out on a table and I want my tartlets to stay looking cute! Cool whip has stabilizers which keep it fluffy and it tends to be more forgiving in room temperatures, so take heed and use cool whip for festive get togethers if you want your fluff to be more durable.
This post contains Amazon Affiliate links that I get a small commission from when you purchase, so please do so and often! 🙂 Thank You!
Here is the recipe for the…
Apple Butter Tarts
If you make this recipe, tag Urban Cowgirl on social media! I love to see your food pictures! ????
Yield:

56 tartlets
Apple Butter Tarts Recipe
These delicious apple butter tarts are tasty and quick using Fischer & Weiser's unique apple butter, now available throughout Texas!
Ingredients
Filling:
1 stick butter (1/2 c.)
1/2 c. brown sugar
1 t. vanilla
1 pinch salt
1/2 c. Fischer & Wieser Apple Butter
2 eggs, slightly beaten
56 tartlets shells - phyllo shells or shortbread cookie shells (see note)
Topping:
1 c. cool whip
1/4 bar of chocolate for making curls
Special Tools: Veggie Peeler for making the curls
Instructions
Preheat oven to 375 degrees.
In a large bowl, melt the butter. Add the brown sugar, salt, vanilla, and apple butter. Whisk well. Add in the eggs and whisk to combine.
On cookie sheets lined with foil and lightly greased, place the tartlet shells out. Fill each shell.
Bake at 375 for 12-14 minutes.
Let cool. While cooling, fill a plastic sandwich baggie with the cool whip and seal. Using scissors, snip a small hole in one corner to create a piping bag.
Pipe cool whip on cooled apple butter tartlets. Top with shavings of chocolate made by the vegetable peeler peeling a frozen chocolate bar.
Notes
Phyllo shells are available in the frozen foods department, and shortbread cookie shells are available on the baking aisle or online.
Nutrition Information:
Yield:
56
Serving Size:
3 tartlets
Amount Per Serving:
Calories:

208
Total Fat:

3g
Saturated Fat:

2g
Trans Fat:

0g
Unsaturated Fat:

1g
Cholesterol:

11mg
Sodium:

24mg
Carbohydrates:

37g
Fiber:

2g
Sugar:

4g
Protein:

7g
This nutritional information is provided as a courtesy as an estimate only. Consult with a dietician for precise estimates.