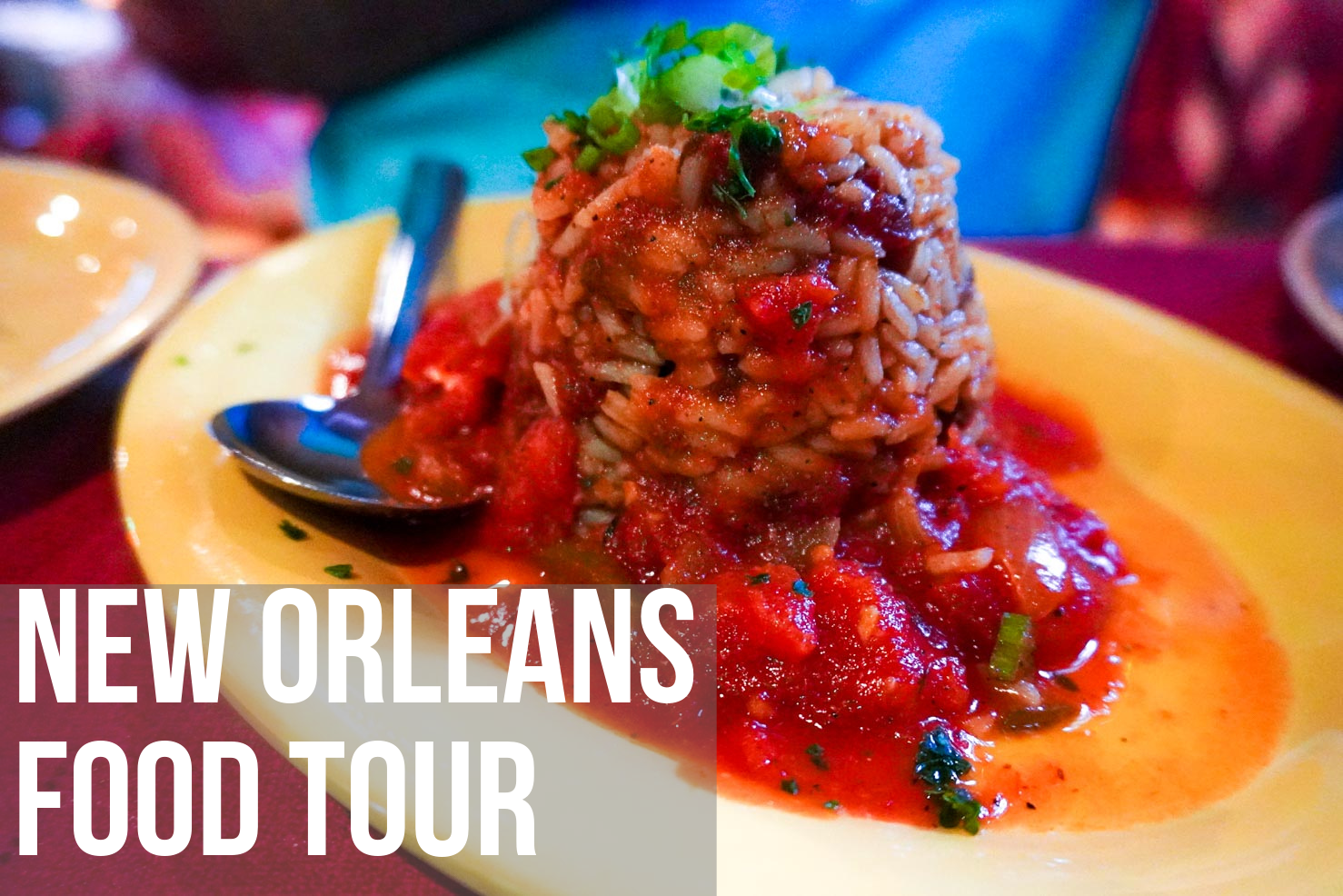 This New Orleans Foodie Tour will tell you everywhere to eat and drink for a 48 hour food and restaurant tour of the French Quarter!
(CLICK HERE TO VIEW ON YOUTUBE!)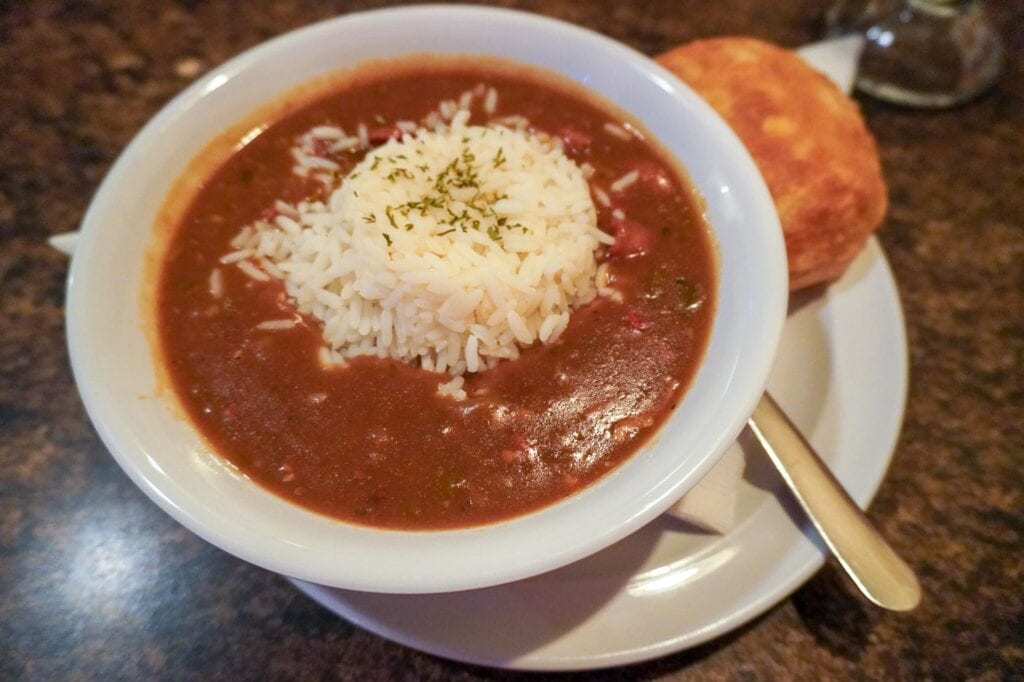 DAISY DUKES – 24 Hours Diner – Best For Late Night Eats in Nola
After our red eye flight was delayed twice we started to freak a bit. Where would we get a bite to eat at 2 am? It is New Orleans and we know the party doesn't stop, but a quick scan of google showed us that almost every restaurant closes by midnight.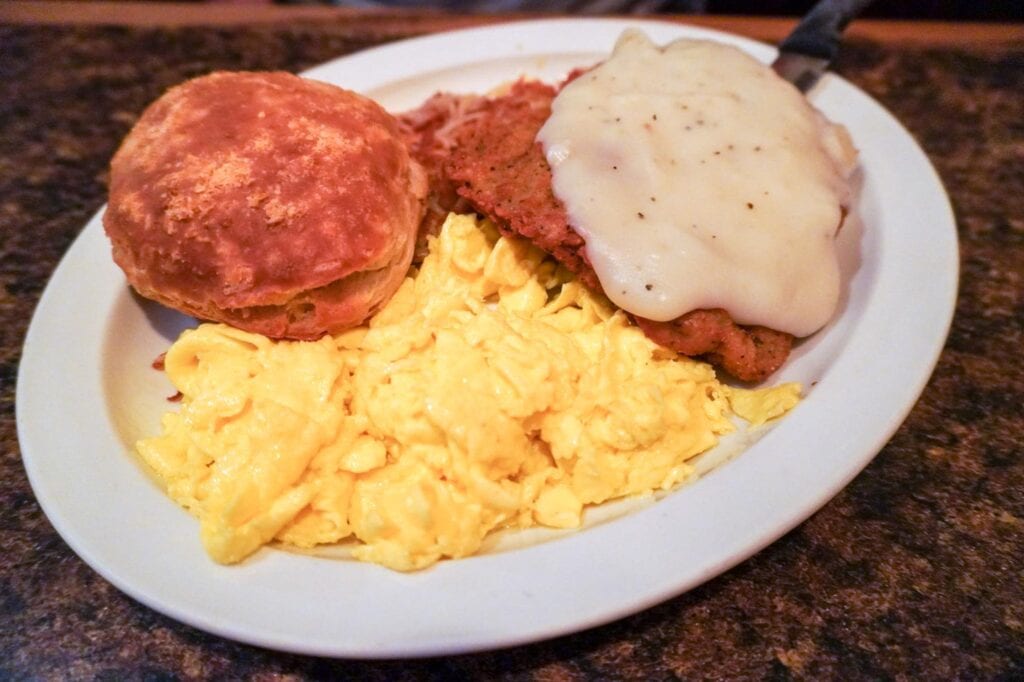 Well thanks to Daisy Dukes you can let the good times roll 24 hours a day. This diner offers traditional cajun and creole dishes like seafood gumbo and crawfish etoufee, along with a breakfast menu and southern dishes like biscuits and chicken fried steak. They also have a full bar and the friendliest waiters in town! We got the seafood gumbo and the chicken fried steak with hash browns and eggs.
DAY 1:
CAFE BEIGNET – The local's favorite French Quarter spot for Beignets and Chicory Coffee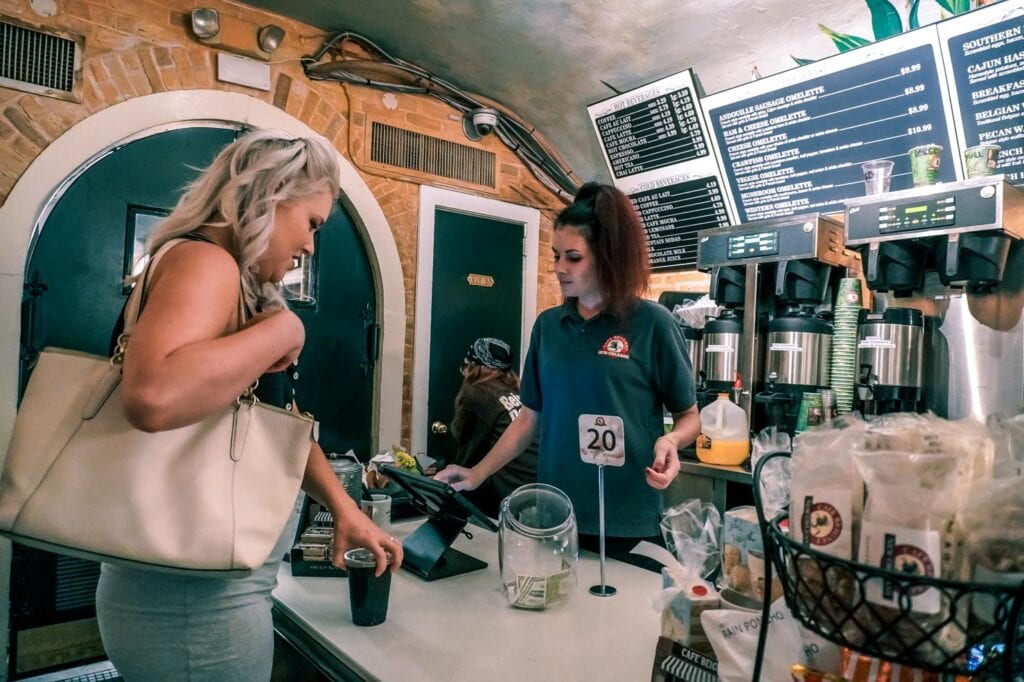 We're fully aware that many people will tell you that Cafe du Monde is the place to go for beignets, but the whispers around the quarter say that the best beignets, as well as other decadent french pastries, can be found at Cafe Beignet.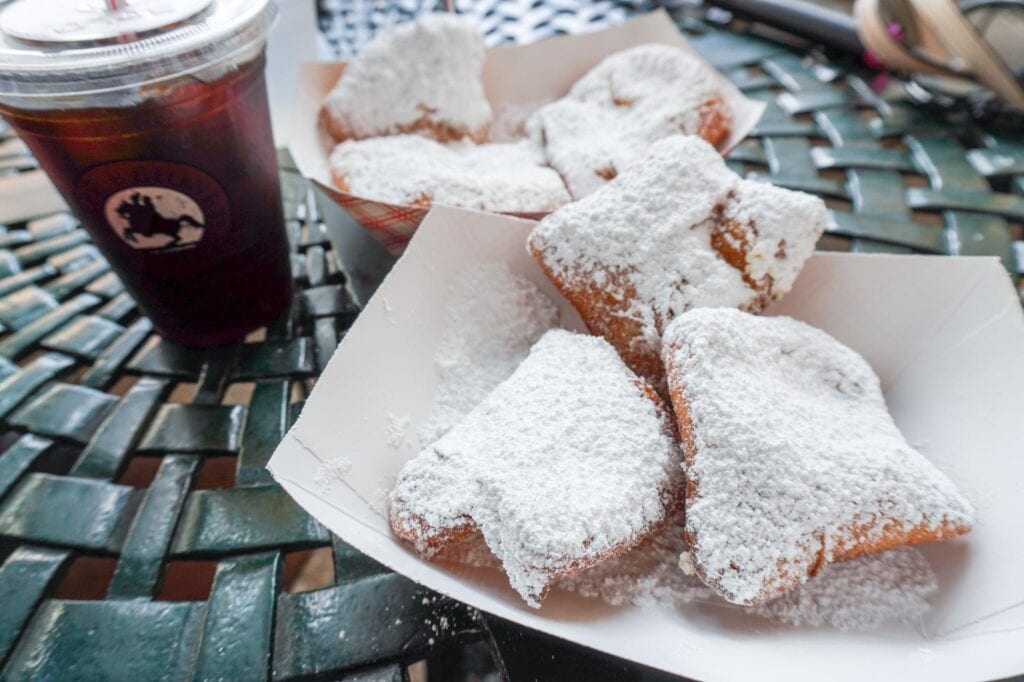 We dropped by for beignets and chicory coffee in the late morning, but frankly this would be a tasty late night snack as well.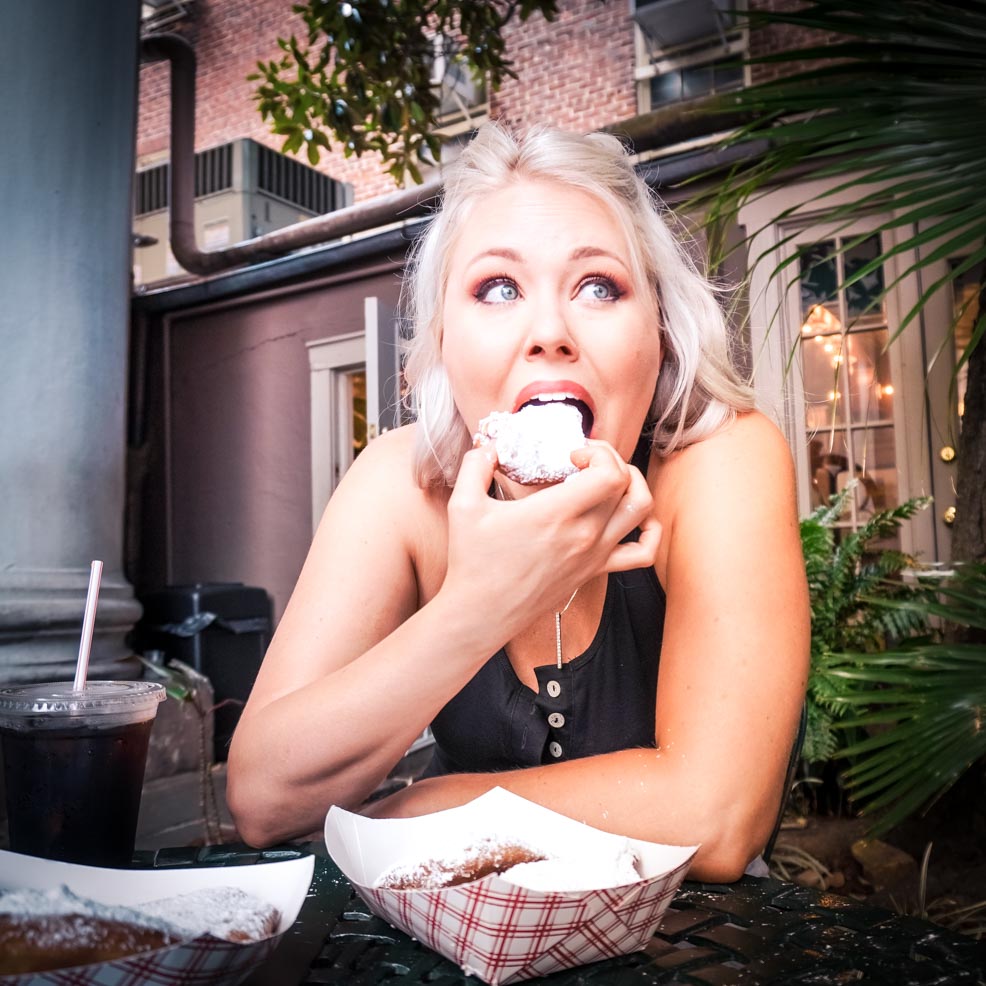 They close at 10 pm so totally doable. Make sure to sit outside in the courtyard to observe the charming hustle of Royal Street. You'll see tourists shopping, historic tour guides telling tales, and maybe even catch a song from a street performer.
NOW WALK NORTH EAST UP ROYAL UNTIL YOU GET TO ST ANNE STREET, YOU'LL SEE JACKSON SQUARE ON THE CORNER.
JACKSON SQUARE–
We stop briefly to see Jackson square, gaze upon the statues, and take in the church architecture. There is many talented artists on the cobblestone streets around the square and the 10 minute walk will help you burn off some of those doughnut calories!
HANG A LEFT ON DECATUR STREET RIGHT IN FRONT OF CAFE DU MONDE, AND WALK STRAIGHT DOWN TO CENTRAL GROCERY. (Get a beignet a Cafe Du Monde if you want to compare!)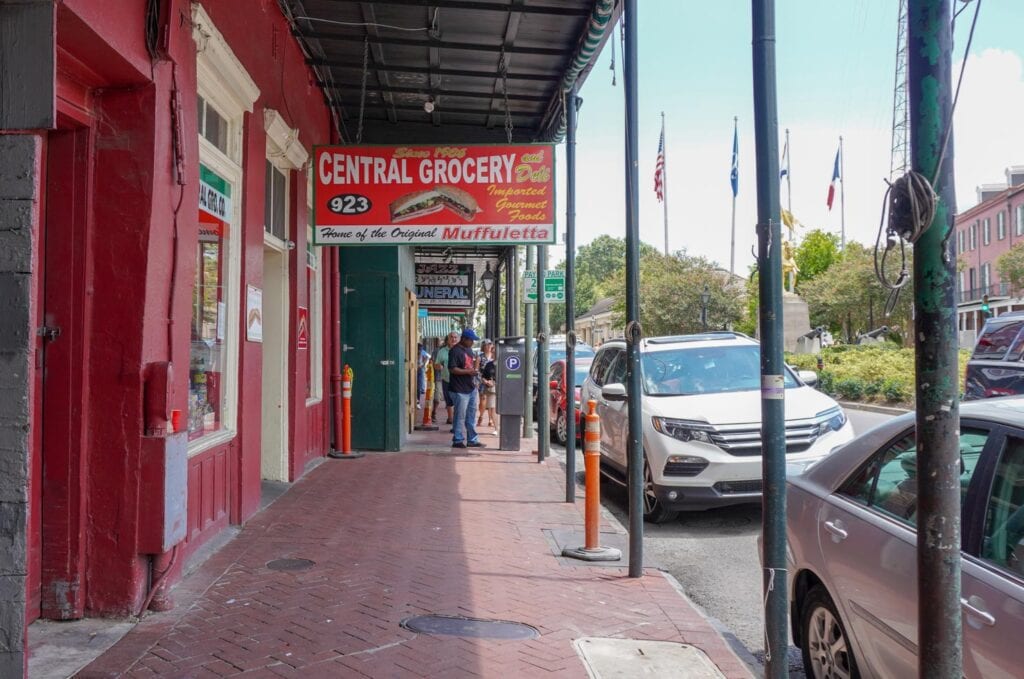 CENTRAL GROCERY–
Birth place of the muffuletta sandwich. You must try the muffuletta but half is enough for 2 people to share– especially since we're basically going from stop to stop eating!
Also notable, they carry hard to find ingredients like creole mustard, cajun seasonings, praline liquor, etc., if you plan on recreating any of New Orlean's iconic dishes at home. We bought 5 cookbooks for obvious reasons. 😛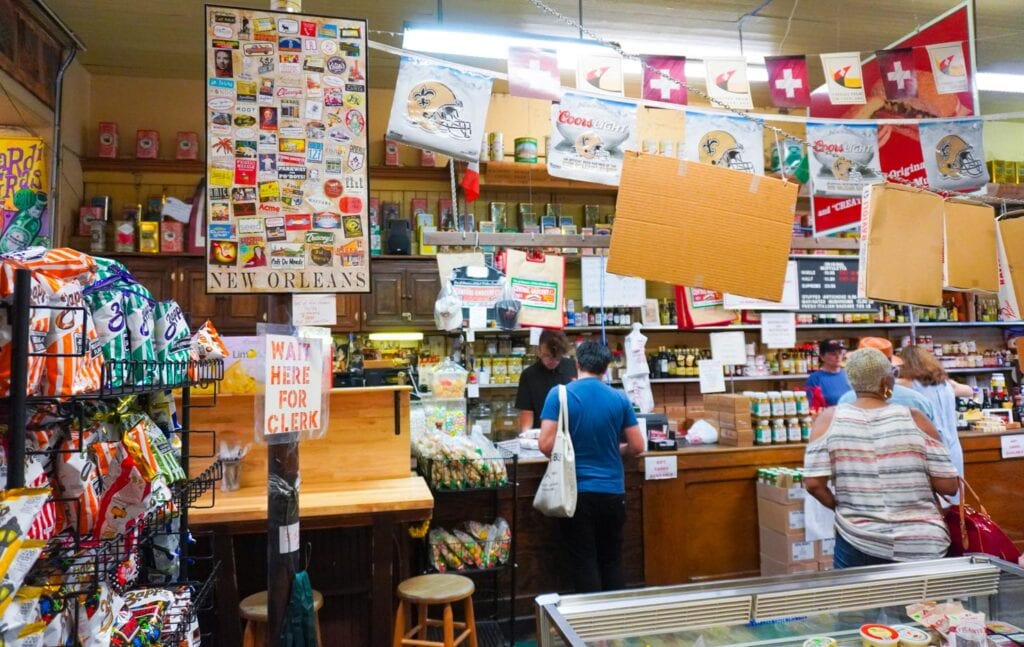 WALK ACROSS THE STREET TO FRENCH MARKET, THE OPEN AIR MARKET.
(Pictured below!)
LORETTA'S PRALINES-
This wasn't shown in the video but pralines from Loretta's are said to be the best in the city and we got several before heading to the Gazebo Cafe. Also the crab beignet here is supposed to be an out of body experience.
Loretta's has a ton of choices including King's cake cookies!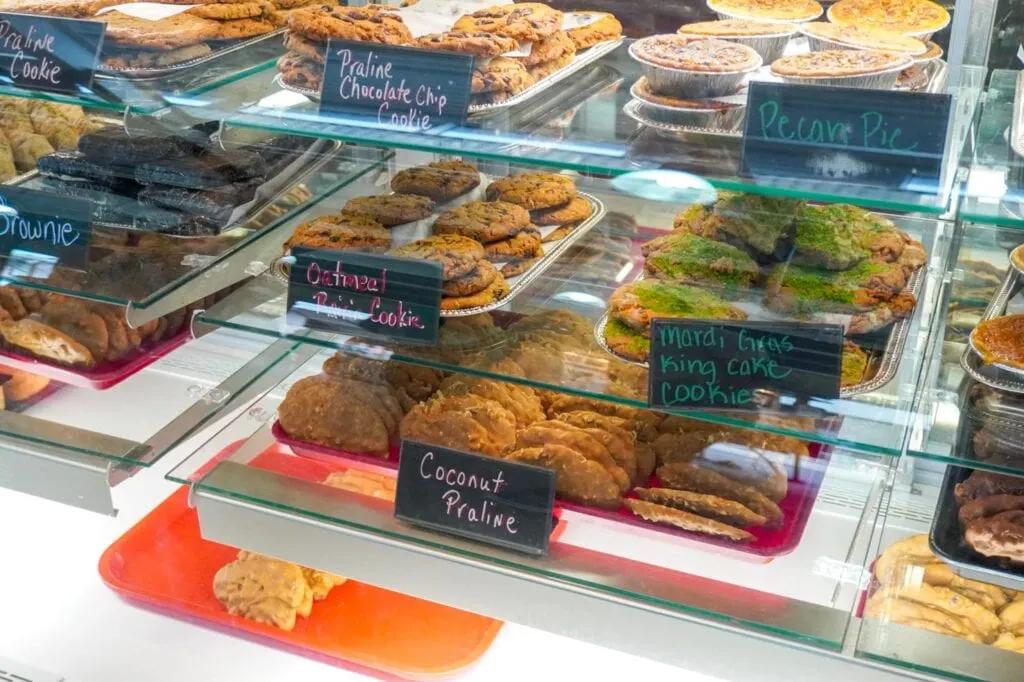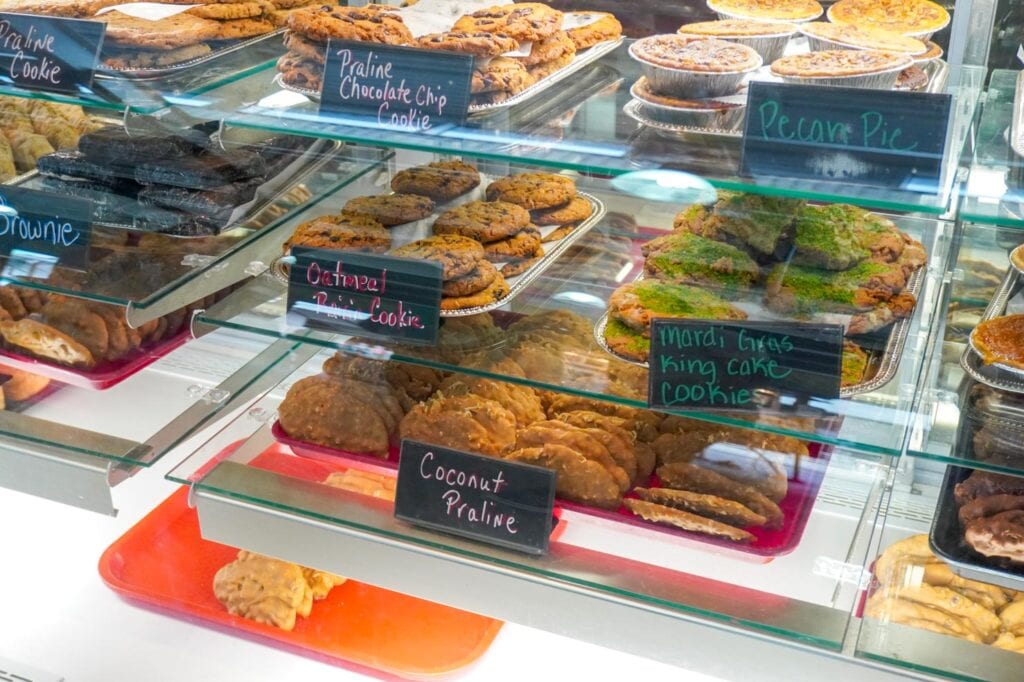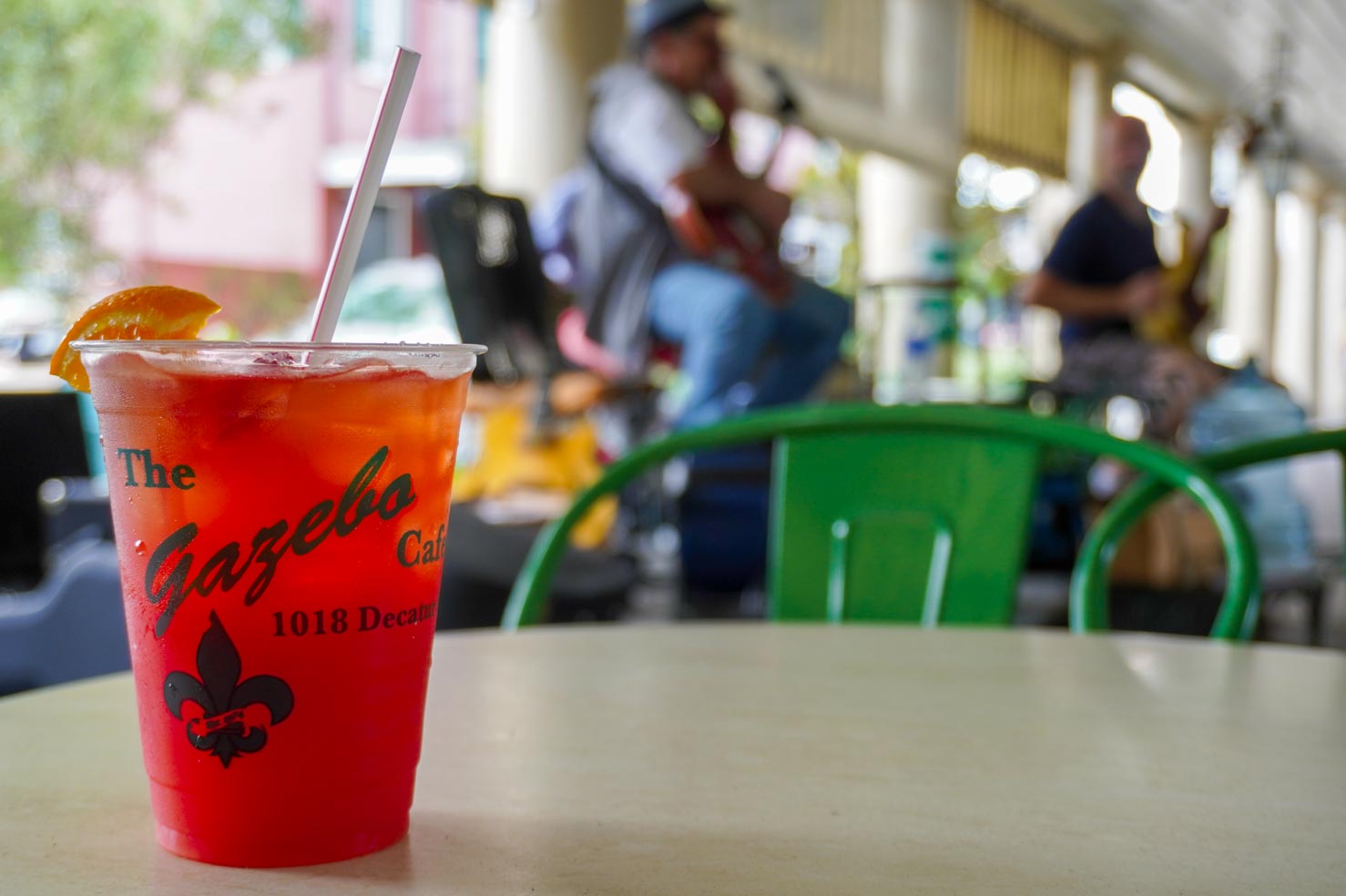 GAZEBO CAFE-
Hurricanes and live jazz music under a gazebo shade– so basically heaven on earth. The hurricanes are strong in New Orleans so prepare to feel tipsy after one drink. In New Orleans it's legal to purchase a drink anywhere and then walk the streets with drink in-hand which is why most venues go ahead and serve you in a to-go cup. I also found my fleur de lis earrings in this market for $10 bucks! Made me really get into the spirit and I wear them all the time back in Dallas!
WE WALK TO PAT O'BRIEN'S WITH DRINK IN HAND. ITS AT THE CORNER OF BOURBON AND ST.PETER. ST. PETER IS THE STREET THAT RUNS SOUTHWEST ALONG JACKSON SQUARE TO GIVE YOU AN IDEA OF WHERE YOU'RE HEADED.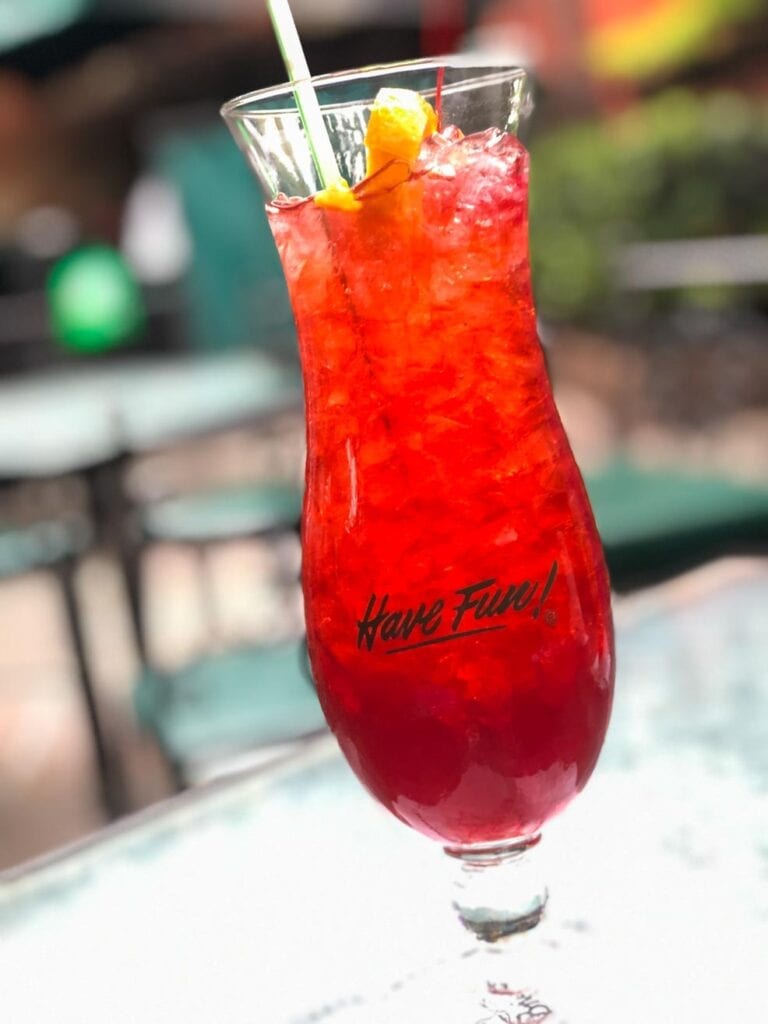 PAT O'BRIEN'S –
Okay, so you know how restaurants and bars in tourist areas make expensive, yet crappy drinks? THAT DOES NOT HAPPEN AT PAT O'BRIEN'S. The drinks are large and strong! We love sitting in the outdoor courtyard which evidently has a fire fountain at night. It began to gently rain while we were enjoying our drinks (so we didn't get a ton of footage) but we were in total bliss, cozy under our umbrella and gettin' a good buzz. 🙂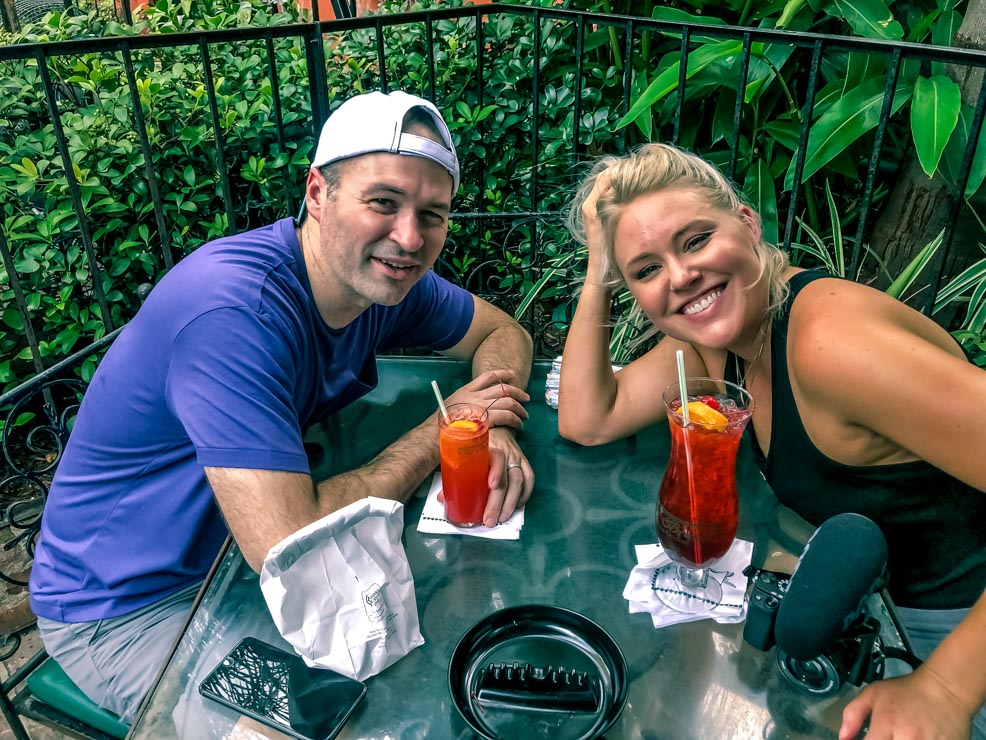 Dereck got the 57 chevy instead of a hurricane and he still won't quit talking about it. Indoors you'll find the main bar with every liquor you've never heard of and the dueling piano show starts at 2 pm on the weekends (including Friday).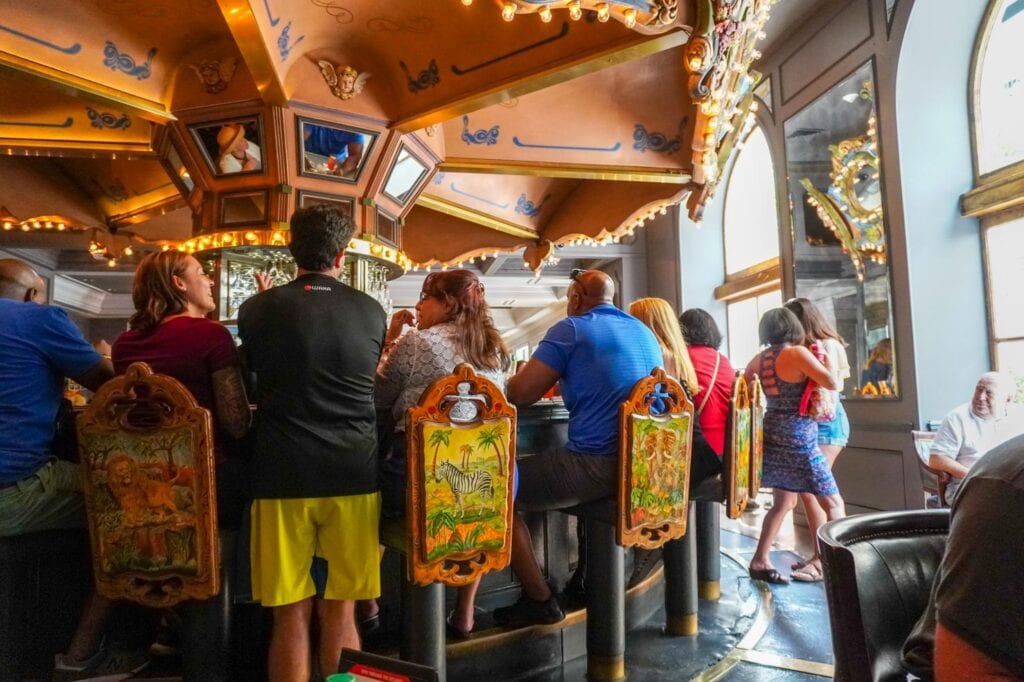 CAROUSEL BAR- Inside the Hotel Monteleone
A highlight of the trip and literally the best cocktails we've ever had in our whole lives. The make unusual stuff here with ingredients like elderflower and other exotic liquors, handmade simple syrups, herbs, and fruit infusions. This place is like a 5 star restaurant only its a bar–but that's how seriously they take the flavor combinations.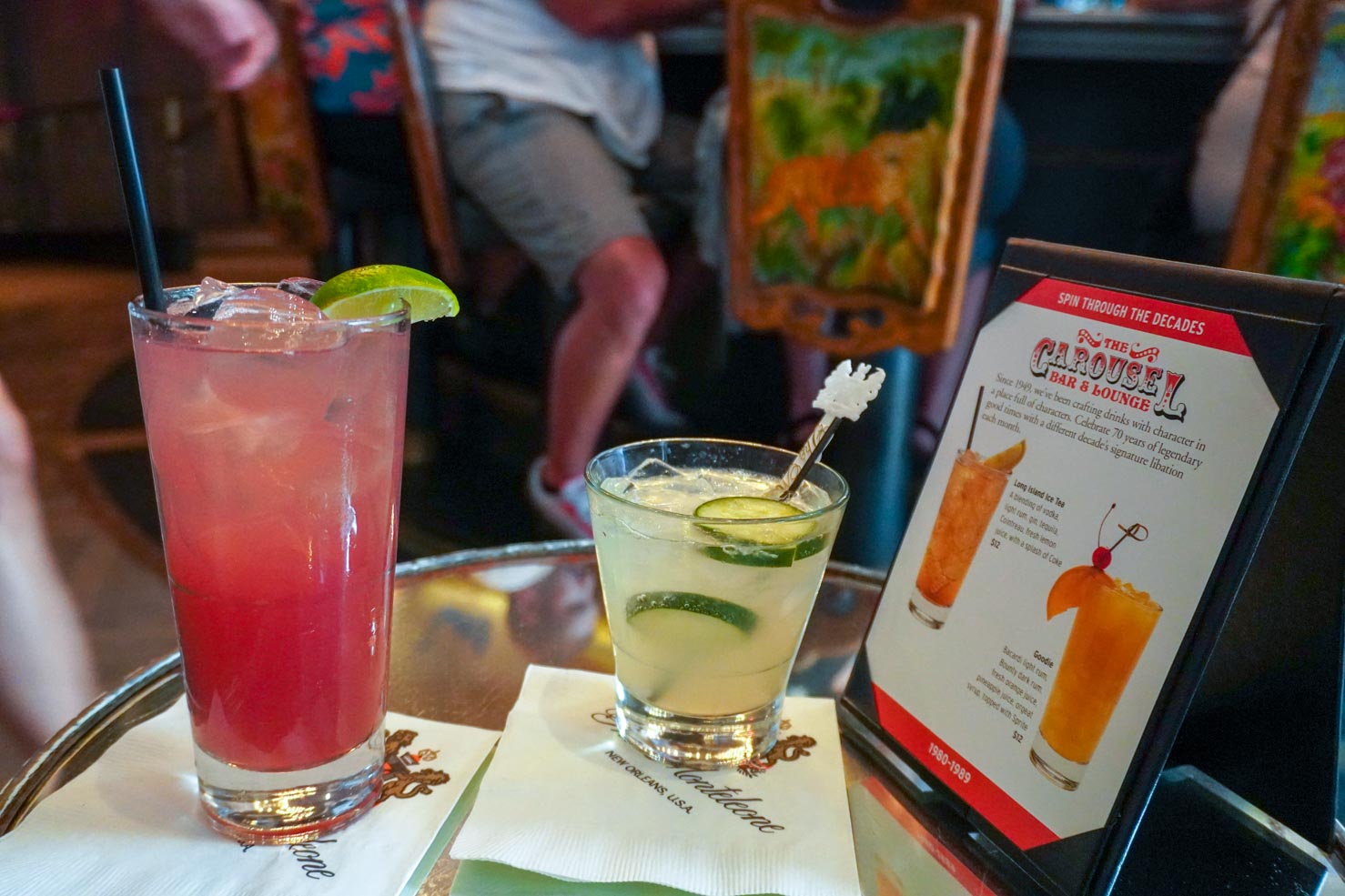 We found the celebrity bartender's book in the gift shop and promptly bought it to take home.
The tables around the bar are fine enough but if you score a seat at the bar you will slowly rotate around the room. 🙂 It's too much to go into in this food guide but make sure to look up the history of the bar, as it is an American historical icon.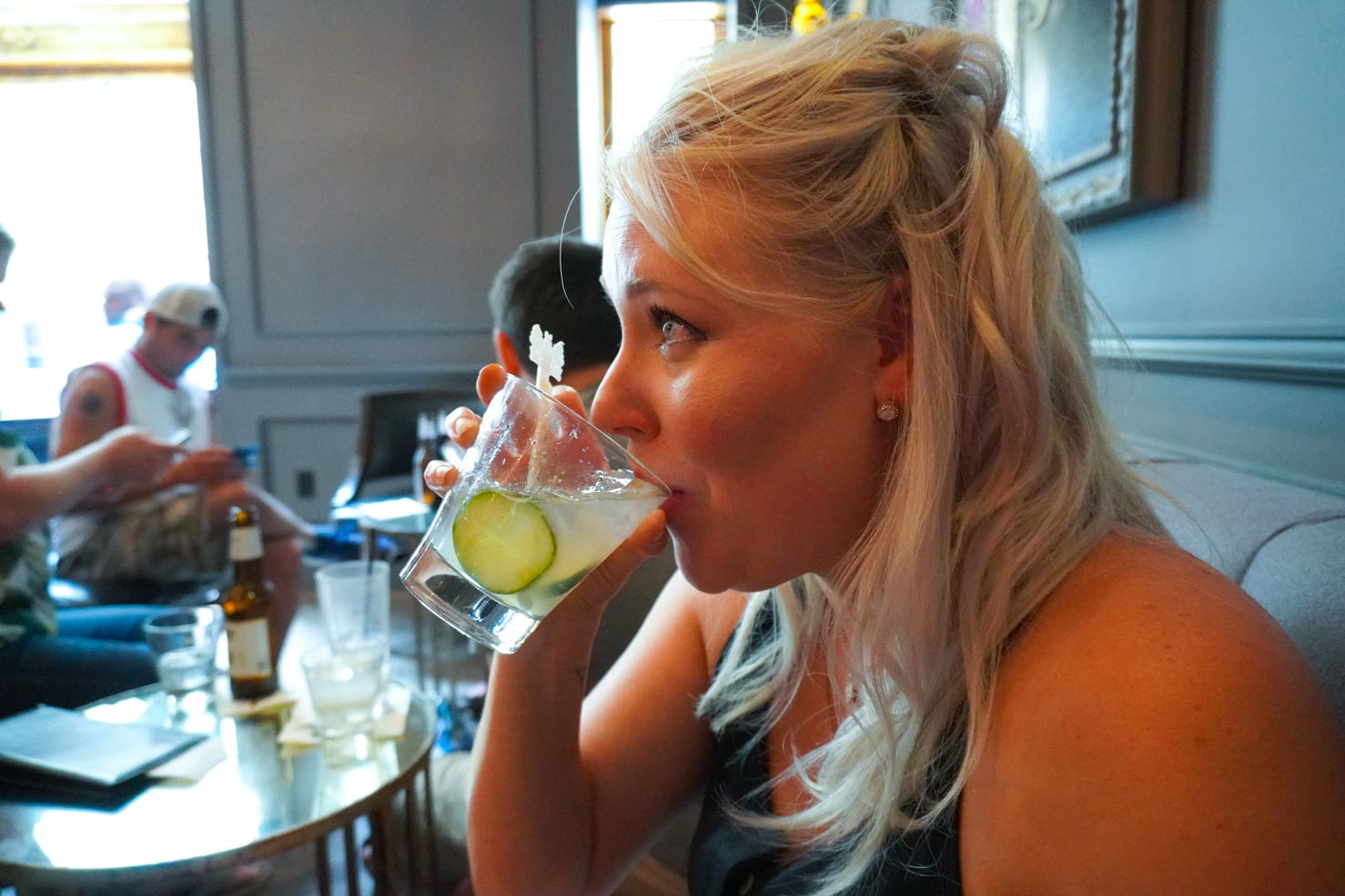 Many famous political and literary figures regularly called this bar home and when you're sipping your Pimm's Cup it's not hard to see why.
ANTOINE'S RESTAURANT-
One of the oldest restaurants in the country, the setting of the worldwide bestselling mystery novel, Dinner At Antoine's, the birthplace of Oysters Rockafeller and Pomme de Terres, home of the best shrimp creole I've ever tasted, and the first place my husband discovered he liked chargrilled oysters!
We adored this place, though let's face it after our 6 high end cocktails at Carousel Bar, we were pretty shnockered by now. Don't miss the tour of the restaurant before you leave and read the mystery novel on the plane on your way here. 🙂
ALTERNATIVE CHOICES: Commander's Palace, Mr. B's Bistro (get the barbecue shrimp and grits), any restaurant by Emeril, Court of Two Sisters, etc. There is no shortage of white tablecloth restaurants in this town and by now they have convinced us that this city knows how to cook.
DAY 2: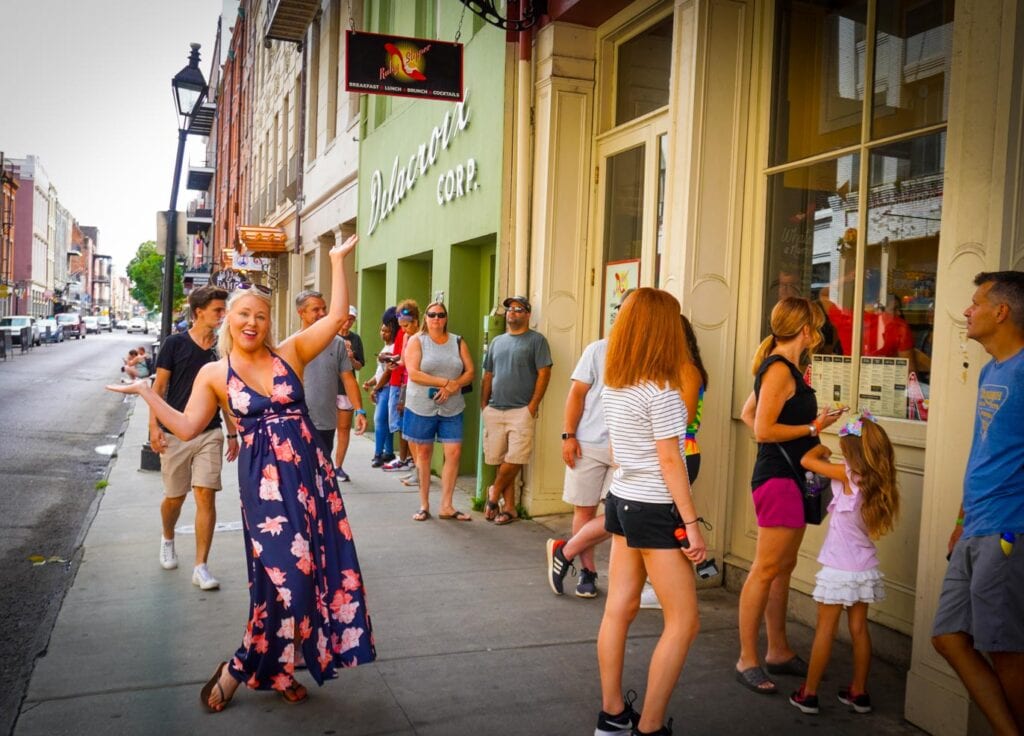 RUBY SLIPPER CAFE-
Our Uber driver told us about this place and it was packed with locals when we got their Saturday morning. Expect a short wait, but there is a nice book shop up the street that looks like something out of Harry Potter. I bought a bunch of Louisiana cookbooks here as he had the best selection in the city.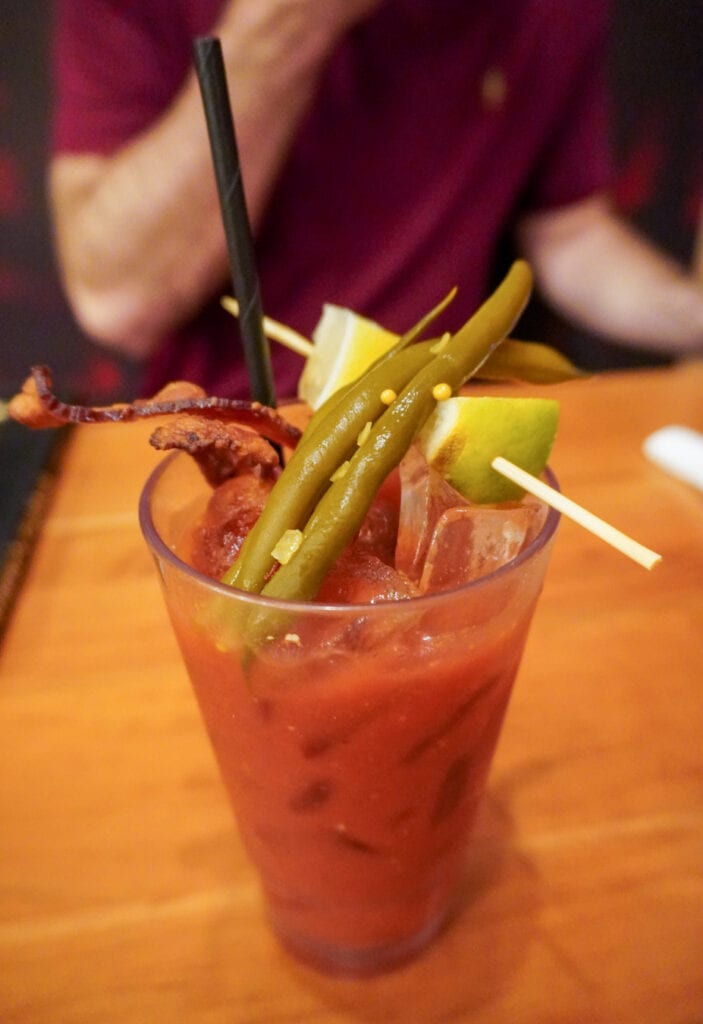 The bacon bloody mary was Dereck's choice while I stuck to water for awhile (wanted to give my liver a break 😛 ). We adored the bananas fosters french toast which has a fancy french name (pain perdue?) and is a signature dish of the city. The barbecue shrimp and grits was good, though I'm not sure it was as good as our Urban Cowgirl recipe which we keep right here.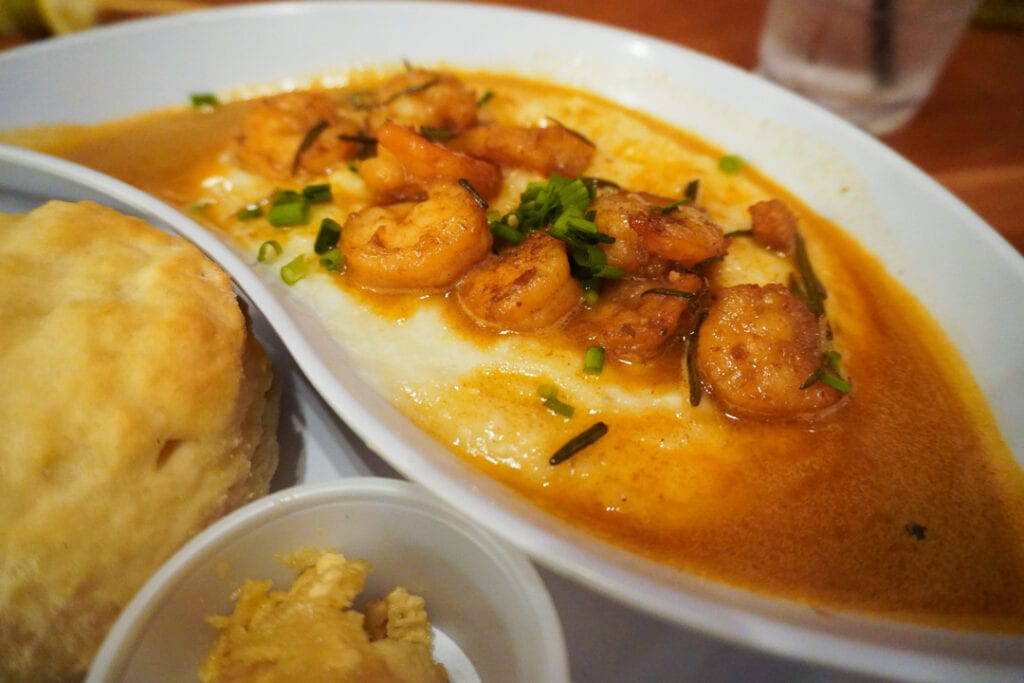 They have many types of creative eggs benedict which is what I should have got. If I were you, I would save my barbecue shrimp experience for Mr. B's Bistro and order a traditional breakfast here. The biscuits with honey butter are UNREAL.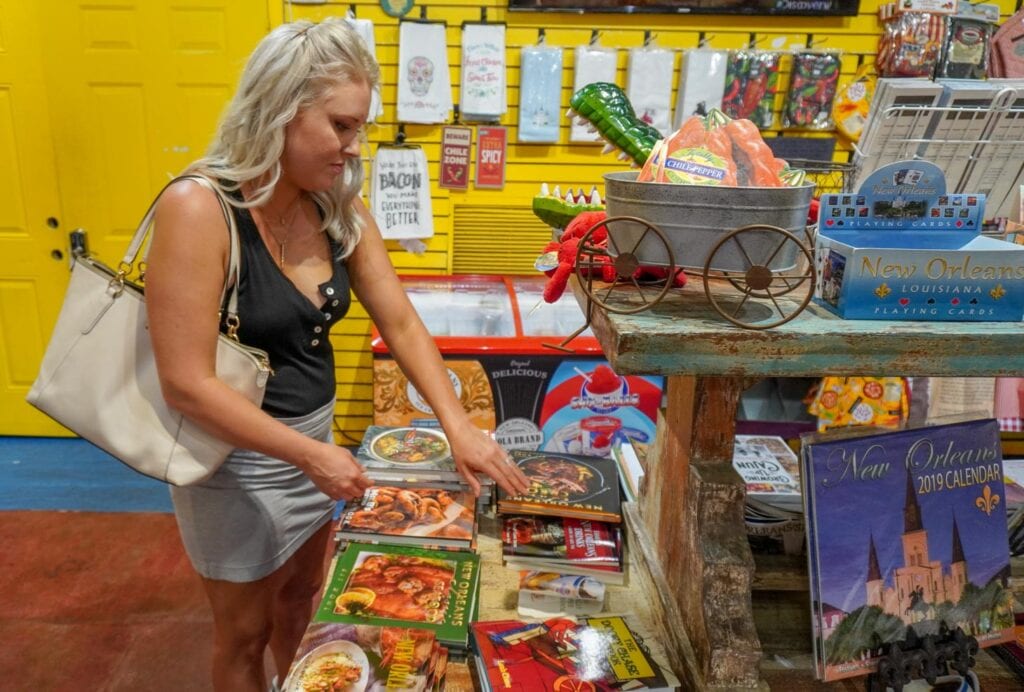 NOW WE SHOP! DON'T MISS THE NEW ORLEANS PRALINE'S COMPANY ON ROYAL STREET FOR SOUVENIRS THAT YOU WONT WANT TO GIVE TO ANYONE!
ACME OYSTER HOUSE-
Oh my heart. I feel in love with Acme Oyster House and it's all I think about now. By now the locals have convinced us that the thing to eat in NOLA is the chargrilled oysters. We had them last night at Antoine's and we're already craving them again. Acme makes a super juicy and buttery chargilled oyster that is filled with this mixture of herbs, garlic, creamy cheeses and roasted oyster juice. You see me try to eat them on french bread in the video but I quickly learned that they are best eaten with a fork, and then the bread is used to soak up the juices left over.
We also tried the fried crab claws, but I much prefer crab claws, or crab fingers as we call them in Texas, broiled in butter. These were good but I wouldn't order them again because I like them moist. We do enjoy a po boy that is not shown in the video but is perfectly built with crisp french bread, briny fresh crawfish flash fried in cajun batter, and a slaw marinated in remoulade. Best po boy of my life!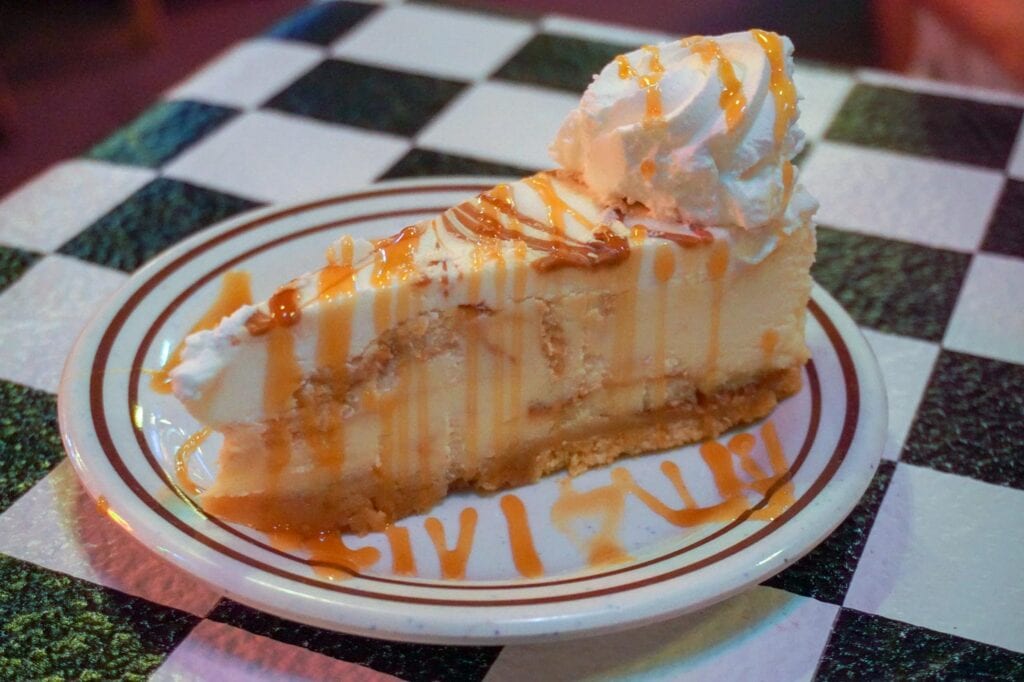 Spoiler alert – you haven't seen the last of this place. We actually went back 3 times in 48 hours. The last visit we finished up with homemade, bananas fosters cheesecake topped with caramel sauce. The perfect last bite in New Orleans!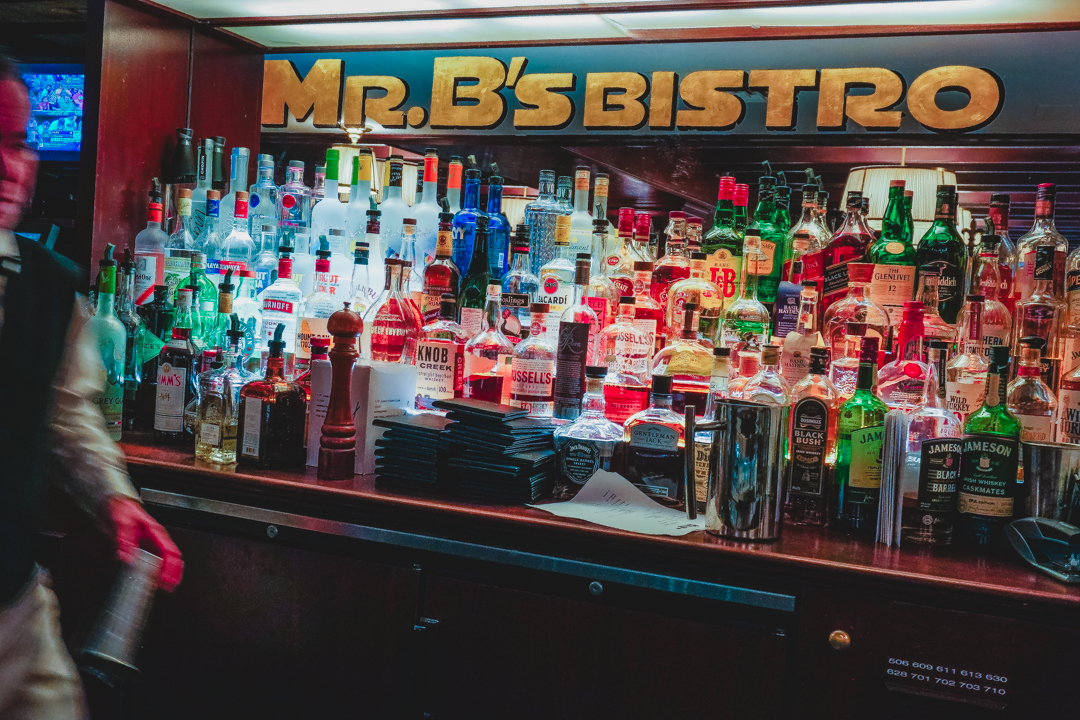 MR. B'S BISTRO-
Our waitress at Acme sent us here for the bacon wrapped shrimp and my friend Nicole sent us for the barbecue shrimp. (Most people are definitely here for the barbecue shrimp as we can hear them discussing it with the bartenders). I also recommend the softest most succulent crab cake you'll ever put in your mouth.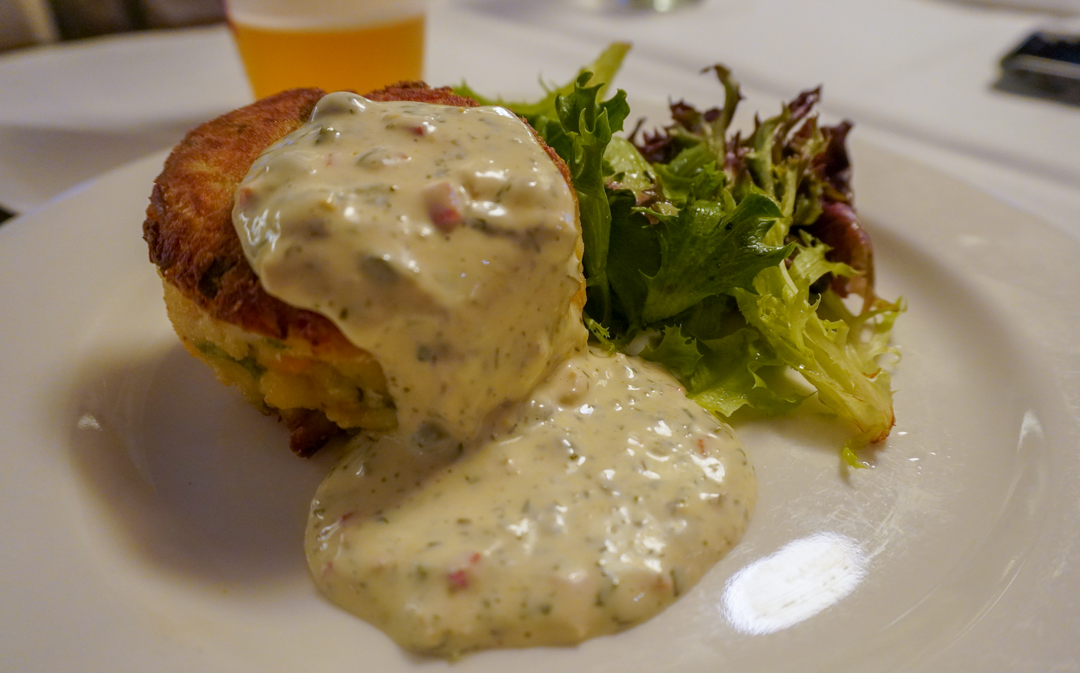 Next time we'll reserve this place for dinner as I was ready to eat through the whole menu which reads like southern food porn. Zagat calls it a "masterpiece of the French Quarter" and honestly it's not hard to see why– it's bouji and old school (in a good way), and you can tell they know what they're doing.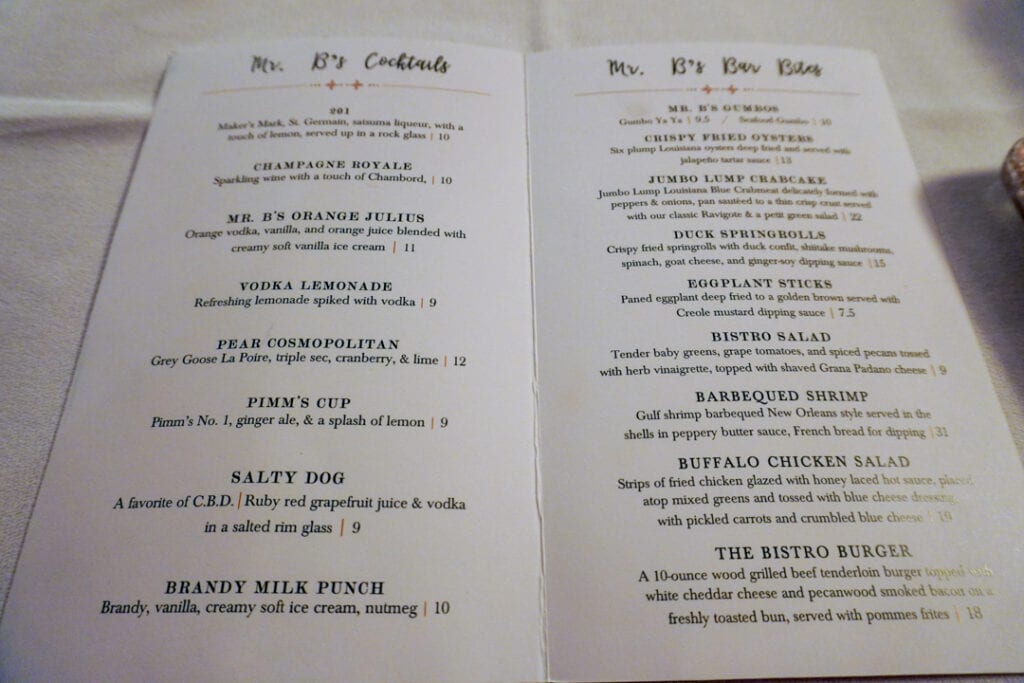 Thankfully you can enjoy a crisp beer at the bar and try many of their iconic dishes on the bar menu if you're on a tight food tour schedule like we are!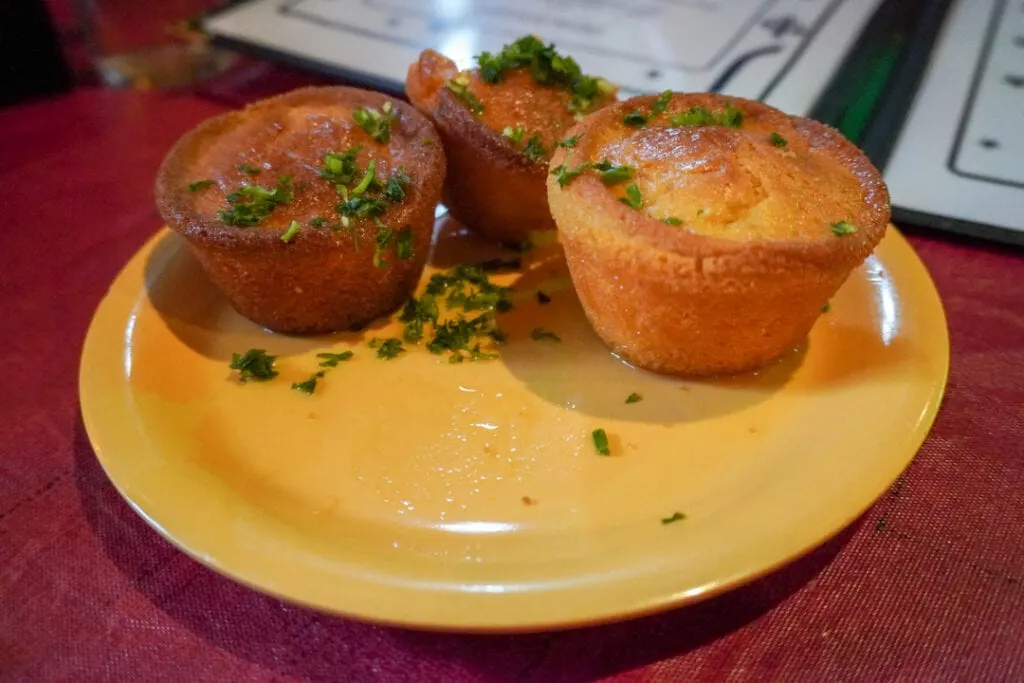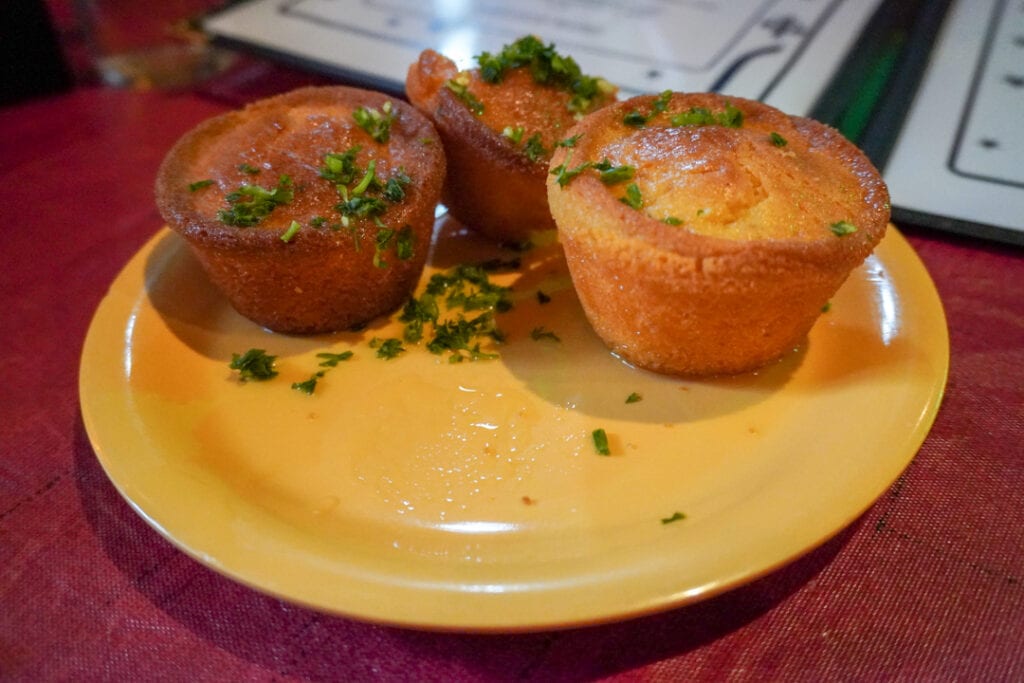 JACQUES IMOS-
You will have to Uber 15 minutes out of the French Quarter to hit this place and it's worth it. We've been hitting both casual and fine dining restaurants so far, however Jacques Imo's is on a totally different planet. The vibe is chill, even a hole-in-the-wall atmosphere, but the food is a NAWLINS DREAM.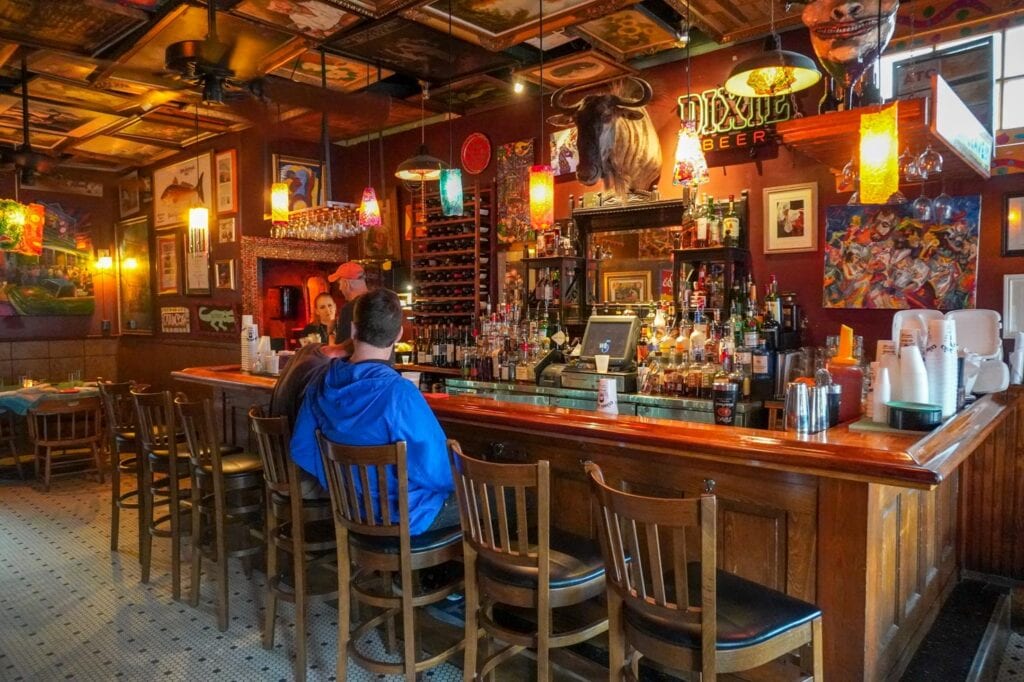 They have all the iconic New Orleans dishes you expect such as etoufee, duck gumbo, red snapper, boudin, and shrimp remoulade, but we were most intrigued by the appetizer menu which reads like a chef sampler. For $75 bucks we got nearly the entire (extensive) appetizer menu which had little tastes of everything.
You'll need to watch the video above to see just how much we got for our money and every bite was creative and decadent while honoring it's cajun/creole roots. We loved the creole jambalaya – like literally dream about this daily, and the savory alligator cheesecake.
The gumbo was the best we've had since we arrived! Everything we didn't eat went in a to-go container for late night noshing in our hotel room.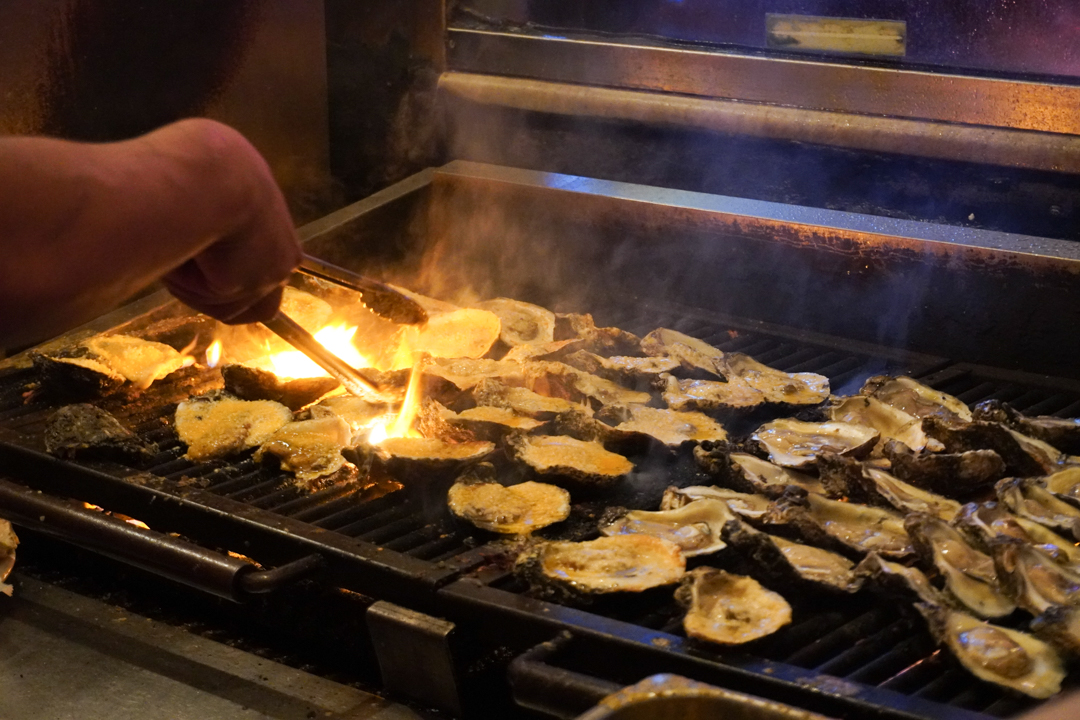 DRAGO'S-
The more we openly discussed our love of chargrilled oysters, the more our Uber drivers and fellow bar patrons pointed us towards one restaurant. Drago's! Everyone wanted to tell us about Drago's as they claim to have invented the chargrilled oyster and locals told us their version was supreme.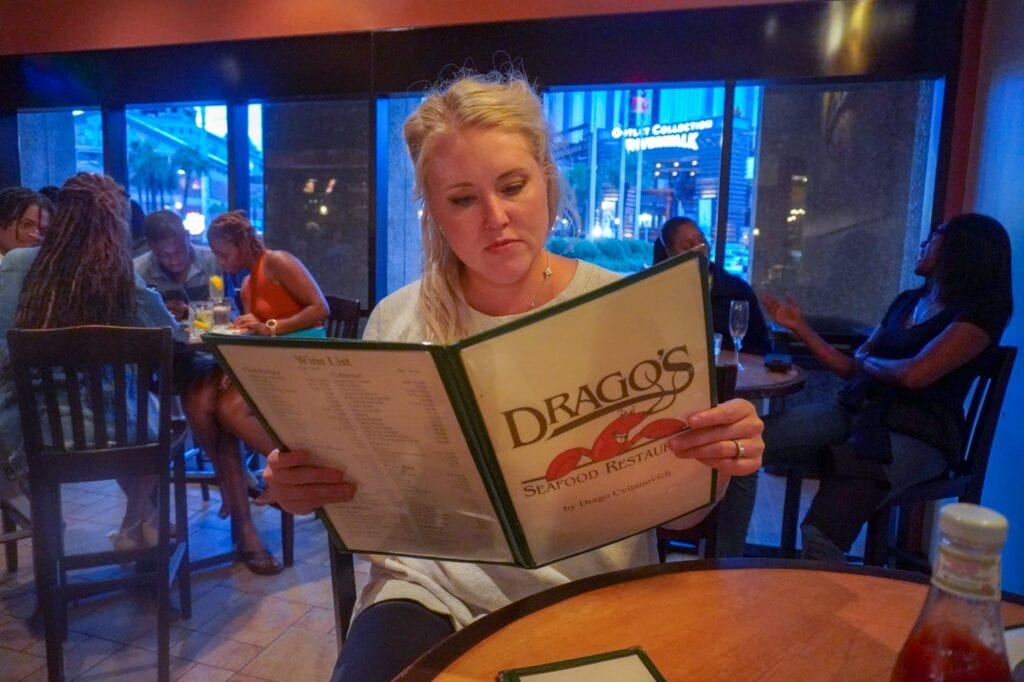 What we didn't know at the time is there is more than one location. We visited the Drago's in the Hilton on the river, near French Market. It had a long line but we scored a table in the bar area and skipped the wait.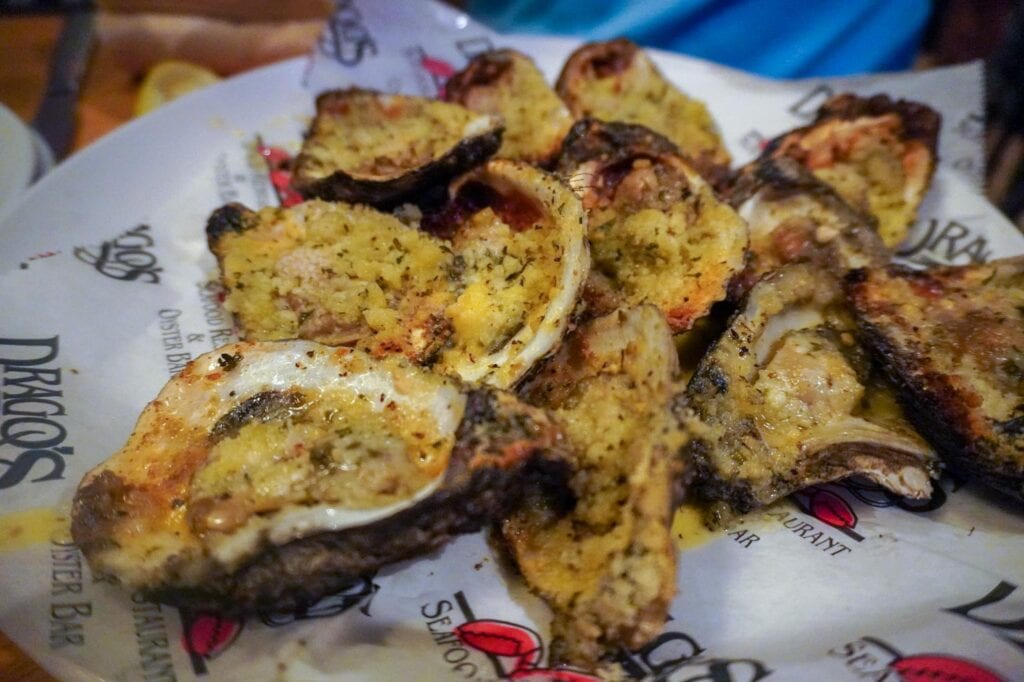 The oysters here have a creamy topping that absorbs the butter and oyster liquor–which Dereck thought was to die for. I much prefer the the juicy sauced oysters of Acme Oyster House, but to each their own. I guess you'll have to try both and let us know what you prefer in the comments below!
Thanks so much for reading our walking tour of the French Quarter! Hope your visit is sublimely delicious and if you have more expertise to add, let us know in the comments! We can't wait to eat through New Orleans again!