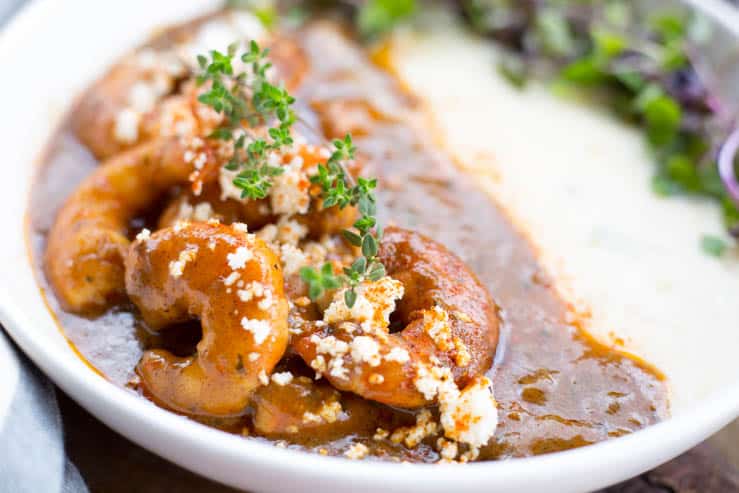 Texas Barbecue Shrimp takes the classic Cajun dish and heads west with the addition of crisp, Shiner Blonde Ale and the herbaceous fragrance of Mexican Oregano! We'll ladle it over rich and creamy jalapeno jack grits for a dinner bursting with an infusion of Texiana.
If you're new to barbecue shrimp the first thing you'll notice right away is they are not barbecued, made with barbecue sauce, or in anyway associated with a barbecue. (I know it's weird.)
Classic barbecue shrimp is simply fresh, gulf shrimp quickly cooked in butter and a classic Cajun spice blend, which is finished off with beer. The dish is cooked down into a sort of saucy gravy so rich and flavorful you'll want to lick the bowl clean. It's traditionally served over grits (aka shrimp and grits) which is just what were going to do today.
First we'll collect our herbs and spices…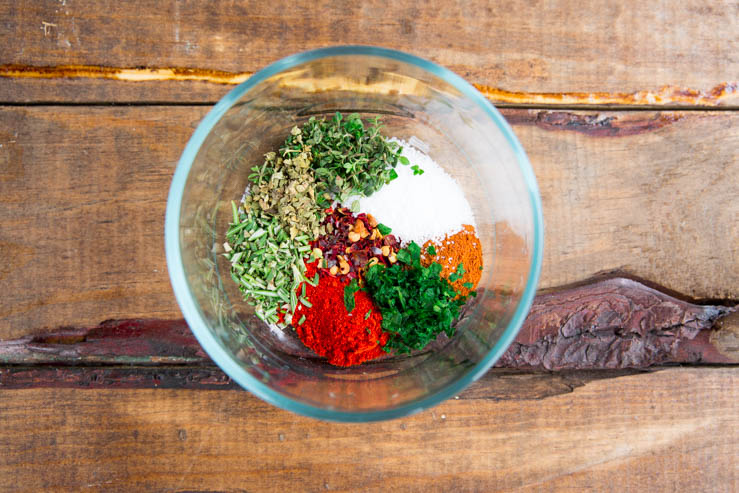 For a Texas twist I've chosen Shiner Blonde Ale which provides body and richness to the barbecue shrimp.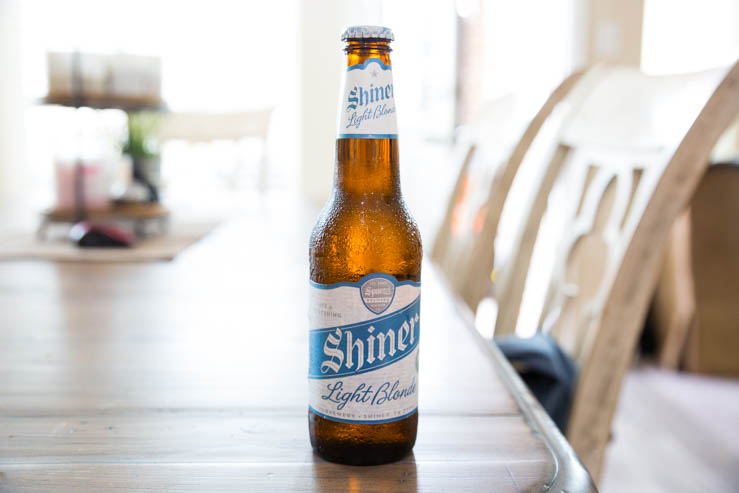 Fresh Gulf Shrimp from Galveston are my SHRIMP O' CHOICE…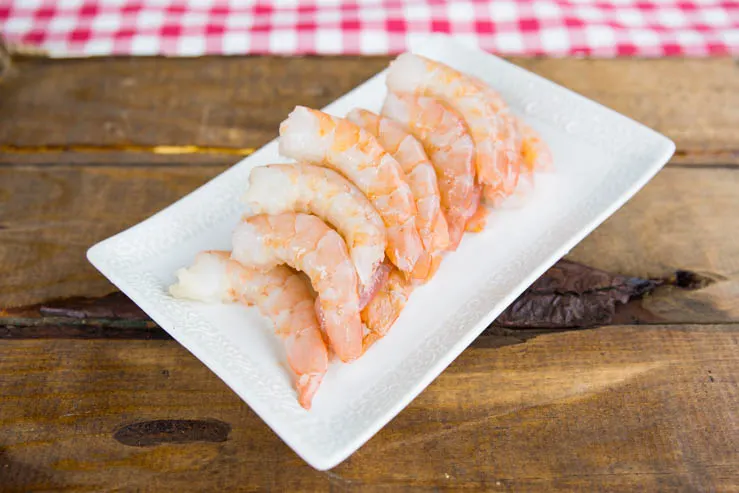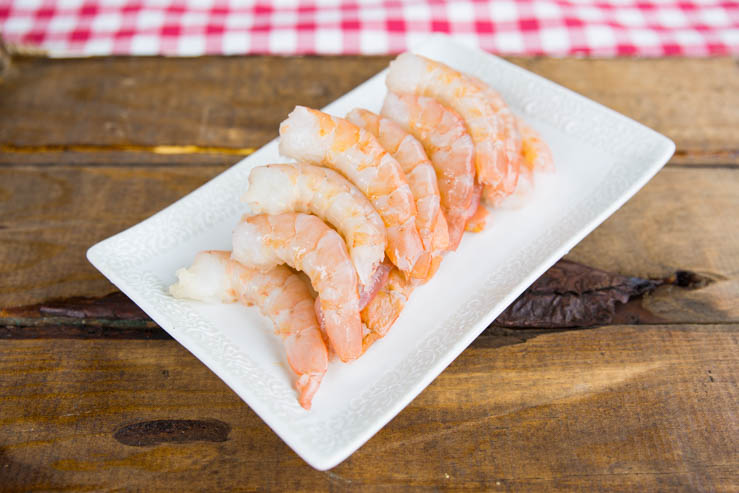 I serve my Texas style barbecue shrimp over jalapeno jack grits with a sprinkling of queso fresco.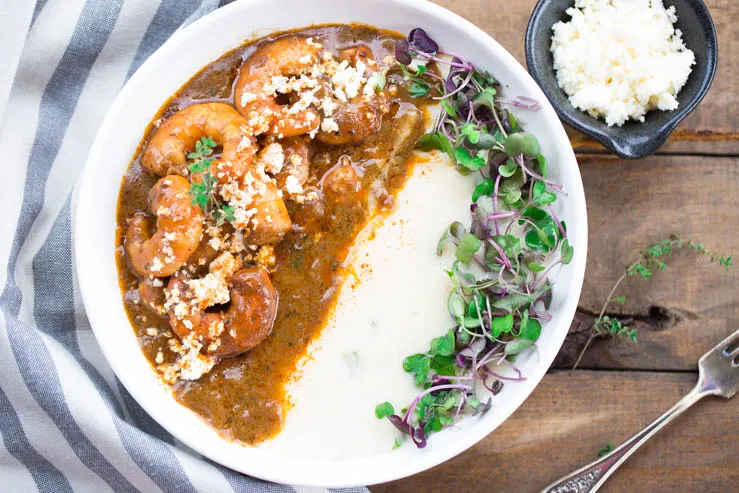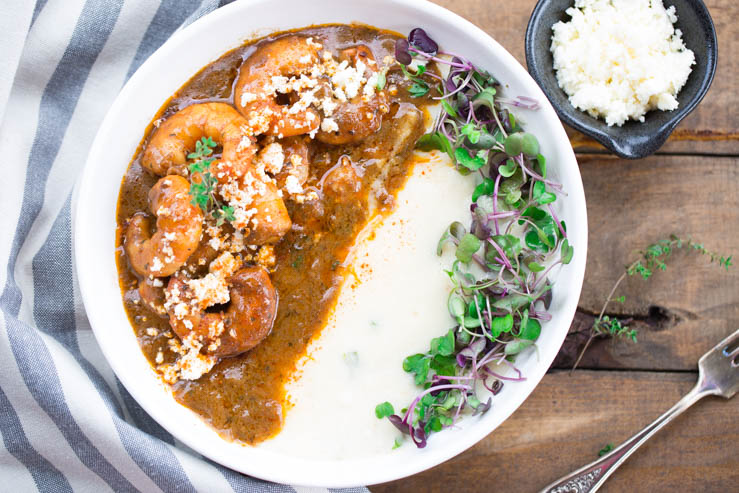 Texas barbecue shrimp are best served in a bowl so that the shrimp sauce and grits gradually melt into one another.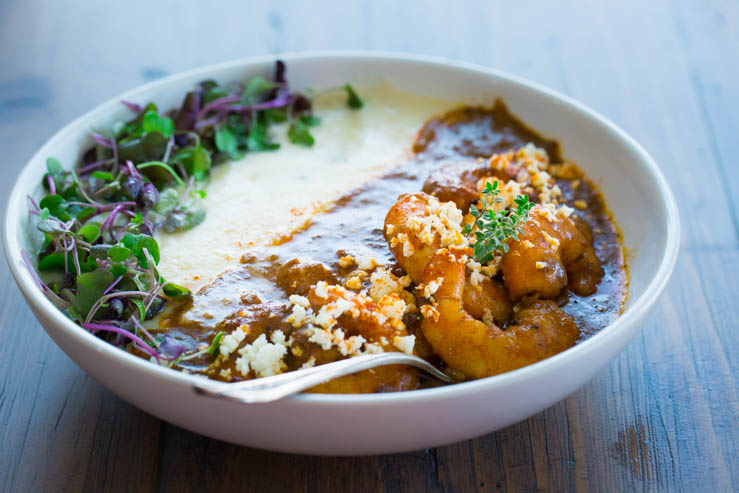 Here is the recipe for the Texas Barbecue Shrimp
If you make the recipe and post it to social media, tag Urban Cowgirl! I'd love to see how it turns out!
Yield:

4 servings
Texas Barbecue Shrimp Recipe
These barbecue shrimp and grits are just like the popular New Orleans recipe, but we've shaken things up with jalapeno and cheddar grits and Shiner Blonde, throwing a little taste of Texas into this Louisiana favorite!
Ingredients
Jalapeno Jack Grits:
1-quart chicken stock
1 t. salt
1 t. granulated garlic
1 c. white cornmeal
2 c. hot pepper jack cheese, freshly shredded
1/3 c. half and half
½ a lemon, juice of
2. T minced fresh jalapeno, remove seeds and ribs for less spicy
Barbecue Shrimp:
1 t. cayenne
1 t. paprika
1t. kosher salt
1 t. fresh parsley
2 t. fresh thyme
1 t. fresh rosemary
1 t. Mexican oregano
1 t. black pepper
1/ 2 c. butter
1 1/2 lbs. fresh gulf shrimp, raw, cleaned and deveined
1 bottle beer: I use shiner blonde
2 T. corn starch – mixed into 2 T. water or stock
Juice of half a lemon
Optional: 2 T. half and half or heavy cream if you prefer a creamy sauce (which I do!)
Instructions
For the jalapeno jack grits: In a large stockpot, bring 4 c. chicken stock to a boil. Shake in the cornmeal whisking well to prevent lumps from forming. Add the granulated garlic and salt. Cook the cornmeal for about 30-40 minutes over low-medium. Stir the cornmeal with a spatula often to prevent the cornmeal from sticking and burning the bottom.
Meanwhile, shred the pepper jack cheese and mince the jalapeno. When the polenta begins to pull away from the sides it is done. Pour in the cheese, half and half, jalapeno, and lemon juice for seasoning. Whisk in well to incorporate. Taste for seasoning and reserve while you prepare the shrimp.
For the shrimp: If the shrimp hasn't been cleaned, begin by removing all of the shells and giving the shrimp a quick rinse in a colander.
Measure all of the herbs and spices into a small bowl and get all of the ingredients close as this recipe cooks very quickly.
Start by bringing a heavy skillet or cast-iron skillet up to medium-high heat. Add the butter and let it melt. Stir in all of the herbs and spices and stir well. Let cook for 1 min. Once it gets bubbly, add the shrimp.
Coat the shrimp with the butter mixture and cook 1 minute. Add the beer and cook 3-4 minutes. Add the cornstarch slurry (cornstarch and broth or water stirred into a white liquid) and whisk well as it will begin to thicken quickly. Turn the heat down to medium-low and add the lemon juice and cream. Cook 2 minutes.
Remove from the heat and taste for seasoning.
To Serve: In a bowl, ladle a cup of the jalapeno jack grits. Top with a large serving of shrimp and sauce. Garnish with fresh herbs, microgreens, and queso fresco if desired.
Nutrition Information:
Yield:
4
Serving Size:
1
Amount Per Serving:
Calories:

1736
Total Fat:

130g
Saturated Fat:

77g
Trans Fat:

4g
Unsaturated Fat:

43g
Cholesterol:

716mg
Sodium:

4499mg
Carbohydrates:

68g
Fiber:

5g
Sugar:

26g
Protein:

77g
These nutritional values are an estimate only and provided as a courtesy. Different brands of ingredients may result in different calorie counts, and the software does not account for these differences. Consult with your dietician or doctor for precise nutritional values.