Texas Brisket Queso is the best way to use leftover brisket after a barbecue or a holiday weekend, and today we're going to learn how to make it!
The queso is a real, authentic, tex mex queso made with American cheese, so it's Velveeta free, much like your favorite tex mex restaurant. You won't believe how easy it is to whip up a batch of real queso on your own (and with minimal ingredients)!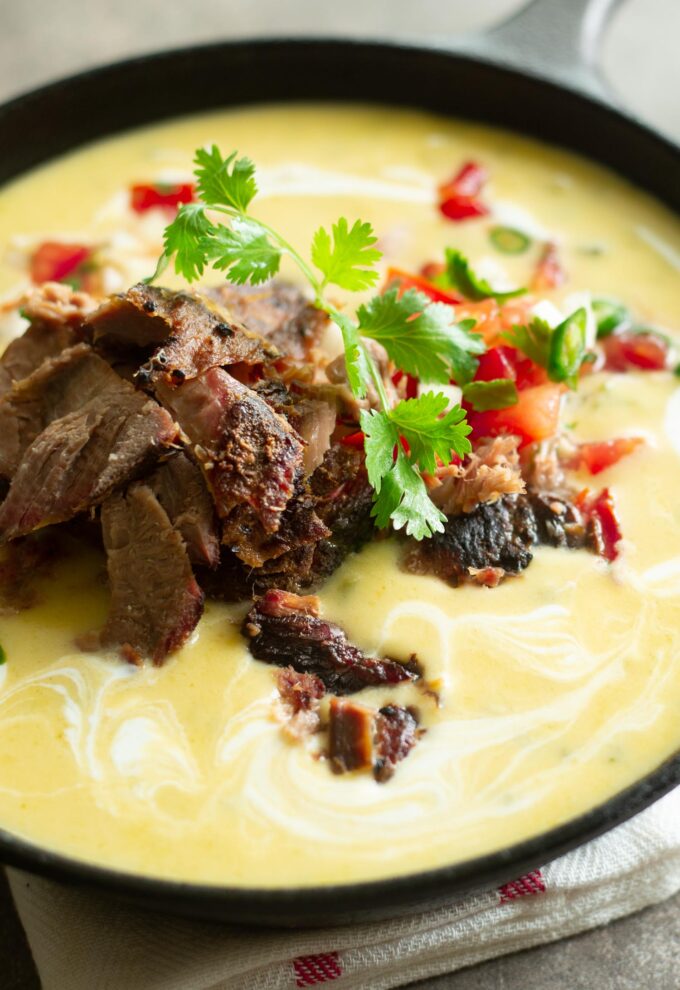 Let's get this party started!
---
MAKING THE QUESO DIP
For the queso, we begin by dicing up classic queso ingredients. We'll start with half a white onion, small dicing it, and reserving the other half for the pico de gallo, which will go on top of the queso. Reserve the onion for the next step in the chile con queso dip.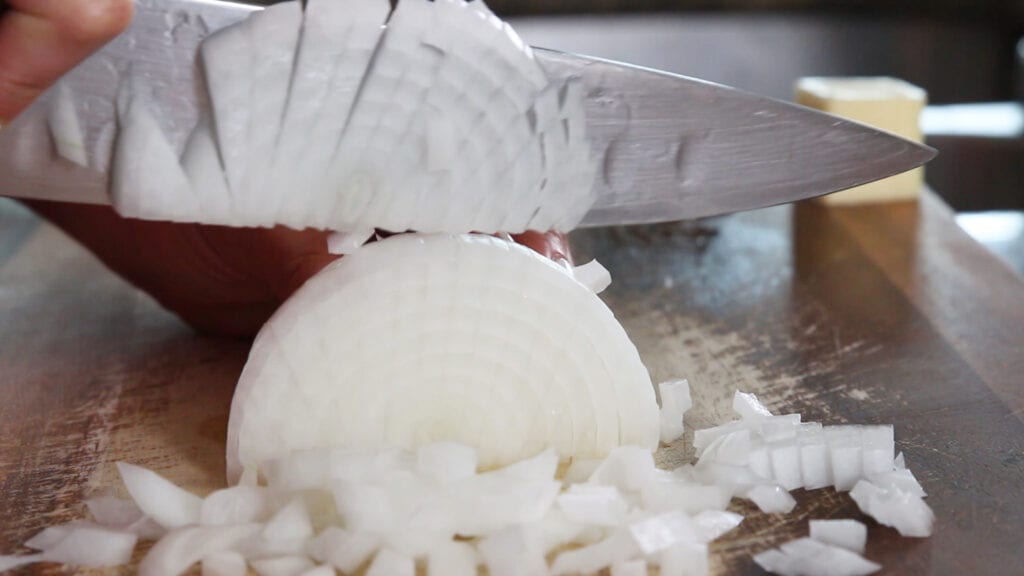 I use 2 jalapenos for the queso base. (As seen in the video) We begin by cutting off the jalapeno stems, splitting the pepper down the middle, and then cutting each jalapeno pepper into quarters.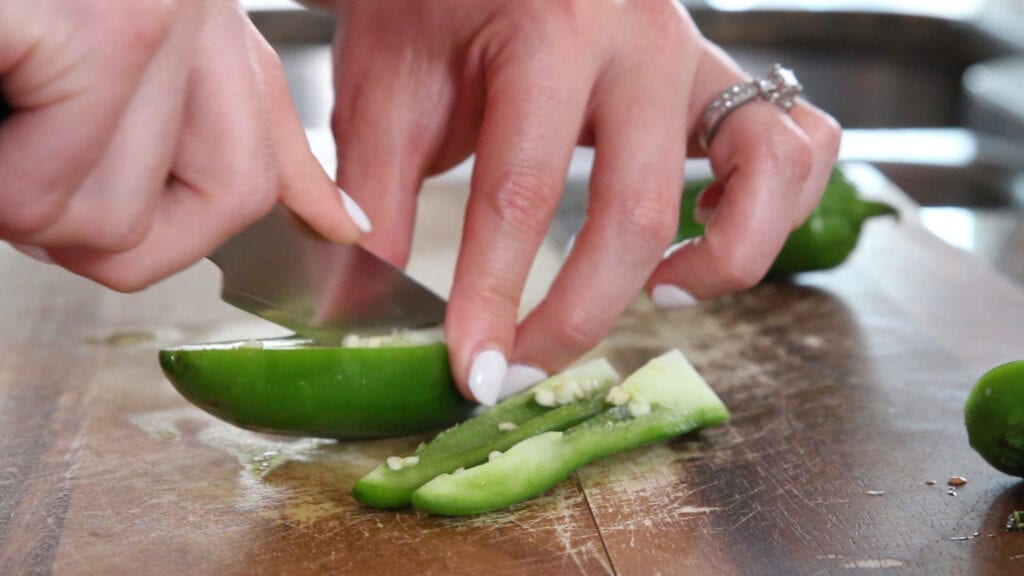 Now, I will line up all the little slices and dice them into small squares about the size of an MnM candy.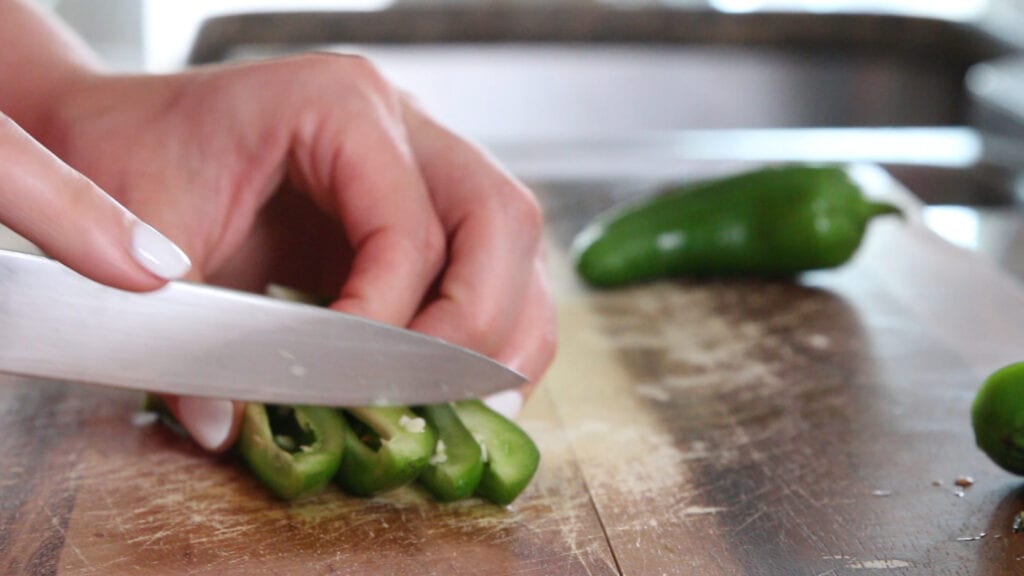 In a heavy-bottomed stock pot, over medium heat, melt 2 T. of butter and add the onion and jalapeno. Cook for 2-3 minutes.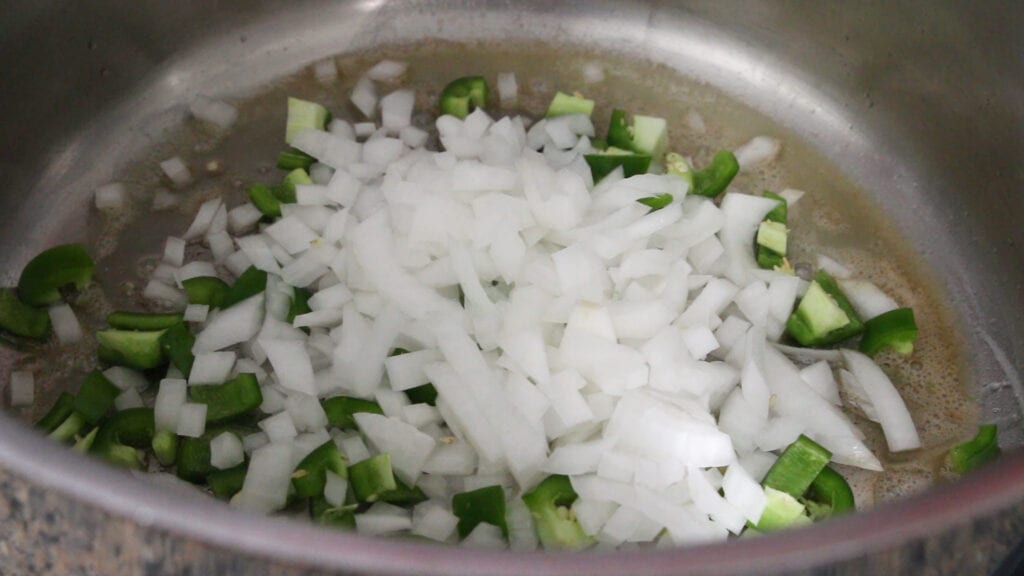 Add the minced garlic and stir until fragrant.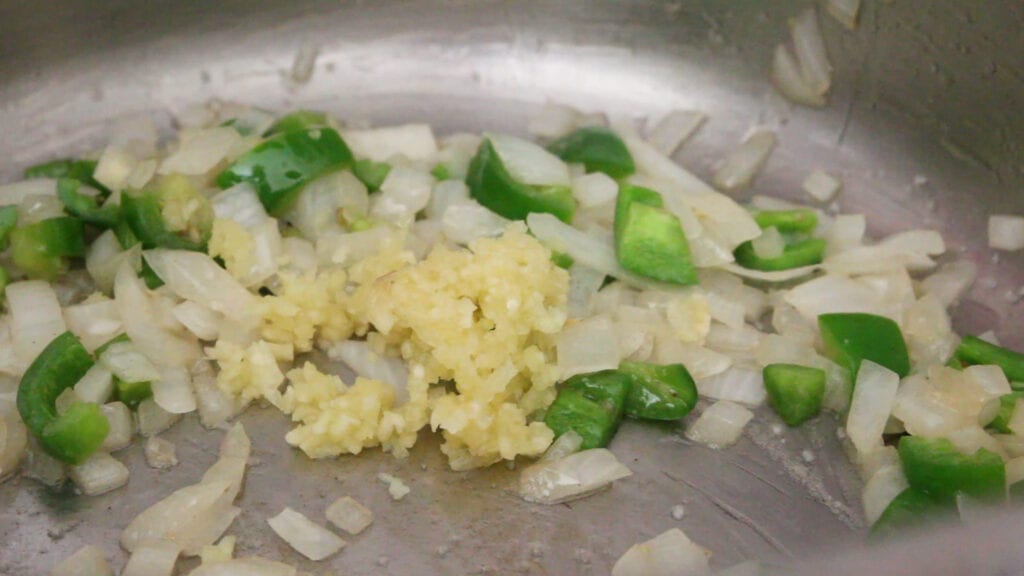 After the vegetables have softened, add 1 c. half and half to the queso veggies.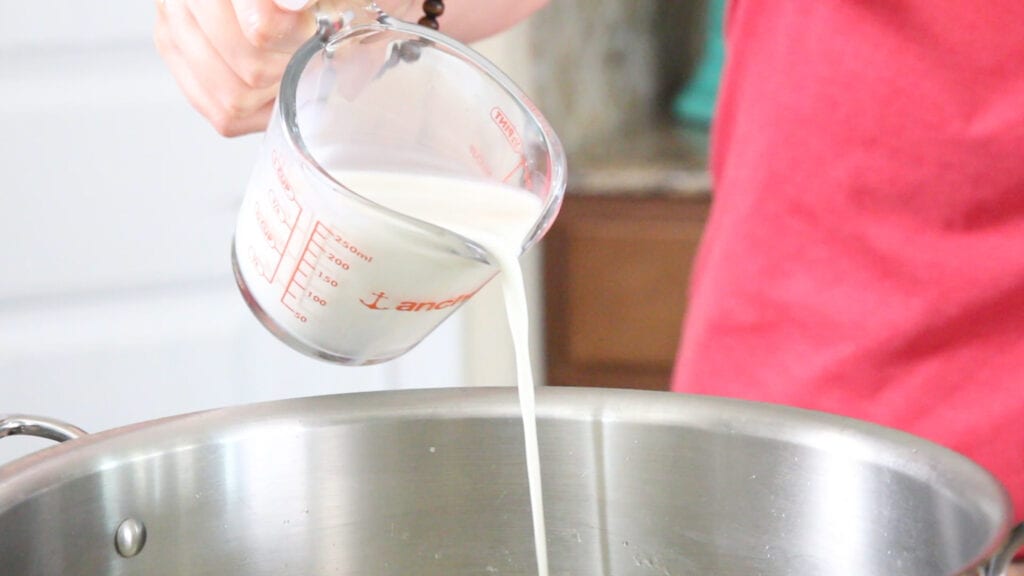 Cut the Boar's Head American Cheese (you can use white or yellow), into squares.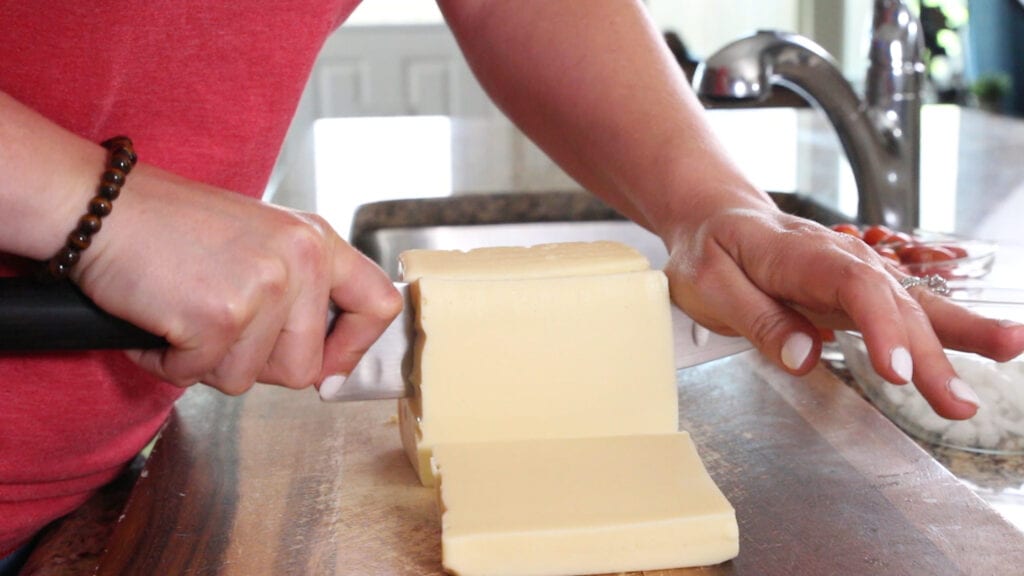 Drop the squares of American cheese into the half and half, and stir well as they melt into the queso base.
Continue to stir, making sure the cheese never burns to the bottom of your pot.
Making the Pico De Gallo For The Queso
Pico de gallo is a mixture of crunchy onion, fresh tomato, and jalapeno marinated in lime juice.
Some people cook the tomatoes in with the queso, or use a canned product called Rotel (cooked green chiles and tomatoes) to their queso recipes. I've grown rather fond of topping my queso with fresh pico de gallo because it's cold and refreshing!
It's the perfect complement to warm queso dip. I'll show you how to do that right now!
For the pico de gallo we start with little cherry tomatoes. I use cherry tomatoes in my queso and guacamole because they have less water and more flavor than big ole' red tomatoes. I cut them down the middle, and then make little nibbles, as shown below.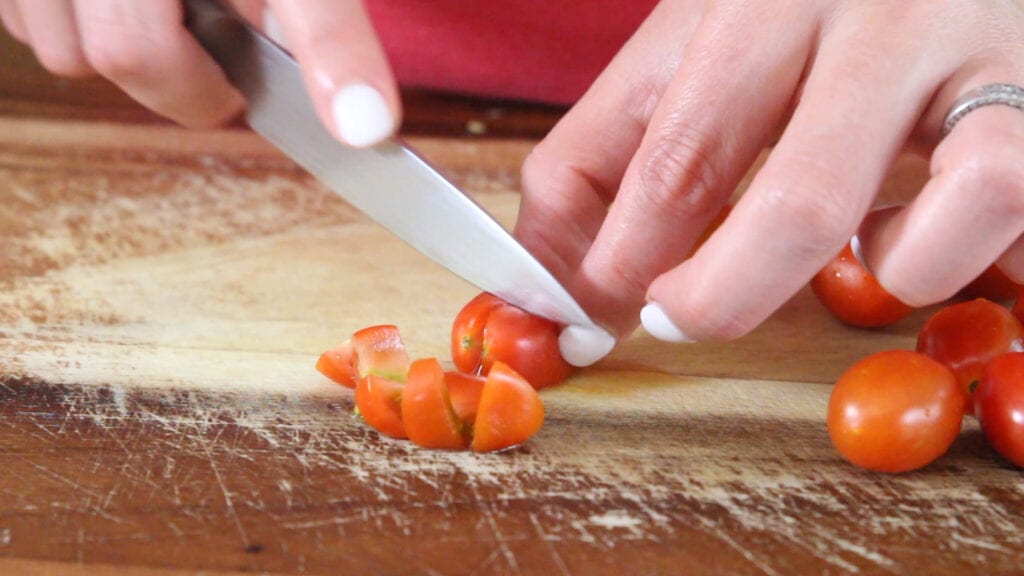 Add the tomatoes to a bowl with the white onion, small diced jalapeno, fresh cilantro, and lots of lime juice, and toss well. It will begin marinating and soaking up the lime juice, making it tangy and bright. Reserve the pico de gallo for serving.
Preparing The Leftover or Purchased Brisket:
We have lots of leftover brisket at our house, like all da time! If you don't, don't worry about it!
Just purchase sliced or chopped brisket from your favorite barbecue shop. I'm slicing my leftover brisket flat into slices and then (as shown in the video) I will dice and chop until we have tiny morsels of brisket.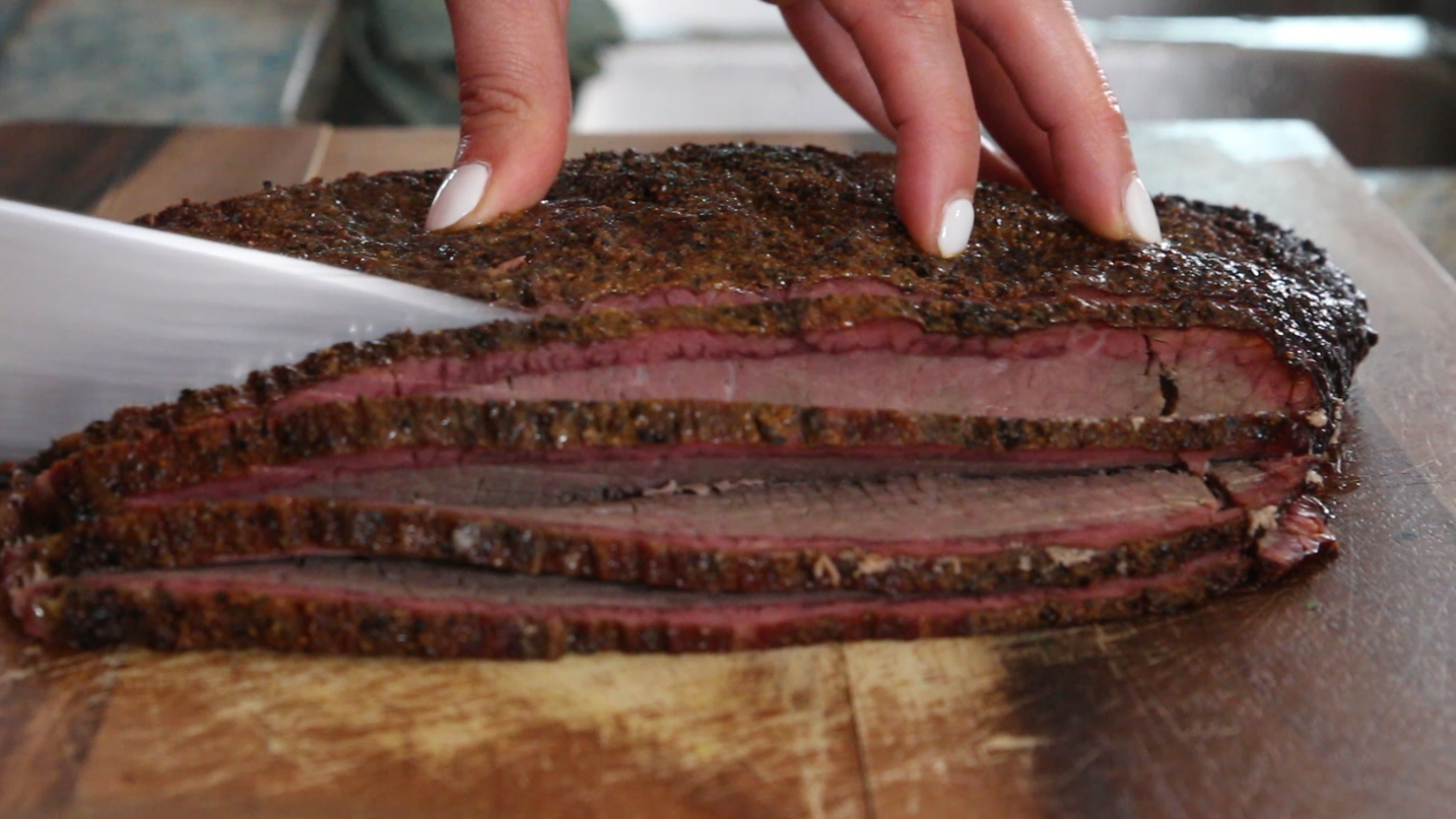 Now we sauce that brisket! I always use our homemade Dr Pepper Barbecue Sauce Recipe available by clicking here!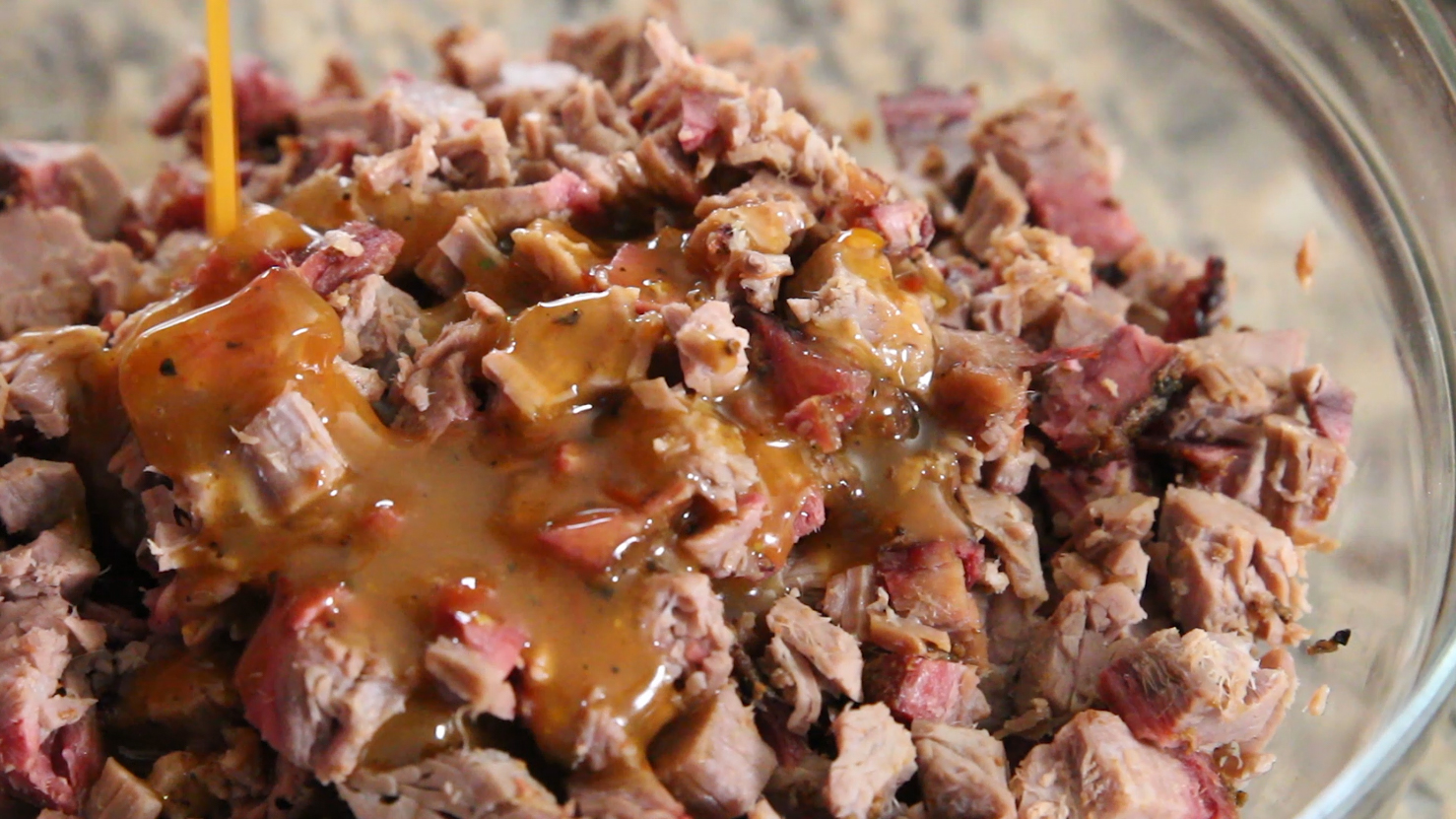 Pour the white queso blanco into a warmed cast iron skillet and top with a mound of queso. Followed by fresh pico de gallo. Then another scoop of brisket!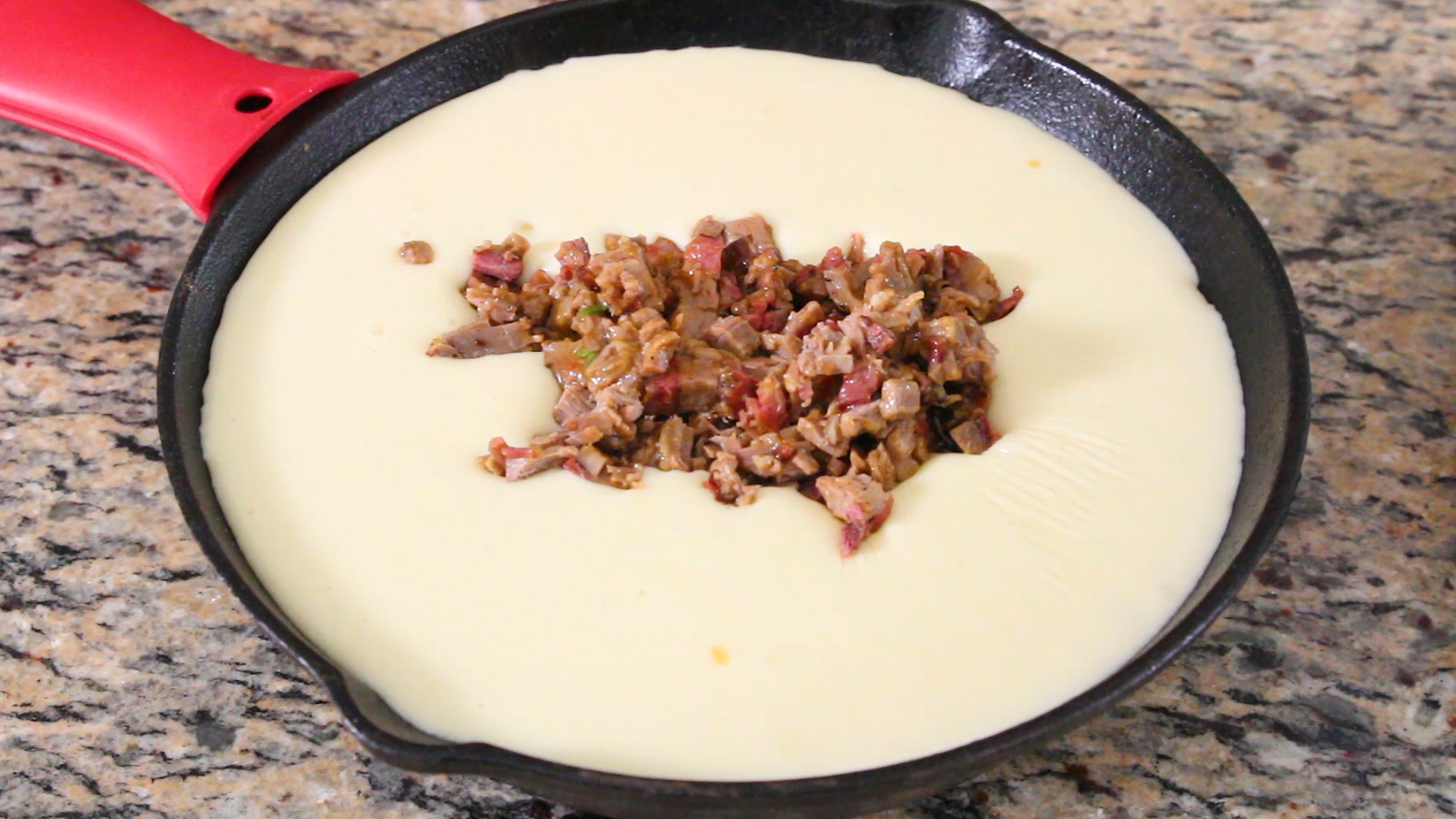 Grab the tortilla chips, and serve!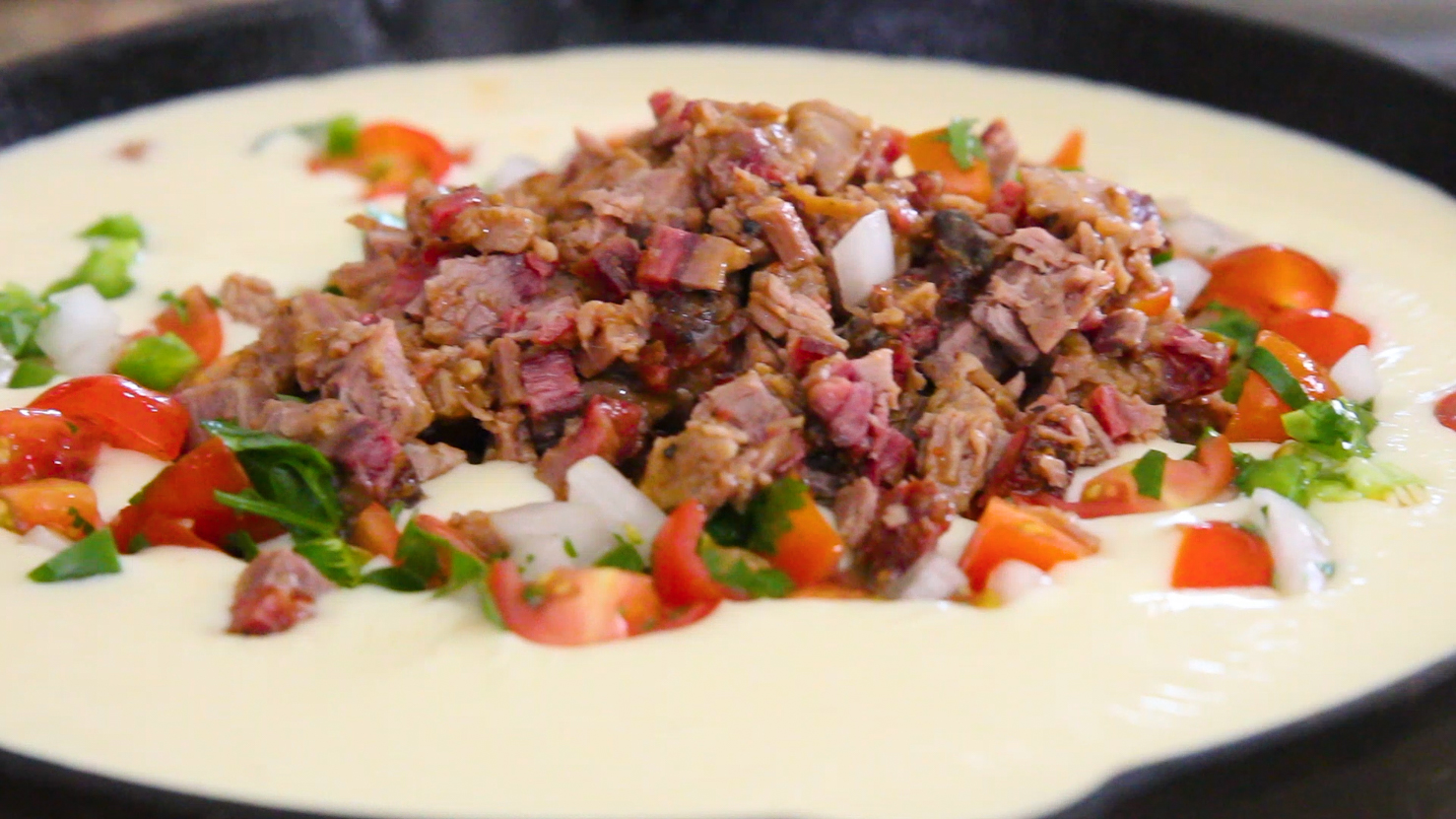 This queso dip is a serious home run for any cook. Make it for your next potluck, backyard barbecue, or tailgate! (Everyone will be begging for your recipe! 😛 )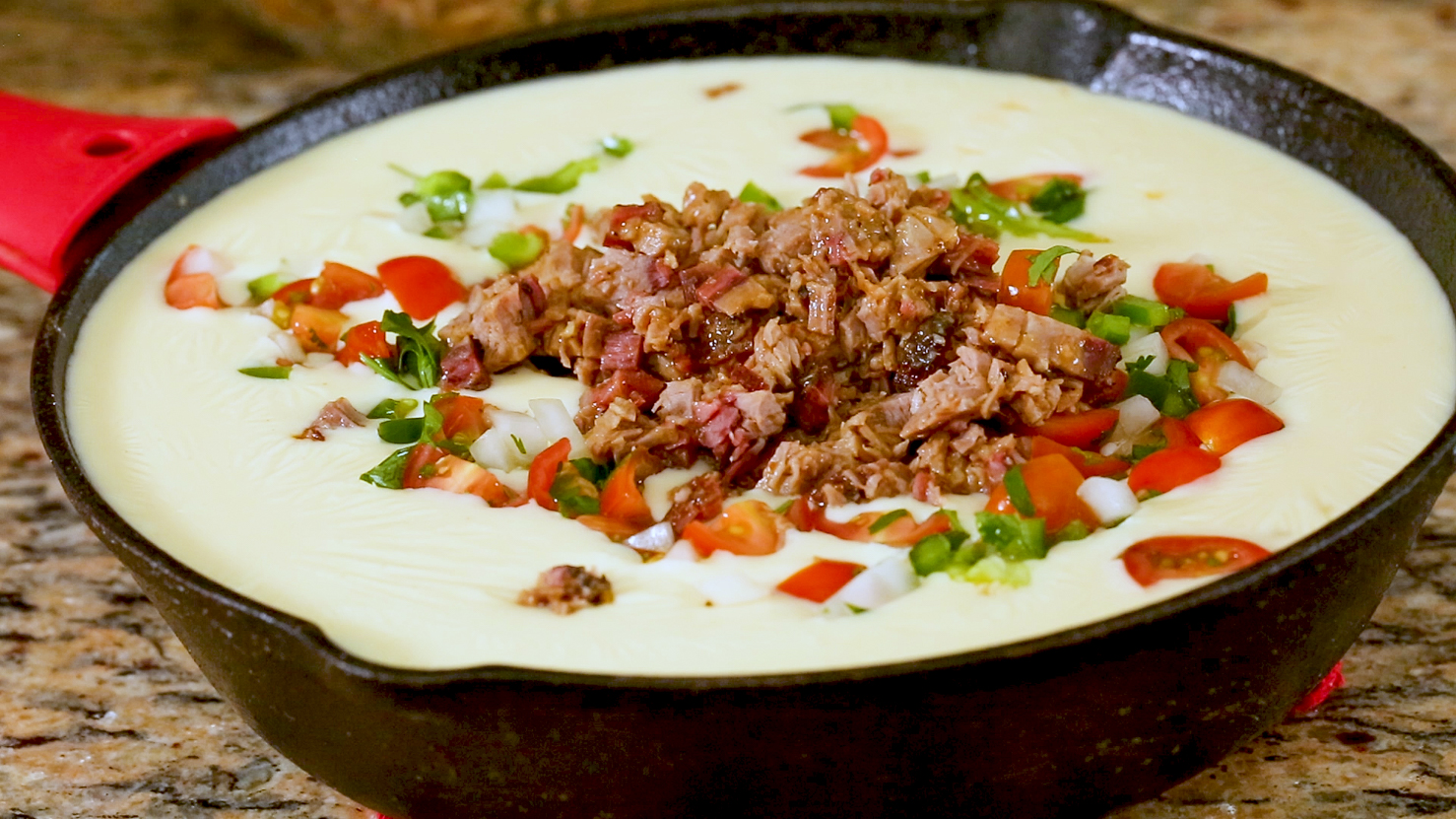 Interested in More Leftover Brisket Recipes?
Yield:

1 skillet full
Texas Brisket Queso
Classic Texas queso is topped with fresh pico de gallo and tender smoked brisket for an irresistible queso recipe, inspired by our love of barbecue!
Ingredients
Queso:
2 T butter
1/2 white onion
2 jalapenos, small dice, seeds reserved for adding in as needed
3-4 garlic cloves, pressed through a garlic press
1 c. half and half
1 lb. white or yellow american cheese from the deli counter (NOT VELVETTA)
1 T. fresh lime juice
Fresh Pico to stir in or top the queso:
1 pint red cherry tomatoes, halved
2 T. cilantro, chopped fine
1/2 small red onion, very small dice
1 T. grapeseed oil
1 lime, juiced
1 pound chopped sliced brisket from your favorite barbecue shop, or leftover brisket
Favorite Tortilla Chips
Instructions
In a medium sauce pan, add the butter over medium heat and melt. Stir in the white onion and diced jalapenos. (Usually I enjoy all of the jalapeno seeds because the pungency is diluted in a pound of cheese, but during the summer months the jalapenos can get quite hot. Use your best judgement.)
Sweat for 2 minutes. Add garlic and stir until fragrant.
Pour in half and half and bring to a simmer.
Stir in all of the cubes of cheese and stir until melted.
In a separate bowl combine all of the ingredients for the pico de gallo. Salt to taste.
To finish, in a large serving dish or cast-iron skillet, pour in the queso.
Top with pico de gallo.
For the brisket, take the sliced brisket and chop it into bite sized pieces. Combine with barbecue sauce if preferred. (We also enjoy the brisket without barbecue sauce, but this is a personal choice).
Crown the queso with brisket and serve with tortilla corn chips!
Nutrition Information:
Yield:
10
Serving Size:
1
Amount Per Serving:
Calories:

417
Total Fat:

28g
Saturated Fat:

14g
Trans Fat:

1g
Unsaturated Fat:

11g
Cholesterol:

116mg
Sodium:

844mg
Carbohydrates:

13g
Fiber:

1g
Sugar:

9g
Protein:

28g
These nutritional values are an estimate only and provided as a courtesy. Different brands of ingredients may result in different calorie counts, and the software does not account for these differences. Consult with your dietician or doctor for precise nutritional values.