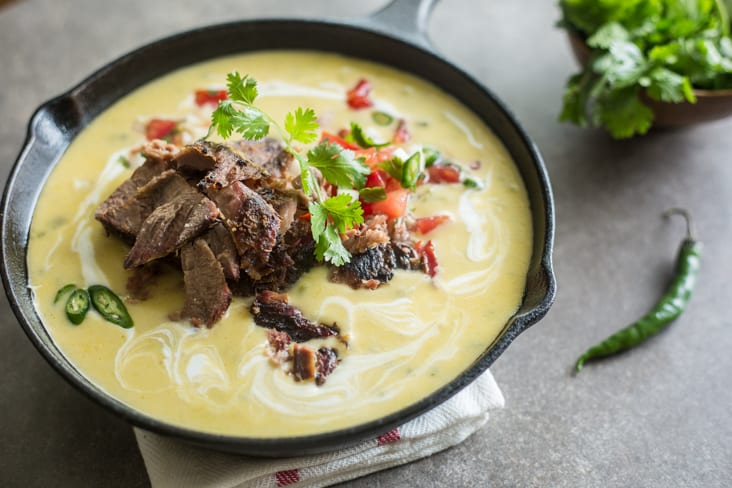 Guys. In case you haven't noticed…I'm on a massive queso binge. 😛
It started when I finally discovered the perfect queso a couple posts back with the Lobster Nachos with White Queso and Sweet Mango Drizzle.
I'm also prepping for a tutorial and video on Aaron Franklin's brisket recipe (at home) with some education and links on Black Angus Prime Ranchers, who will ship straight to your door.
So this recipe was born from the heckuvva lot of queso and Texas-style brisket now taking up all 3 of my refrigerators. 😛
I figured you might find yourself in my shoes from time to time when smoking a whole brisket, so gather the family round and arm yourselves with tortilla chips!
If you've already barbecued (or purchased) the smoked brisket, this beautiful brisket queso is never more than 15 min away, which makes it a great choice for last minute get togethers and football season!!
For football and party fare let me also recommend the Texas Taco Soup and the Famous Guacamole Salads from Candlelite Inn.
Here is the Texas Brisket Queso!
If you make the recipe, post it to social media and tag Urban Cowgirl!
I'd love to see how it turns out!
Ingredients
Queso:
2 T butter
1/2 white onion
2 jalapenos, small dice, seeds reserved for adding in as needed
3-4 garlic cloves, pressed through a garlic press
1 c. half and half
1 lb. white or yellow american cheese from the deli counter (NOT VELVETTA)
1 T. fresh lime juice
Fresh Pico to stir in or top the queso:
1 pint red cherry tomatoes, halved
2 T. cilantro, chopped fine
1/2 small red onion, very small dice
1 T. grapeseed oil
1 lime, juiced
1 pound chopped sliced brisket from your favorite barbecue shop, or leftover brisket
Favorite Tortilla Chips
Instructions
In a medium sauce pan, add the butter over medium heat and melt. Stir in the white onion and diced jalapenos. (Usually I enjoy all of the jalapeno seeds because the pungency is diluted in a pound of cheese, but during the summer months the jalapenos can get quite hot. Use your best judgement.)
Sweat for 2 minutes. Add garlic and stir until fragrant.
Pour in half and half and bring to a simmer.
Stir in all of the cubes of cheese and stir until melted.
In a separate bowl combine all of the ingredients for the pico de gallo. Salt to taste.
To finish, in a large serving dish or cast-iron skillet, pour in the queso.
Top with pico de gallo.
For the brisket, take the sliced brisket and chop it into bite sized pieces. Combine with barbecue sauce if preferred. (We enjoy the brisket dry without barbecue sauce but this is a personal choice).
Crown the queso with brisket and serve with tortilla corn chips!
7.8.1.2
24
https://urbancowgirllife.com/texas-brisket-queso-recipe/