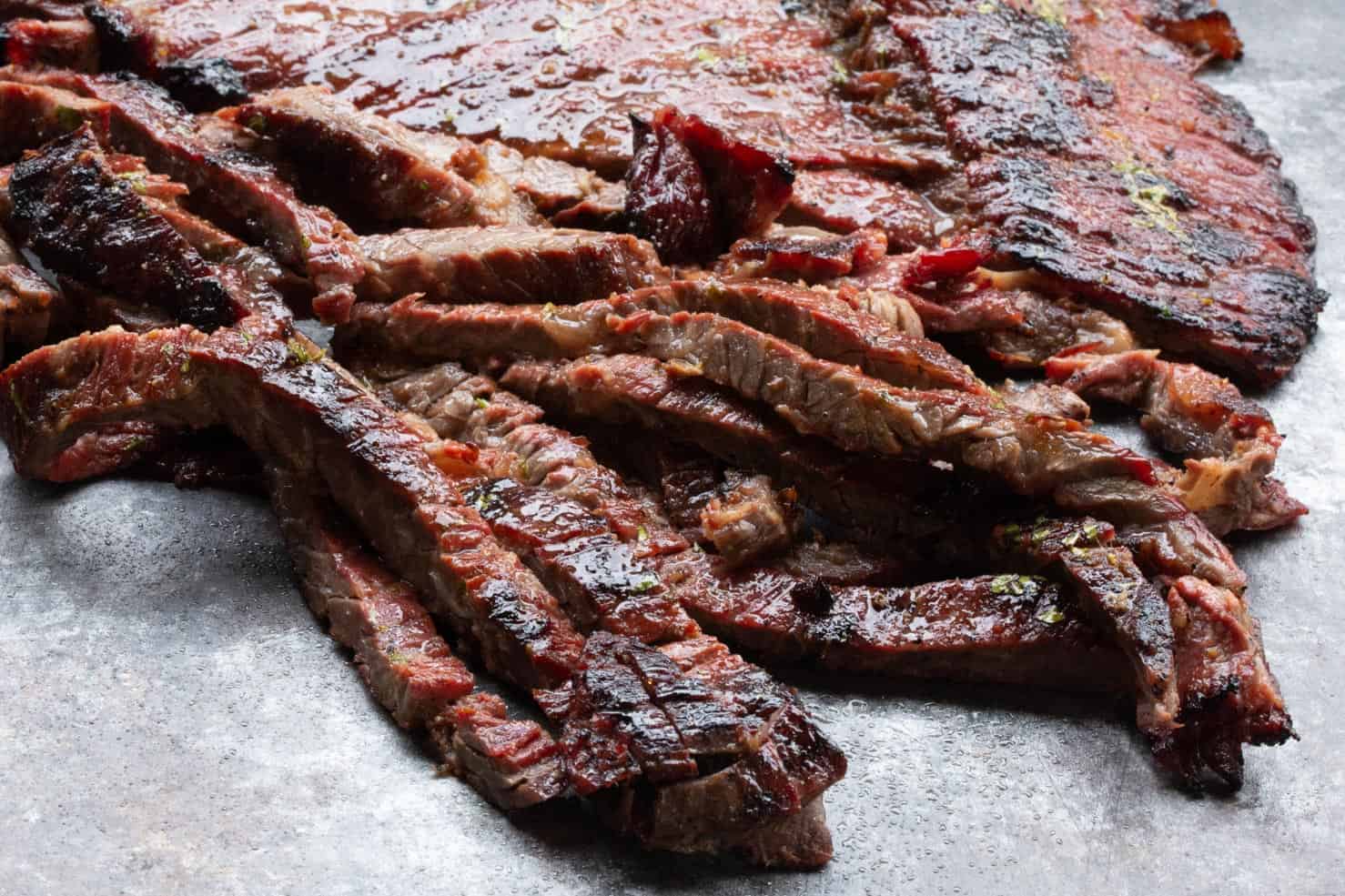 Welcome to Part 2 of my Texas Skirt Steak Fajitas Tutorial…
In part one, I gave the recipe for the quintessential, Texas style, steak fajita marinade. If you're a Texan, or you visited us and fell in love with Tex Mex style fajitas, you'll be very familiar with the flavor of this perfect, pineapple juice based marinade. Practically all the great TEX MEX restaurants use some variation of it.
It's the punch from fresh lime juice, and the sweetness from pineapple, that gives the skirt steak momentous flavor and juiciness, while providing that shine that you can only get from well-caramelized, grilled meats.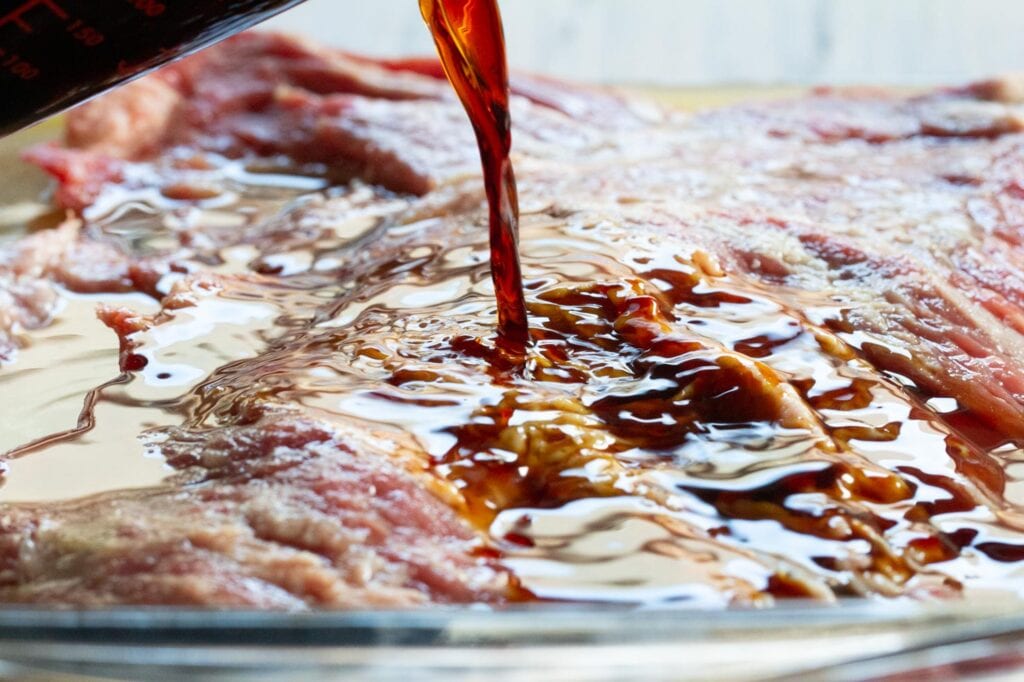 If you're attempting to find something similar to the Pappasito's Recipe for fajitas, this marinade is going to get you there— just be advise you need to marinate the skirt steak meat as long as possible, 24-48 hours to get that sticky-sweet, grilled meat flavor and caramelized sear.
Again, I go through this marinade, step by step RIGHT HERE IN PART 1. I also explain how to choose the best beef for fajitas and where that can be found. So, make sure to check out Part 1.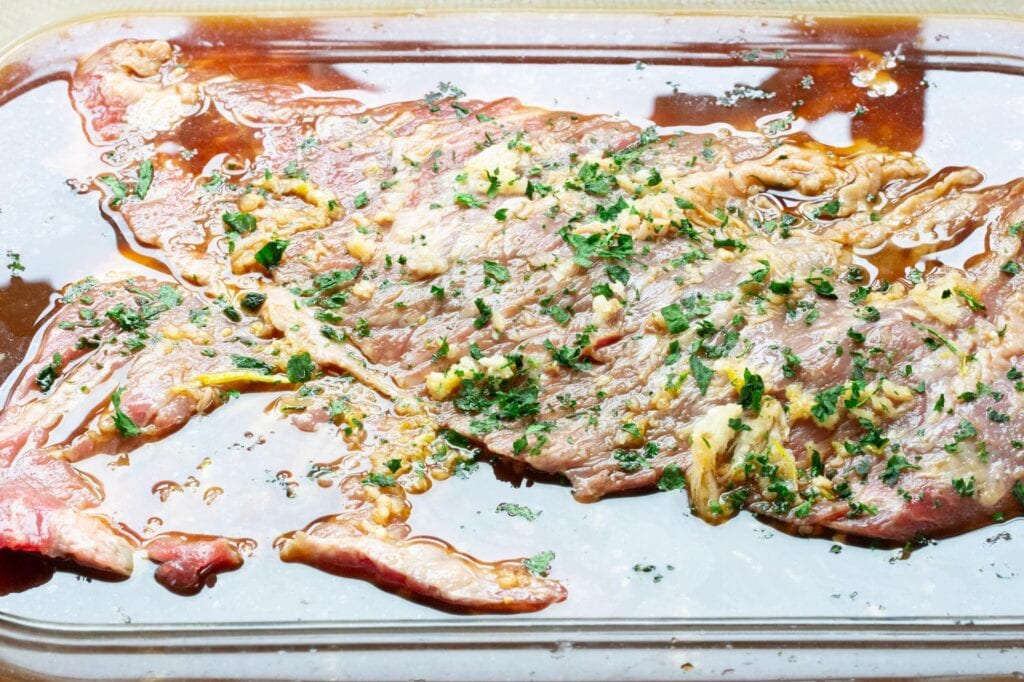 We're picking up now after we've marinated the skirt steak in the pineapple juice fajita marinade for awhile. At least 6 hours, but for the truly committed fajita connoisseur push it to 24 – 48 hours. You'll be delighted with the results.
(Remember, I was a chef for 12 years. I know what's done in the competitive Texas restaurant scene for the most flavor in these iconic dishes, and we begin preparing our meat long before your order it.)
Now, let's prep the grill. Of course I'm using my REC TEC! 😀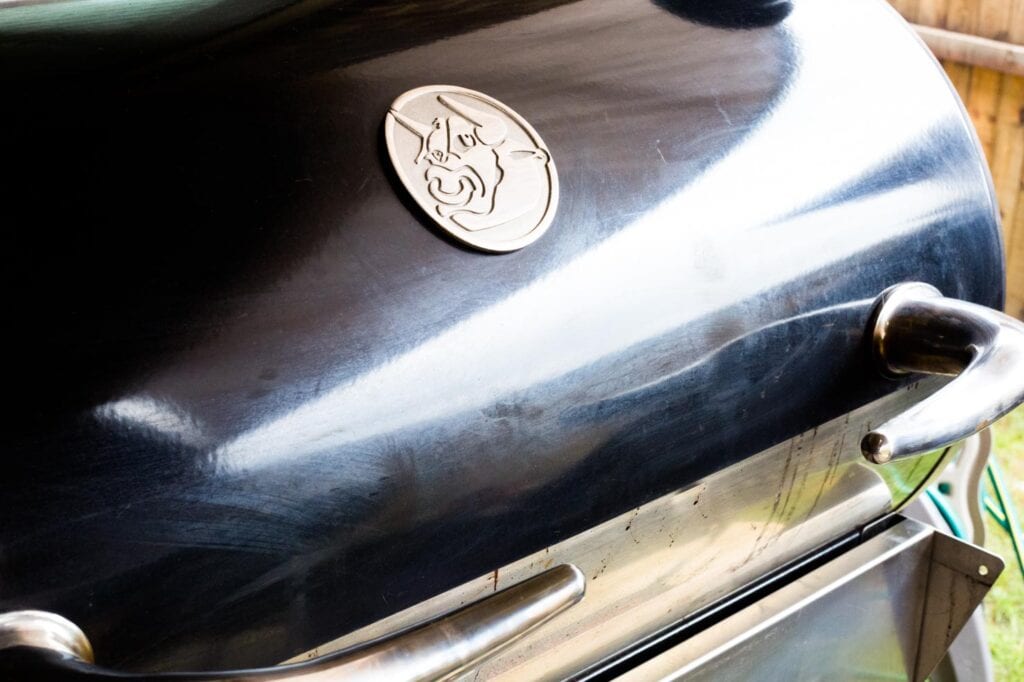 Yeah, this is my REC TEC smoker/grill. I've already given my love and devotion speech to the Cult Of Rec Tec, right here on our Youtube channel if you want to learn more. It's a pellet smoker (basically a barbecue with a computer brain) with a grill mechanism that's still able to get up to 500 degrees of radiant heat.
I occasionally use the REC TEC searing plates which are useful for searing steaks, fajitas, etc. Mostly I smoke brisket and ribs on it, but I LOVE the smokey taste of oak and mesquite wood smoke on my fajitas, and I get just a little bit of that flavor when I grill skirt steak on it.
BUT! You can also use a good old charcoal grill. I still have mine because let's face it, those things get HOT, and the hotter it gets, the better the sear (AKA that tasty brown crust).
(An an Amazon Affiliate I earn from qualifying purchases.)
Before you place the meat down on the grill, sprinkle it well with any Texas fajita seasoning blend, such as Fiesta brand (available here on amazon). I prefer to make my own using garlic powder, onion powder, kosher salt, and black pepper. I sprinkle each one on individually on the side that is going down first. When I place the meat on the grill I can sprinkle the other side at my leisure.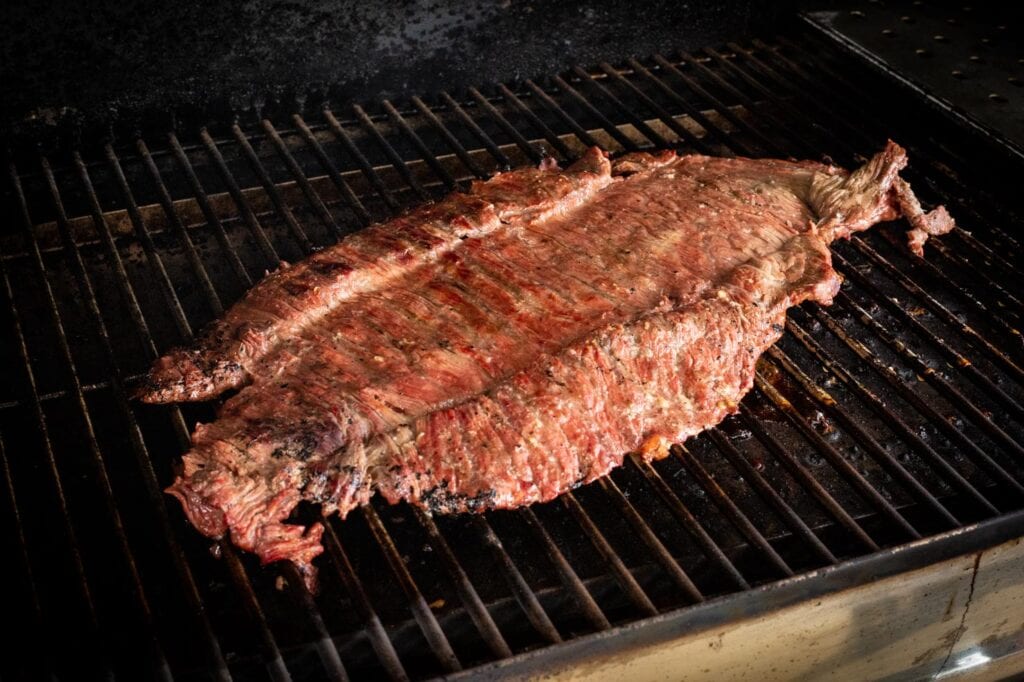 Once the grill is smoking hot (or has gray coals if you're using charcoal), place the meat over the hottest part of the grill, and close the chamber. (Charcoal users will need to vent the lid to make sure air can still feed the fire.)
It's hard to say how long you should leave it before checking the beef fajita meat, but here is my philosophy… just make sure you get a great sear on a least one side of the marinated skirt steak.
I purchased this skirt steak from La Azteca, a local meat market that butchers thin skirt steak for authentic, mexican fajitas. Because it is thinner, I will check it after 5 minutes just to get an idea of how hot my grill is. Normal skirt steak is thicker, so I would check and flip after 6-7 minutes.
If it's searing well, I might let it go a little longer, to get a really excellent, crusty brown sear. I always say it's better to get a really great sear on one side of meat, while roasting the top part of the skirt steak, than to get no sear on either side of the meat. Because the chamber is closed, hot air is circulating around the top of the meat through means of convection, so the top is cooking, it's just not getting seared from hot coals beneath it.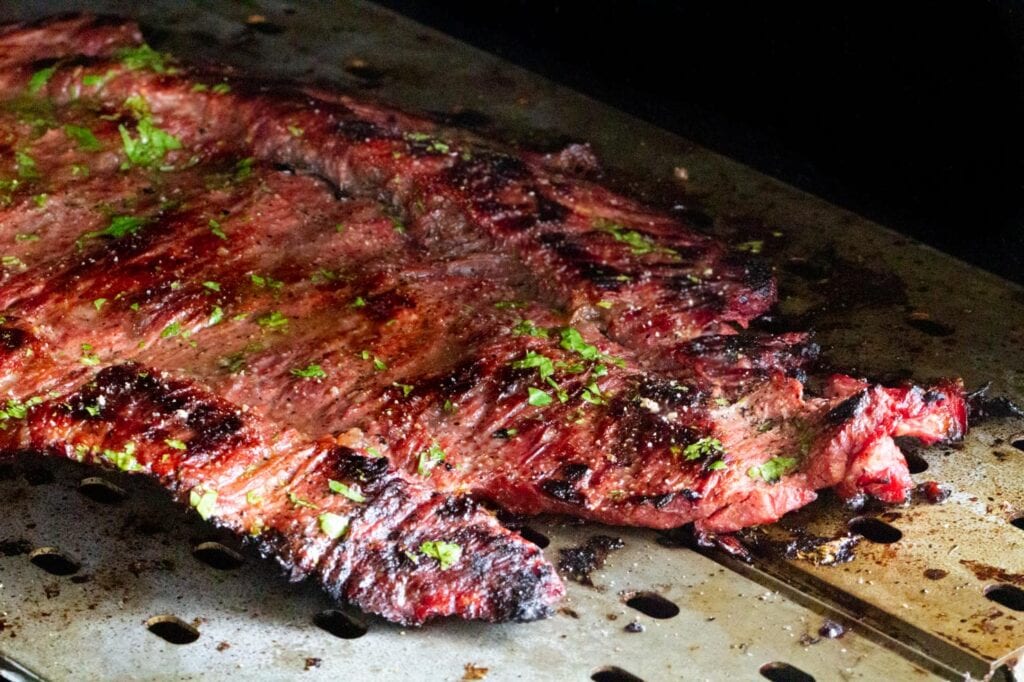 Now I know my REC TEC grill better than I know my mother-in-law, so I would flip after 7 min and get a great sear on both sides.
But we all use different equipment and some of us peek! (You know who you are. 😛 )
Just make sure to get the delicious, crusty brown sear on one side of the fajita meat, and if you can get it on the other side GREAT! But at least you'll have that delicious, caramelized, meat candy in every bite of your steak fajita, and as you learn how your grill or barbecue works you'll be able to experiment with timing.
Now transfer it to a cutting board and DON'T TOUCH IT for 10 minutes! Just look at it. You did that all by yourself. YOU are a MASTER FAJITA MAKER!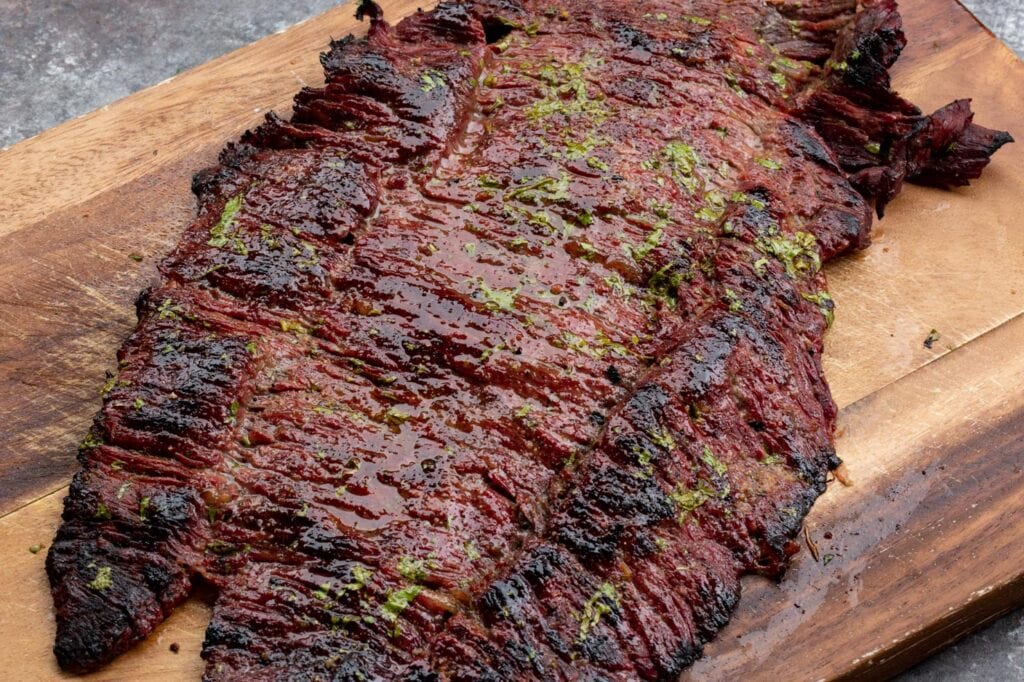 How to cut Skirt Steak Fajitas:
Skirt and Flank Steak are unusual pieces of meat. You have to cut them, as we say, against the grain.
See the obvious lines running back and forth in the meat? If you make your cuts parallel, going along with the lines in the meat, the meat will taste chewy and tough, no matter how juicy and well marinated it is.
You have to cut it perpendicular, or at least on the bias (diagonal) from the grain of the meat. Make as thin of cuts as you can using the sharpest knife in your kitchen. Like magic, the meat will be tender, juicy, and addicting. It should look like this…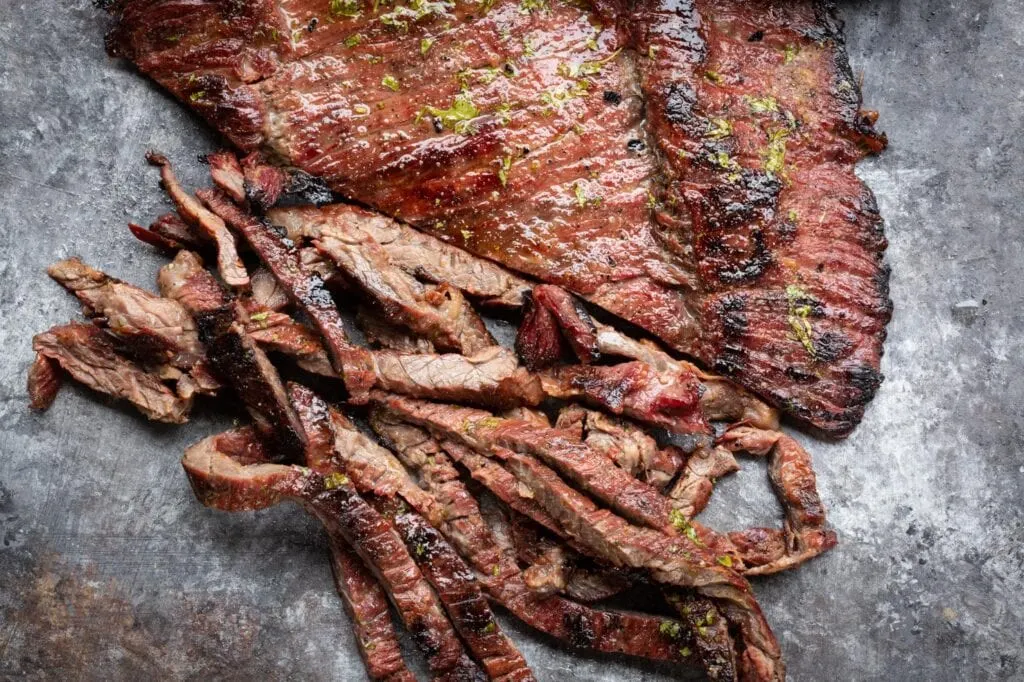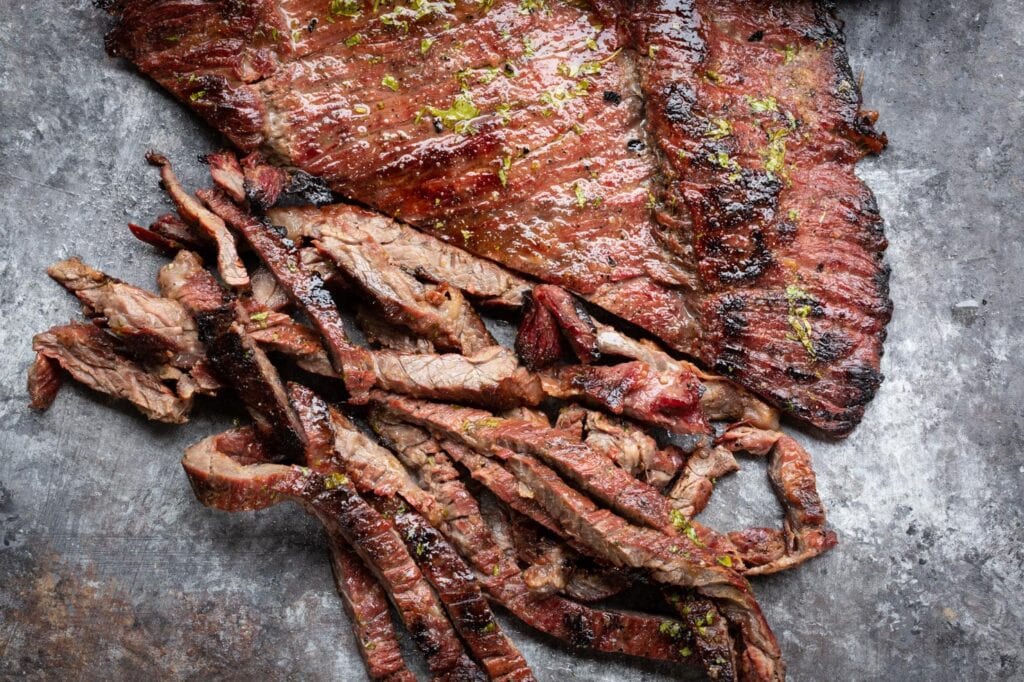 Now that you've made perfect Texas Fajitas, you might be interested in these favorite accompaniments. Let's just go ahead and make it a Tex Mex kinda night! 😀
15 Min Chewy Bacon Fat Tortilla Recipe
Texas Escabeche (spicy marinated veggies)
The Famous Guacamole Salad Recipe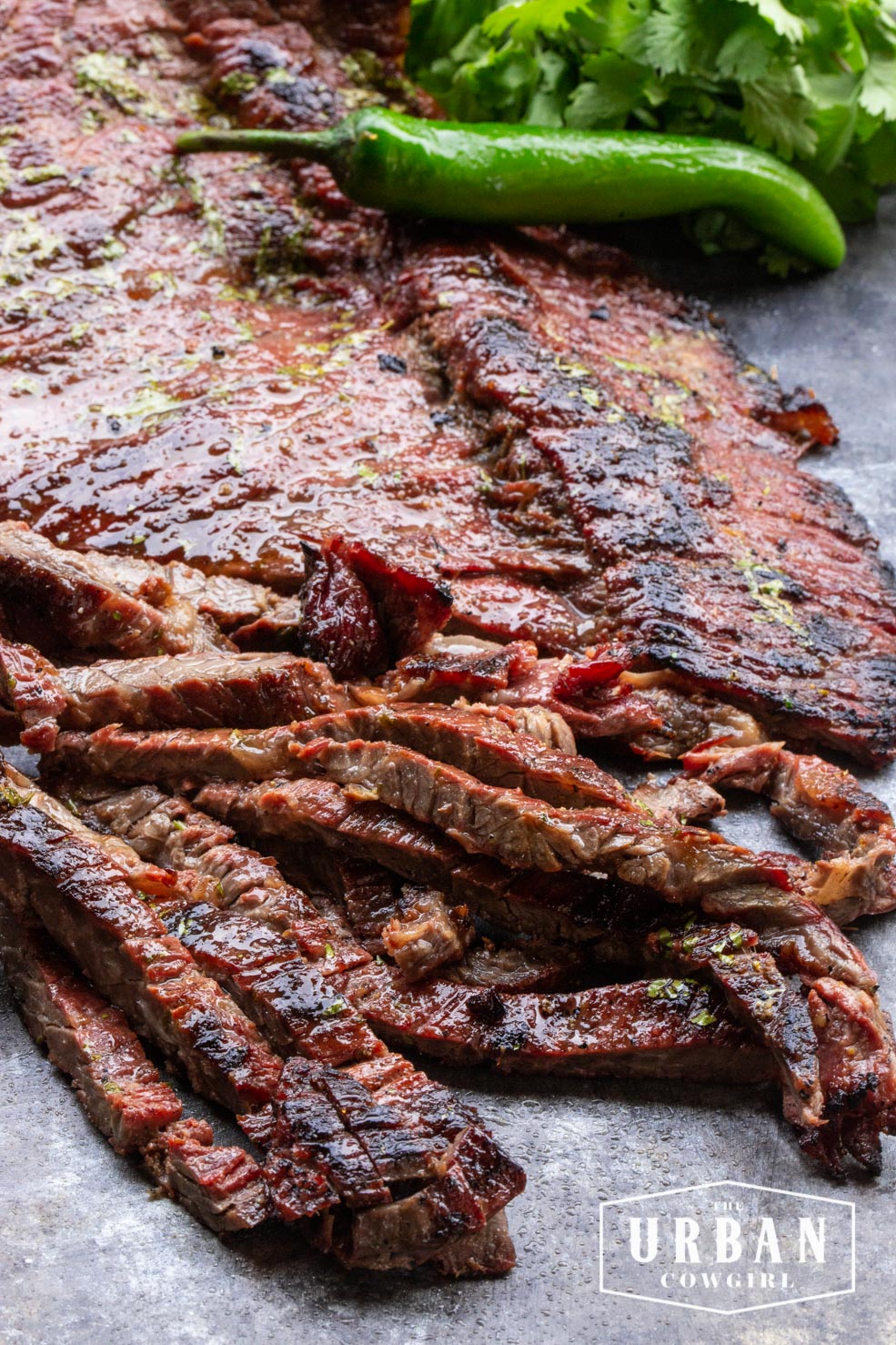 Fajitas are served in warm flour tortillas and can be served with fresh pico de gallo, sour cream, guacamole, shredded cheddar or cotija cheese, fresh cilantro, and sauteed bell peppers.
Side dishes that I recommend are…
Marinated Corn and Black Bean Salad in Mexican Vinaigrette
Yield:

4-6
Texas Fajitas Recipe
Get ready for the most world-famous beef fajitas around! Using our pineapple marinade and guide to fajita steaks, we'll share step by step how to grill and serve these famous Texas fajitas!
Ingredients
2-3 lbs. Pineapple marinated skirt steak or flank steak (see Part 1 for the full marinade recipe, linked in the notes)
3 T Fajita Seasoning Blend - Fiesta brand recommended or make your own using kosher salt, black pepper, garlic powder, and onion powder sprinkled liberally on the beef fajita meat
Charcoal Grill with Charcoal, Rec-Tec smoker, or any grill you feel comfortable using
20 Flour Tortillas
Little bowls of accompaniments such as:
Sour Cream
Cheddar Cheese or Cotija Cheese or Queso Fresco
Pico de gallo
Chopped Cilantro
Sauteed Bell Peppers
Red or Green Salsa
Instructions
Pull the fajita meat from the marinade and lay flat on a cookie sheet while you heat your grill, or begin your charcoal.
Sprinkle the fajita seasoning blend on both sides of the meat liberally.
When the grill is as hot as it can be, or the charcoal has turned gray, place the meat down in the middle of the hottest part of the grill. Close the chamber or place the lid on the grill. If you're using charcoal, make sure you vent the lid so that the air will feed the coals.
Sear the meat 5-7 minutes on one side and then check it. If it's not seared continue to cook it on one side until you can get at least a decent sear on the first side. Flip it, and cook it 4-6 minutes. When you gently poke the meat with your finger it should still be a little squishy. This will give you about a medium cook on the meat, and it will continue to cook as it rests.
Pull it off the heat and place it on a cutting board (preferably with a lip to catch the juices). Don't touch it for at least 10 minutes. Using the sharpest knife you own cut it against the grain, as described in the blog post and pictures. This is essential to getting tender bites of meat. Cut the meat up and serve it with all of your accompaniments and flour tortillas.
Each tortilla gets a little bit of fajita meat, and the accompaniments each person likes on their fajitas.
Serve fresh and warm for best results!!
Nutrition Information:
Yield:
6
Serving Size:
1
Amount Per Serving:
Calories:

1004
Total Fat:

27g
Saturated Fat:

9g
Trans Fat:

0g
Unsaturated Fat:

15g
Cholesterol:

55mg
Sodium:

1611mg
Carbohydrates:

158g
Fiber:

13g
Sugar:

48g
Protein:

35g
This nutritional information is provided as a courtesy as an estimate only. Consult with a dietician for precise estimates.