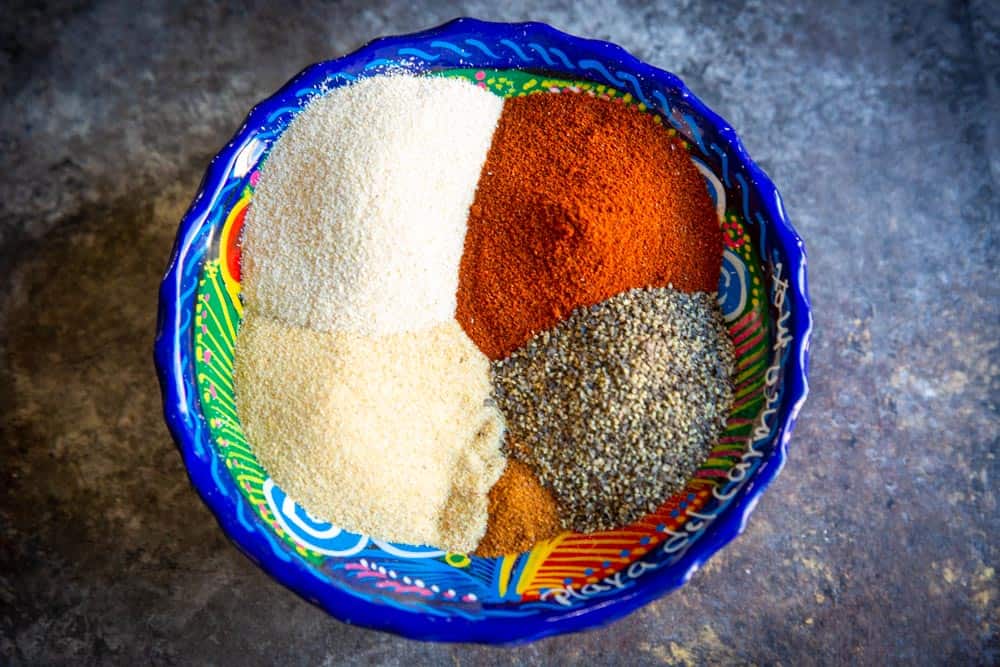 In Texas, our beef street tacos often get the same first-class treatment as a $40 ribeye at a swanky steakhouse, and that's where dry rub recipes like this homemade, Texas Carne Asada Seasoning, come in handy.
Texans know how to cook a fine slab of meat, and for many beef connoisseurs, steak is best when cooked with hot fat and dry spices, rather than a wet marinade which adds unnecessary moisture to the steak while searing.
For this reason, it's helpful to have an alternative to carne asada wet marinades, which are often fussed at for having too much salt and prohibiting the maillard reaction (the browning that makes a great steak taste like heaven). So let's experiment with a dry rub that gives the same great flavor while eliminating the liquid.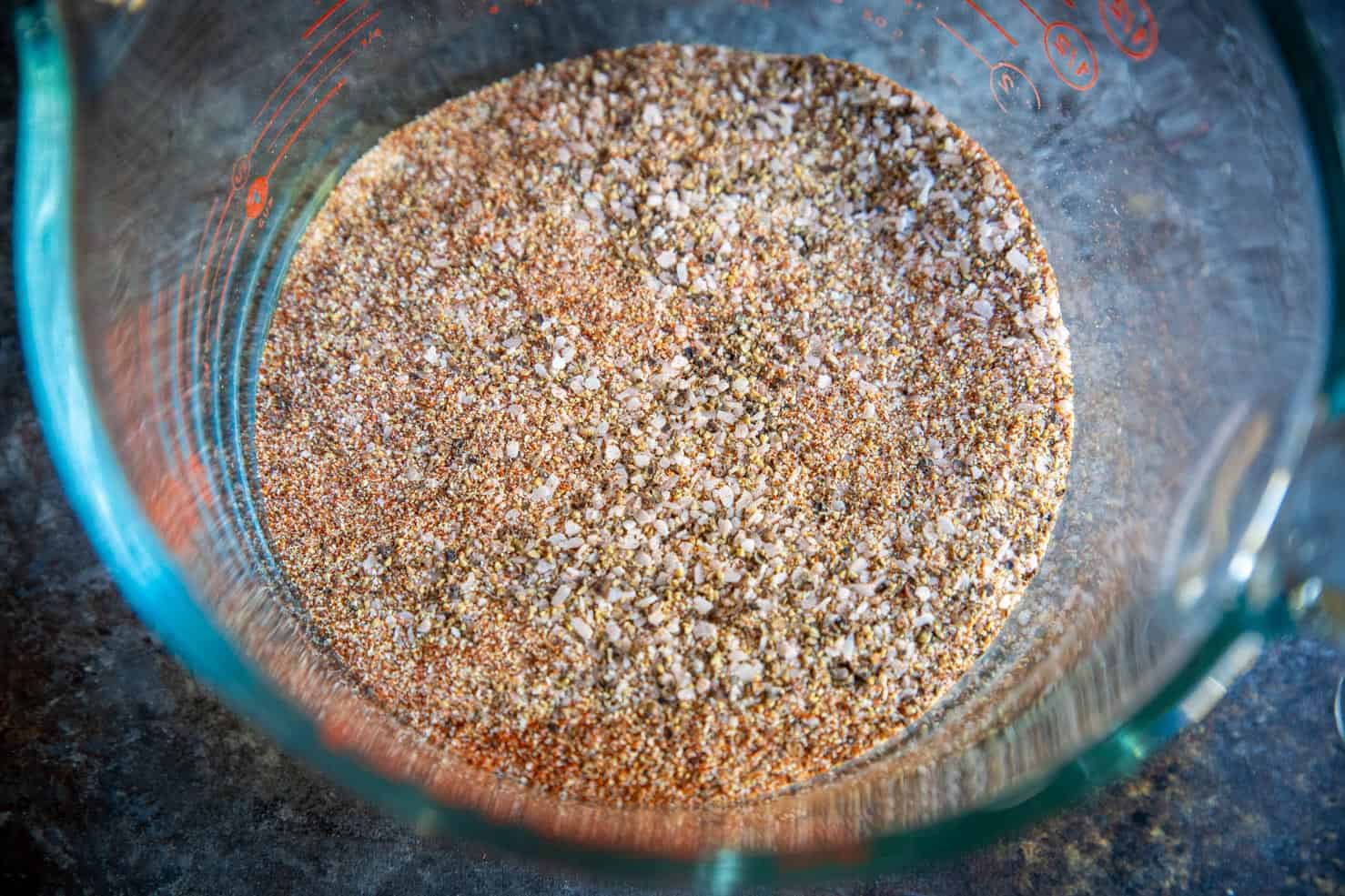 How to Make A Dry Rub for Texas-Style Carne Asada
Rub recipes are easy and quick because you usually have most of the ingredients in your pantry, and can tailor the amount of cayenne pepper to the particular tastes of your family.
(Links are affiliate links to products we think are helpful and we may receive a small commission, at no cost to you, if purchased.)
The only specialty ingredient used in this rub is an excellent Texas chili powder, such as Gebhardt's or Mexene brands. Texas chili powders are different than any version of a chile powder (notice the e on the end), as chile powders often from New Mexico or California are made with dried ground chiles, and Texas chili powder is a blend of many ingredients.
I buy my Gebhardt's and Mexene chile powder at my local supermarket but they're available for a very reasonable price on Amazon right here…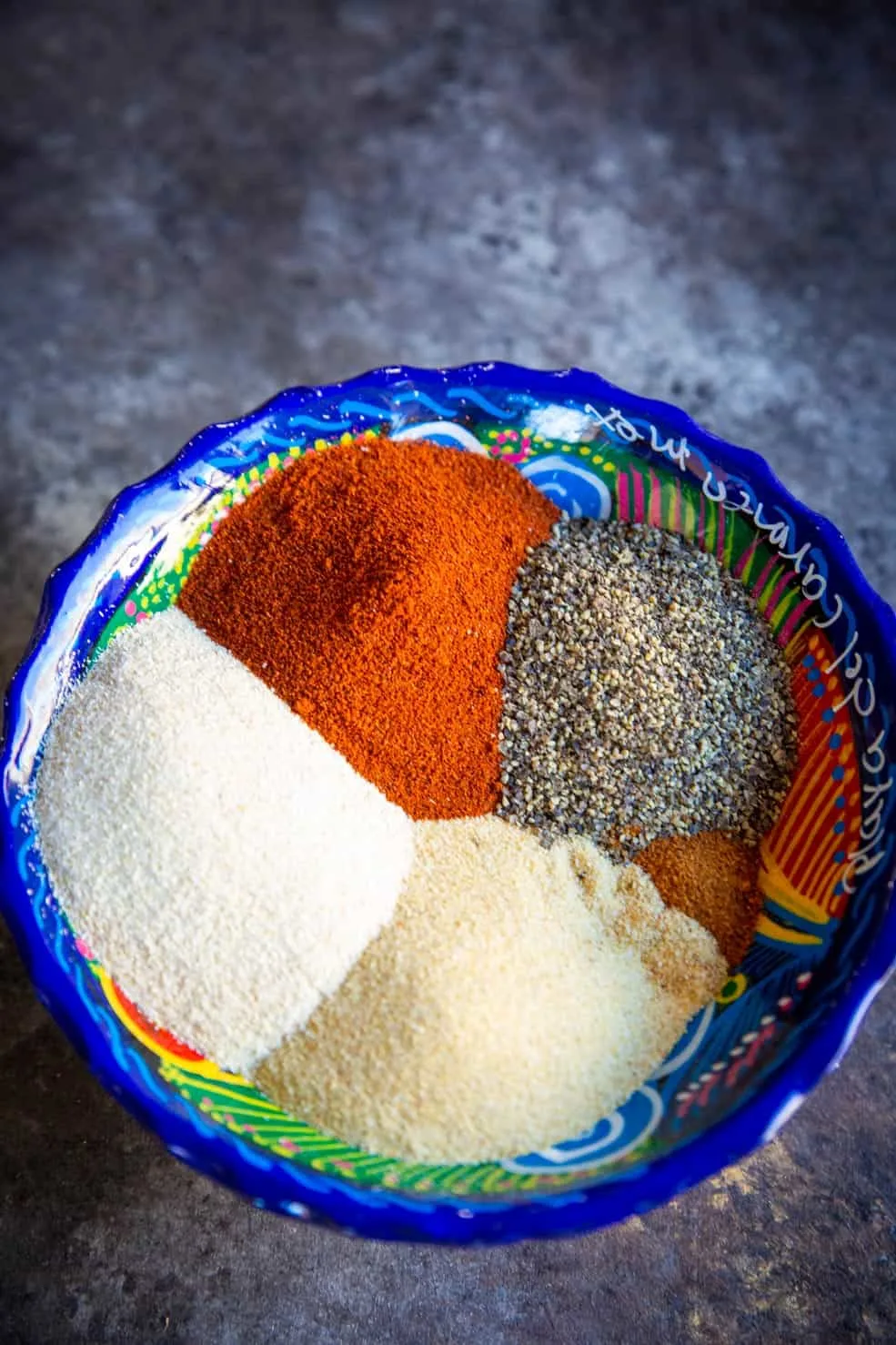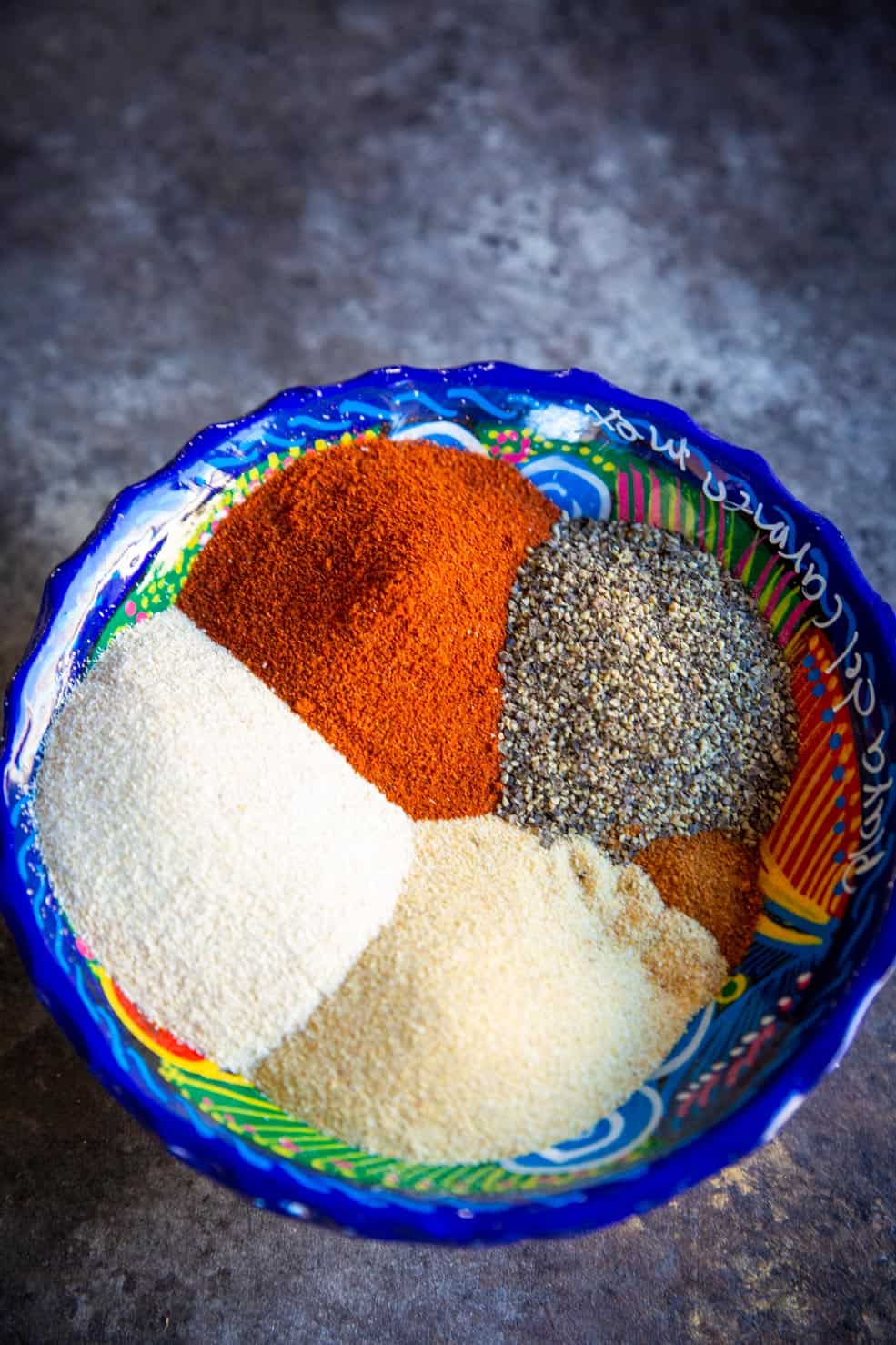 This recipe uses Texas chili powder, granulated garlic, onion, salt, pepper, and cayenne for heat. Simply shake it in a bag or whisk it together in a bowl and reserve for carne asada, beef fajitas, even ground beef recipes like tacos gringos.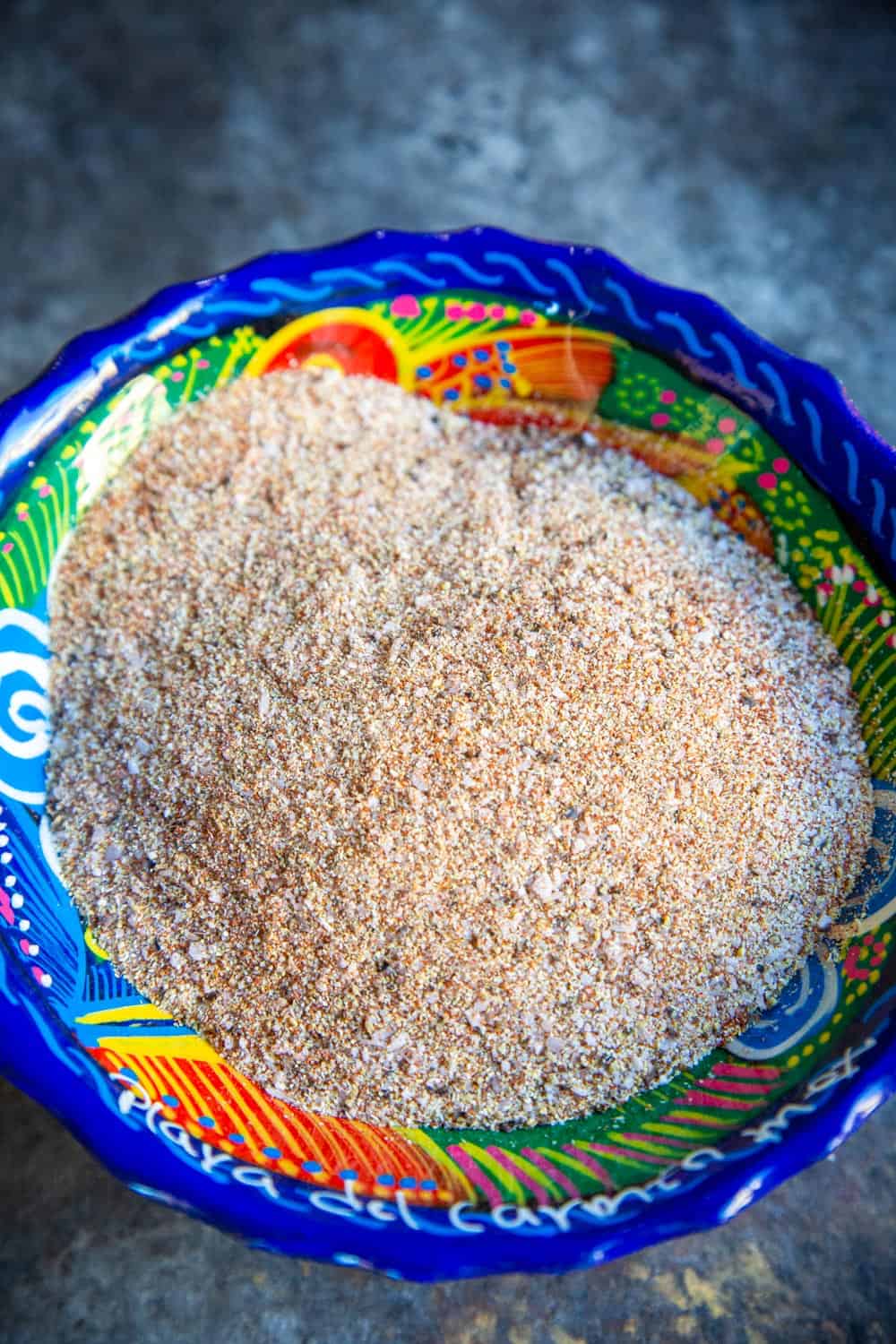 How To Store a Dry Carne Asada Seasoning
Dry rubs or seasoning blends of any kind should be stored in a room temperature, moisture-free environment like a spice pantry. I keep my homemade rubs in mason jars with a tight-fitting lid but you can also use Tupperware or glass spice bottles that you've already used and cleaned.
How to Use The Carne Asada Dry Rub On Beef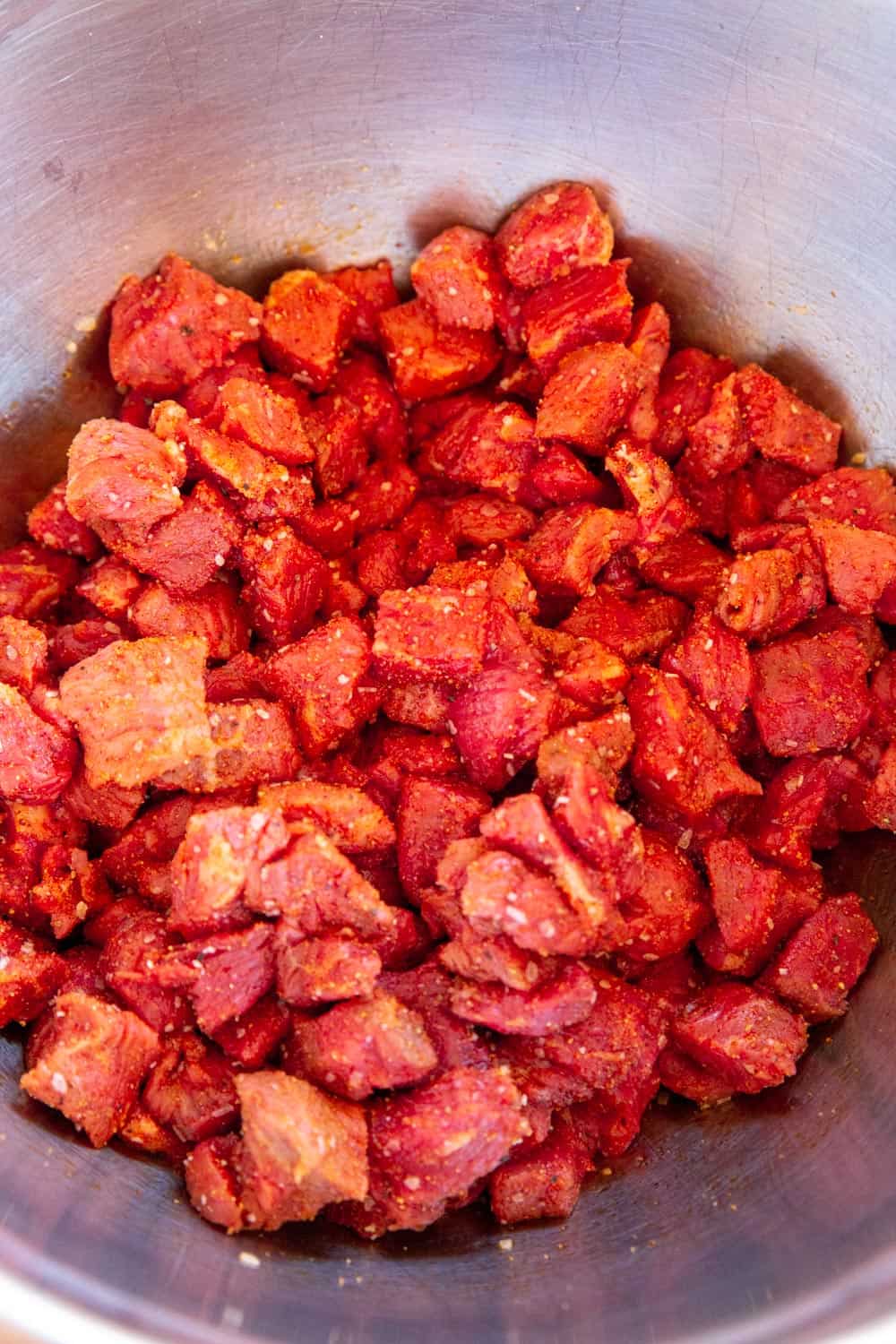 To use the rub, sprinkle liberally on your cut of beef on all sides and toss. I like to add 1 T. of oil to the beef first to help it stick to the meat. For these beef street tacos, I cubed my steak into small cubes suitable for filling street tacos and then coated liberally in the carne asada seasoning. This allows for more surface area for the seasoning to penetrate through.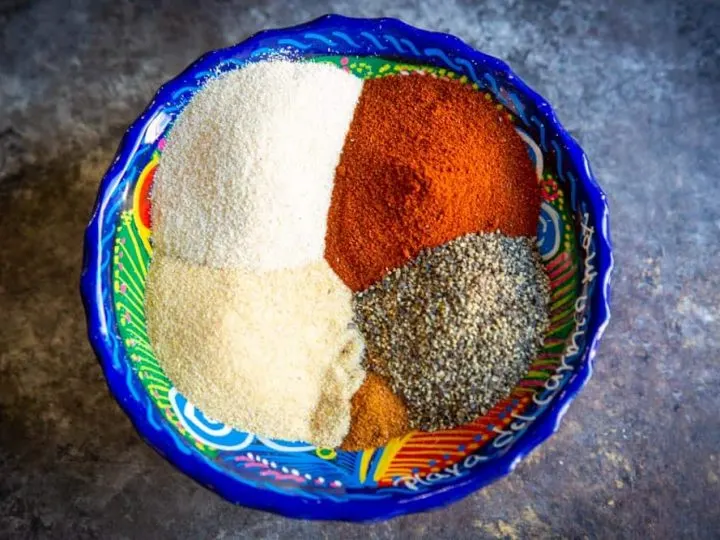 Yield:

1 1/2 c
Texas Carne Asada Seasoning Recipe (Dry Rub)
This Carne Asada Seasoning is a great spice blend for steak tacos made with all cuts of beef. Limiting the amount of moisture a traditional marinade provides, gives the meat excellent searing capabilities which is preferred by many Texas taco joints and their customers.
Ingredients
2 ½ T Kosher Salt
1 T Black Pepper
2 T Texas Chili Powder (Gebhardt's or Mexene recommended)
3 T Granulated Garlic
3 T Onion Powder
½ t. Cayenne (may use more according to your tastes)
Instructions
Combine all of the measured spices into a mason jar or a
plastic bag and shake well.
This seasoning blend can be used on beef hours before you sear the meat (for more flavor), or during the searing as an excellent substitute for salt or bottled carne asada or fajita seasoning.
If you prefer to make this a wet recipe, add the juice of 2 limes and marinate for several hours. Cook as usual.