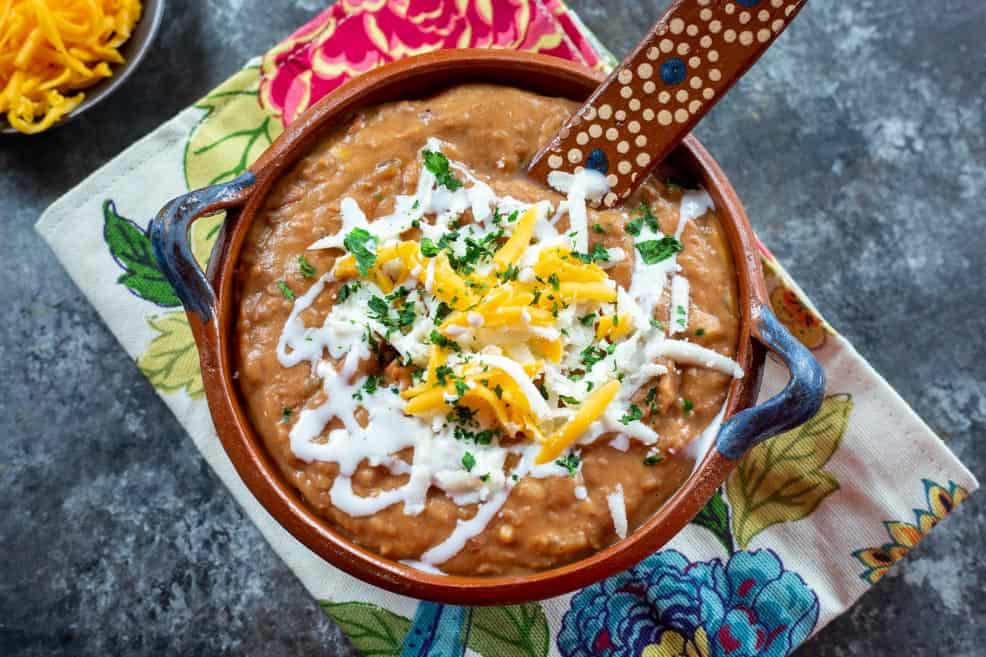 One of the questions I get the most at food festivals and cooking competitions is how to make refried beans— specifically our refried beans, which are as smooth and creamy as whipped mashed potatoes, with ribbons of crema and melted fresh cheddar cheese creeping off your spoon.
Being a young chef on the San Antonio Riverwalk, I had plenty of Tejano masters to learn from and created an easy recipe which we use full time in my catering business, my cookbooks, and that I make for my family. Let me share that with you today!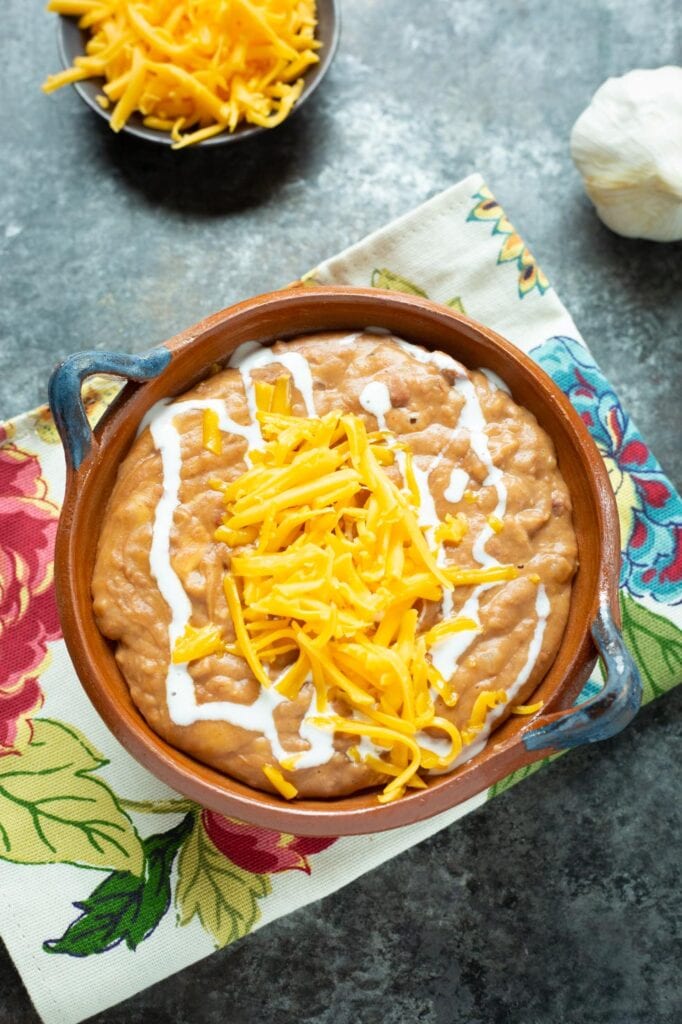 My secret for THE BEST REFRIED BEANS RECIPE???
…BACON FAT!
That's right – why would you use lard when you can use creamy, smoky, dreamy bacon fat??
Answer: Never, let anyone who doesn't put bacon fat in the refried beans, tell you CRAP about life.
Fat is Fat, so why not use a fat that has triple the flavor? We're going to build our easy refried bean recipe with bacon fat, fresh onion, cheddar cheese, and you'll see that it is so loaded with flavor that using good quality canned refried beans doesn't even take away from the flavor. If you'd like to cook and mash fresh pinto beans for this recipe, that would be okay too, but I've made this recipe hundreds of times and I can tell you the flavor punch comes from the bacon fat and garlic.
LETS MAKE REAL TEXAS REFRIED BEANS!!!
---
I found an extra milk frother pitcher and that's where I keep my bacon fat. I like the little spout for pouring and it heats quickly on the stove if I need liquid bacon fat in bacon emergencies. 😛 (This is more common in my kitchen than you would think.)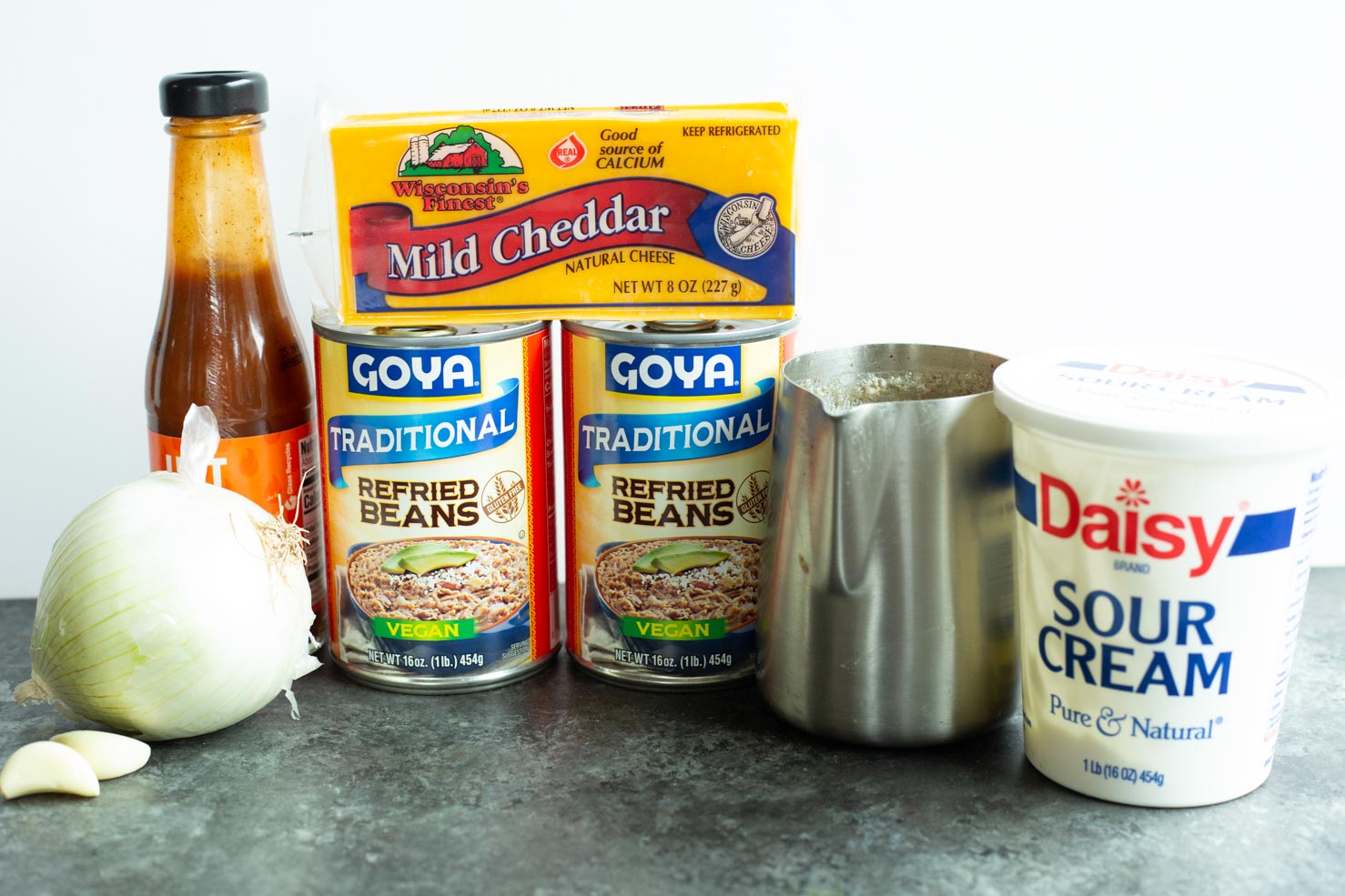 Bacon fat goes in the medium sauce pan…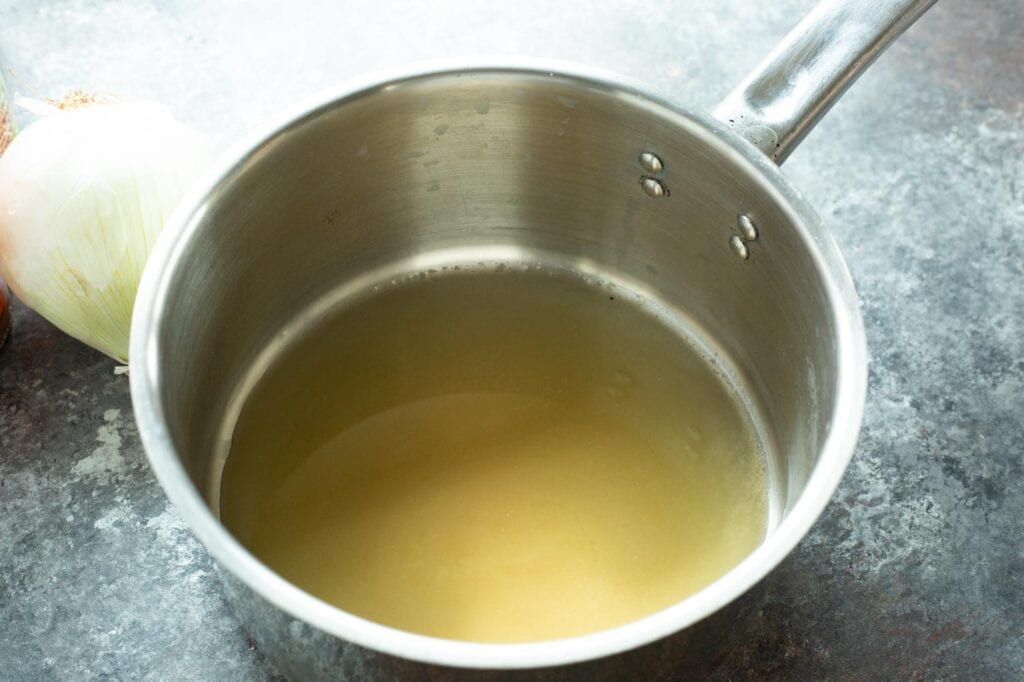 Chop the onion.
Chop the garlic, or press through a garlic press.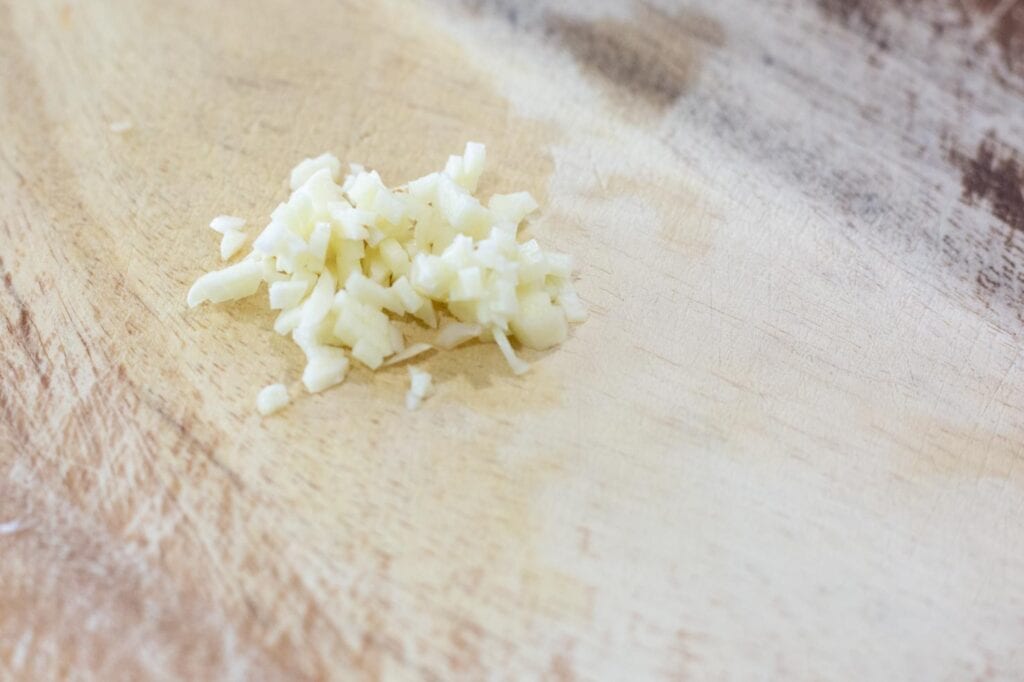 Throw it in the pot and heat it over low to medium heat.
Let it get a light tan color, add a pinch of salt…
Add in 2 cans of high quality refried beans such as, Goya brand. Told you, this is the best canned refried beans recipe in the universe.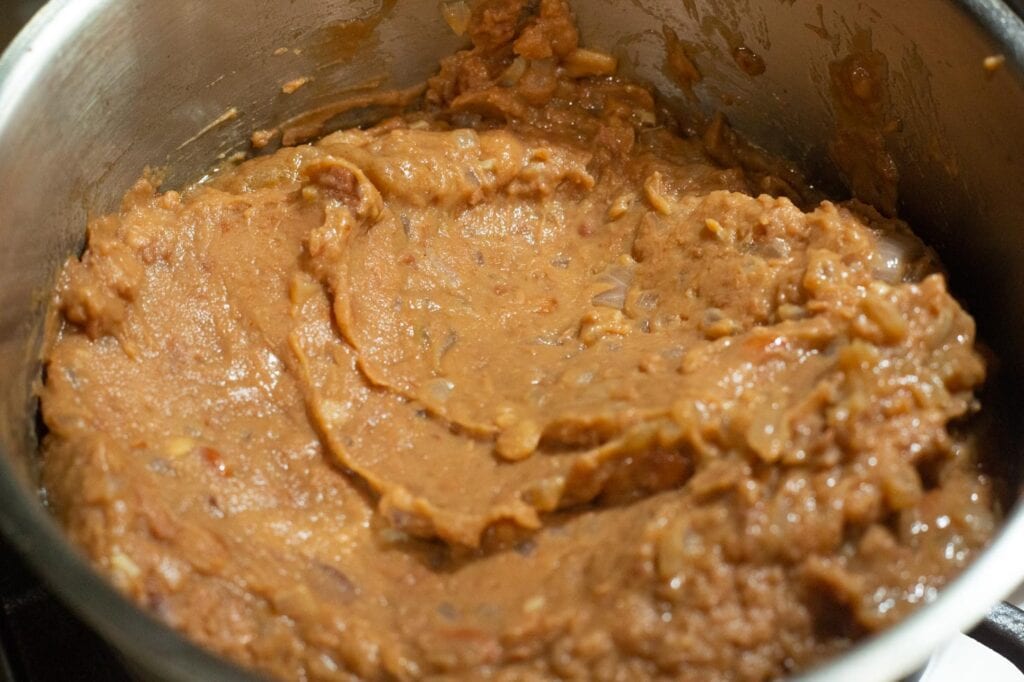 Add the taco sauce…. (if you love the taco casa recipe for refried beans you're going to love this recipe!)
Mix all that in and then add the freshly grated cheddar and sour cream.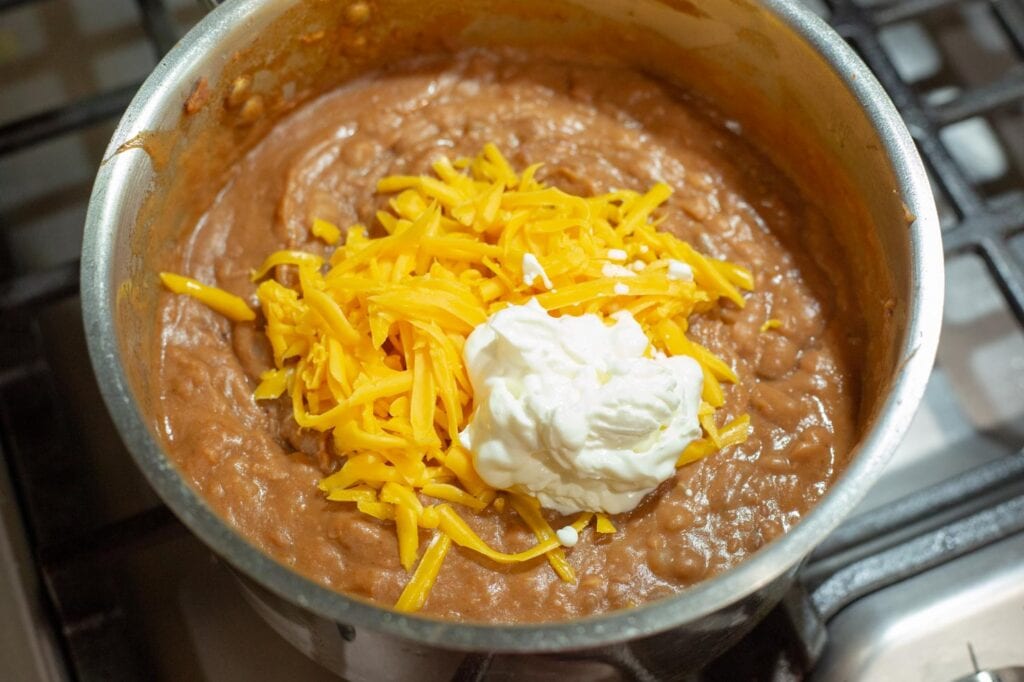 Dang. Good job yall. Those look really good. But we're not done yet!
You can top the bacon fat refried beans with crema (or sour cream), additional cheddar cheese, queso fresco cheese, cotija cheese, and chopped cilantro.
Here is the recipe and instructions for…
How To Make Refried Beans
If you make it, take a picture and TAG Urban Cowgirl! We'd love to see it! 🙂
Yield:

6
Creamy Texas Refried Beans Recipe
The best refried beans are smooth and creamy bacon fat refried beans, which pair well with all sorts of tex mex, in breakfast burritos, or rolled into a fluffy tortilla! This easy recipe utilizes canned refried beans but homemade beans can be substituted if preferred.
Ingredients
1/3 c. Bacon Fat
½ yellow onion, small diced
1 clove garlic, minced
1 t. salt
2 16 oz. cans refried beans
½ c. taco sauce (store bought or homemade)
1/3 c. freshly shredded medium sharp cheddar (more for sprinkling on top)
3-4 T. Sour cream
Garnish: Additional cheese such as cotija or queso fresco, chopped cilantro, crema, or additional taco sauce.
Instructions
In a medium saucepan heat the bacon fat to medium-high heat. Dice half of a small onion and add it to the pot stirring well. Mince the garlic and add it to the pan along with the salt.
Cook for 4 minutes and add both cans of beans and the taco sauce. Stir all together until it is thoroughly combined. Shred the cheese and add it to the pan. Finish the dish by stirring in the sour cream.
We serve individual portions with extra cheese, taco sauce, and freshly minced onion.
Nutrition Information:
Serving Size:
1
Amount Per Serving:
Calories:

2394
Total Fat:

205g
Saturated Fat:

121g
Cholesterol:

602mg
Sodium:

4196mg
Carbohydrates:

75g
Sugar:

26g
Protein:

40g