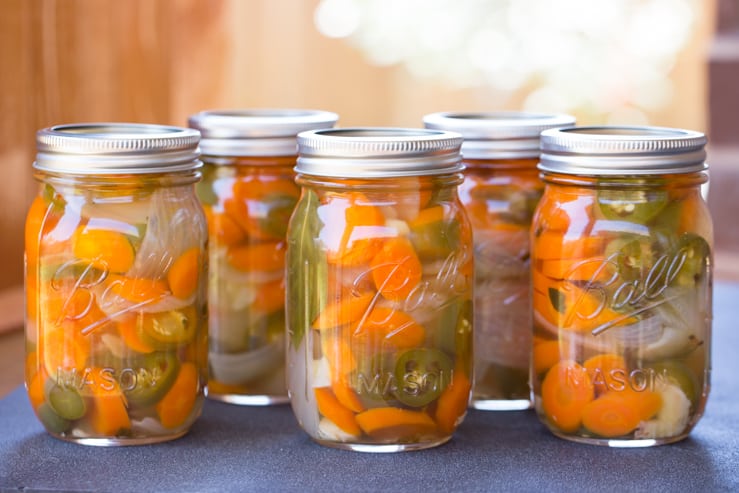 Help yourself to some Texas escabeche this summer! Bursting with juicy, pickled carrots and jalapenos, infused in a garlicky fragrant brine, this hot relish is a must have for Tex-Mex dining.
Texas escabeche is served tableside, along with hot buttered corn tortillas and fiery red table salsa!
Make sure to serve it alongside your enchiladas, taco salad, and fajitas. 🙂
Our method today includes instructions on canning the escabeche, but it's just as good held in the refrigerator (and a bit more crunchy as well!)
If you would like to can this recipe prepare 5 pint sized mason jars and lids according to canning procedure and then follow the directions below.
Start by chopping the onion and halving and bruising the garlic cloves, and give them a quick saute…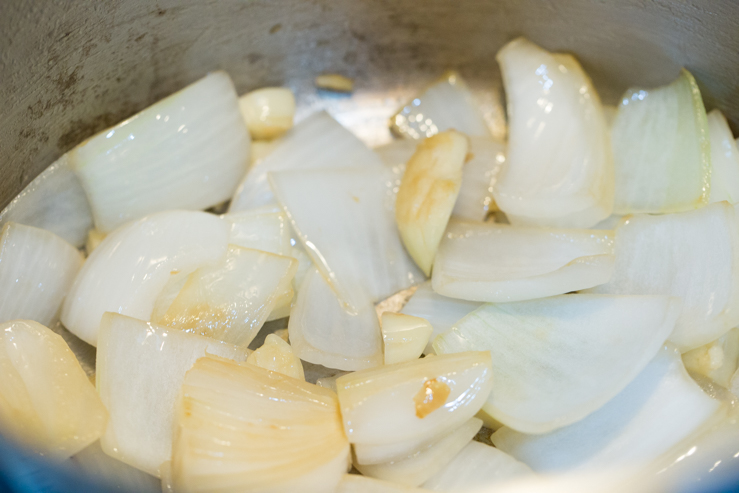 Slice the jalapenos into coins making sure to either wear gloves or wash your hands very well right afterwards…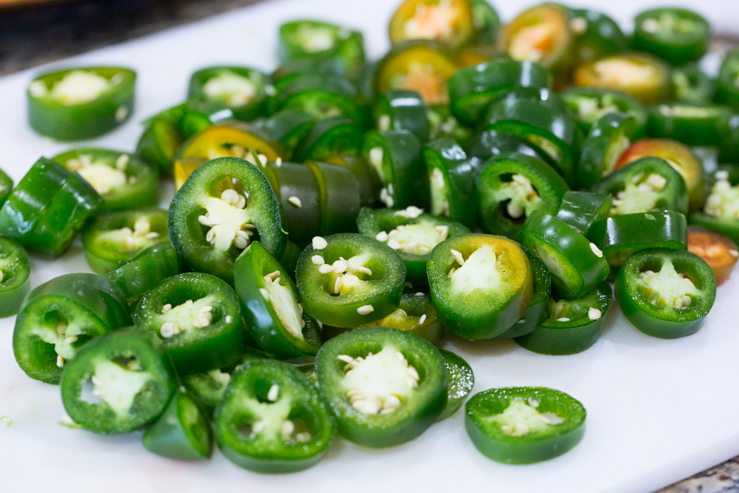 Coin the carrots into slices about 1/4″ thick…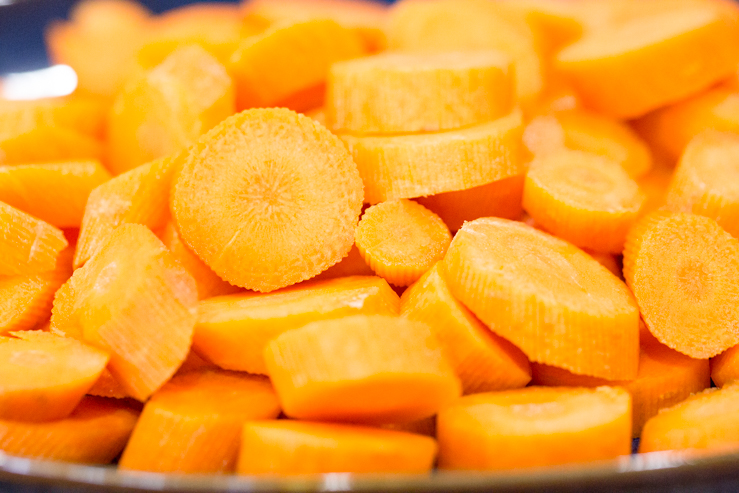 This is Mexican Oregano
We use it all the time in our Urban Cowgirl recipes and even Texans ask me exactly where to find it.
The best place is in the Hispanic section of the market if you live in the Southwest. It can also be found in Hispanic Markets like La Azteca and Mexican butcher shops…. but this is a very common ingredient so please don't think it's that exotic. Occasionally, I have seen it in ordinary supermarkets just labeled as "oregano" and I look closely to confirm that it is indeed Mexican oregano, and not Mediterranean oregano.
This is what it looks like up close…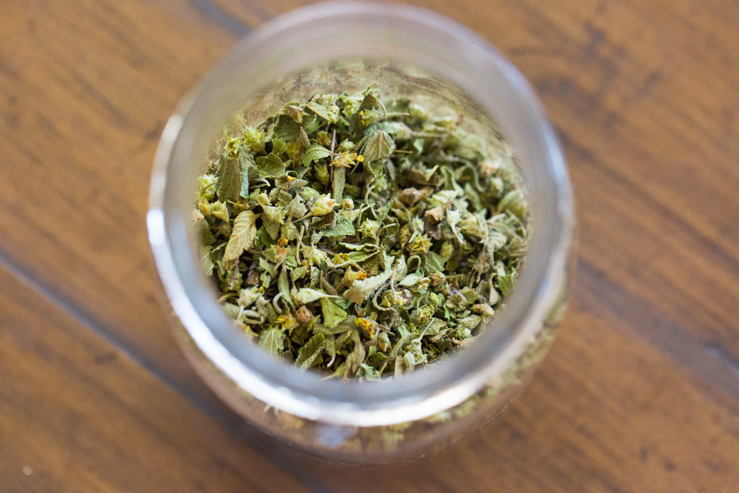 It infuses our brine along with some fresh bay leaves…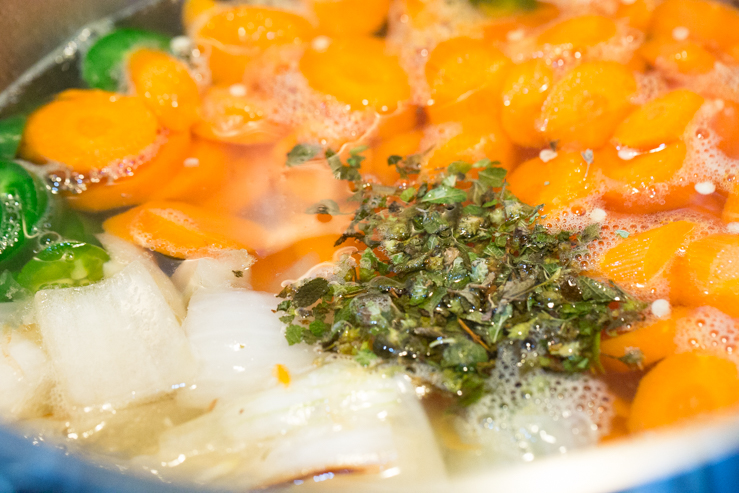 After simmering the escabeche, you'll fill the jars with white vinegar and ladle in the veggies. Then top off with the pickle brine, clean the jar rims, ands replace the lids.
Can according to the recipe instructions…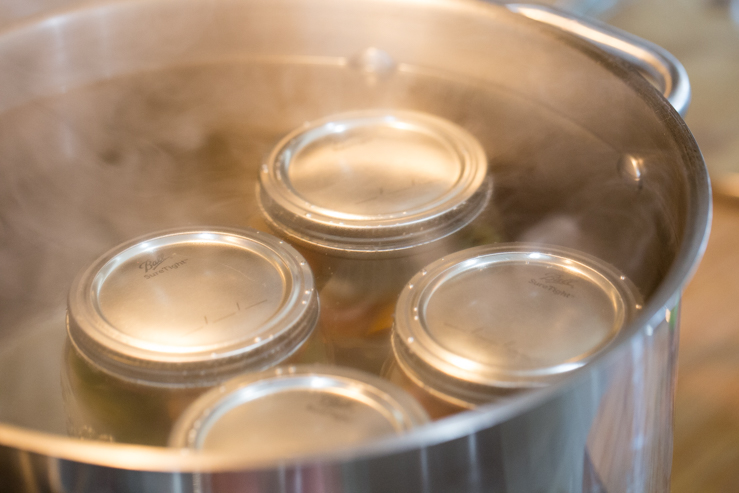 After processing I flip my jars to encourage a good seal. You may hear them pop as they cool.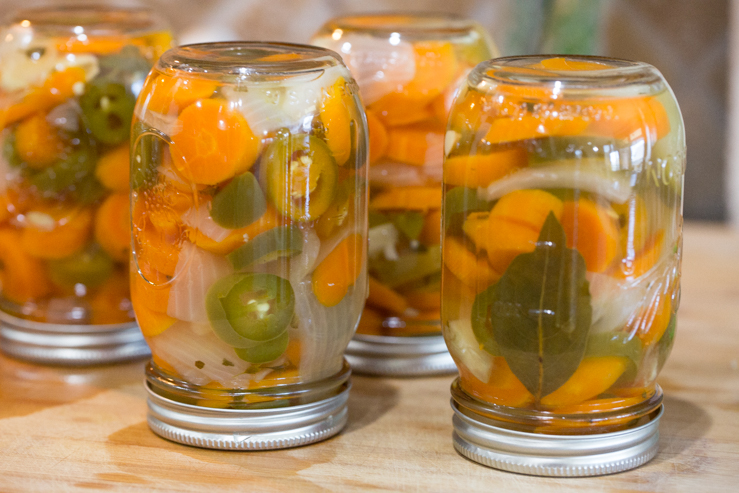 When they're cool to the touch, give them away as gifts or start your very own snacking closet!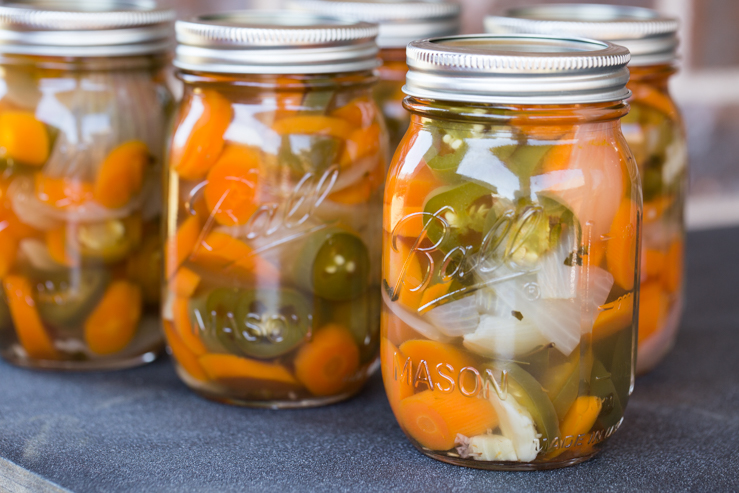 Here is the recipe for the Texas Escabeche…
If you make the recipe and post it to social media, tag Urban Cowgirl! I'd love to see how it turns out!
Yield:

5 pints
Texas Style Escabeche Recipe (Hot Relish)
At popular Tex Mex restaurants, hot pickled veggies are commonly served with warm corn tortillas or tossed on platters of tacos and enchiladas. This is a recipe for canned hot Mexican vegetables with processing times. These marinated veggies can also be refrigerated if canning is not your thing.
Ingredients
2 T. Grapeseed Oil
1 onion, large, cut in half and then each half into thirds
8 garlic cloves, smashed and halved
2 quarts water
8 carrots, sliced into ¼ inch coins
12 jalapenos, sliced
1 T salt
2 T. Mexican oregano
4 bay leaves
2.5 c. white vinegar
5 sterilized pint jars and lids
Instructions
In a stockpot over high heat, add the oil. Add the onion and sauté for 2 minutes. Add the garlic and stir until fragrant. Cook 1-2 minutes.
Pour in 2 quarts water and bring to a boil. Add the jalapeno and carrots.
Add the salt, dried oregano, and bay leaves.
Simmer for 3-5 minutes. Remove from heat and allow to begin cooling off while you prepare jars.
In each jar pour ½ c. vinegar. Using a spoon with drain holes, fill each jar with the relish mixture. Top each jar off with the cooking liquid leaving ¼ inch space of headroom if canning.
Refrigerator jars or prepare standard canning procedures. Leave ¼" headspace and process 20 minutes. Remove the jars from the water and transfer to a towel. I flip them upside down to encourage sealing. Allow the jars to cool, you may hear them pop as they seal. When they are cool inspect all the jars. Any jars that did not seal must be refrigerated. Enjoy!
** Excess pickling juices make an excellent chicken marinade.
Notes
These recipe can also be made as refrigerator pickles. The veggies are placed in the jar and refrigerated. They are not shelf stable unless properly processed.
Nutrition Information:
Yield:
20
Serving Size:
1
Amount Per Serving:
Calories:

32
Total Fat:

1g
Saturated Fat:

0g
Trans Fat:

0g
Unsaturated Fat:

1g
Cholesterol:

0mg
Sodium:

365mg
Carbohydrates:

3g
Fiber:

1g
Sugar:

1g
Protein:

0g
These nutritional values are an estimate only and provided as a courtesy. Different brands of ingredients may result in different calorie counts, and the software does not account for these differences. Consult with your dietician or doctor for precise nutritional values.