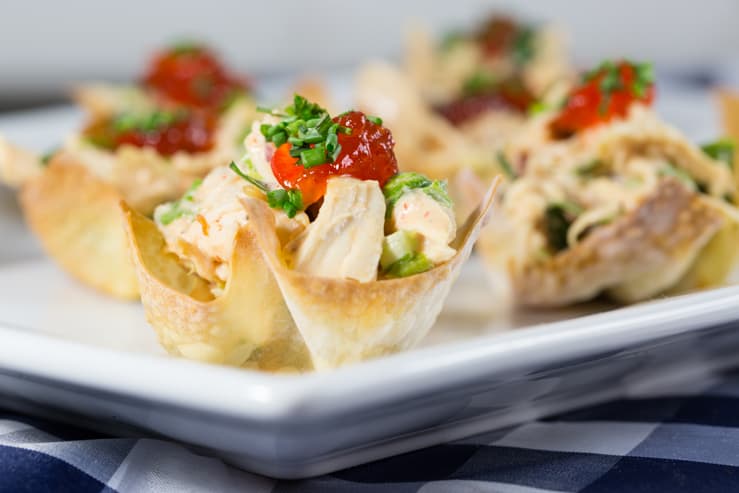 We are having a ROYAL WEDDING with an American Princess people!
THIS IS NOT A DRILL!
Last night, I stayed up talking to my Food Network cast mates about our Royal Wedding plans and our chatter quickly turned to wedding watching party snacks! Mrs. Joy Hall Thompson was busy posting photos on Facebook of her lemon and elderberry syrup that had arrived just in time for her to recreate her own version of the Royal Wedding Cake!!
(I LOVE THIS HILARIOUSLY FESTIVE WOMAN!)
But not to be out-done, I began to make a list of party snacks for me and the boys to enjoy. …after buying a fancy fascinator hat for my couch party, I got to work! 😀
My mind immediately went to these Red Pepper Jelly Chicken Salad Wonton Cups, which we featured on our YouTube channel last season.
I originally learned about the technique of folding jelly or chutney into chicken salad the first time I made Queen Elizabeth II's Coronation Chicken Salad, which includes chutney and curry powder.
Well I wanted a version of my own, so Red Pepper Jelly Chicken Salad was born! It looks fancy in wonton cups for parties and southern garden parties…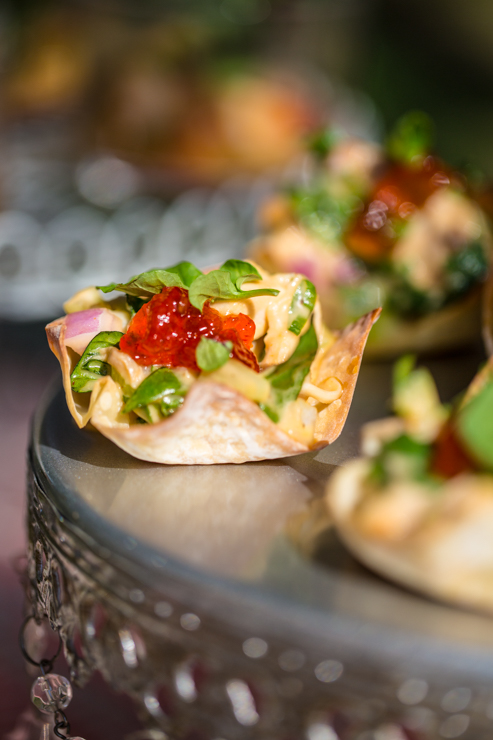 You can get red pepper jelly (also called jalapeno pepper jelly, and hot pepper jelly) in the jelly and jam section of most supermarkets. Here it is on Amazon.
Red Pepper Jelly is simply a jam made from jalapenos or bell peppers, or a mix of both. It comes in spicy and mild versions (but the spicy versions really aren't that hot).
Alrighty y'all, have a great Royal Wedding watching party!
Would you like to make the chicken salad wonton cups with red pepper jelly together? Here is a video I made walking you through it…
---
I'll be going live on Facebook and debuting MY NEW HAT via the Urban Cowgirl Facebook Page.
I'll be inviting fans on my live stream to chat about the wedding and REVEAL their Urban Cowgirl snacking spread. We'll see you there!
---

Here is the Red Pepper Jelly Chicken Salad Wonton Cups!
If you make the recipe, post it to social media and tag Urban Cowgirl!
I'd love to see how it turns out!
Yield:

30 cups
Texas Chicken Salad with Red Pepper Jelly in Wonton Cups Recipe
In Texas, we love red pepper jelly-- a sweet and spicy jelly made with jalapenos! For this unique appetizer recipe, we make a homemade chicken salad infused with the sweet and spicy flavor of red pepper jelly. Serving the chicken salad in wonton cups makes them a party-friendly appetizer for holidays and get-togethers!
Ingredients
3 split, bone-in chicken breasts
2 T. Olive Oil
½ red onion, small dice
4 stalks celery, small dice, ribs and leaves
2 giant handfuls of baby spinach, chiffonade
1 lemon, juiced
1 c. mayonnaise
1 10.oz jar hot red pepper jelly
1 t. kosher salt
½ t. pepper
½ c. diced chives or green onions for garnish
1 package of wontons
Spray Oil for wontons
1 cupcake pan
Instructions
To Make The Wontons: Preheat the oven to 350 degrees.
Spray the cupcake pan liberally with spray oil. Place one wonton in each hole. It should make a little bowl with curled edges. Spray the wontons with spray oil lightly and sprinkle with salt. Bake the wontons for 10 minutes at 350 degrees, or until golden brown. Remove pan carefully and remove wonton cups to a plate to cool. Repeat until you have the desired number of wonton cups.
(This recipe makes a little over 1 quart of chicken salad so we usually make all of the wontons in the package and store leftover wonton cups in large ziplock baggies in the pantry if we have leftovers.)
For The Chicken Salad: Preheat oven to 350 degrees. Place the split chicken breasts on a foil-lined baking sheet and rub them with olive oil. Sprinkle them with salt and pepper. Bake for 35-40 minutes or until juices run clear. Let the chicken cool completely.
Once the chicken is cool to the touch, pull the chicken off of the bone, discarding the bones and skin. For the chicken either "pull it" into small strands or chop it until it is bite-sized. Add the chicken to a large bowl and chill.
Rinse the celery well. Chop the red onion and celery into small dice. For this purpose, the leaves and stalks of the celery may be used. Add to the chilled bowl of chicken.
To the bowl add 1 cup of good quality mayonnaise, ½ cup hot pepper jelly, 1 t. salt, ½ t. pepper, and the juice of 1 lemon. Fold this mixture until it is blended well.
Finely slice the two handfuls of spinach into long strands like ribbons. It's okay if they are not perfectly neat! This technique is called chiffonade and it takes a bit of time to master. For this chicken salad, the spinach will blend into the mixture so it's a good time to practice!
Fold the spinach into the chicken salad last and season to taste. Place into the refrigerator to chill at least 1 hour.
To Serve: Fill each wonton cup with a heapin' spoonful of chicken salad. Top each wonton with a small bead of hot pepper jelly for color and interest. Garnish with fresh chives, chiffonade spinach, or green onions if desired.
Nutrition Information:
Yield:
30
Serving Size:
1
Amount Per Serving:
Calories:

122
Total Fat:

8g
Saturated Fat:

1g
Trans Fat:

0g
Unsaturated Fat:

6g
Cholesterol:

15mg
Sodium:

158mg
Carbohydrates:

8g
Fiber:

0g
Sugar:

6g
Protein:

4g
These nutritional values are an estimate only and provided as a courtesy. Different brands of ingredients may result in different calorie counts, and the software does not account for these differences. Consult with your dietician or doctor for precise nutritional values.