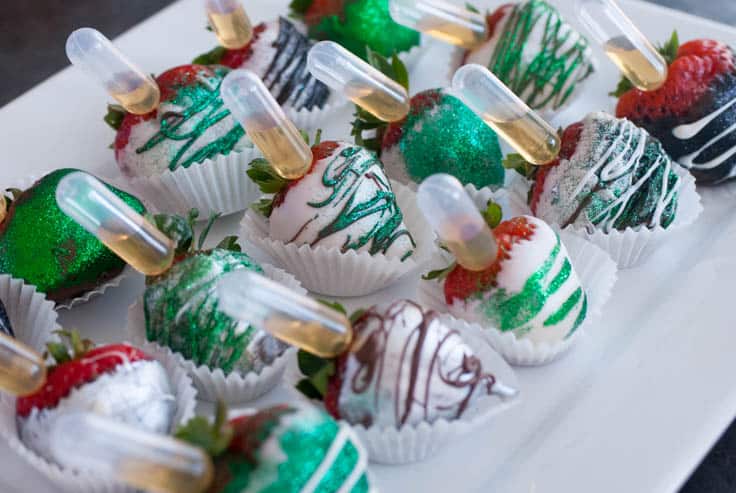 Tipsy Berries are the coolest dish to bring to a party or potluck!
In real life I'm a private chef in Dallas, Texas, and somehow over the past 9 years I've fallen into working for celebrity athletes. Well, I got the idea for these Dallas Stars Tipsy Berries last year when Tyler Seguin invited me to his 500th game!
I ended up making them for my Youtube and Facebook channels because they're such a fun recipe to share.
You could do your own favorite sports team color's or your little league team (with root beer or apple juice instead of brandy!). You could make these for a wedding, bridal shower, or ever red and green for Christmas, pink for Valentine's (with champagne of course!)… whatever you're celebrating!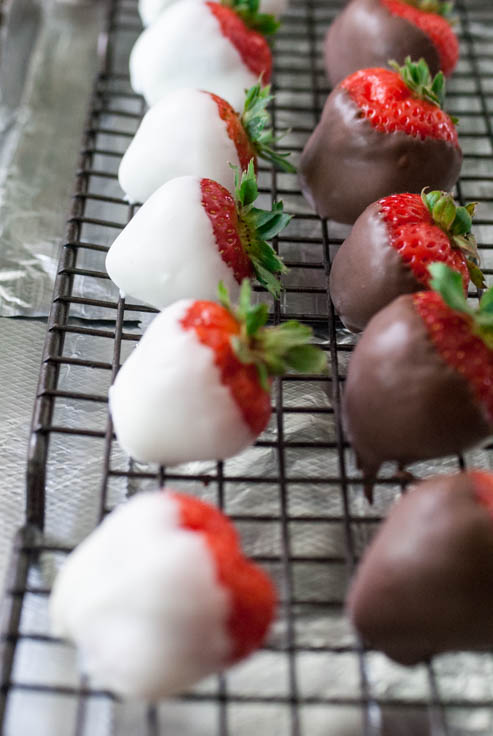 I did not find links to the edible glitter on Amazon, but they did have a lot of colors at my local baking and pastry shop. You can also use a type of edible glitter that is basically colored crushed sugar, and that is available on amazon in many colors.



Here is links to the special products I used. Almond bark is available at any grocery store in the chocolate chip area!
Luster Dust – https://amzn.to/2BuKl3M
Confectioners Glaze- https://amzn.to/2A9wBgC
Pipettes- https://amzn.to/2hW0YN9
How To Make Tipsy Berries! (Dallas Stars Style!)

Tipsy Berries are the coolest dish to bring to the tailgate or big game! I'll teach you how to make them from start to finish with my favorite team's colors, The Dallas Stars… But they're easy to personalize for any team or event! 🙂 Recipe is on the blog with links to the glaze and glitter!Liking and Sharing is Caring!!!

Posted by The Urban Cowgirl on Monday, November 27, 2017
Here is the recipe for the Tipsy Berries, Dallas Stars Style!
(The video above will walk you through all of the designs!)
If you make the recipe and post it to social media, tag Urban Cowgirl! I'd love to see how it turns out!
Yield:

30-40 berries
How to Make Tipsy Berries Recipe
These sports team-inspired Tipsy Berries are a showstopping dessert for football games, tailgating, Super Bowl, and holidays! We made ours to celebrate hockey season and the Dallas Stars, but they can be recreated with your team's favorite colors. The pipette of alcohol makes this dish an adults-only snack, but readers have used juice or cream soda to make these kid-friendly!
Ingredients
1-2 lbs. Large Strawberries
White Almond Bark
Chocolate Almond Bark
Edible Glitter in Green, Gold, White, Black
Food Grade Pipettes (Link in Blog)
2 c. Alcohol- Recommended ideas- Champagne, Vanilla or Peach Brandy, Flavored Vodka, or mix your own blend like a cosmo martini mix, etc.
Squeeze Bottles, Forks, Small Cupcake Liners, 2 Small Paint Brush, Edible Food Glaze.
Instructions
1. Clean and wash the strawberries and dry well.
2. Melt both almond barks according to the package directions.
3. Dip strawberries in almond bark and reserve until hardened.
4. Follow video instructions on how to do the different designs!
5. Make a bowl of your chosen alcohol or liquid for filling the pipettes. Emerge pipette into the liquor and fill them up. When they're full they will hold the liquid suspended. Insert into the berries and place on candy liners.
Nutrition Information:
Yield:
30
Serving Size:
1
Amount Per Serving:
Calories:

75
Total Fat:

1g
Saturated Fat:

0g
Trans Fat:

0g
Unsaturated Fat:

0g
Cholesterol:

1mg
Sodium:

11mg
Carbohydrates:

6g
Fiber:

1g
Sugar:

4g
Protein:

0g
These nutritional values are an estimate only and provided as a courtesy. Different brands of ingredients may result in different calorie counts, and the software does not account for these differences. Consult with your dietician or doctor for precise nutritional values.