Bison chili is a delicious and hearty chili that is perfect for a cold winter night or any time of year. Packed with protein from the bison, it's both healthy and flavorful with a classic tomato-based sauce and rich spices, this chili truly stands out as an iconic comfort food.
Whether you're feeding your family or entertaining a crowd, bison chili will be sure to leave everyone satisfied and asking for more! Let's get started on this easy weeknight dinner.
What is Bison Chili?
Bison chili is a rich and savory chili made by simmering ground bison meat in a flavorful tomato-based sauce. It's just like your traditional favorite chili, only using bison meat.
All chili recipes are typically spiced with Texas chili powder or Mexican chili powder, cumin, mexican oregano, paprika, and garlic, giving it an aromatic yet smoky flavor. As with any chili you will want to serve it with your favorite chili toppings.
Bison looks just like ground beef and is a tasty alternative meat, which can be a welcome change from your standard chili, giving you some variety in the winter months.
Many people confuse bison with buffalo. Although American buffalo meat may be substituted successfully in this chili recipe, it is a different animal and both are praised for having lean meat with rich and distinct flavors.
The high protein content from the bison makes it a healthy option for any meal and a go-to for athletes.
Spicy Bison Chili: The Secret Ingredients
This recipe showcases ingredients I'm really passionate about in my Texas chili recipes –ancho puree, Texas chili powder, and canela (or Mexican cinnamon). You may not have heard of these delicious flavors, so let me give you a quick rundown of each…
Ancho Puree
Ancho chile puree is the fresher form of ancho chili powder and I can't recommend it enough. It's easy enough to make once someone shows you how, and will be a delicious addition to your other chili recipes no matter what the main ingredient is.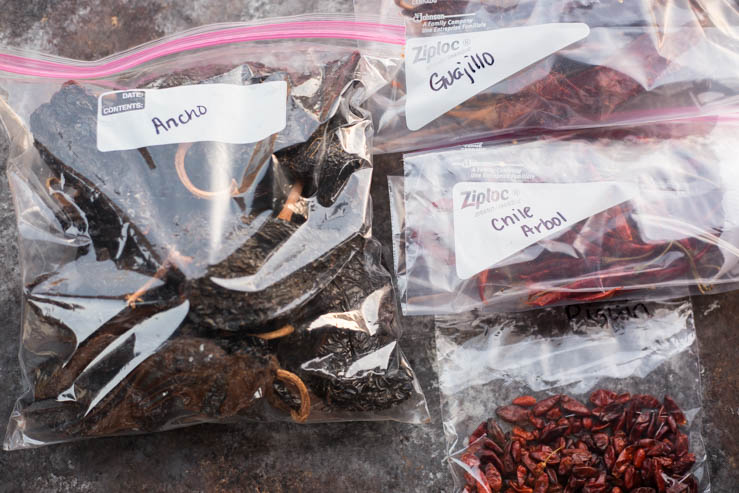 Making Ancho Paste/Puree:
All you have to do is place your dried peppers (about 4-5 is sufficient) in a bowl and cover with boiling hot water. Let it steep for 20 minutes or so. You may have to weigh them down with a drinking glass as a weight because they tend to float! The dried peppers will absorb water and reconstitute.
Then you'll prepare a small food processor or blender. Remove only the flesh of the peppers, discard the seeds and stems, and place in the blender or food processor. Add just enough of the pepper water to allow you to blend the pepper flesh into a smooth paste.
I always salt mine with a pinch of kosher salt and store it in Tupperware in the refrigerator. The puree lasts 7-10 days, or it can be frozen for 6 months.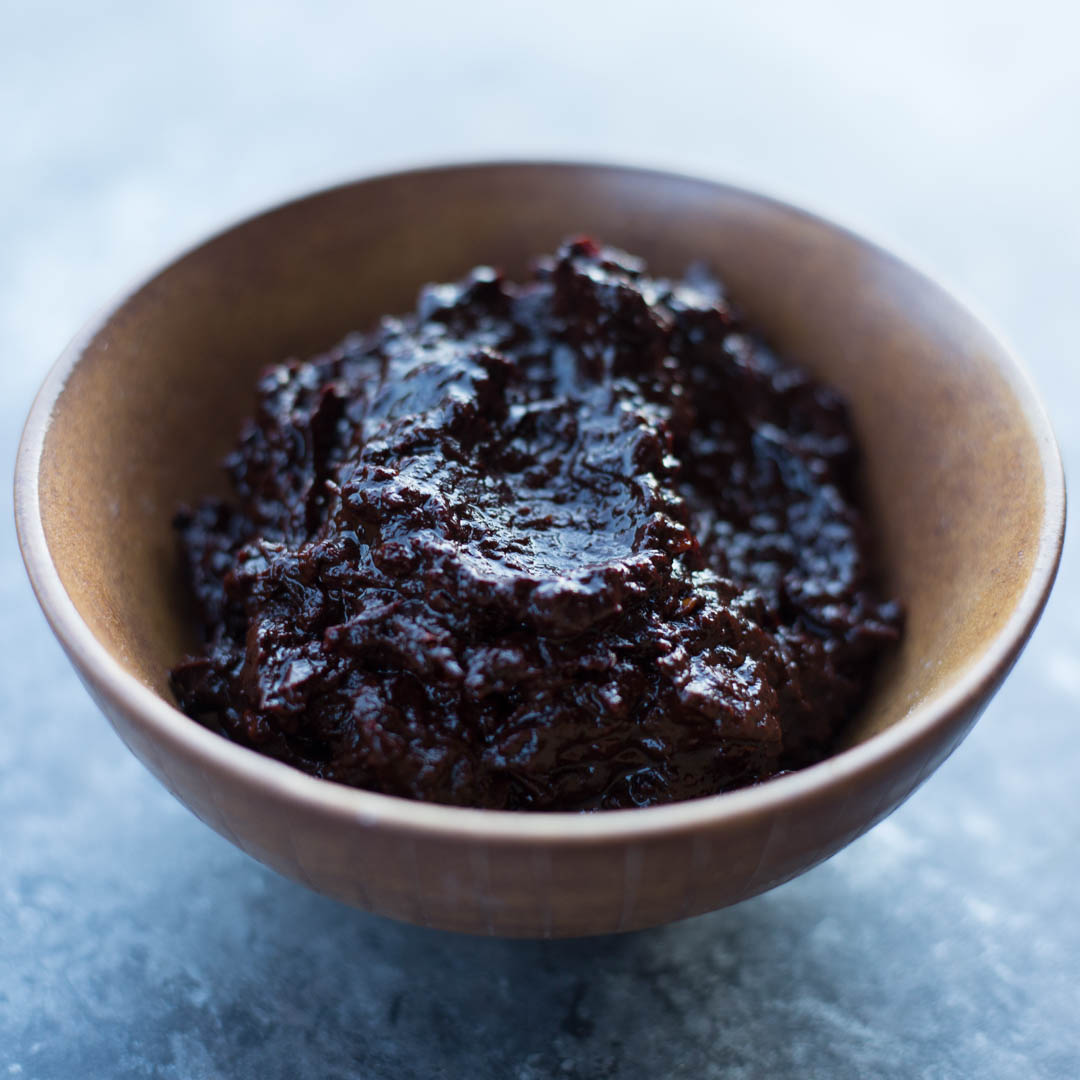 Texas Chili Powder
Texas chili powder is a blend of powdered dried chilis, garlic, Mexican oregano, and a dash of cumin.
It has more ingredients than standard chili powders, which are simply dried ground chiles from various chile growing locations.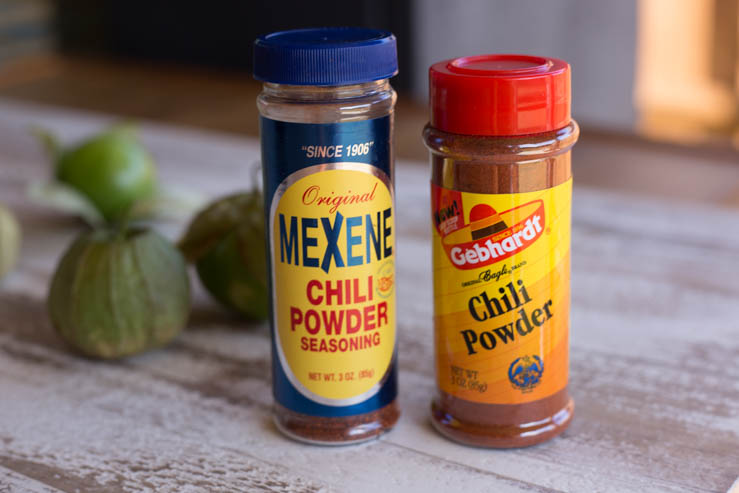 Gebhardt's or Mexene brands are the only Texas chili powders I use after years of taste-testing, but if you don't have them in your grocery stores you can make a little batch of something similar by combining a mild red chile powder, garlic powder, cumin, and a dash of Mexican oregano.
Mexican Cinnamon (Canela)
Mexican Cinnamon, also known as ceylon cinnamon or "canela" in Mexican Supermarkets, is a softer, vanilla-like cinnamon that lends itself to savory dishes like this bison chili.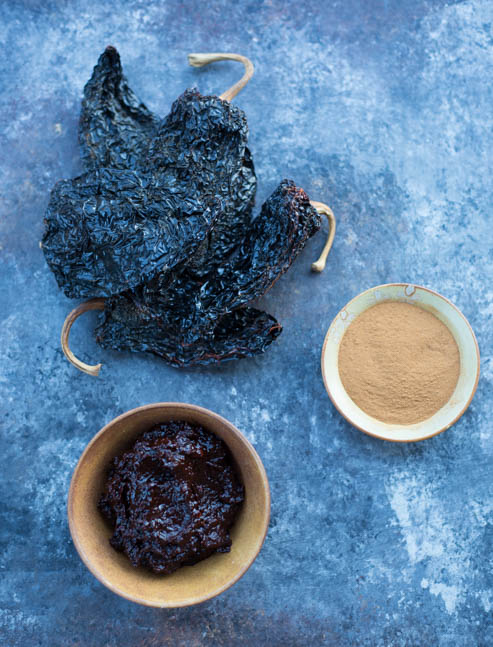 Its aromatic fragrance contributes to a richer flavor profile and it pairs well with dishes like mole and Mexican hot chocolate. This softer cinnamon is often sold in your local grocery store in Texas, but if you can't find it, just use traditional cinnamon.
Bison Chili Recipe
Now that we've discussed the flavors that will blow your taste buds away, we're ready to make this hearty bison chili step by step.
In a heavy-bottomed stock pot or large pot, brown the meat. When seared, drain the fat and juices and return to the stove.
Add the bacon fat, salt, onion powder, pepper, and espresso powder to the meat and toss well.
Chop the meat finely with a wooden spoon until it smells like a steakhouse.
Add the fresh diced green chiles and saute over medium-high heat. Cook for 4 minutes, lowering the heat if necessary.
Add the tomato paste, tomatoes, garlic, oregano, mole paste, ancho chili puree, all the spices (other than the finishing spices), and beef broth.
Stir well and bring to a simmer. Simmer for 30 minutes, adding water when necessary for the desired consistency.
To finish add the tabasco for brightness, and the cornstarch mixed in water. Bring to a simmer to thicken. Stir in the finishing spices. Season to taste, and serve with toppings.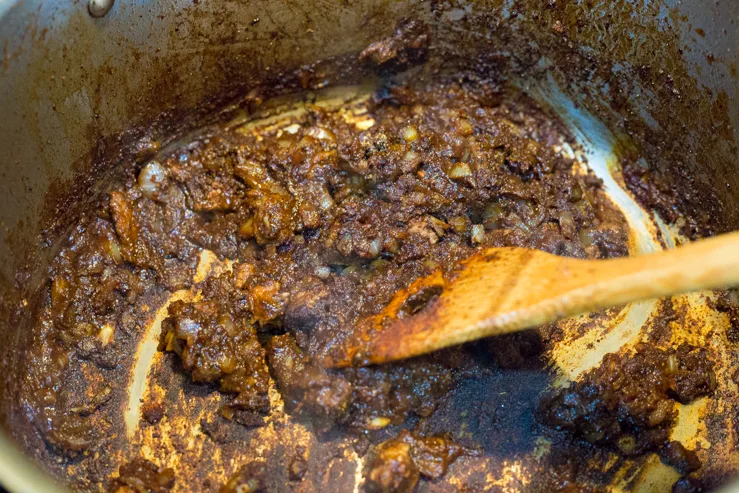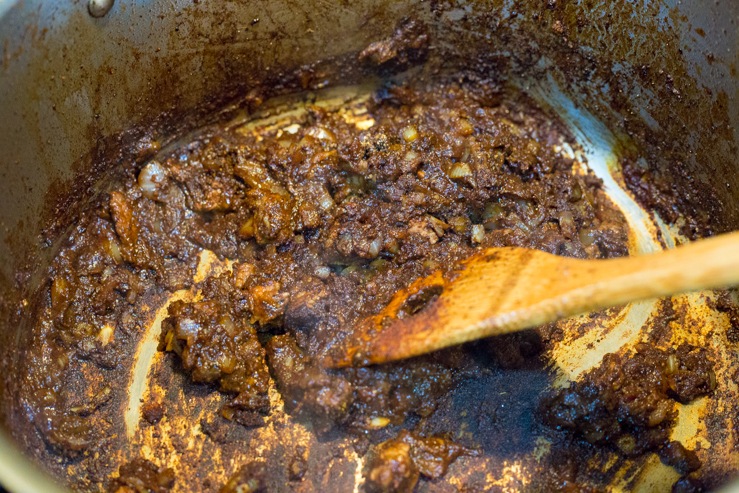 How to Store Bison Chili
Like most chili recipes, bison chili is even better the following day after the flavors marry and develop a bit. To store the chili, transfer the chili to airtight containers, and place it in the refrigerator. Your American bison chili will stay fresh for up to five days.
If you would like to freeze your chili later, let it cool completely before transferring it to a freezer-safe bag or Tupperware container and store it in the freezer. You may store bison chili in the freezer for up to three months without freezer burn. This is a great way to have a healthy meal already cooked and available at a moment's notice.
To Reheat Bison Chili
You can reheat the chili in the Instant Pot, on the stove over medium heat, or even in the microwave.
Depending on the method of reheating you may need to add a little bit of water, up to a cup of water, as you simmer your chili the second time after storing it.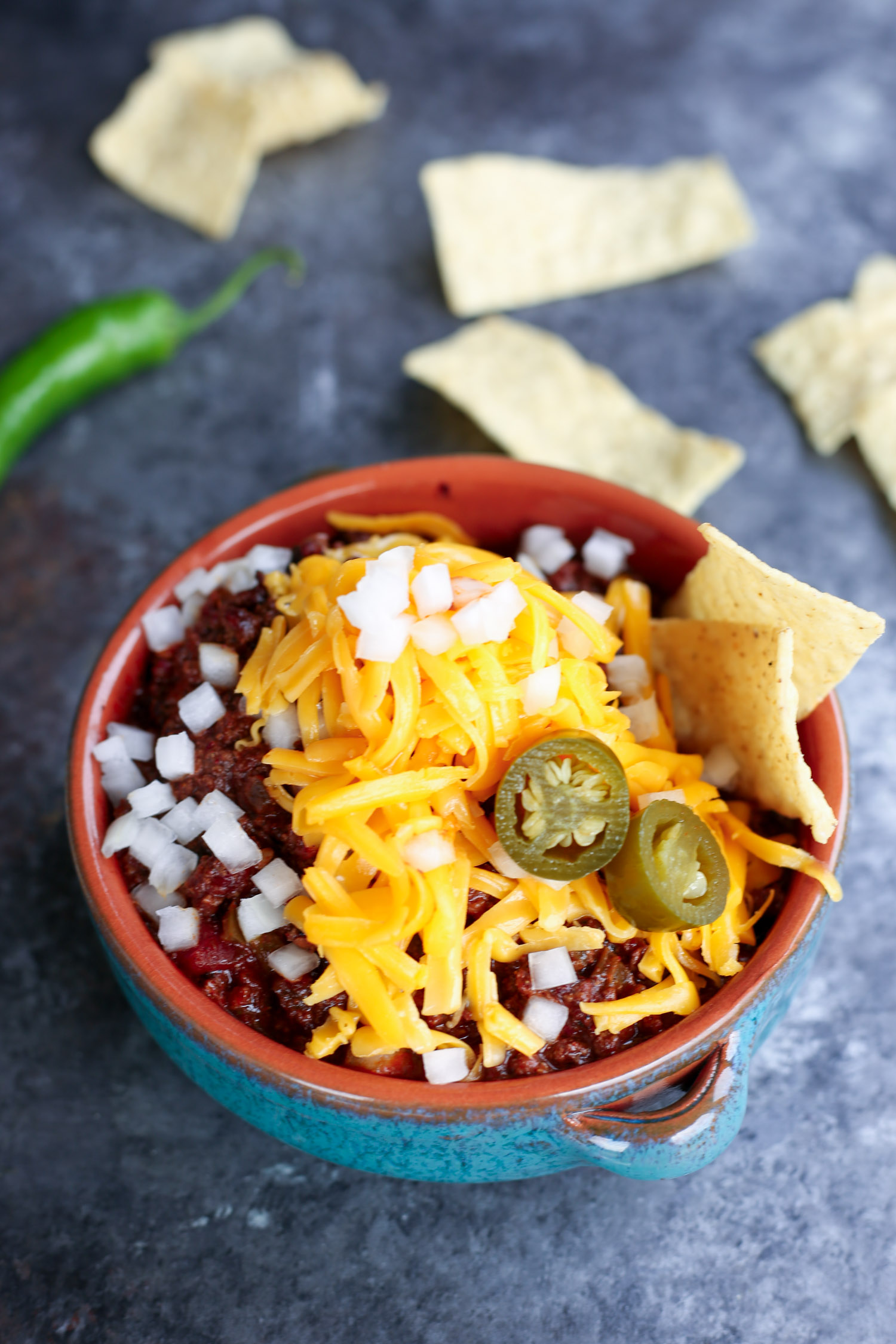 Frequently Asked Questions about Bison Chili
What are some variations of traditional bison chili recipes?
There are many variations of traditional bison chili recipes that can be used to customize the flavor of your dish.
You can substitute different types of meats such as beef or pork instead of bison or buffalo. Ground chicken and ground turkey are white meat options.
This bison chili recipe does not have chili beans but a can of pinto beans, black beans, or kidney beans may be added.
For milder tastes you may substitute green bell pepper or red bell pepper for the green chilies.
You can add tomato sauce or tomato puree for a less thick, soup-like chili, or to extend the recipe to more servings.
Is bison better than lean ground beef?
The answer to this question is subjective and depends on what you're looking for in terms of flavor and texture. Bison is a leaner meat that has a more robust, slightly sweeter flavor than ground beef.
Bison is also more tender and juicy, making it ideal for dishes like burgers or chili. It is higher in protein and essential vitamins and minerals such as iron, phosphorus, and zinc which can make it a healthier option compared to ground beef. Bison is considered one of the healthiest red meat options among athletes.
What does bison taste like?
Bison has a flavor similar to lean, grass-fed beef; it is slightly sweet and minerally in taste. Bison is leaner than beef, so it tends to be juicier and more tender when cooked. The texture of bison is also usually firmer than that of other red meats. The wild nature of bison can give the meat a distinctive flavor depending on what the animal ate in its natural habitat.
Is bison healthier than beef?
Yes, bison can be a healthier option than the beef that you find in your classic chili recipes. Bison is lower in fat and calories compared to other red meats, making it a great choice for those looking to watch their waistlines.
Bison is packed with essential vitamins and minerals like iron, phosphorus, and zinc that are not found in as high of concentrations in regular ground beef. Bison is usually grass-fed which might mean it has less exposure to antibiotics and growth hormones than those used in factory farming operations. All these factors make bison an excellent choice for a healthy yet tasty meal!
Is bison hard to digest?
No, bison is not hard to digest. In fact, it can be easier for the body to digest than beef chili or other red meats because it has fewer fats that can slow digestion. This chili recipe is bean optional. Though you can use many varieties of beans which increases the dietary fiber, some people find that beans cause digestive distress. If so, just make the recipe as written without the use of any beans.
Lean ground bison meat is also a good source of iron, which aids in the proper digestion and absorption of food.
Bison Chili Toppings
Toppings are really a part of the dish when it comes to chili and bison chili is topped with the same ingredients you love to see on a bowl of steaming red!
Favorite Toppings Include:
shredded cheddar cheese
diced yellow onion
chopped jalapeno peppers or green bell peppers
sour cream or greek yogurt
avocado cubes or slices,
cilantro leaves,
crumbled tortilla chips or Fritos
scallions or chopped green onions
A drizzle of your favorite hot sauce is also highly recommended!
How Can The Bison Chili Be Made In A Slow Cooker?
You can transfer this tasty chili into a slow cooker after you've browned the meat and softened the vegetables. I recommend making the chili recipe in a dutch oven, large soup pot, or large skillet and then transferring it to a slow cooker and adding the remaining ingredients, where it can simmer all day. Slow cooker bison chili is one of my favorite easy meals during the busy days of Autumn.
Yield:

6 servings
Bison Chili Recipe
This authentic bison chili is made with easy homemade ancho paste, and a dash of Mexican cinnamon. Serve with chips, jalapenos, and a crisp beer on a cool Autumn night, and this is sure to become one of your favorite ground bison recipes!
Ingredients
2 lbs. Bison Ground Meat
1 T. Bacon Fat (saved from your morning bacon, may substitute neutral flavored oil)
1 T. Kosher Salt
1 t. Onion Powder
1 t. Freshly Cracked Black Pepper
1 t. Espresso Powder or Instant Coffee Powder (optional)
1 Jalapeno Pepper, small dice
1 Serrano Pepper, small dice (remove seeds for milder flavor)
3 T. Tomato Paste
1 Can Petite Diced Tomatoes
4 Garlic Cloves, pressed through garlic press or minced
1 T. Mexican Oregano
1 T. Texas Chili Powder (Mexene or Gebhardt's is my favorite brands)
1/4 t. Cinnamon
1/4 Cumin
1/4 t. Allspice
1 T. Onion Powder
3 T. Fresh or Jarred Mole Paste (available in the mexican food area of the supermarket)
1 t. Salt
2 T. Fresh Ancho Paste (Made from 3 dried ancho peppers, as shown in the blog post)
1 Quart Beef Broth and Additional Broth or Water
To Finish:
3 Shakes of Tabasco Pepper Sauce
1 t. Cornstarch diluted in 1/4 c. Water
Finishing Spices (added right before serving to brighten the flavors)
1/4 t. Cinnamon
1/4 t. Allspice
1/2 t. Onion Powder
Salt to Taste
Top With:
2 c. Freshly Shredded Longhorn Cheddar
1/2 c. White Onion, small dice
Pickled Jalapenos
Corn Chips or Fritos
Or Your Favorite Chili Toppings
Instructions
In a heavy-bottomed stockpot or enamel pot, brown the meat. When seared, drain the fat and juices and return to the stove.
Add the bacon fat, salt, onion powder, pepper, and espresso or coffee powder (optional) to the meat and toss well. Chop the meat finely to get that smooth chili consistency. It will continue to break down when the stock is added.
Ancho paste is made by pouring boiling water over 4-5 dried ancho peppers. Let the peppers absorb the water and reconstitute. Remove the stems and shake out the seeds reserving only the flesh of the peppers. Blend it well in a blender or food processor with a little salt and a splash of the water from the pepper soak. This puree keeps 1-2 weeks in the refrigerator.
To the cooking meat add the fresh diced peppers and saute over medium-high heat. Cook for 4 minutes, lowering the heat if necessary.
Add into the pot the tomato paste, canned tomatoes, 4 garlic cloves, Mexican oregano, mole paste, ancho chili puree, all the spices (besides the finishing spices), and beef broth. Stir well and bring to a simmer. Simmer 30 minutes, adding 1/2 c. water when necessary.
To finish add the tabasco for brightness, and the cornstarch mixed in water. Bring to a simmer to thicken.
Stir in the finishing spices. Season to taste, and serve with your favorite chili toppings.
Nutrition Information:
Yield:
12
Serving Size:
1
Amount Per Serving:
Calories:

545
Total Fat:

29g
Saturated Fat:

13g
Trans Fat:

0g
Unsaturated Fat:

13g
Cholesterol:

114mg
Sodium:

1500mg
Carbohydrates:

36g
Fiber:

2g
Sugar:

26g
Protein:

34g
These nutritional values are an estimate only and provided as a courtesy. Different brands of ingredients may result in different calorie counts, and the software does not account for these differences. Consult with your dietician or doctor for precise nutritional values.