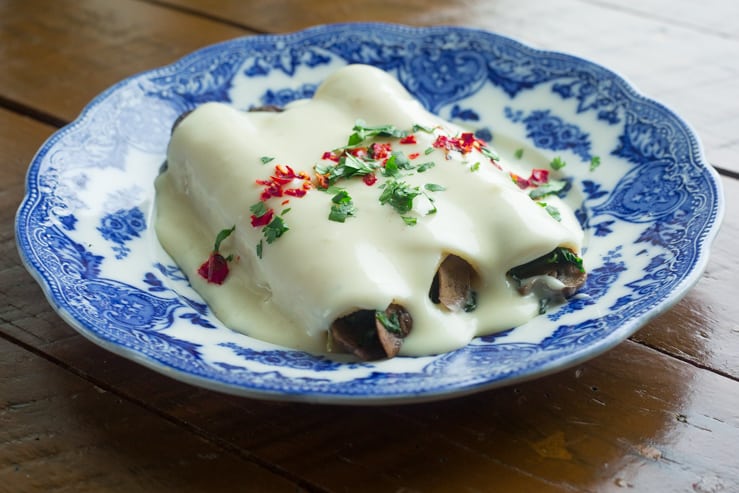 The weather is heating up in Dallas, and I don't know about you but my cravings shift with the seasons! I like it like that, don't you? It always feels like I'm in tune with the earth and the rest of humankind. 🙂
In Dallas, spring and summer are known for barbecues and fiestas, and with Cinco De Mayo being a week away I know we've all got Mexican food on the mind, but you know what else I've got on the mind?
Brace yourselves……. SWIMSUIT SEASON. It's inevitable.
Nowadays, you'll find these Spinach and Mushroom Enchiladas with Cream Sauce being offered as a lighter, vegetarian option in most Tex Mex restaurants, and although they seem to be wildly popular (especially in the spring), I've had several complaints from readers that recipes are hard to come by.
So here is a light and relatively healthy enchilada recipe my mother use to make when I was a child.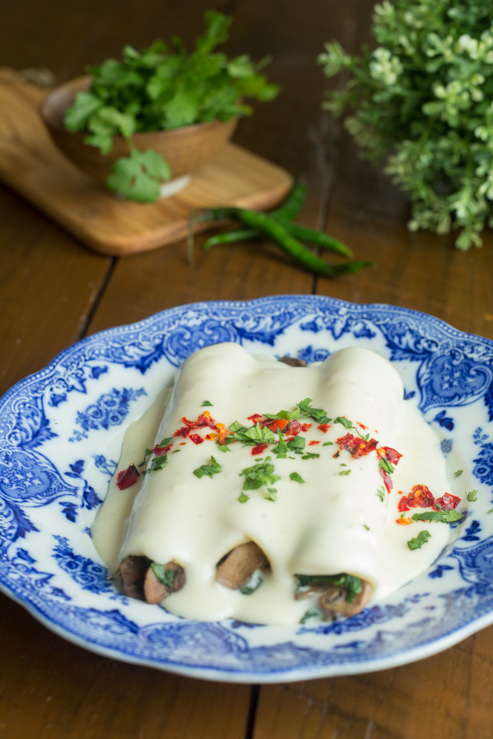 This monterey jack cream sauce is a classic Texas enchilada sauce that is also good for creamy chicken enchiladas. You'll want to use a block of monterey jack cheese and grate it yourself for the best flavored cream sauce.
Ready to get started? Let's go.
First off, for these loaded with flavor Spinach and Mushroom Enchiladas, we start with sliced button mushrooms and we'll try to enhance the flavor of the mushroom mixture by buying some additional interesting mushrooms. (I used to call this recipe exotic or wild mushroom enchiladas but let's face it, nowadays shiitakes are neither exotic or wild!)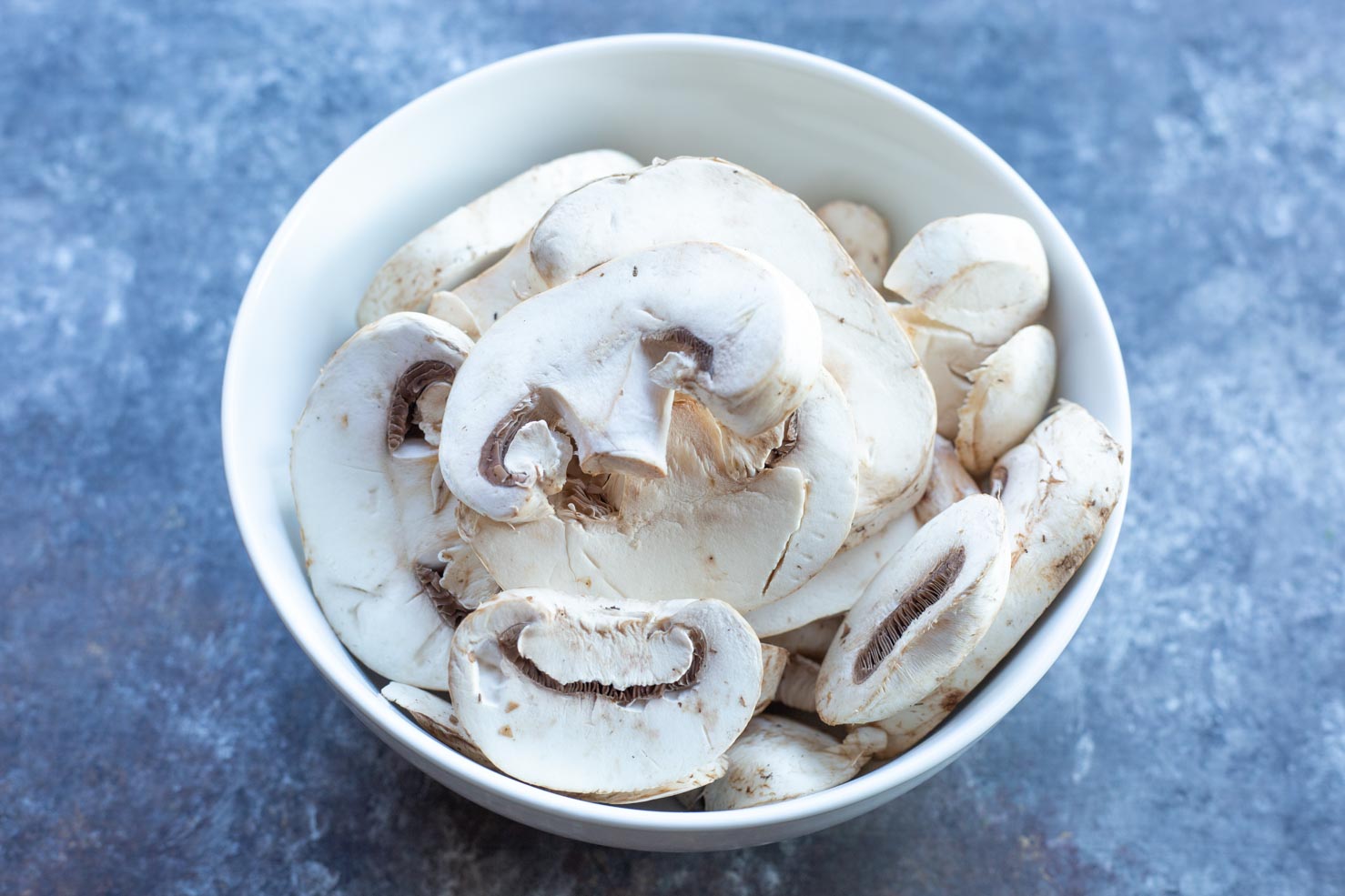 Today at the local grocery store I found button mushrooms, shiitake mushrooms, and oyster mushrooms. You can get any mushroom combination that fits your budget, or you can stick with plain button mushrooms, but I find that shiitakes offer the biggest boost to the flavor.
The flavor is more pronounced, rich, and earthy— like someone has turned up the volume on the mushroom flavor.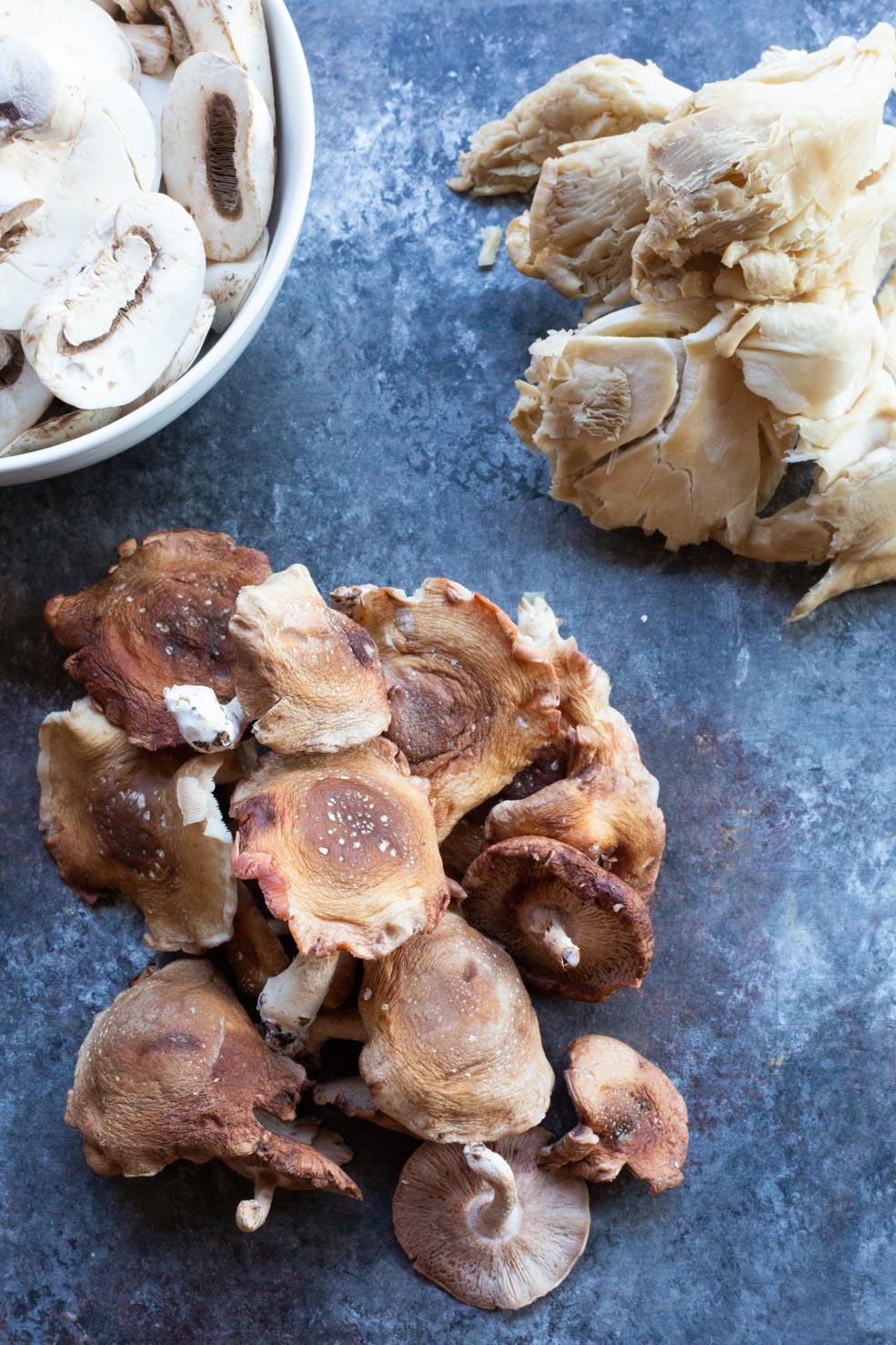 Shiitake and oyster mushrooms are giant flavor monsters— but they do have one problem. You will have to remove the entire stem because it is woody and does not soften during the cooking process. If you make homemade bone broth you can add the stems to your next batch for added flavor and richness. This is the stems removed…
And this is how the oyster mushrooms stems are removed. Discard the stems or save for making stock. They can be frozen until you're ready to make your next batch.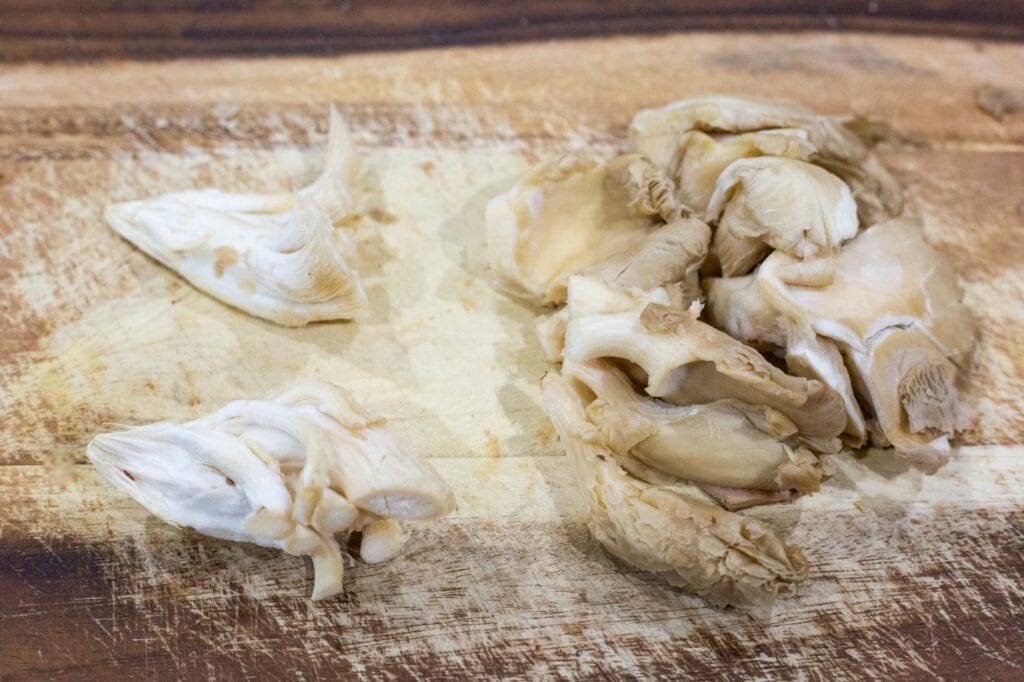 Slice each mushroom into thin slices and reserve.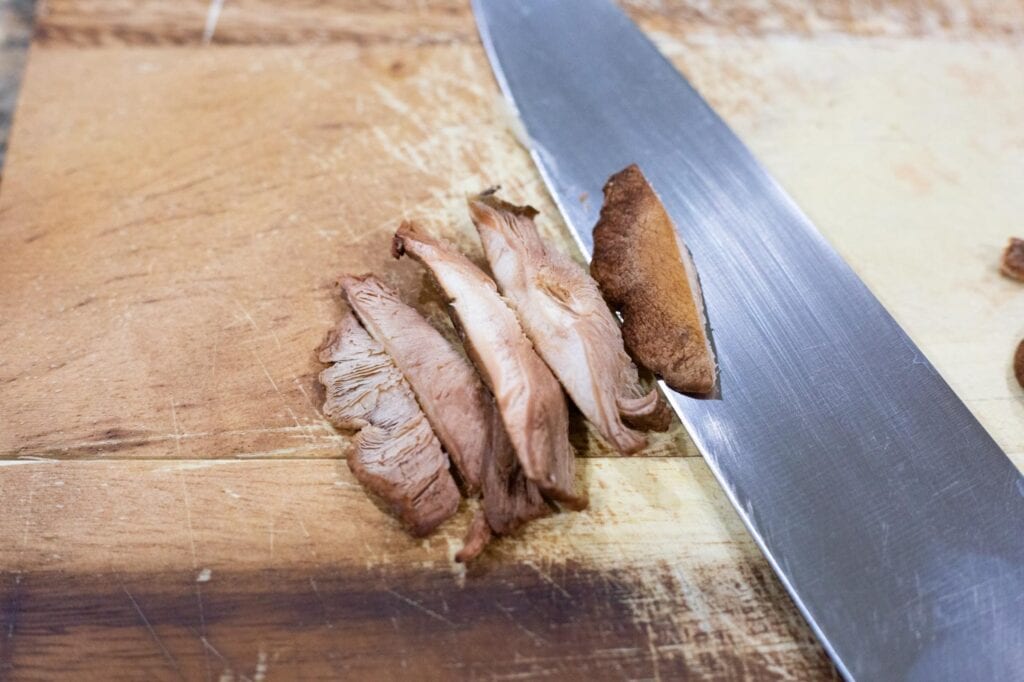 Here is our beautiful plate of exotic mushrooms that's going to load our enchiladas up on flavor! I know it looks like a lot, but mushrooms shrink when you cook them so buy plenty of mushrooms. Trust me, after you taste it, this filling ain't gonna go to waste. 😛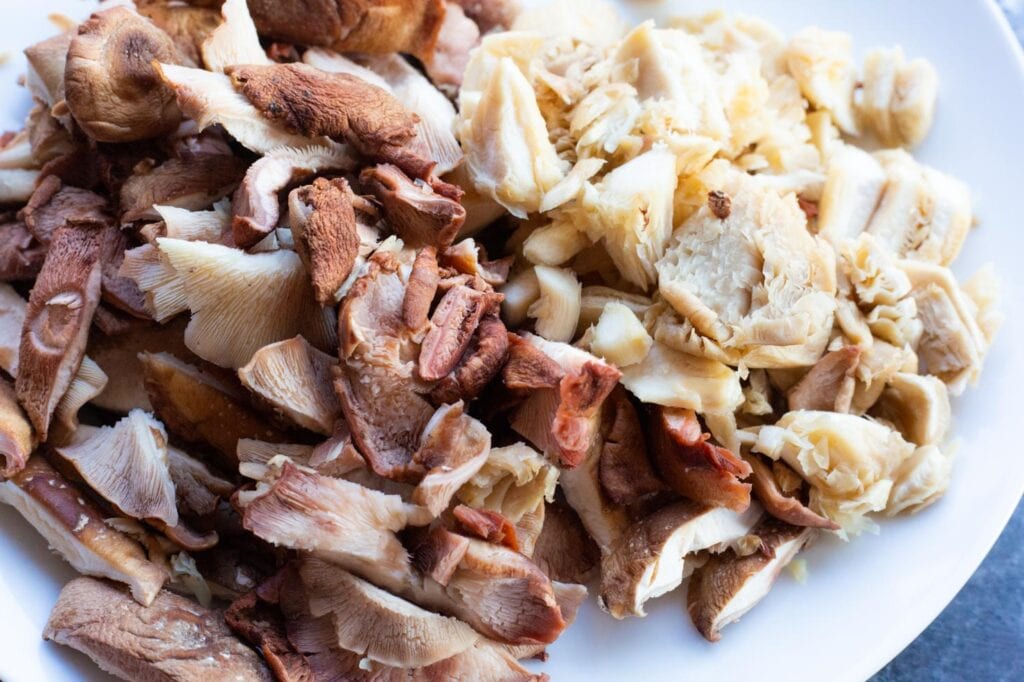 In a medium saute pan, or wok, heat the butter and add in all of the mushrooms.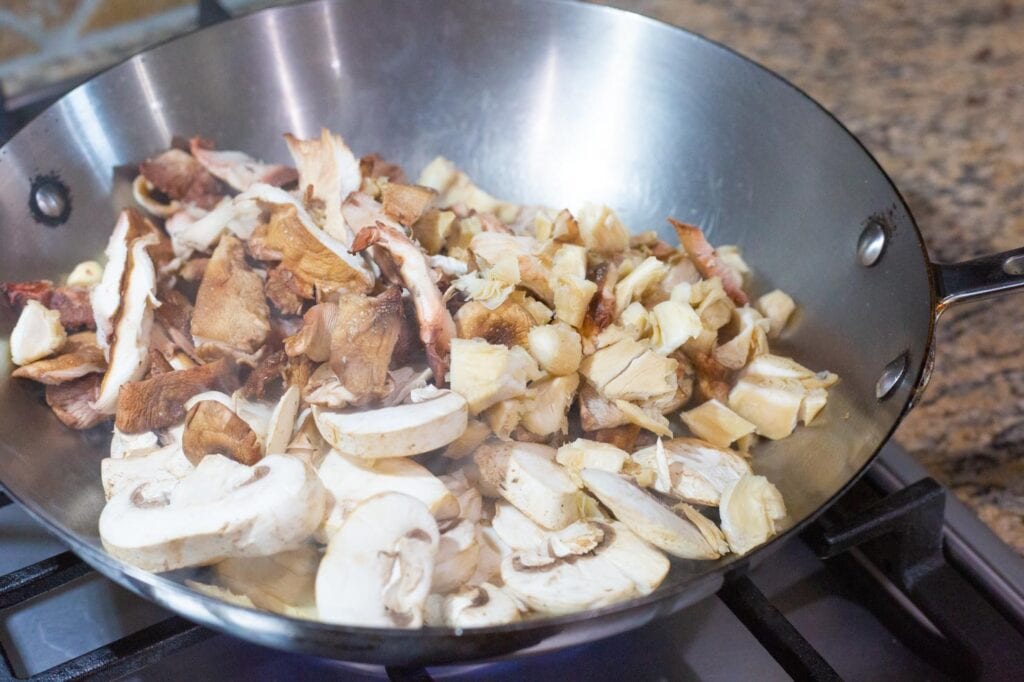 Following the Spinach and Mushroom Enchilada Recipe below, cook the mushrooms down in the butter for several minutes and then add in the fresh garlic and salt.
Cook over low until the garlic becomes fragrant.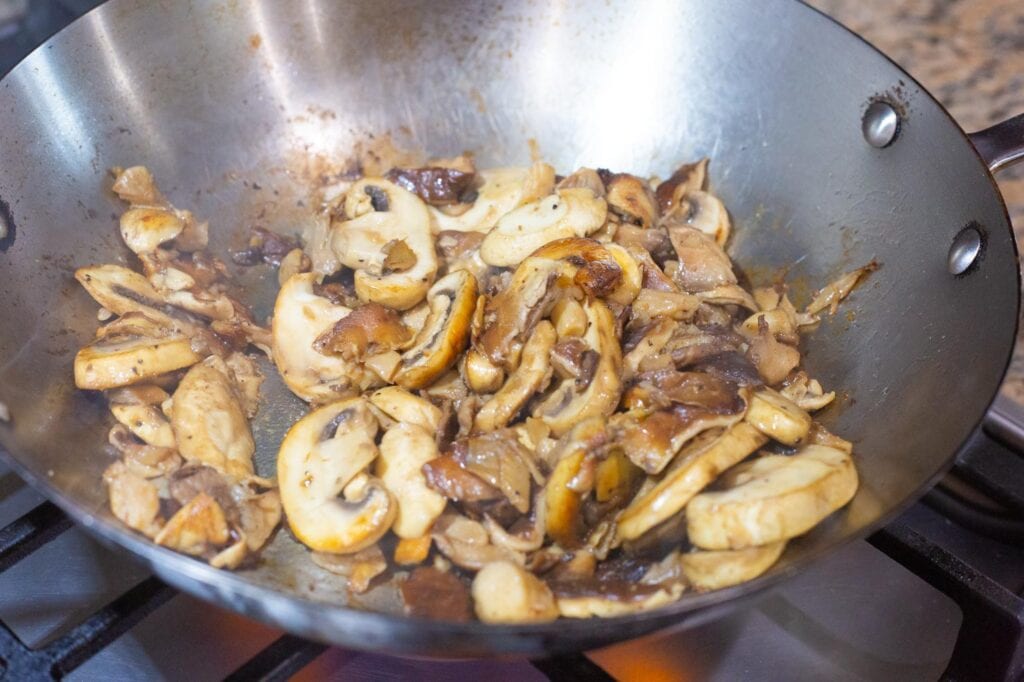 See how much the mushrooms shrank? Glad we used a lot! Now let's add in the baby spinach. In the recipe I say 3 handfuls but I usually fill the pan up twice, cooking down the baby spinach to make sure I get in enough.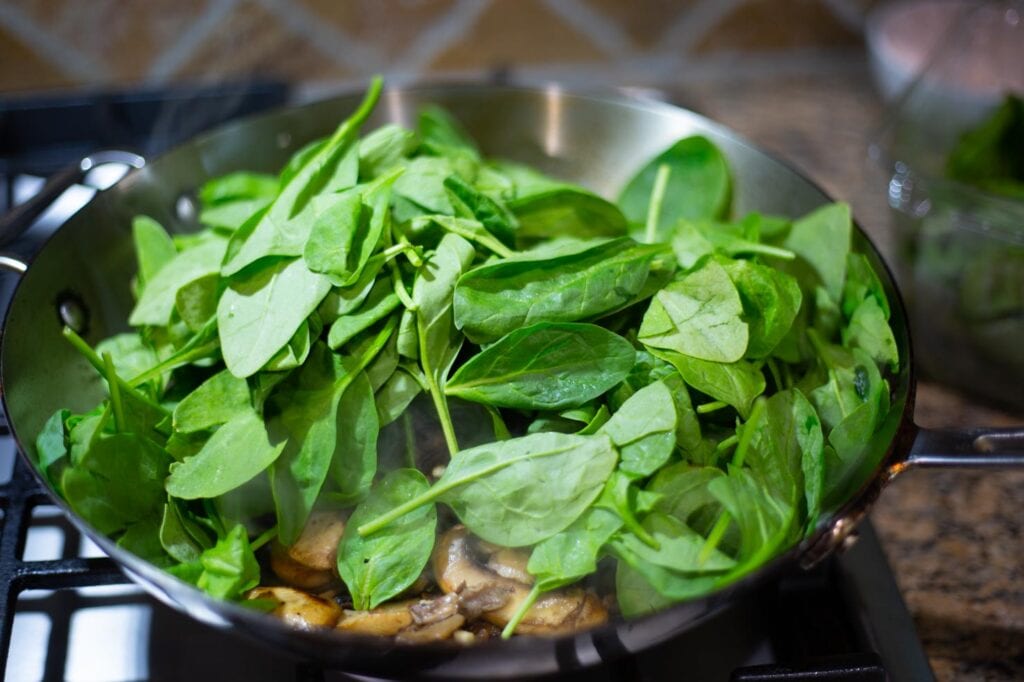 When the spinach cooks down this will be your beautiful filling! Set it aside to cool so that you won't burn your fingers when you roll your enchiladas.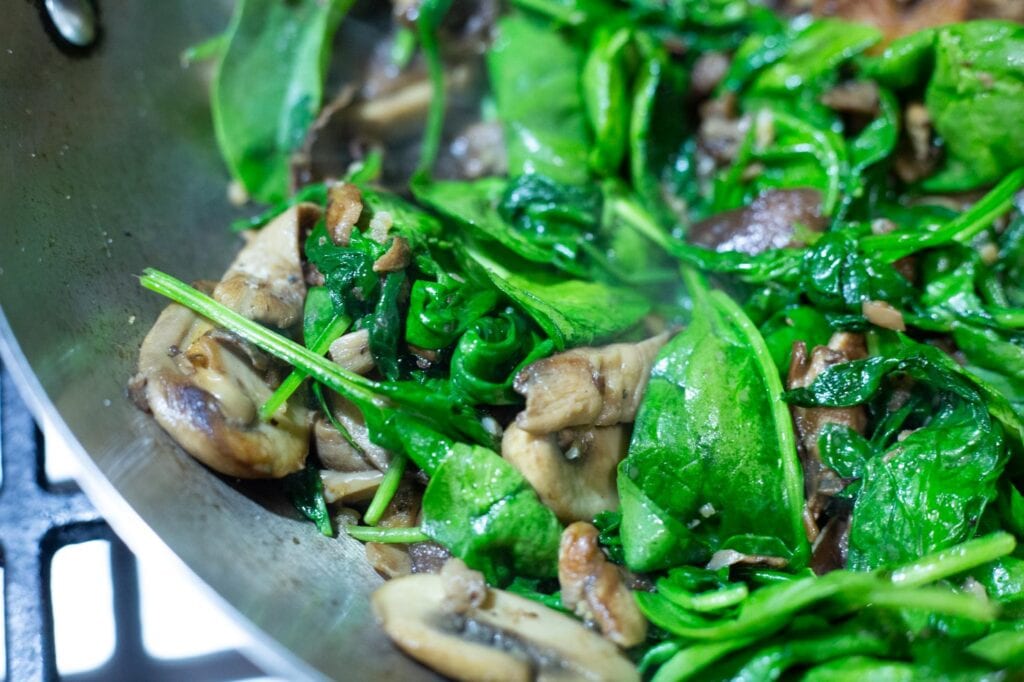 Now we will start the monterey jack cream sauce for our spinach enchiladas.
How To Make Monterey Jack Cream Sauce:
It starts like any white sauce with butter and garlic cooked for a moment before adding in flour.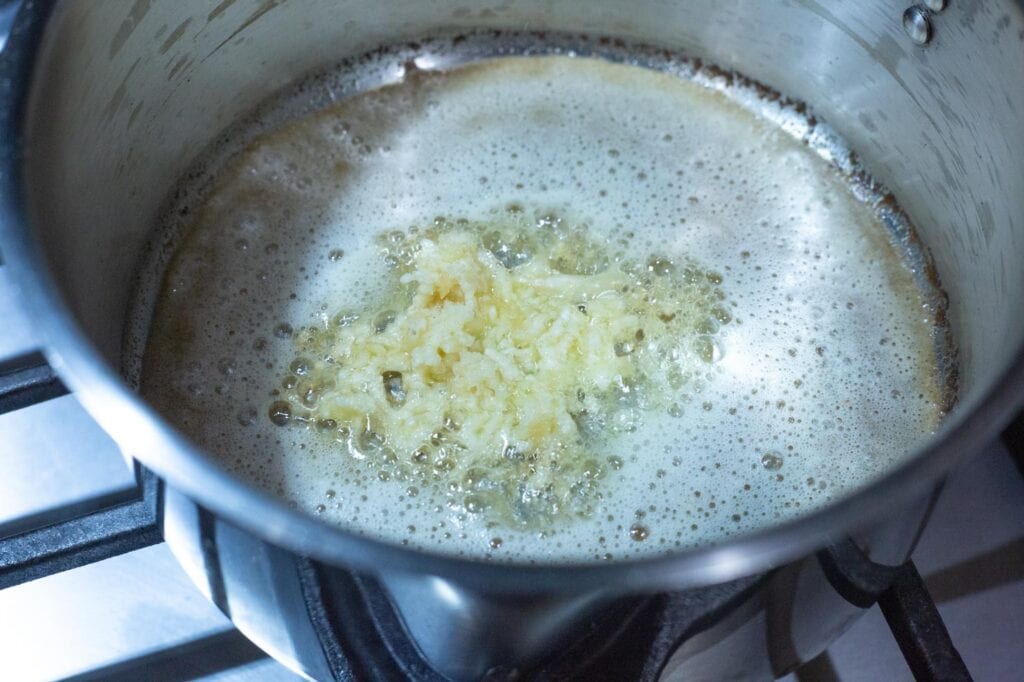 Add in the flour and whisk well.
This is called a roux (thickened flour and butter) and it will thicken the half and half.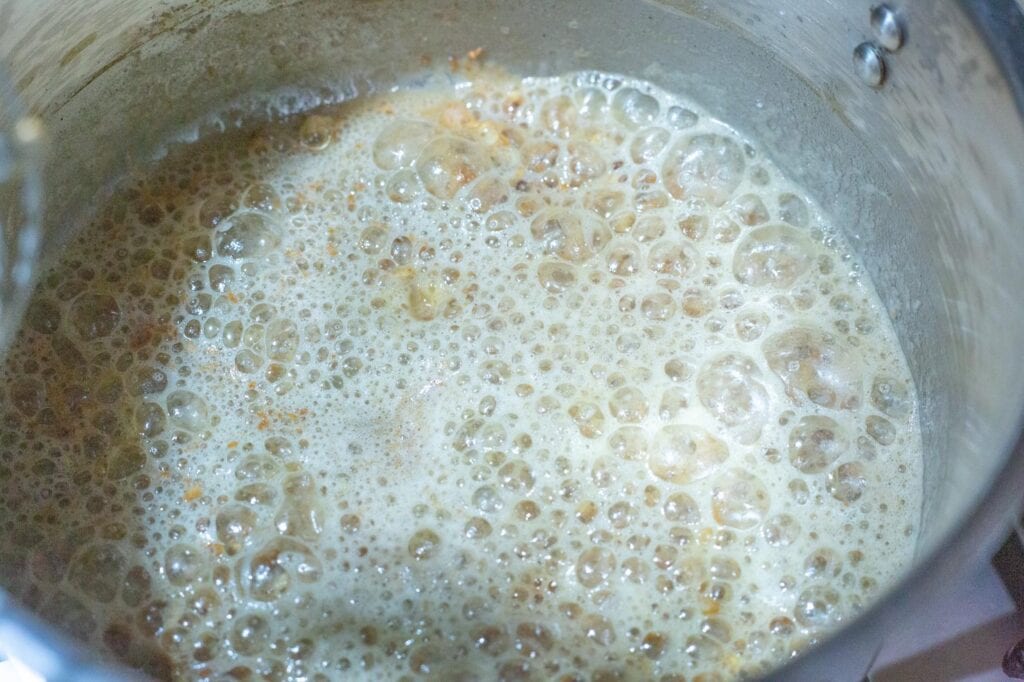 Next we will add in the half and half and the monterey jack cheese. This white sauce recipe calls for half an 8 oz. block of monterey jack cheese and I do encourage you to grate it yourself from a block of cheese! It's way better flavor. If you like you can grate extra cheese for the filling, or to top the rolled enchiladas before baking.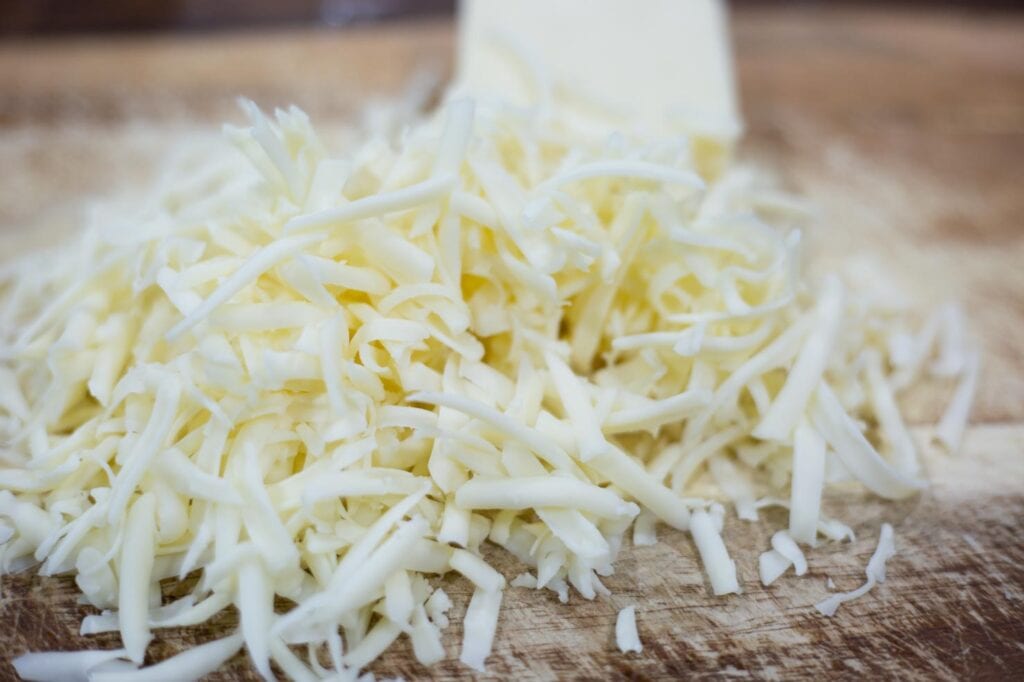 Add in the half and half, whisking well, and simmer. Then whisk in your monterey jack cheese to complete the sauce.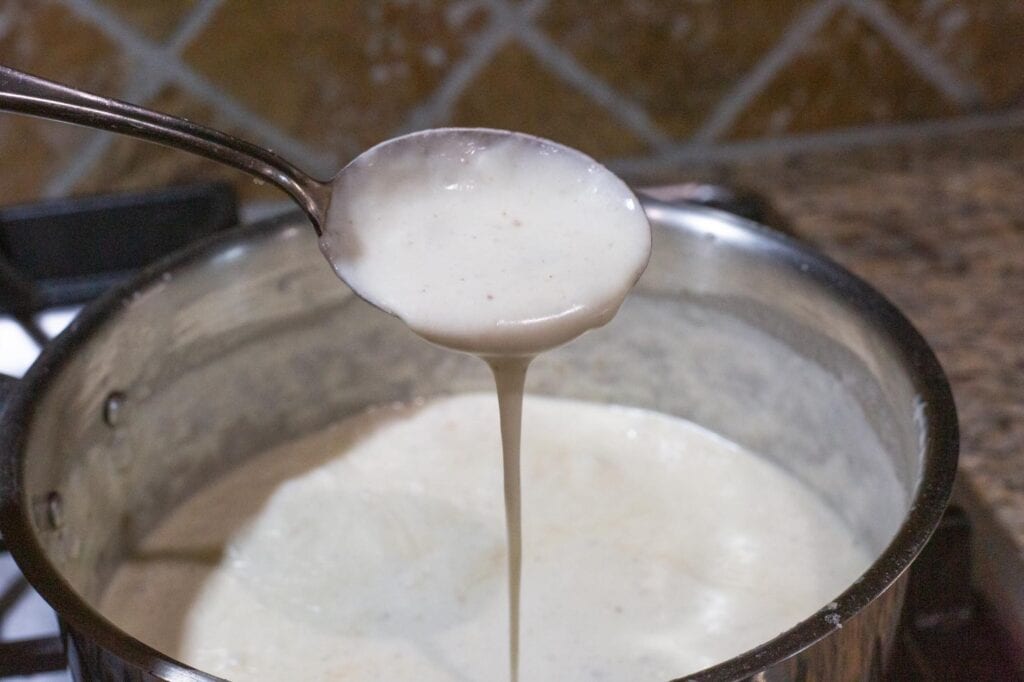 How To Roll The Enchiladas:
Well first off, most restaurants fry each corn tortilla in grease before filling to make the tortilla hot and pliable. I've found this to be a time consuming process which adds unnecessary fat. One technique that many home cooks use is to wrap a stack of corn tortillas in damp paper towels and briefly microwave until warm. This will make them pliable enough to fill and roll into enchiladas without the tortilla breaking.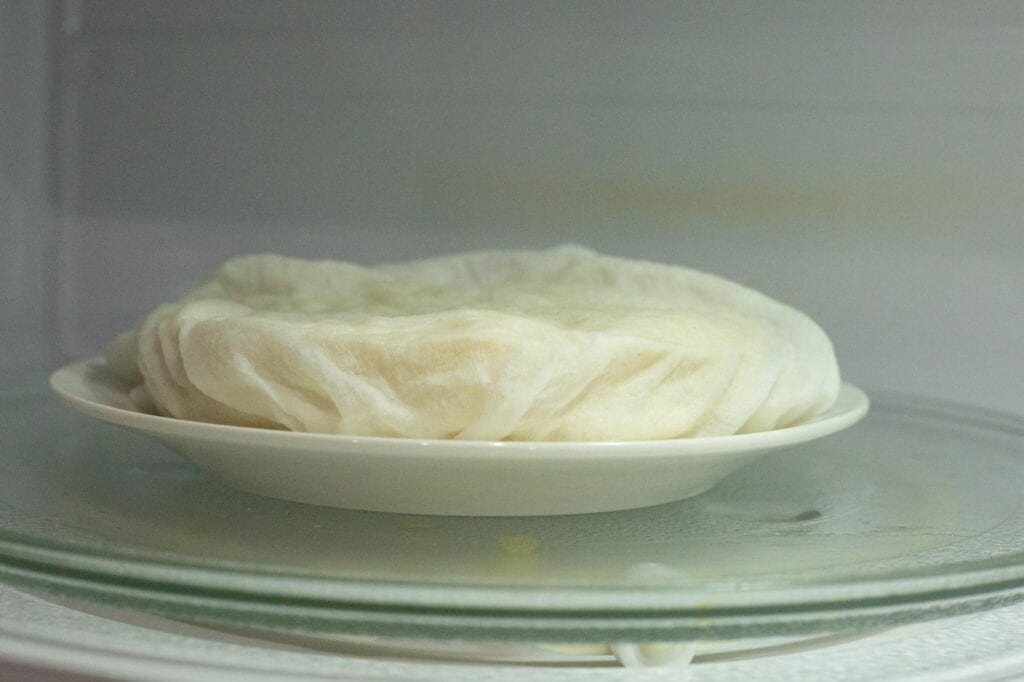 Set tortillas out and fill with the spinach and mushroom mixture.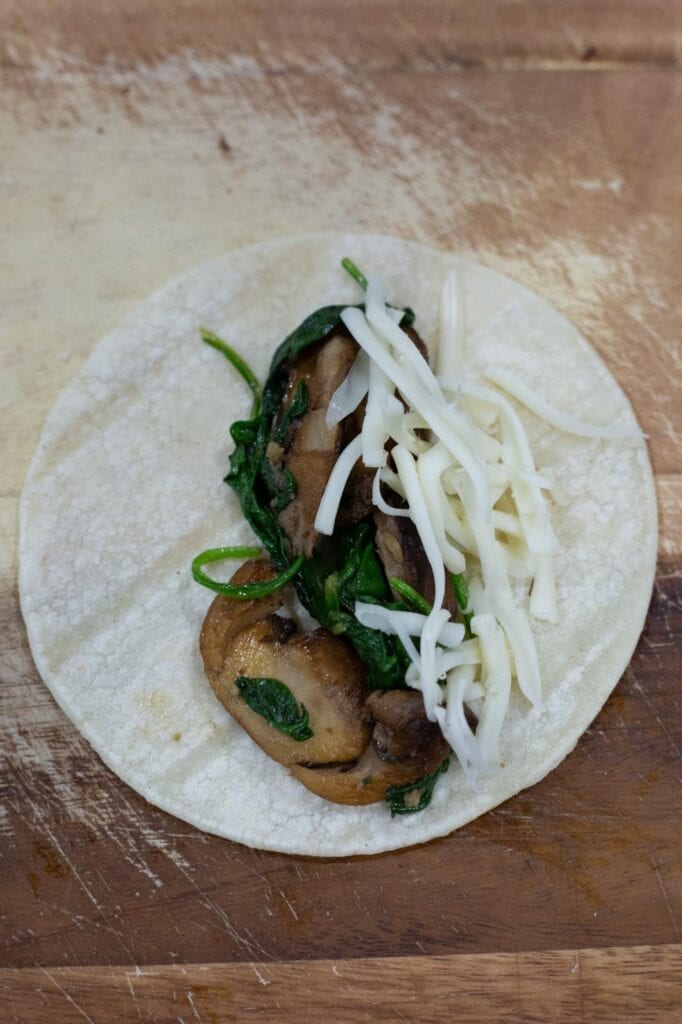 Roll the tortilla up and place seam side down into a glass casserole dish. Repeat with the remaining tortillas until all of the enchilada filling is used up, or until you have filled up all of your baking dishes! Bake at 400 for 25 minutes.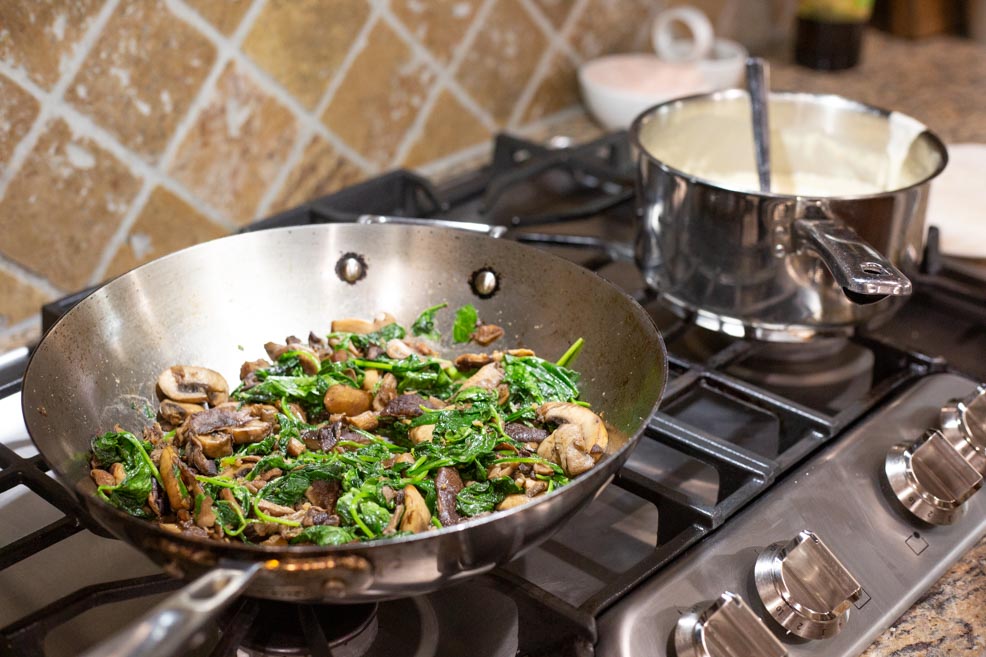 Here is the recipe for the…
Spinach and Mushroom Enchiladas with Cream Sauce
If you make this recipe, tag Urban Cowgirl on social media! I love to see your food pictures! 🙂
Yield:

8
Spinach and Mushroom Enchiladas with Monterey Jack Cream Sauce
These spinach and mushroom enchiladas covered in a velvety monterey jack cream sauce are a delicious way to celebrate a cool evening! This vegetarian recipe is lighter and healthier than cheese enchiladas, without sacrificing any flavor, by using hearty garlic butter mushrooms, and fresh spinach.
Ingredients
Cream Sauce:
2 T. butter
2 t. garlic (or more to suit your preference)
1/2 t. salt
2 t. flour
3 c. cream
1 1/2 c. monterey jack cheese (half an 8 oz. block)
1 good squeeze of lemon juice from a fresh lemon
Finish with 1/2 t. salt if needed
Spinach and Mushroom Filling:
2 T. butter
1-2 pounds mushrooms (for better flavor use gourmet mushrooms such as shiitake, oyster mushrooms, or anything exciting looking in the mushroom section!)
1 t. salt
1t. pepper
1 T garlic, minced
6-8 handfuls of fresh baby spinach (about 5 c.)
a good squeeze of lemon juice from a fresh lemon
Corn tortillas (about 25)
1/3 cup oil, plus more if needed
1/2 c. monterey jack, freshly grated from the block
Garnish as seen in photo- cilantro, dried red pepper flakes
Instructions
Preheat the oven to 400 degrees.
Grease a large glass casserole dish and set aside.
Shred the jack cheese on a cheese grater, 1 ½ c for the sauce and ½ c. for topping the baking dish.
In a medium saucepan, over medium-high heat, melt the butter and add the garlic, stir well until you can smell the fragrance of the garlic. Add the salt. Sprinkle in the flour and whisk until incorporated into a roux. Slowly whisk in the cream until smooth.
Bring up the heat to medium-high and cook, stirring until it just begins to bubble. Let the cream simmer for 1-2 minutes. Sprinkle in the jack cheese, whisking well. Cook another couple of minutes over medium heat and season with lemon juice and salt. Set aside, covered, while you finish the enchiladas.
For The Mushroom Filling: Heat the butter over medium to high heat in a wide saute pan. When the butter melts add the mushrooms and season with salt and pepper. Cook the mushrooms, stirring every couple of minutes until they release their water and begin to sear. (They will have little golden brown areas). This could take up to 6 minutes over medium heat. Then add the garlic and cook 1 minute. Add in the spinach and saute for about 2-3 minutes as it wilts. Turn down the heat and finish the filling with a good squeeze of lemon juice and a sprinkle of salt.
In a small saute pan, add about 1/3 c. oil and heat to medium-high heat. Fry each tortilla for 10 seconds to make the tortilla soft and pliable. Drain on a plate lined with paper towels. Keep warm.
Pour a little sauce into the casserole dish to coat the bottom.
To assemble the enchiladas fill a corn tortilla with 2 T. mushroom and spinach mixture and roll up. Place seam down in the baking dish. Repeat until you have filled the baking dish or run out of ingredients.
Top the enchiladas with the sauce (you may have a little sauce leftover depending on the size of your pan! Leftovers go great with baked chicken or on an omelet.
Top with the remaining jack cheese, cover with foil, and bake for 25-30 minutes, until hot and bubbly.
Nutrition Information:
Yield:
8
Serving Size:
6
Amount Per Serving:
Calories:

634
Total Fat:

59g
Saturated Fat:

32g
Trans Fat:

1g
Unsaturated Fat:

23g
Cholesterol:

148mg
Sodium:

902mg
Carbohydrates:

17g
Fiber:

5g
Sugar:

7g
Protein:

16g
These nutritional values are an estimate only and provided as a courtesy. Different brands of ingredients may result in different calorie counts, and the software does not account for these differences. Consult with your dietician or doctor for precise nutritional values.