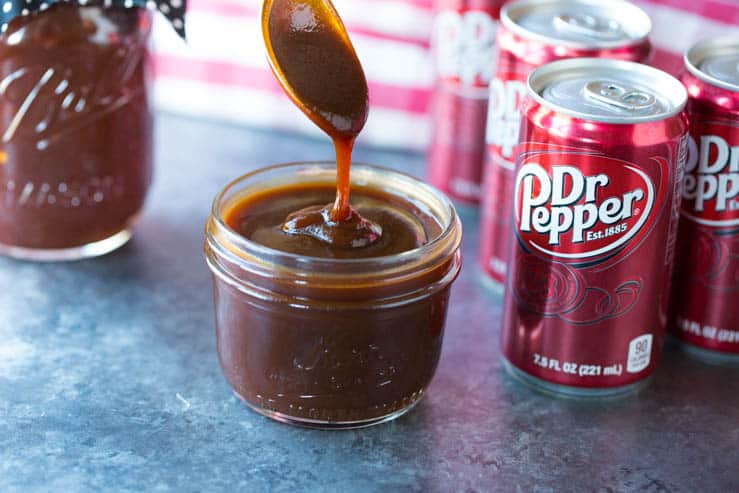 Dr. Pepper barbecue sauce sounds incredible to most of us! But why are home versions lacking in the Dr. Pepper flavor department?
It's questions like these that put good home cooks to work, and as I stood at my local Sprouts pondering why that bottle of Stubb's Dr. Pepper barbecue sauce tasted so much more "Dr. Peppery" than my own, I committed to finding out a way to punch that much flavor into a jar of my own homemade sauce.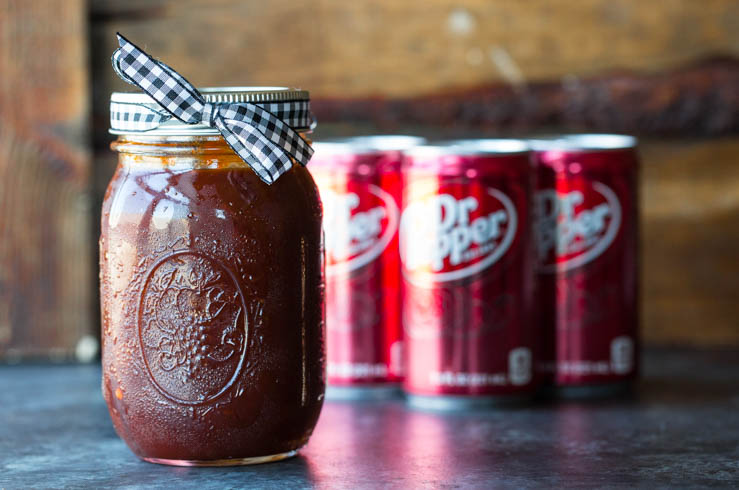 Secretly, I knew that Stubb's was probably hand delivered an extract from Dr. Pepper themselves and it did occur to me to just buy a Dr. Pepper extract off of Amazon.
(Home soda makers do this all the time, and for those of you who have my cookbook you will remember we do the same thing when making homemade root beer in flip top bottles.)
But something about that seemed like cheating, so I marched forth with a more honest method… creating my own quick concentrate by reducing a couple cans of DP on my stovetop.
This process is easy enough. I just pour 2 cans of Dr. Pepper into a medium saucepan, and simmer until maybe 2-3 T. of syrup is left.
Essentially, what we're doing is forcing the carbonated water in the soda to evaporate, leaving behind the syrup, which is the essence of the cola.
Guess what?! It worked PRETTY GOOD YALL!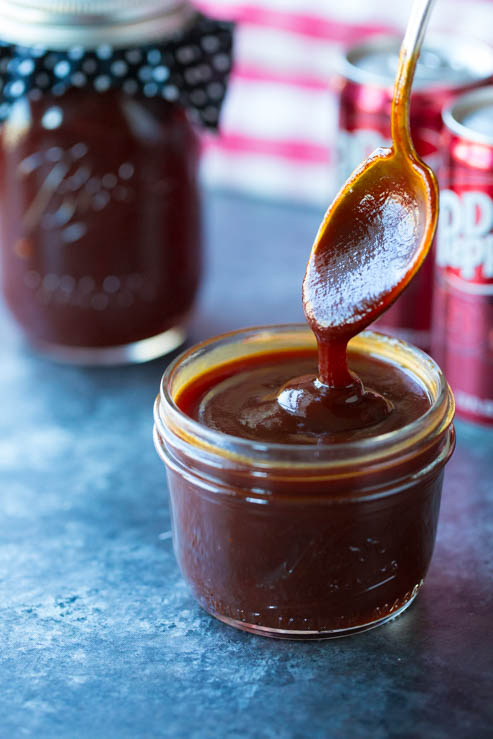 Once you have the extract, it's a total breeze to make barbecue sauce. You just add the other ingredients and simmer until it's rich and saucy. As with any barbecue sauce the flavors really enhance overnight and this one is not different. The Dr. Peppery flavor really takes over on Day 2.
You can throw this sauce into jars and it will last for quite awhile refrigerated. I think my last batch is on week 3 and it's still bone-sucking good.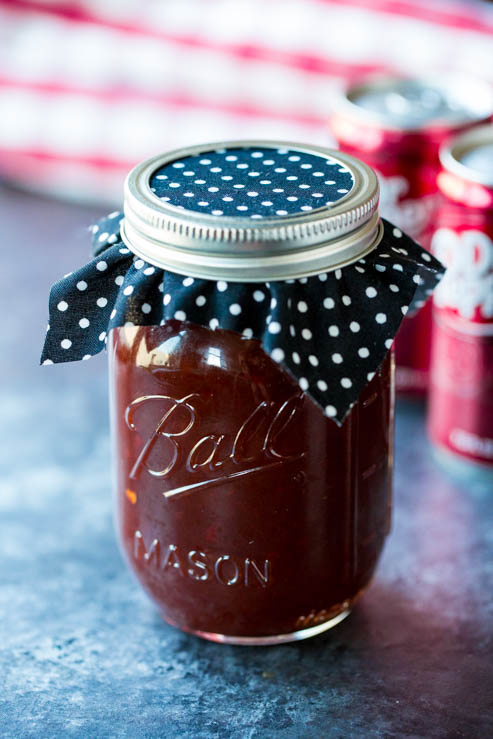 Here is the recipe for the Dr. Pepper Barbecue Sauce
If you make the recipe, post it to social media and tag Urban Cowgirl!
I'd love to see how it turns out!
Yield:

2 ¾ c. sauce
Dr Pepper Barbecue Sauce
Inactive Time:
10 minutes
Homemade Dr Pepper Barbecue Sauce is a Texas favorite! We serve it alongside brisket and pulled pork, atop cheeseburgers, ribs, and grilled chicken. Learn to make it from scratch with this easy recipe.
Ingredients
2 cans of Dr Pepper
1 ¼ c. ketchup
½ c. white vinegar
½ c. tomato sauce
2 T. molasses
¼ c. honey
2 t. buffalo sauce
¼ t. salt
¼ t. onion powder
½ t. red pepper flakes
1/8 t. celery seed
1/8 t. cayenne
OPTIONAL: Finish off after cooking with ¼ c. uncooked Dr. Pepper if desired for an extra punch of flavor!
Instructions
In a medium saucepan, pour in 2 cans of Dr Pepper, and turn heat to medium-high.
Bring to a boil a reduce until syrupy, but do not burn! You may need to turn down the heat. Reduce down, to about 1/3 c. of Dr. Pepper syrup. When done, remove from heat.
To the reduction, add all of the other ingredients and whisk well. Return to the stove and cook over low heat 15-20 minutes until combined. Add in the final splash of Dr. Pepper if using. Remove from heat and taste for seasoning.
Store in jars and refrigerate until ready to use. It will enhance in flavor over a few hours, or overnight.
Use on chicken, ribs, pulled pork, brisket, and all your favorite barbecue.
Nutrition Information:
Yield:
15
Serving Size:
1
Amount Per Serving:
Calories:

78
Total Fat:

0g
Saturated Fat:

0g
Trans Fat:

0g
Unsaturated Fat:

0g
Cholesterol:

0mg
Sodium:

298mg
Carbohydrates:

20g
Fiber:

0g
Sugar:

18g
Protein:

0g
This nutritional information is provided as a courtesy as an estimate only. Consult with a dietician for precise estimates.
[/fusion_text][/fusion_builder_column][/fusion_builder_row][/fusion_builder_container]
[fusion_global id="3178″]