This award winning brisket rub recipe has been in the vault for nearly 11 years, and many of our readers have emailed me asking why I have so many barbecue and brisket recipes in my cookbook (and here on the blog) but have never taught our full method of how we smoke our brisket.
So, we heard you and got to work. Check out our BRISKET SCHOOL!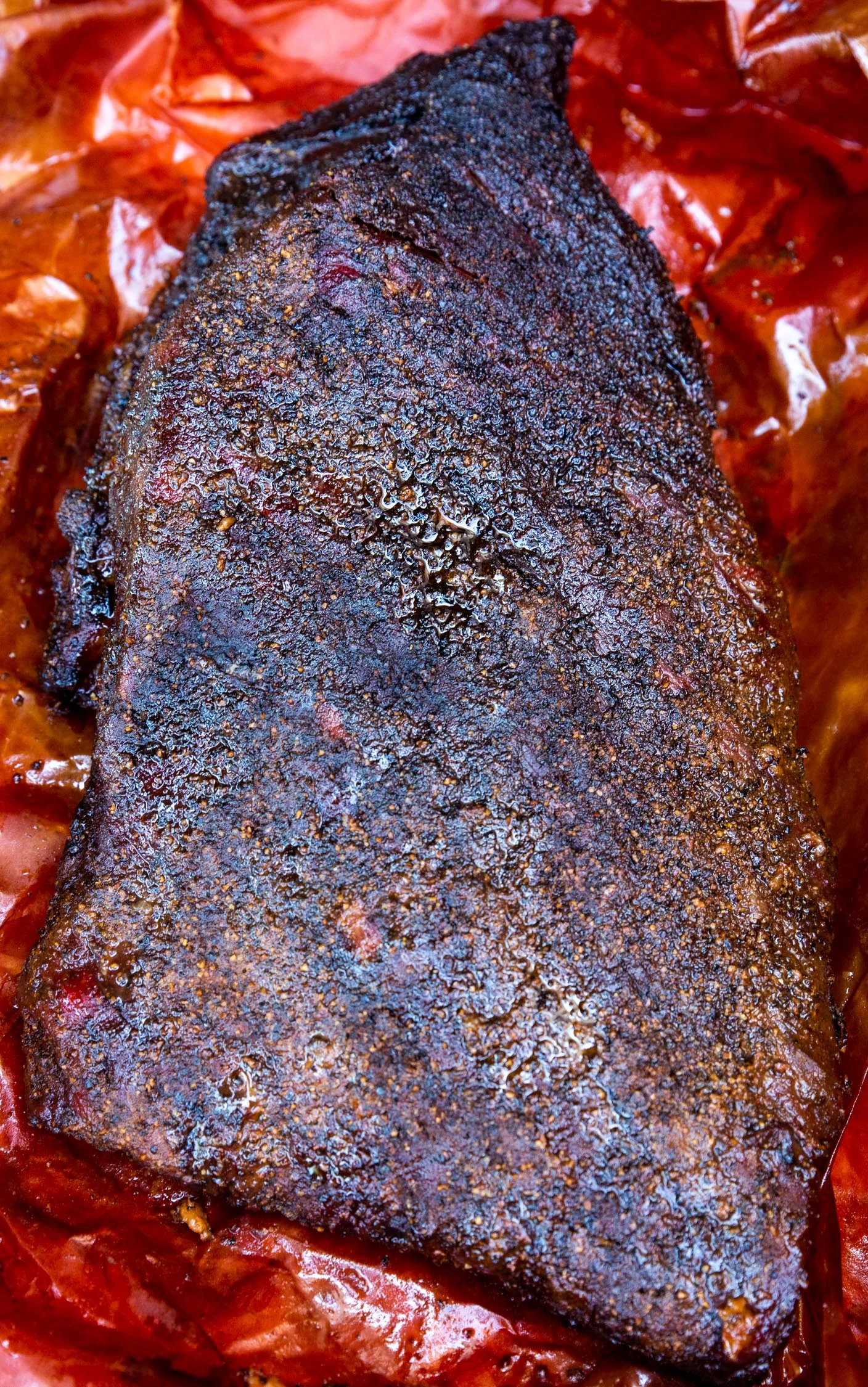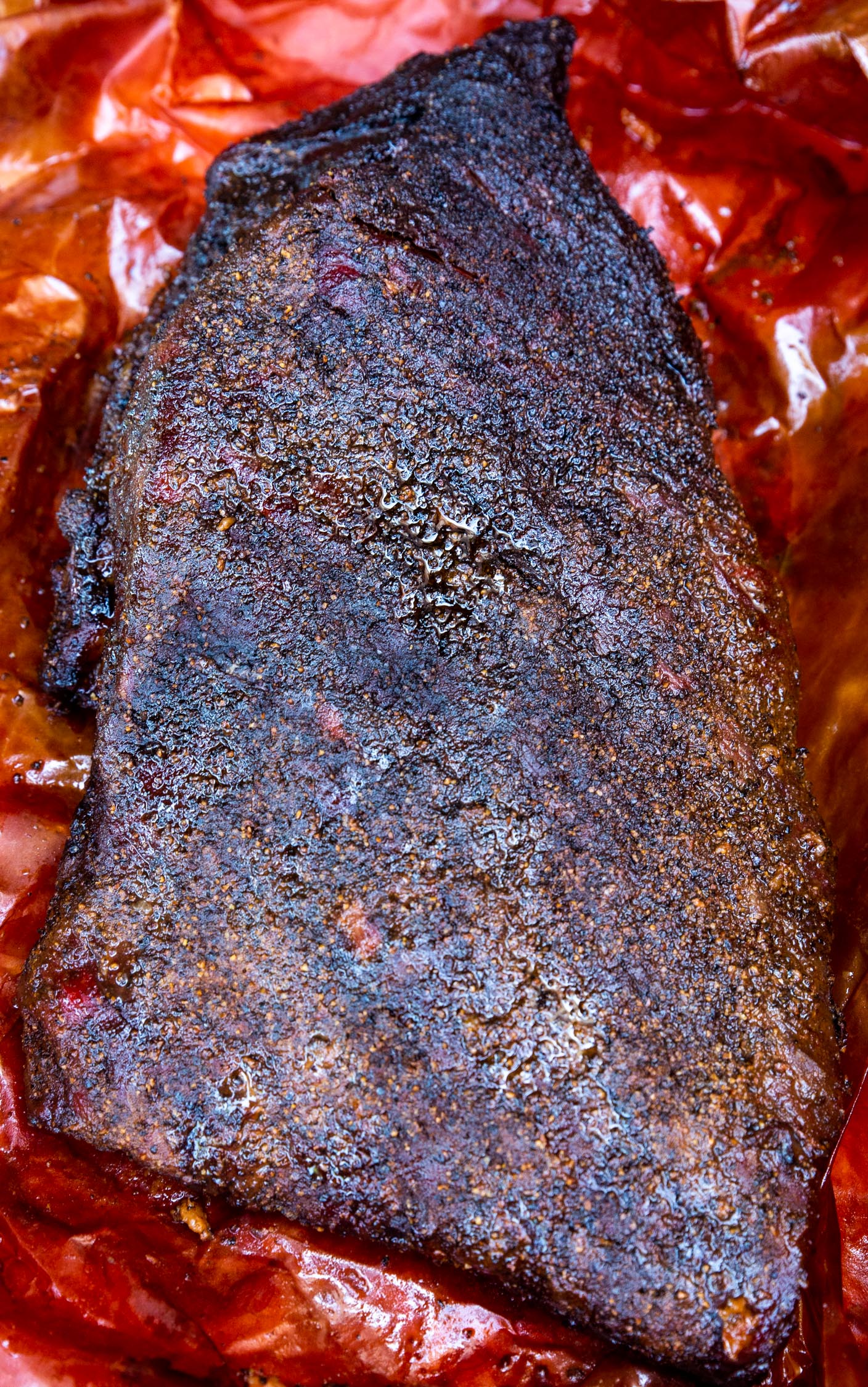 Today, I am happy to be posting not only our full tutorial on how we smoke the juicy on the inside, covered in candy-like bark on the outside Texas-style briskets seen on Urban Cowgirl…but also our award winning Texas brisket rub, brisket mop sauce, my beef injection recipe, the recipe for my brisket spray bottle, what wood we enjoy using, and what I consider the BIGGEST SECRET that barbecue experts use to break down any residual connective tissue left after smoking a brisket.
It's the Texas brisket method motherlode! And I wanted to take you through it step-by-step so you can bookmark this post and come back through every step of the barbecue process, to master and fine-tune your own method.
So, let's get started explaining how we came up with this brisket bbq rub recipe.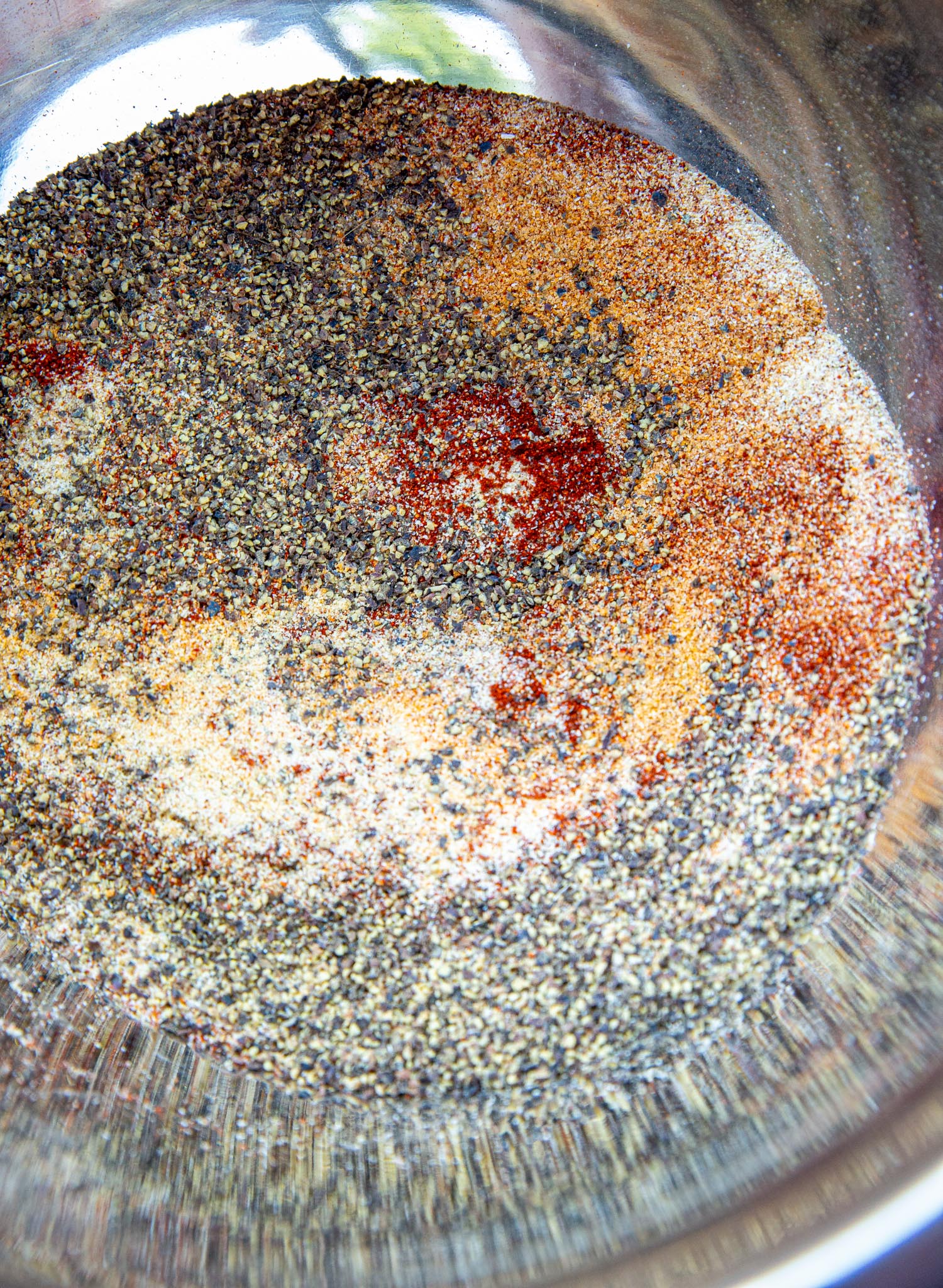 How Do You Make The Best Beef Brisket Rub?
Here is what I need you to understand. There are so many stories surrounding secret rubs and homemade recipes passed down through generations, that it can really convince an entire generation of the general public that that is all you need to make a great brisket.
But nothing could be further from the truth. In fact, I would wager a guess that many of these "secret rub stories" are nothing but good PR and branding for bbq influencers.
I could take "the secret recipe" from any excellent bbq family, hand it to a novice and say– here is their recipe, recreate the brisket. And the rub recipe is not going to be enough to help that newbie create barbecue like the barbecue expert.
That's why I want to warn you to pay so much attention to technique and barbecue science. You can only get an insane, jaw-dropping brisket with good technique. The rub is secondary….but you still want it! (I get it.) So let's give it to you.
(Links are affiliate links to products we think are helpful and we may receive a small commission, at no cost to you, if purchased.)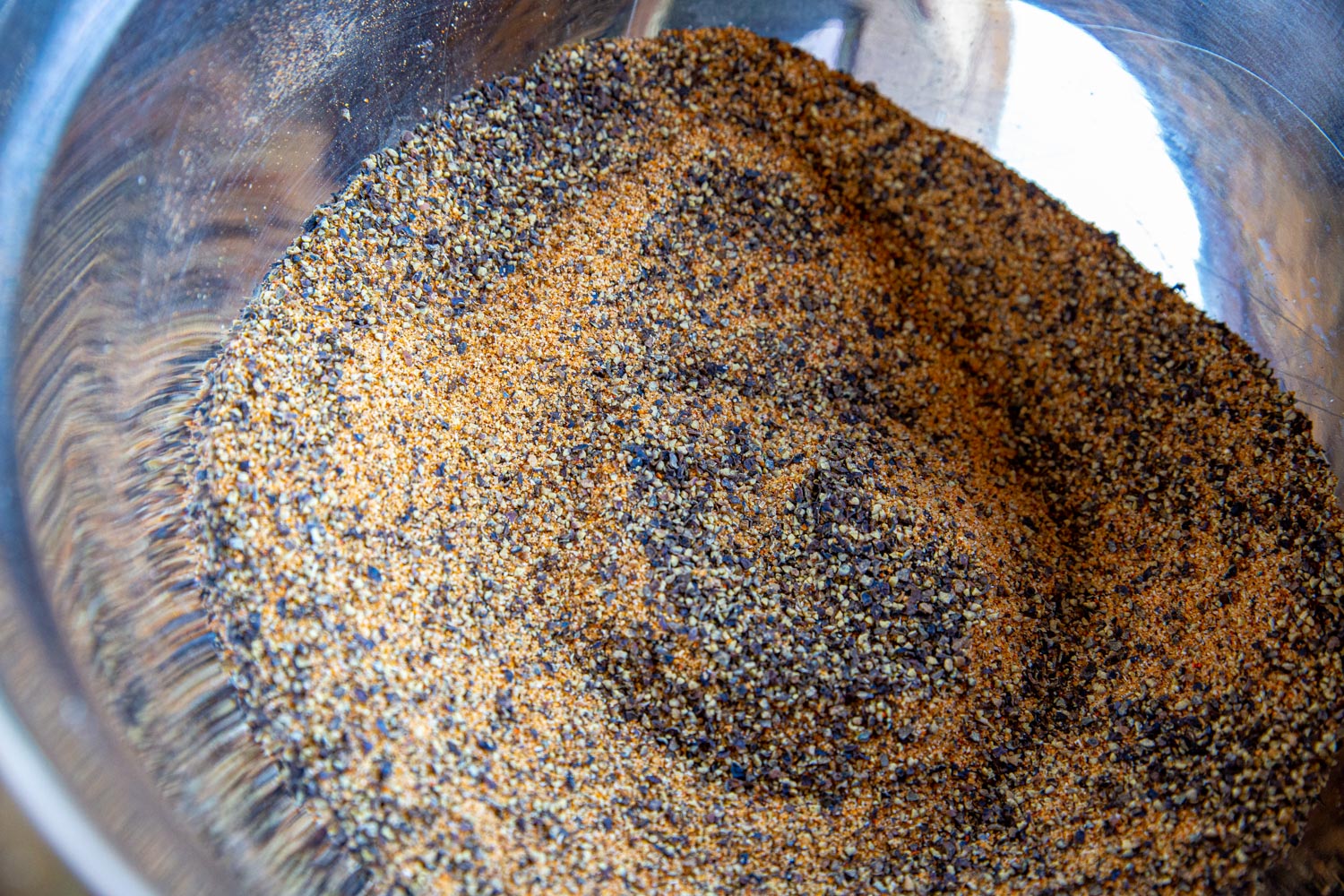 What You Won't Find In This Smoked Brisket Rub Recipe…
Paprika, Sugar, Brown Sugar, or Ginger. Why?
Once you've spent years in barbecue or cooking, you begin to understand that some ingredients enhance beef, and some ingredients don't hurt beefy flavor, but they also aren't doing anything for it either.
It's like seeing a couple that isn't really in love but also seems to be getting by in life pretty well together. You know the couple– she's a social butterfly who loves the city life, and he's a quiet homebody who enjoys camping and reading spy novels. They aren't hurting each other, but you can't help but feel like they might be much happier with other people.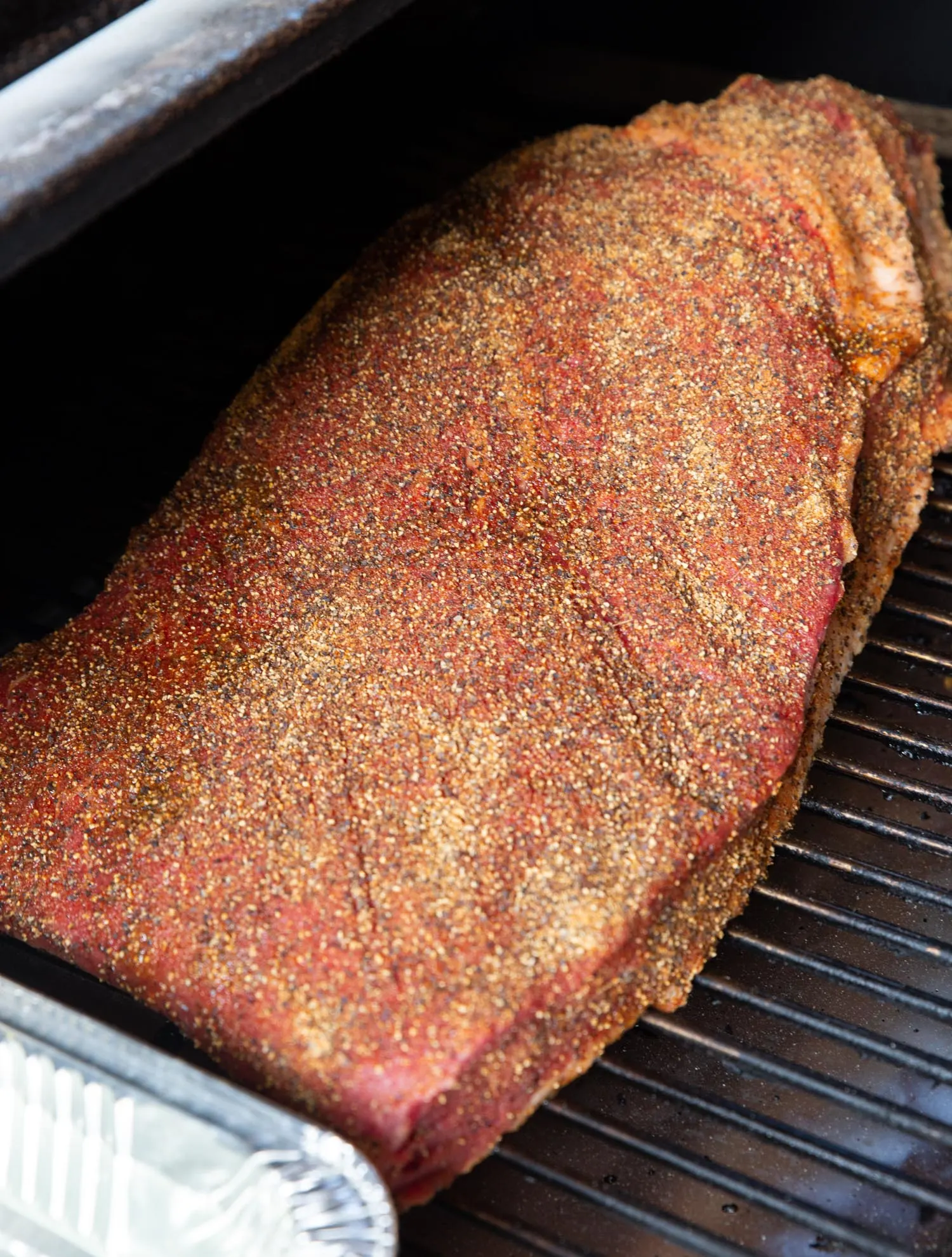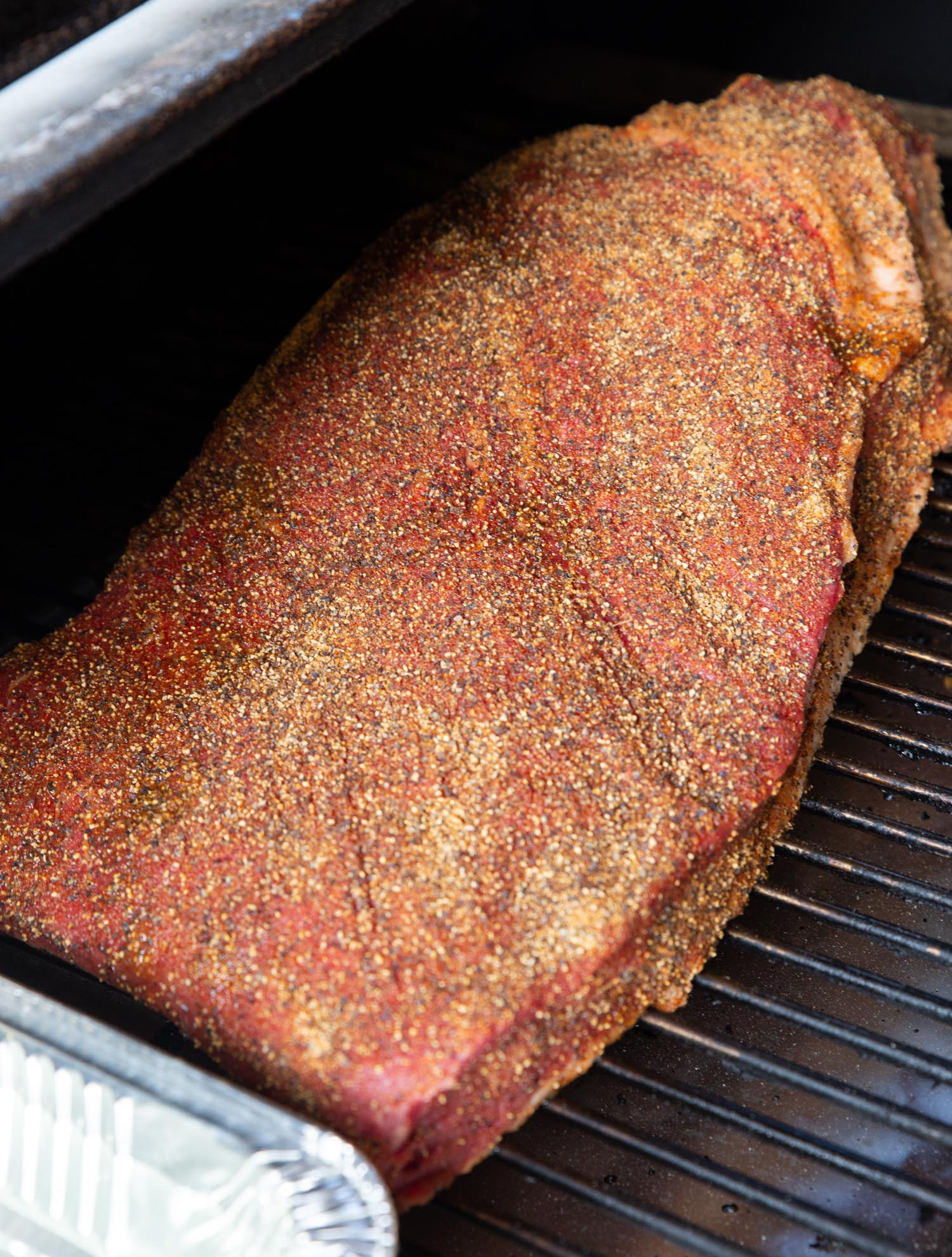 That's what we want to avoid when creating the best brisket rubs. Paprika, sugar, dark brown sugar, ginger…these are PORK INGREDIENTS. These are in the very best recipes for pork ribs, smoked pork butt, and various pig powders. They don't do anything for beef or brisket.
They won't hurt a brisket, but I would argue that anything taking up space that doesn't contribute to flavor needs to explain why it is invited to our party. So what does enrich and enhance the beefy flavor already present in the brisket?
What Ingredients Go In Beef Brisket Rubs?
The ingredients that go in beef brisket rubs are the exact same ingredients you use on a big juicy steak– garlic powder, onion powder, good quality salt, and coarse black pepper.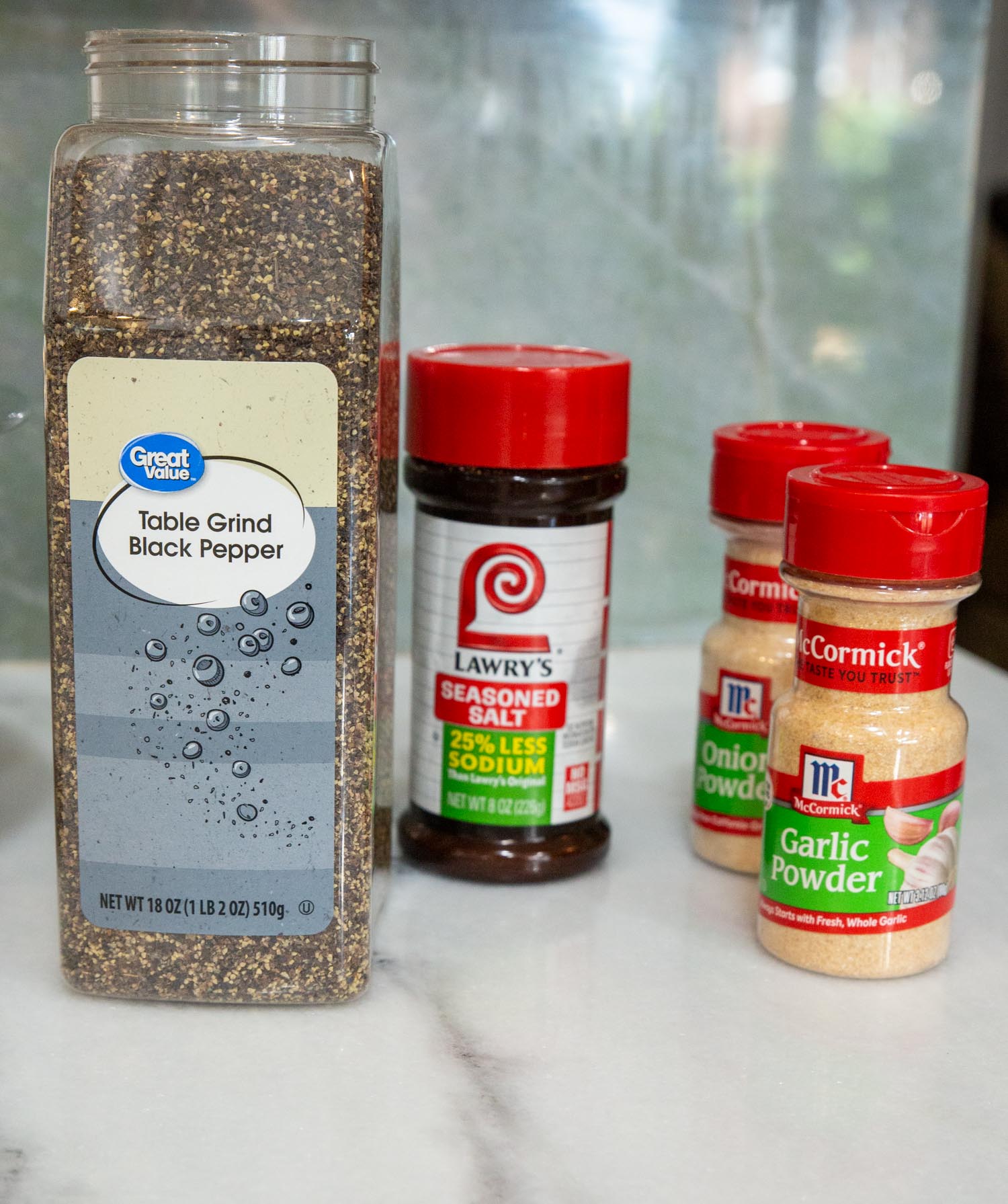 The foundation of any great rub is always salt and pepper. Then additional ingredients should be added to support flavors that enhance the meat the rub is intended for.
The black pepper will become such an important ingredient that brisket aficionados will actually discuss it in terms of size. We will use a standard coarse grind so that when I give you this recipe, you will be able to recreate it reasonably from ingredients at your local supermarket.
So these ingredients actually take the flavor that is already in the beef and turn up the volume. WAY UP. Chefs learn what ingredients do this for other ingredients. In fact, we actually have a book on developing a complementary flavor profile called, The Flavor Bible, which you can check out here.
Tomatoes do it for bacon, brown sugar and honey do it for pork, garlic and onion do it for beef. So, that will be the foundation of this homemade rub. Garlic, Onion, Salt, and Pepper.
You will notice that I don't use kosher salt in this recipe. While I do use kosher salt in my Dalmation Rub (a simple brisket rub recipe to try) and our Aaron Franklin Brisket Recipe, I chose to experiment with Lawry's Seasoning Salt, and throughout the years I have grown to love it for its perfect blend of savory flavor.
It contains just a whisper of sugar, which contributes to browning, without making the final brisket bark taste sweet. Many commercial rubs that use sugar as a primary ingredient are too sweet for beef (which is not enhanced in any way by sweetness) and can easily burn in places, or turn bitter.
Save that pop of sweet for a nice barbecue sauce glaze right before serving.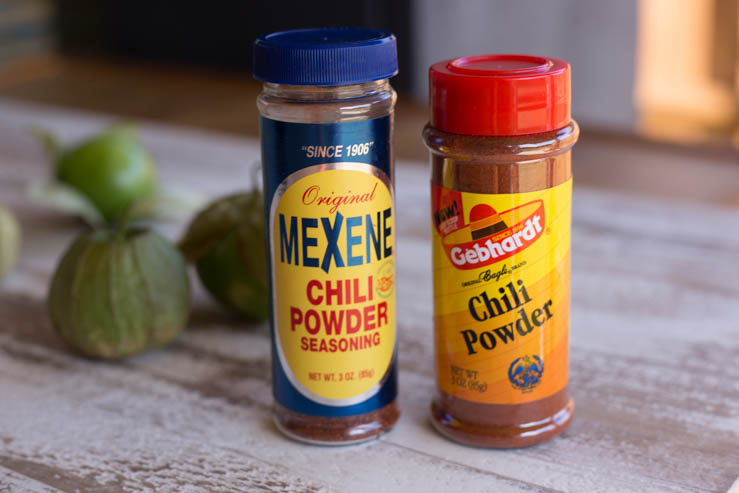 The Gebhardt's chili powder in my recipe is a famous Texas blend of cumin, and red chili pepper, which adds complexity to our rub. (I do not add cayenne pepper because it is included in my brisket mop recipe, so these two recipes work together to achieve our signature flavor.)
Do I Need To Put Mustard on a Brisket Before the Rub?
No, you do not need to rub mustard on a brisket before adding the spice rub. When people use mustard as a binder, or glue, to hold the spices onto the meat they believe they are adding flavor and helping the rub "penetrate the meat".
This could not be further from our goal.
Your rub does not need to penetrate into the meat, the rub's job is to provide flavor and interest to the surface of the meat and flavor the bark.
All chemical reactions needed for bark to form happen in the absence of large quantities of water. Strictly, we only need the water evaporating from the brisket itself.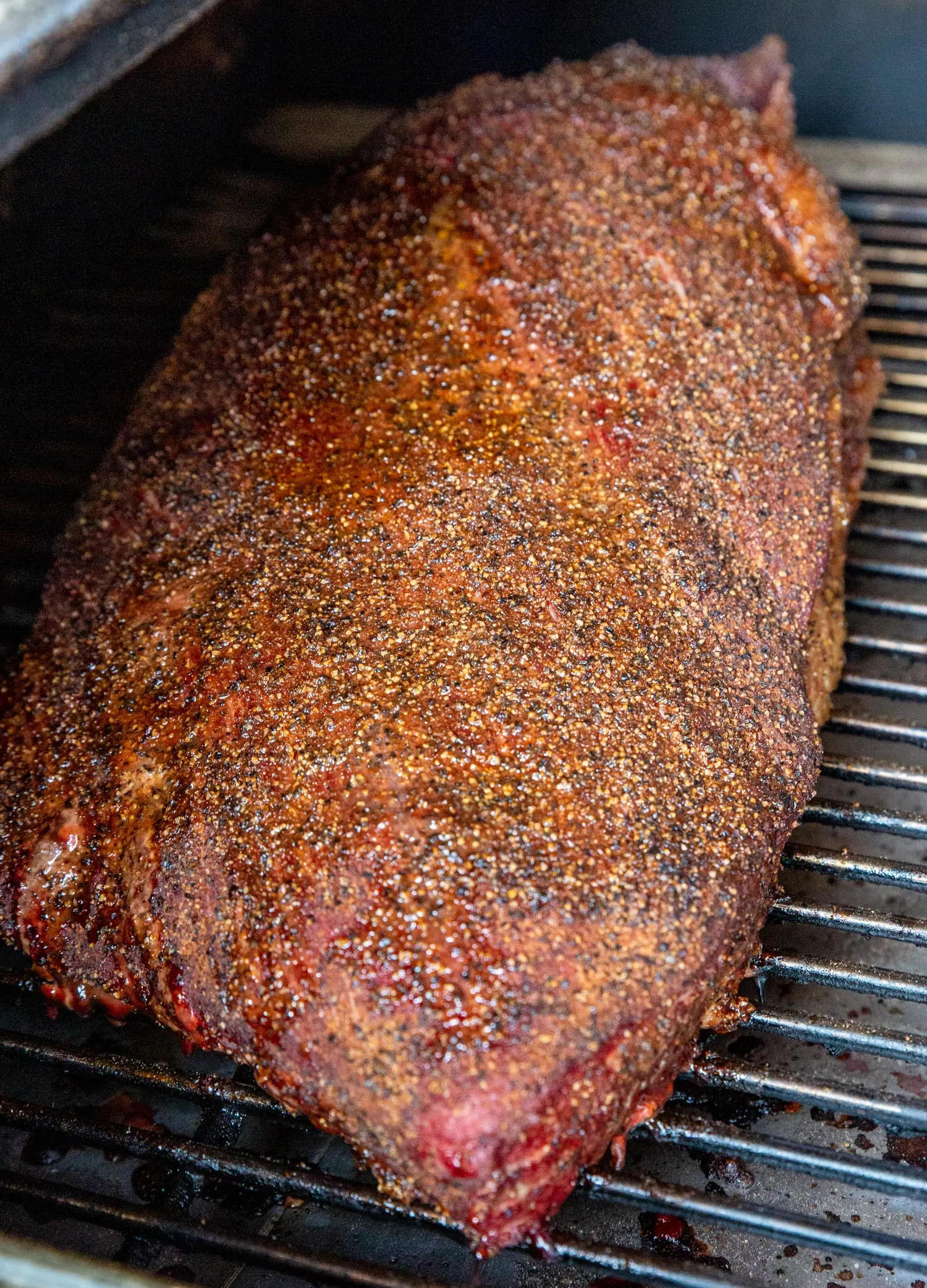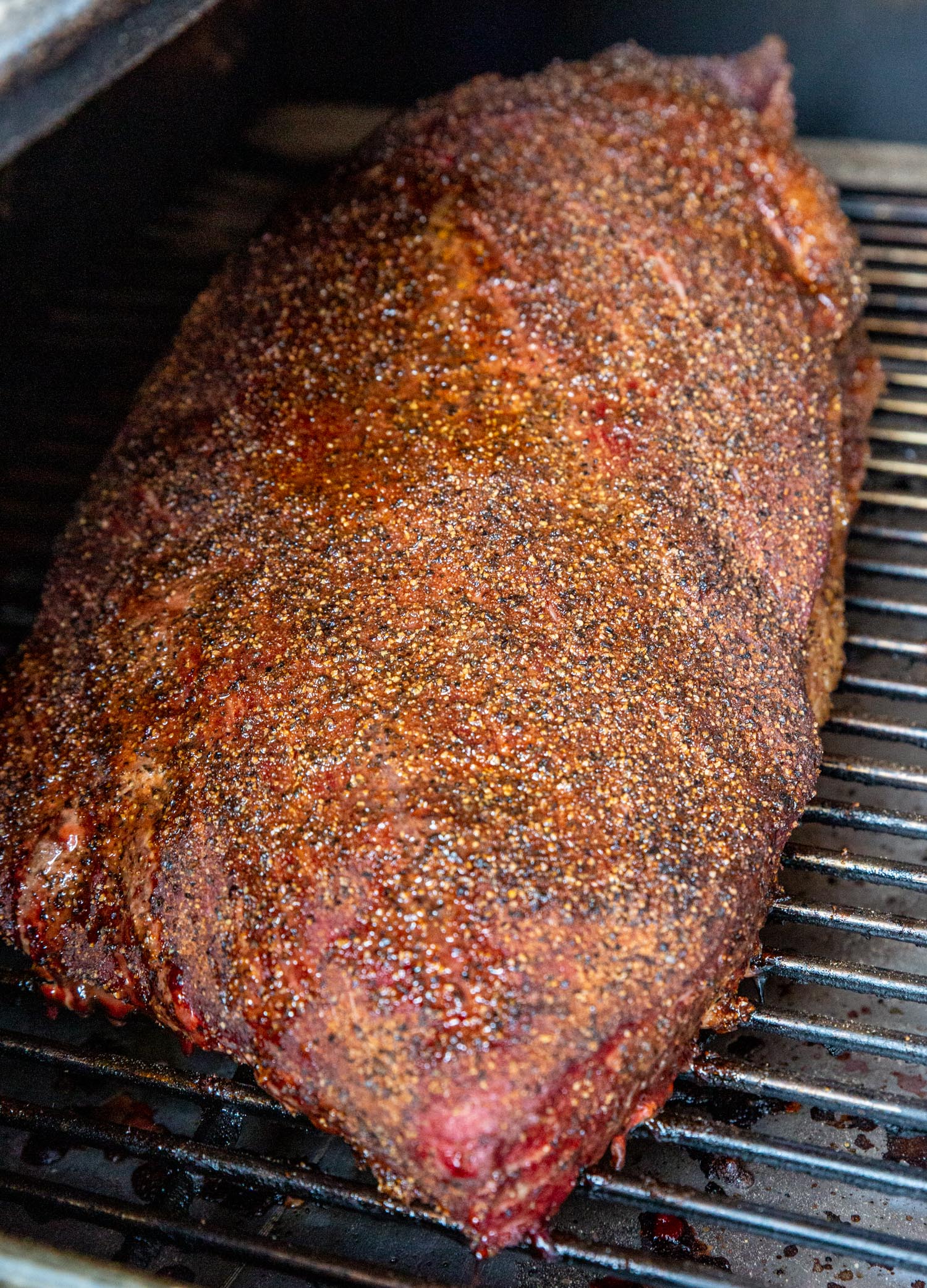 We use a DRY rub for a reason. Notice that all brisket rub recipes avoid any wet ingredients
Liquid yellow mustard contains water that mixes with our dry rub, reconstituting it and creating a sort of "wet rub", which we want to avoid at all costs when creating good bark. (See science of meat chapter in Harold McGee's On Food and Cooking, and Aaron Franklin's BBQ book for more on bark creation and searing science.)
If you feel you must use yellow mustard, I recommend the thinnest coat possible on a brisket dried well with paper towels. Then apply the dry brisket rub.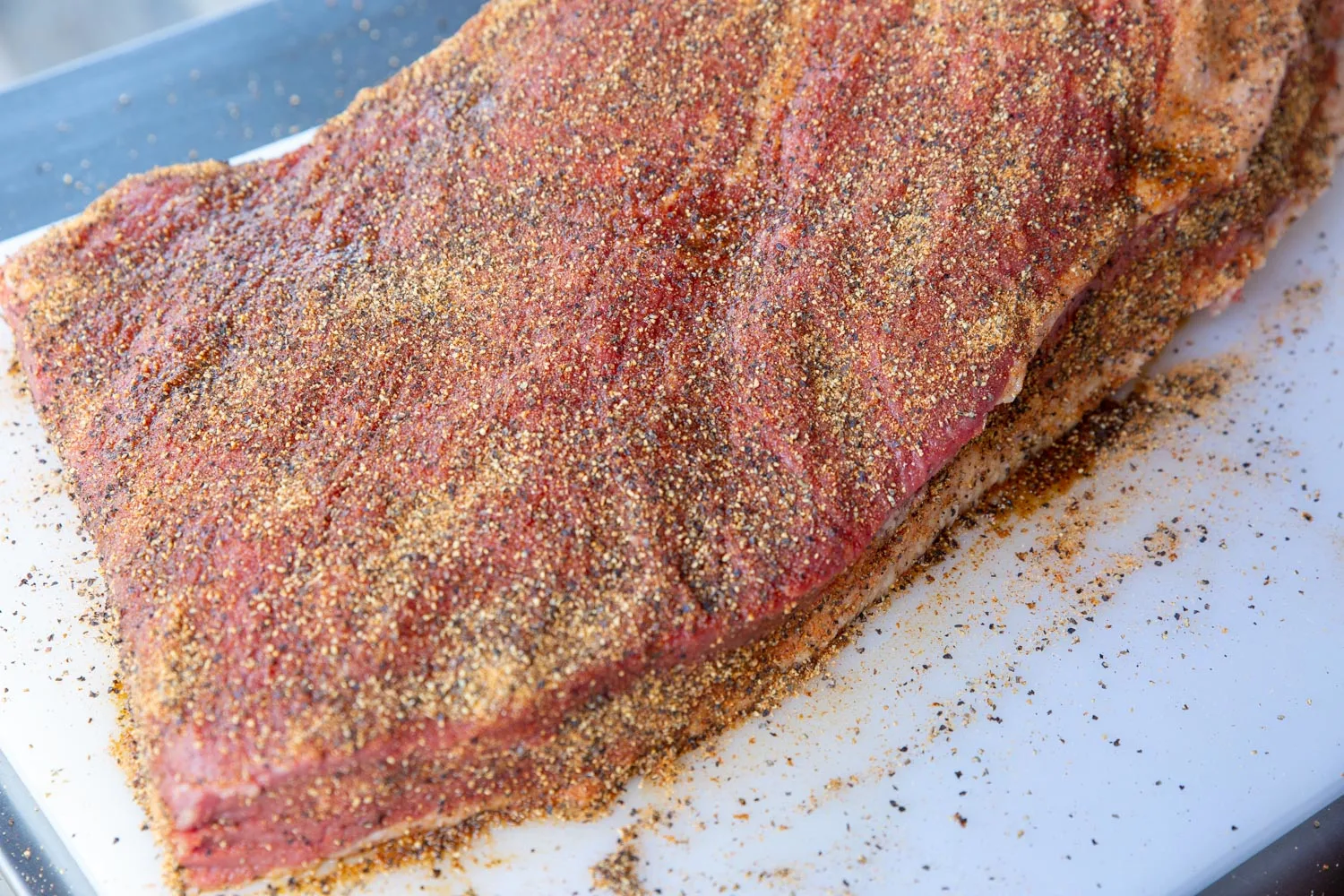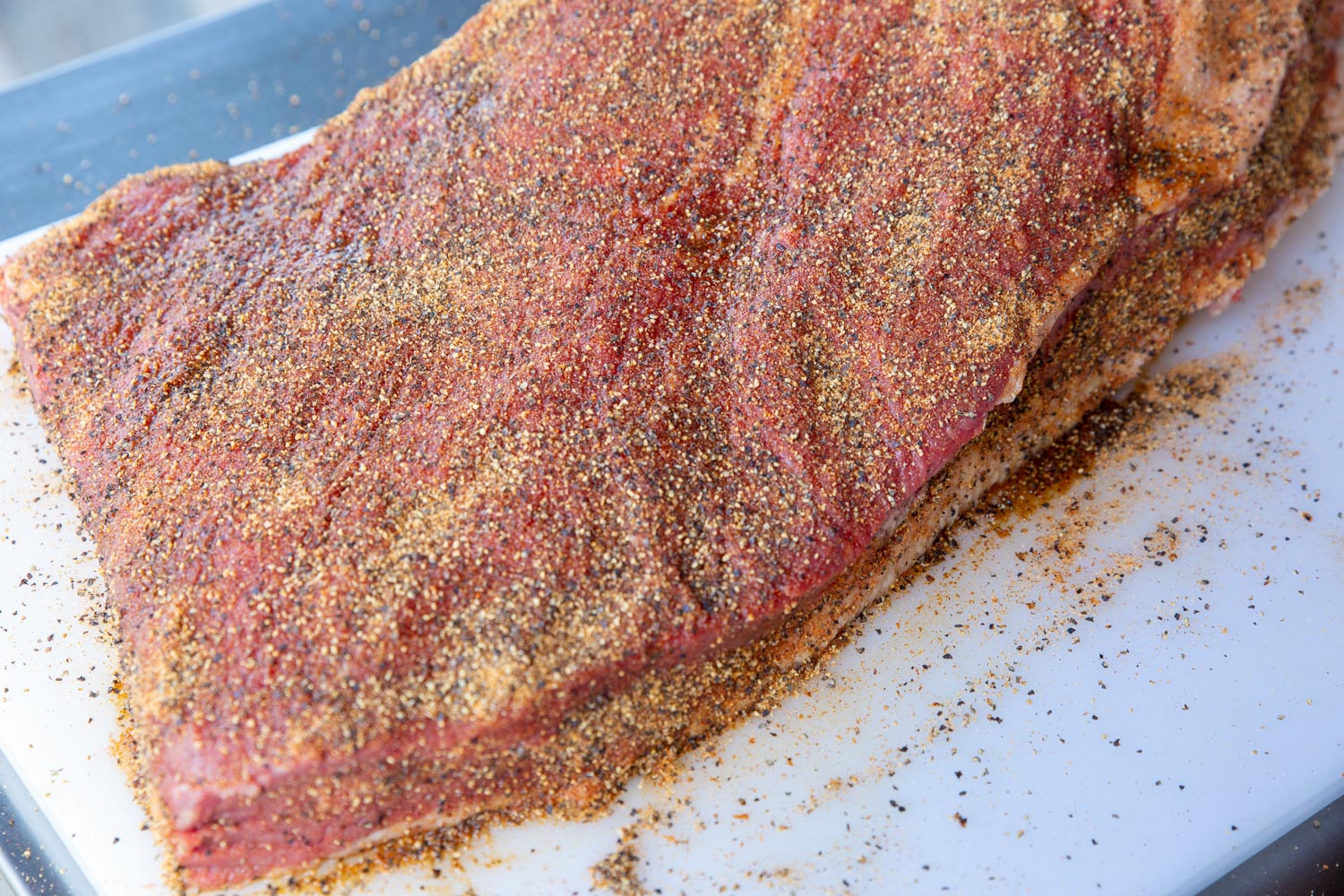 How to Apply Rub To A Brisket Correctly
After trimming the brisket, which many choose to do when the brisket is ice cold, add the beef rub and then allow the meat to come to room temperature.
Depending on the size of the brisket, I would say that anywhere between 1/3 c. to 1/2 c. applied by hand, is enough rub to season the average brisket.
Remember to leave space for the brisket to "breathe" which inherently describes the process of releasing evaporation through the surface of the meat, while also absorbing smoke flavor.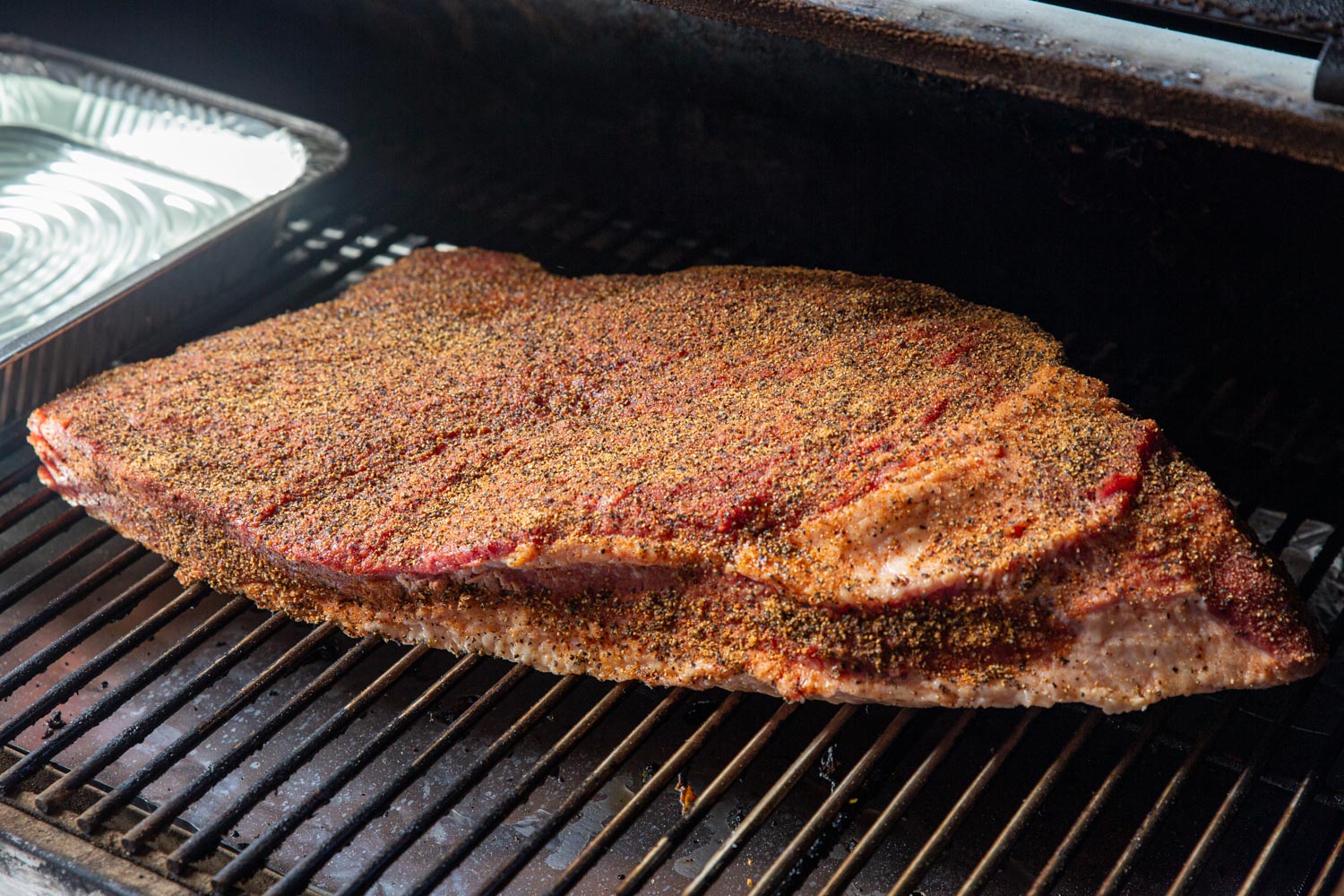 Remember that the perfect rub contributes to creating and flavoring a good bark, but a good bark is the result of a chemical reaction–it's not made up of rub itself.
You should be able to see that beautiful cherry-colored meat between granules of rub for the brisket to cook evenly and develop the most flavor. Too much rub can cause uneven cooking and prevent smoke absorption.
What Other Cuts Of Beef Work With This Rub?
This beef rub is also suitable for beef ribs, and smoking chuck roast. You can even season hamburger meat and steak fajitas with this rub.
Yield:

3
Award Winning Texas Brisket Rub
This award winning brisket rub is a Texas-style brisket rub with beef enhancing flavors like black pepper, onion and garlic powder, plus secret ingredients that amplify the flavors naturally in the beef.
Ingredients
½ c. table grind black pepper
½ c. Lawry's seasoning salt
2 T. garlic powder
2 T. onion powder
1 T. Gebhardt's Chili Powder
½ t. cumin
Instructions
Combine all of the ingredients in a medium bowl and whisk well. Store in an airtight container and shake directly onto the brisket with your hand. Make sure to mix the rub well as you go, to avoid the fine ingredients and the black pepper separating.

This dry rub recipe will make enough for a 15-pound brisket, and still have additional rub for the future. Probably about 3-4 cooks. For best results, use within 2 months.
The best way to coat the brisket is to trim it first, and then place it on a vessel, suck as a cookie sheet, that will collect any rub that falls off. That collected rub can then be used on the sides of the brisket and prevents waste.
This delicious rub can be modified and made your own rub by adding flavors such as dry mustard, red pepper flakes, white pepper, and even monosodium glutamate powder (which is commonly used in world bbq championship rubs for that "one bite barbecue" punch of flavor.)
Nutrition Information:
Yield:
60
Serving Size:
1
Amount Per Serving:
Calories:

5
Total Fat:

0g
Saturated Fat:

0g
Trans Fat:

0g
Unsaturated Fat:

0g
Cholesterol:

0mg
Sodium:

612mg
Carbohydrates:

1g
Fiber:

0g
Sugar:

0g
Protein:

0g
This nutritional information is provided as a courtesy as an estimate only. Consult with a dietician for precise estimates. This website makes no claims that the nutritional values listed are accurate.