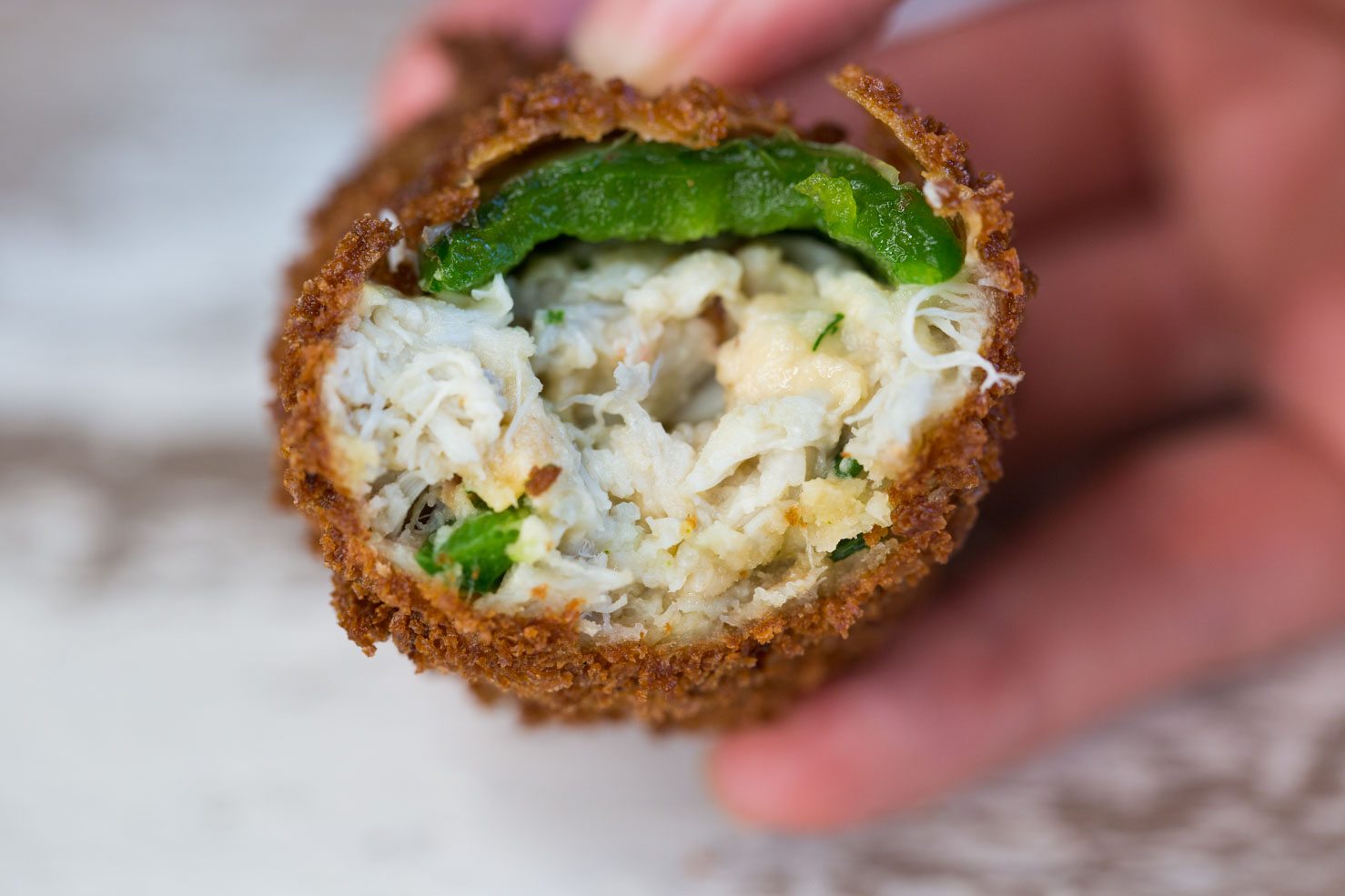 Approaching the Gulf Coast of Texas, the culinary scene shifts dramatically from barbecue and tex-mex, to an area I lovingly refer to as Texiana.
In this region, fire grilled blue crab and plump stone crab claws, red snapper ceviche, and shrimp diablo fill the tables of hungry Texans and tourists, and IT. IS. DELICIOUS!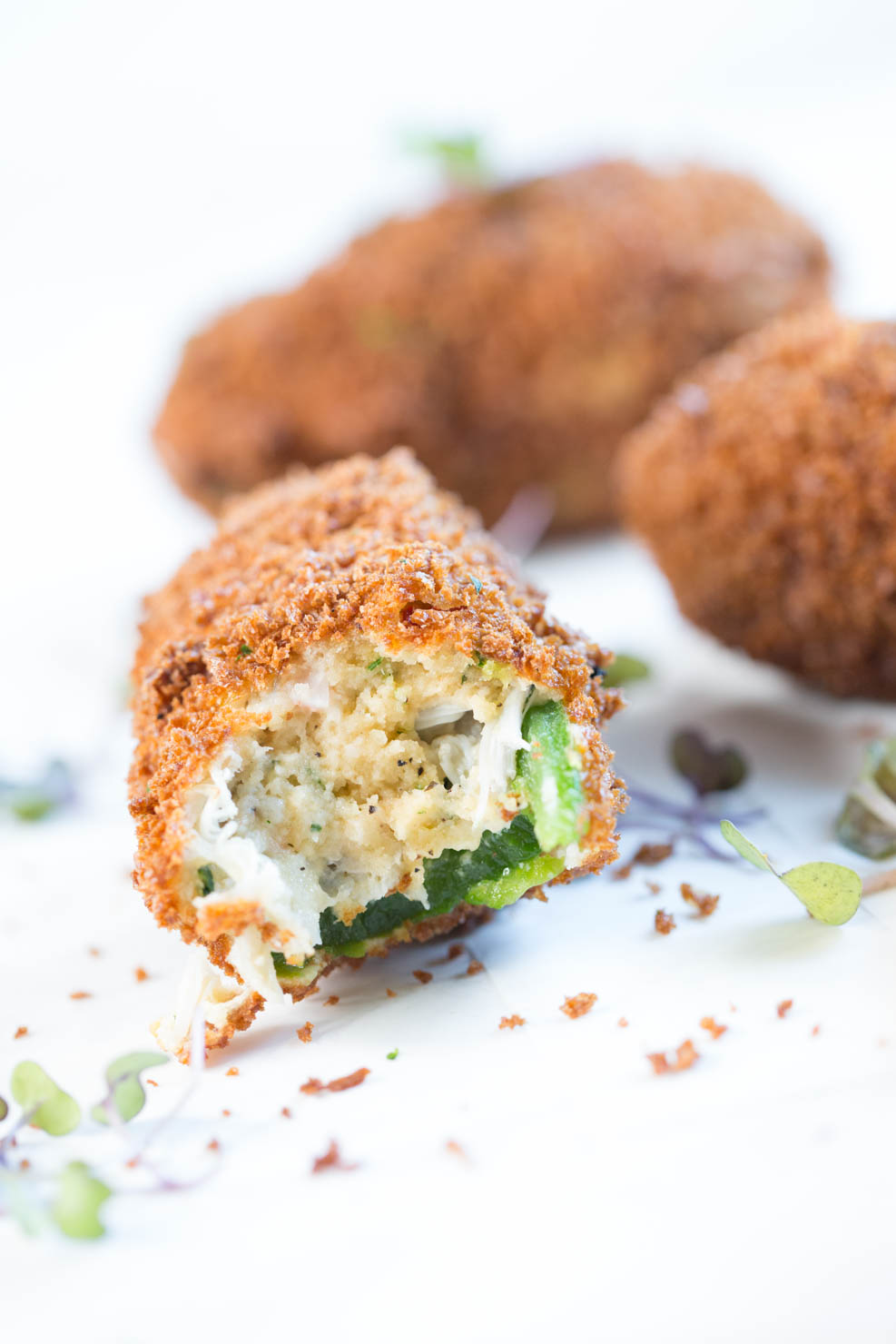 I lived in this region for years and still visit my dad frequently on Galveston Island, where we'll spend the weekend munching bacon wrapped shrimp, and having crab boils on my condo patio.
But despite my love of condo crab boils, one restaurant that always earns our lunch business is T-Bone Tom's, near Kemah boardwalk…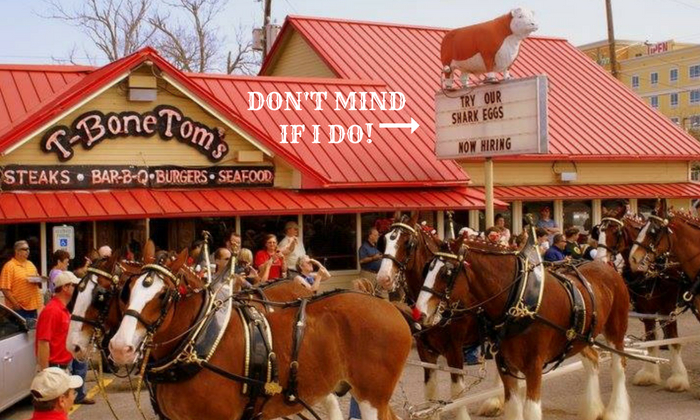 Tucked into a tiny patch of land right next to the marina, you'll find a jolly looking red and yellow cafe featuring all sorts of coastal Texan fare, including the BEST THING ON THE MENU, T-bone Tom's Shark Eggs.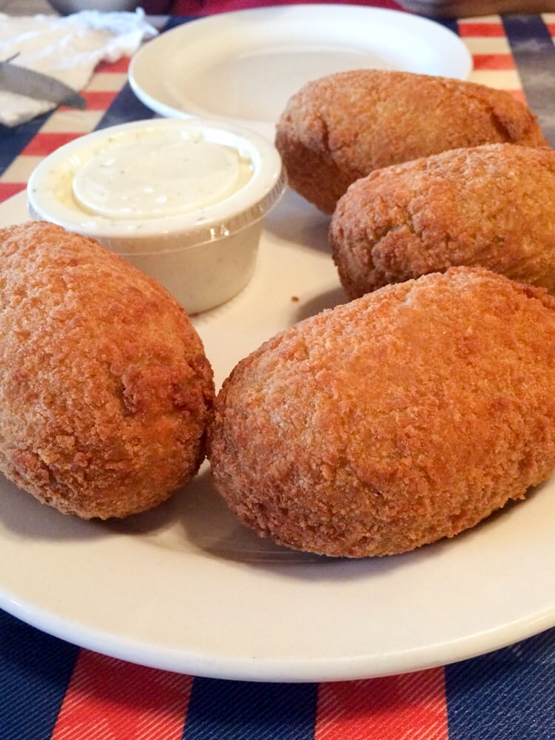 These Shark Eggs are essentially a tasty crab cake (heavy on the crab), stuffed into half a jalapeno, then breaded and deep-fried. They're served with homemade ranch for dippin!
Why are they called Shark Eggs? Well, there is a favorite Texan dish called Armadillo Eggs which are nearly identical, but are filled with barbecue brisket or pulled pork. The dish is presented deep fried or wrapped in bacon. Although Armadillo Eggs are more well known, they are practically available everywhere. Shark Eggs are unique to this region and I couldn't wait to recreate a recipe that I could enjoy up here in Dallas.
So let's get started!
For the crab mixture, I'm mixing up cracker crumbs + cream + and egg as a binder. Then I'm adding fresh crab and imitation crab, along with some seasonings and classic deviled crab ingredients such as pimento and green onion.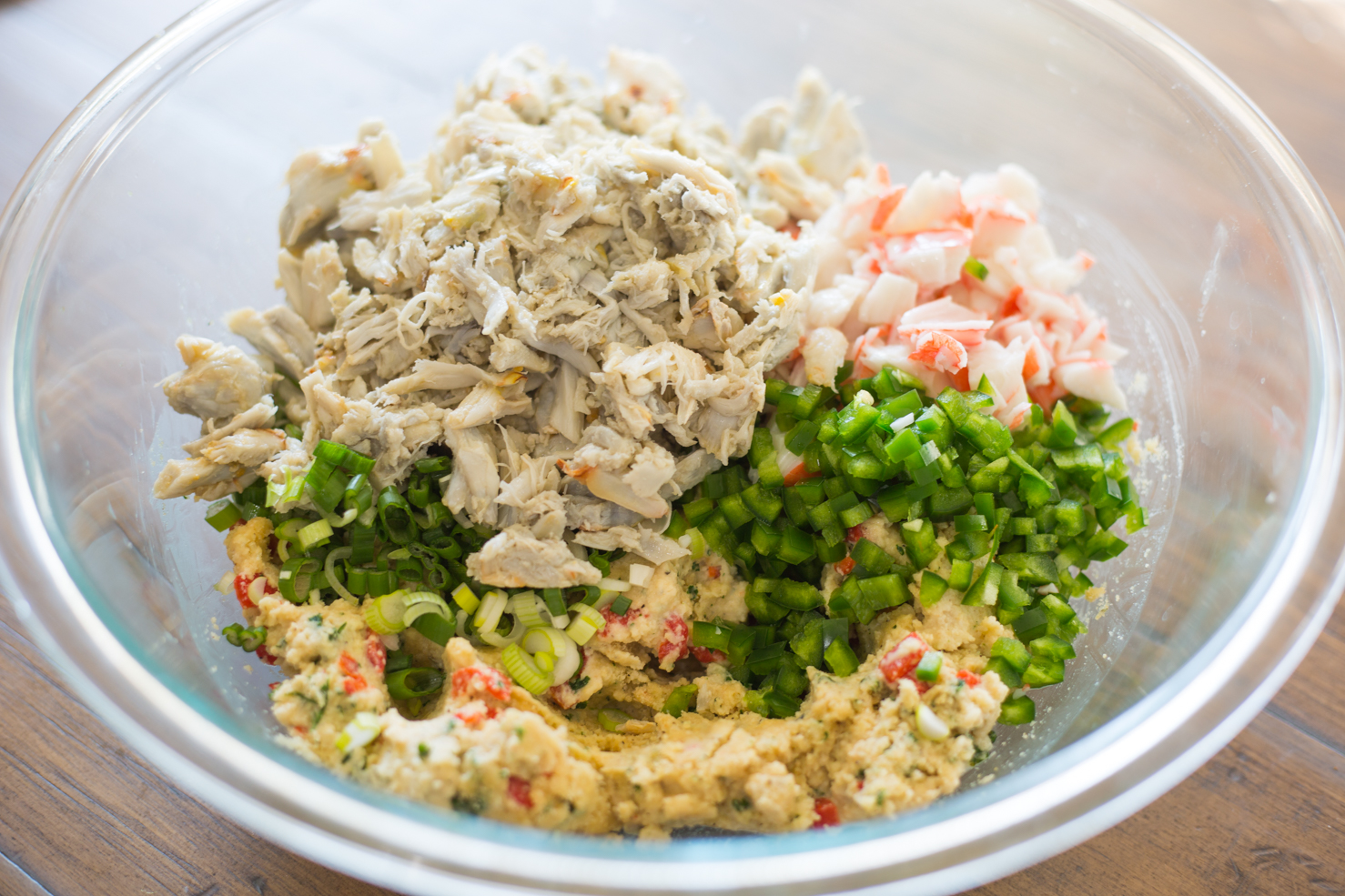 Now we're going to split and scoop out the seeds of a bunch of jalapenos so we can fill them with crab filling for our Shark Eggs…
Scoop about 1/4 c. of filling onto each jalapeno so that it looks like a little egg. Don't be afraid to be generous with the filling because while we prep up the breading station we're going to pop these babies into the freezer. The filling will harden and grab onto the jalapenos.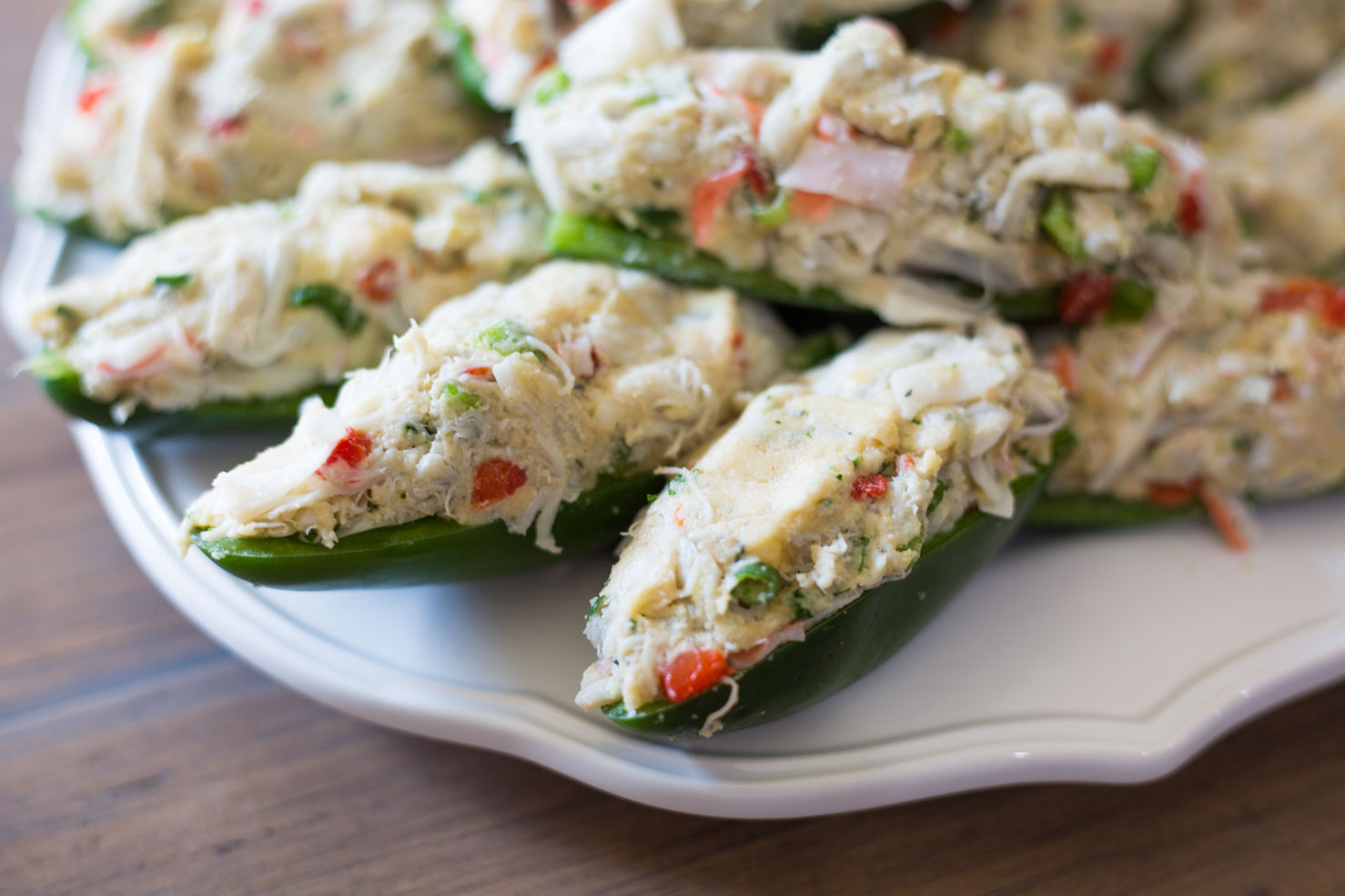 While the filled jalapenos are in the freezer, prepare the breading station. Here we have plain flour, an egg wash, and a plate of panko bread crumbs. I also recommend disposable kitchen gloves for this project because it gets a little messy ahead. They can be found on the grocery aisle with the cleaning supplies.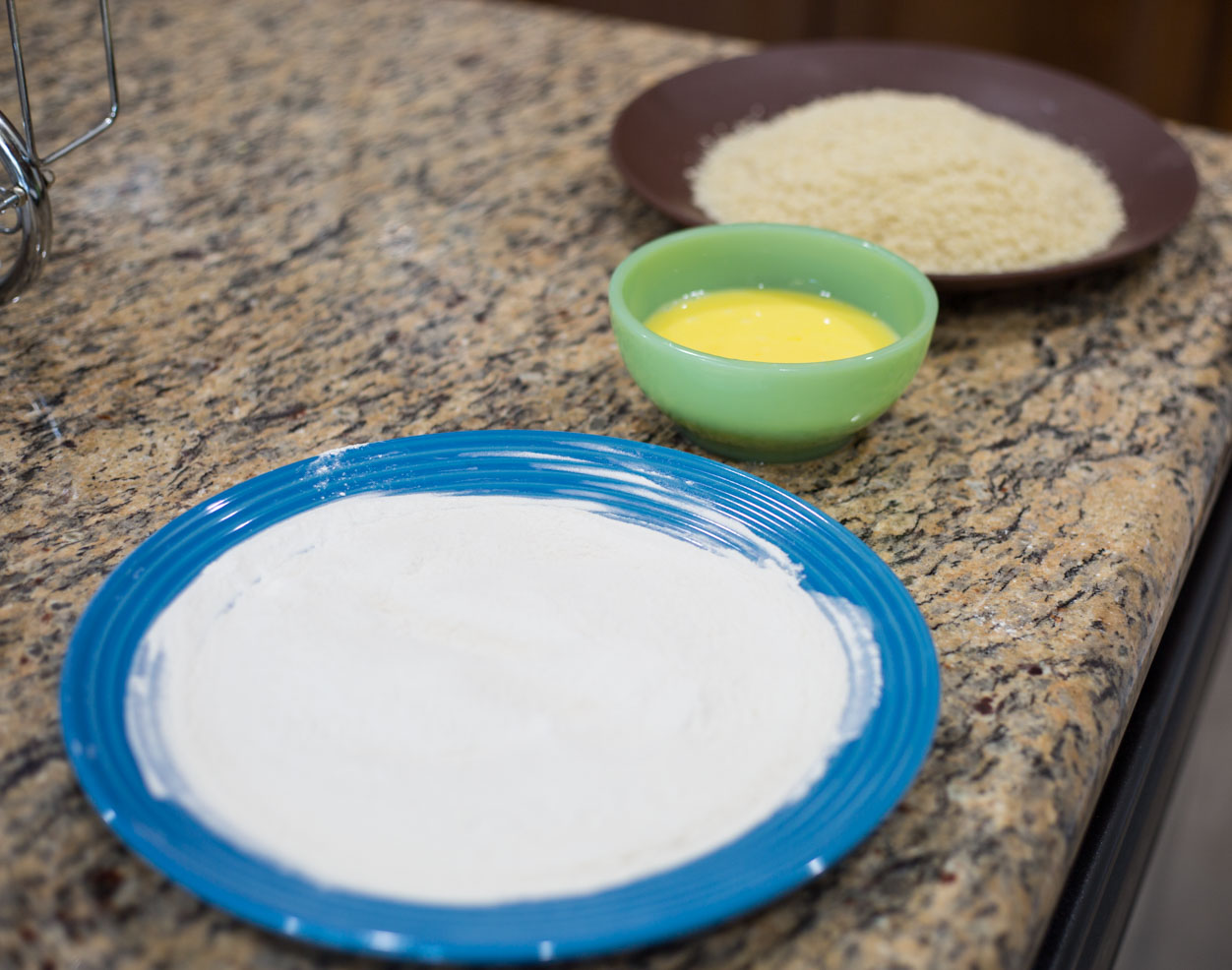 After freezing for 20-30 minutes, remove each shark egg and take it through the breading station as follows… Flour, Egg, Flour, Egg, Panko. The filling side of the egg is easy to get panko breadcrumbs to stick to, but the slick jalapeno side needs that double dip from flour to egg and back again.
Then place onto a plate and place it back into the freezer while you finish the rest of the breading.
Freeze the jalapenos for a full 30 minutes while you clean up and heat the oil. This is also a good time to mix up my horseradish ranch dressing and place it into the refrigerator to thicken up.
NOTE: These frozen shark eggs can be transferred into a freezer bag and kept in this finished state for up to 2 months. This recipe makes quite a lot of shark eggs so you may want to save some for another meal.
I've just brought some FRESH frying oil to about 350 degrees. I fry one shark egg at a time maintaining my oil above 325 degrees. One shark egg takes about 5 minutes. Once you feel comfortable managing the oil between 325-350, you can experiment with frying more than one shark egg at a time. I never fry more than 2-3 at a time because it brings the temperature of the oil down, making the shark eggs greasy. You can use more oil if you like and a bigger pot if you want to speed through the frying time of many shark eggs at once.
Place the shark eggs on a cookie rack so that excess oil can drip away from them, and immediately salt them well with fine ground salt.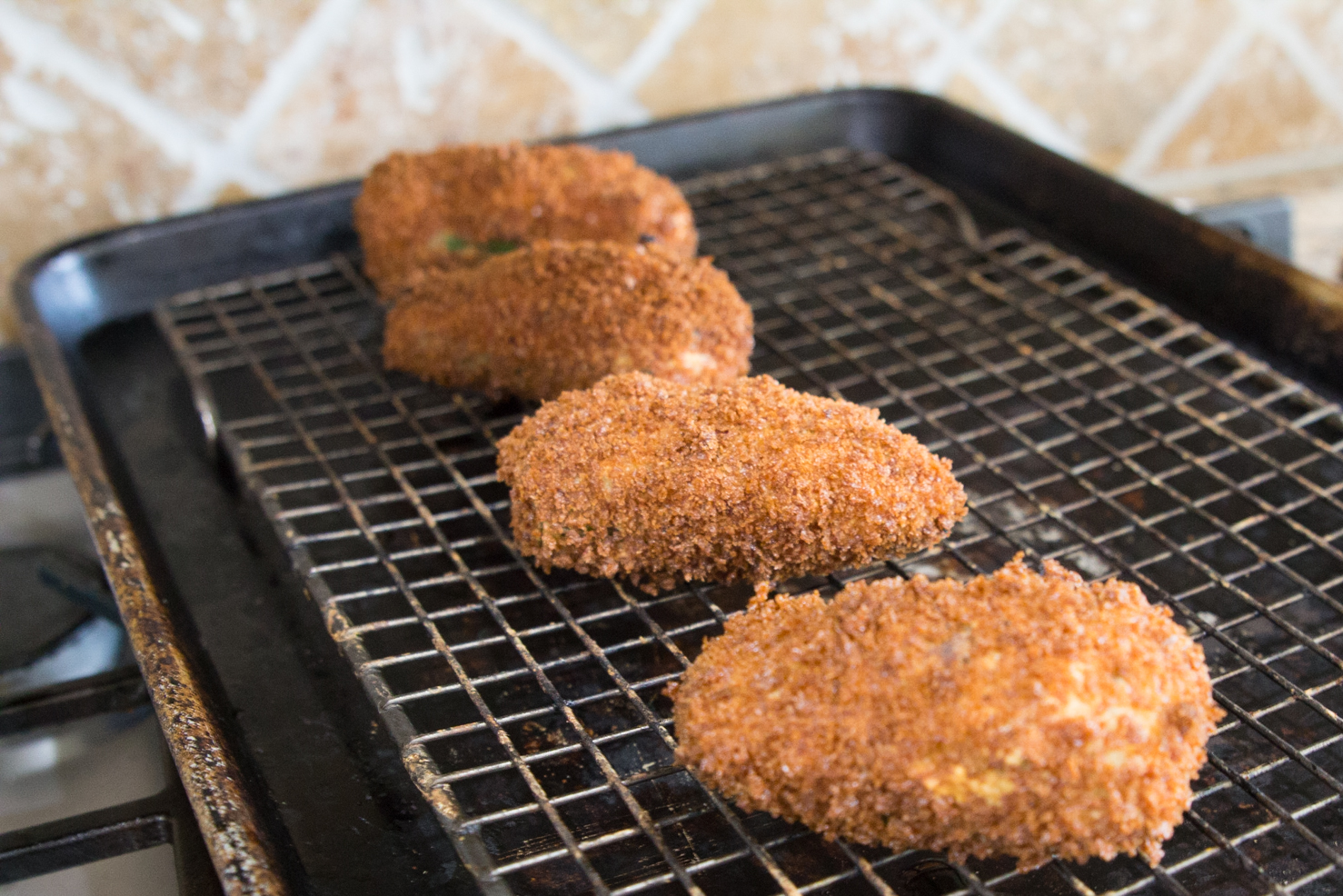 And now serve up with some Horseradish Ranch…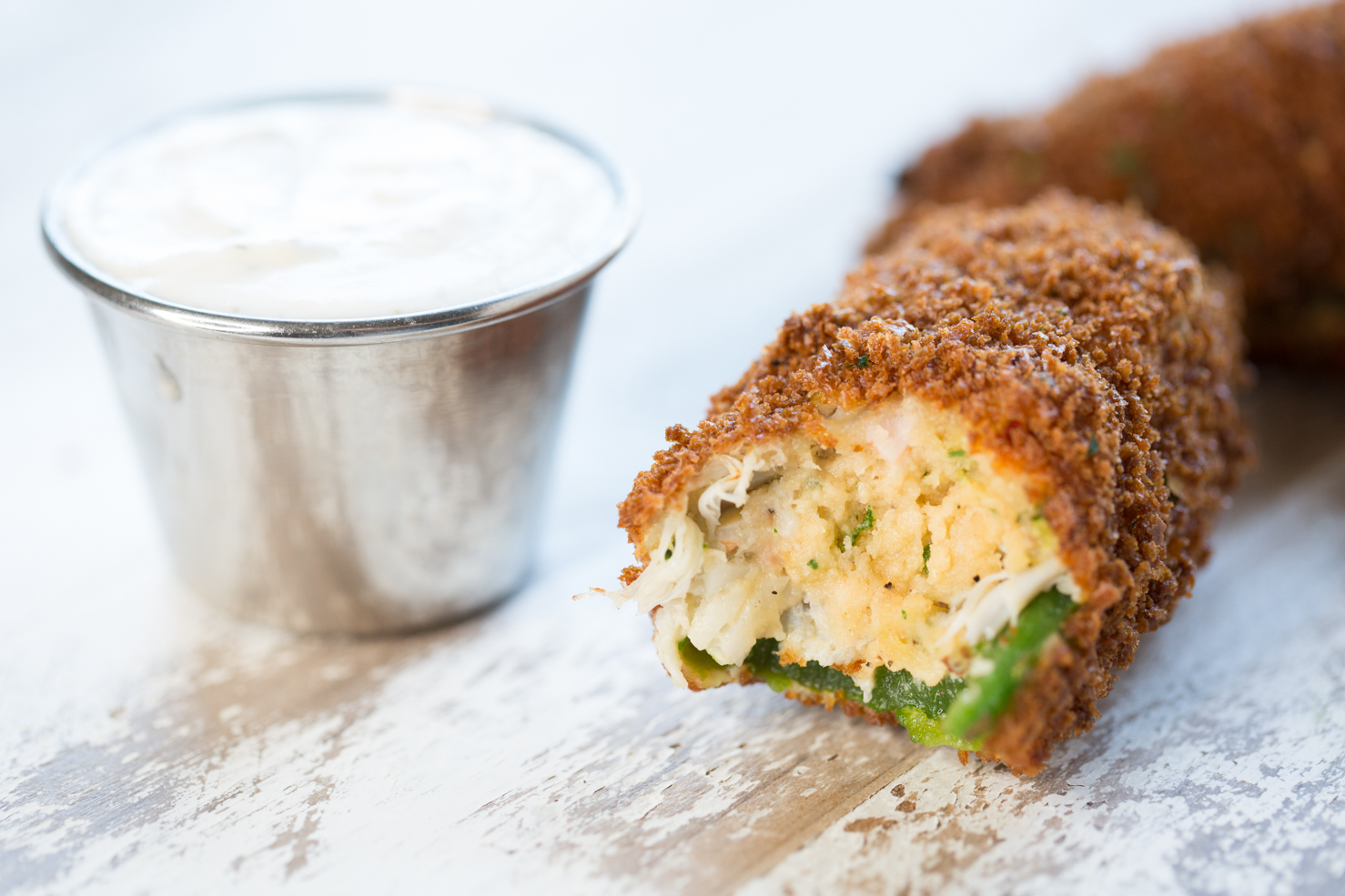 NOM YALL. NOM!!!!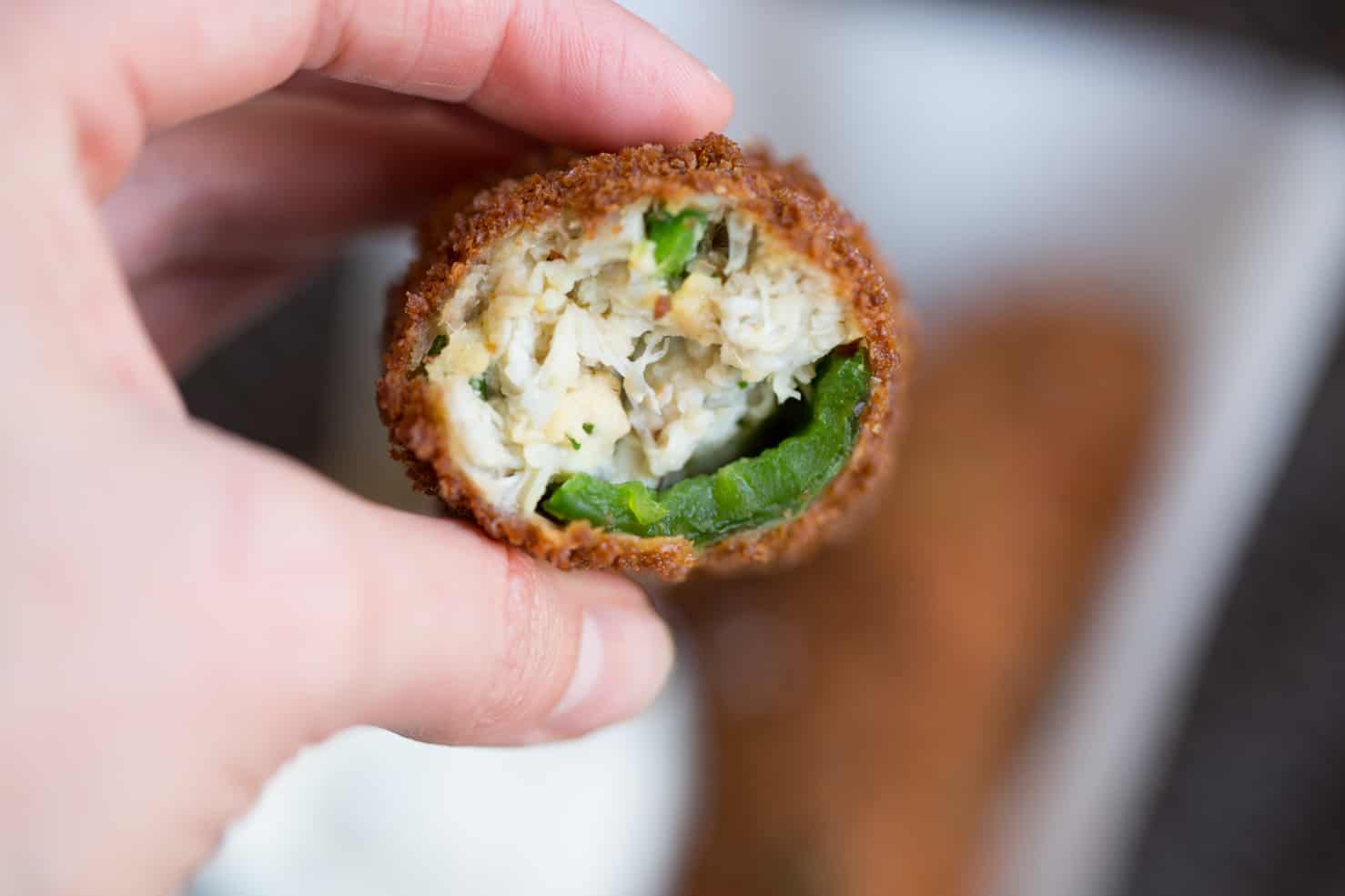 Yield:

16
T Bone Tom's Shark Eggs Copykat Recipe
Inactive Time:
30 minutes
Total Time:
1 hour
15 minutes
These Gulf Coast "shark eggs" are a Texas favorite! These jalapenos are stuffed with deviled crab, rolled in batter and fried to crispy deliciousness. We serve them dunked in kick in the pants ranch for an extra pop of creaminess!
Ingredients
Crab Mixture-
1 pound crab meat, claw meat is fine
½ c. imitation crab, well chopped
2 c. club crackers (This is exactly one sleeve from the box, crushed well)
2 oz. jar pimentos, well drained
¾ c. cream
1 jalapeno, deseeded and de-ribbed, minced
1 T. chopped fresh parsley
1 large egg
1 green onion, white and green parts
½ t. fresh thyme leaves (about 4 sprigs)
½ t. garlic powder
1 t. onion powder
½ t. salt
½ t. pepper
3 lemons, 1 for juicing into the crab mixture, the others for cutting into wedges and serving alongside the shark eggs
6-8 large jalapenos, split and cleaned
Breading Station-
2 c flour
2 eggs, beaten with a little cold water added to thin them out
2 c. Panko Bread Crumbs
1 quart oil for frying (peanut, canola, safflower, etc.)
Kick in the Pants Ranch:
1 c. milk
1c. mayonnaise
1 packet ranch dressing mix (Hidden Valley Preferred)
2 T. Horseradish (or more depending on your palate)
1 t. coarse ground black pepper
Pinch Cayenne Pepper
Instructions
For the crab mixture: In a large bowl combine the 2 c. cracker crumbs and cream, 1 egg, all of the seasonings and herbs, pimentos, and the juice of 1 small lemon.
On a cutting board with a knife cut the jalapeno into small strips and then mince it finely. Slice the green onion (white and green parts) finely and add both vegetables into the bowl. Mix and toss this well.
Before adding the crab meat, toss it into another bowl and pick over it finely looking for any bits of shell. When you are sure it is clean you may squeeze out any excess water into the sink and add it to the bowl of cracker mixture.
Add the chopped imitation crab. Using your hands mix in the crab meat. At this point, I like to freeze the mixture for about a half-hour or chill for several hours or overnight. This is not necessary but makes it much easier to handle and stuff the jalapenos.
Gather the jalapenos and the crab, using a spoon scoop a heaping ¼ c. of crab into the jalapeno and mold it well. It should look like a giant egg. Don't be afraid to really stuff a tall tower of crab mixture in there! Reserve and repeat with the rest of the jalapenos. Freeze for 15 minutes while you put together the breading station.
For the breading station: you will need 2 large plates and a bowl for the egg wash. Pour the flour onto a plate, the panko bread crumbs onto another plate, and crack the 2 eggs into the bowl. Whish in about ¼ c. of water to thin out the eggs and create an egg wash.
When the jalapenos and crab mixture are firm from being chilled in the freezer, take one at a time and dip the jalapeno side into the egg mixture and then into the flour on all sides (including the crab side). This is necessary to give the flour something to stick to besides the slick jalapeno skin. The flour will adhere to the crab mixture easily but the jalapeno side takes that extra step.
From the flour plate, you will dip the entire egg back into the egg wash, and then into the panko bread crumbs. Coat it well and apply gentle pressure to make sure the breading is tight. Place back on the plate and repeat with all of the jalapenos.
Freeze the jalapenos for a full 30 minutes while you heat the oil.
For the cooking- Heat the full quart of oil in a medium saucepan at medium-high heat. Using a thermometer bring the oil to around 340-350 degrees. Place a cooling rack down on a cookie sheet to collect your cooked shark eggs or a paper towel-lined plate works just as well.
Pro Tip**I like to cut my lemons into wedges and prepare a bowl of Kick in the Pants Ranch before I start to fry so they are ready to enjoy as soon as they are golden brown!
One at a time take a shark egg out and gently place it into the oil. Fry them making sure to maintain heat above 325 degrees. One egg takes about 5 minutes and should come to a beautiful golden brown. Once you think you've got a handle on frying one at a time you can add one more to the hot oil. I never fry over two at a time because they cool down the temperature of the oil making the shark egg greasy.
Finish off the remaining shark eggs and serve hot with lots of freshly squeezed lemon and ranch dressing.
Nutrition Information:
Yield:
16
Serving Size:
1
Amount Per Serving:
Calories:

975
Total Fat:

80g
Saturated Fat:

10g
Trans Fat:

1g
Unsaturated Fat:

67g
Cholesterol:

117mg
Sodium:

899mg
Carbohydrates:

47g
Fiber:

3g
Sugar:

5g
Protein:

18g
This nutritional information is provided as a courtesy as an estimate only. Consult with a dietician for precise estimates.