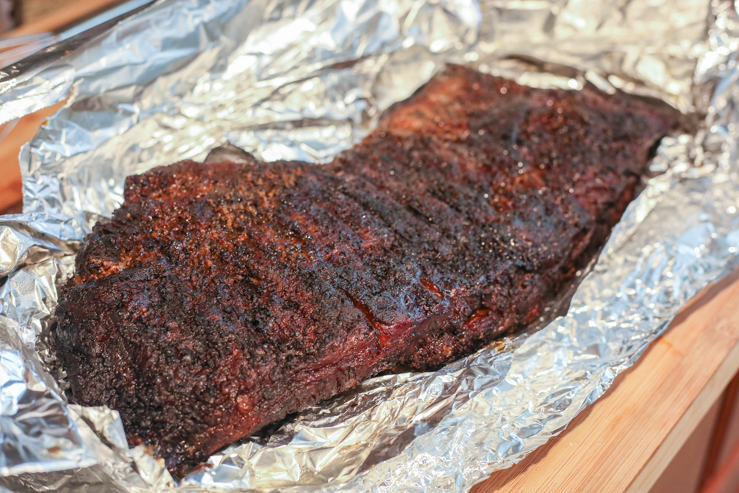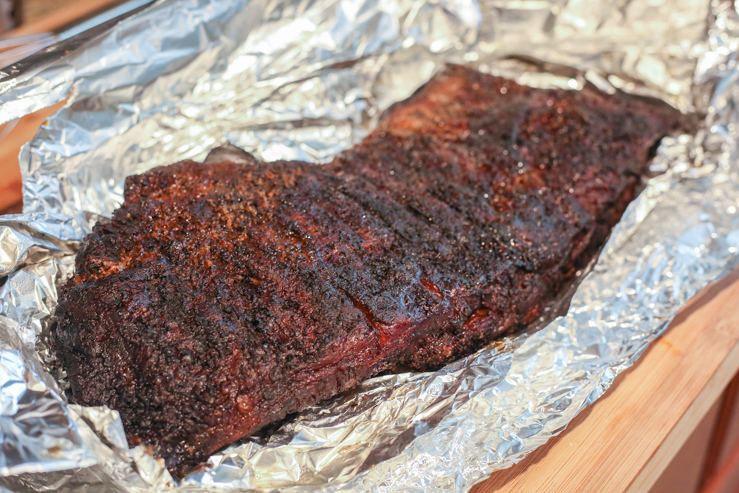 Texas, along with the rest of the world, has pretty much agreed that the first name in barbecue brisket is the humble and meat-obsessed Austinite, Aaron Franklin…
Look at these two, just standin there like the king and queen of barbecue—
Which they totally are… 🙂

Aaron, a native Texan opened a small barbecue trailer on the side of I-35 in 2009, and the rest as they say, is history. 8 years later, Franklin Barbecue (now a brick and mortar restaurant), has a line around the building daily, starting at 8 am, and even once compelled a sitting US President to stop his motorcade for a taste of their critically acclaimed, ridiculously delicious barbecue.
So naturally, I knew us Urban Cowgirls had to try out his recipe!
As Fall descends upon us here in the Lonestar state, and barbecue season begins, I'll be posting guides to different types and styles of barbecue, starting with Franklin's brisket. (I feel like this will be the best way to teach, categorize, and eventually search through the barbecue recipes on this website.)
So, let's get started with exploring Aaron Franklin's Brisket Recipe…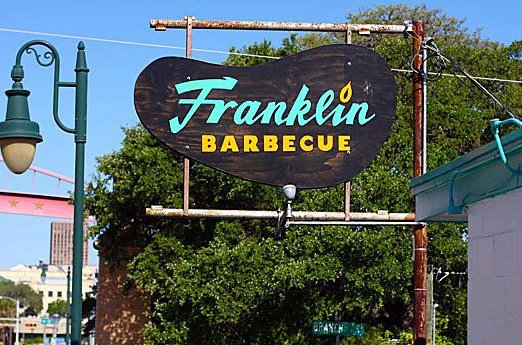 First things first, barbecue is not in its nature a recipe, but we will refer to his technique as a recipe just to keep things tidy and easy to understand. So, let's make that…
Barbecue Pro Tip #1
Barbecue is not really about a recipe. The secret to cooking great barbecue is learning the proven techniques for each cut of meat—how long to cook it per pound, what wood pairs well with the flavor profiles in the meat and sauce, and experimenting with your own equipment until things start clicking.
(You'll know you're on the right track when your friends start nominating you to bring the barbecue to every party and potluck.)
Now, Mr. Franklin has written a fabulous book which you should all go buy right now!!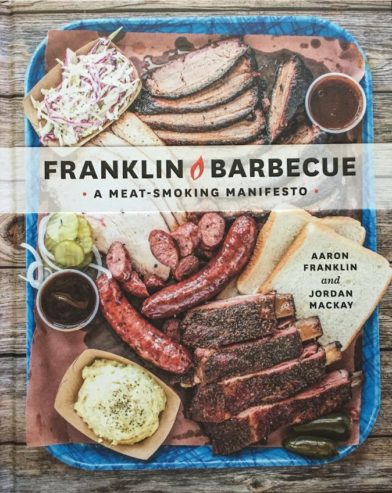 Here is the link to his book on amazon.
I picked this up while I was doing a book signing of my own cookbook at Blue Willow Book Shop in Houston, and like good barbecue, I've been slowly devouring it ever since.
In addition to hearing Franklin's endearing and humble, yet fabulously entertaining tale from backyard tinkerer to the most famous pitmaster in America, you'll learn the fundamentals of Texas style brisket.
And yall, he really puts the fun in fundamentals. I tell you, I could not put the book down. Who describes a cookbook as a page turner? (Me I guess.)
I highly recommend picking up a copy!
But the burning question everyone asks is this:
What makes Franklin's brisket so different from everyone else?

Texas is the brisket state, after all.
To answer this question, let's begin by exploring the main choices pitmasters make regarding their recipe.
Brisket + Rub + Wood Smoke + Time/Technique
Franklin's Choices Are:
Angus Prime Brisket (wet aged) + Salt and Pepper Rub+ Post Oak + 1.25 hours per pound plus butcher paper wrap.
Let's start with the first choice, his Black Angus Prime brisket which he's been preaching about since day one!
---
Black Angus Prime Brisket:
What is Angus?
Angus is a breed of cattle (they are enormous, like small dinosaurs), which are very common in America. Angus is known for its intensely beefy flavor, consistency, and reliability among chefs and pitmasters. Certified angus has at least 51% verified angus lineage, and Franklin seems to seek out Certified Angus because of the rigorous standards the American Angus Association requires on Angus labeled products.
What does Prime Beef Mean?
Prime beef is in the top 2% of all beef graded in the United States. Certified, expert inspectors score the beef on marbling, juiciness, flavor, and tenderness. Prime beef is usually purchased by restaurants before it makes its way to grocery stores, because the supply is so low, and the demand is so high.
To start this adventure off, we're going to hunt our own Angus Prime Brisket down!
Lucky, for us it's not that hard to special order from Creekstone Farms…
Important Note: Franklin "wet ages" his brisket which means he buys it a week or so before he needs it, and it continues to intensify in flavor within the cryovac wrapper in his walk-in refrigerator.
This won't be the step that makes or breaks your brisket though. If you can sit on it a couple of days in a garage refrigerator or something, go ahead and do it. If you can't, proceed boldly to step two.
The Rub: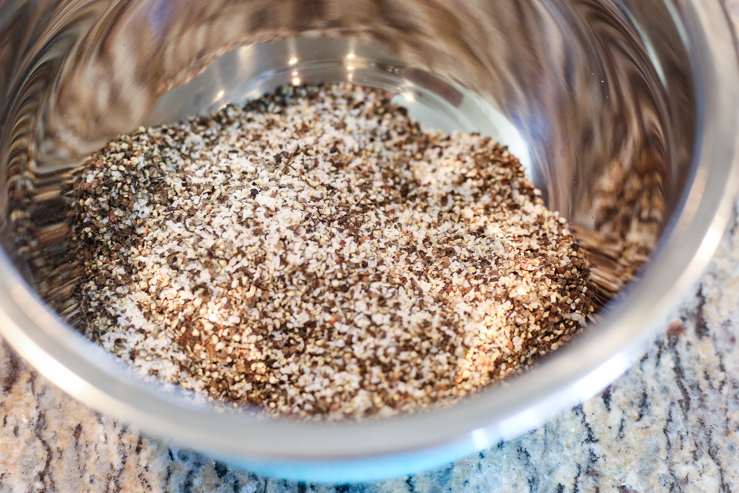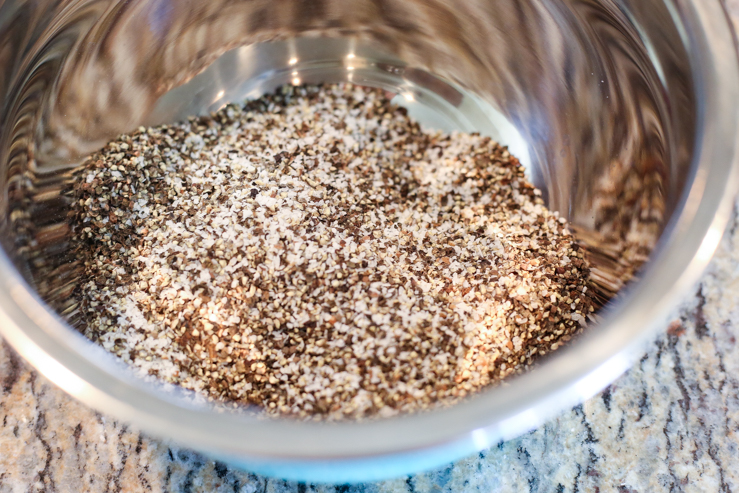 Franklin reaches for a classic rub of kosher salt and good quality coarse black pepper—which Texans refer to colloquially as a dalmatian rub.
This classic rub is celebrated in Texas barbecue for its ability to enhance the flavor of high quality beef, without contributing additional flavors which might mask the perfect combination of beef and smoke.
And that's exactly what we want when we're spending $120 on a PRIME brisket!
Simplicity is a sign of perfection they say!
The Wood: Post Oak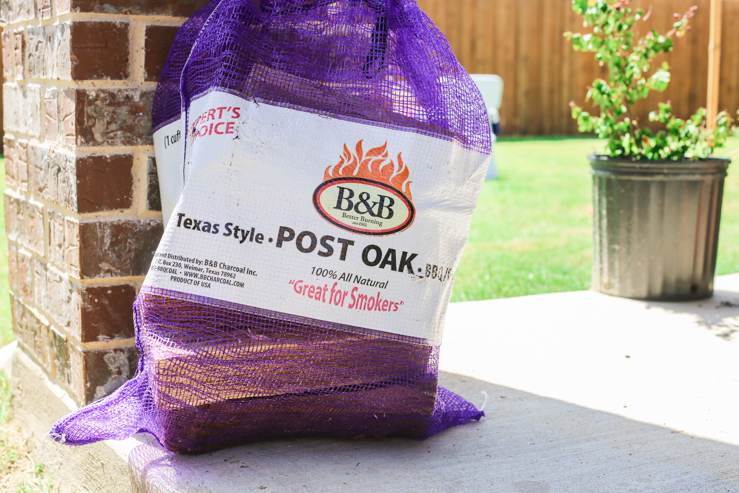 I grew up on a street called Post Oak, so it won't surprise you how familiar I am with the fragrance of this wood—and probably you are too. Think bonfires, summer camp, and the intense, masculine, wood smoke you encounter walking around a bonafide, Texas barbecue cookoff. That smell… it's oak.
I promise, I have done all the experimenting for you! I have tinkered with every wood I could get my hands on and friends, fruit woods ARE NOT OUR JAM.
I don't believe peach wood belongs with brisket— THERE I SAID IT.
I say this because in so many styles of American barbecue, peach and applewood are the darlings of the pit master.
I just think oak belongs with beef!!
Oak is beef's true love— But I am willing to admit it's a nostalgic aroma for any Texan, and we're emotional people, who cook with our heart. 🙂
Franklin chooses Post Oak, a wood readily available in the Texas hill country, so yay for an easy ingredient! You can pick this up at any barbecue specialty shop, but usually it's right in front of the grocery store this time of year.
Barbecue Smoker:
Yes friends, you will need a barbecue smoker!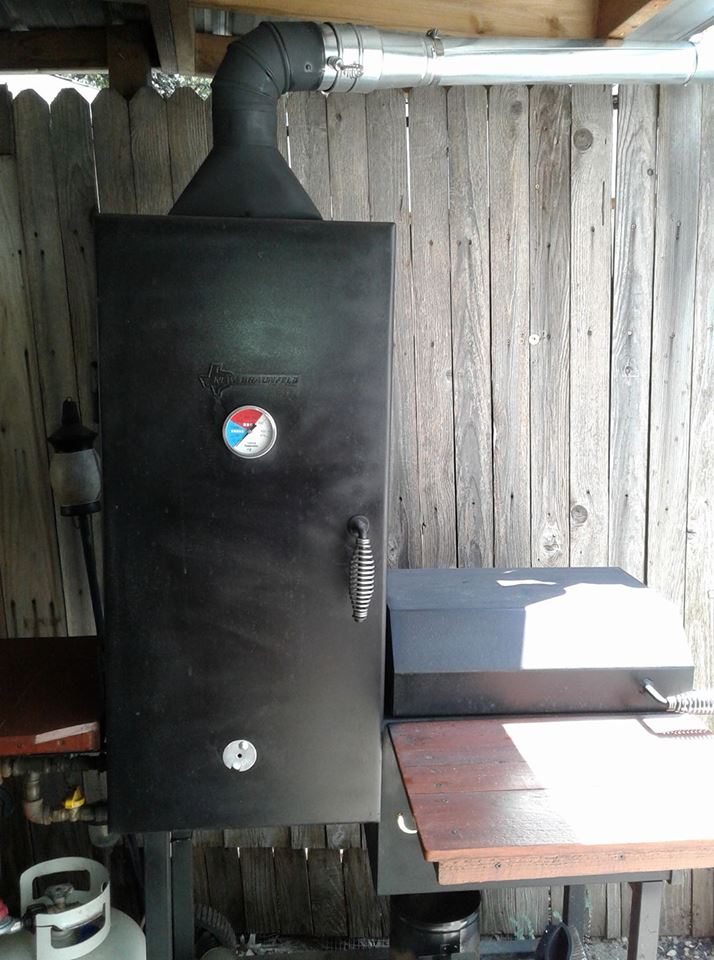 I have a Masterbuilt electric smoker at home in Dallas, where I'm on mom patrol most days, and I freakin love it because it has a timer!
—If I tell it to maintain a temperature until 4:30 am, and then program it to shut off and cool until 6 am, I have perfect brisket for breakfast!
(I'm still arguing with a couple, cocky canoes who think this is cheating, but the mom card trumps all.)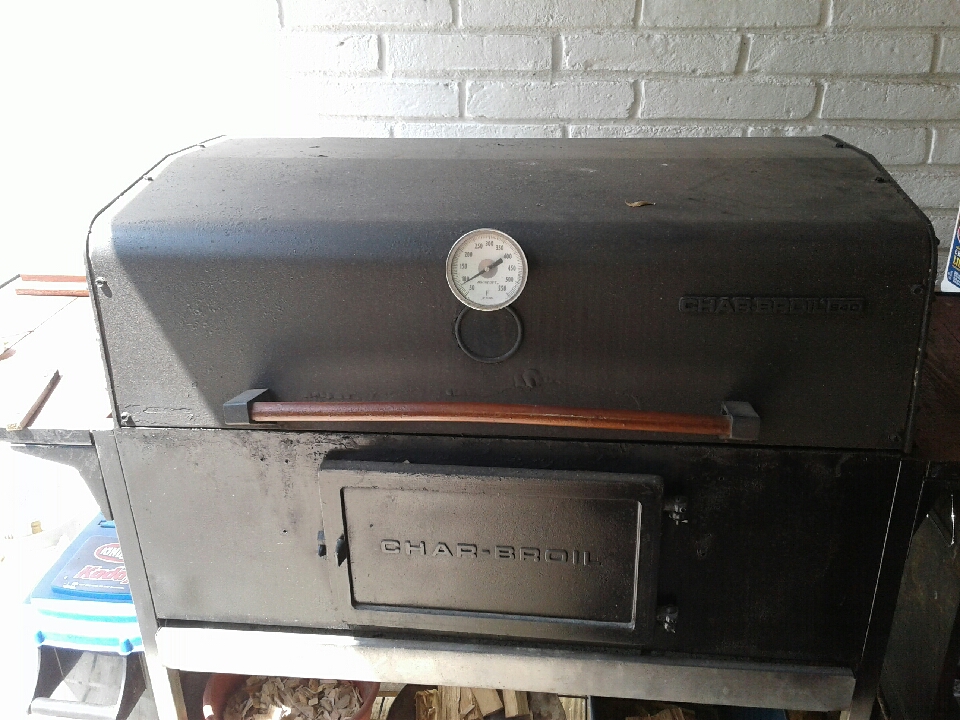 I also have two heirloom, custom smokers at my grandfather's house, and a little charbroiler smoker at my Dad's house in Galveston. I grew up using all of these styles, and you'll be fine using whatever you've got.
Franklin, our barbecue savior, had to learn on humble beginnings, and look where he is now. 🙂
Butcher Paper:
We're going to wrap the brisket after a 4-hour smoke. Here is a link to the butcher paper I bought. They even sent me a little eBook on brisket after my purchase, and my brisket looked SUPER LEGIT!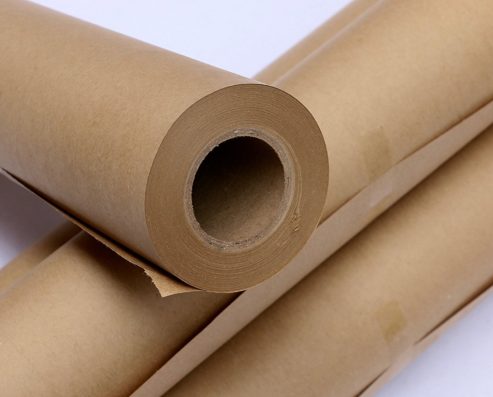 Now that we have our ingredients and tools, let's press on to STEP 2…