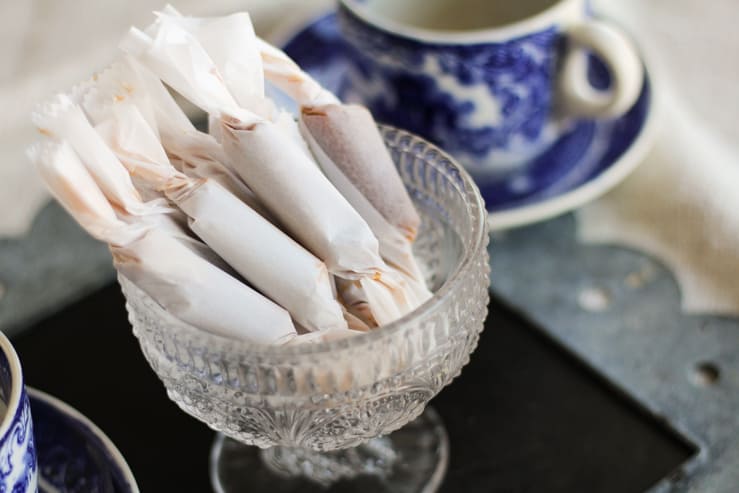 It's a brisk, November day in Dallas. I am headed north on I-35 during Friday rush hour, when out of nowhere a little voice beckons to me…
I examine my surroundings, my mind emerging from the banter of a good podcast, and take a sip of my pumpkin spice latte. Suddenly, I know just where I am—I'm approaching Houston Street.
My heart beats faster, my brain releasing a flood of chewy gooey memories, as the urgent voice in my head gets louder.
They're right here! They're less than a football field away! It pleads.
I have about 30 seconds to make a choice. I smirk, half scolding myself, and half repressing a squeal of delight, as I flick on my turn signal and move into the right lane.
My heart flip-flops as I exit on Commerce Street and descend upon the most famous block in Dallas— Dealey Plaza. The spot where JFK was assassinated on November 22, 1963.
The School Book Depository stands towering above me, tourists pouring in and out of its museum doors, and I walk the 100 feet of sidewalk to the gift shop on the corner.
There's no going back now. I see the candy display on the counter, and I have no regrets as I shamelessly pick up 5 little bags of bacon caramels and hand them to the clerk. She looks at me for a moment, amused, and then places them in a bag and takes my cash.
"I'll take one bag now!", I exclaim, reaching in and twisting the tie off the little brown sack of candy. I claim my prize, ripping the wax paper off a silky, golden, toffee-like jewel.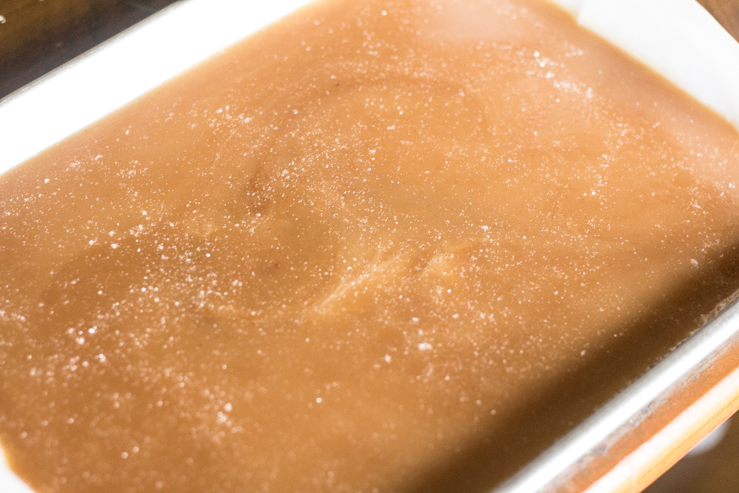 I step out into the late autumn sunshine, close my eyes and place the entire piece of candy on my tongue. The sensation is gloriously familiar, an avalanche of sticky sweet sugar and bacon fat melting slowly; the fragrance of burnt sugar, and the aroma of my grandparent's smoke house drifting through my head.
I open my eyes and grin, deliriously happy, as the chewy knob of bacon caramel softens and liquifies into pure bliss.
In that moment, I make the promise to myself that I will reverse engineer the recipe this weekend, not just for me, but for the whole wide world to enjoy. Because you can't keep moments of pure bliss like this to yourself. 🙂
From me to you, I present the recipe for the famous, Dealey Plaza Bacon Fat Caramels.
In my mind, any caramel is best enjoyed between friends—and that's just what I hope you do with this recipe!
Here is the recipe for the Bacon Fat Caramels
If you make the recipe, post it to social media and tag Urban Cowgirl! 🙂
I'd love to see how it turns out!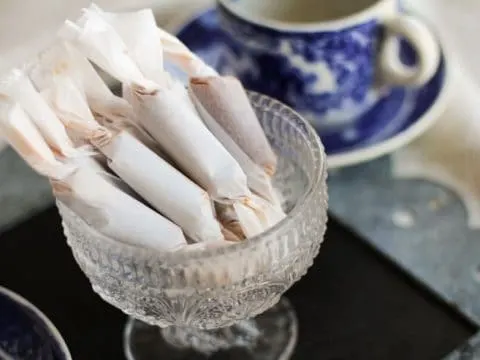 Yield:

35 large caramels
Bacon Fat Caramels
Inactive Time:
10 minutes
These delicious bacon fat caramels are a family favorite around the holidays. I originally based the recipe on the Texas Caramel Company's Bacon Fat Caramels, which I originally sampled at Dealey Plaza Gift Shop. I think this copycat recipe comes pretty close to the original!
Ingredients
1 1/2 c. sugar
1/4 c. water
1/4 c. corn syrup
2 T. butter
2 T. bacon fat
1 T. vanilla
1 c. cream
Salt for finishing
You will also need- parchment paper and spray oil
Instructions
Line a baking dish with parchment paper so that the excess falls out over the edges. (It will help you remove the cooled caramel candy.) Spray the whole thing with coconut oil spray.
In a heavy-bottomed, large saucepan, combine the sugar, corn syrup, and water and heat over medium-high heat. Using a wet pastry brush, brush water over the sides of the pan to dissolve any sugar crystals. Clip your candy thermometer onto the side of the pan. Do not stir the sugar after this point.
Let the sugar syrup come to a boil. It will turn completely translucent, and then eventually golden areas will begin to appear.
When the caramel begins to reach 300 degrees, add the butter, bacon fat, and lastly the cream. It will begin to froth and boil vigorously, which is why the large saucepan is needed! Stir rapidly with a whisk to make sure everything gets incorporated. When everything is mixed in, stop whisking and return the pan to the heat.
Continue to heat the caramel to between 245-250 degrees. It will eventually reach a darker brown shade. Whisk in the vanilla and a pinch of salt.
Pour this liquid caramel into the baking sheet you prepared, using extreme caution. It is very hot!
(At this point I recommend sprinkling lightly with sea salt!)
Let the caramel set up for several hours or overnight. When the caramels have cooled you can cover them with a lid, or foil.
When the caramels have set, lift the whole slab out and place on a cutting board. Cut into candies with a sharp knife. I cut mine about 1-2 centimeters by 1 inch or so. The cut caramels can be wrapped in wax paper squares and twisted on the ends. (See photo).
They last 2-3 weeks and are shelf-stable.
Give to friends for the holidays!
Notes
I originally imagined this recipe would have little pieces of bacon in the caramel, but it just isn't good! The bacon becomes hard and chewy and yuck! So try that at your own risk, but know that we made this several times with bacon and preferred only to use bacon fat.
Nutrition Information:
Yield:
35
Serving Size:
1
Amount Per Serving:
Calories:

81
Total Fat:

4g
Saturated Fat:

2g
Trans Fat:

0g
Unsaturated Fat:

2g
Cholesterol:

10mg
Sodium:

27mg
Carbohydrates:

11g
Fiber:

0g
Sugar:

11g
Protein:

0g
These nutritional values are an estimate only and provided as a courtesy. Different brands of ingredients may result in different calorie counts, and the software does not account for these differences. Consult with your dietician or doctor for precise nutritional values.