We've all seen our favorite barbecue pitmaster with squirt bottle in hand spraying a rack of cherry-red ribs or a rub-encrusted whole brisket and wondered, what on earth is in there?!
Today, we will continue the Brisket School series by posting our very own beef barbecue spray recipe, which is used in our cooking process during the brief moments we open the smoker to see how things are going.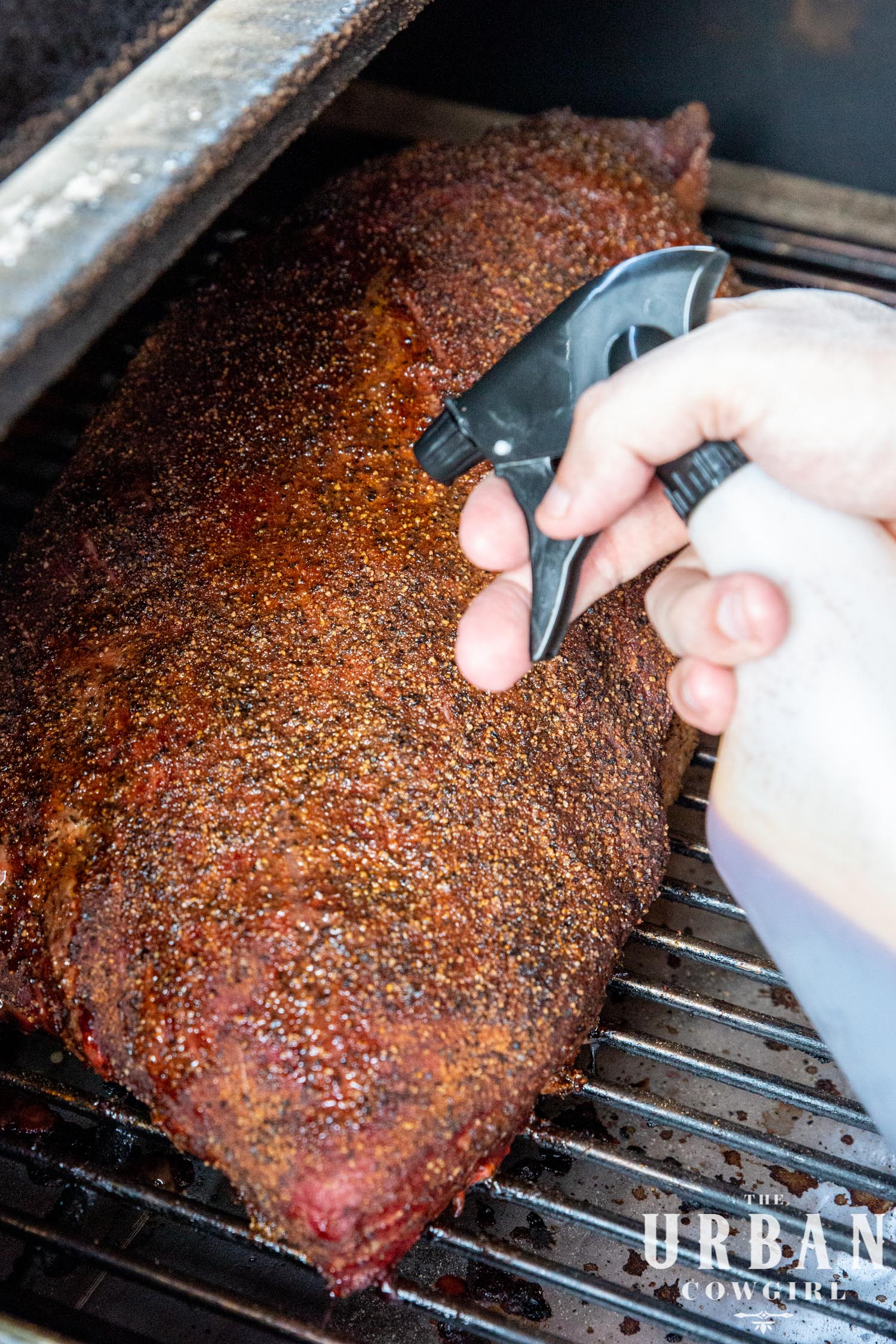 (Links are affiliate links to products we think are helpful and we may receive a small commission, at no cost to you, if purchased.)
Whether you use a spray solution on your barbecue, a barbecue mop sauce, or choose to keep the chamber closed throughout cooking is a matter of personal preference.
As I always say, in barbecue I am not sure there is one way that is right and one way that is wrong, there are just many different pitmasters working with different equipment, and all of them have a different finish line in mind for ideal smoked meat.
Reasons to Use a Brisket Spray:
Flavor— depending on what you choose to put in your spray you can enhance or add to the flavor profiles present in your bark. I always prefer to use vinegar in my brisket spray, as opposed to a sweet spray that we may use on chicken or our Thanksgiving smoked turkey.
(Believe it or not, pineapple juice is delicious sprayed on smoked turkey but resulted in a bizarre flavor profile on our finished smoked brisket, proving that the spray does contribute flavor.)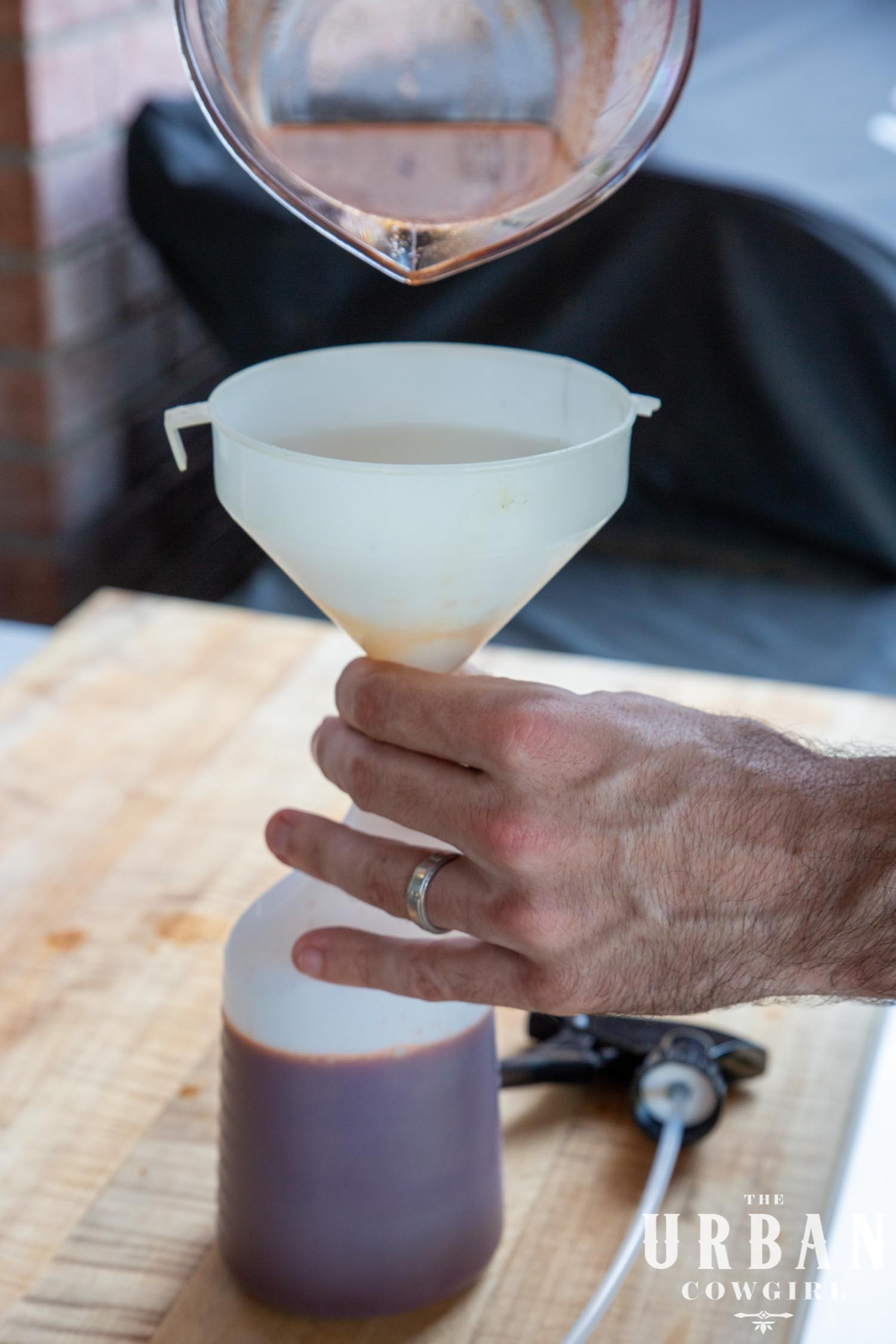 (I have a list below of ideas of ingredients that you can add to your brisket spray to reach your desired flavor profile.)
Moisture—It moistens the surface of the meat and can help turn what would become areas of jerky-like bark into a slightly softer, chewable meat-candy-like texture.
Smoke—After three or four hours of smoking there will be very little moisture in the dry air of the chamber. Spritzing the brisket will help the surface of the meat continue to attract smoke, as humidity in the smoker helps the smoke cling to the meat, providing better smoke flavor to the final brisket.
Air Flow and Radiant Heat—We smoke our brisket fat side down. Now before you get all upset about this I smoke primarily on a pellet grill and I believe smoking fat side down prevents radiant heat (from the heat source that smokes my pellets) from denaturing the proteins in my brisket directly above the fire box.
We've tried it both ways (many many times) and fat side down seems to work best for pellet smokers because it insulates the meat. Therefore, a brisket spray is extra necessary because we don't have juicy fat dripping down from above and basting the brisket from the fat cap.
(When smoking on my traditional offset smoker I would likely smoke the brisket fat side up– but I would still spray the top and sides of the brisket for flavor and moisture.)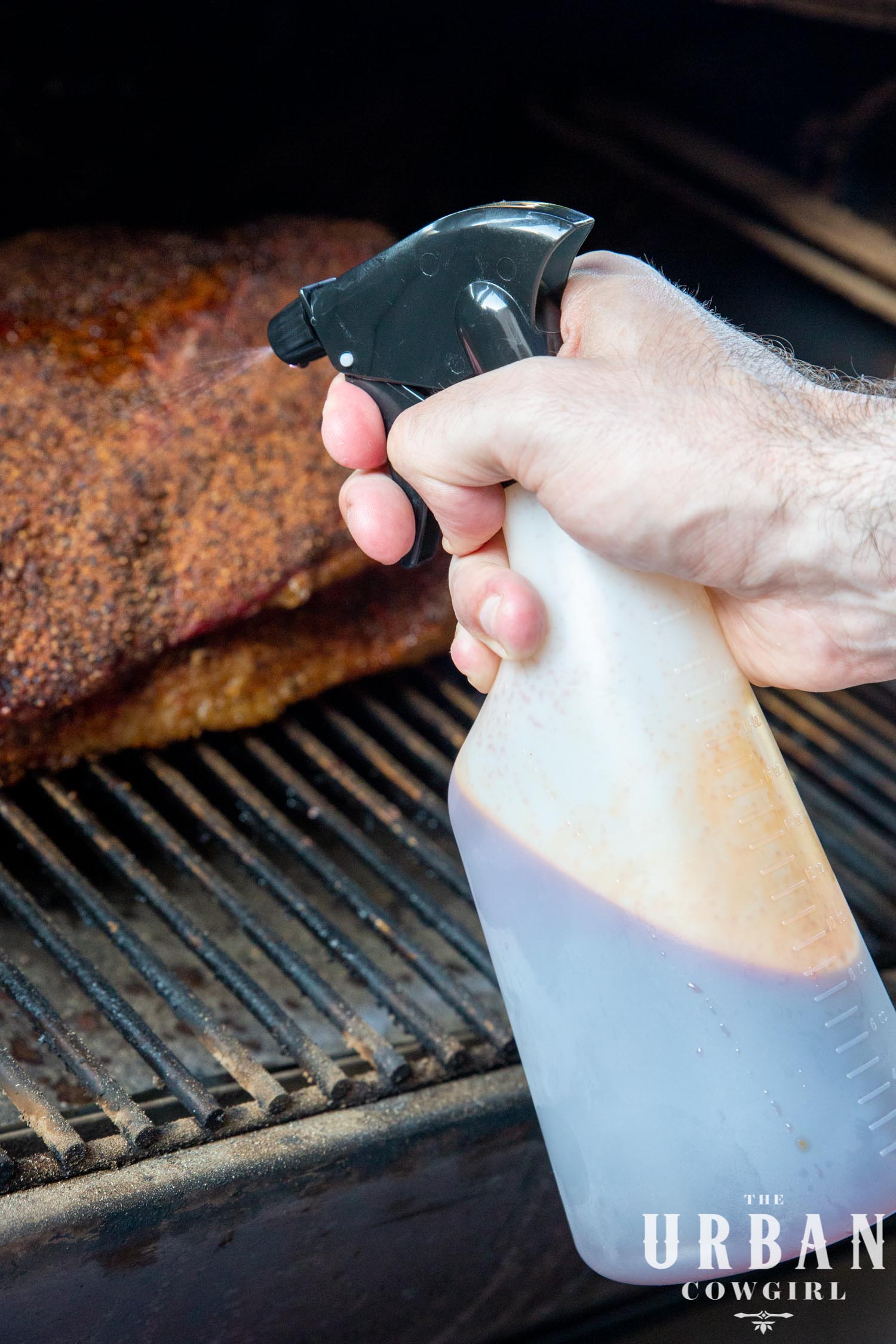 What Ingredients Are In A Barbecue Spray?
I provide recipes so that you can make a juicy brisket for your family using our tried and true methods, but what I really hope is to inspire you to make your own recipes when you feel comfortable with the process.
Here are some classic ingredients to play with…
beef broth
water
apple juice/ Pom juice (for color)
apple cider vinegar
Worcestershire sauce (a little goes a long way)
What Ingredients to Avoid in a Barbecue Spray?
To avoid clogging the spray nozzle you want to avoid spices of any kind, such as cayenne pepper, barbecue rubs, or paprika.
Sugar and brown sugar should only be used if you first heat the solution in a pan and essentially liquefy the sugar into the water-based ingredients. Then the sugar will not clog the spray nozzle.
If you want to use any spices or ingredients that could clog the spray nozzle, no problem! You can use a brisket mop sauce and a basting brush to achieve the same benefits as a spray.
When Do you Start Spraying The Brisket?
You begin spraying the brisket about 3 to 4 hours into the cook, when the rub has set up nicely, and the bark begins to darken.
Spritz about every 30 minutes. Sometimes I forget and don't get to it, and sometimes it goes an hour between spritzes. When it's time to wrap the brisket in butcher paper or aluminum foil, I heavily spritz the brisket and sometimes hit it with a bit of extra dry rub before wrapping fully.
Items Used In This Recipe:
Yield:

2 c.
Smoked Brisket Spray Recipe
This barbecue brisket spray is used throughout the smoking process to manage bark creation and moisturize the brisket meat.
Ingredients
1 c. apple cider vinegar
1 c. Pom (pomegranate juice) can substitute apple juice if necessary
2 T. sugar
Instructions
Prepare a clean spray bottle by rinsing.

Place all of the ingredients in a small saucepan and heat until the sugar melts into the juice. Cool fully and pour into the spray bottle. (It is easiest to do this with the help of a small funnel.

Wait 3-4 hours for the rub to set up into a good crust. Then, throughout the brisket cook, spritz the brisket every 30 min to an hour or whenever you check in on the brisket. Using a barbecue spray adds about 1 hour to your cook times but helps the bark develop a great smoke flavor.
Nutrition Information:
Yield:
40
Serving Size:
1
Amount Per Serving:
Calories:

7
Total Fat:

0g
Saturated Fat:

0g
Trans Fat:

0g
Unsaturated Fat:

0g
Cholesterol:

0mg
Sodium:

1mg
Carbohydrates:

1g
Fiber:

0g
Sugar:

1g
Protein:

0g
This nutritional information is provided as a courtesy as an estimate only. Consult with a dietician for precise estimates. This website makes no claims that the nutritional values listed are accurate.