Have you ever met anyone who doesn't love dinner at a hibachi restaurant? No. Of course not.
It's too versatile, too fun, it's dinner and a show! But a Japanese steakhouse can be a bit expensive and if you are the owner of a Blackstone griddle you've probably already heard that it's pretty dang easy to learn to do it for yourself.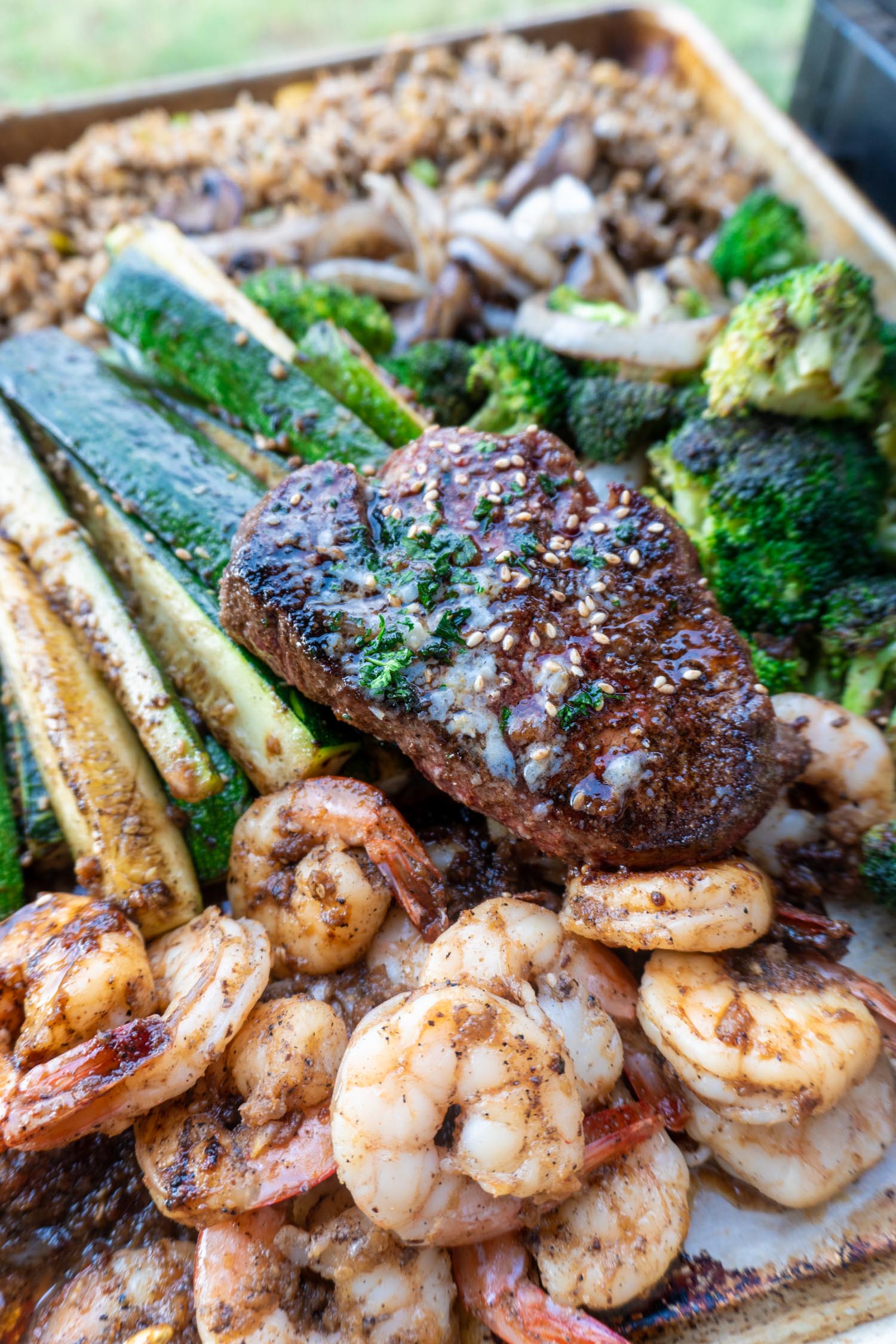 In this post, I'll be sharing step-by-step how to make an impressive hibachi dinner on the Blackstone griddle and providing you with a comprehensive recipe for the essentials including a killer fried rice recipe, the ginger shrimp course, hibachi veggies, and your choice of teriyaki steak or hibachi chicken —plus I'll give you two recipes for the popular sauces (spicy mustard sauce and fresh ginger sauce) found at restaurants like Benihana.
For our family of four, this meal cost less than 50 bucks and uses pantry ingredients that you likely already have, making it an affordable Friday night festivity for the whole family, and a terrific idea for special occasion dinners at home.
Getting Organized for Hibachi Cooking
You know the hibachi chef's cart comes out organized and we need to prepare the same way. The style of cooking is hot and fast so you have less time to react if you forget something or become distracted.
You'll need to start off with all of the ingredients ready… vegetables washed and sliced, steaks and chicken seasoned, shrimp in a bowl, and the fried rice ingredients including your prepped rice, onions, and garlic butter already prepared.
For this recipe, I prepared my own garlic butter and set up the Blackstone griddle side shelves with everything you'd find on a hibachi cart.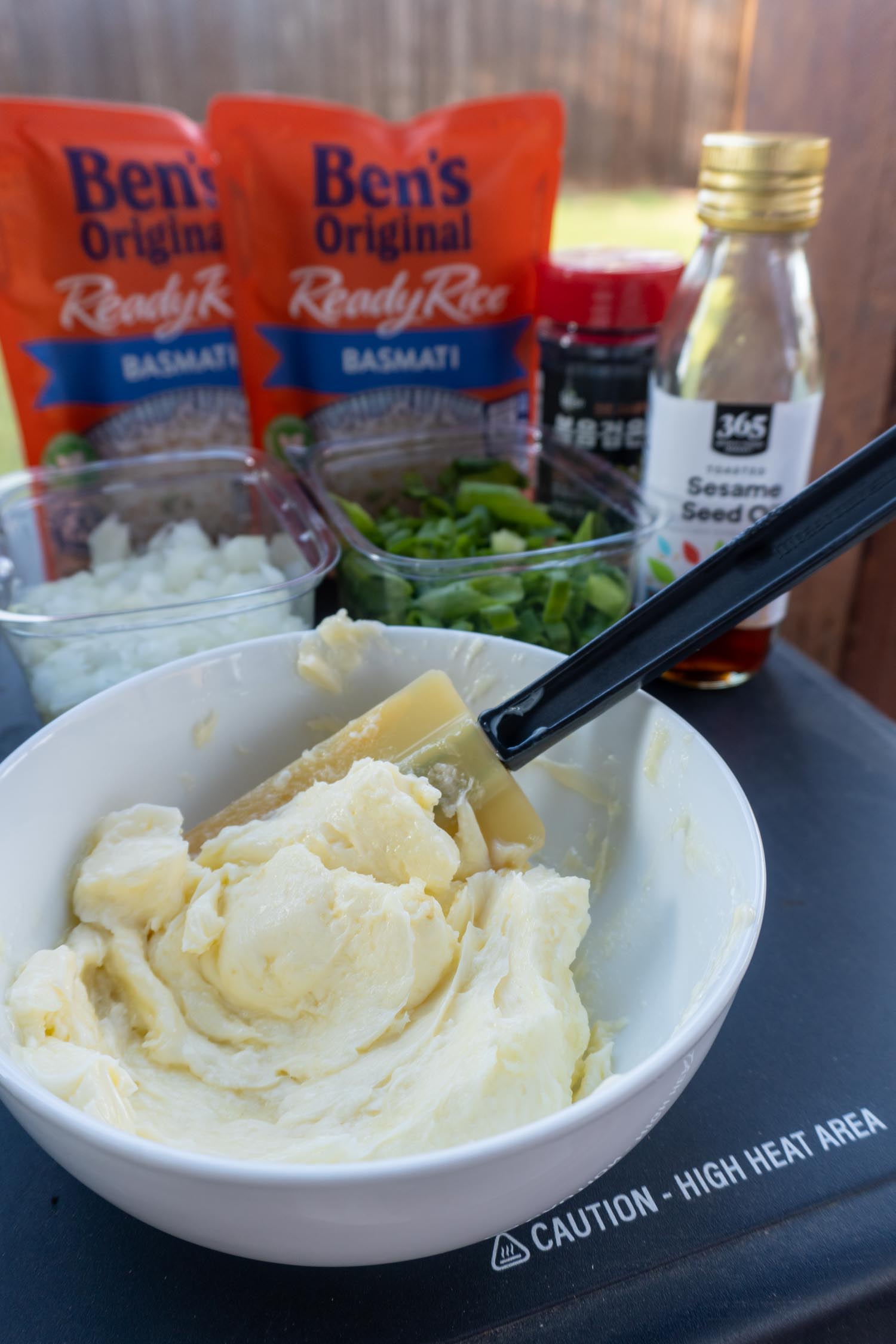 What Seasonings Do They Use At Hibachi?
The Seasonings Used at Hibachi Are: Garlic, Garlic Butter, Ginger, Sesame Oil, Soy Sauce, Sesame Oil, and Teriyaki Sauce
We asked our local hibachi chef and here is what is actually on the cart. The shakers are salt, pepper, sesame seeds, and garlic powder or garlic salt.
The squirt bottles are sesame oil, soy sauce, and Japanese barbecue sauce (like Mr. Yoshido brand or the brand name "Japanese Barbecue Sauce").
The enormous mountain of butter is homemade garlic butter made with a garlic paste and kosher salt.
In addition to the garlic butter, I use toasted sesame oil which is what hibachi chefs use for both flavor and its high smoke point, so we don't have to worry about burning the oil in the high temperatures produced by the Blackstone Griddle.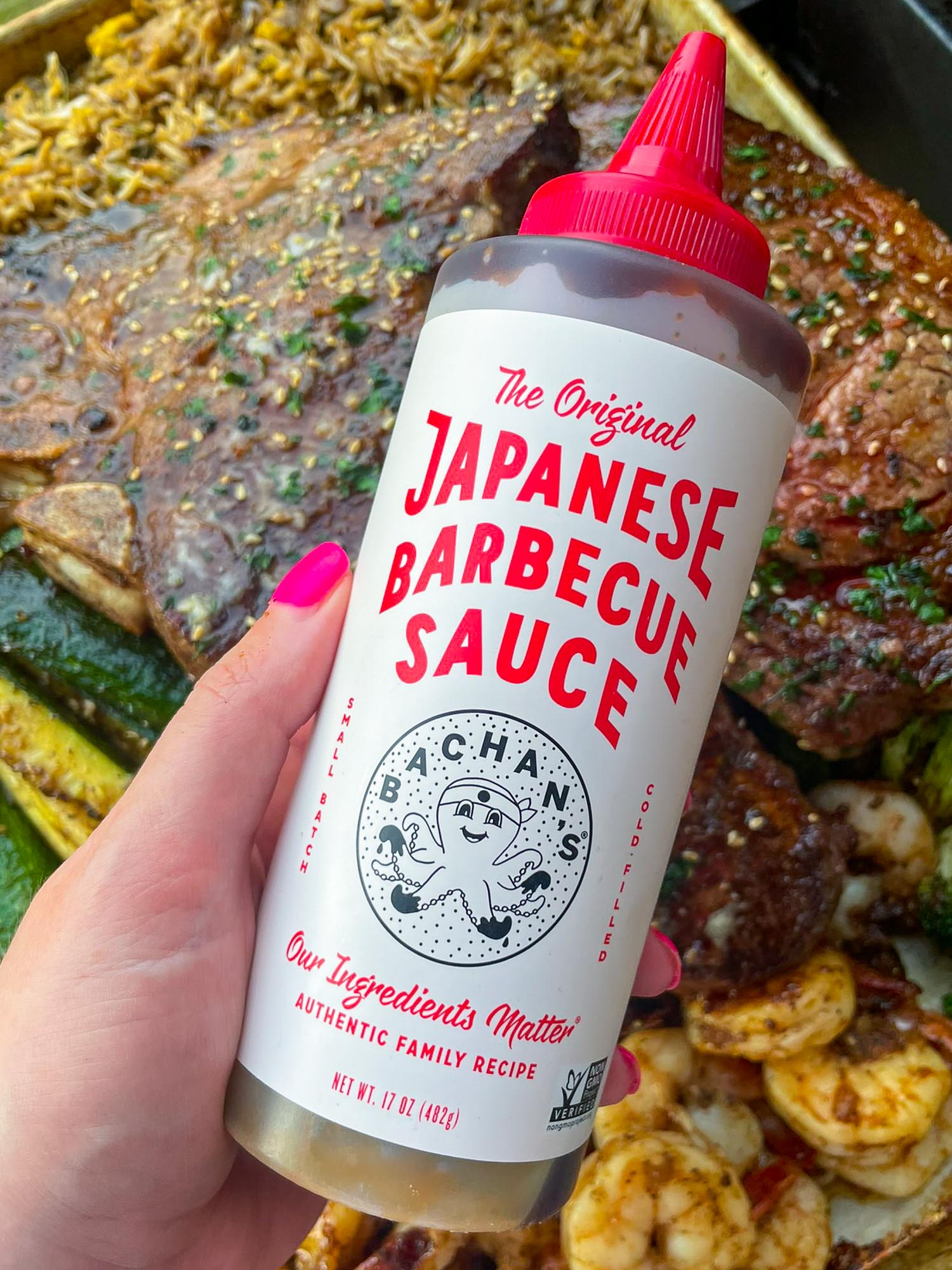 How To Make Hibachi Sauces
Before cooking anything I quickly whip up my sauces. This is purely optional as store-bought sauces are available but we love the ginger and mustard sauces and these recipes are basically identical copycat recipes for Benihana. Each sauce will be served in small bowls to all of your guests.
The spicy mustard sauce is prepared by whisking the ingredients together and chilling. I will reserve it in a bowl to thicken slightly while we cook.
The ginger sauce is made in a blender (and to make things easy for us I've used pre-grated ginger that I found at my local grocery store).
Both of the sauces can be prepped up to 24 hours ahead to cut down on labor the day of your hibachi dinner party. Sauces serve about 4-6 guests.
(You'll notice that I usually do things from scratch on the Urban Cowgirl blog, but since this process is so much work I've taken a few shortcuts, which I recommend.)
I'll use one cup of the completed ginger sauce to coat the griddled hibachi shrimp later, so make sure to reserve a cup and set it with your prepped ingredients.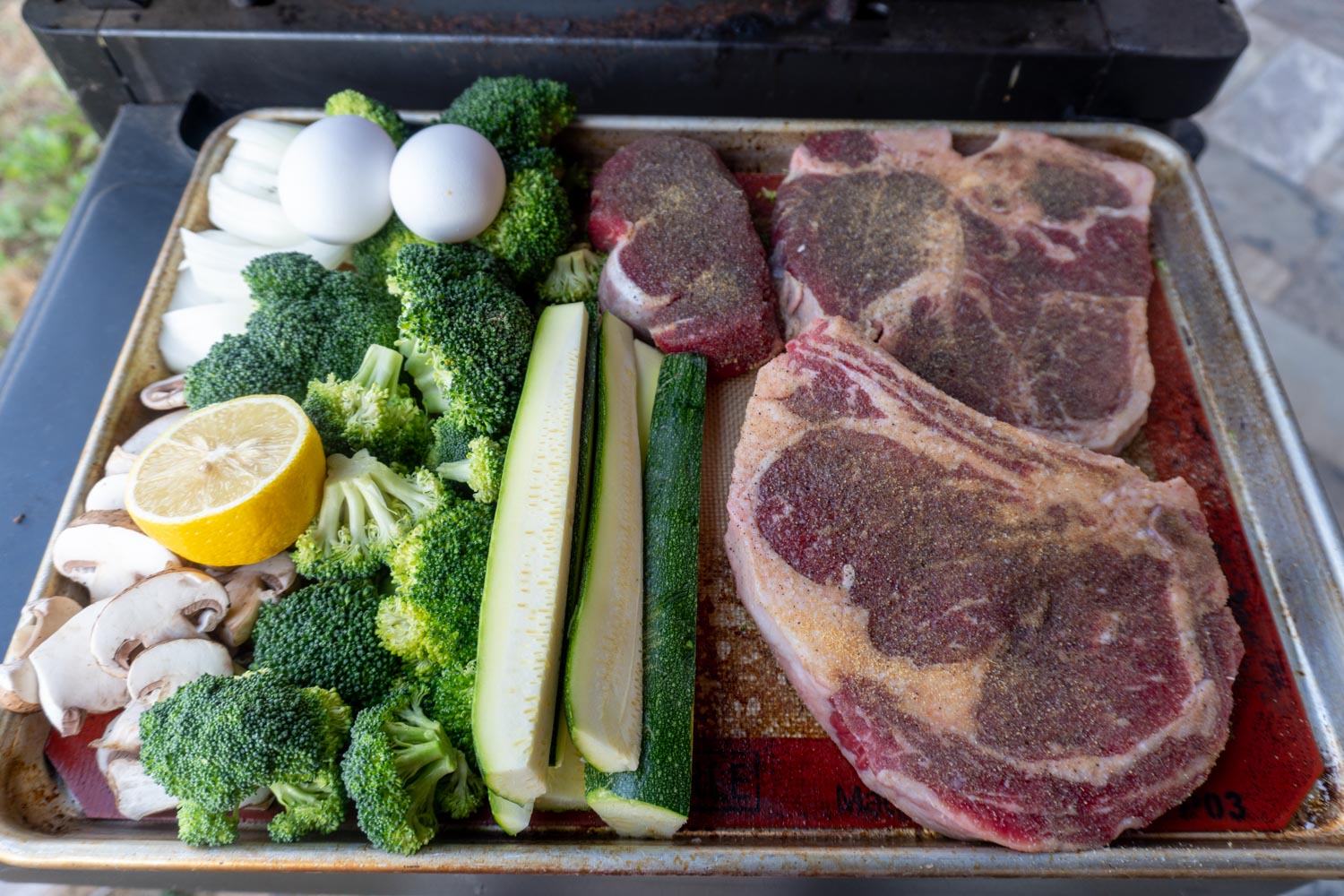 How To Cook Hibachi On The Blackstone – Tips & Procedure
I want to warn you right now that this goes fast, so if you're preparing salad, miso soup, or even setting the table you should be ready to dig in 15 minutes after turning on the griddle.
If you're serving steak, go ahead and ask how everyone wants their steak cooked, and prepare platters for the seared meats, veggies, and shrimp to be placed on as soon as you are done cooking.
Also, bring tasting spoons to the griddle so that you can taste as you go. While we do have the recipe below, seasonings like salt, pepper, and soy sauce are shaken on, and tasting as you go will ensure that you are using enough seasonings for a flavorful meal.
Prepare a wet rag in a bowl of water for wiping the griddle in between courses.
Start the griddle and begin heating all four burners to medium high heat. Scrape down your flat top grill with a griddle scraper and give the entire surface a fresh coating of sesame oil.
Here is the Sequence of Cooking That We Recommend:
Hibachi Rice
Shrimp with Ginger Sauce
Hibachi Steak and/or Chicken
Hibachi Vegetables
I know in many pictures on social media people cook everything at once but this is highly stressful even for me (and I've been a professional chef for most of my life). At the very least I recommend completing the fried rice all by itself, and cooking the steak and chicken alone on the griddle until you reach a point where you feel good about successfully finishing the expensive cuts of meat.
How To Cook the Hibachi Rice
Turn two of the burners (one side of the griddle if it is divided in half down the middle) to low heat. We won't be using this side until later. On the remaining side, we will prepare our fried rice.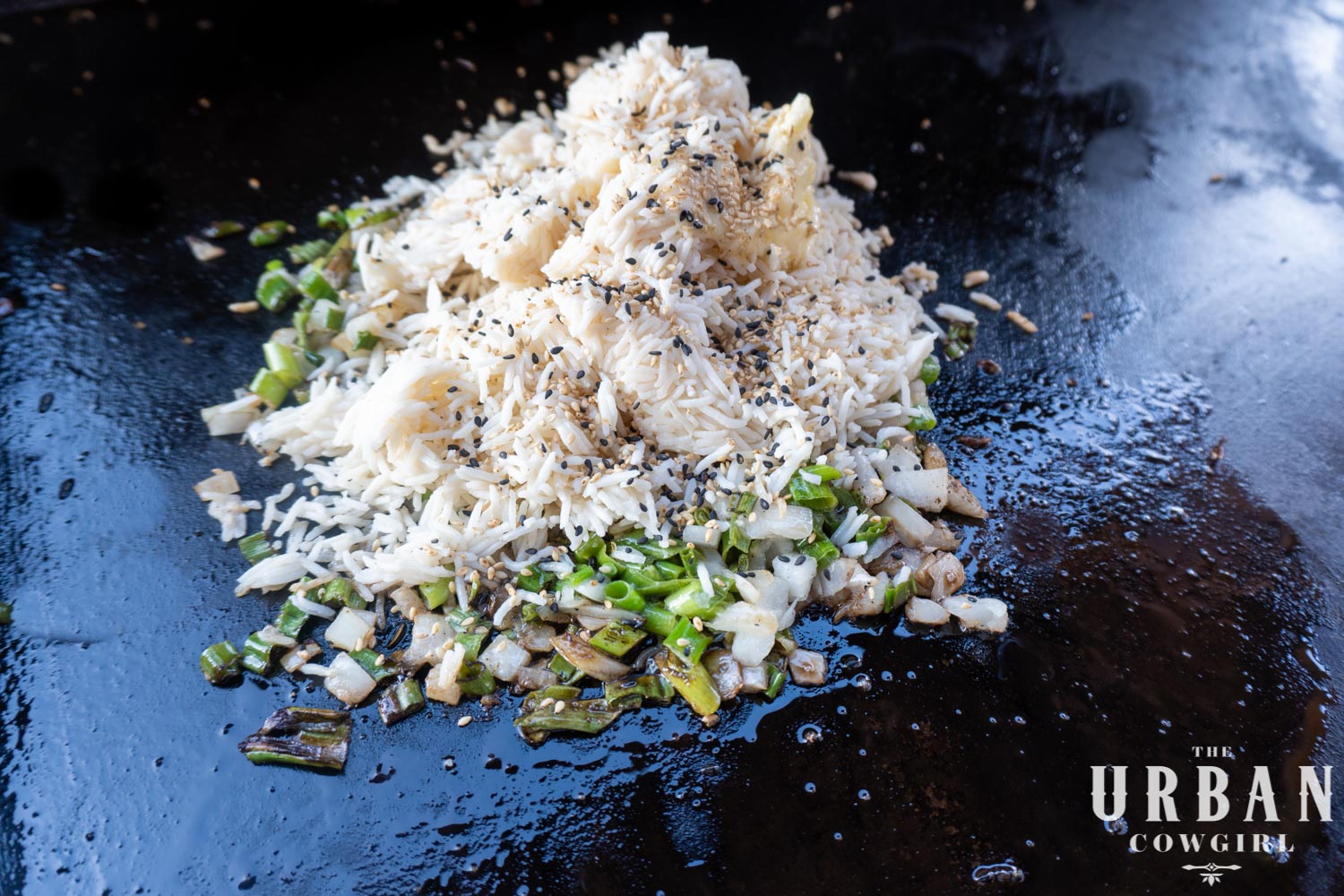 Lower the temperature to about medium heat and place down a large pat of garlic butter. In the butter place down the diced onion, garlic, and green onions, Season with salt, pepper, and garlic powder. Cook for 1 to 2 minutes.
Add both bags of white rice and toss well to incorporate. Season with 10 to 15 shakes of soy sauce and mix with your griddle spatula. This is your chance to taste and add more salt, pepper, and garlic powder if needed.
When the fried rice is nearly done cooking, crack two eggs in a bit of sesame oil and fry until they are no longer runny. Mix into the cooked rice, toss well, top with sesame seeds, and place on a platter for serving.
(Links are affiliate links to products we think are helpful and we may receive a small commission, at no cost to you, if purchased.)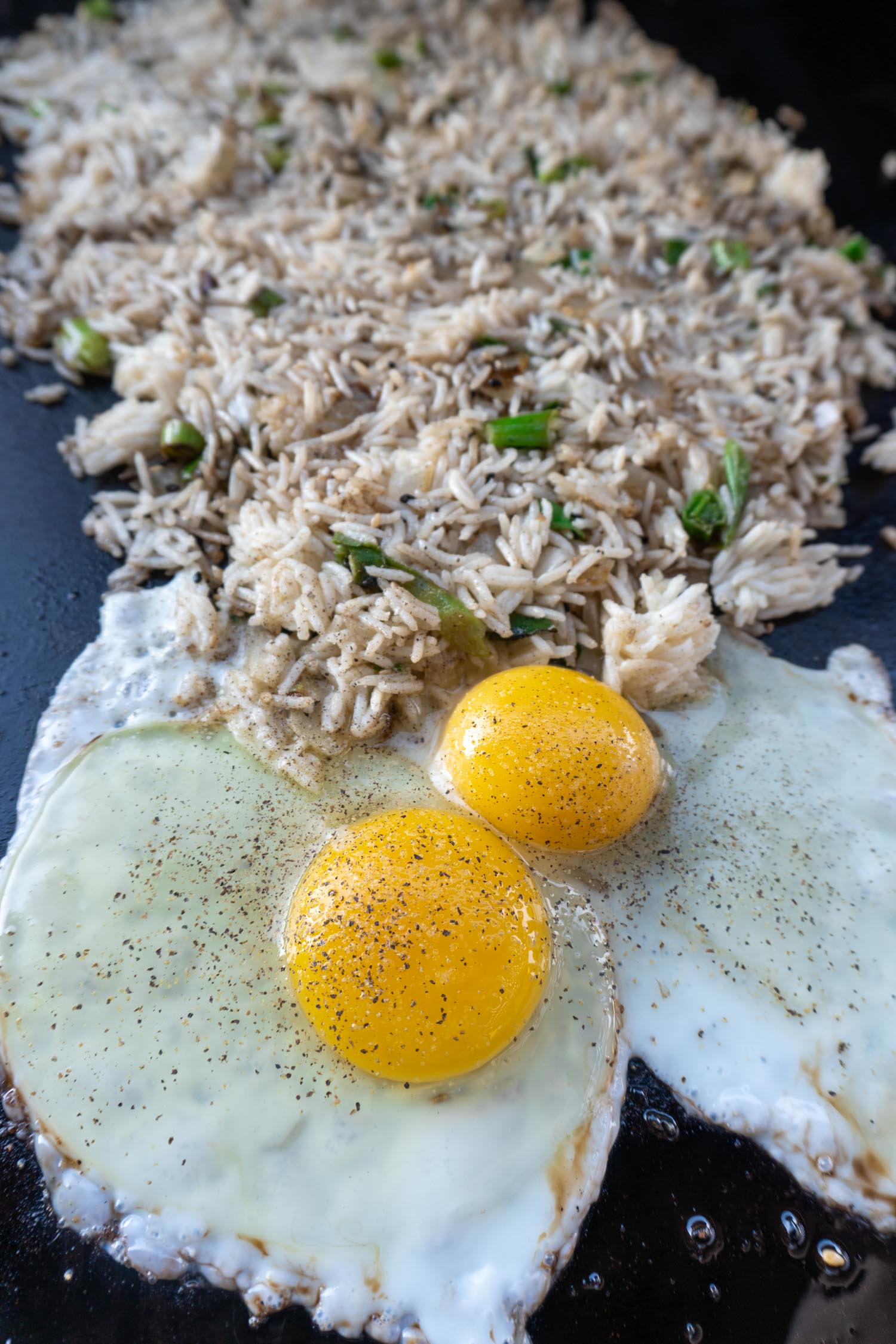 Clean the flat top griddle and get ready for step two.
How To Cook Hibachi Shrimp
For the shrimp, place down 2 tablespoons of sesame oil and a pat of butter. Pour the shrimp out on the griddle and season with salt, black pepper, and garlic powder, and toss well. Season with a couple shakes of soy sauce and a squeeze of lemon juice. After approximately two minutes the shrimp should curl slightly and have gone from translucent to white/pink. Add 1 cup of ginger sauce and toss well. Top with sesame seeds and transfer to a platter for serving.
Wipe the griddle with your rag, and turn all 4 burners to medium-high heat.
How To Cook Hibachi Chicken and Steak
When the hibachi chef cooks your main dish he first sears the chicken and steak and then ON THE FLAT TOP he takes a small knife and cuts the meat into pieces. I think we can agree that we should not do that to our favorite griddle, so place a cutting board and your favorite knife near you for this part of the cook.
If you are cooking both chicken and steak, they need to be at least 6 inches apart as the steak will likely be pulled off the griddle way before the chicken is done.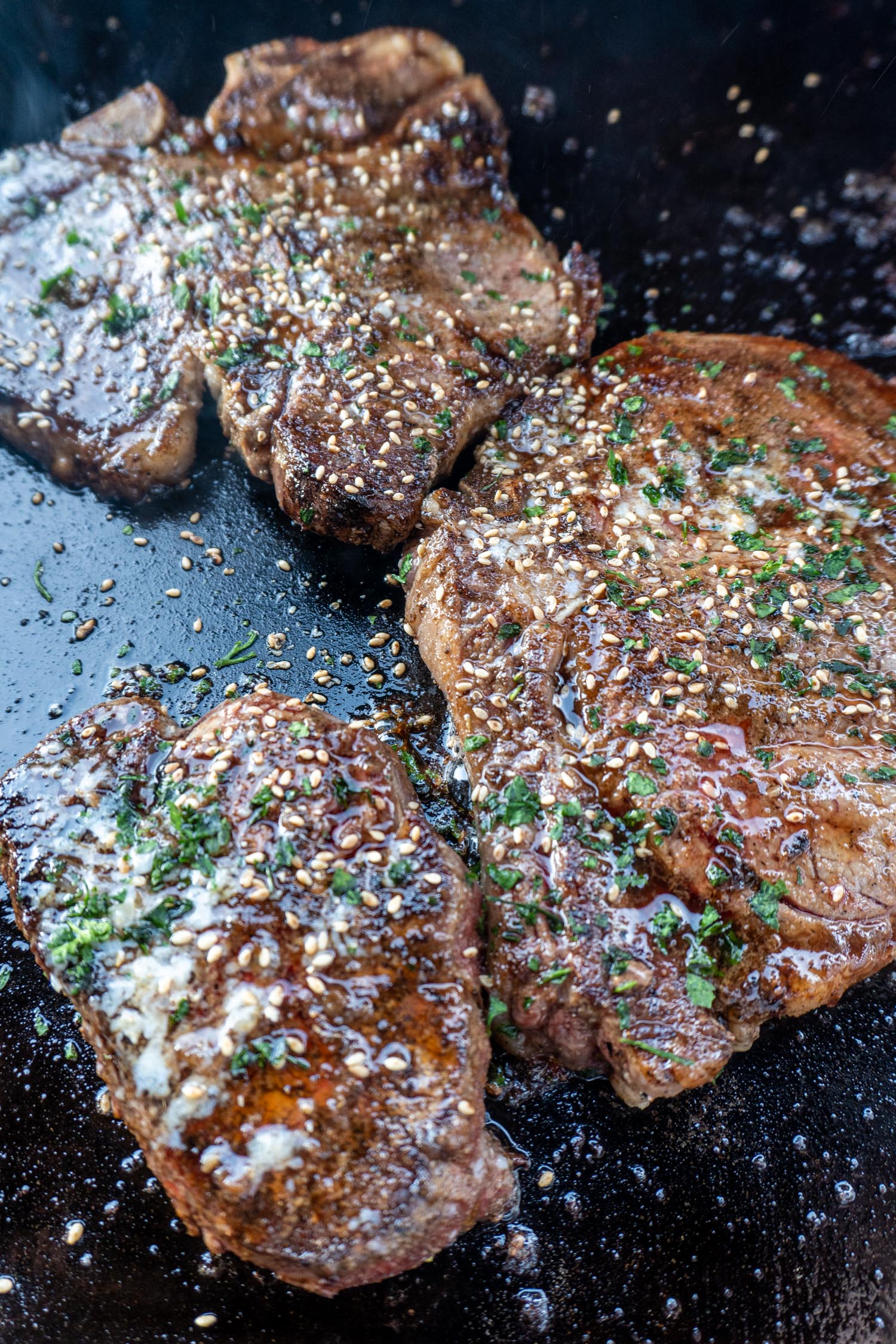 As a reminder, medium-rare beef is ready at 130-135 degrees F and chicken is ready at 165 degrees F. So, keep these meats far apart for food safety.
The proteins should be seasoned well with salt, pepper, and garlic powder. Place down a pat of garlic butter for each piece of meat and place the meat directly on top of it.
I use my Meater Probe on the largest piece of meat to know how fast the internal temperature is rising. At medium heat, my steaks are cooked to medium-rare for about 3-4 minutes per side.
The chicken breasts took about 5 min per side. I doused them in additional garlic butter and a squeeze of lemon juice or Japanese barbecue sauce, depending on what each guest wanted.
Sprinkle with sesame seeds. (My family said the flavor was so good they thought they had died and gone to heaven!)
How To Cook Hibachi Veggies
Hibachi Veggies are one of my favorite Blackstone recipes and they are so versatile. For the fresh vegetables, we chose zucchini, mushrooms, and onions like our local Japanese steakhouse. My husband also requested broccoli and bean sprouts. The combinations are endless but here is some of our favorites…
Onion, Mushroom, and Zucchini Spears
Onions, Red and Yellow Bell Pepper, Bean Sprouts, Snow Peas
Broccoli, Carrot, and Red Bell Pepper with Green Onion
Just get creative!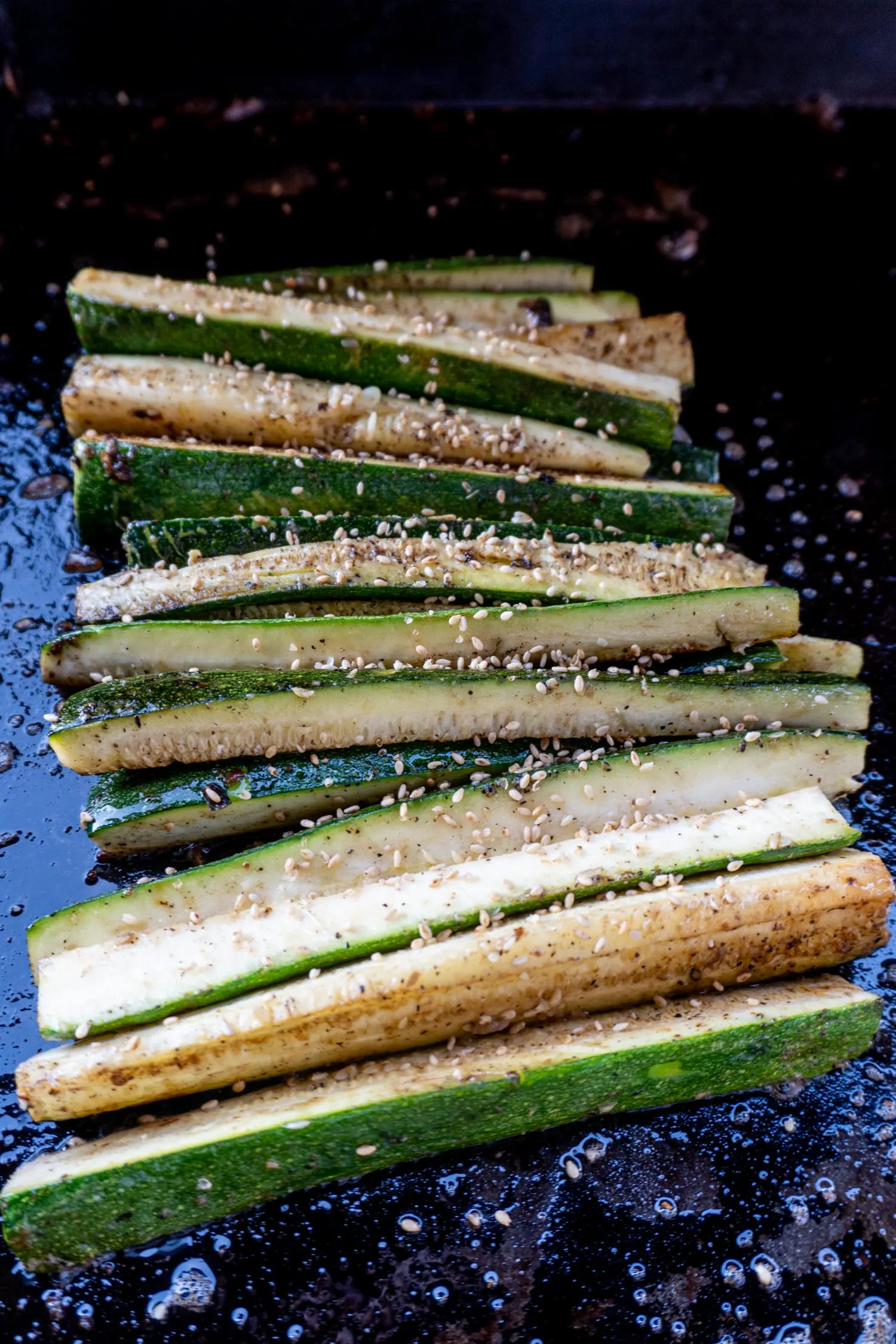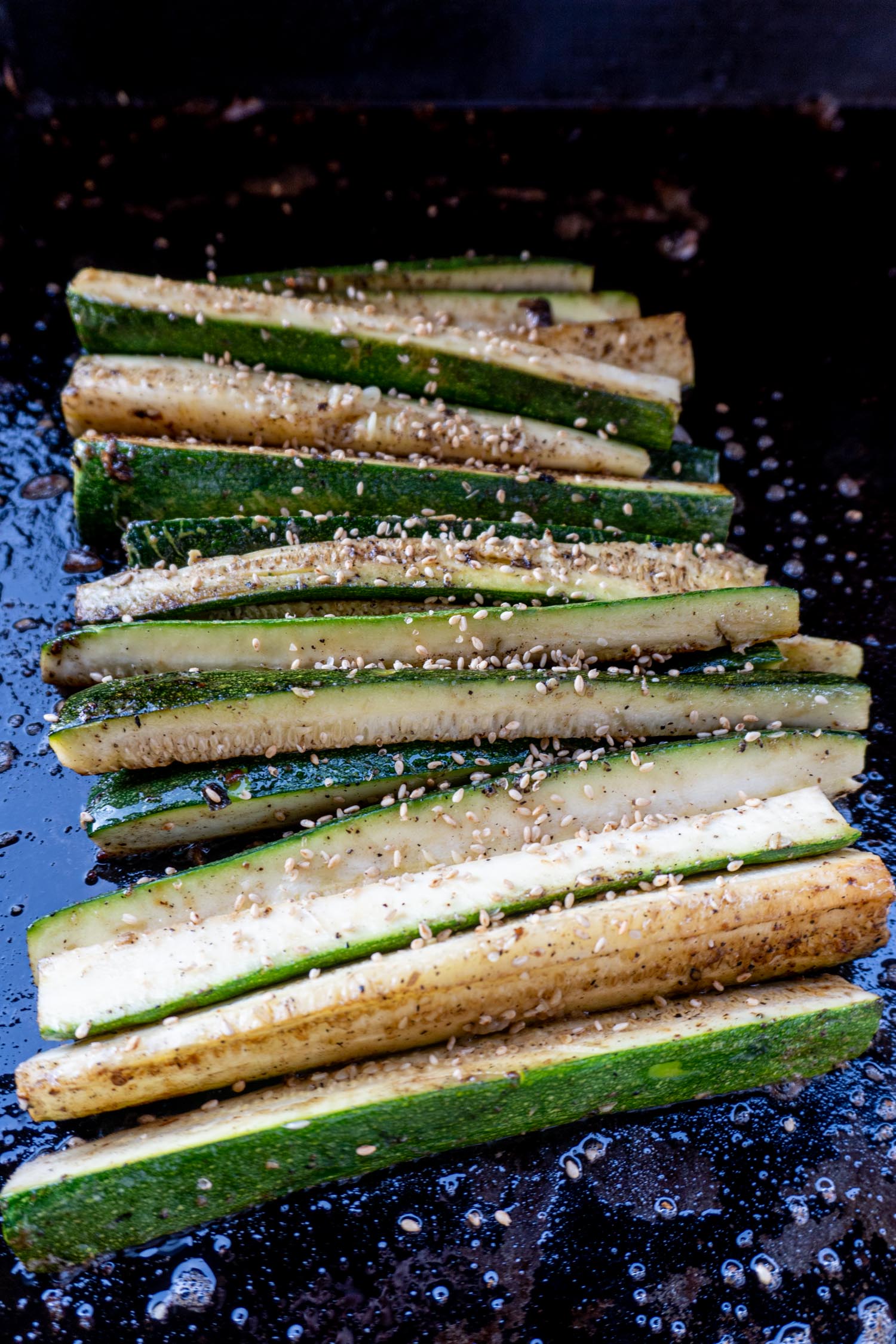 Like the other courses, we will just coat the griddle in a bit of fresh oil or garlic butter, place the veggies down, and season with salt, black pepper, and garlic powder. I used soy sauce to season the veggies and toss well. I lowered the heat to low underneath my zucchini spears as they take the longest to roast, about 6 minutes.
When they are fork-tender remove them from the Blackstone grill and onto a serving platter.
You did it, you're a family hero!! Let's eat!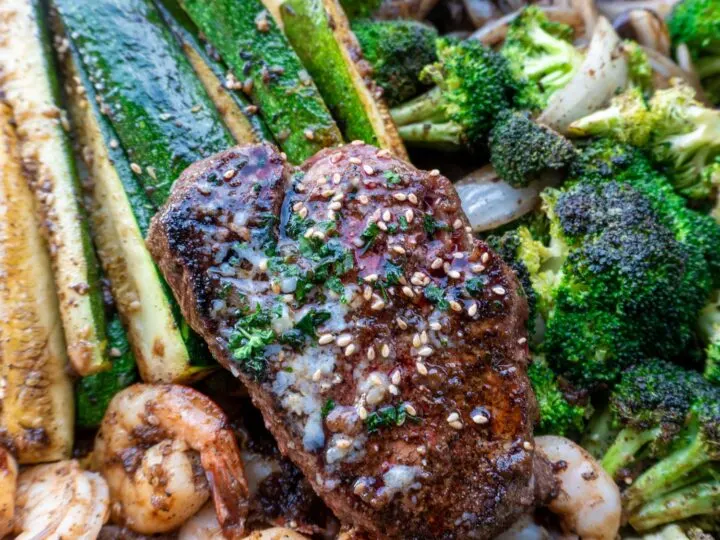 Yield:

4-6
Blackstone Hibachi Recipe
Hibachi dinner on the Blackstone Griddle with traditional ginger and spicy mustard sauces, hibachi veggies, fried rice, and gingery shrimp!
Ingredients
Spicy Mustard Sauce:
1 Tablespoon roasted sesame seeds
3 Tablespoon dry mustard
¾ c. soy sauce
1 garlic clove crushed
¼ c. heavy cream
Ginger Sauce:
½ c. soy sauce
¼ c. rice wine vinegar
½ white onion or sweet onions, diced
¼ c. fresh ginger paste (or a 2-inch piece of ginger root, peeled and chopped)
Juice of ½ a lemon
2 t. sugar
Garlic Butter:
2 sticks softened butter
¼ c. garlic paste (I used store bought)
1 t. salt
For your Hibachi Station:
Sesame Oil (do not use olive oil)
Salt
Black Pepper
Garlic powder
Soy Sauce
Roasted Sesame Seeds
Japanese Barbecue Sauce or Teriyaki Sauce
2 fresh lemons, sliced in half, for squeezing onto the ingredients.
Blackstone Fried Rice:
2 8.5 bags of Uncle Ben's Jasmine Rice or Basmati Rice (do not microwave, we need cold rice)
½ c. white onion, in bite size pieces
½ c. green onion, diced
1 Tablespoon garlic paste
Soy Sauce (usually ¼- ½ cup)
2 eggs
Sesame Seeds
Hibachi Veggies:
3 Zucchini, sliced into spears
8 oz. mushrooms, sliced
1 onion, sliced
12 oz. bag fresh broccoli florets
Hibachi Shrimp
1-pound fresh large shrimp
1 c. of reserved ginger sauce
Hibachi Chicken and Steak
1 steak or chicken breast per person (easiest steaks to cook were sirloin, tenderloin, and NY strip)
EXTRAS: Bottled dipping sauces such as Sriracha sauce, Yum Yum Sauce
Instructions
PREP FOR HIBACHI
Gather all of the ingredients for your hibachi station, slice and dice the fresh veggies, and lay them out on baking sheets or in a small bowl for organization. Place the proteins on platters and season well with salt, pepper, and garlic powder.
In a small bowl place both sticks of butter, garlic paste, and salt. Blend with a fork and reserve for cooking.
For the spicy mustard sauce, whisk all of the ingredients together except for the cream. When mixed well, add the cream, whisk well and chill. This can also be done in a blender or magic bullet.
For the ginger sauce, place all of the ingredients in a blender. Blend well. Reserve 1 c. of this sauce for the hibachi shrimp.
COOKING HIBACHI
Japanese Fried Rice:
For the rice do not cook the rice but leave it in its original packaging.
Place two burners on low and two burners on medium high. Grease the burners with a little bit of toasted sesame oil.
Put down a large dollop of garlic butter. Place the onion, garlic, and green onion down and cook for 1 to 2 minutes Season well with your salt, pepper, and garlic powder shaker.
Add the cold rice and additional garlic butter. Stir fry this well and add 10-12 shakes of soy sauce and additional sesame oil. Continue to stir fry.
Crack 2 eggs in sesame oil and fry until they resemble scrambled eggs. Season with salt and pepper, add the cooked egg to the rice and season the fried rice with a little fresh lemon juice to finish. Toss together. Taste for seasoning and transfer to a platter.
Clean the griddle with the wet rag and oil the griddle again.
Hibachi Shrimp:
Place down a large dollop of garlic butter. Pour out the shrimp making sure to drain any excess water off first. Season with salt, pepper, garlic powder.
Cook 1-2 minutes until they form soft c's. Squeeze on fresh lemon juice and pour on 1 c. of the reserved ginger sauce. Stir fry a minute more and transfer to a platter.
Clean the griddle with the wet rag and oil the griddle again.
Hibachi Chichen and Hibachi Steak:
Put down a dollop of garlic butter for each piece of steak or chicken. Place the meat down with at least 3 inches between each piece. The steaks will cook 3-5 minutes per side, the chicken 5 minutes per side. If desired, pull the meat off and slice on a cutting board.
Return to the griddle and finish with extra garlic butter and soy sauce or the Japanese barbecue sauce. Transfer to a serving platter.
Clean the griddle with the wet rag and oil the griddle again.
Hibachi Style Vegetables:
For the hibachi veggies, place down the remaining garlic butter and 1 tablespoon of sesame oil for seasoning.
Place the vegetables in piles wit the zucchini in a vertical line for easy flipping. Season well.
Toss the veggies often. Flip the zucchini every 4 minutes while seasoning with soy sauce if desired. Top with sesame seeds, and transfer to a platter.
Serve each guest a small bowl of spicy mustard sauce and ginger sauce. Serve family-style and enjoy!
Don't forget to clean the griddle one last time after you eat and grease as per your method between cooks.