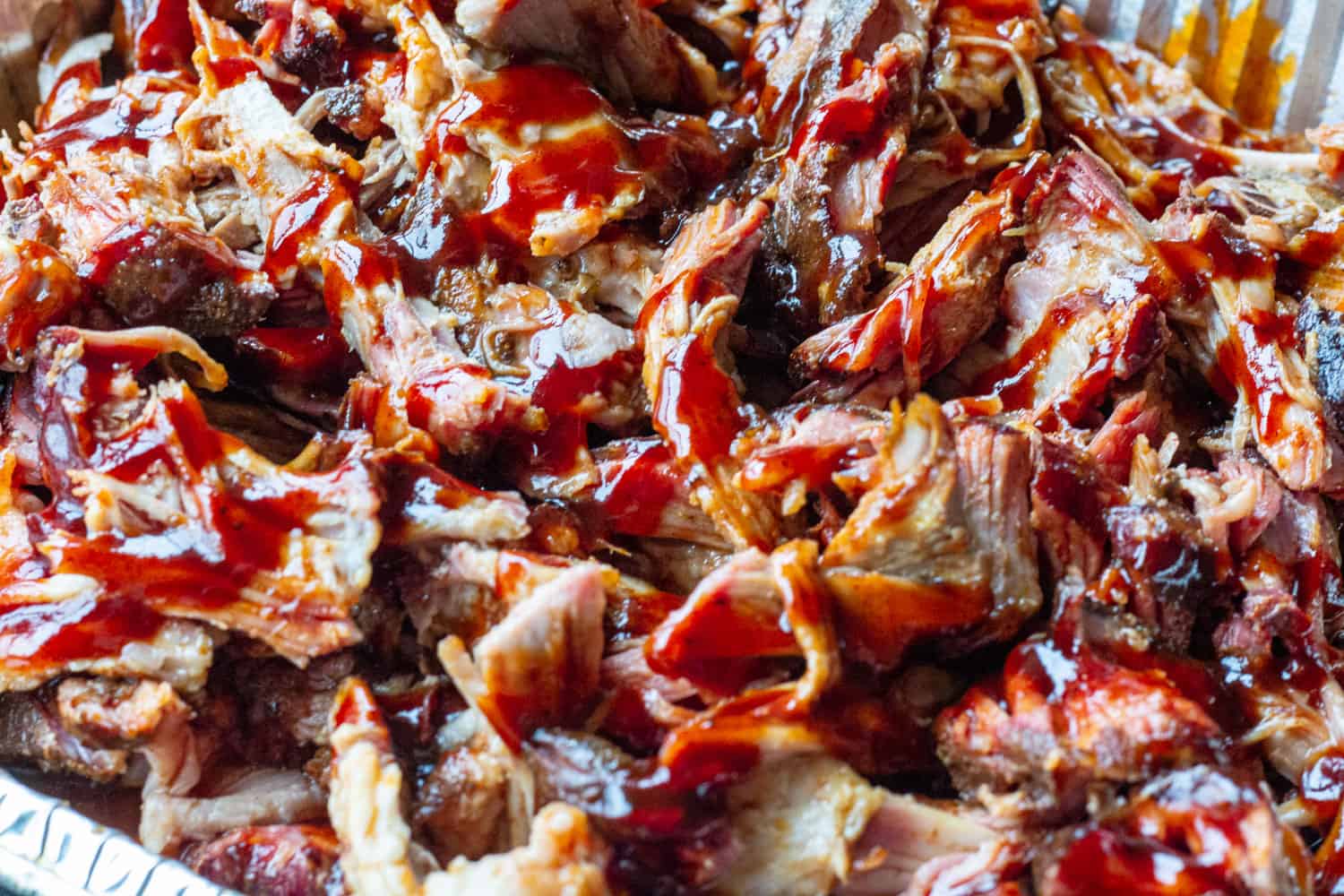 Hot off the pellet smoker! This pellet grill pulled pork recipe takes all the tried and true secrets to succulent pulled pork and combines them with basic pellet grill wisdom.
In this recipe post, you'll see step by step how I prepare my pulled pork, on my pellet smoker, including my homemade rub, mop sauce, and how I choose my pellets. At the end of this post, I'll be answering some common questions you might have. Let's get started…
(I have filmed a video of this process which will naturally play upon visiting this post. You can see step by step how I work through my method by watching the video. It should be popping up on your screen right about now.)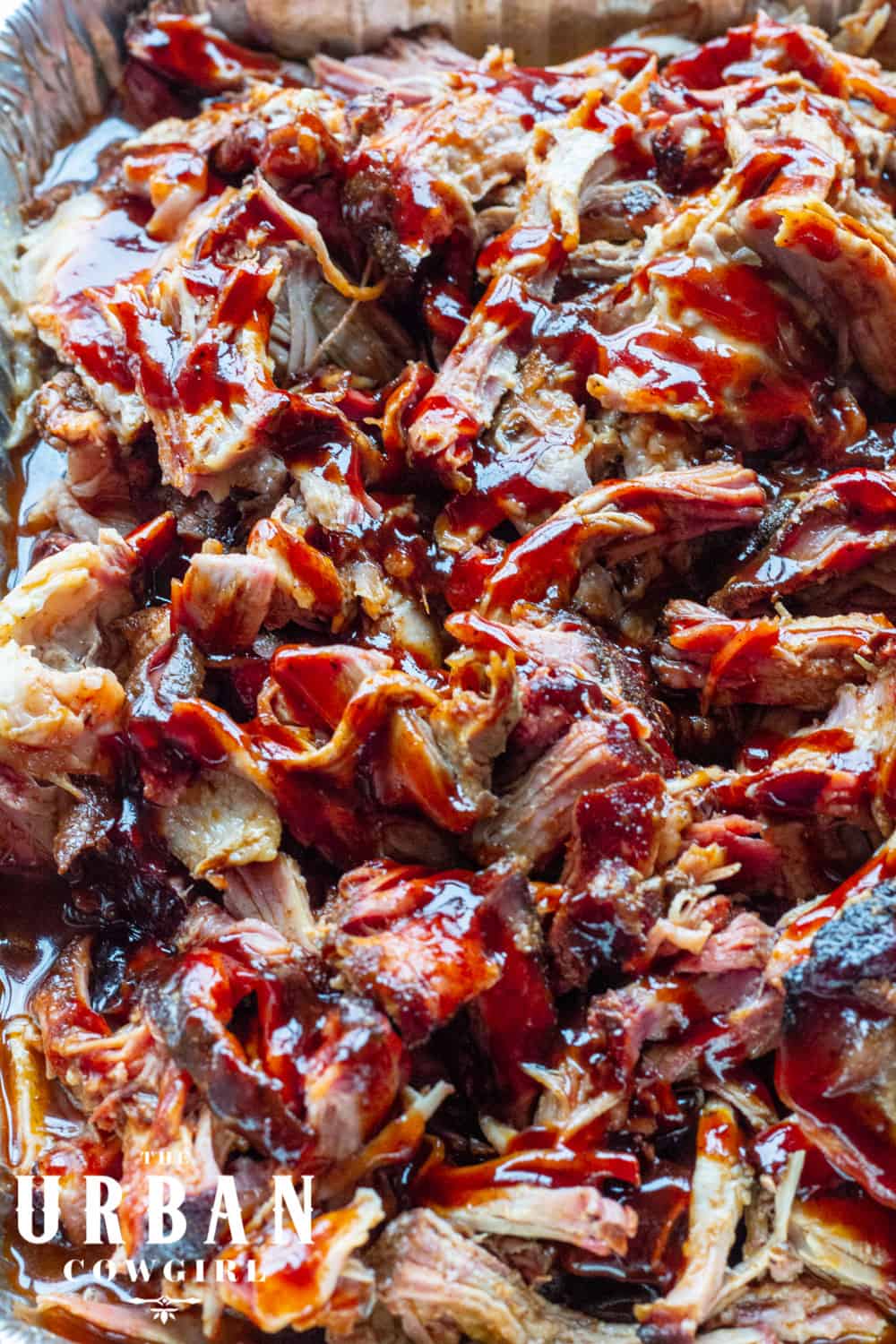 Preparing your Pellet Smoker
For this approximately 10 hour cook, you'll want to prepare your pellet smoker as we do with every cook. Here is the steps that I go through to make the experience enjoyable and successful.
Determine how long the cook will last and check to make sure you have enough pellets to last the full duration of the cook, (as well as about 20% more pellets just in case). Every brand of pellets is different and you will likely find that you prefer certain brands and blends over others. That being said, all pellets will burn at about 1 pound per hour at 225℉.
One bag of pellets is 20 pounds, so 1 bag should be sufficient.
I also clean my smoker grates if they need to be scrubbed, and change the foil liner underneath the grates if there is any debris from a previous cook. Don't forget to empty the drippings bucket and give the surfaces a good wipe down.
(You're going to have to stare at this thing for 10 hours, you might as well enjoy it.????)
What Type of Wood Pellets are Best for Pulled Pork?
This is a personal preference just as much as what cologne or perfume you chose to wear each day, but there are some classic pairings. For pork, many people reach for fruit woods such as apple, cherry, peach, or fruit blends.
You can also find success with maple, oak, pecan, and hickory. Wood choice is all about experience and personal taste so it will require you to experiment.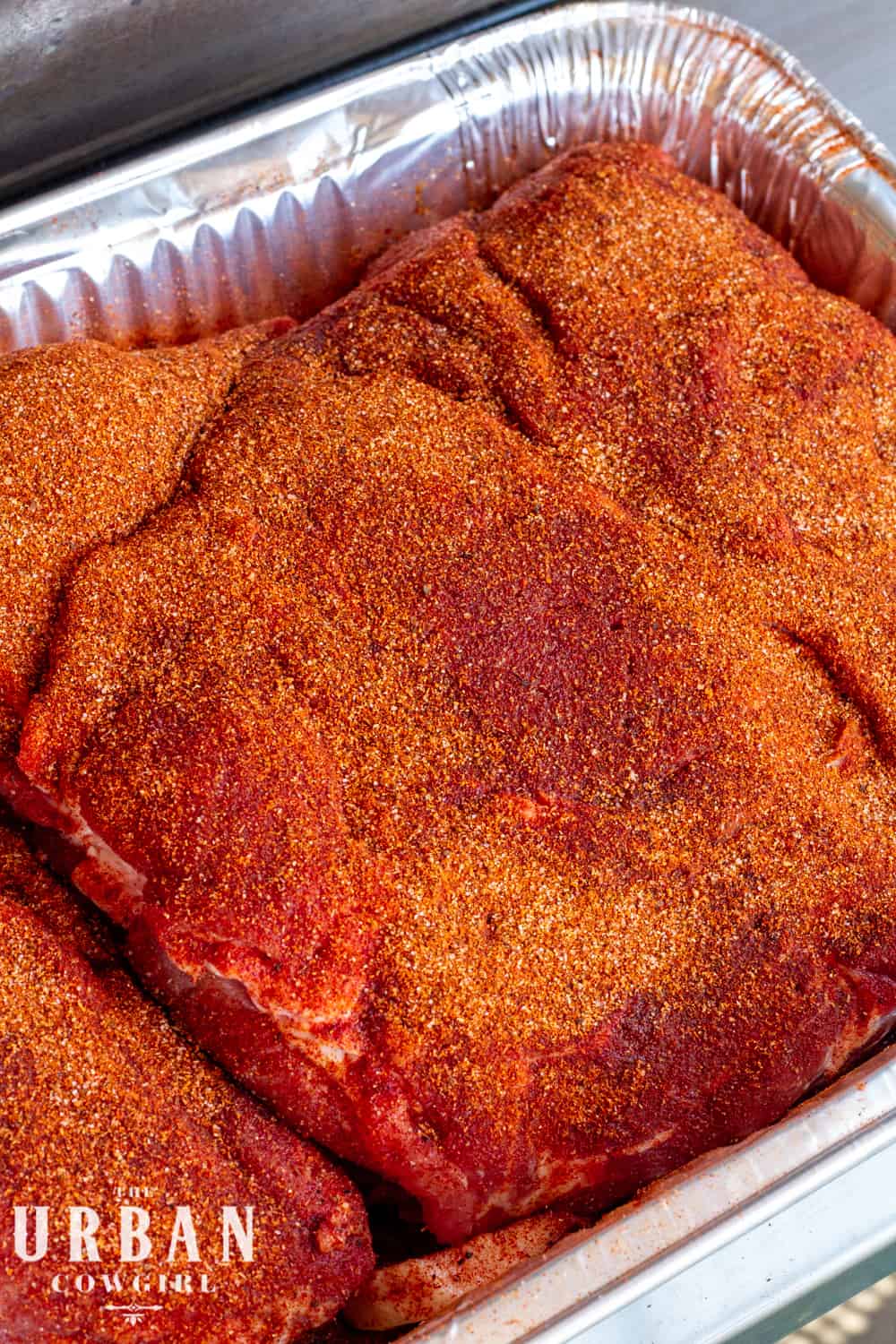 What Cut of Meat for Pulled Pork?
For pulled pork you have 2 choices, pork butt and pork shoulder. Here are the differences between the two.
Despite their names, both come from the shoulder of the pig. The butt is higher up and the pork shoulder is slightly lower down continuing to the front hooves. Both are suitable for smoking because they are highly marbled, tough cuts of meat, that require slow cooking methods.
I personally prefer pork butt because it contains more fat which seeps into the meat making it more tender and flavorful, however, I wouldn't hesitate to use pork shoulder if butt wasn't available. Both cuts can come bone-in or boneless, with the shoulder usually coming bone-in with skin on (it's basically a picnic ham).
I use boneless pork butt because it's easy to buy at the warehouse stores (Costco and Sam's) in two packs for about $22… I make one now and freeze the other for the next weekend. A pork butt is usually 5-6 lbs. and takes me 10 hours to smoke. It makes a full half pan of meat (as seen in my photos) and makes about 12- 15 servings.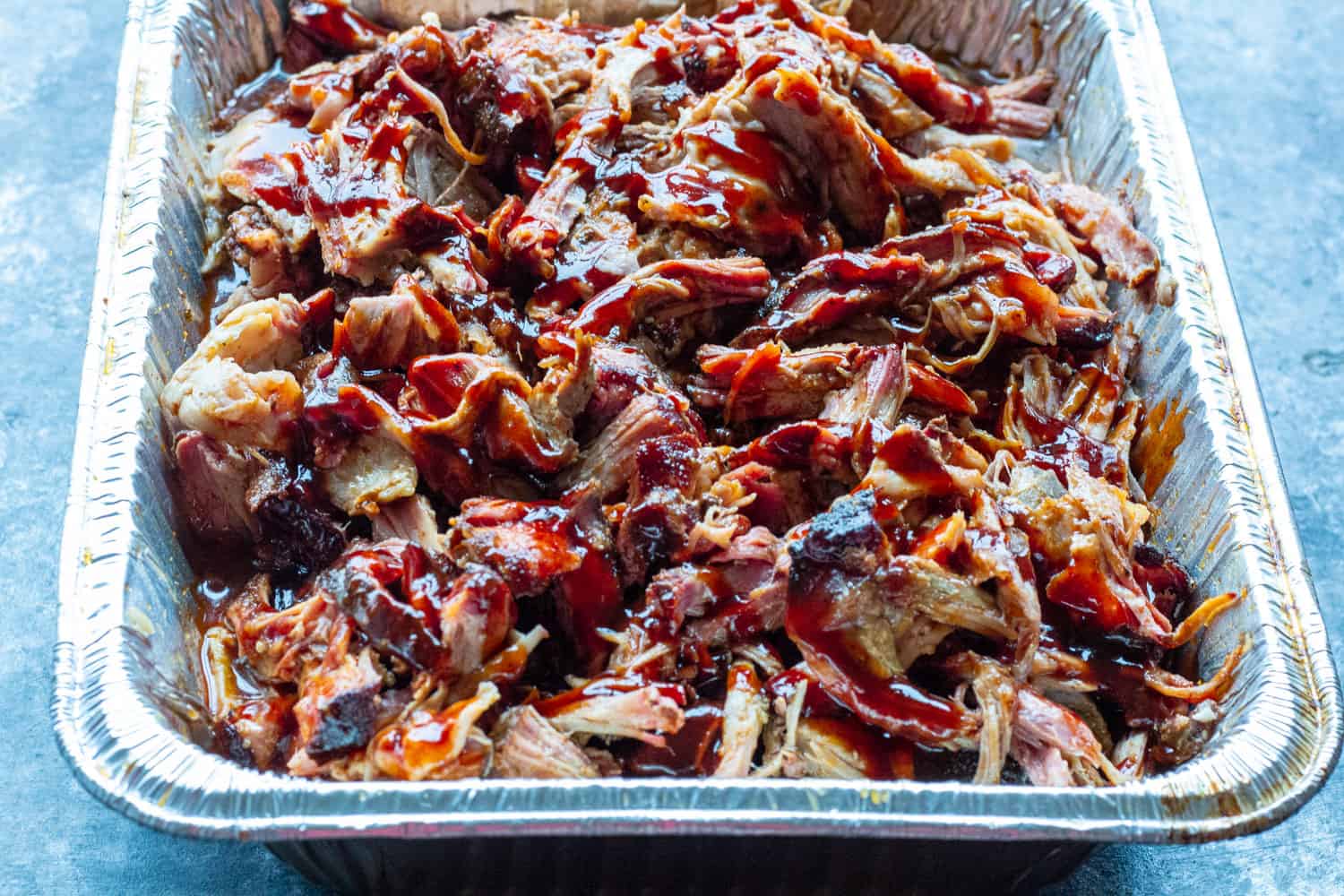 Pulled Pork Rub Recipe
My pulled pork rub recipe (which is listed right below in the recipe card) goes on thick on all sides of the pork butt. Despite the name rub, I like to sprinkle mine out of a metal spice holder and pat the rub into the meat. I let it absorb the first layer of pork rub over 5-10 minutes, and then sprinkle an additional second layer, patting as I go. Let this absorb for 4 hours to overnight in a refrigerator for the best flavor.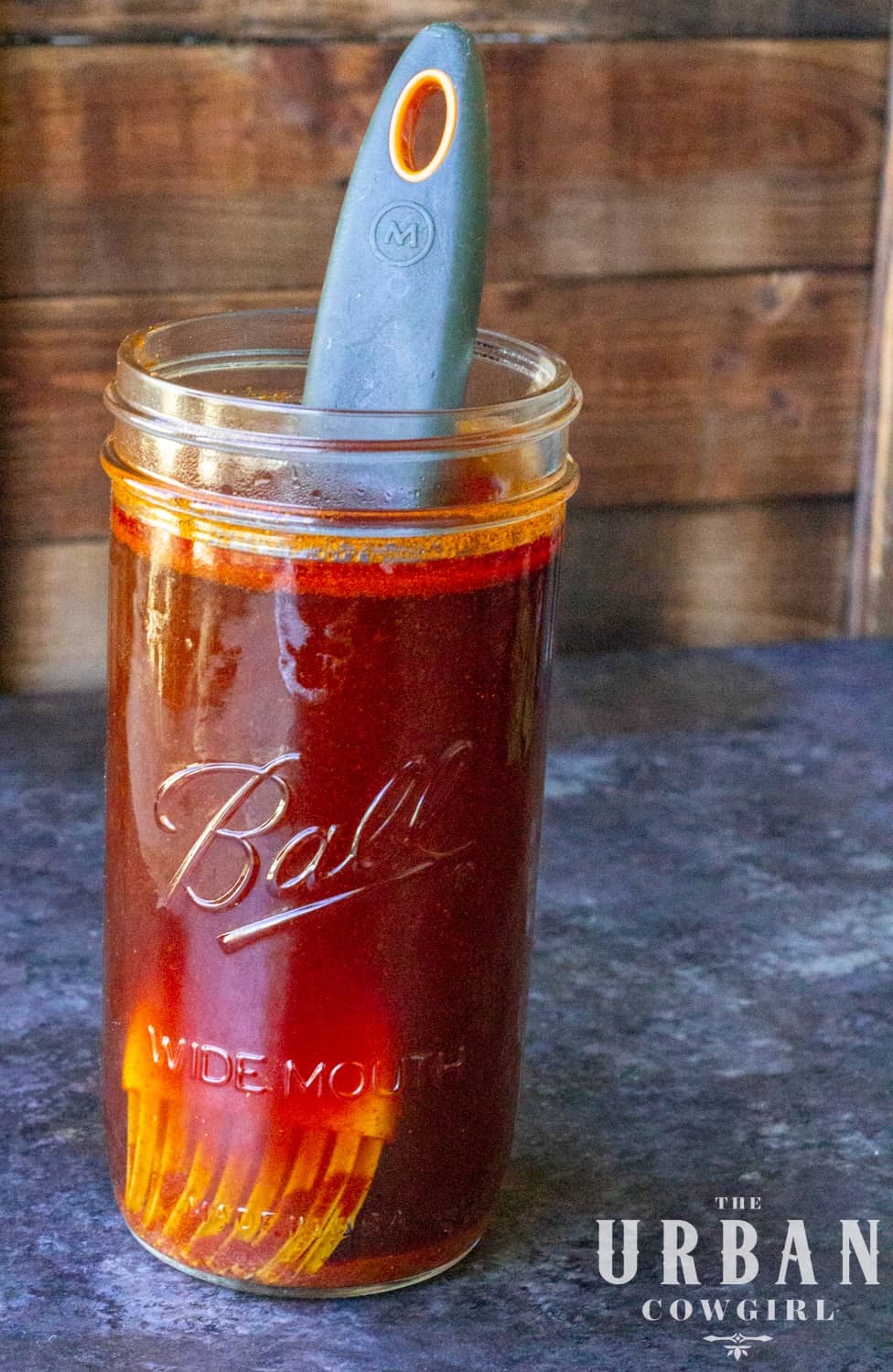 The Pork Butt Mop Recipe
I've tried many pork mops and here is what I can tell you. The mop is absolutely essential and tangy vinegar-based sauces work better than sweet mops for the flavors in this recipe.
The mop I use is vinegar-based with a splash of sugar and spices for flavor. It must be mopped on because it will clog a spray bottle, so don't make that mistake. If I have a little spray bottle of apple juice or Dr Pepper, I will occasionally use it on the pork butt (I use the spray for other barbecue that is currently on the pellet grill), but the vinegar mop will actually enhance the flavors in the final pork butt.
It's hard to explain without tasting it, but the vinegar mop balances the fattiness of the pork as well as the eventual sweet bbq sauce we will pair it with so I much prefer a vinegar mop. (Recipe below.)
How to Probe the Pork Butt
Your pellet smoker likely comes with 1-2 probes which are inserted into the thickest part of the butt and give you a real-time feedback of the current temperature of the butt. You can place these in the pork butt in the beginning of the cook, or after about 4 hours.
You can also use an ordinary oven probe with a feedback screen and alarm if you don't have a probe for your pellet smoker (or you melted yours on accident like me, and you're waiting for a replacement ????). Just make sure not to place the plastic computer part anywhere that it will heat up and melt.
Finally, when you insert the probe it is absolutely essential to avoid the probe touching a bone (if you selected a bone in cut). If the probe touches a bone, in any type of barbecue, you will receive a reading of the bone which can be 15-20 degrees hotter than the surrounding meat.
When Should I Wrap the Pork Butt?
Most people who wrap their pork butts do so at 160-170 degrees. I highly recommend wrapping your pork butt when smoking on a pellet grill because there is heat coming from underneath. It may be minimal heat, but it's certainly more than a traditional stick smoker, which just deals with smoky air circulating.
I place my pork butt in half pans, pour a bit of the vinegar mop sauce into the pan, and cover tightly with foil. The pork butt will finish in this moist environment, seeping juices which make a flavorful au jus. It mixes well with the vinegar mop sauce and creates the foundation for an unbelievable barbecue sauce.
Also, using this method, the bark which we have worked so hard to achieve mostly stays intact, where other methods I have used (such as wrapping in butcher paper) turn the bark to mush.
After wrapping in the pan, there is no need to mop anymore.
What Temperature Should I Cook Pulled Pork to on the Pellet Smoker?
I cook to 206 degrees, unplug the probe, but leave it inserted in the meat, and place it in a room temperature place in the kitchen to rest, like a countertop lined with a kitchen towel. Depending on how quickly you want to pull and eat the pulled pork will determine if you remove the foil.
If you are waiting on guests, it will stay significantly hot left in the foil tent for hours. If you want to pull it sooner, remove the foil and continue to let it rest for 1 hour before pulling.
To pull the pork, begin by removing the probe. You will need to use double-gloved hands or pulled pork claws to pull the pork if it is still relatively hot. Pull the pork into manageable chunks and then break each chunk up into tender 2-inch long ribbons.
For the sauce, I use the liquid which has accumulated in the bottom of the pan which is a combination of natural juices and the bit of the vinegar mop we poured in before we tented with foil. This is a great time to drizzle on barbecue sauce and let it combine with the juices present to make an earthshakingly good sauce!!
How to Reheat Pulled Pork
Smoking a whole pork butt for your family will likely produce more meat then you can eat in one setting. For this reason it's helpful to know how to reheat it. My favorite method is placing the half pan, covered in foil, into a 300 degree oven for 20-30 minutes. The juices accumulated during the cook should be enough moisture to reheat, but adding 1/4 c. of barbecue sauce or beef broth is also fine.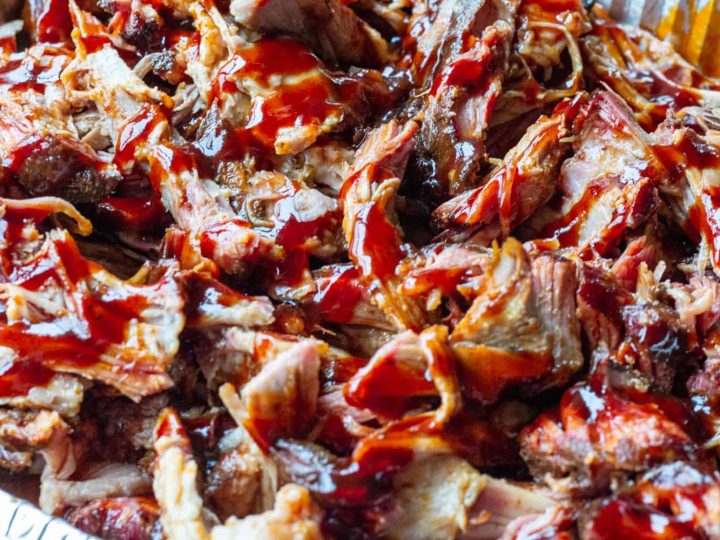 Yield:

12- 15 Servings
Pellet Grill Pulled Pork Recipe
Total Time:
11 hours
20 minutes
The most delicious pulled pork recipe, designed just for pellet grill smokers!
Ingredients
1 Pork Butt (usually 5-6 lbs.) This recipe will make enough rub and mop sauce for 2 pork butts at one time if you want to make 2.
Urban Cowgirl Texas Pork Butt Rub:
Yields 2 1/2. cups
1/2 c. fresh paprika
1/4 c. kosher salt
1/4 c. sugar
1/4 c. cumin (ground)
1/4 c. Texas chili powder
1/4 c. granulated garlic
1 T. dry ground ginger
2 T. dry mustard powder
2 T. black pepper
2 T. cayenne pepper
Vinegar Mop Sauce:
1-quart apple cider vinegar
1 c. water
2 T. sugar
2 T. Texas chili powder
1 T cayenne
2 T kosher salt
3 T oil (flavorless oil, not olive oil or coconut oil)
1 cup (to taste) Meat Mitch Competition Barbecue Sauce. (I am totally obsessed with this sauce right now and whoever he is, he doesn't pay me to say that.) I also use Stubb's Sweet BBQ or any honey barbecue sauce that is convenient for you to find.
Optional: If you want to make sandwiches, make sure to grab some nice buns.
Instructions
Open the pork butt from the package and place it into an aluminum half pan, draining the juices well. Using a sharp fork (or I use the double-pronged cheese fork from a charcuterie knife set) puncture the meat of the pork butt on all sides.
Mix all of the rub ingredients in a Tupperware container, place the lid on, and shake well. Pour some rub into the metal shaker, replace the lid and shake well patting the rub into the meat. Avoid "rubbing" it in, that doesn't work. Do this on all sides of the pork, wait 5 minutes for it to absorb, then shake and pat again. Cover the meat with foil and refrigerate for 4 hours or overnight for maximum flavor.
For the mop sauce: Place all of the ingredients in a small saucepan and bring to a boil. Stir well. Set aside to cool. Be prepared to mop the pork using a barbecue mop or meat brush.
For the cook:
Heat the pellet grill to 225 degrees. Load the hopper with sufficient pellets and check the feed rate to make sure you are getting a good steady flow of clean smoke.
Probe the pork butt using the probe from your pellet grill or a standard barbecue probe. Place it on the smoker, sprinkle on a little extra rub and close the chamber.
I cook the pork butt for an hour and a half before I begin mopping it well-- about every 30- 45 minutes to keep the pork moist.
When the pork reaches between 160-170 degrees, place the butt into a fresh aluminum half pan. Sprinkle with rub, and pour about 1/2 c. of the mop sauce into the bottom of the pan to provide moisture. (You can also try experimenting with apple juice or Dr Pepper for a different taste.) Tent with foil and place back into the pellet grill.
Smoke until the pork reaches 206 degrees. Remove from the pellet grill to a room temperature place away from dogs, friends, and nosy neighbors to rest for at least 1 hour.
Leaving the foil on top will keep the meat hot for hours if you are waiting for guests. Vent the foil a little bit to let steam escape if you're ready to rest the meat, pull and eat quickly.
When you are ready to pull the meat, do so double-gloved or with pork claws as it is still very hot. Sauce the meat with barbecue sauce and serve!
(Let me know how it went for ya!!)
Nutrition Information:
Yield:
15
Serving Size:
1
Amount Per Serving:
Calories:

221
Total Fat:

10g
Saturated Fat:

2g
Trans Fat:

0g
Unsaturated Fat:

7g
Cholesterol:

26mg
Sodium:

2947mg
Carbohydrates:

23g
Fiber:

4g
Sugar:

11g
Protein:

11g
This nutritional information is provided as a courtesy as an estimate only. Consult with a dietician for precise estimates. This website makes no claims that the nutritional values listed are accurate.