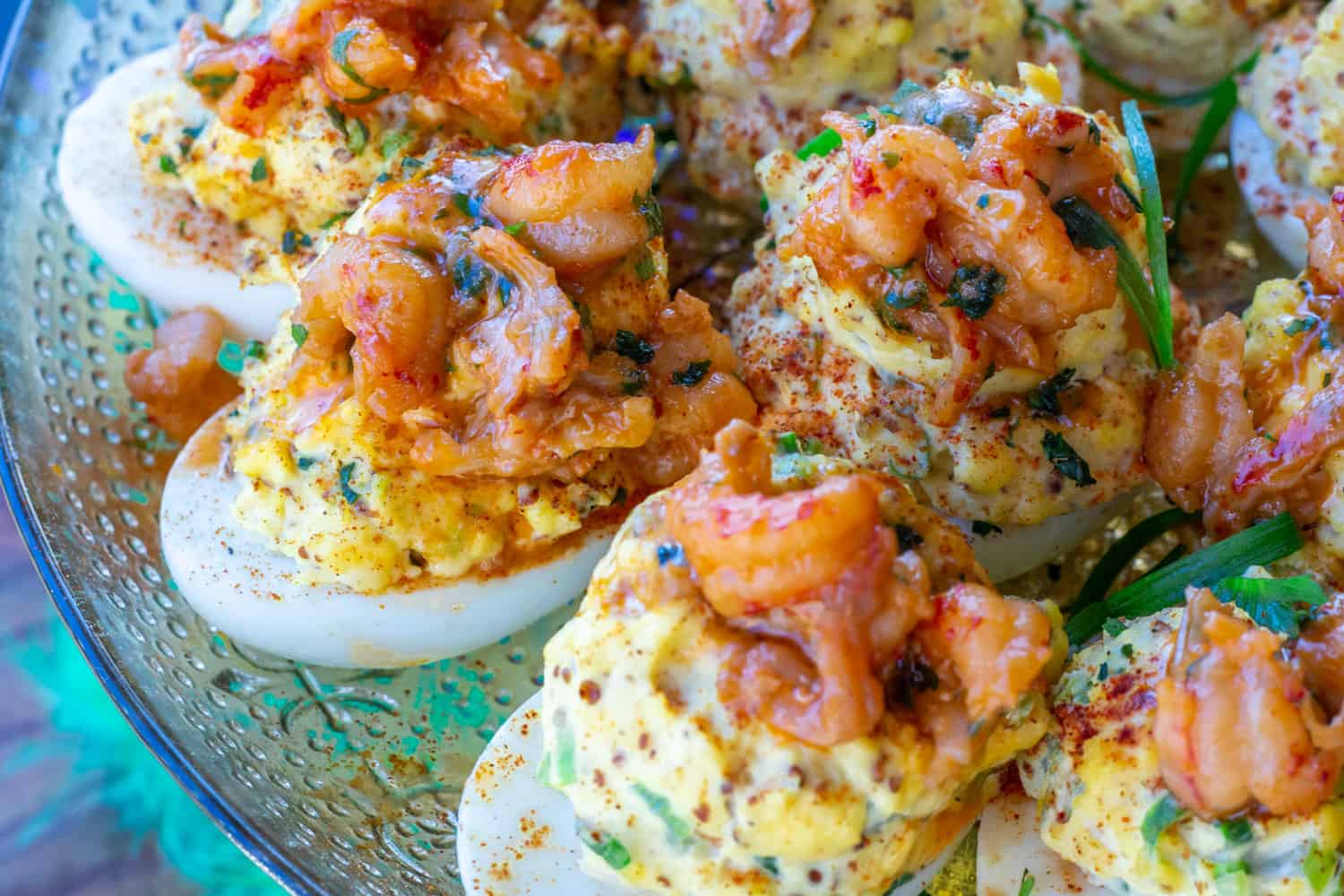 Every day of your life is a special occasion, so make today swanky and finger-lickin' with a crawfish deviled eggs recipe from New Orleans, Louisiana!
We all remember my 48 hour-straight, birthday, food and cocktail bender through the French Quarter (which has become a top food and travel video on YouTube 🙂 ), and I still dream of the food all the time, so for crawfish season this year meet one of my favorite New Orleans appetizers, crawfish deviled eggs!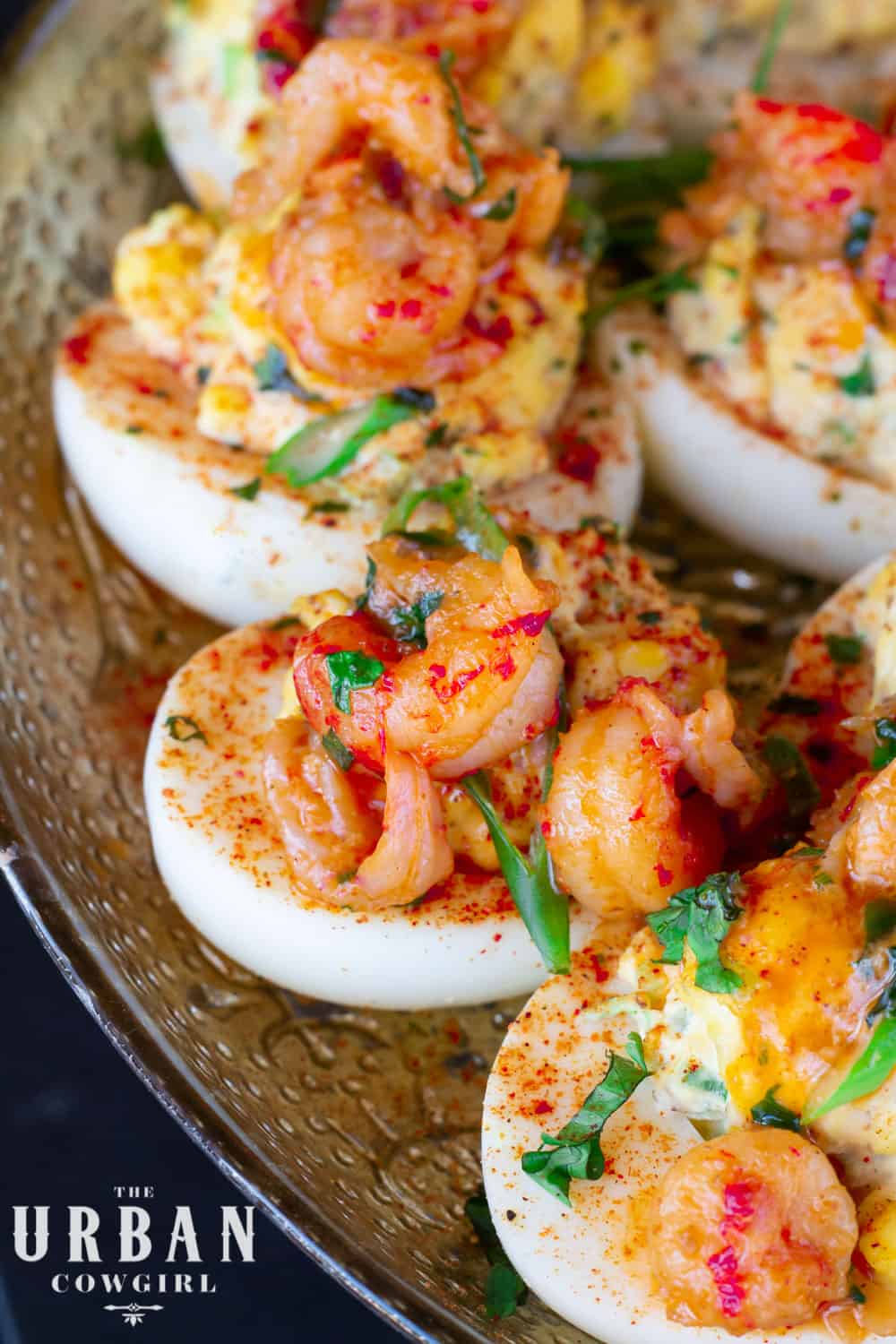 These eggs are such an over-the-top dish you'll swear you're at a rooftop bar off Royal Street listening to the jazz bands play. They're perfect bites for Mardi Gras parties and parades, a classy hors-d'oeuvres party, or as an impressive treat at backyard barbecues.
And it's a fast dish! Once you've hardboiled the eggs (which only takes 12 minutes), the dish is lightning fast to prepare and stunning to behold. The crawfish topping is able to be prepared on a sliding scale of spice, so they can be mild yet full of New Orleans flavor, or spicy if preferred!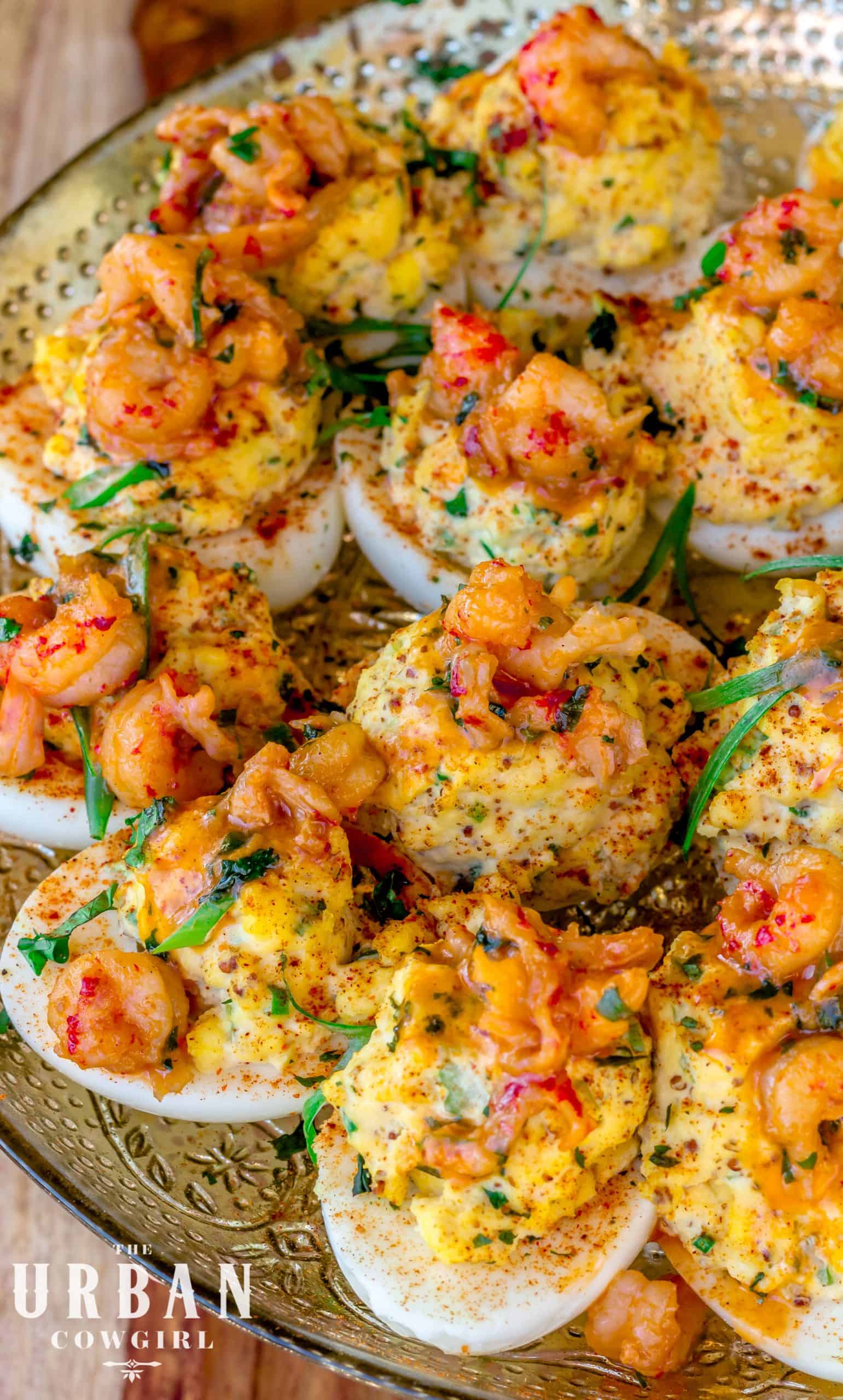 We like to serve the crawfish deviled eggs with white wine; Riesling if you make a spicy crawfish topping or crisp, dry, sparkling white wine if you chose to make them mild. If you're interested in recreating some of our favorite New Orleans cocktails with these deviled eggs, I would recommend the Fleur de Lis cocktail or the El Diablo cocktail, both available on the blog for Hotel Monteleone's Carousel Bar. These were our favorites when we stayed there!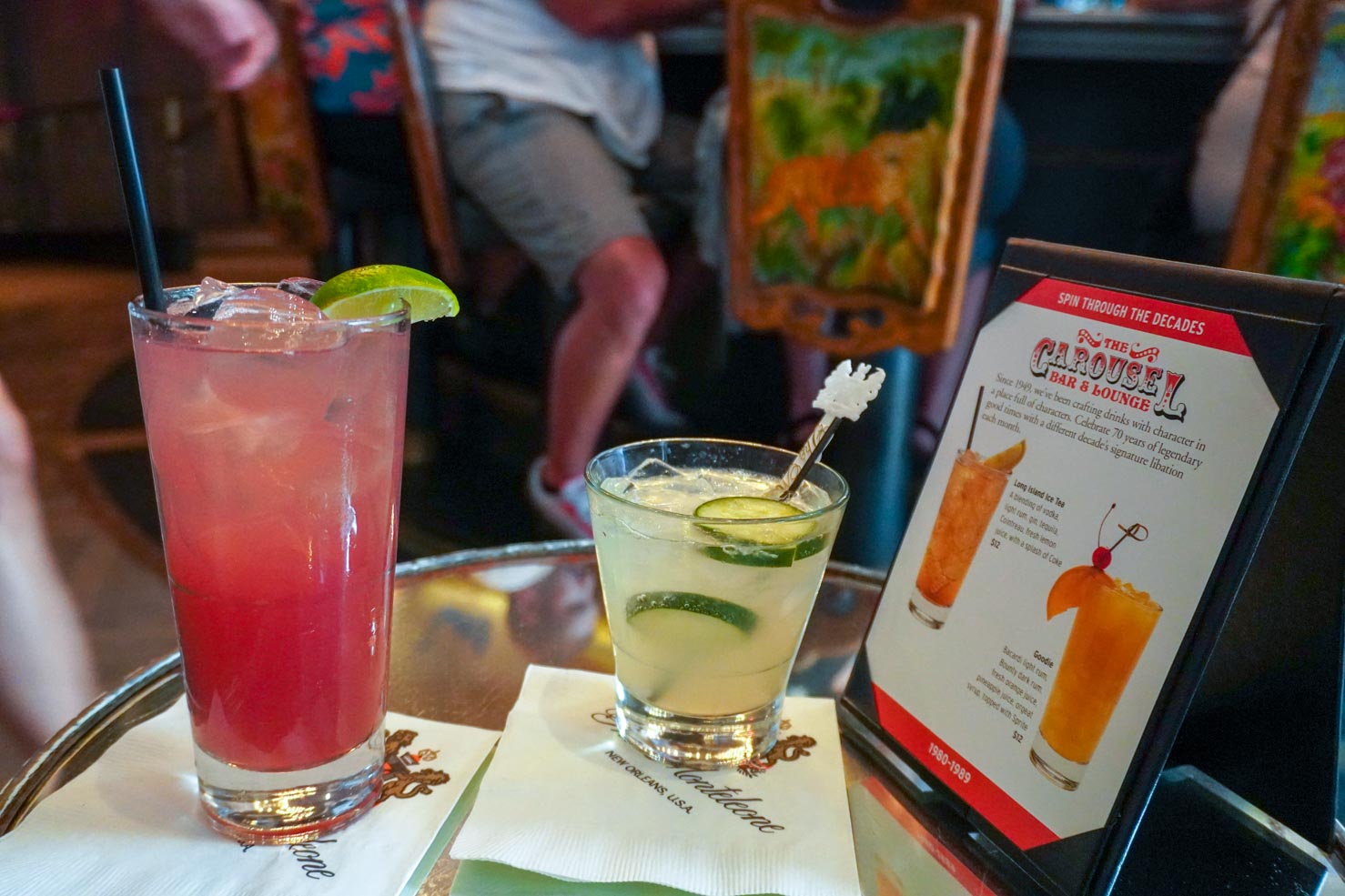 Laissez les bon temps rouler yall!
That means let the good times roll–which they certainly will with a mouthful of creamy crawfish deviled eggs. 🙂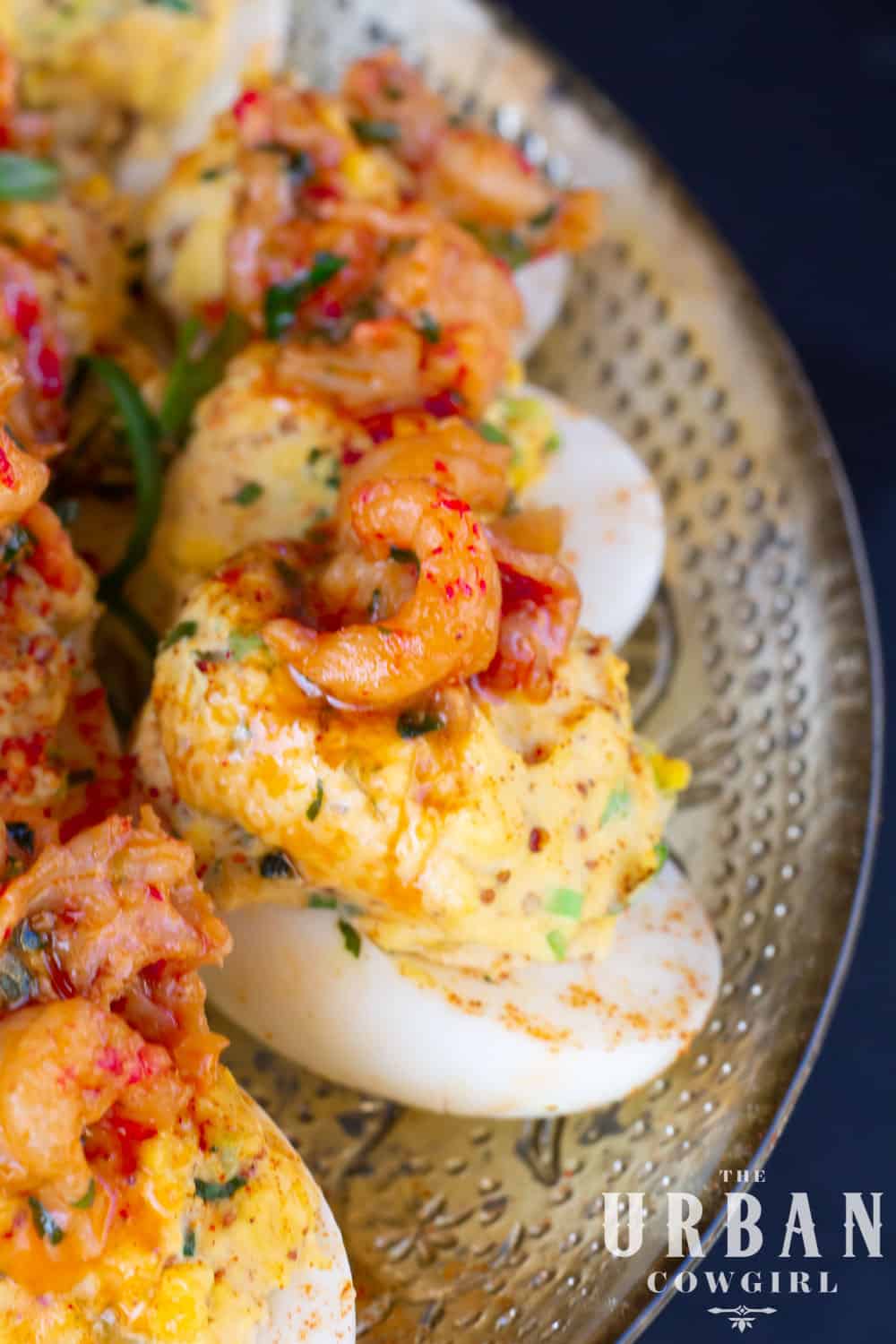 Yield:

24 half eggs
Crawfish Deviled Eggs Recipe
Crawfish deviled eggs are a creamy and decadent way to celebrate crawfish season, Mardi Gras, or as an impressive potluck dish.
Ingredients
Crawfish Topping:
12 oz. package of crawfish, defrosted if frozen
1 stick butter
1 T. green onions, chopped finely
1 T. fresh chopped parsley
1 t. Louisianna hot sauce
1/4 t. cajun or creole seasoning salt
12 eggs
1 stalk of celery, rinsed
1 green onion, rinsed
4 T. Hellman's Mayonnaise
2 T. Creole Mustard (I used Zatarain's)
¼ t. Cajun Seasoning
1 t. Crystal Hot Sauce
Instructions
To hard-boil the eggs: Place all the eggs in a medium pot and cover with water. Set over high heat and cook until the water comes to a gentle boil.
Boil for 2 minutes, then shut off the heat and cover the hot eggs and start a timer for 11 minutes. Place a colander in the sink to prepare for deshelling the eggs. As soon as the timer goes off, drain the eggs into the colander.

Under warm running water crack the eggs and remove their shell. Place all of
the boiled eggs into a bowl.

To prep the eggs:

Cut each egg in half and remove the yellow yolk to a small
bowl. Place each egg white half on a plate and chill while preparing the filling.

For the deviled egg filling: Finely dice the celery and green onion and add to the bowl of cooked egg yolks. Add all of the remaining ingredients and mash well with a fork until no lumps remain. Taste for seasoning. Chill for 15-30 minutes.
For the crawfish topping: Place all of the ingredients into a skillet and warm for 2-3 minutes, until the topping becomes fragrant. Let the filling sit until the topping isn't quite as hot, before topping the eggs. Just warm to room temperature is best.

Fill each egg half with a generous amount of deviled egg filling. Top each deviled egg with crawfish topping.
Serve immediately. Garnish with a sprinkling of additional cajun seasoning if desired.


Nutrition Information:
Yield:
12
Serving Size:
2
Amount Per Serving:
Calories:

203
Total Fat:

17g
Saturated Fat:

7g
Trans Fat:

0g
Unsaturated Fat:

8g
Cholesterol:

250mg
Sodium:

329mg
Carbohydrates:

1g
Fiber:

0g
Sugar:

0g
Protein:

12g
This nutritional information is provided as a courtesy as an estimate only. Consult with a dietician for precise estimates. This website makes no claims that the nutritional values listed are accurate.