Late summer is here and there are lots of events to prepare for: backyard barbecues, family gatherings, preseason game days, and in a flash it will be the holiday season!
I have two smoked queso recipes below that are just in time for the season. It is the ultimate party dip with simple ingredients you can find at any local grocery store! And the best part? No cleaning the pan or the crock pot afterward!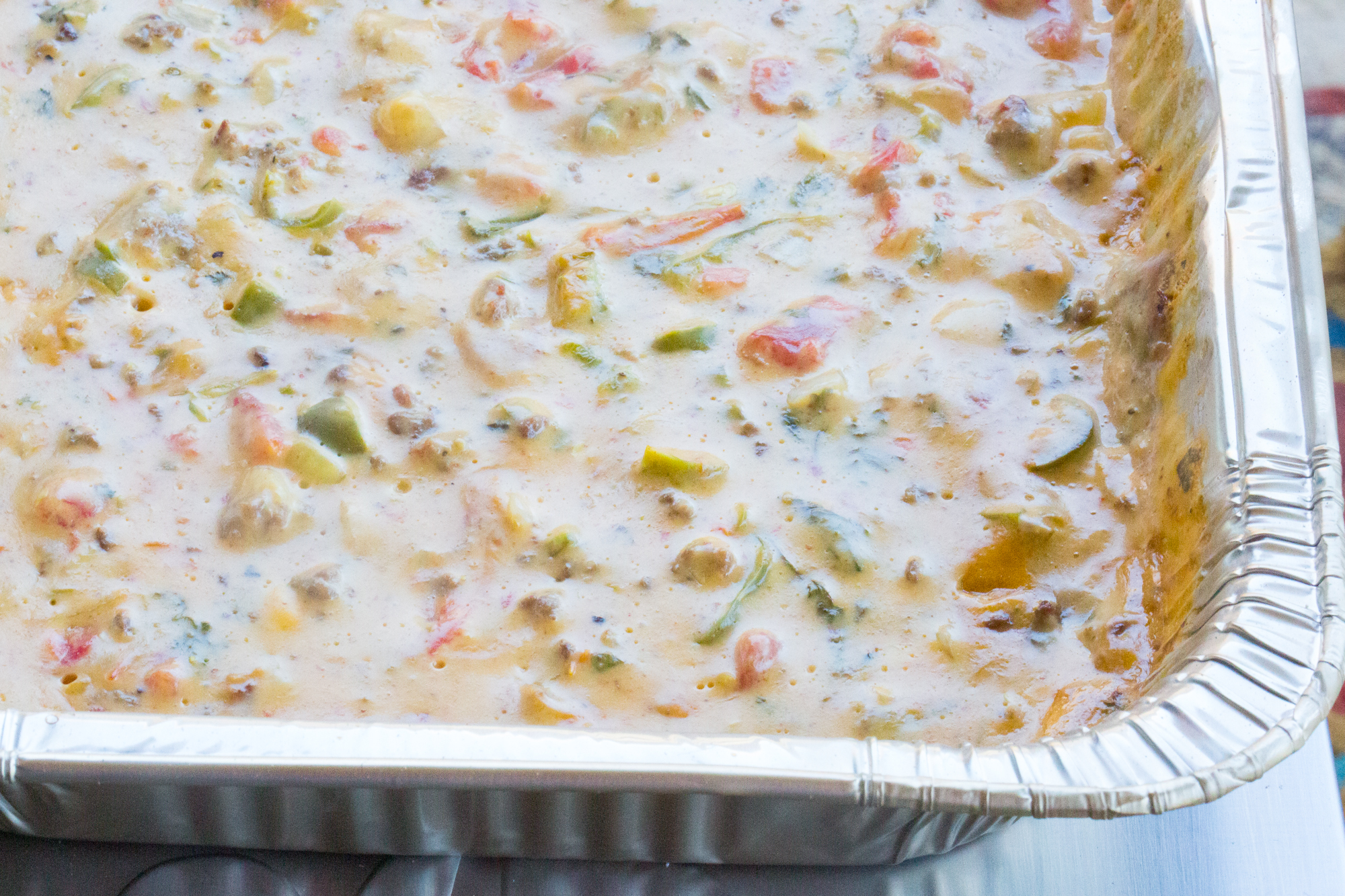 Below you'll find, not one, but two from-scratch smoked queso recipes!
The first is with taco meat and traditional yellow Velveeta cheese; the second with queso blanco, poblanos, and breakfast sausage. Your guests will rave about this cheesy dip loaded with fresh taco meat or breakfast sausage, green chiles (in fact, it's a great way to use hatch chiles) and fresh roasted veggies.
The best part? It's like zero work!!
What's the Big Deal with Smoked Queso?
Smoked queso is trending on social media because you place all of the queso ingredients in a disposable aluminum pan and "cook it" in a barbecue smoker, on the grill, in an oven, or even over a campfire.
The cooking process is as easy as it gets… it cooks itself. You need only give it a stir and maybe add some water or milk if you see it getting too thick. The best part is when you're done you just throw the pan away.
Since I made this on my pellet grill, people have asked if it can be made any other way, and the answer is of course! The wood chips give the queso a delicious smoky flavor (if left long enough) but ultimately you're just using the heat to warm up the disposable pan, so this can be done with many cooking setups.
If you love your slow cooker, by all means just use the same recipe and place it in the bowl of your crock pot.
Can You Make Smoked Queso Without Velveeta?
Most smoked queso recipes use Velveeta cheese, but you can substitute Boar's Head brand American cheese and White American cheese.
It melts just as well and we use it on this blog for most of our queso recipes. One important foodie tip is that Boar's Head American Cheese is the only reliable version that ALWAYS melts perfectly into queso.
I do not recommend generic brands as they have "broke on me" about 1/3 of the time. Boar's Head even had a batch produced around the holidays that was sold to consumers, which may not have been formulated correctly, and they issued a public statement! They know we are making queso with it and they always formulated it with care.
So, when making queso, always reach for Boar's Head or the queso may break or curdle. (They did not pay me to say this I just want you to know this insider tip!)
In my recipes below, we also use the queso blanco version of Velveeta which is a totally different flavor and blends well with the green chilis and breakfast sausage if you're just interested in a different cheese experience.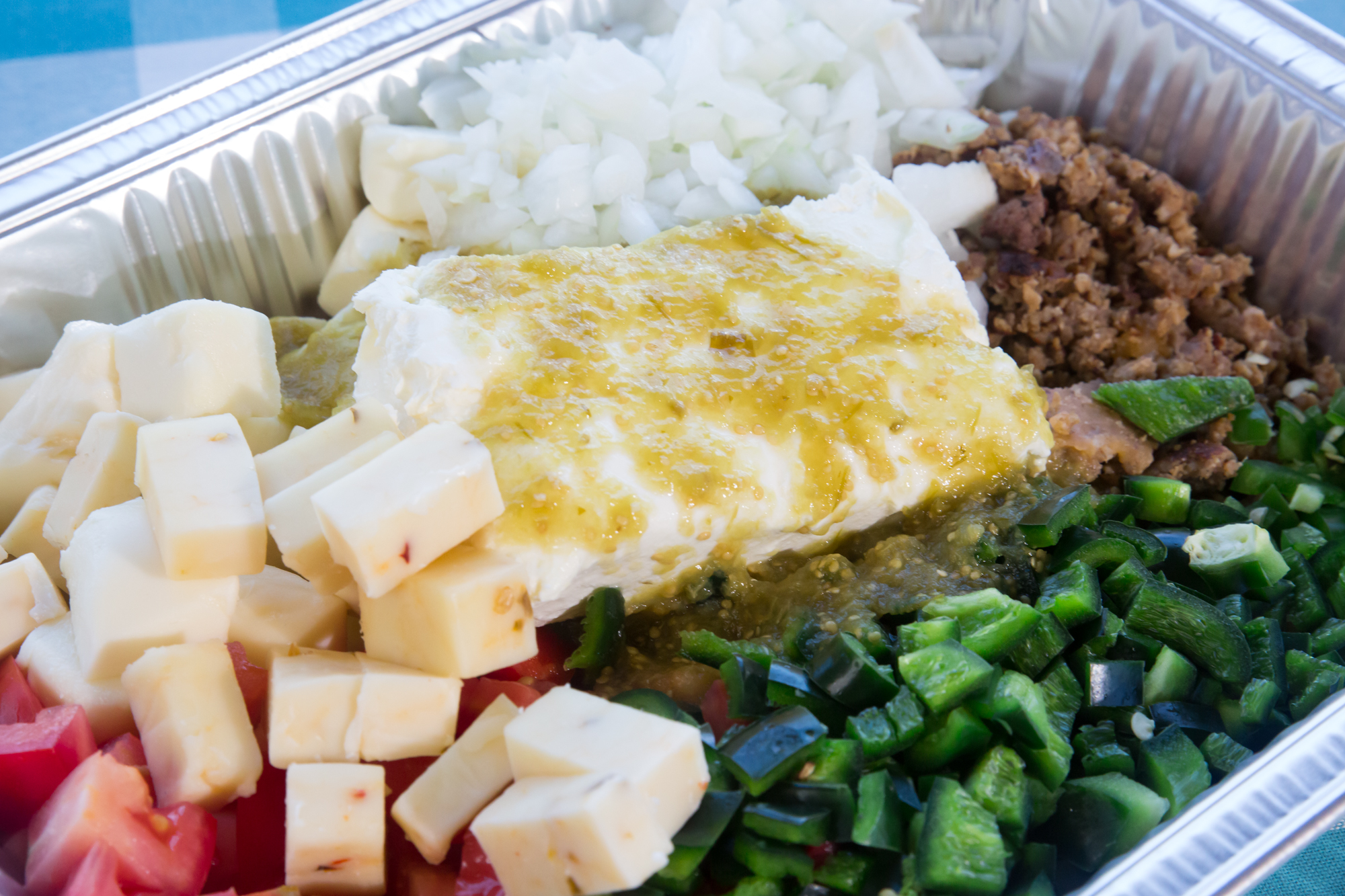 Can You Make Smoked Queso on a Smoker or a Grill?
You absolutely can. In fact, I'll be using a pellet smoker in the video. I know some of us also appreciate the taste we get from a charcoal grill and this recipe works fine over indirect heat on any charcoal grill.
You can even do this over a campfire. Whether you have a Pit Boss, Weber, Big Green Egg, or even a gas grill…this delicious dip works on all of them.
What Temperature Do You Smoke Queso At?
You'll want to cook your smoked queso recipe at 225-250 degrees for about an hour. By this time, all of the ingredients should be melted in together and you should be pleased with the consistency. Give it a stir and feel free to add water to thin it to your desired consistency.
How Long Does Smoked Queso Keep?
Your smoked queso is best eaten right after preparing, but leftovers can be stored for up to four days in the refrigerator.
Make sure to place the remaining queso in an airtight container. When you are ready to enjoy it again you can reheat your queso in a microwave for 1-2 minutes, or in an oven at 300 degrees for 10-15 minutes (depending on how much is leftover).
Cold queso is very thick. Add 2 T. water to start with to loosen it up, and add more water if needed to thin it out. While it cooks it will naturally loosen up a bit.
Creating the Best Smoked Queso Dip
You can easily modify my recipe or make your own version of the smoked queso dip recipe by knowing these tips.
You can add about 4-8 oz. off a block of cheese in with the Velveeta for a little bit of texture and tons of flavor. This can be monterey jack cheese, cheddar cheese, pepper jack, gouda cheese, etc. (Get creative!)
You can substitute a can of Rotel for the tomatoes and green chiles if you want to eliminate some chopping.
Add fresh or canned jalapeno peppers or fresh diced chili pepper. This recipe is great for using freshly roasted hatch chiles during the Hatch chile season.
Add a can of cream of mushroom soup! (Some people swear by it!)
Add 1 c. of your favorite green or red salsa.
Add any cooked ground meats such as pork sausage, taco meat, or smoked meats like leftover pulled pork or brisket.
Try changing up your wood pellets. Mesquite or Hickory wood is a strongly fragranced wood that can really penetrate the hot cheese dip.
(Our smoked queso recipes do not include cans of Rotel Tomatoes because this product is not easily found worldwide and our readers are all over the world.)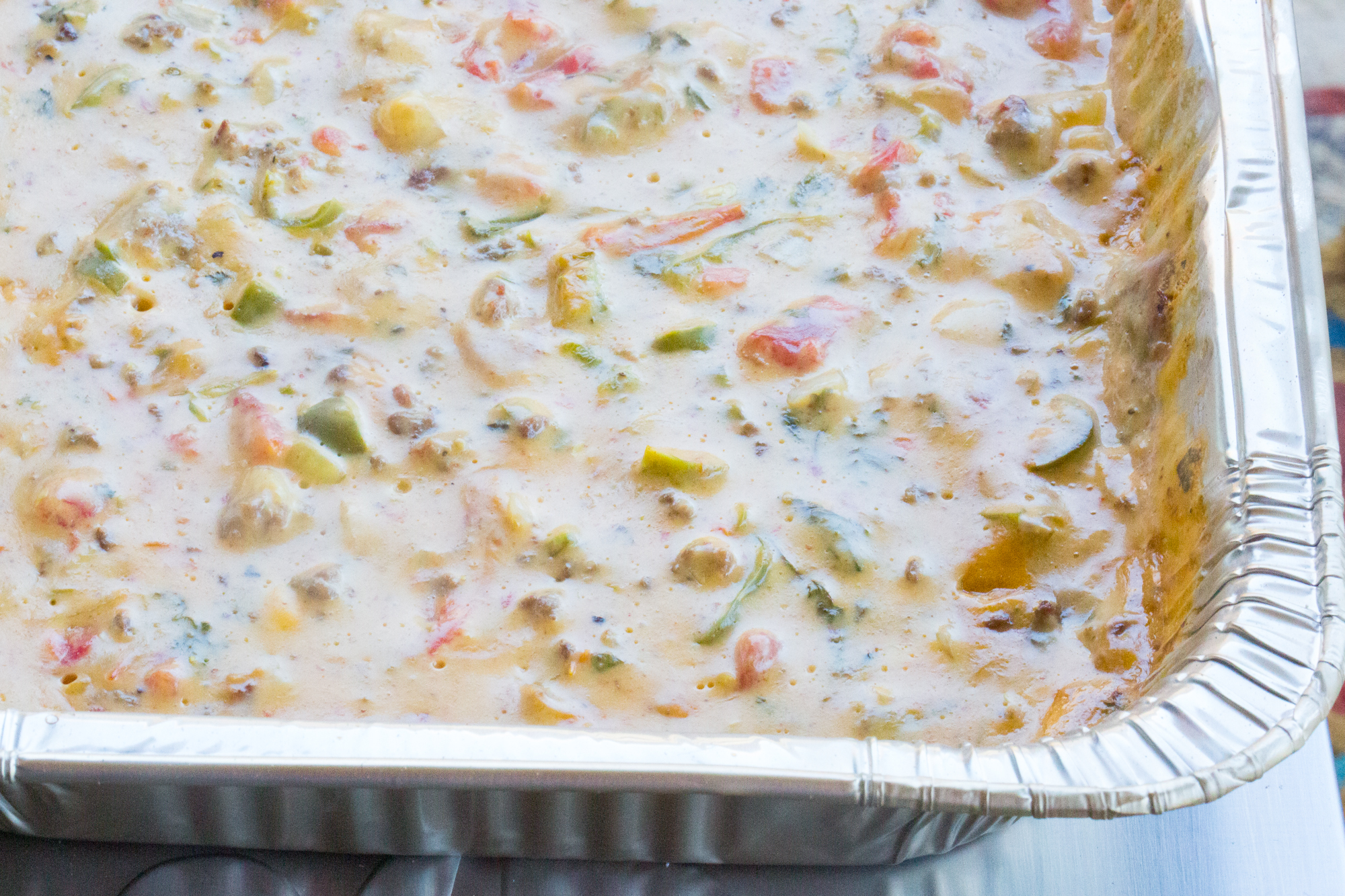 What is the Standard Procedure for Delicious Smoked Queso Dip?
The standard procedure is to dice the ingredients, cook any meat that is to be added first and then pile it into a disposable pan. Place it over medium heat and cover the queso with the lid of the grill or smoker so that the chamber is sealed. No fire, just smoke or hot coals.
Smoked Queso Recipe On The Smoker
If you have a long offset smoker or a pellet grill, you need to place the pan near the smoke box to ensure it's receiving enough heat to melt and turn into cheesy goodness. A barbecue smoker was the original design of this recipe and although it can be made on other outdoor cooking tools, we feel like it's the best method.
It takes about 40 min to 1 hour. Stir well and thin with water if needed. Serve with your favorite dippers.
Campfire Method For Smoked Queso
You can do this while camping over a campfire (just over the coals please) but you'll need some kind of lid, so a dutch oven may be used, or perhaps the lid to the disposable pan if one is available. Foil would also be an option.
(Both Smoked Queso Recipes are Provided Below On Their Own Cards)
Yield:

1.5 quarts
Smoked Queso Blanco and Breakfast Sausage Queso
Total Time:
1 hour
5 minutes
This smoked queso dip has a different flair by including queso blanco Velveeta and cooked breakfast sausage!
Ingredients
½ lb. breakfast sausage, cooked
1 lb. white Velveeta Queso Blanco, cubed
½ white onion, diced
1 poblano, diced
3 roma tomatoes, diced
1 jalapeno, diced, with seeds
4 oz. pepper jack cheese, cubed
1 package cream cheese (8 oz.)
7 oz. can of salsa verde (I used Herdez brand) You can use any thin tomatillo-based salsa
Instructions
Chop the cheese and vegetables and place them into a disposable pan.
Smoke the queso dip for about 40 minutes to 1 hour at 225-250 degrees. Stir after 20 minutes. If grilling place the pan over medium heat and close the chamber of the grill. Stir after 20 minutes and let it continue to cook.
Continue cooking until melted and you are pleased with the consistency. Add ¼ c. water if needed.
Serve with tortilla chips or your favorite dippers.
Notes
You can make this dip in an oven at 325 degrees, covered for 1 hour. To prepare it in a slow cooker set to medium-high heat and place the vegetables in for 20 minutes with 2 T. butter. Cook 20 minutes to wilt the veggies. Then add the remaining ingredients and cook 20 minutes or until the cheese is melted. Turn the slow cooker down to low and add water to thin as needed.
Nutrition Information:
Yield:
12
Serving Size:
1
Amount Per Serving:
Calories:

279
Total Fat:

21g
Saturated Fat:

12g
Trans Fat:

0g
Unsaturated Fat:

6g
Cholesterol:

69mg
Sodium:

1009mg
Carbohydrates:

7g
Fiber:

1g
Sugar:

5g
Protein:

15g
Nutrition Facts are provided as a courtesy, but should be double checked for accuracy. We make no claims that these are accurate.
Yield:

2 quarts
Smoked Queso Recipe - Taco Meat
Total Time:
1 hour
5 minutes
Ingredients
½ lb. ground beef seasoned with taco seasonings such as cumin, chili powder, salt, garlic
1 lb. yellow Velveeta Cheese, cubed
½ white onion, diced
3 roma tomatoes, diced
1 large hatch green chile, or other long green chile such as Anaheim or New Mexico chiles
1 jalapeno, diced, with seeds
Handful of cilantro, chopped
4 oz. pepper jack cheese, cubed
7 oz. can of salsa verde (I used Herdez brand) You can use any thin tomatillo-based salsa
Instructions
In a disposable pan place the ingredients and smoked about 1 hour at 225-250 degrees. Stir after 20 minutes. Continue cooking until melted and you are pleased with the consistency. Add ¼ c. water if needed.
Serve with Chips
Nutrition Information:
Yield:
6
Serving Size:
1
Amount Per Serving:
Calories:

475
Total Fat:

31g
Saturated Fat:

18g
Trans Fat:

0g
Unsaturated Fat:

6g
Cholesterol:

115mg
Sodium:

1773mg
Carbohydrates:

19g
Fiber:

3g
Sugar:

11g
Protein:

31g
All recipes should be double checked with your own resource for nutritional content. This is only provided as a courtesy and may not be accurate.