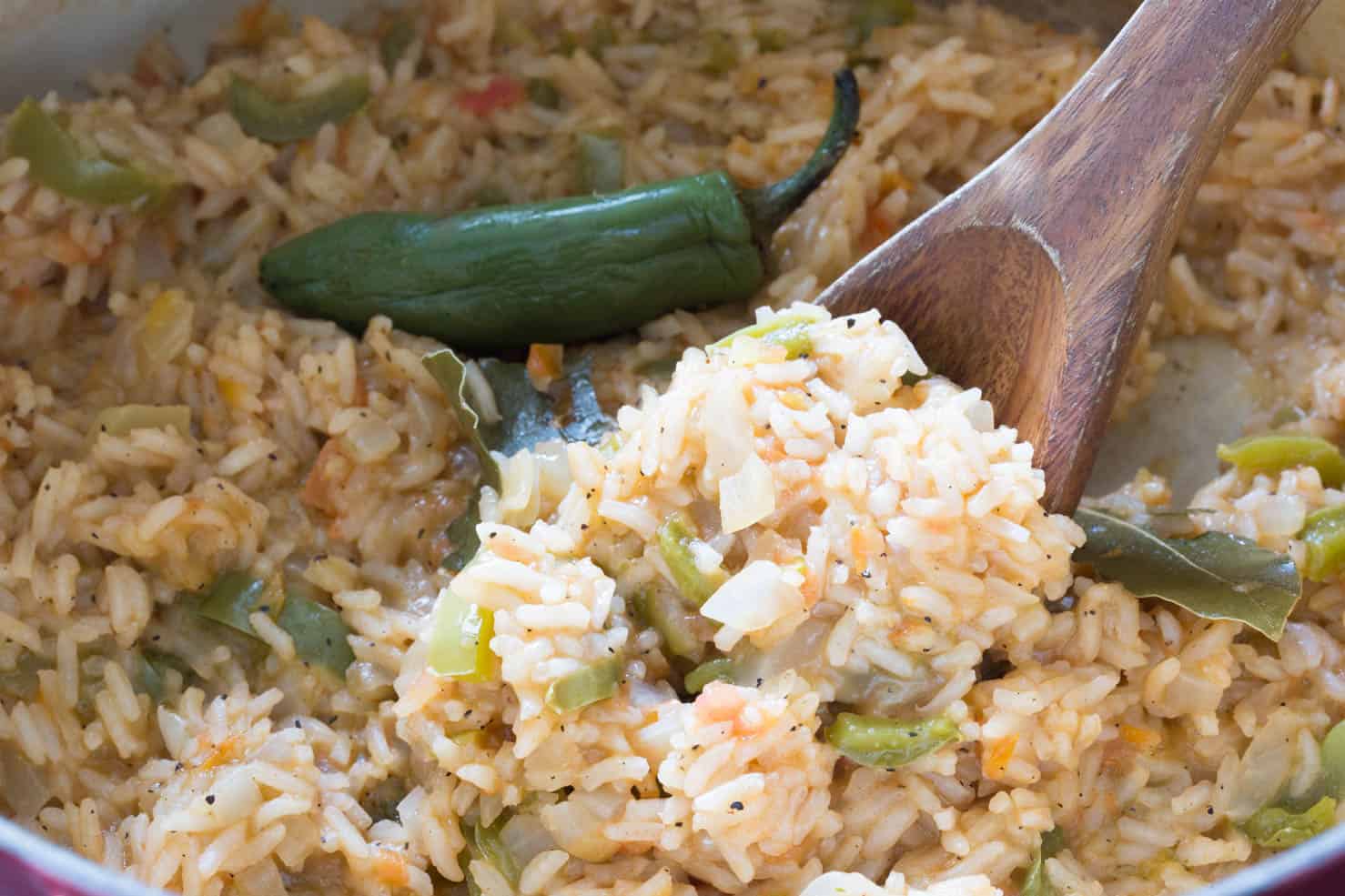 (Links are affiliate links to products we think are helpful and we may receive a small commission, at no cost to you, if purchased.)
Today I am sharing a recipe for authentic, restaurant-style mexican rice that we used to make in Tex Mex restaurants on the San Antonio Riverwalk. This is a light and fluffy, fried rice with fresh onion and green bell pepper, made with Knorr tomato bouillon, which is the secret to its authentic flavor.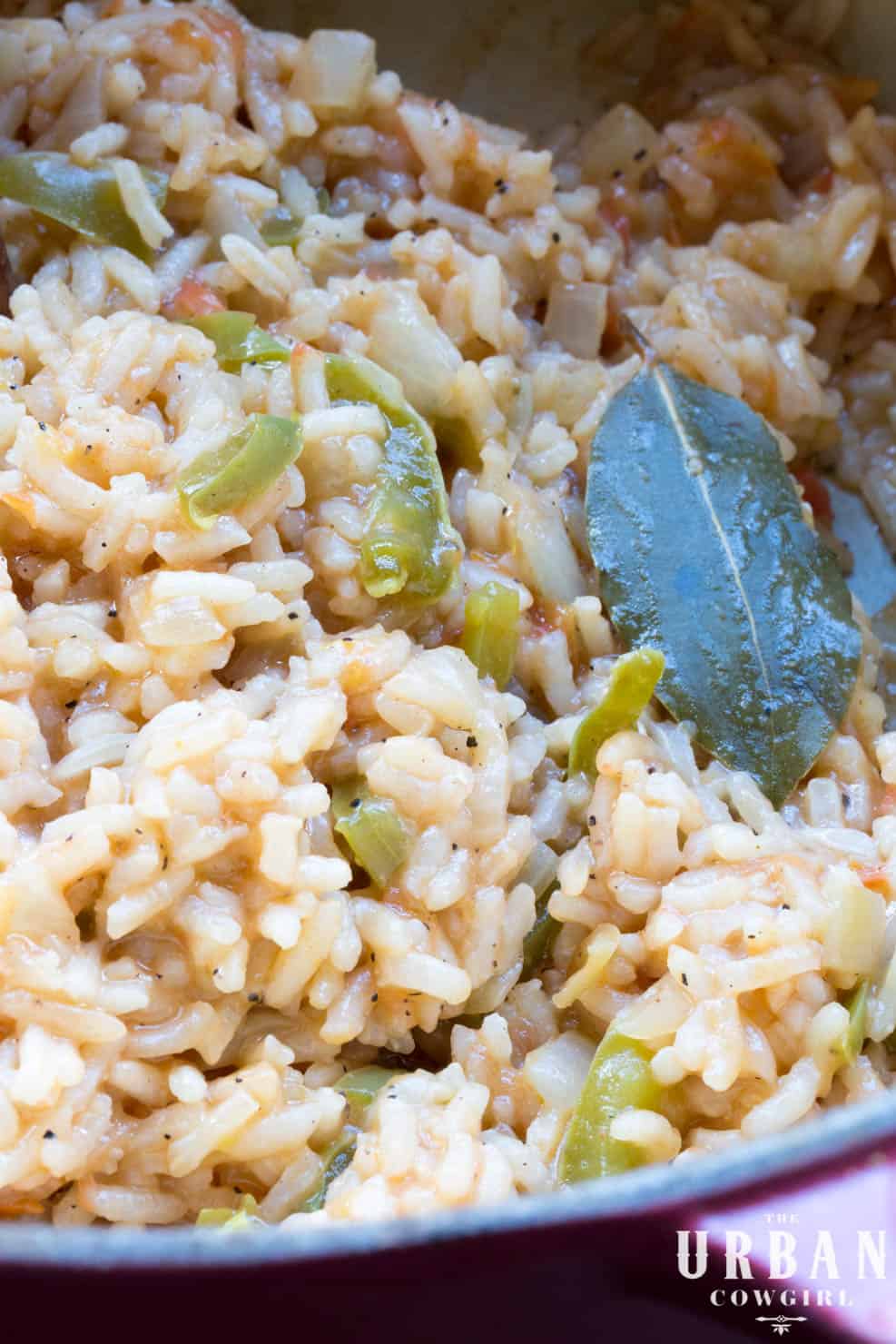 To make this authentic mexican rice, you'll need to get a product called Knorr tomato bouillon, which is readily available in the mexican area of most Texas and Southwest grocery stores, or purchase on Amazon here.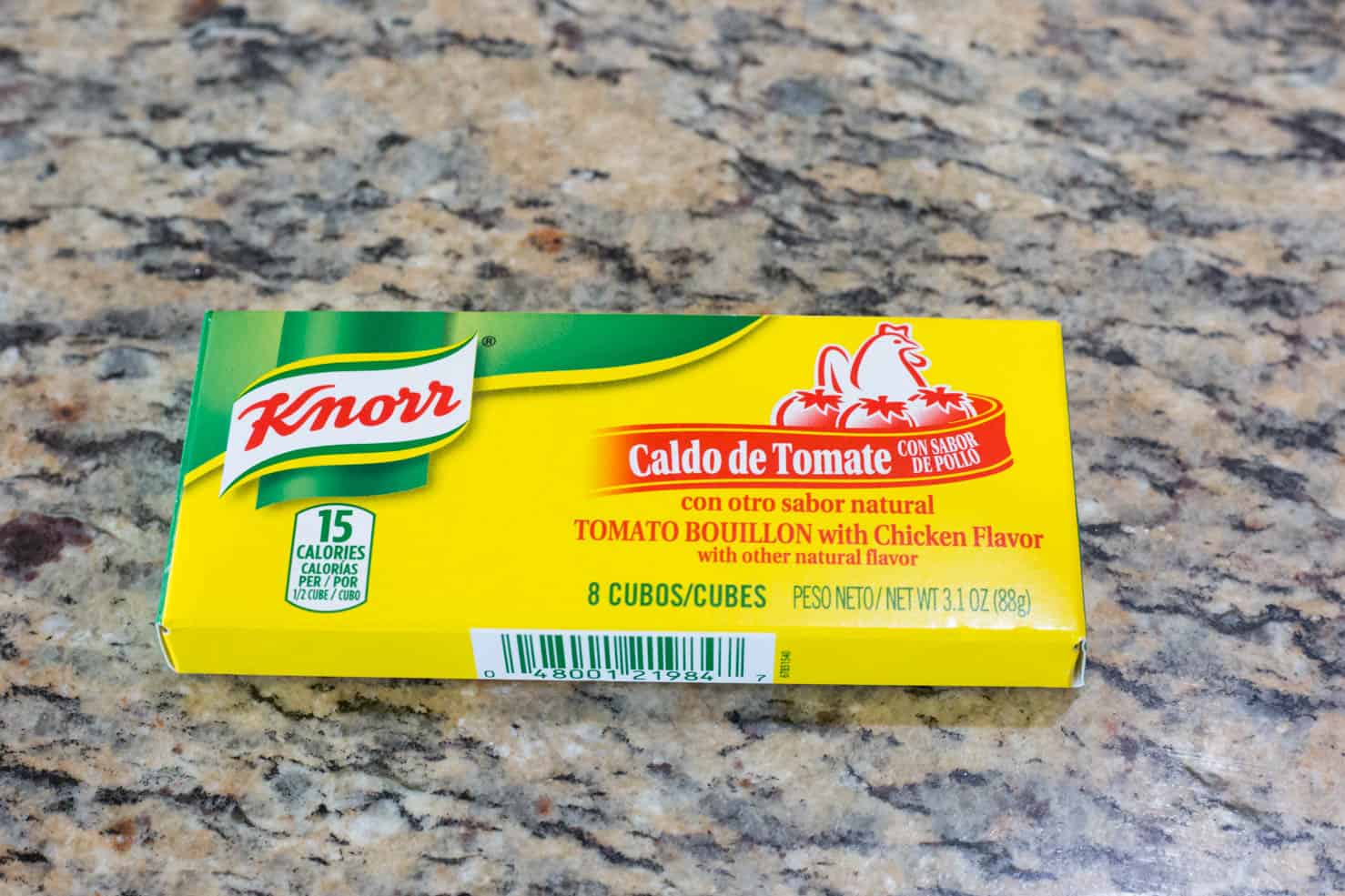 The tomato bouillon, or caldo de tomato, is a block of seasonings, which will melt into the water as we cook the mexican rice. It is used in tex mex recipes by notating how many blocks are used in each recipe. For this rice recipe, you will need one.
In addition to the tomato bouillon, authentic mexican rice is made similar to rice pilaf in that it is fried first in butter or oil.
This helps to toast the individual pieces of rice which makes the rice aromatic and pleasantly flavored. It also prevents the rice from gumming up and sticking together.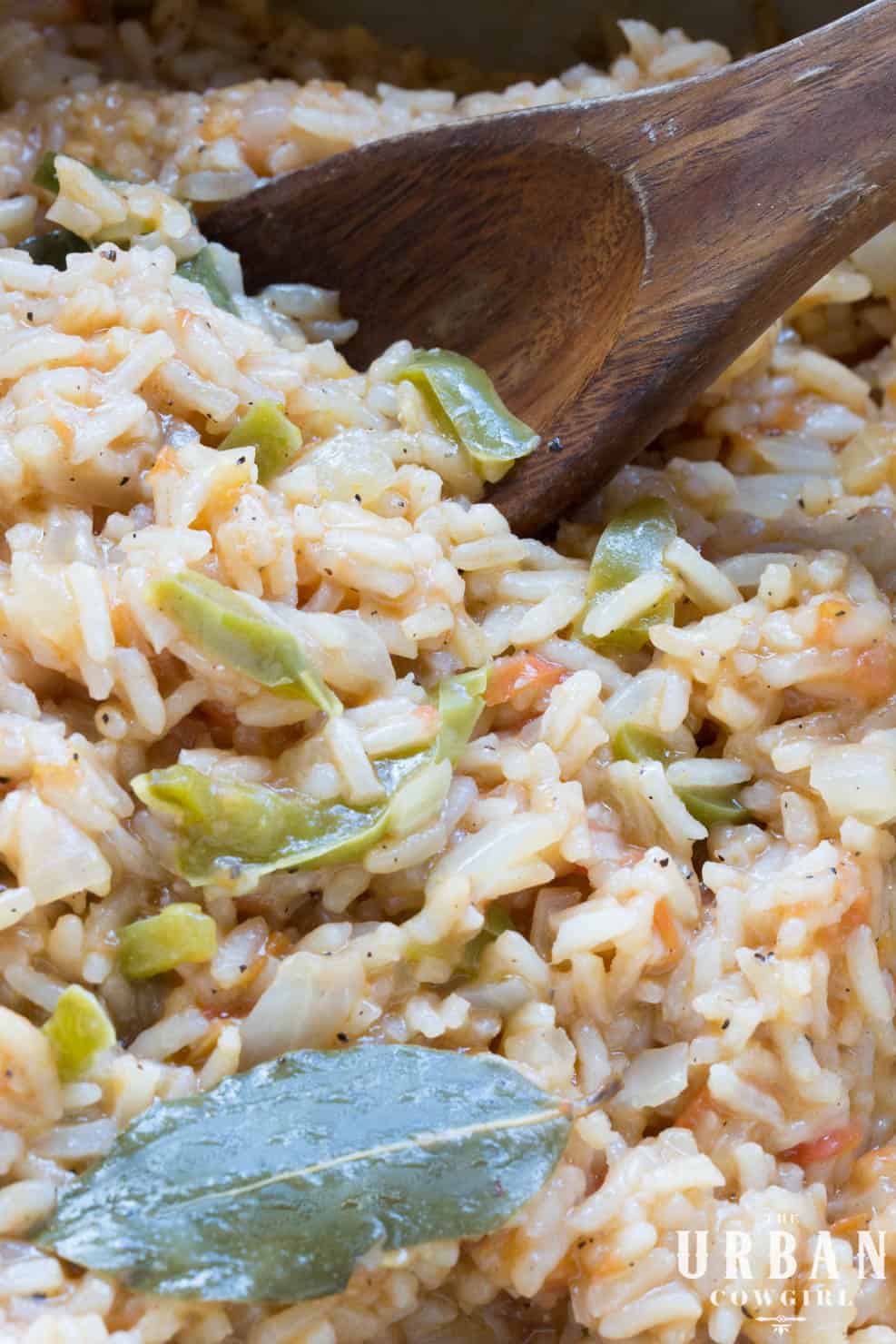 What Type of Rice is used in Mexican Restaurants?
You can choose any long grain rice for this recipe. I am using the Sarita brand.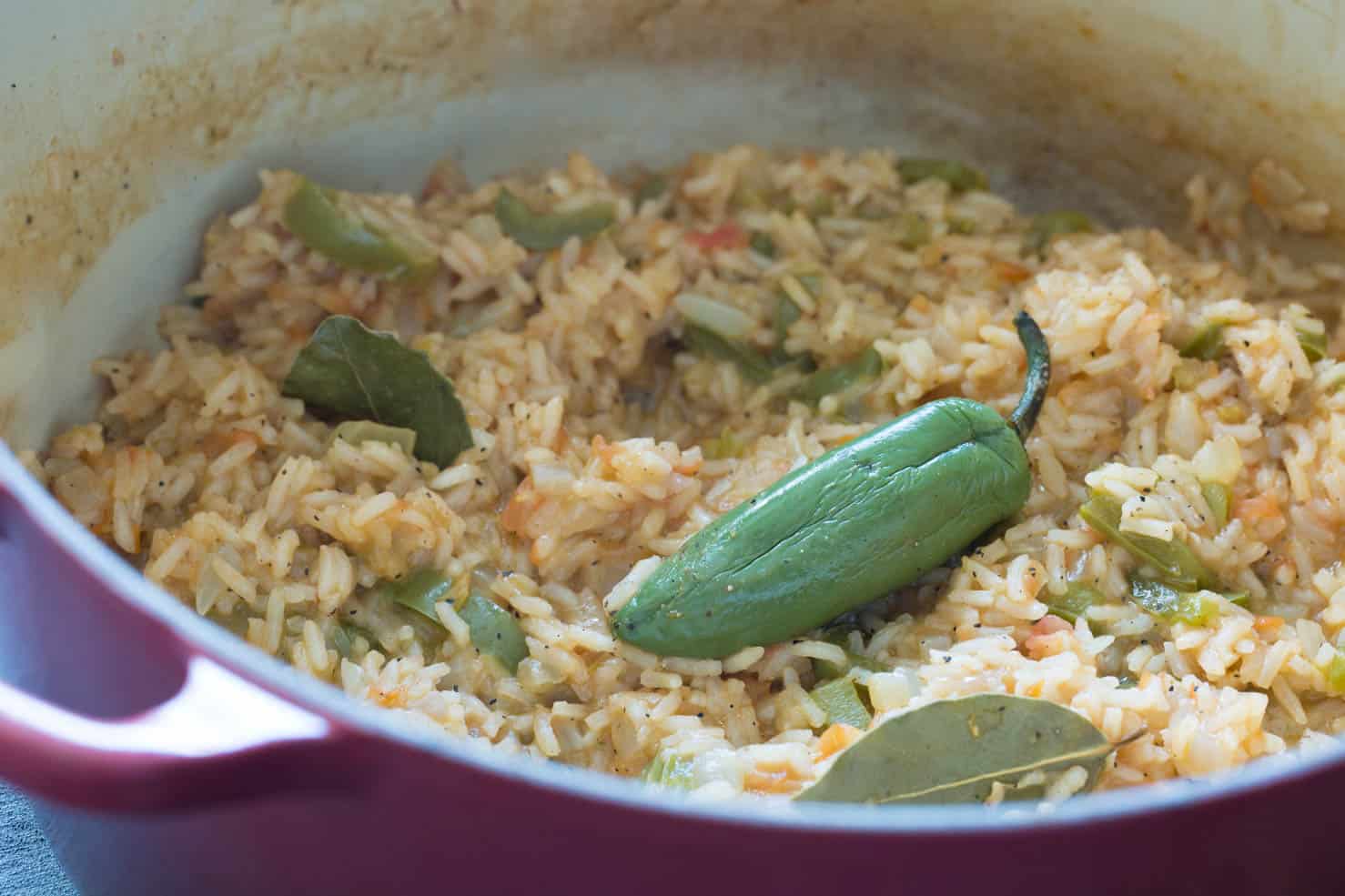 How to Fry Rice like Mexican Restaurants
The recipe cooks very fast once it begins so it is best to assemble all of the ingredients beforehand. This means chopping the onion, bell pepper, and tomato, and measuring out the rice and seasonings.
It begins by melting the butter and adding the rice over a medium-high heat. Stir and toast the rice until the rice goes from white to translucent. Then you can add in the onion and bell pepper, and give them an opportunity to saute in the butter, which helps their flavors become aromatic and season the final rice.
To use the Knorr tomato bouillon, just add it in when you add the water and other seasonings and it will begin to dissolve. Stir well until it is fully melted into the water.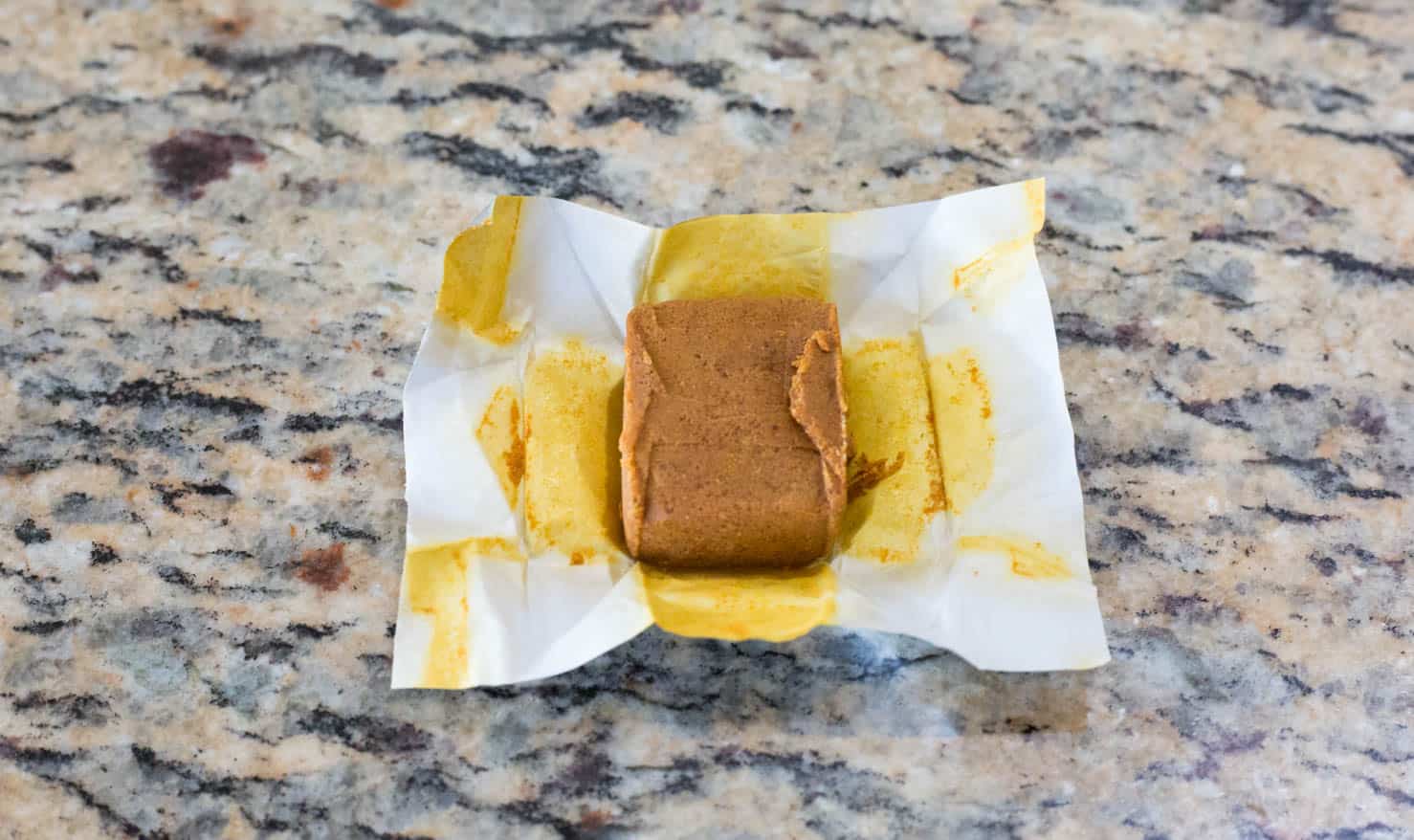 Now, cover with a tight-fitting lid and cook the rice for 20 minutes.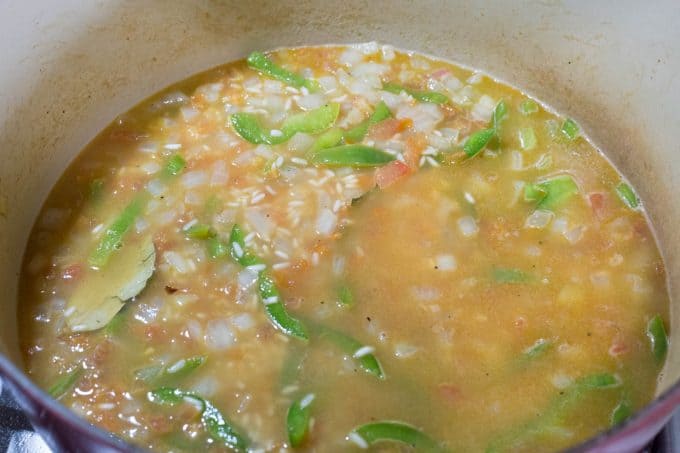 How to Make Perfect Mexican Rice
Although the standard recipe for rice is 2 parts water/ 1 part rice, it's customary to have tomato and other moist vegetables which add to the rice pilaf's moisture content.
To solve this problem, I recommend cutting back on the water by 1/4 c. or so if you prefer a drier cooked rice. Also, it's important to keep the rice covered the full 20 minutes, only checking it near the end to make sure the bottom isn't burning.
It's also very important to remove the lid and let the rice release all of the steam in the pot. Let it sit and then after several minutes fluff with a fork well before serving.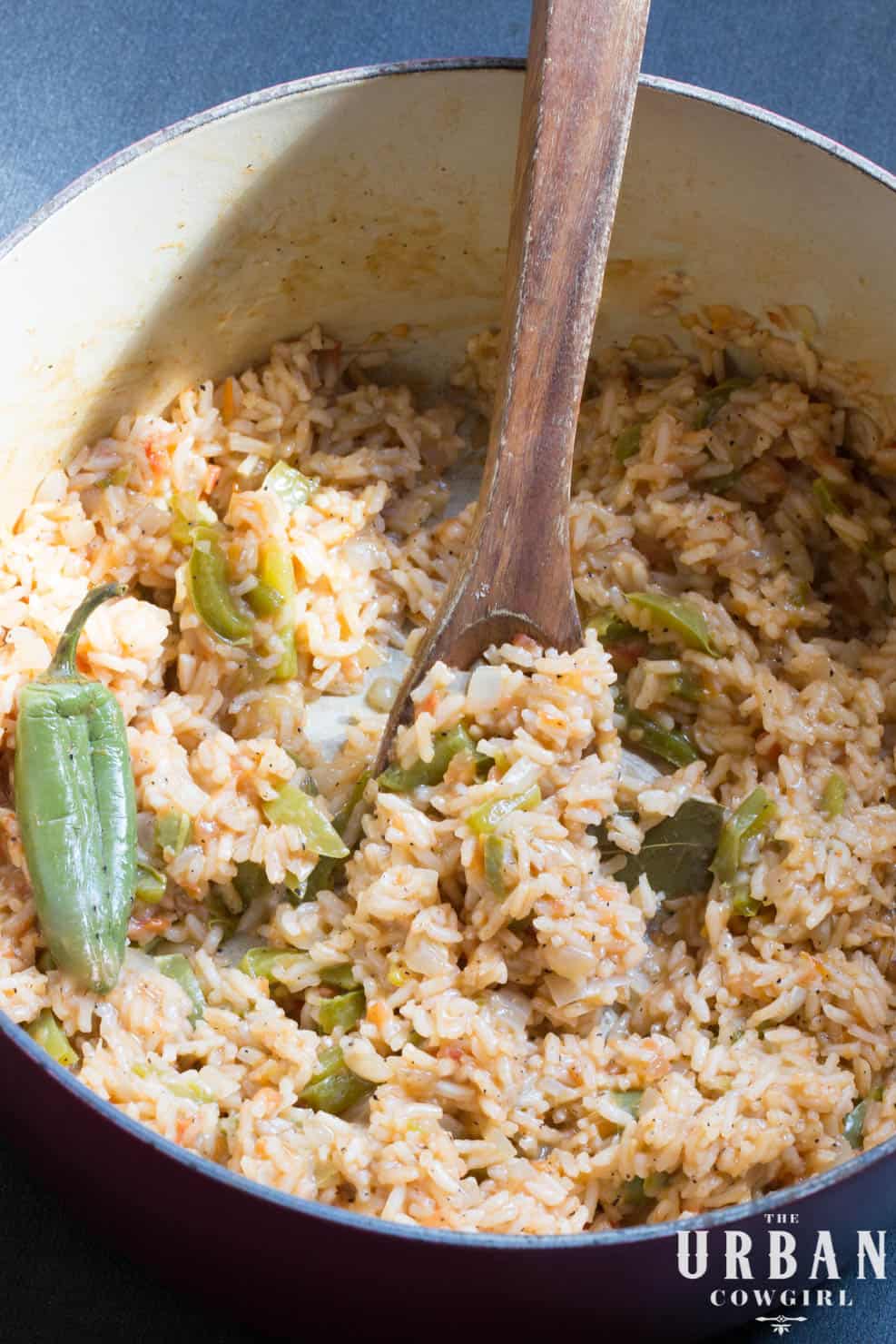 There you have it! The best mexican rice recipe, made just the way we used to prepare it at my favorite tex mex restaurants in San Antonio, Texas.
Yield:

6 servings
Restaurant Style Mexican Rice Recipe
Ingredients
3 T. butter
½ c. onion, small diced
1 large tomato, diced
1 green bell pepper, diced
½ t. salt
½ t. garlic powder
¼ t. black pepper
2 bay leaves
¼ t. cumin
1/8 t. cayenne (optional)
1 knorr tomato bouillon
2 c. water – may use a little less for drier rice
1 c. long-grain rice
Optional- 1 jalapeno for extra flavor (may be left out for milder tastes)
Instructions
In a medium saucepan with a lid, melt the butter. Add in the
rice and fry over medium heat for 3 minutes to toast the rice.
Add in the onion and green bell pepper. Fry the rice and vegetables
and additional 2-3 minutes, stirring well.
Add in the salt, garlic powder, black pepper, cumin, cayenne
(if using), bay leaves, and Knorr tomato bouillon. Stir well into the rice and
vegetable mixture to incorporate.
Add in the water and the tomato (and whole jalapeno if using).
Stir well to incorporate. Bring the mixture to a boil.
Lower the heat to a gentle simmer and cover with a tight-fitting
lid. Simmer for approximately 20 minutes.
Remove from heat and let stand 5 minutes. Fluff with a fork
before serving.
Nutrition Information:
Yield:
6
Serving Size:
1
Amount Per Serving:
Calories:

146
Total Fat:

6g
Saturated Fat:

4g
Trans Fat:

0g
Unsaturated Fat:

2g
Cholesterol:

15mg
Sodium:

327mg
Carbohydrates:

21g
Fiber:

1g
Sugar:

3g
Protein:

3g
This nutritional information is provided as a courtesy and may contain errors. We recommend running the recipe, with any changes you make through your own software to confirm the accuracy of these values.