For Texans, it's hard to find a more comforting and familiar dish than a platter of authentic, Tex Mex enchiladas. If you are a Texan (or you want to charm one) you know that our trademark recipe is soft and pillowy corn tortillas, filled to the brim with ooey gooey cheese and white onion, smothered with homemade chili gravy.
It's a simple recipe and yet somehow the trick to making them really flavorful is a bit elusive–I'll be demystifying the secrets in this post and giving you the best tips for enchiladas loaded with rich, beefy flavor and creamy chili gravy that blooms with spices.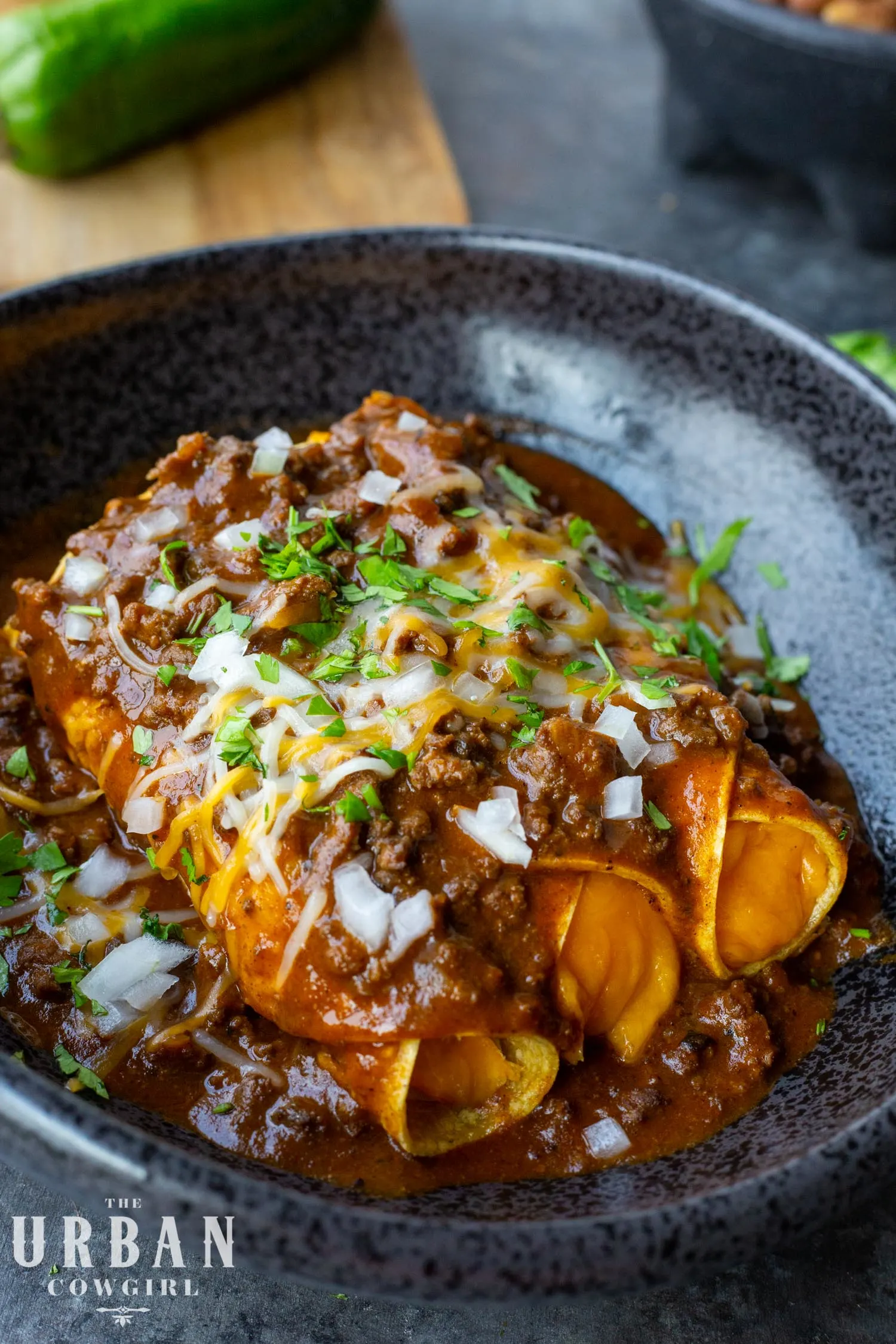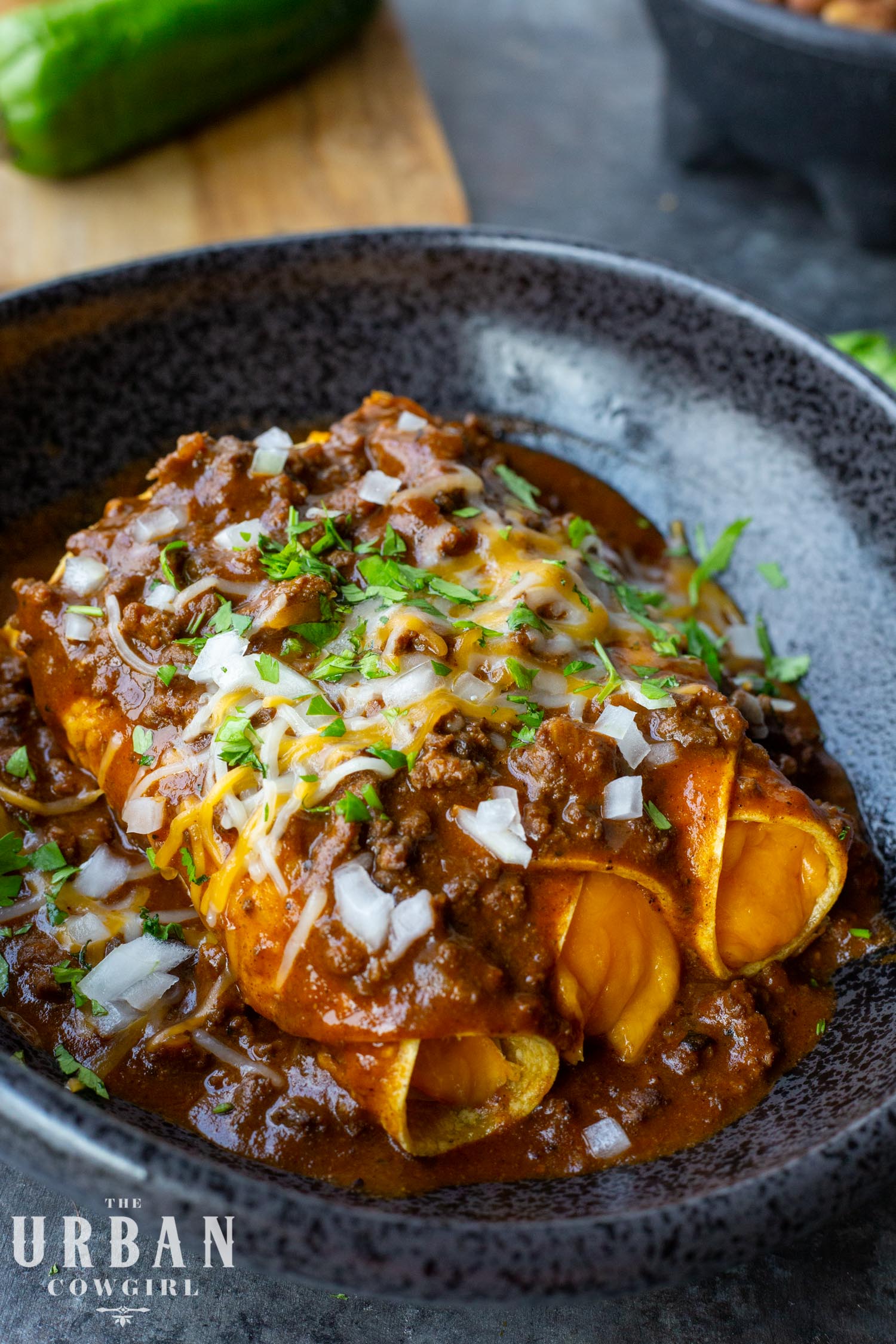 After working as a chef throughout Texas and writing my own Texas cookbook, I've had the unique opportunity to study the various ways that different regions of the state serve these famous enchiladas.
Today I'm sharing the version I grew up eating as a child in Dallas, with melted cheddar cheese filling, and a sauce containing little bits of meat, swimming in a smooth chili gravy sauce made with real Texas chili powder, like Gebhardt's or Mexene.
It's the most authentic version I can share with you, and if you're a displaced Texan craving the best enchiladas, this recipe is sure to become one of your favorites.
(I just wish I could be there when you take your first bite!)
Table of Contents
What Exactly is Tex Mex Cooking?
If you are not from Texas, you may be confused when you hear the term 'Tex Mex'.
Despite the way the name sounds, Tex Mex is not Mexican food–-it is a type of cooking unique to the state of Texas. Tex Mex has only been around for about 150 years, and many traditional Mexican ingredients like epazote or jicama are not generally found in Tex Mex cooking.
Tex Mex is generally agreed upon to be the creation of the Tejano culture (people of Mexican descent living in Texas for at least one generation), though nowadays the dishes of Tex Mex are prolific throughout the state, no matter your ethnicity.
The rise of Tex-Mex cuisine started as early as the 1940's and continues to this day with some of the original restaurants responsible for the rise of this cuisine still enjoying great popularity. Some of these restaurants include El Fenix, Ninfa's and The Original Mexican Restaurant.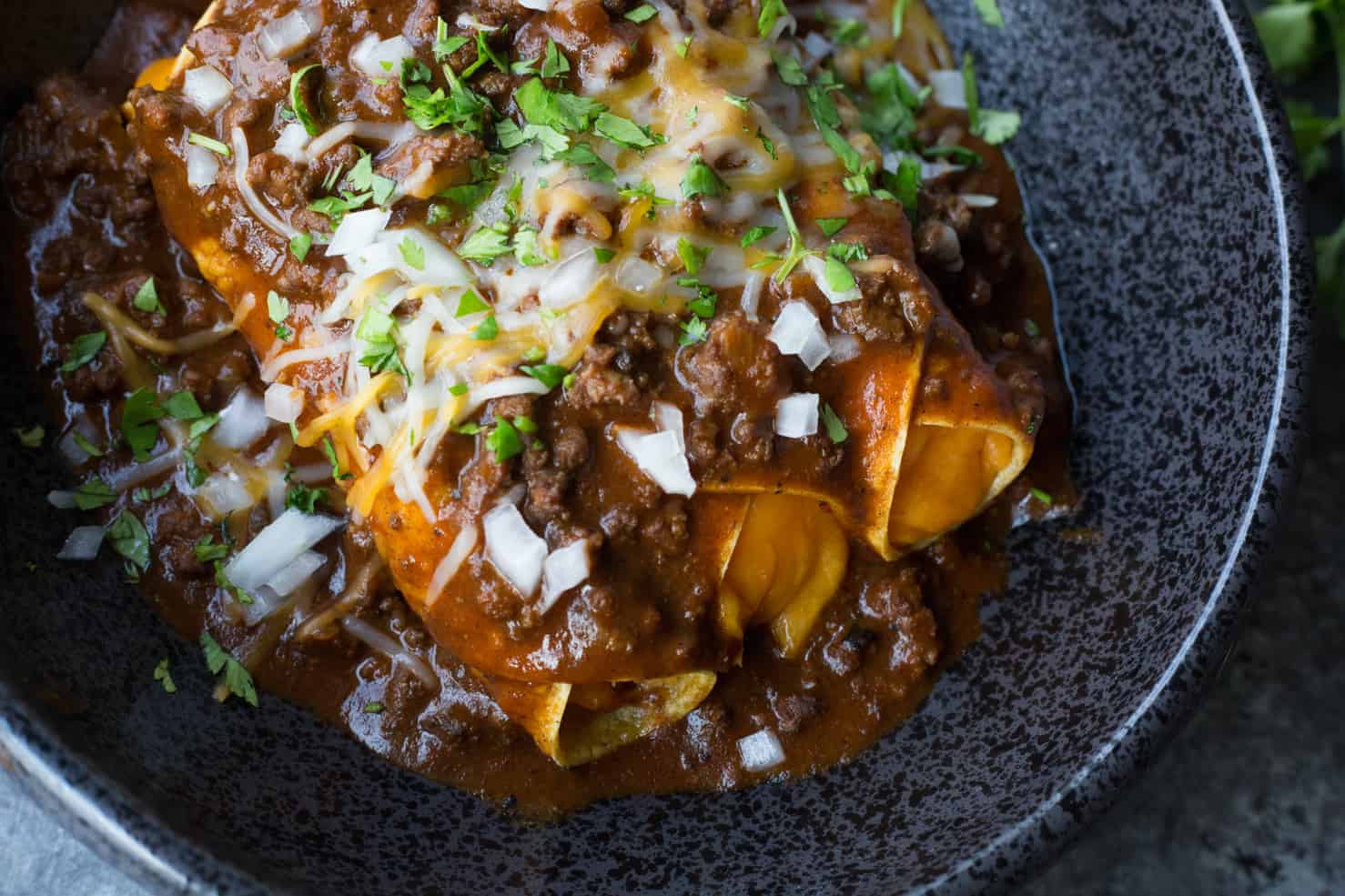 Today, some Tex Mex restaurants have gone beyond the basics to introduce more authentic Mexican cuisine to their menus. Despite this evolution, Tex Mex enchiladas are still a staple among any good Tex Mex restaurant's offerings.
Tex Mex cooking is characterized by a few dishes that many would argue are not authentic Mexican…
Crispy beef tacos, cheddar and American cheese-filled enchiladas with chile con carne enchilada sauce, chicken enchiladas with sour cream sauce, and queso dip and tortilla chips–a yellow or white cheese sauce infused with green chiles, tomato, cilantro, and onion.
Arguably, the most popular recipes in Tex Mex, involve cheese or a cheese sauce, which is unique to Texas, and not a part of traditional Mexican fare.
(Links are affiliate links to products we think are helpful and we may receive a small commission, at no cost to you, if purchased.)
What are Tex Mex Enchiladas?
Tex-Mex enchiladas are simple yet delicious, and they have not changed even with the modernization of Tex-Mex food. Tex Mex enchiladas are corn tortillas filled with cheese and white onion (usually cheddar or American cheese depending on the region) and coated with a smooth sauce regionally referred to as chili gravy.
What is Chili Gravy?
Chili gravy is a simplification of chile con carne, which is the state dish of Texas. My grandparent's recipe is posted here. Instead of a long cooking and hearty chili, chile gravy can be made with meat, but it can also be made by making a roux with pan drippings, adding beef broth or stock, and finishing with a large amount of authentic Texas chili powder.
As this sauce cooks it thickens into a chili powder-enriched enchilada sauce that is poured over the cheese enchiladas. Depending on where in the state you are dining, little bits of meat may be included, as they are in my recipe below.
It's important to note that authentic Tex Mex enchiladas with cheese and chili gravy are always made with corn tortillas. Flour tortillas are never used to make enchiladas.
Tex Mex enchiladas are found exclusively in Texas, so when any good Texan misses home, they get the craving.
The main difference between Tex Mex enchiladas and Mexican enchiladas (enchiladas rojo) is the sauce. Chili gravy is not a traditional red sauce and does not contain pureed dried red chiles, tomato sauce, or tomato paste.
What's in Texas Chili Powder?
Texas chili powder is as unique as the state it comes from, and it is not the same as regular 'chile powder', usually coming from New Mexico.
Texas chili powder is a mixture of several different spices (each brand has its own recipe) containing powdered chiles (such as Ancho or New Mexico chiles), cumin, garlic powder, black pepper, and occasionally ground Mexican oregano.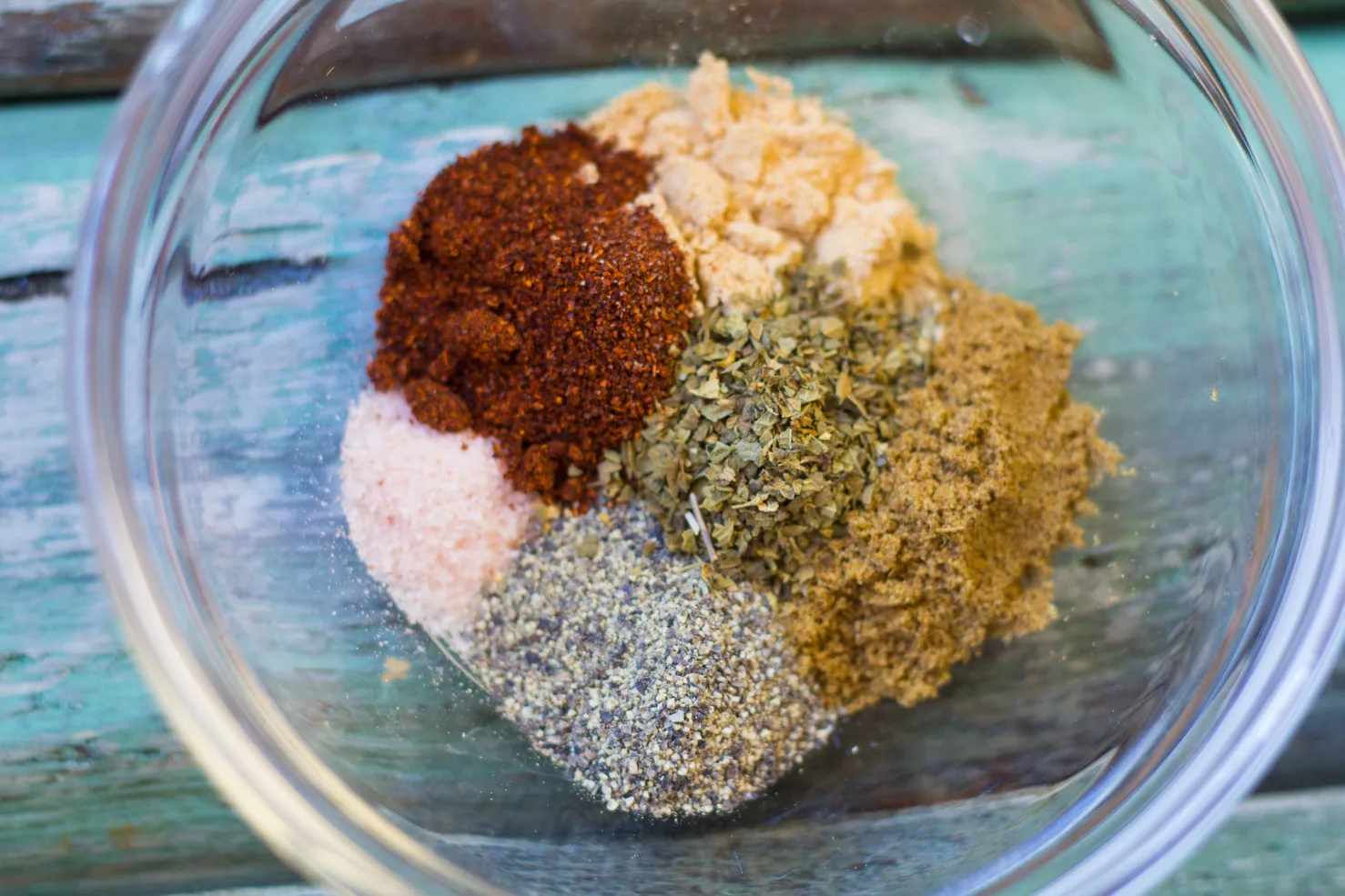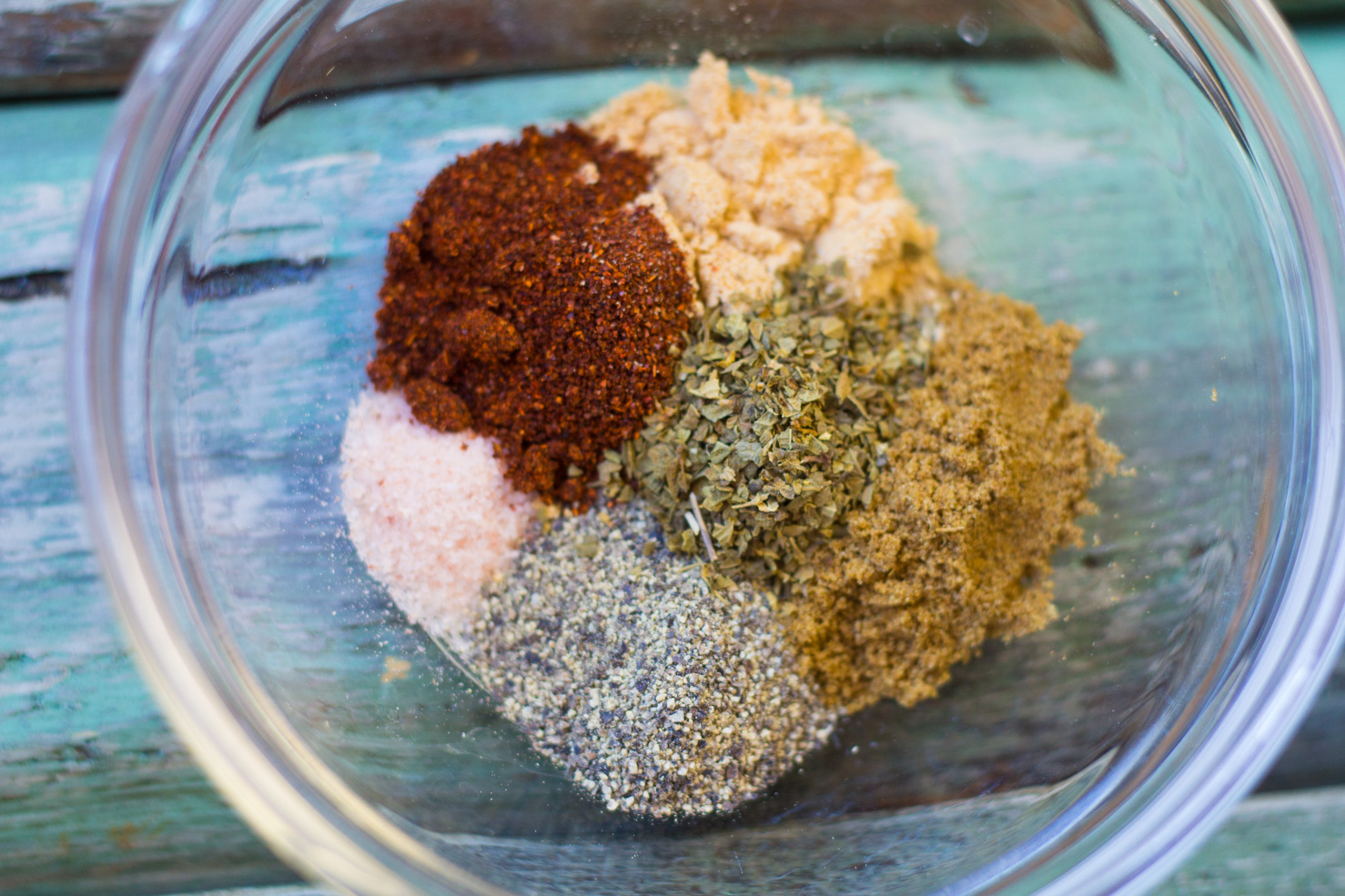 What is the Difference between Texas Chili Powder and Chile Powder?
Texas chili powder (with an "i") is different than chile powder (with an "e"), the latter of which is simply dried powdered chiles. Texas chili powder is a combination of powdered dried chiles and other spices.
Although many generic Texas chili powders fill the shelves of southwestern grocery stores, most Texans prefer the unique and exceptional flavor of two classic brands, Gebhardt's and Mexene.
Here is a link to Gebhardt's Chili Powder, and here is a link to Mexene Chili Powder.
Using either of the brands will add a powerful punch of flavor to your chili gravy. Both companies have been in the Texas chili powder business for over 100 years, with historic recipes steeped in tradition.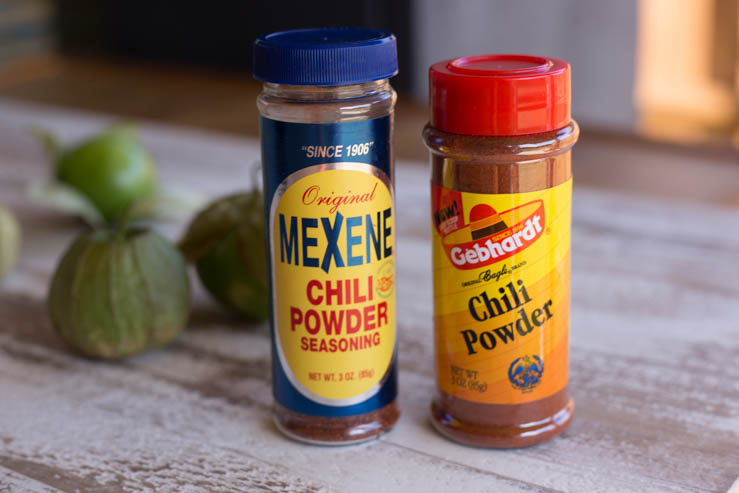 A Note on Homemade Chili Powder: I've done many side-by-side comparisons of homemade chili powder versus the name brands mentioned above, and as a 7th generation Texan and veteran chef, I have never been satisfied with the flavor of homemade chili powder. It's fun to try and you should certainly do it for the experience, but in my opinion, the flavor isn't anywhere close to the classic brands. If I find a recipe and grinding method I like, I will certainly update this post. Leave me your comments below on the issue.
What Cheese Should Be Used Inside of an Authentic Tex Mex Enchilada?
Texas is a big place, so this question has two answers. The inside of the chili gravy enchiladas is always wonderfully melty cheese, but two very different fillings exist depending on where in the state you are dining.
I grew up in the Dallas/Fort Worth area where Mexican restaurants exclusively fill their enchiladas with mild to medium cheddar, studded with finely diced white onion. This gives the enchiladas a nice string pull when you cut a bite with your fork and pull it up to your mouth.
When I became a chef on the San Antonio River Walk, it was more common to see American cheese or Velveeta used inside a chili gravy enchilada, and in this scenario, there is no string-pull to the cheese because those particular cheeses melt into liquid cheese when hot.
Generally, the same style is seen in Houston and Galveston, although the famous 'Original Mexican Cafe in Galveston', which has been around since 1916, uses cheddar cheese inside their chili gravy enchiladas and this tends to make me think that melted cheddar was the original filling.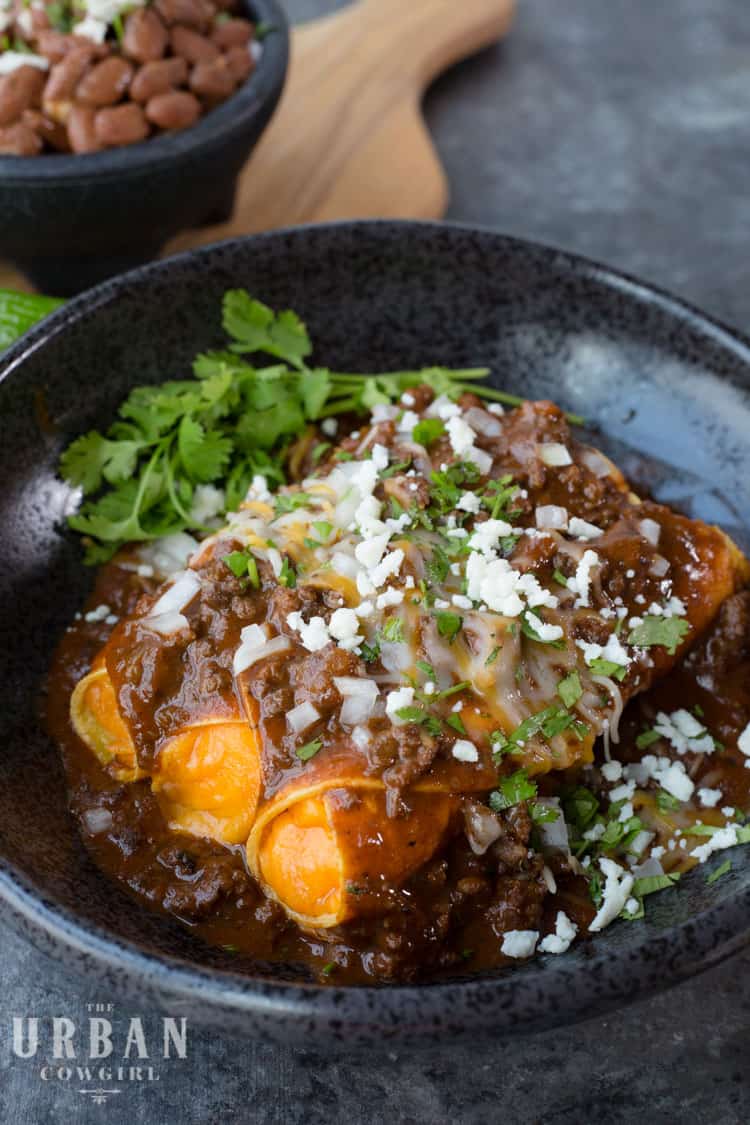 Although every rule is easily broken, with chili gravy enchiladas the only tried and true tradition is that it is made with yellow cheese. No goat cheese or queso añejo here!
If you want my preference, I enjoy using mild to medium cheddar because I like the classic string pull when you lift your bite from the plate. I also recommend grating your own cheese from a block of cheese instead of using pre-shredded cheese from the bag. You can do whatever you feel like today. 🙂
How to Make Chili Gravy
There is nothing quite like homemade chili gravy to go with your enchiladas. This bold, delicious sauce will give your enchiladas the authentic taste you are craving, and it does not take as long to make as chile con carne.
To begin the chili gravy recipe, brown the ground beef (I prefer a high-fat content such as 80/20) in a skillet. Add the onion and spices.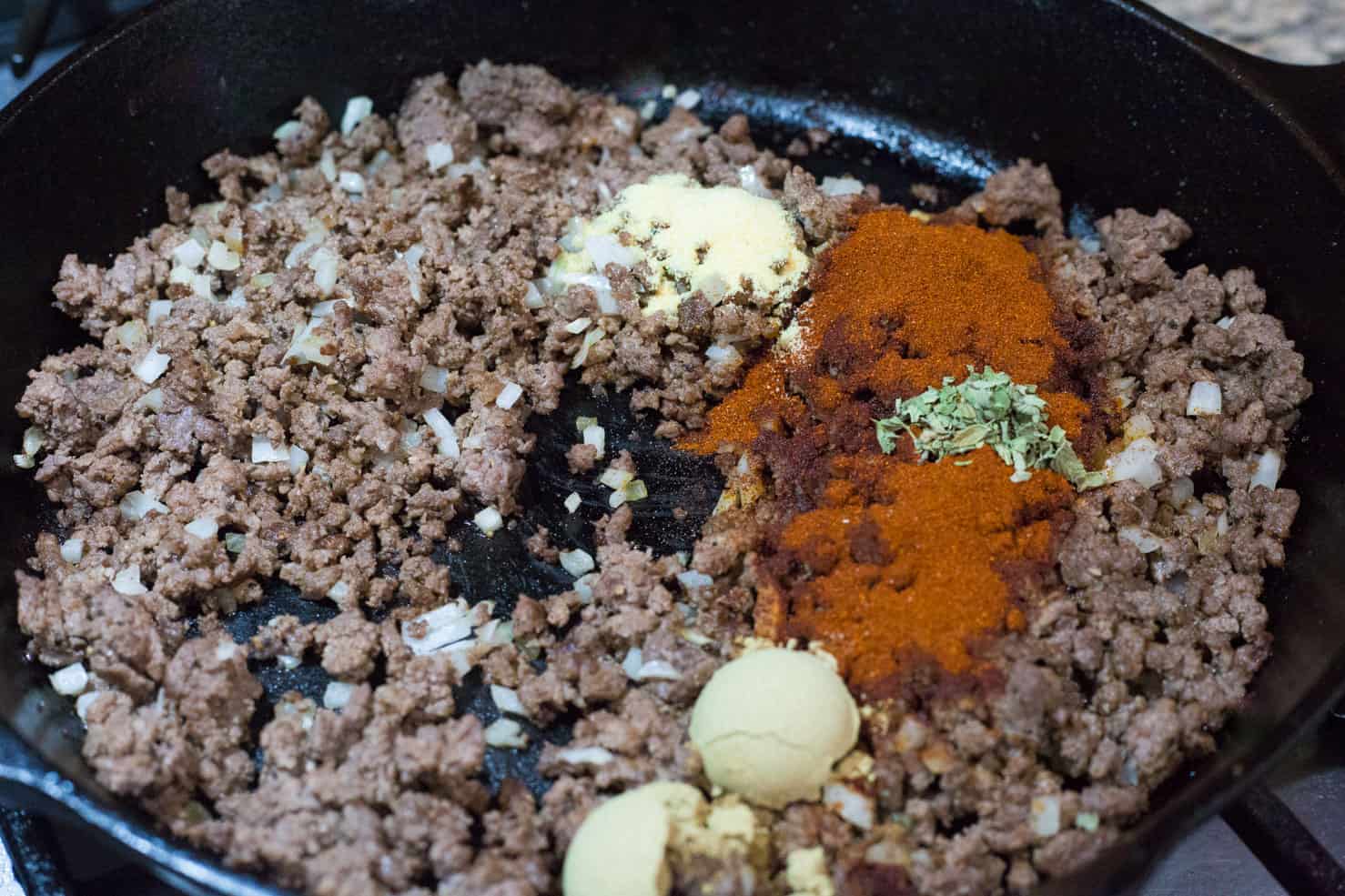 Then, to provide thickening power, sprinkle in the all purpose flour and fold with a spatula to combine. It should cling to the meat like snow.
Next pour in the beef broth (I prefer a high protein beef broth or chicken broth can be used in a pinch) and bring to a simmer.
Once the mixture has thickened, season to taste. I occasionally add a little shake of tabasco sauce for acidity if I am not serving small children. You can add more chili powder, salt, black pepper, or garlic powder –whatever you think it needs to fine-tune the chili sauce to your particular tastes.
(Although you may see tomato sauce listed in some recipes for chili gravy this is not authentic Mexican food. The quality of the flavor is dependent on the meat drippings for the roux and fresh, high-quality chili powder.)
Can Tex Mex Enchiladas Be Frozen
Yes, they can! And because this dish is such a family favorite, I like to make 2 pans at a time and freeze one dish for a future meal. Just double the ingredients and set aside one casserole dish of enchiladas to be frozen.
I refrigerate the whole dish immediately until it is cold. Then cover with saran wrap and foil, or a freezer-safe Pyrex lid. Freeze for up to 6 weeks. To heat, I bake at 375 for 30 minutes covered with foil, then remove the foil and bake an additional 10 minutes to melt the cheese on top.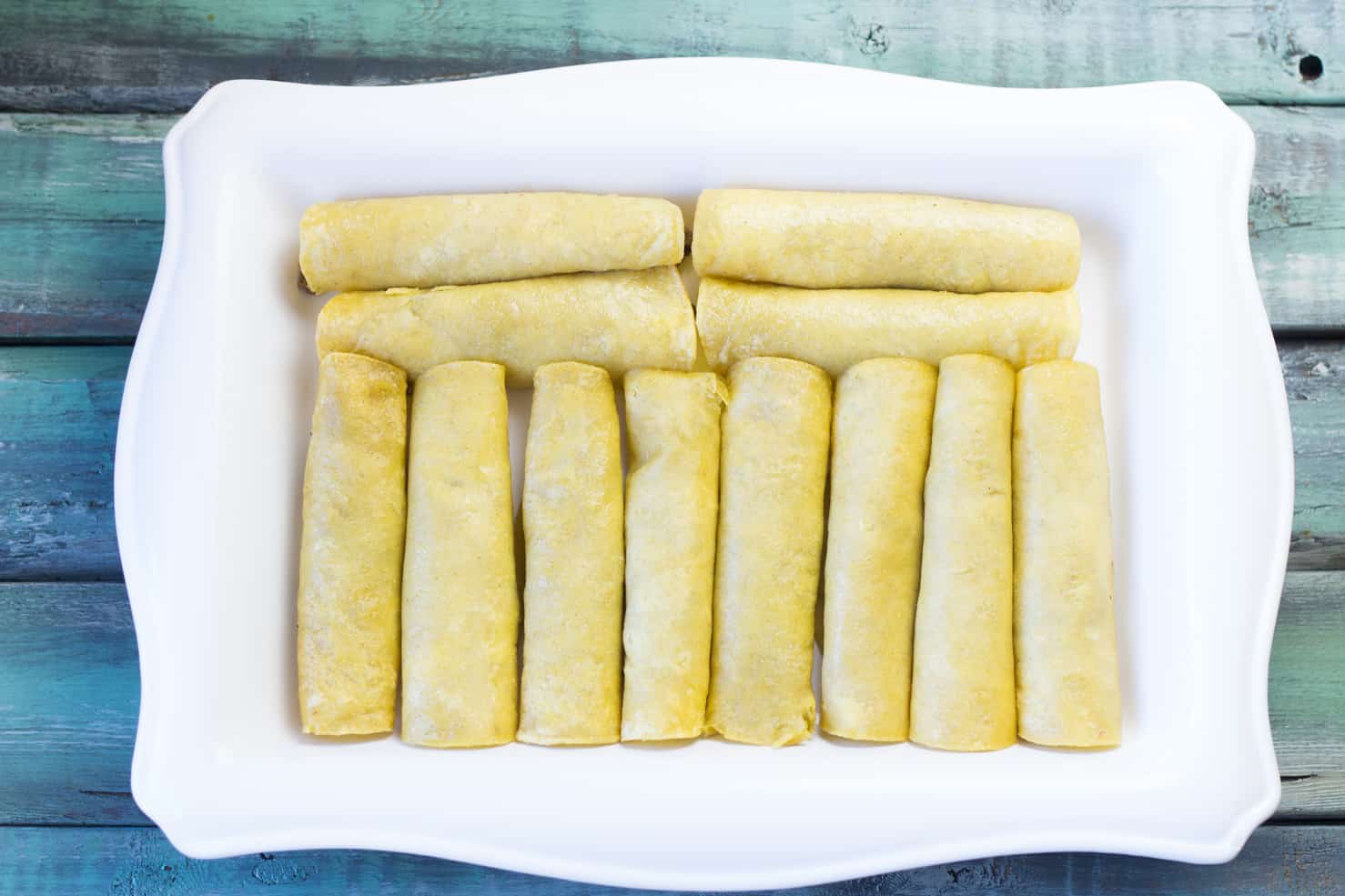 Chef Tips For the Best Tex Mex Enchiladas
Use name brand Texas Chili Powders like Mexene or Gebhardt's
Add a little bacon fat to your roux
Cheese freshly grated on a cheese grater has much more flavor than packaged cheese
Cheddar cheese has more flavor than American cheese or Velveeta
A little diced white onion on the inside of the enchilada is used in the best tex mex restaurants
Brighten the final sauce with a teaspoon of fresh lemon or lime juice for the biggest flavor
How to Make the Chili Gravy
To begin the chili gravy recipe, brown the ground beef (I prefer a high fat content such as 80/20) in a skillet. Add the onion and spices.
Then, to provide thickening power, sprinkle in the flour and fold with a spatula to combine. It should cling to the meat like snow.
Next pour in the beef broth (I prefer a high protein beef broth of bone broth for extra flavor like this one), and bring to a simmer.
When the mixture thickens, season to taste. I occasionally add a little tabasco sauce for acidity if I am not serving small children. You can add more chili powder to taste, salt, black pepper, garlic powder, whatever you think it needs to fine-tune to your particular tastes.
Our Favorite Side Dishes for Serving with Chili Gravy Enchiladas…
Texas Pinto Beans Recipe in the CrockPot
Torchy's Queso Recipe Copycat Recipe
Corn and Black Bean Salad with Mexican Vinaigrette
The Famous Candlelite Inn Guacamole Salad Recipe
Yield:

12-16
Cheese Enchiladas with Chili Gravy
Texas-style chili gravy enchiladas with cheese and white onion, just like your favorite Tex Mex joint!
Ingredients
1 lb. 80/20 ground beef, chili grind if available
1 T. kosher salt
½ t. black pepper
1/3 c. minced white onion
2 T. Texas chili powder such as Mexene or Gebhardts
1 t. powdered garlic, and onion powder
½ t. Mexican oregano
2 t. cumin
¼ c. flour
½ t. salt
2 ½ c. beef stock
1 t. fresh lemon juice
12 oz. medium cheddar from the block, freshly grated
½ c. minced white onion
12-16 fresh yellow or white corn tortillas
1 c. oil for frying
Instructions
To make the chili gravy:
In a skillet on medium heat begin searing the ground beef and breaking it up well with a wooden spatula. Sprinkle in the salt (start with half and add more if needed) and pepper and let the meat sear well as you break it up. The dark brown parts of the sear will dissolve and enrich the chili gravy later adding to the flavor.
When the meat is well-seared add in the onion and cook for 2 minutes, tossing frequently.
Add in the chili powder, powdered garlic, cumin, and Mexican oregano and let the spices brown and toast in the pan along with the beef.
Finally, turn the heat down to medium and sprinkle in the flour. Toss the flour in the meat and incorporate into the fat and juices creating a roux of sorts. When the flour dissolves into the mixture, pour in the beef stock and whisk it into the mixture.
Turn the heat up to medium-high heat and stir frequently bringing the mixture up to a boil. Allow the mixture to thicken, then lower the heat and simmer for 15-20 minutes (or longer if desired), the longer the chili cooks the more the flavors in the chili gravy will enhance and deepen.
Finish the gravy with ½ t. salt if needed, and 1 t. fresh lemon juice for acidity. (This is optional and Tobasco pepper sauce can also add acidity and brighten the flavors.)
How to Prepare the Corn Tortillas for Rolling into Enchiladas:
There are two methods for softening corn tortillas: the pan method and the microwave method.
(The pan method is best but if you are short on time the microwave method is the fastest. The microwave method can cause the enchiladas to stick together once baked and so I prefer the traditional pan method if time allows.)
For the traditional pan method: Add 2 tablespoons oil to the bottom of a nonstick skillet and heat over low heat. Add a corn tortilla into the pan and fry for about 1-2 seconds on each side. Then transfer to a paper towel-lined plate for holding. Continue with the remaining corn tortillas until all of the tortillas are soft, oiled and warm.
For the microwave method: Take all of the corn tortillas and wrap them in a damp paper towel. Place them on a microwave-safe plate and microwave for 45 seconds, the corn tortillas should be pliable enough to roll into enchiladas. You may need to reheat the stack while rolling the enchiladas if they become cool.
How to Make the Enchiladas
Preheat the oven to 400 degrees.
Grate the cheddar cheese and mince up about 1/4 c. of white onion. The white onion should be very thinly diced.
Grease a 9x13 inch casserole dish, with a little bit of olive oil or pan spray so the enchiladas will not stick.
Lay out one corn tortilla and in the center of the tortilla add 2 tablespoons or so of freshly grated cheddar cheese and a sprinkling of minced onion.
Roll them up and place them in the baking dish with the seam side down. Fill the entire baking dish with enchiladas tucked closely together. Ladle the hot chili gravy sauce on top of the enchiladas.
Place in the oven and bake at 400 degrees for 20 minutes or until hot and bubbly. Sprinkle extra cheese and white onion on top if desired.
How To Reheat Enchiladas:
If this dish of enchiladas makes it to the next day, enchiladas can be reheated in a 325-degree oven, covered in foil. Place 1 tablespoon water in the bottom of the dish, recover with foil and bake gently for 12-15 minutes. You may also microwave individual servings of enchiladas.
How To Cook Frozen Enchiladas:
375 for 30 minutes covered with foil, then remove the foil and bake an additional 10 minutes to melt the cheese on top.
Nutrition Information:
Yield:
12
Serving Size:
1
Amount Per Serving:
Calories:

502
Total Fat:

40g
Saturated Fat:

10g
Trans Fat:

0g
Unsaturated Fat:

25g
Cholesterol:

62mg
Sodium:

1394mg
Carbohydrates:

17g
Fiber:

2g
Sugar:

3g
Protein:

20g
This nutritional information is provided as a courtesy as an estimate only. Consult with a dietician for precise estimates. This website makes no claims that the nutritional values listed are accurate.