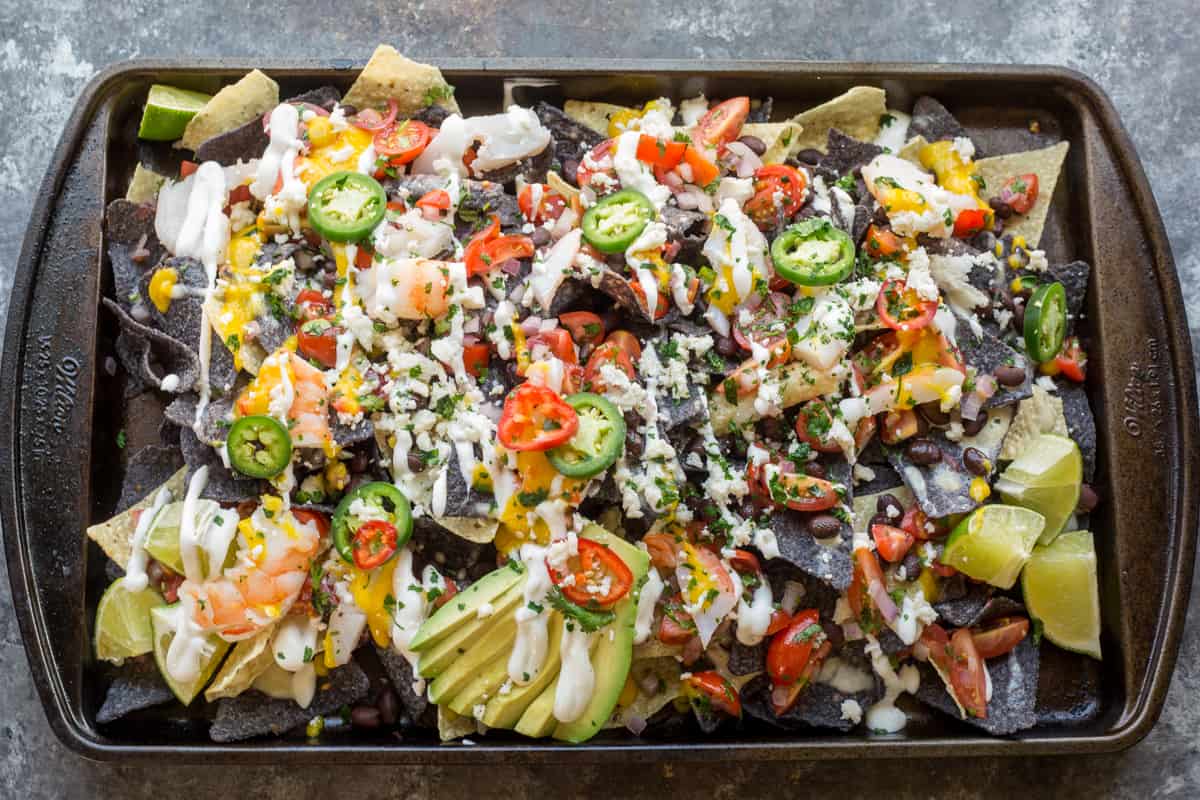 I've been on a quest for Lobster Nachos yall… and google has not been kind.
I confess to you now, I don't jump to hacking out a new recipe every time I get a craving, but in this case nothing on the internets tickled my fancy. Not even a little bit.
I had a clear vision— fresh lobster, which goes great with cheese sauce or citrus flavors, coated in perfect Texas-style queso, with fresh pico, and a mess of classic nacho ingredients, topped with a drizzle of tangy vinaigrette. I could see it so clearly in my head, I was sure someone out there had already blessed us all with a great recipe. But there was none!
So, I present to you 3 weeks of work… Lobster Nachos with Perfect White Queso and Sweet Mango Drizzle.
Football and Hockey are just around the corner, so I won't bore you with suggestions of when would be a great time to whip up a batch for your friends and family. I figure you've got plenty of ideas. 🙂
Yield:

6
Lobster Nachos with Perfect Queso and Sweet Mango Habanero Sauce
These lobster nachos with hot and creamy white queso are drizzled with sweet and spicy mango sauce and served up for special occasion parties! Try them for the big game, a romantic date, or eat the whole thing in your underwear with a giant bottle of white wine. Cheers!
Substitute grilled shrimp for the lobster if you prefer.
Ingredients
Blue Corn Chips
3-4 Lobster Tails, Steamed at the Market
Pico de Gallo:
1 pint cherry tomatoes
1/2 small red onion, small dice
2 T. cilantro, diced fine
1-2 T. grapeseed Oil
1 t. salt
1/2 lime, squeezed
Perfect Queso:
2 T. butter
1/2 onion
2 jalapenos, small dice (with seeds for heat)
3-4 garlic cloves, minced
1 c. half and half
1 pound white or yellow american cheese
1 T. fresh lime juice
Habanero Mango Sauce:
2 T. oil
1/2 white onion
1 T. garlic
1/2 t. salt
2 mangos
1 habanero pepper
1 T. freshly grated ginger
1/4 c. white wine vinegar
1/2 lime, juice of
Nacho Toppings:
1 fresno or red jalapeno pepper, sliced into coins
1 jalapeno pepper, sliced into coins
1/2 a can of black beans, rinsed
sour cream
cilantro
queso fresco, crumbled, for topping
Instructions
For the Perfect Queso: In a medium saucepan, add the butter over medium heat and melt. Stir in the white onion and diced jalapenos. (Usually, I enjoy all of the jalapeno seeds because the pungency is diluted in a pound of cheese, but during the summer months, the jalapenos can get quite hot. Use your best judgment.)
Sweat for 2 minutes. Add garlic and stir until fragrant.
Pour in half and half and bring to a simmer.
Stir in all the cubes of cheese, and stir until melted. Keep warm over low heat.
For the Pico: In a separate bowl combine all of the ingredients for the pico de gallo. Salt to taste.
For the Sweet Mango Sauce: In a medium saucepan, heat the oil over medium heat. Add the onion and garlic, and salt. Sweat for 3 minutes. Add the mango meat and stir.
For the habanero pepper, cut the stem off and discard. Either remove the seeds and chop the orange pepper up or include the seeds, it's your choice. The seeds will make the mango sauce spicier than just the flesh of the pepper. Wash your hands well or use disposable gloves when handling habaneros! Add to the pot. Cook for 1-2 minutes and add the grated ginger root.
Cook for 2 minutes, and add the vinegar and lime juice. Cook 1-2 minutes.
Transfer to a blender and blend well. Taste for seasoning. Reserve for the nachos. I prefer to keep this in a squeeze bottle if you have one handy. It lasts 1 week refrigerated and tastes good on everything!
For the lobster tails- Remove the meat from the tail by pulling firmly from the shell. The meat can also be clipped out with kitchen shears. Chop into bite-sized pieces and reserve.
Preheat the broiler on the oven and place the rack on the lowest level. On a cookie sheet lined with foil or parchment, place a mountain of corn chips and spread out.
Drizzle the corn chips with the queso sauce, black beans, pico de gallo, lobster meat, and jalapeno slices. Bake 5 minutes or until hot.
Top with avocado, sour cream, fresh cilantro, and crumbled queso fresco.
Serve immediately! Enjoy with extra queso sauce if desired!!
Notes
25 grilled shrimp can be substituted for lobster.
Nutrition Information:
Yield:
6
Serving Size:
1
Amount Per Serving:
Calories:

915
Total Fat:

58g
Saturated Fat:

26g
Trans Fat:

2g
Unsaturated Fat:

27g
Cholesterol:

197mg
Sodium:

2246mg
Carbohydrates:

54g
Fiber:

7g
Sugar:

36g
Protein:

48g
These nutritional values are an estimate only and provided as a courtesy. Different brands of ingredients may result in different calorie counts, and the software does not account for these differences. Consult with your dietician or doctor for precise nutritional values.