There is nothing more comforting on a cool night than a batch of juicy pinto beans in a rich broth bubbling away on the stove. This classic Texas recipe takes all the fuss out of preparing beans with a tried and true crockpot method, which frees up the stove and gives you more time to focus on other components of your meal. (Or use that time to relax!)
The majority of the ingredients are likely already in your kitchen, and substituting similar ingredients you already have on hand is a breeze with this easy-going recipe. Trade in different peppers or chili powder for your own flavor combination, because you really can't mess up this recipe when you maintain the beans to broth ratio.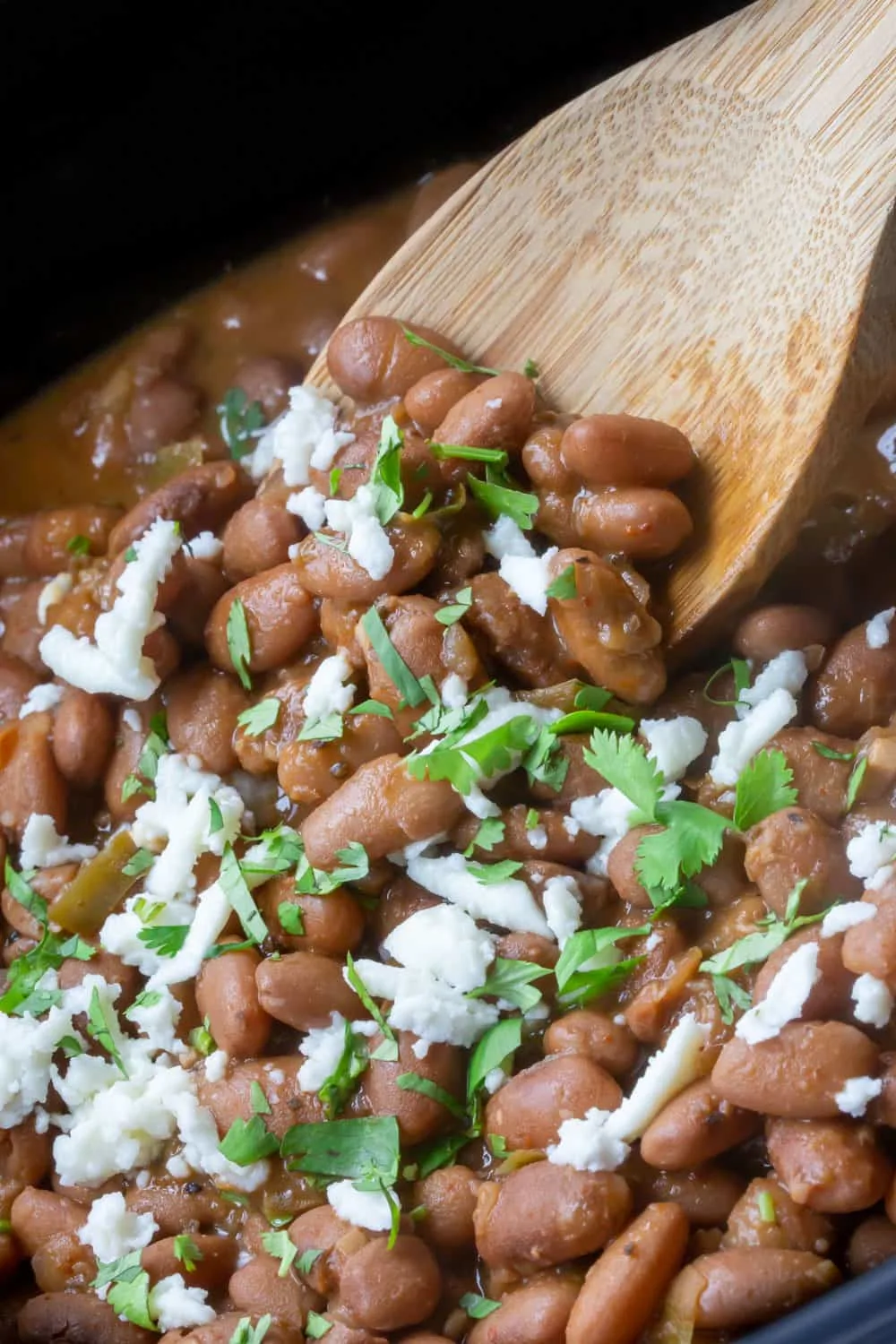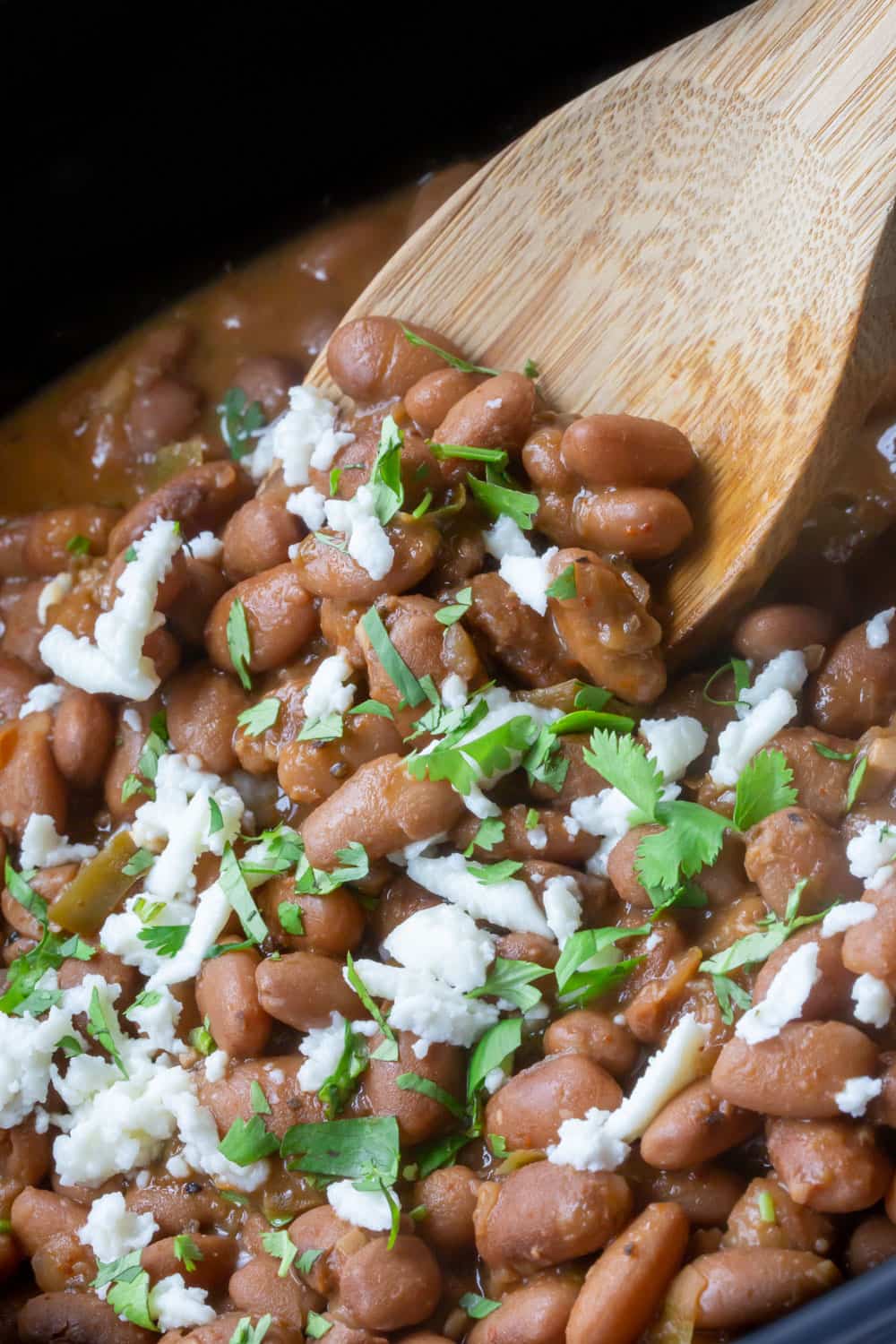 Should I Soak Pinto Beans Overnight?
For this recipe, I use the quick boil method which boils the beans briefly and then allows them to soak in the water for an hour rapidly softening and absorbing liquid. I don't use the overnight method because this technique seems to work just as well with less fuss. I'll update this post if I ever change my opinion!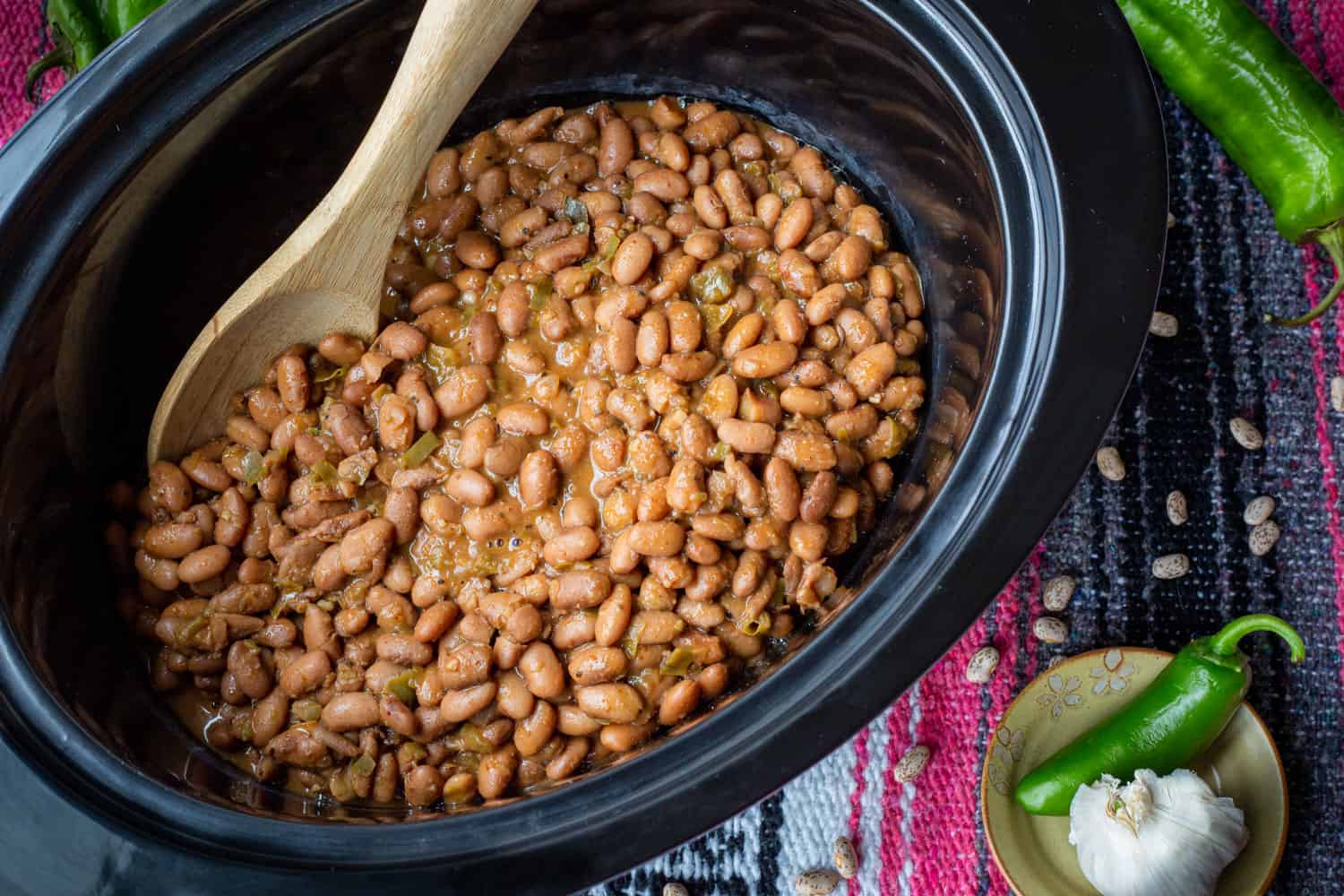 Should I Pour Out the Bean Water and Start Fresh?
This question has two answers. If you experience gastro discomfort after eating beans of any kind removing the soaking water and starting fresh has been proven to elevate gas and bloating symptoms. If you need to start with fresh water to enjoy beans, by all means do it.
As a chef and student of real Mexican cuisine, this is not done in the parts of Mexico where I have trained. The bean juice is so wonderfully flavored most chefs, restaurants, and cooking teachers would warn against pouring out all that wonderful flavor that the beans have released in the initial soak. You'd be pouring out a rich foundation for your broth.
Only you know your particular level of discomfort with beans and can make the best decision for you!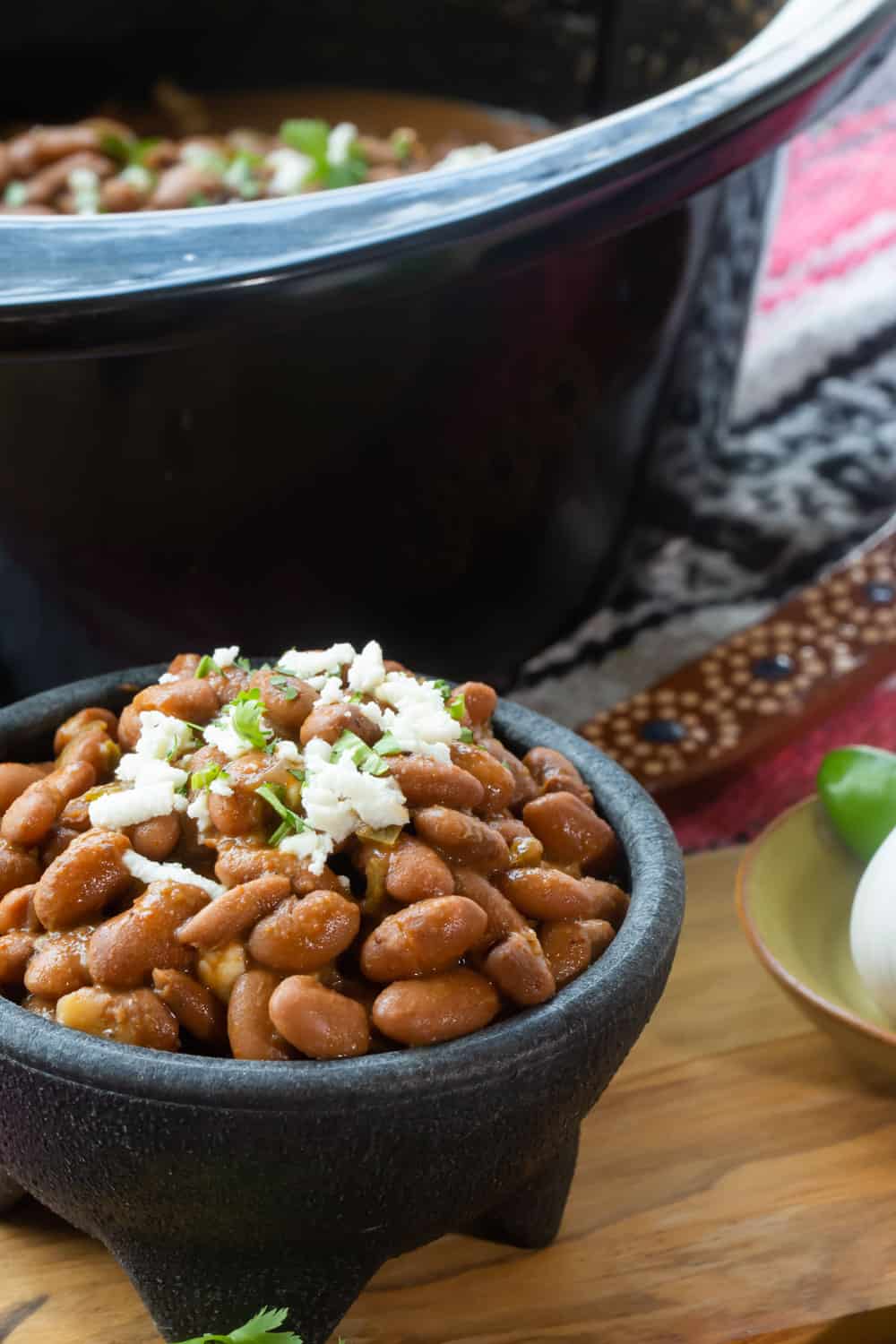 Can I change the Peppers or Spices in this Crockpot Pinto Bean Recipe?
For this crockpot pinto bean recipe, I've chosen to use anaheim peppers (or any long green chile will work), but jalapenos can be used as well. You may feel like removing the ribs and seeds of the jalapeno if your family is sensitive to spice. It would be okay to use canned green chiles in the pinto beans as well if fresh chiles are out of season.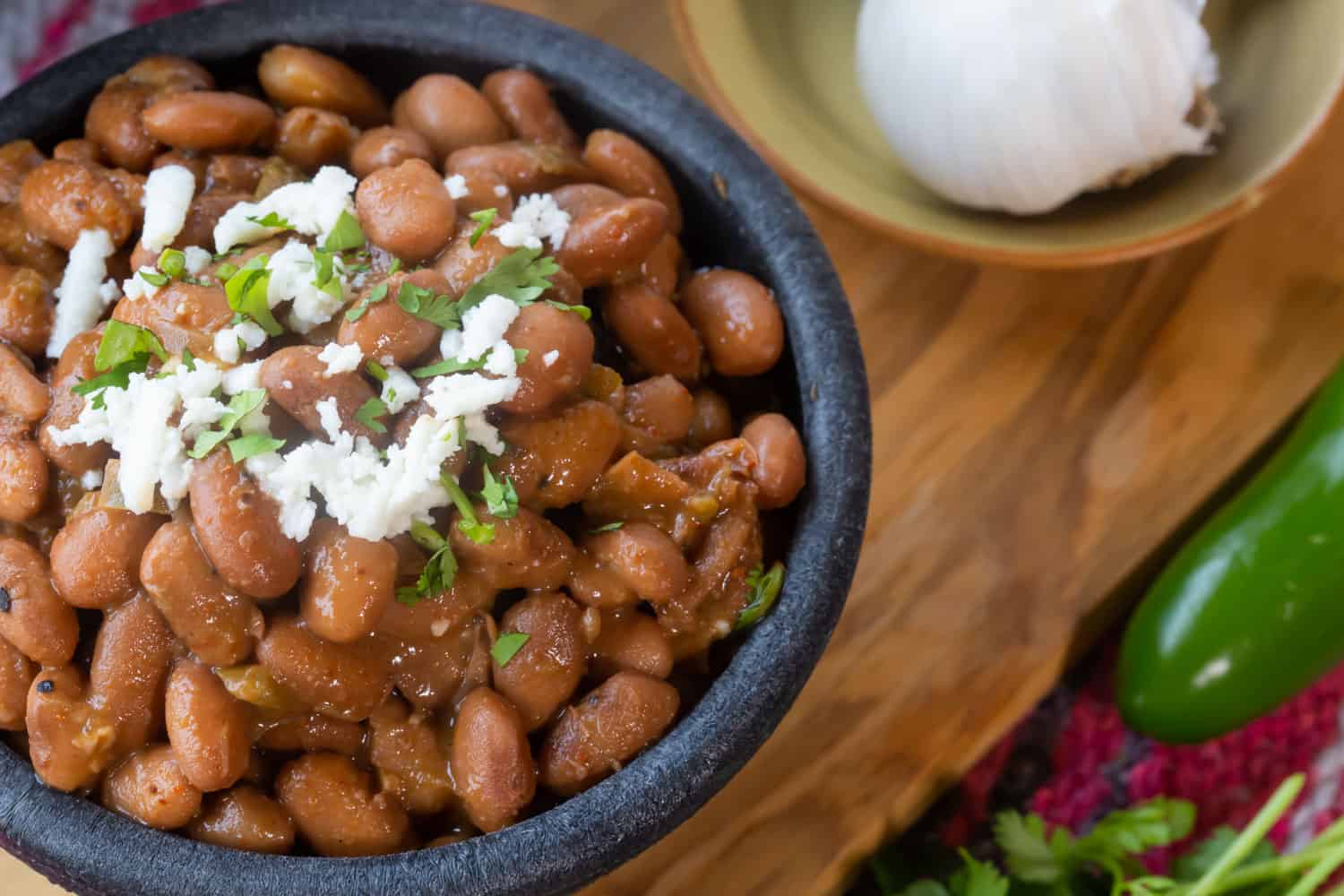 What Other Recipes Are Served with Texas Pinto Beans?
With pinto beans I say you can go two directions. Barbecue or Tex Mex. Here are some of my favorite suggestions…
Yield:

8
Texas Pinto Beans Recipe in the Crock-Pot
Total Time:
3 hours
15 minutes
There's nothing more comforting thing a juicy batch of pinto beans simmering away. Make them effortlessly in your crock pot or slow cooker with this easy recipe!
Ingredients
¼ c. bacon fat
1 lb. bag pinto beans
½ white onion, diced
2 ½ T. fresh garlic, minced finely (about 5 cloves)
2 long green chiles (such as hatch or anaheim), diced with seeds
2 c. salted chicken stock
2 t. New Mexico chile powder
1 t. onion powder
1 t. black pepper
½ t. salt (add more to taste if needed)
Optional: After the beans are tender a pop of acidity can be added with 2 t. hot pepper sauce, or fresh lime juice.
Garnish: Freshly chopped cilantro or queso fresco
Instructions
Place the pinto beans in a stockpot and fill with water until it just covers the beans.
Bring to a rolling boil. Boil 10 minutes, then turn off the heat and let the beans soak for 1 hour while preparing the crockpot.

Turn the crockpot to high and add in ¼ c. bacon fat.

Dice the white onion, green chiles, and garlic up and add to the crockpot as you chop them up.
Add in all the spices, but do not add the chicken stock yet. The veggies will slowly cook in the bacon fat as the beans complete their 1-hour soak. Stir occasionally.

After 1 hour, pour in the beans and the bean juice. Add in the chicken stock.

Cook for 2-3 hours, until tender. Finish with additional salt and the optional acidity ingredients once the beans are cooked. Beans can be held hot in this crockpot, just add a little water or chicken stock to thin as needed.
Notes
Note about bean water: Some people who experience digestive issues remove the initial juice the beans are cooked in and replace it with fresh water. I have always found that this does affect the wonderful flavor of the beans and should be avoided unless you experience major discomfort from beans. Most restaurants do not replace the bean water because it is loaded with rich flavor from the pinto beans.
Nutrition Information:
Yield:
8
Serving Size:
1
Amount Per Serving:
Calories:

273
Total Fat:

12g
Saturated Fat:

5g
Trans Fat:

0g
Unsaturated Fat:

6g
Cholesterol:

20mg
Sodium:

494mg
Carbohydrates:

32g
Fiber:

7g
Sugar:

9g
Protein:

12g
You are solely responsible for ensuring that any nutritional information obtained is accurate. All content within this site is not intended as medical diagnosis or treatment and should not be considered a substitute for, nor does it replace, professional medical advice, diagnosis, or treatment.