This shop has been compensated by Inmar Intelligence and its advertiser. All opinions are mine alone. #GrillingWithMazola
These Chimichurri Steak Wedge Salads are an easy grilling recipe for reconnecting with family members in small gatherings and are a heart-healthy way to show them your love! I just took the boys down to see my father for the first time since quarantine and created this refreshing summer salad (loaded with steak for dad!!) while teaching him how to make chimichurri sauce with Mazola® Corn Oil. A clinical study showed Mazola® Corn Oil reduces cholesterol 2x more than extra virgin olive oil. (To learn more about this claim, visit MAZOLA.com.)
Because Mazola® Corn Oil is an all-purpose cooking oil, it can be used for our chimichurri herb sauce giving the sauce a neutral canvas to soak up the garlic, oregano, parsley, and cilantro! Yummo! We can also use it for coating the skirt steaks before they go on the grill because it has a high smoke point suitable for grilling, roasting, and baking. Let's get started #GrillingWithMazola!
How To Make Easy Blue Cheese Dressing
For this recipe we're grilling, so we want to make all of the accompaniments first and leave them in the refrigerator to serve when the steaks come hot off the grill! I made an easy blue cheese dressing that only took about 3 minutes to come together. It's also made of common ingredients like mayonnaise and milk which are likely already in your kitchen. Stir with a whisk and chill!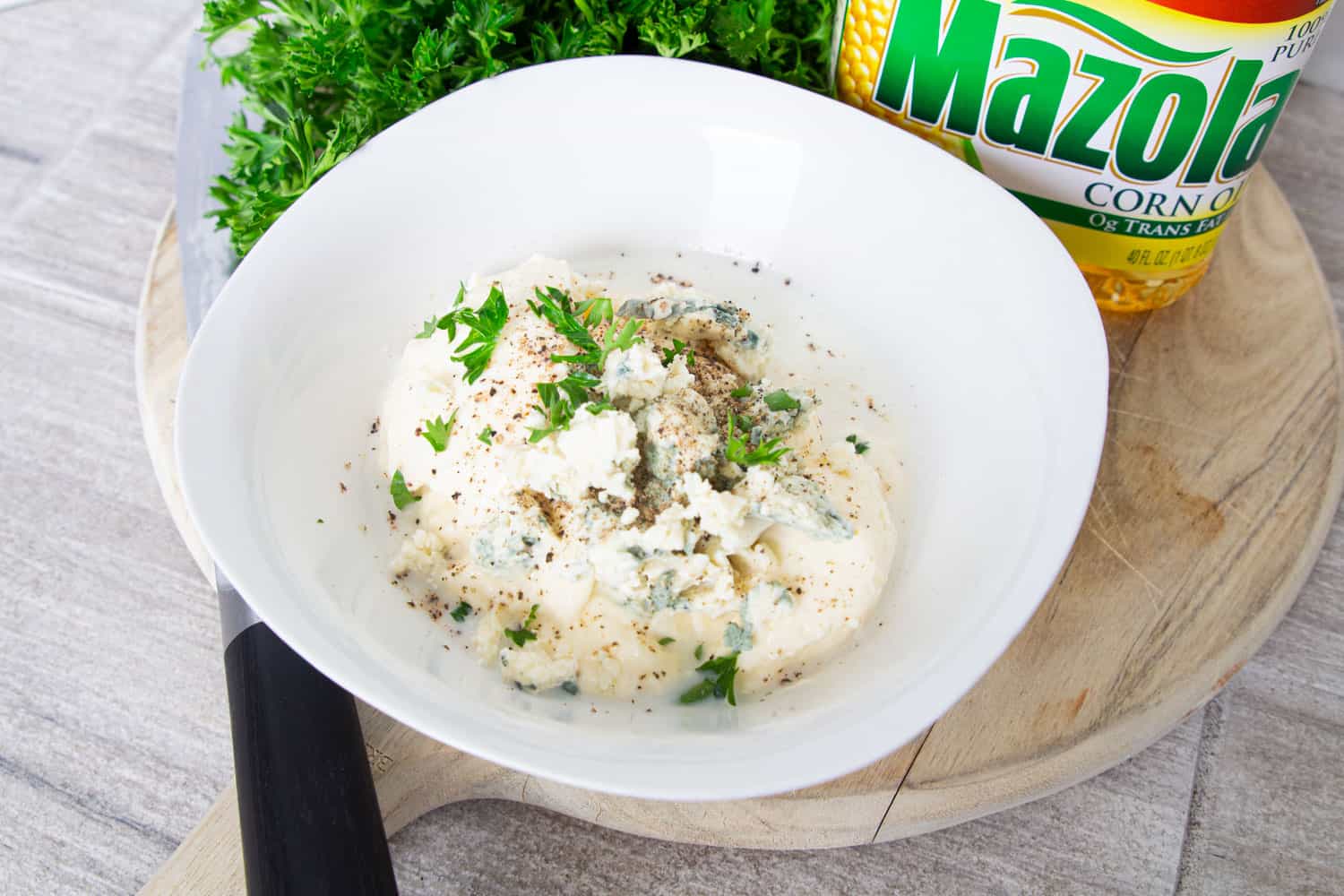 How to Make Chimichurri Sauce For Steak
Chimichurri Sauce is so easy to make and such a healthier and lighter choice for summer grilling meals. It all starts with Mazola® Corn Oil, the base for our sauce. Then, I filled the sauce with fresh herbs, minced red onion, garlic, a pop of lemon juice, and red pepper flakes for a kick! (The spice is purely optional and can be left out!!)
The herbs are chopped well with a sharp knife and added to the oil, then add the other ingredients and chill while you prepare your grill for grilling the skirt steak.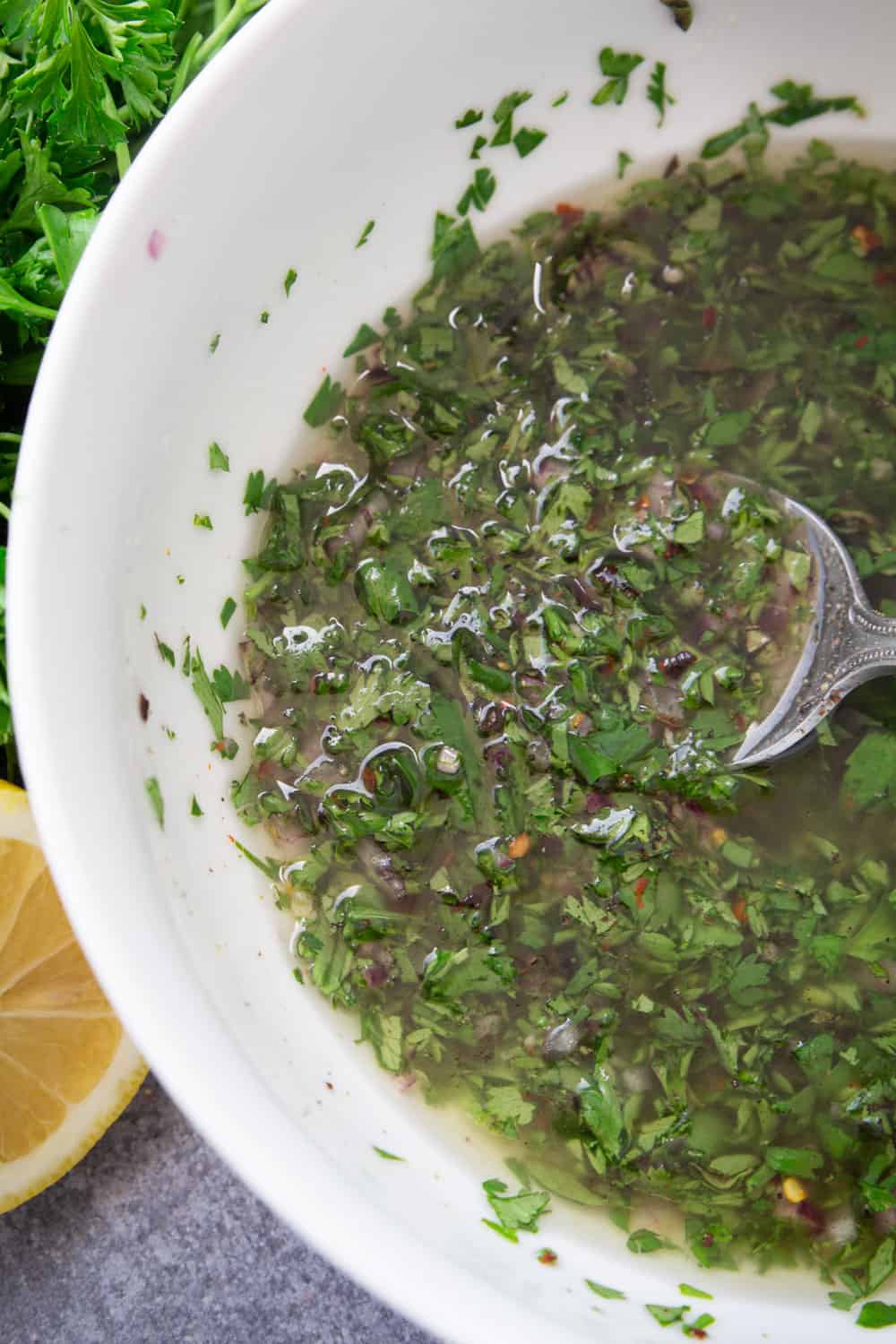 How to Prep the Skirt Steaks For Grilling
For the skirt steak, it couldn't be easier. Coat with a little Mazola® Corn Oil and shake on the salt, pepper, and garlic powder. I added a little bit of extra herbs I had for beauty! We eat with our eyes first. 🙂
Bring the grill up to medium-high heat or watch for the coals of your charcoal to turn gray, and begin grilling. I grilled my pieces 6 minutes per side but every grill is different and you will want to cook the steak to your desired level of doneness. Then rest for 10 minutes and slice the skirt steak against the grain into thin strips. Top with chimichurri sauce and get ready to prepare your salads. Here is what it looks like!
How to Assemble the Chimichurri Wedge Salads
The assemble is straight forward and quick! We just slice the wedge of lettuce into 4 portions, top with the blue cheese dressing, sprinkle on tomatoes and red onion, and top with the grilled skirt steak and additional chimichurri sauce if desired. Then serve to your family by al fresco!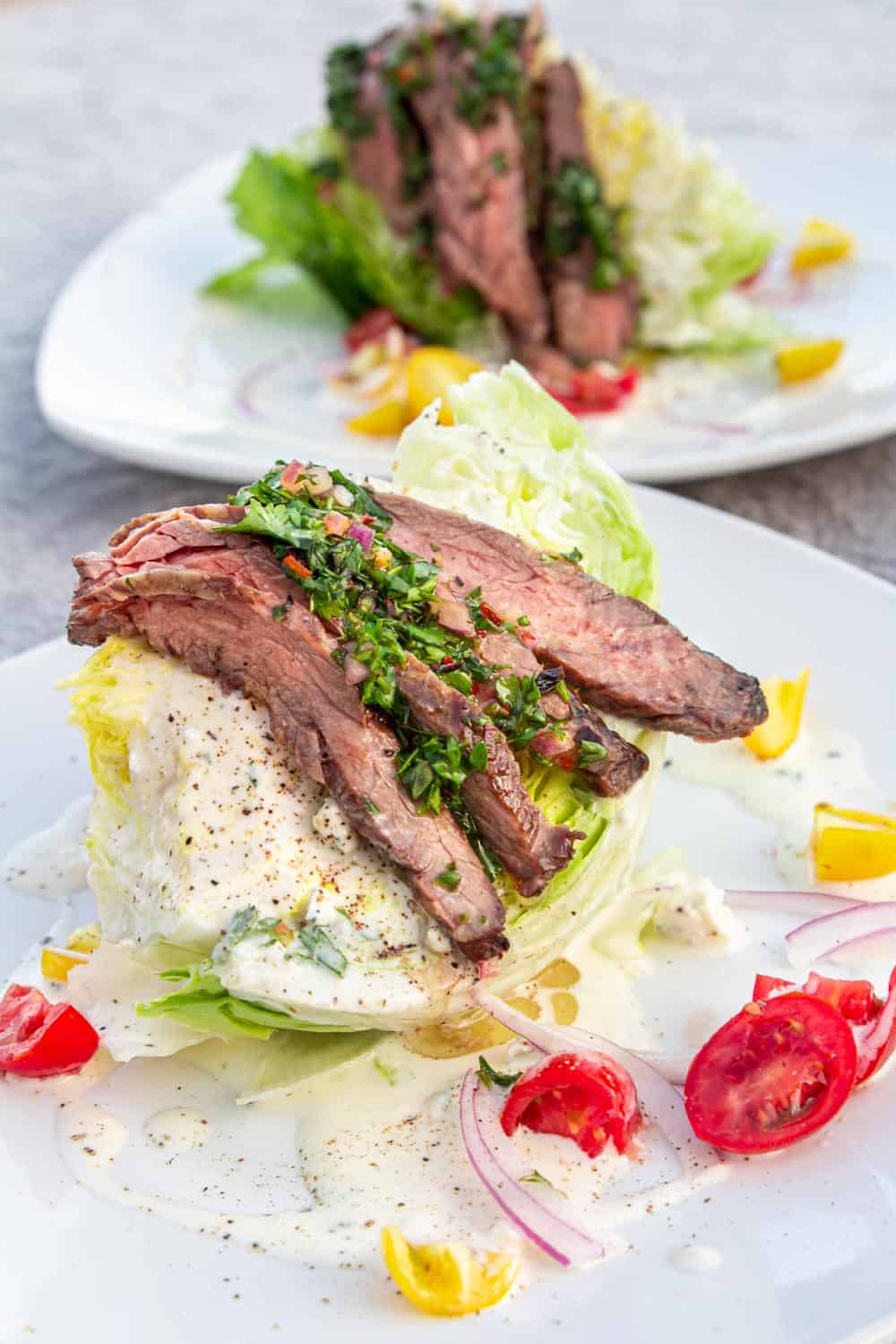 Remember to use Mazola® Corn Oil to get all of the versatile options, and neutral taste to allow all of these bright and refreshing flavors to come through for your family!
Have questions? Need help? Have an addition or a suggestion to a recipe? Drop me a comment below!
If you make this recipe, I would LOVE to see it!
Tag me on Instagram @UrbanCowgirl and use #UrbanCowgirl to be featured. 🙂
Follow us on Social Media using the links below!!
Yield:

4
Chimichurri Steak Wedge Salad Recipe
This Chimichurri Steak Wedge Salad recipe is your next grilling favorite for the warm days ahead!
Ingredients
1 head of iceberg lettuce, cored and sliced into 4 wedges.
16 cherry tomatoes
Thinly sliced red onion
6 T. your favorite blue cheese
1.25 lbs. skirt steak
Dressing:
1 c. mayonnaise
2 T milk
2 T. crumbled blue cheese
1/8 t. black pepper, and salt
Chimichurri Sauce:
3/4 c. Mazola® Corn Oil
1/2 c. each minced fresh parsley and cilantro
3 T. minced fresh oregano
2 T. fresh lemon juice, about 1 large lemon
2 T. finely minced red onion
1/2 t. minced garlic (about 1 clove)
1 t. salt
1 tt. red pepper flakes (optional)
Instructions
For the blue cheese dressing: Mix all ingredients in a bowl and whisk well. Chill.
For the chimichurri: Combine all of the ingredients in a large bowl and stir well. Chill.
For the steak: Use a bit of oil to coat the steaks and coat with salt, pepper, garlic powder, or your favorite seasonings. Grill over medium-high heat 6-8 minutes per side, or to your chosen degree of doneness. Rest 10 minutes after cooking, coat with chimichurri sauce.
For assembly: Core the iceberg wedge and slice in half. Then slice in half again to create 4 portions. Slice the tomatoes and the red onion. Place on 4 plates and top with dressing. Sprinkle the tomatoes and onions around it. Top with sliced steak and additional chimichurri if desired. Enjoy!
DISCLAIMER *very limited and preliminary scientific evidence suggests that eating about 1 tablespoon (16 grams) of Corn Oil daily may reduce the risk of heart disease due to the unsaturated fat content in Corn Oil. FDA concludes that there is little scientific evidence supporting this claim. To achieve this possible benefit, Corn Oil is to replace a similar amount of saturated fat and not increase the total number of calories you eat in a day. One serving of this product contains 14 grams of Corn Oil.
DISCLAIMER: Corn Oil is a cholesterol-free food that contains 14g of total fat per serving. See nutrition information on the product label or at mazola.com for fat and saturated fat content.