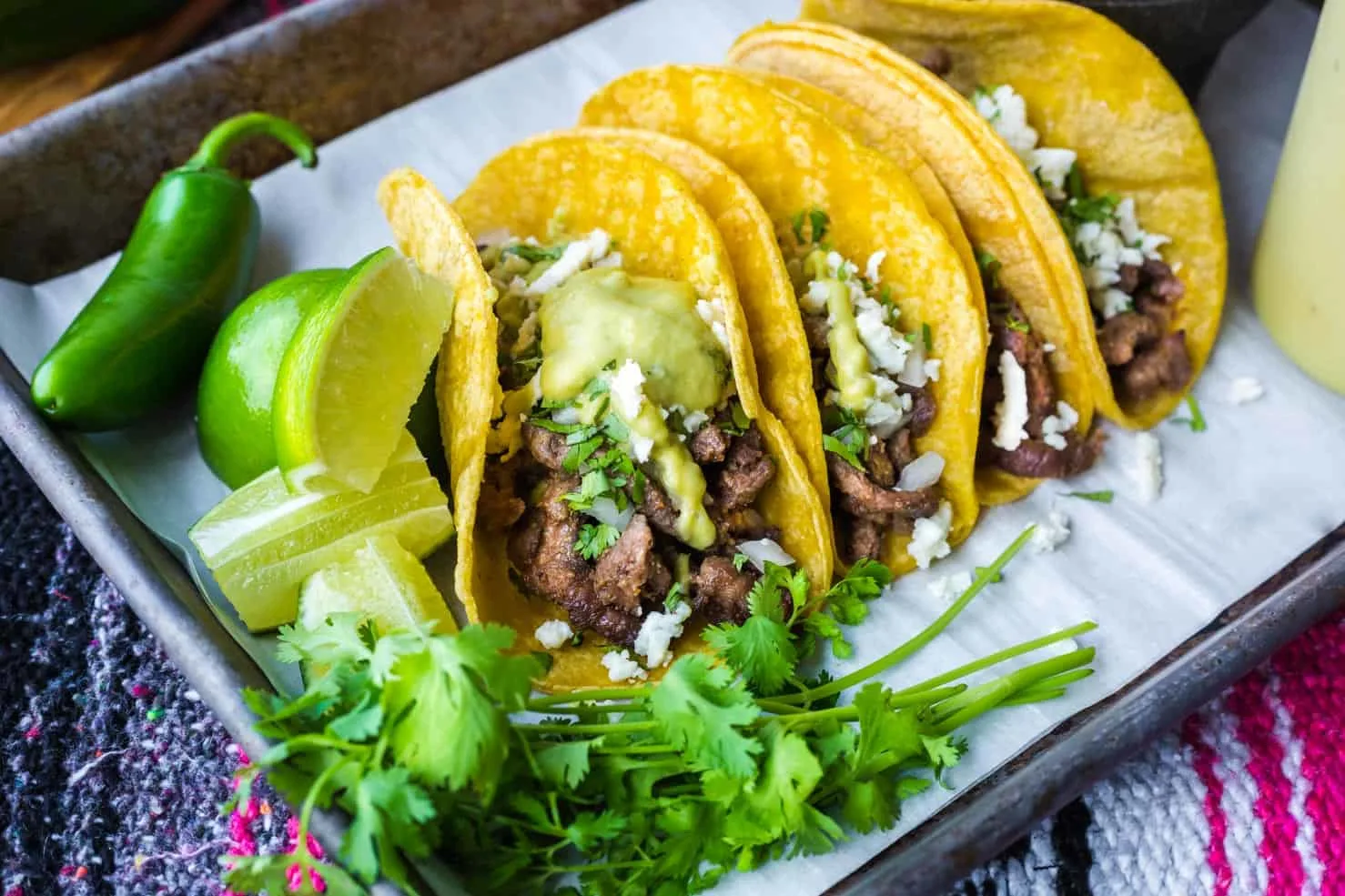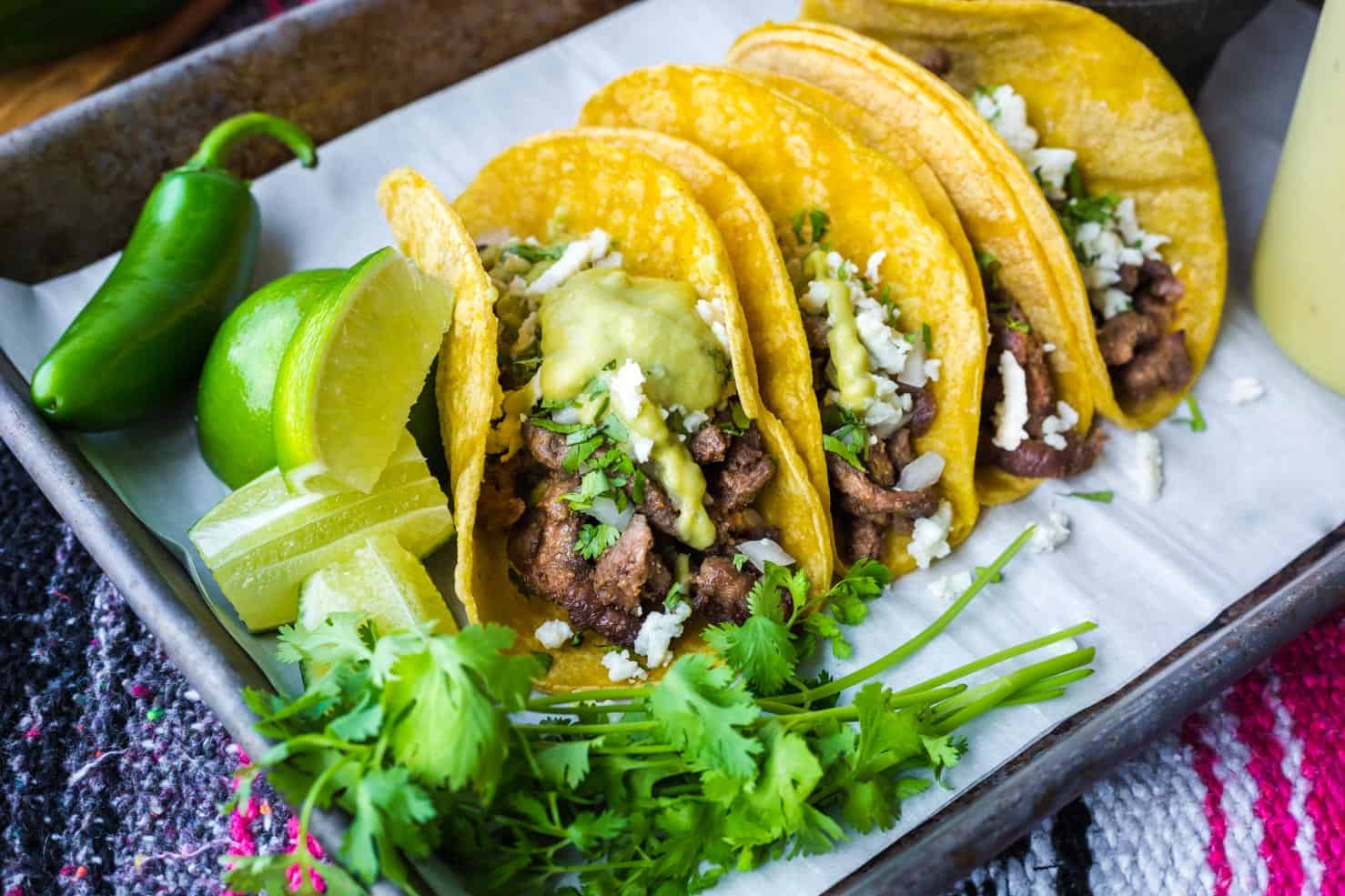 These juicy steak street tacos are made of pan-seared sirloin steak tossed in a Texas-style, street-taco rub, and folded into warm corn tortillas. You won't believe how quickly these tacos can come together when using dry rub and a tender steak, as opposed to time-consuming marinades.
For the steak that will make up our taco filling, I use this Carne Asada Dry Rub Recipe, which I make in small batches, and also use in our Texas Steak Fajita Recipe. I created this dry rub seasoning blend, specifically for beef as an alternative to grocery store fajita seasoning, which is high in salt and not available throughout the world (where many of our readers live).
You'll need to whip up a batch for yourself to complete this recipe, and it looks like this!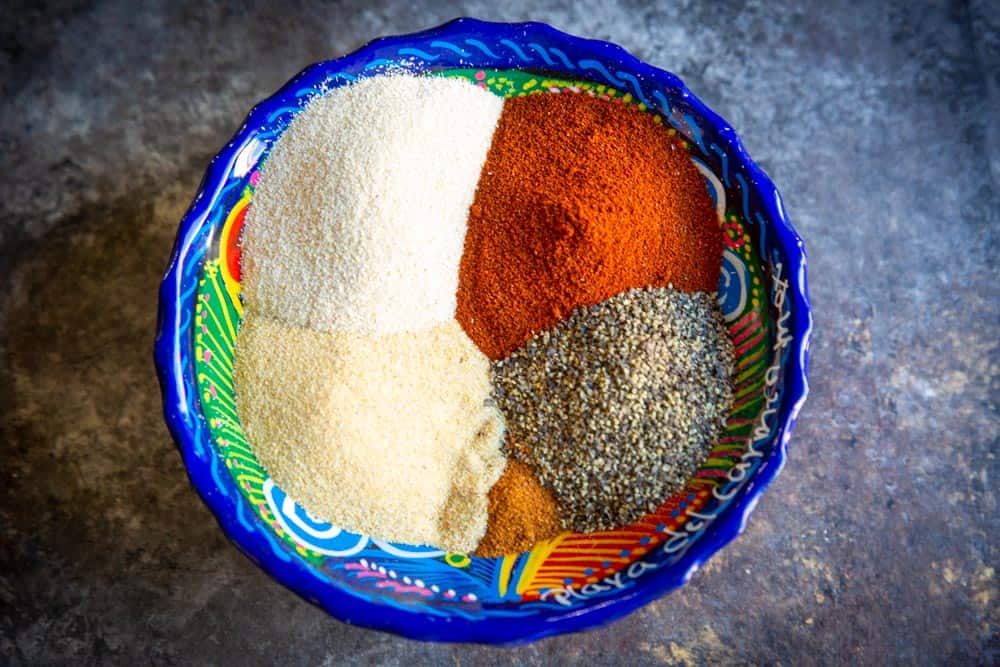 How To Make Steak Street Taco Filling
Sometimes, I'm not in the mood to wait very long for a delicious taco and when I need to get dinner on the table I go straight to sirloin steak. There is no need to get thick-cut steaks or spend the extra money on ribeye. Sirloin steak cooks hot and fast and it's a great use of the thin sirloin slices that grocery stores keep pushing these days.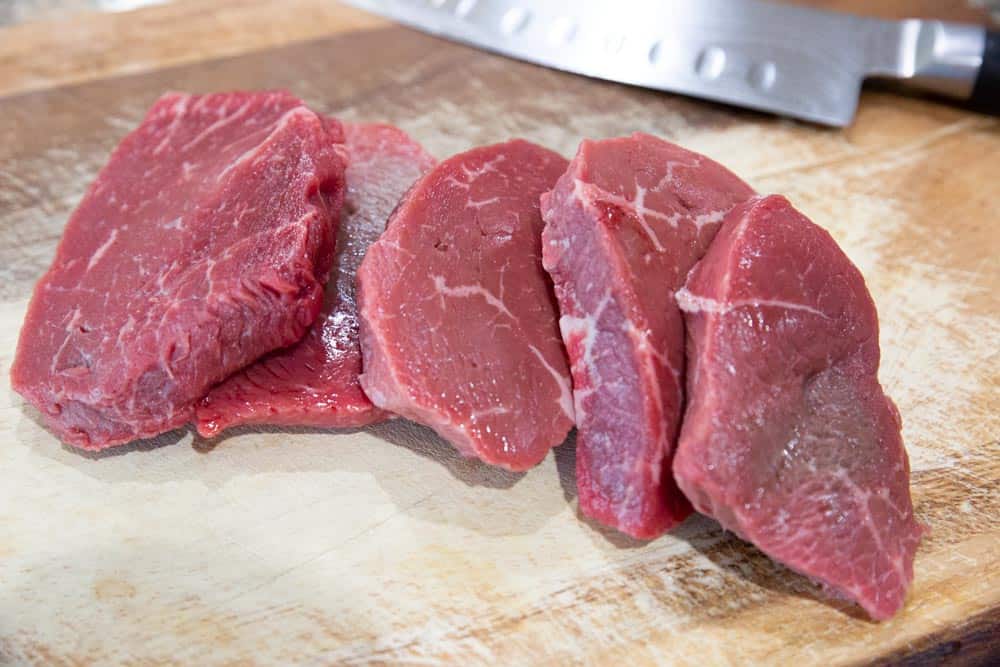 I'll take the sirloin steak slices and chop them into 1/2 inch or so chunks, which gives more surface area for the carne asada rub to stick to.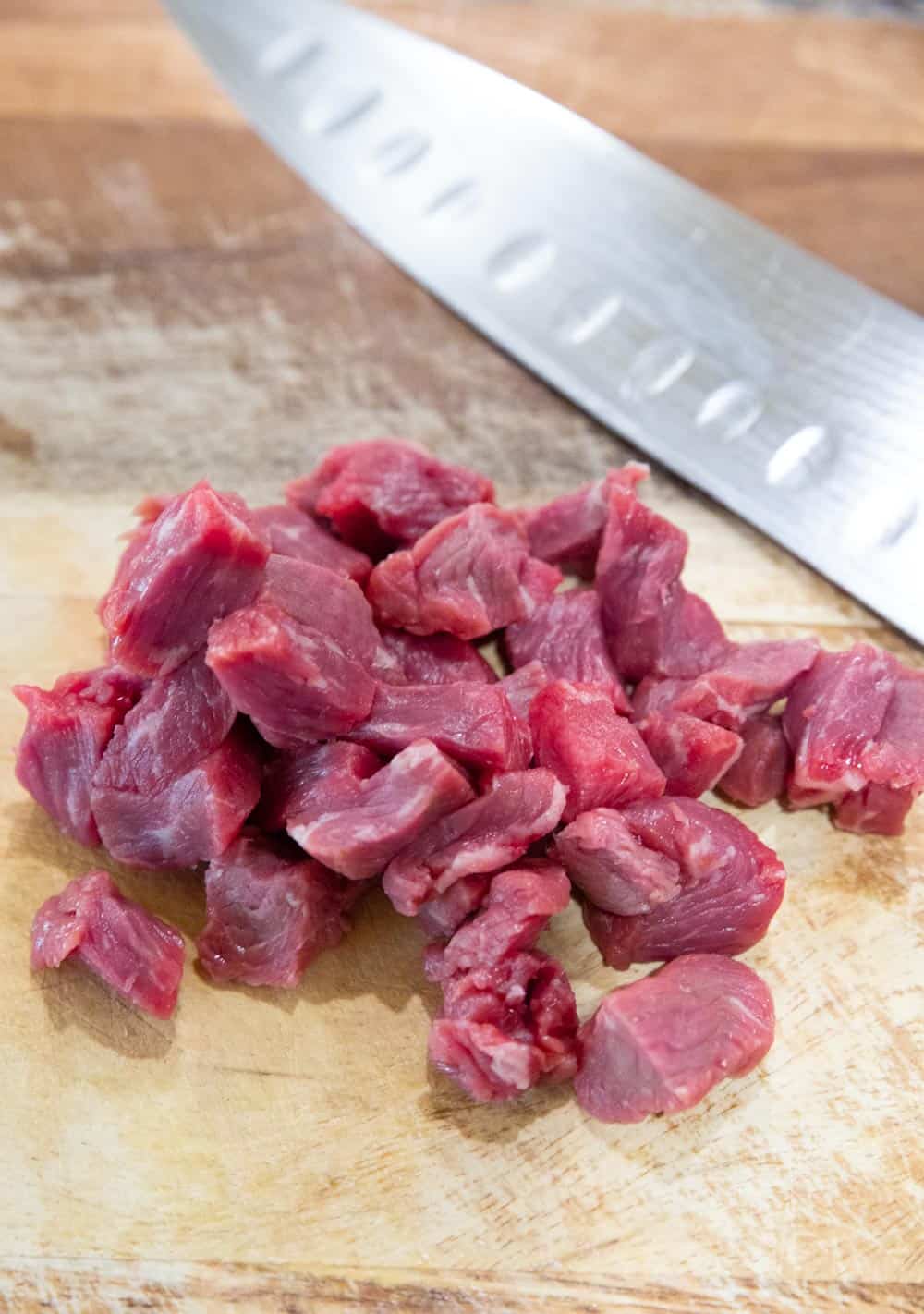 Then just throw them in a bowl with my homemade carne asada rub and you're ready to rock. You can cook this instantly or you can start it in the morning, go to work, and let it absorb the flavors until you are ready to make dinner.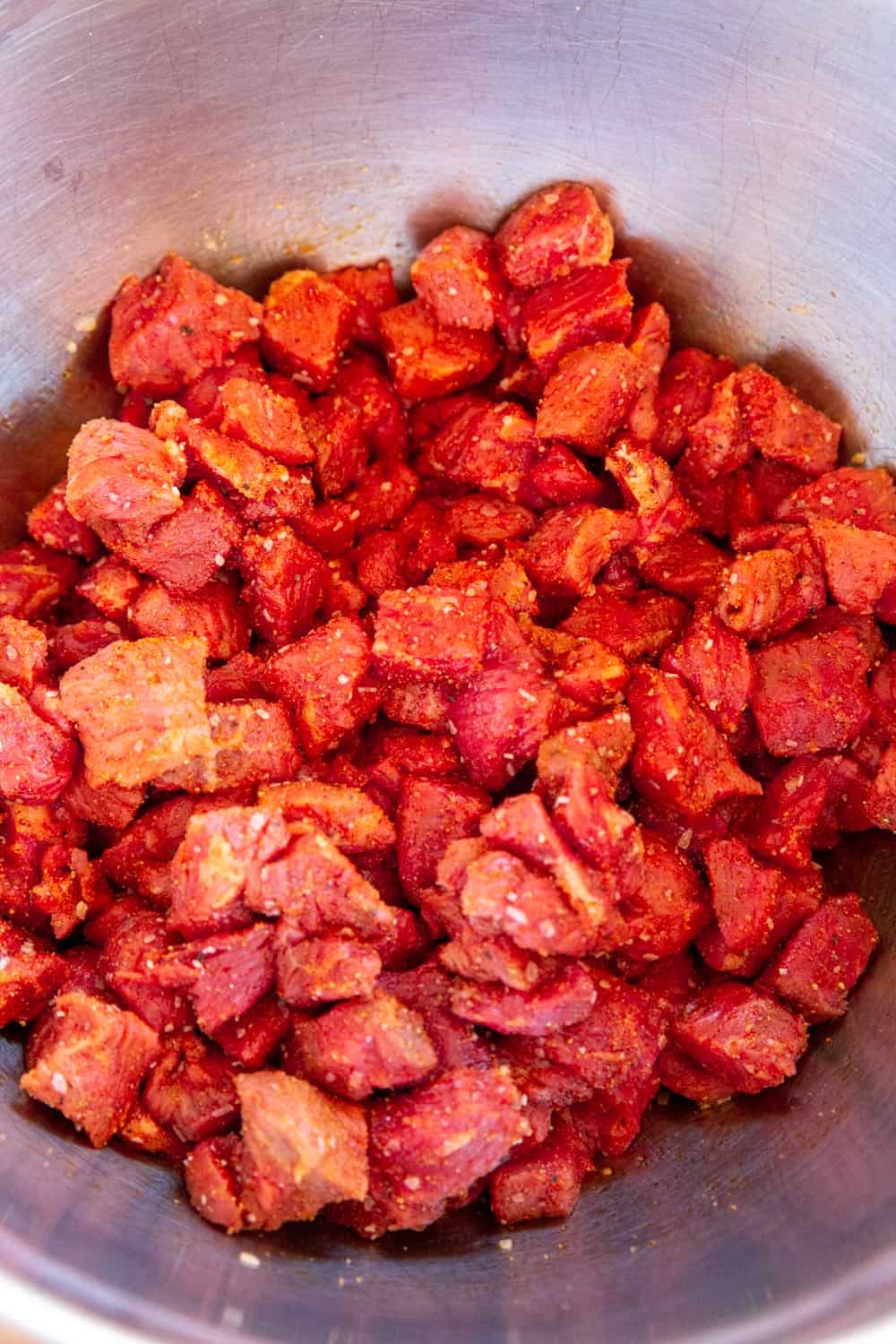 How to Pan-Sear the Steak for Street Tacos
For steak street tacos in a dry rub, I cook the beef exactly how I pan sear a juicy steak. To achieve an excellent sear, (which is the flavorful, brown crust on meat), I fry the meat in 3 batches, remove the seared steak bites with a slotted spoon when they reach medium rare, and add more oil to the pan between batches, if needed. It's also a good idea to use your heaviest and best sauté pan.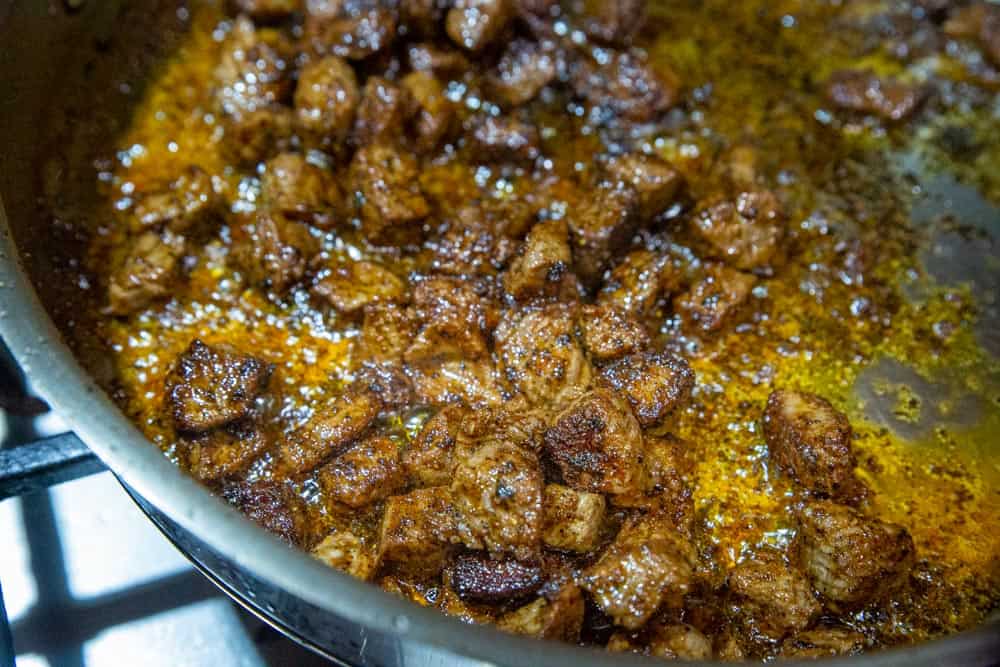 (Links are affiliate links to products we think are helpful and we may receive a small commission, at no cost to you, if purchased.)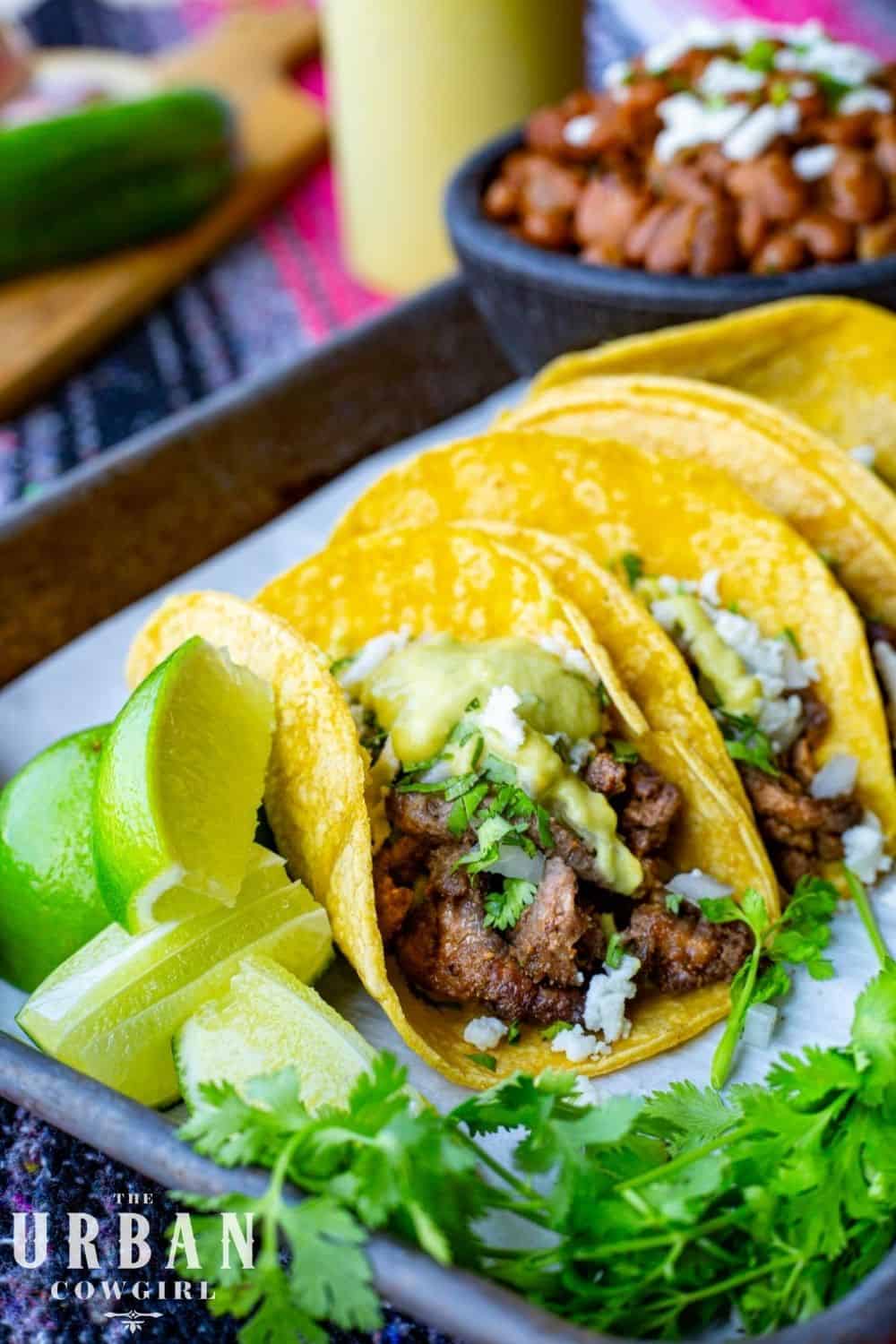 What Toppings go on Street Tacos?
Traditionally, chopped cilantro and small diced onion go on top of street tacos. I have also grown fond of a sprinkling of queso fresco or cotija, which are both white mexican cheeses that crumble when pressed in your fingers. Limes are served on the side to squeeze directly on top of the taco for a pop of acidity.
The creamy green taco sauce that you see drizzled on top of the street tacos is my Creamy Jalapeno Sauce Recipe, which I've made previously on the blog. It's an at home version of the spicy jalapeno puree you see at taco stands in Texas and throughout mexican cooking.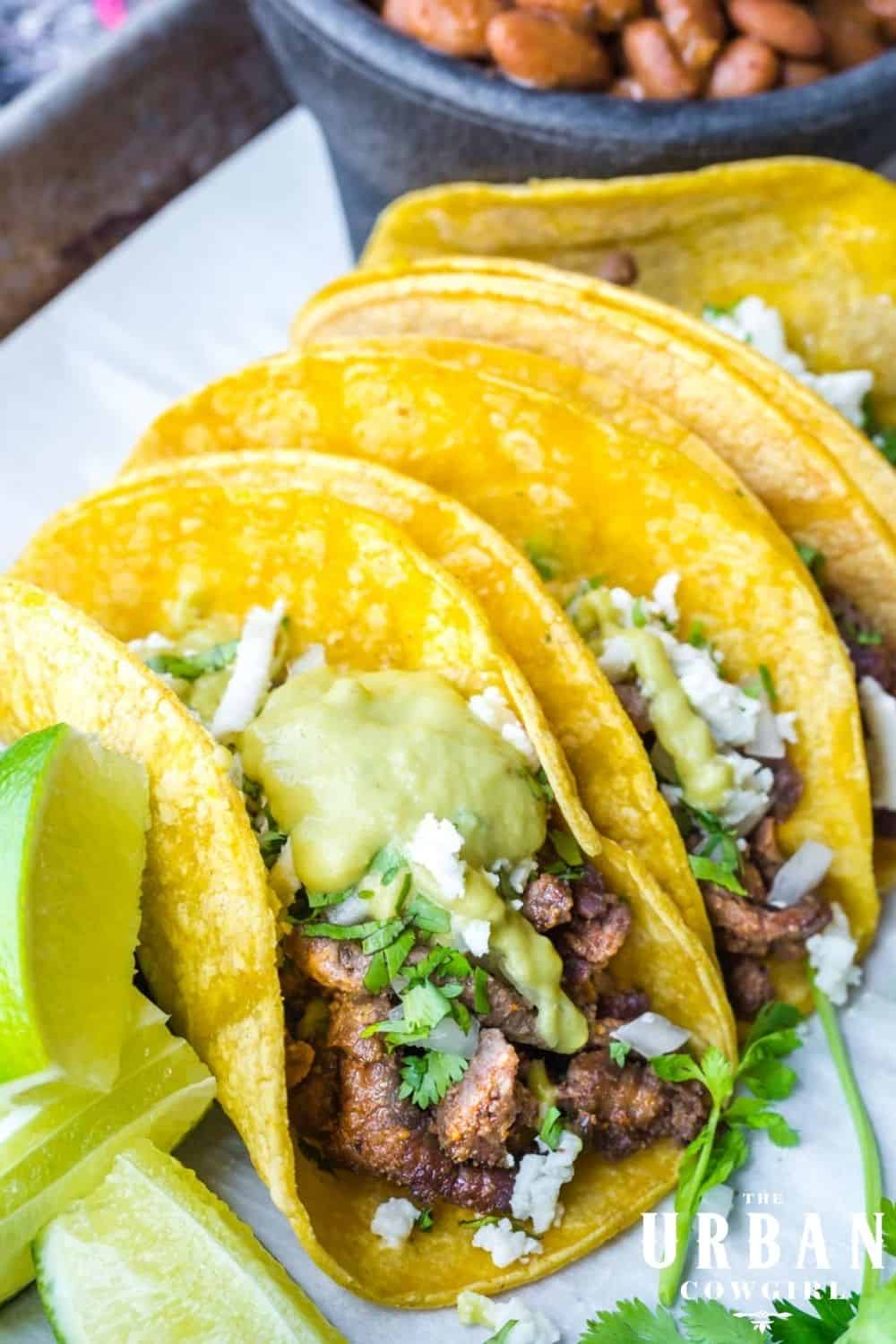 What Sides Should I serve with Street Tacos?
Yield:

10-12 tacos
Steak Street Tacos Recipe
These juicy steak street tacos are seasoned with a carne asada dry rub and pan-seared to perfection. Wrap in warm corn tortillas and serve with our famous Green Taco Truck Sauce! This recipe can be prepared in 30 min or less!
Ingredients
1 ½ lbs. sirloin steak (thin steaks preferred)
1 T. oil, plus additional oil for the pan (high smoke point oil preferred such as sunflower or safflower)
1 bunch of cilantro, chopped for topping the tacos
1 small white onion, small diced
4 limes, cut into wedges
20 corn tortillas
Crumbly white cheese such as queso fresco or cotija
Instructions
For the meat:
On a cutting board, cut the steak into ½ inch cubes and place into a bowl. Coat with 1 T oil and toss well. Apply the dry rub carne asada seasoning liberally and toss well until the beef cubes are richly seasoned. I used about 1 ½ T of the rub and applied more during cooking.
Reserve the steak covered in a refrigerator for several
hours if possible, if not proceed to the searing stage.
In your best heavy-bottomed saute pan, drizzle in a little
oil to coat the bottom of the pan well. Bring the heat up to high. Add 1 c. of
the steak cubes and spread them out with a wooden spatula.
Let the steak cubes brown nicely by resisting the urge to
stir. Toss them when you achieve a nice crust on one side (about 2 min) and
wish to brown more surface area. Cook to your level of doneness, I prefer
medium-rare. Know the steak cubes will continue to cook a little bit after they
are removed. Remove them to a plate where they can be kept warm.
Repeat this with the remaining batches. This is about 3
batches of steak for me.
Meanwhile, wrap the corn tortillas in a damp paper towel. Microwave 30 seconds or until the tortillas are pliable. Keep warm for assembling the tacos.
To assemble the tacos, lay 2 corn tortillas down and fill them with the steak mixture. Top with the diced white onion and cilantro. Top with crumbled white cheese if using. In the photo, I have topped this with our Creamy Jalapeno Taco Truck Sauce which is found here.
Serve limes alongside the tacos for squeezing on right before eating.
Nutrition Information:
Yield:
12
Serving Size:
1
Amount Per Serving:
Calories:

339
Total Fat:

18g
Saturated Fat:

7g
Trans Fat:

0g
Unsaturated Fat:

9g
Cholesterol:

69mg
Sodium:

299mg
Carbohydrates:

23g
Fiber:

4g
Sugar:

2g
Protein:

23g
This nutritional information is an estimate provided as a courtesy and we make no claims about it's accuracy. Please double check all nutritional estimates with a registered dietician.