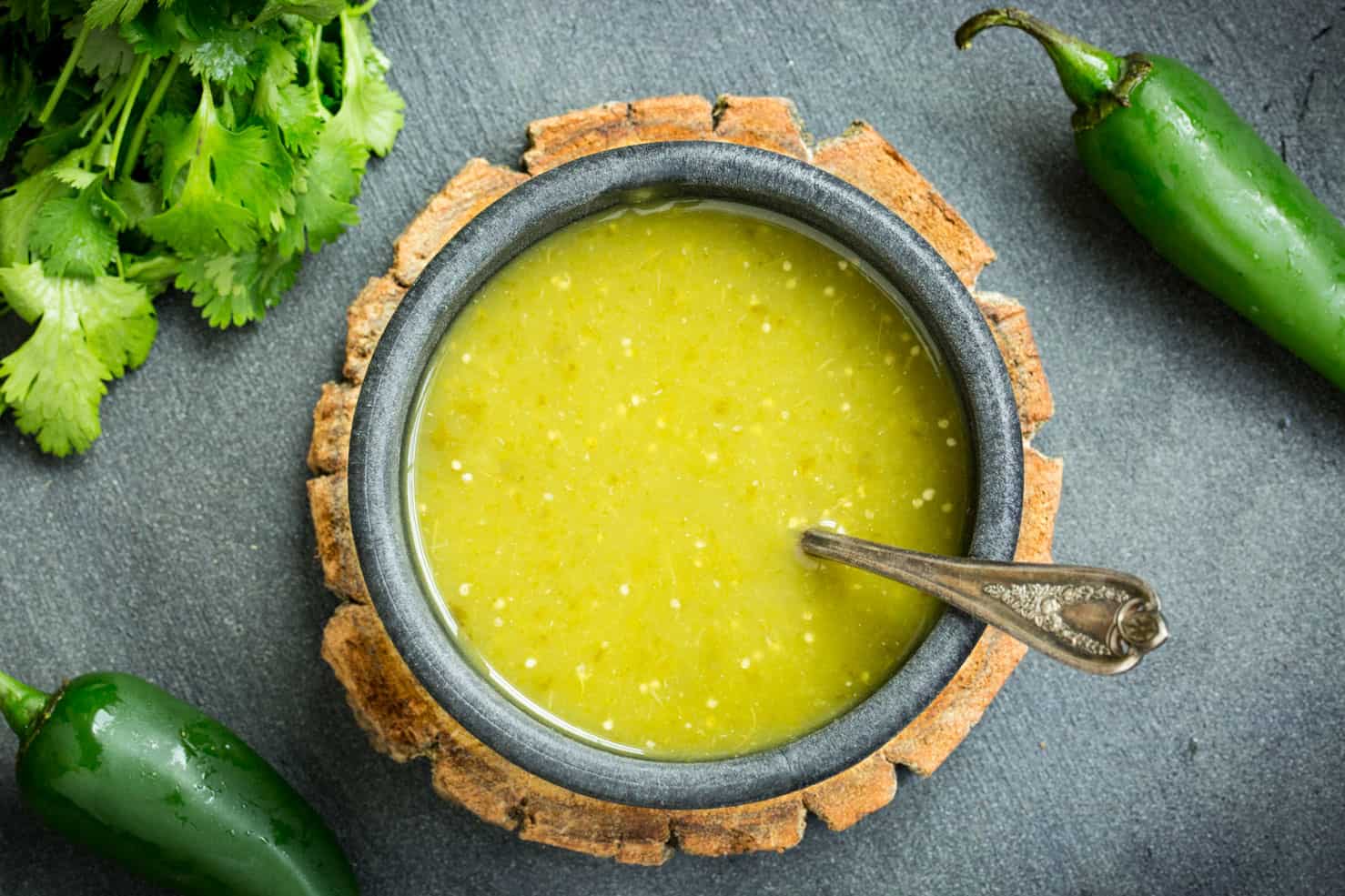 Texas Style Salsa Verde is a pantry staple in the Lonestar State. Mellow and smooth, this all purpose sauce tames the bite of fresh tomatillos with patient slow simmering, and an abundance of expertly blended herbs and aromatics.
You'll find this Salsa Verde literally everywhere! Stop by Texas favorite — Whataburger, and you can even get tiny containers of Salsa Verde instead of Ketchup, served up with hot french fries.
More likely you'll see it served atop enchiladas and omelets, burritos, and standard Tex-Mex fare. Excellent varieties of Salsa Verde come canned or jarred but you must try making your own at some point, and that's just what we're serving up today!
Step 1 : Cooking the Tomatillos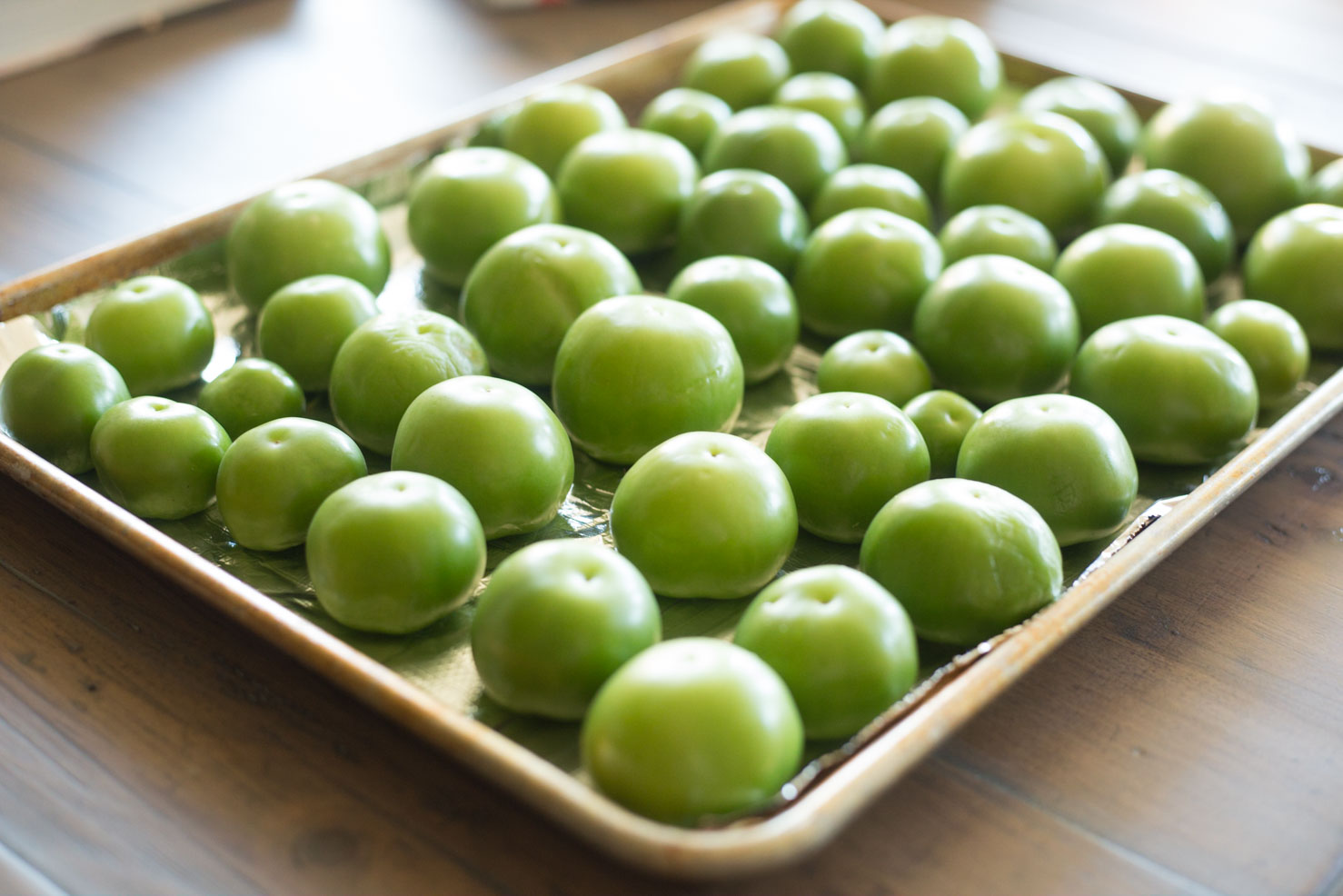 Tomatillos make the base of Salsa Verde sauce. Though their name makes it sound like they are a member of the tomato family, they are actually a member of the gooseberry family and here is a few things to know about them…
They have a papery husk draped lightly around them that needs to be removed, You can just pull it off. They may be a little sticky from the vine so just give them a quick rinse. (No need to remove that little stem as it is fleshy and blends right into the sauce.)
Tomatillos are picked ripe so there is no need to search for a ripe tomatillo like you might with a tomato. They are naturally a little bit firmer than a tomato.
To avoid bitter tasting salsa verde (or any sauces made with tomatillo for that matter), avoid large tomatillos. Smaller tomatillos are naturally sweeter.
Salsa Verde can be made by simmering the tomatillos, peppers, and onions, or by roasting them. This recipe features the simmering technique, which softens the tart nature of the tomatillos and blends the flavor with traditional Tex-Mex aromatics like garlic, white onion, and chiles.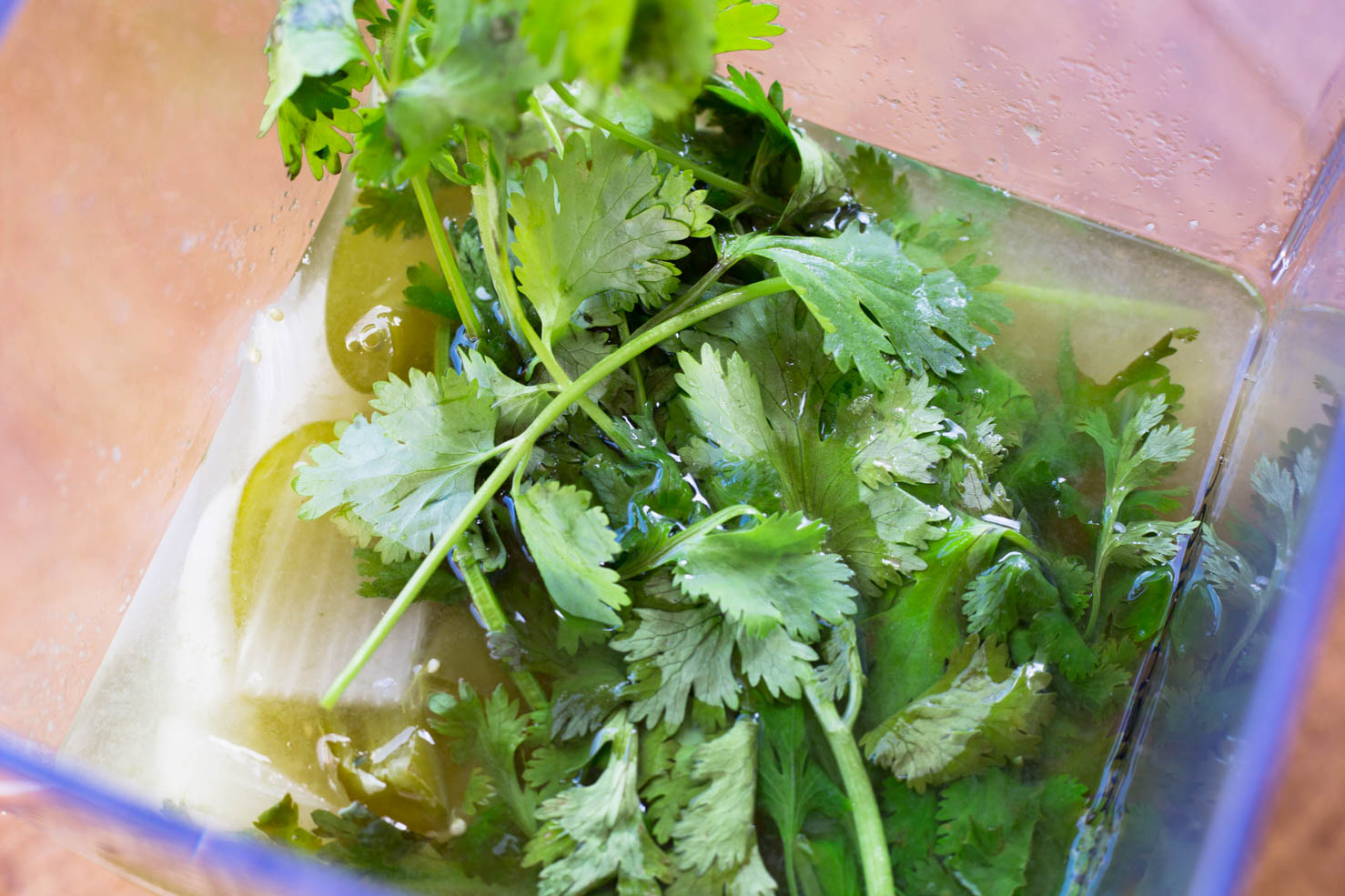 After the veggies are simmered down they are carefully transferred to a blender. Cilantro is added for a fresh and bright herbal note. I also add seasonings like salt and occasionally Mexican Oregano.
Blend to a completely smooth consistency, and prepare the original pot you simmered the tomatillo mixture in for one last simmer.
Step 2: Frying the Puree
Mexican sauces are often "fried" or simmered a second time. This serves two purposes. For Salsa Verde it encourages the sauce to thicken up as water evaporates from the long simmered vegetables. Secondly, it cooks and finishes the flavor of the salsa verde. Many Mexican sauces are prepared and then added to a hot skillet with a little oil.
The sauce is "fried" in this oil and it transforms the flavor into a warm and rich, more complex sauce.
Fry the Salsa Verde sauce for 5-7 minutes, or until it is as thick as you desire.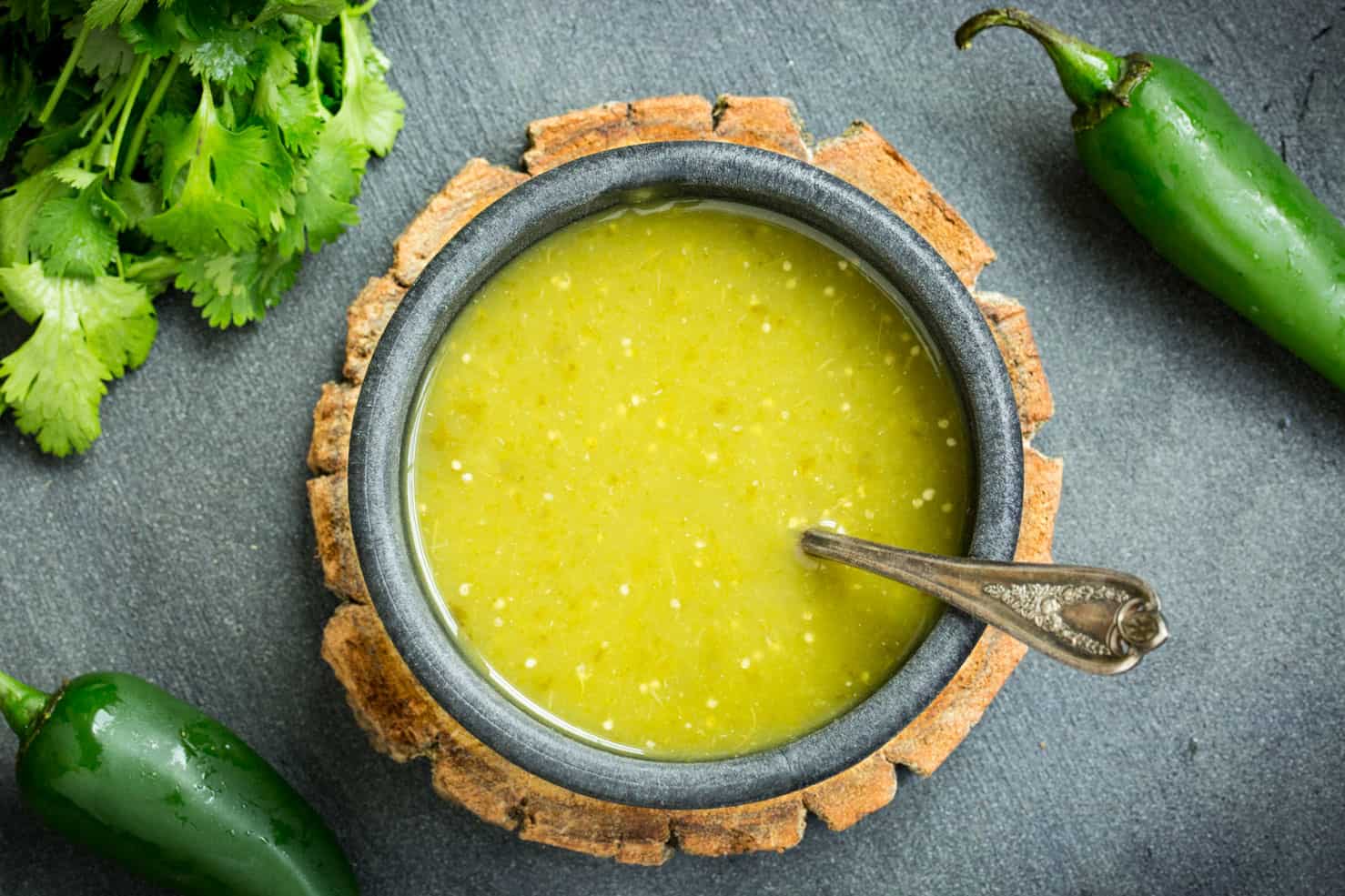 Here is the recipe for the Texas Style Salsa Verde!
If you make the recipe, post it to social media and tag Urban Cowgirl!
I'd love to see how it turns out!
Yield:

1 quart
Salsa Verde – Texas Style
Traditional salsa verde is a mild mexican sauce made with roasted tomatillos, onion, and cilantro. It's served as an accompaniment for tacos and barbecue, or can be used a green enchilada sauce with chicken or cheese enchiladas.
Ingredients
2 pounds tomatillos (use smaller tomatillos for better flavor), halved
1 jalapeno, chopped
1 serrano, chopped
1/2 white onion, cut into thirds
2 1/2 c. water
1/2 T. kosher salt
3 garlic cloves
1/2 bunch of cilantro, use your best judement
1 T honey
1 lime, juice of
Optional: 1/2 c. packed spinach for BRIGHT GREEN salsa verde
Instructions
In a stockpot, add all of the ingredients besides the cilantro, honey, optional spinach if using, and lime juice. (Those will be added fresh.)
Add the chopped veggies to the stockpot and place over medium-high heat. Bring to a boil, and then lower the heat and simmer for 20 minutes until all of the vegetables soften. Remove from heat and cool 10-15 minutes.
Pour this mixture into a blender. Add all of the rest of the ingredients. Blend for 1-2 minutes. Taste for salt, it will likely need about 1 t. more.
Wash out the original pot you boiled the tomatillos in. Pour the blended salsa verde sauce back in the pot and return it to the heat. Bring to a boil and boil it for 5 minutes, scraping the bottom with a rubber spatula to avoid burning the bottom. When the salsa verde is the thickness you desire, remove it from the heat and season to taste with additional lime juice, salt, or even a little bit of honey if needed to balance the flavors.
Nutrition Information:
Yield:
16
Serving Size:
1
Amount Per Serving:
Calories:

28
Total Fat:

1g
Saturated Fat:

0g
Trans Fat:

0g
Unsaturated Fat:

0g
Cholesterol:

0mg
Sodium:

236mg
Carbohydrates:

6g
Fiber:

1g
Sugar:

4g
Protein:

1g
This nutritional information is provided as a courtesy as an estimate only. Consult with a dietician for precise estimates.