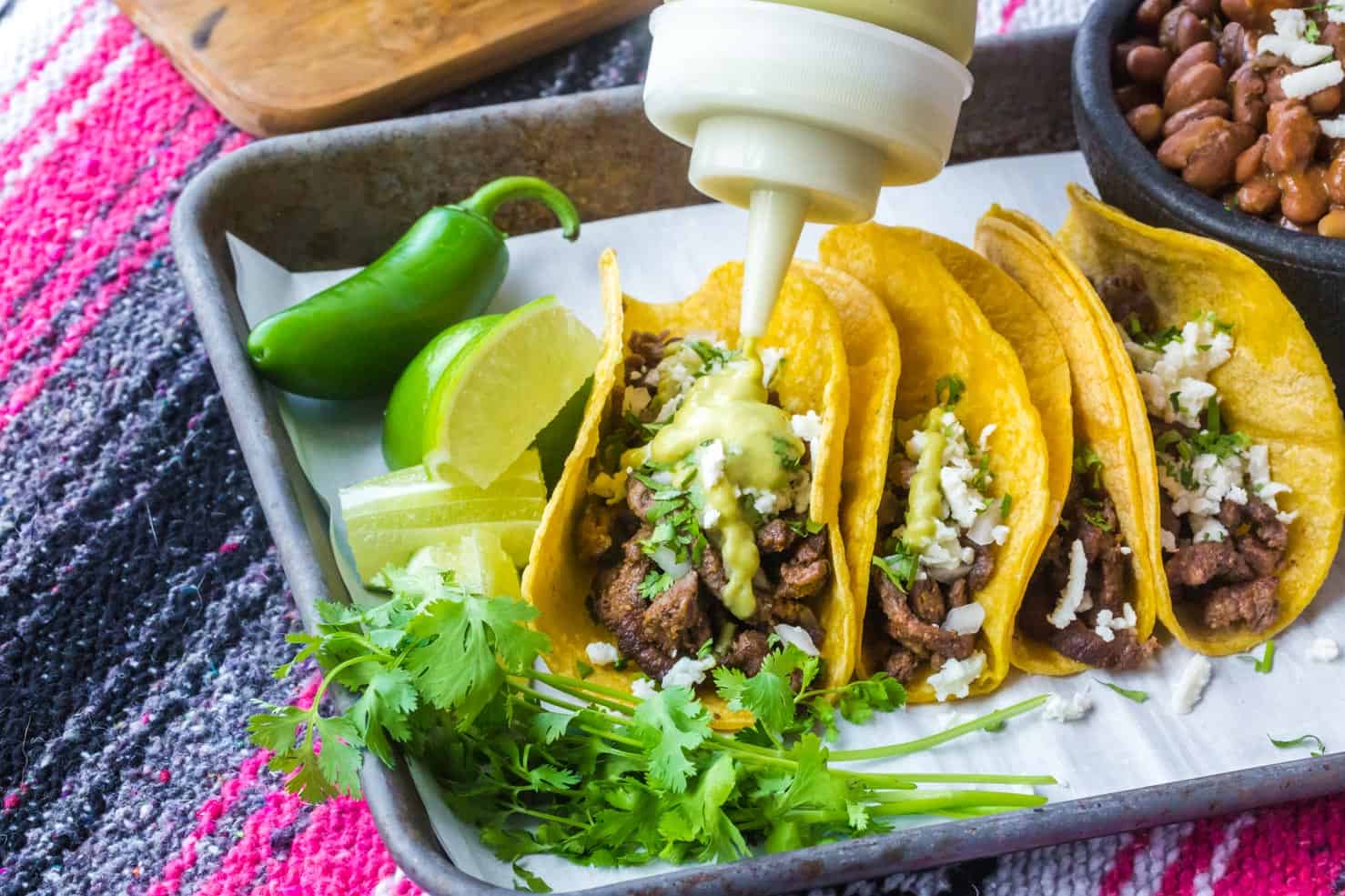 (As an Amazon Affiliate, I earn from qualifying purchases)
If you, like me, have ever found yourself standing at a taco truck drowning a carne asada taco in a light green, creamy jalapeno sauce, offered up in a squeeze bottle– this is the recipe FOR YOU!
This thick and creamy, super SPICY, bursting-with-jalapeno green sauce is GOOD ON EVERYTHING from chips to tacos.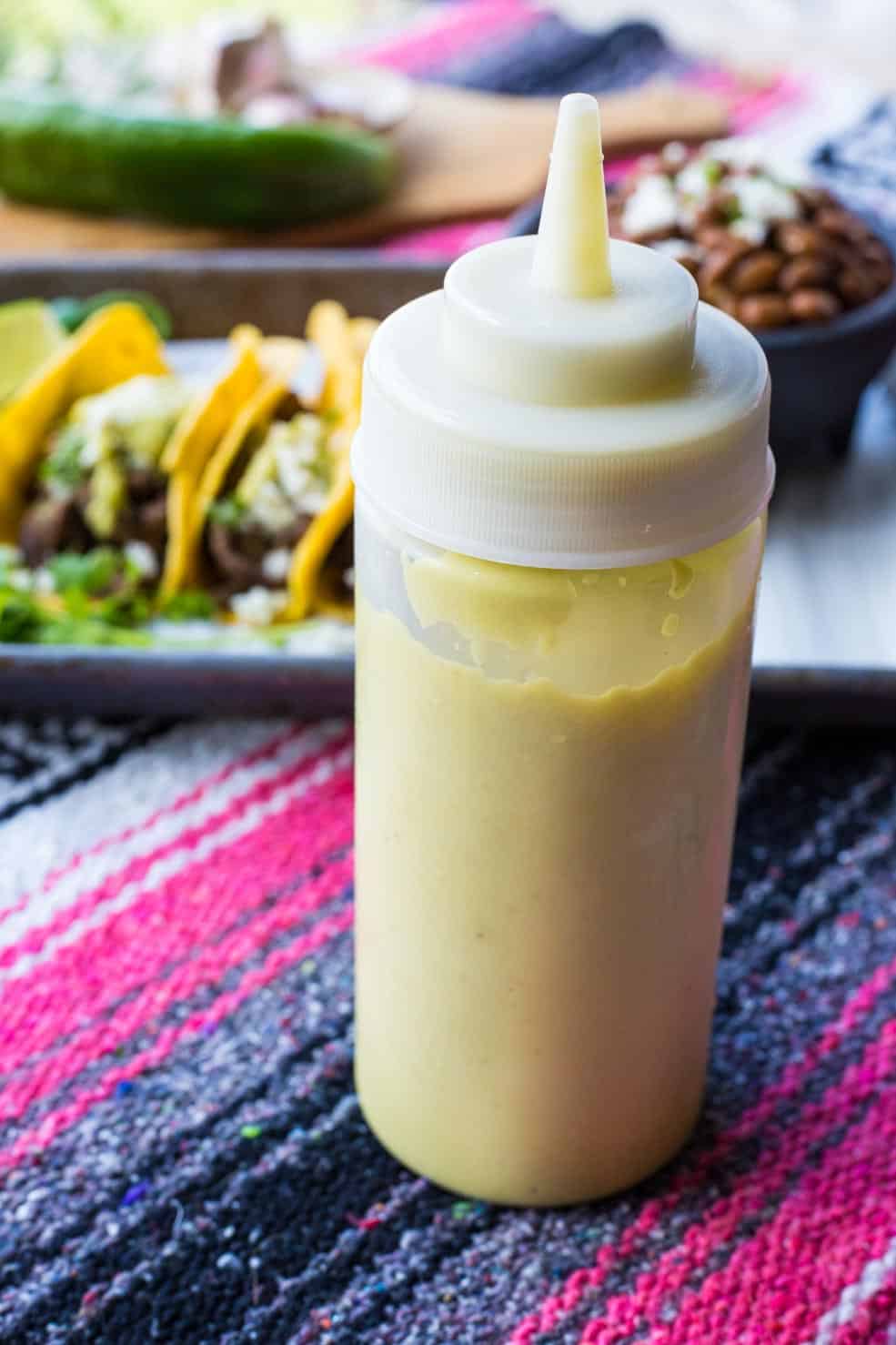 When I fall in love with a sauce or dip I naturally want to be able to cook it myself, and usually, it's no problem after 14 years as a professional chef, but this homemade jalapeno sauce recipe was tricky to reverse-engineer.
When people see the white-green and creamy whipped texture of this sauce it's natural to assume it's made with sour cream, avocado, or mayonnaise, none of which would be correct. I know because I tried them all without success. 🙁 These sauce creations were tasty, but they didn't quite mimic the jalapeno sauce I had grown to crave from my favorite taqueria.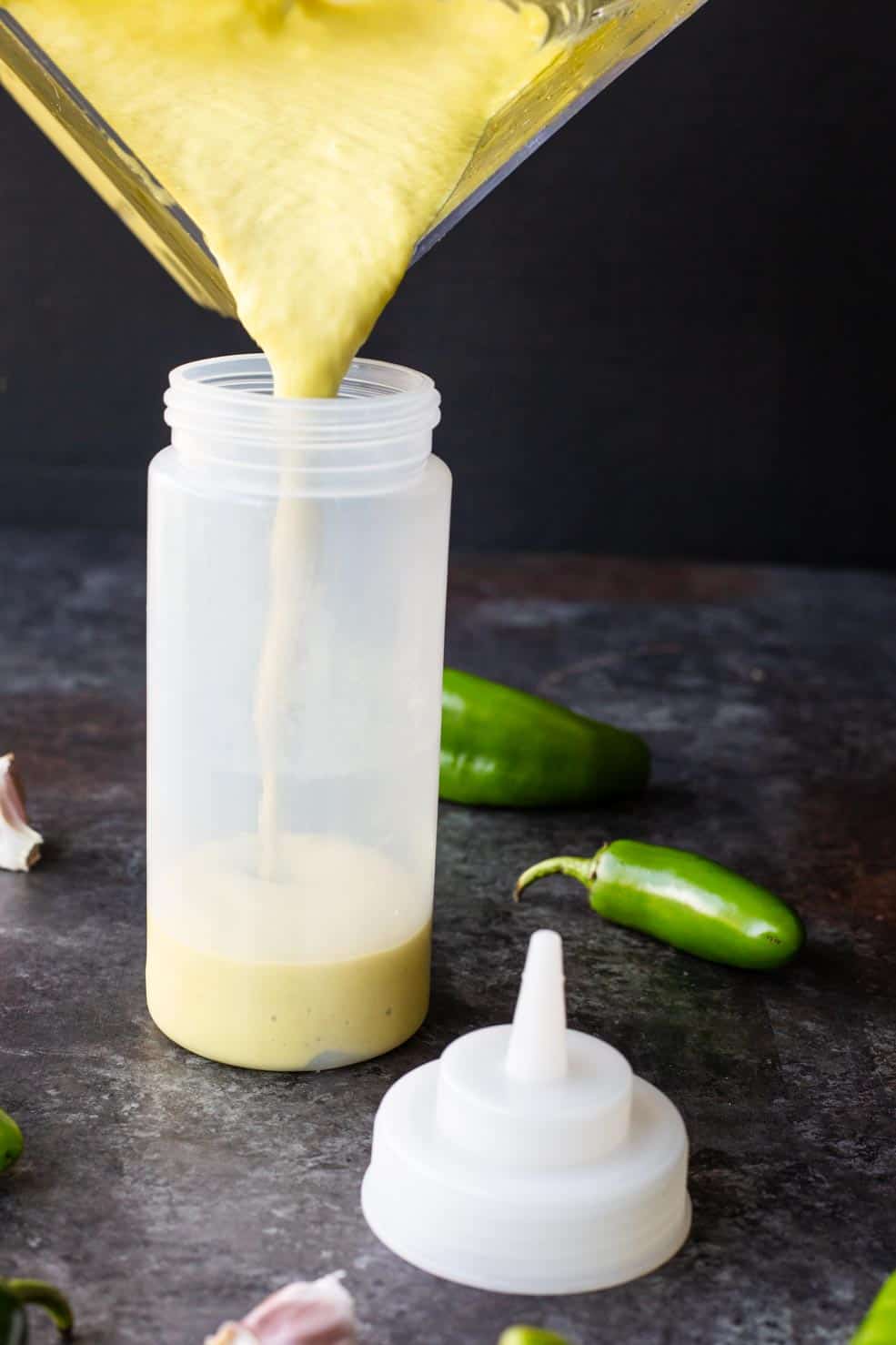 I finally found my savior in the form of a Tex-mex restaurant owner who was serving this exact same sauce as a jalapeno dip (along with chips and salsa) at a restaurant in north Texas. I begged him to help me out and he laughed as he explained how his cooks prepare the jalapeno sauce each morning over the grill.
Whether served as a spicy dip or taco truck green sauce it is made in exactly the same fashion with the same cast of ingredients—jalapenos, onion, garlic, oil, salt, and lime juice.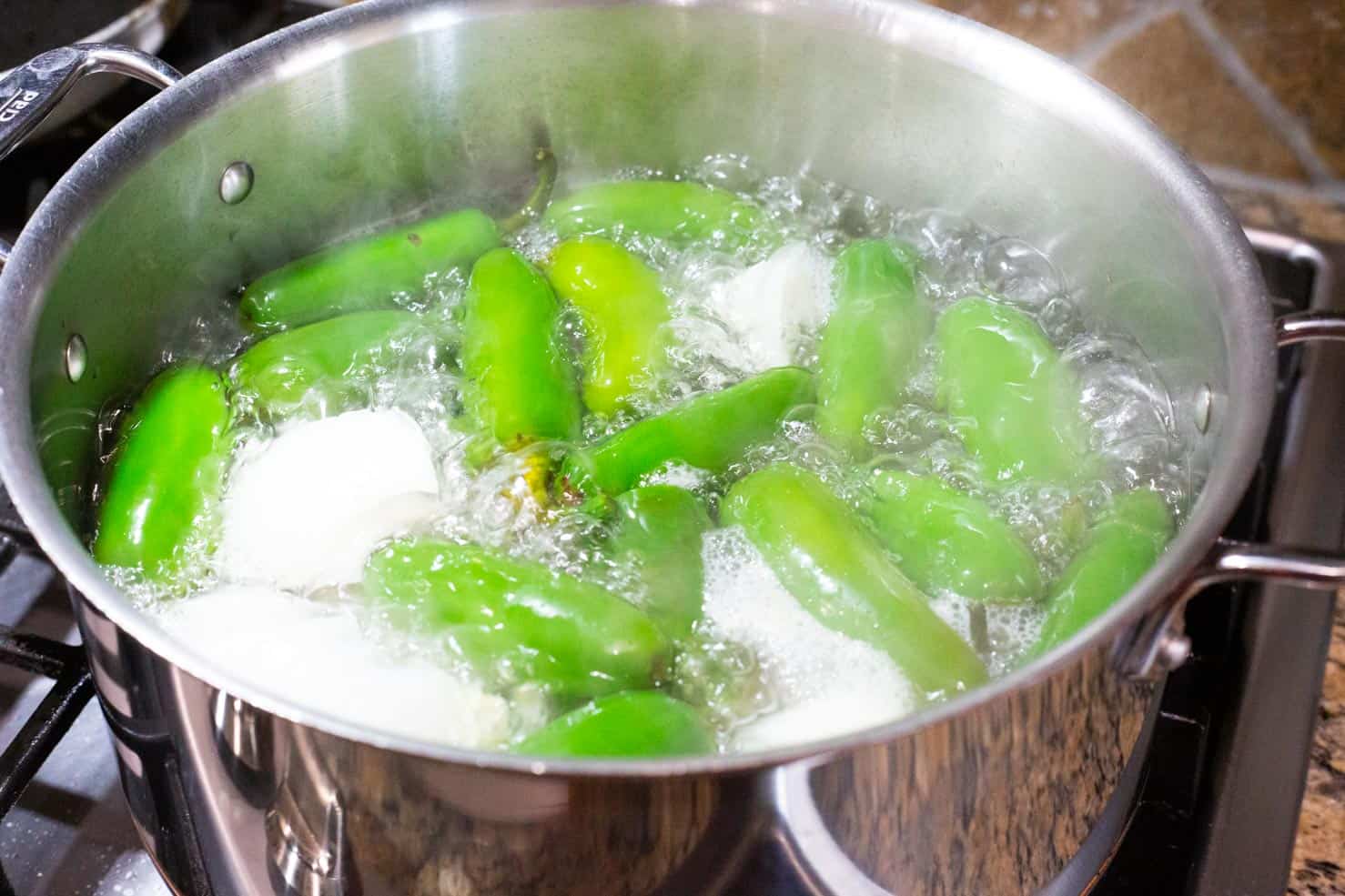 How To Make Creamy Jalapeno Sauce:
First the jalapeno, garlic and onions are cooked. My restaurant friend grills them until soft but as I've learned this really doesn't impart a different flavor to the final dip, so I prefer boiling them unless I have the grill already going for another dish.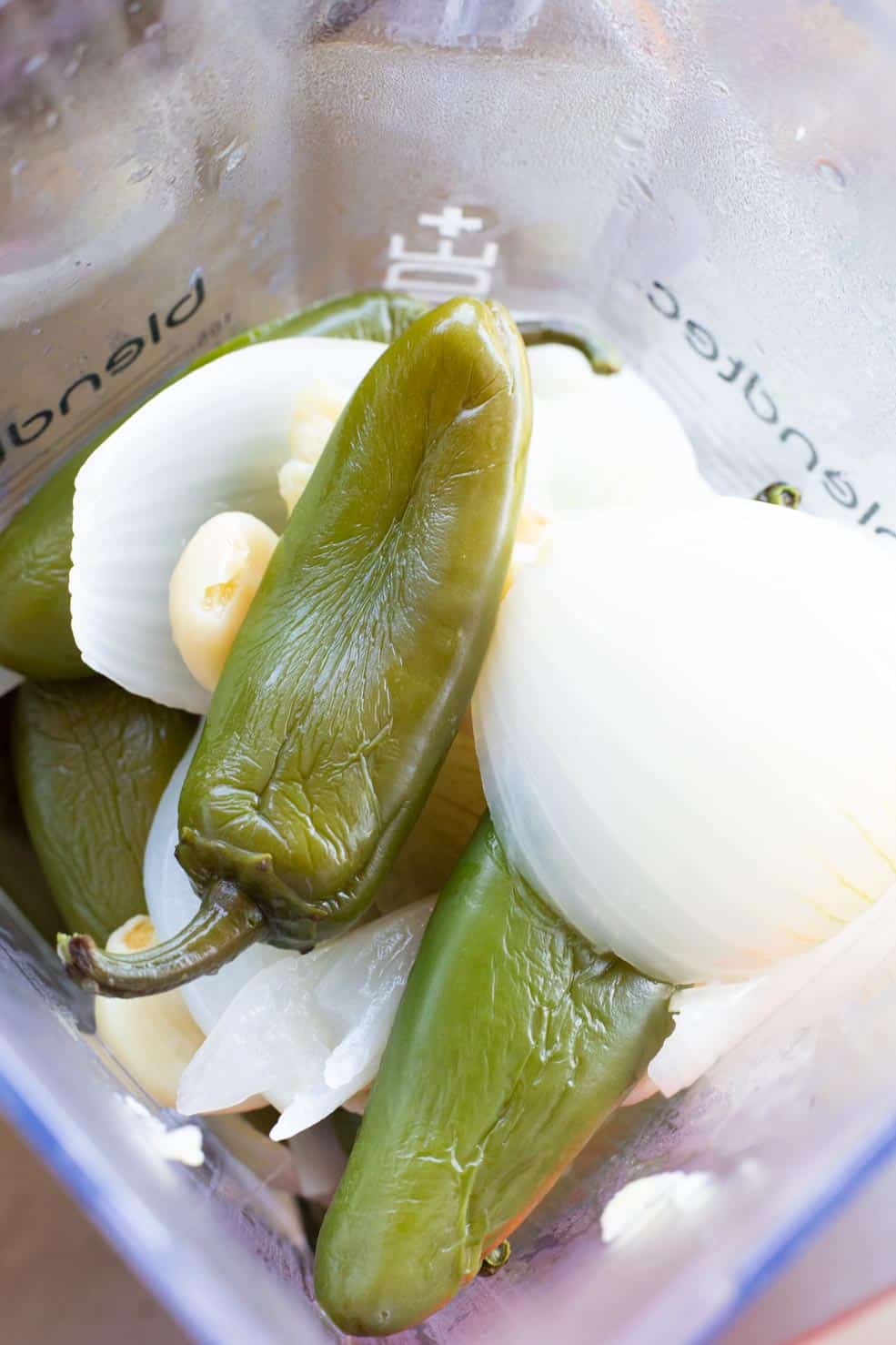 (As an Amazon Affiliate, I earn from qualifying purchases)
These soft veggies are transferred to a high-powered blender and transformed into a puree. I use this high-powered Blendtec Blender for all my sauces and soups to create a smooth and silky puree.
Then an emulsion is created by slowly drizzling in oil. The oil blended into the puree creates a mayonnaise-like creaminess and dilutes the spiciness of the jalapenos making them more palatable.
To finish the sauce with a pop of flavor, we'll season the jalapeno emulsion with plenty of salt which brings out the rich chile flavor in the jalapenos, and fresh lime juice for acidity and balance. Then pour into these wide-mouth squeeze bottles. You can buy them right here.
Have questions? Need help? Have an addition or a suggestion to a recipe? Drop me a comment below!
If you make this recipe, I would LOVE to see it!
Tag me on Instagram @UrbanCowgirl and use #UrbanCowgirl to be featured. 🙂
Follow us on Social Media using the links below!!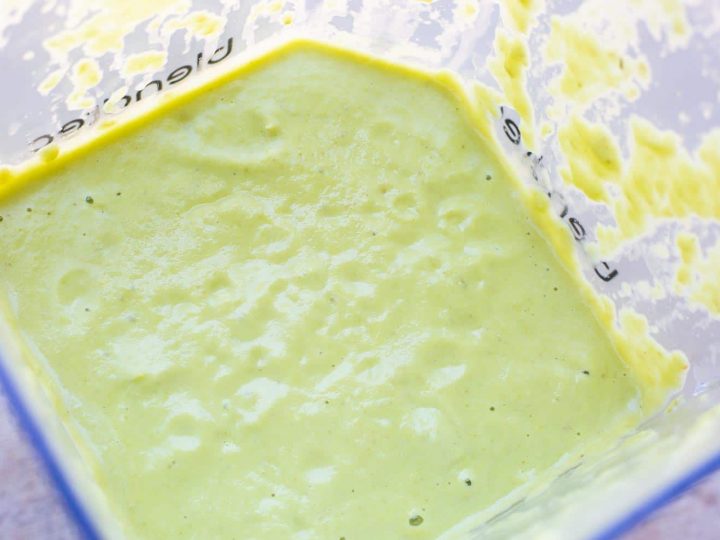 Yield:

3 cups
Creamy Jalapeno Sauce Recipe
Additional Time:
5 minutes
This thick and creamy, super SPICY, bursting-with-jalapeno green sauce is GOOD ON EVERYTHING from chips to tacos.
Ingredients
16 fresh jalapeno peppers
1 white onion
8 garlic cloves
2 t. kosher salt
½ c. avocado oil, or any fresh flavorless oil
1 ½ T. fresh lime juice (about 1 whole lime)
Instructions
Fill a large stockpot halfway with water and add 1 t. salt,
begin heating over high heat.
Meanwhile, remove the peel off one white onion and quarter
the onion, place in a bowl.
Wash the jalapeno peppers well, drain, and place in the bowl
with the onion.
From a large bulb of garlic, break up 8 cloves. You can cook
the garlic in their husks, and it will eventually fall off, so no need to peel
them. Place them in the bowl.
Take all of the vegetables in the bowl and carefully pour
them into the stockpot. Bring the water to a boil, then reduce the heat until
the water is just at a simmer.
Simmer the vegetables for approximately 20 minutes. The
jalapenos and onion should be soft, and the peppers should be an army green.
The garlic will fall from its husks. Drain the veggies from the water and place
into the bowl of a blender.
Add 2 t. kosher salt (you may want to start with 1 t. salt and
work your way up if you are using table salt to see if you need a full 2 t.). Add ½ c. avocado oil and 1 ½ T fresh lime juice.
Place the lid on the blender and blend 1 full minute. Taste
for seasoning. You may want to add additional salt or lime juice if needed. If
for any reason you need to thin the puree, add 1 T. water at a time until the
blender moves easily.
Pour the jalapeno cream into squeeze bottles and chill. This
sauce should be stored in the refrigerator and lasts about 10 days.