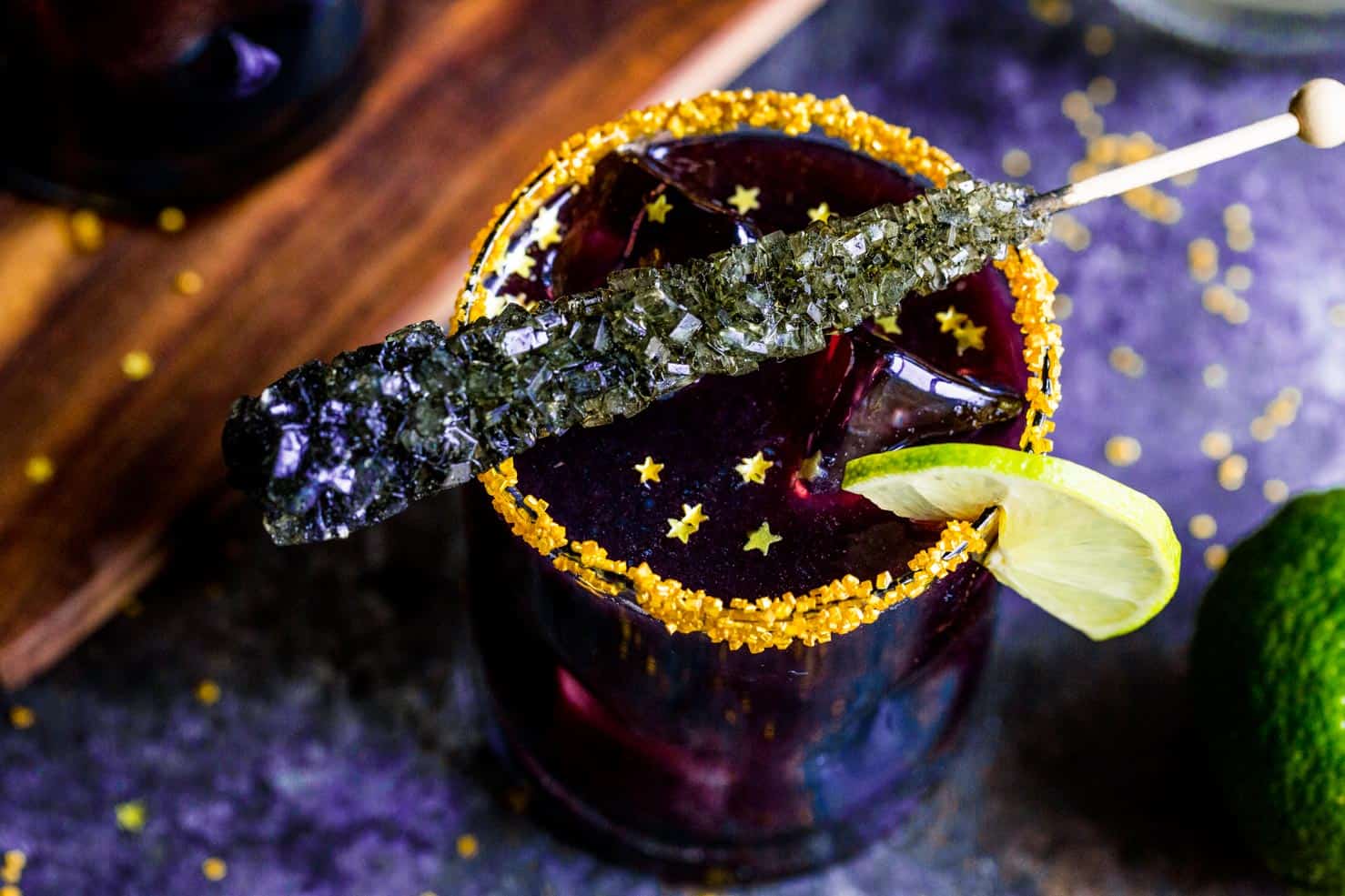 Why yes, I have found the Ultimate Texas Margarita Recipe. 😀
So, people are always asking me how we develop recipes for Urban Cowgirl.
I always say I'm just lookin for that extra special summpin summpin, that I know Texans and Southerners are into— the recipes have to be tried and true and the dishes tend to be familiar, but done up in lipstick and high heels.
That my friends is exactly where this BLACK MARGARITA RECIPE, comes in!
AKA, the Texas Oilman Margarita!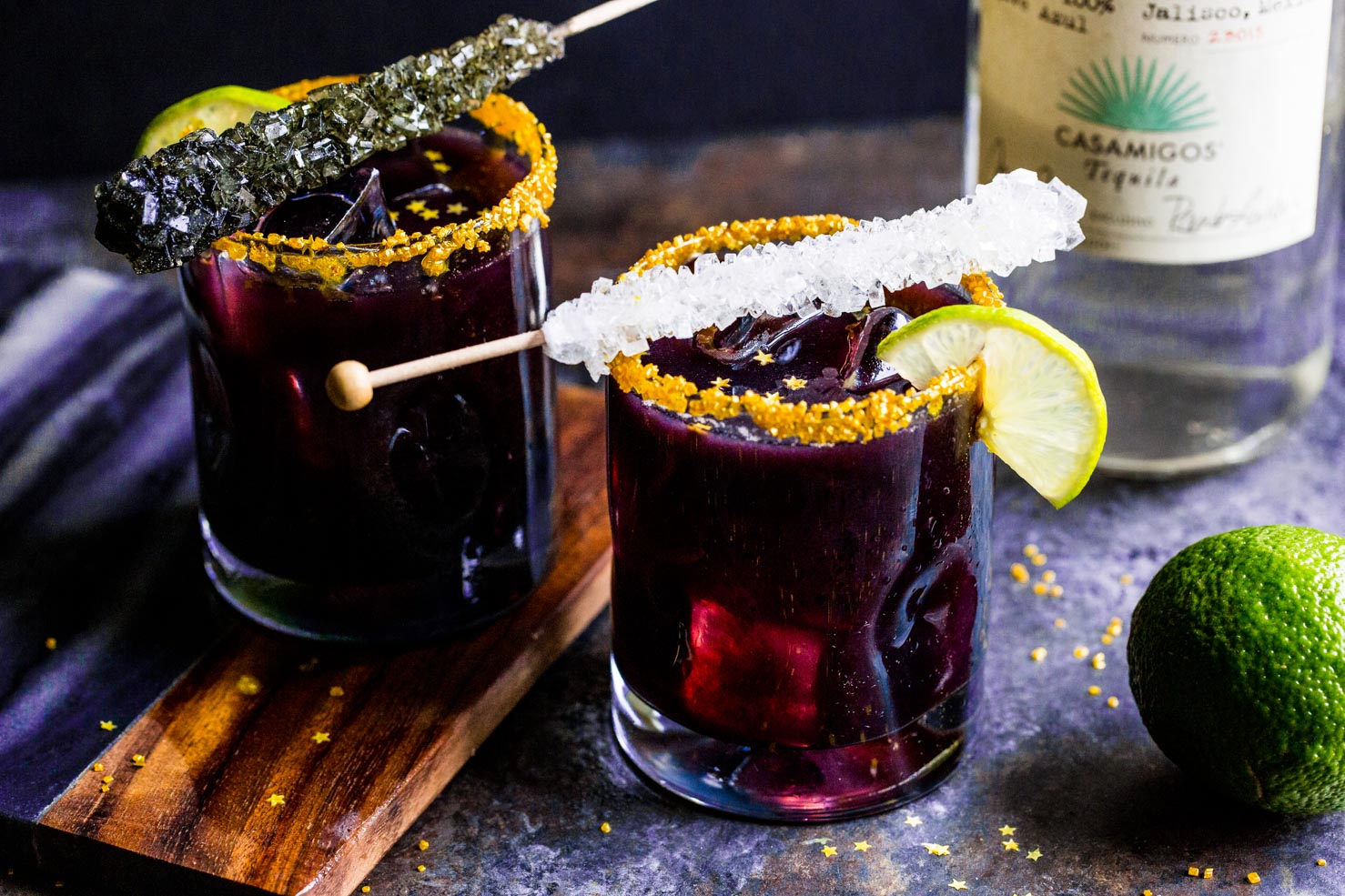 I was minding my own business, scrolling through Instagram recently and came across a photo that D Magazine had posted…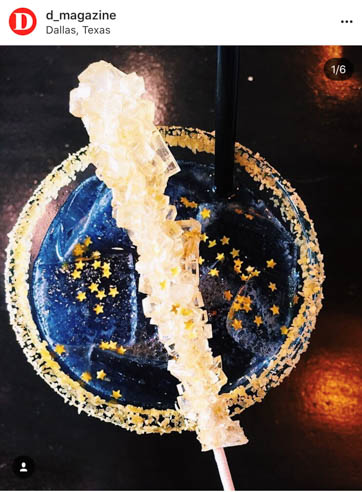 My heart almost shot out of my chest like that scene in Alien, and I immediately contacted them to ask for permission to make a similar design for you guys! How freakin cute is that?! It's called the Texas Oilman Margarita, and it hails from El Bolero, an upscale, authentic, mexican eatery in Dallas.
This Black Margarita Recipe features Cointreau Negro and charred agave, in addition to fresh lime juice and blackberry syrup, and was designed to honor the oil legacy in Dallas. It's also a super delicious, on the rocks margarita recipe, and in my opinion a true Texas Margarita (even featuring our favorite wild growing berry bush, good ole Texas blackberries).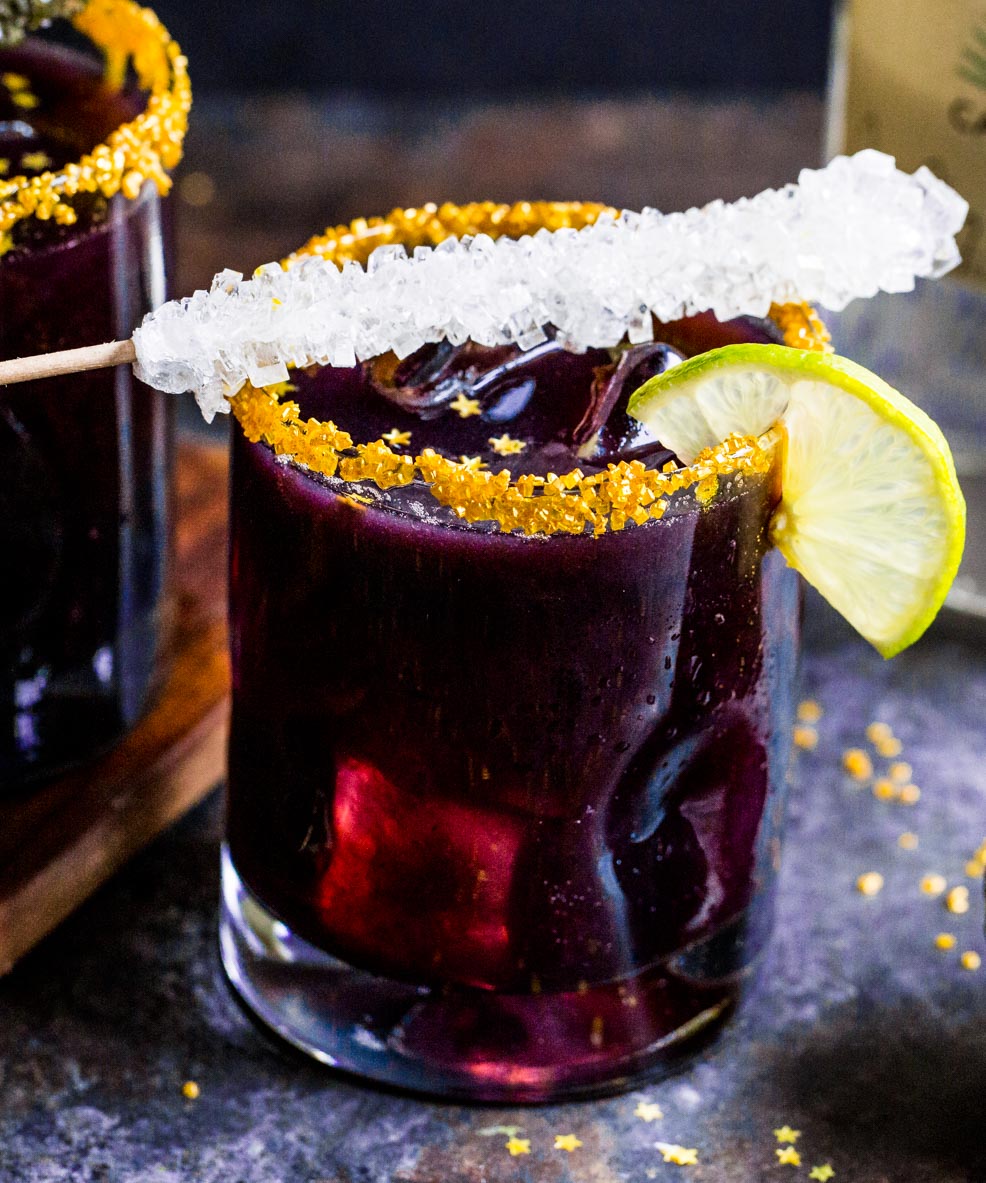 For our at home version of the Texas Oilman Margarita, we designed an easy to make blackberry syrup (using high quality blackberry jam) and stuck to classic fresh margarita ingredients with fresh lime juice, top shelf tequila blanco, and Grand Marnier.
When making a classic Texas margarita on the rocks, you've got to use fresh lime juice, there's just no other way to do it. Getting that extra flavor and freshness that comes from freshly juiced limes, makes all the difference.
What tequila is best for Texas margaritas?
For this particular recipe we chose a tequila blanco, simply to preserve the color as much as possible. If you want to use a gold tequila, you certainly can but we can't promise the colors in the margarita won't change.
In Texas style margarita recipes, it's common to use high quality tequila like Don Julio, Herradura, or Casamigos, these premium tequilas work in clean and pure classic margaritas, specialty margaritas, and even other tequila cocktails, making them very versatile. Also, higher quality usually means less of a hangover if you (LIKE US), agree that this is in fact the best margarita recipe in Texas.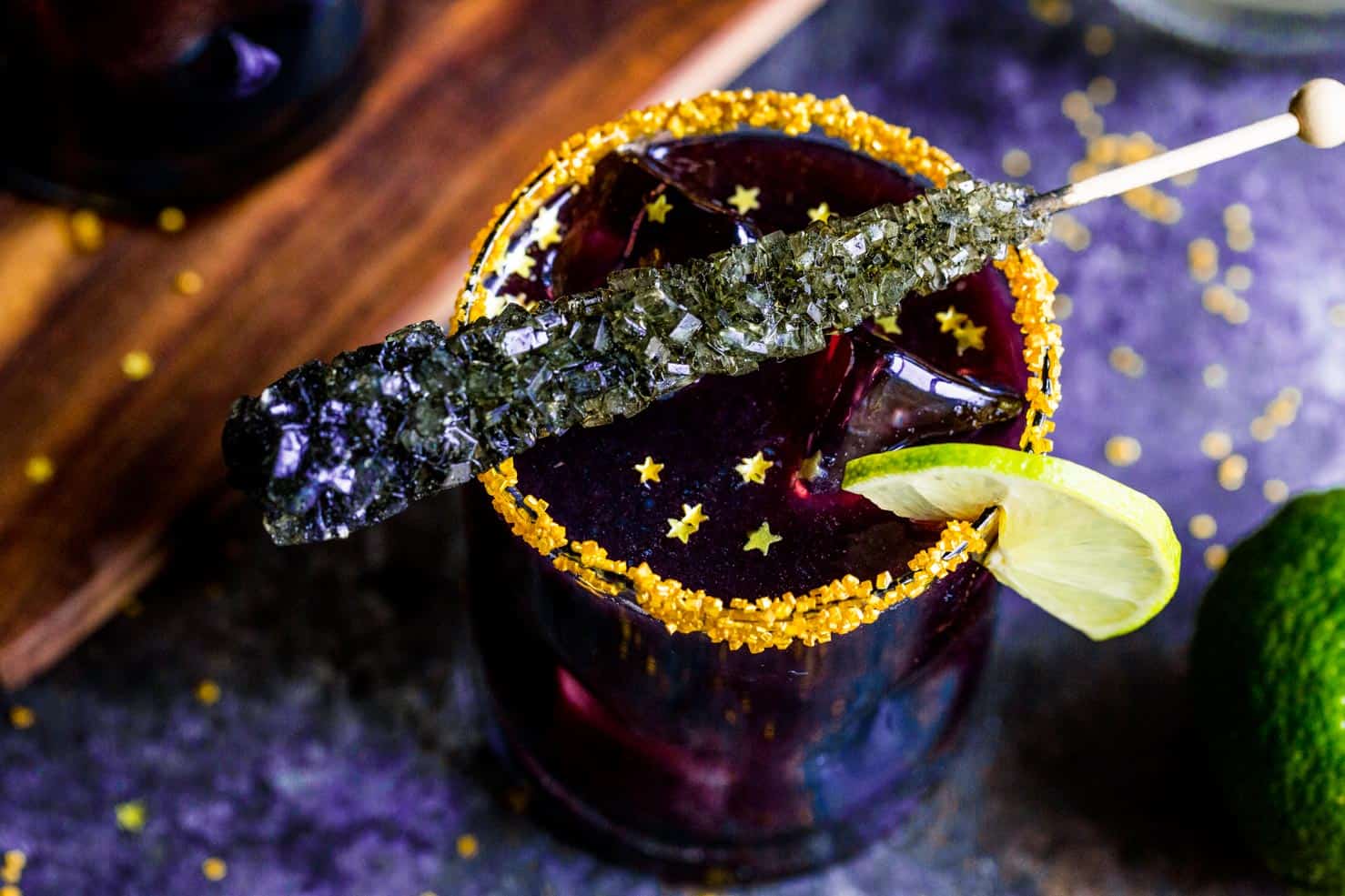 Cointreau vs. Grand Marnier in Margaritas?
The Grand Marnier in my recipe is fully personal. I researched it in culinary school, have a history with it, and I think Grand Marnier makes a recipe a truly presidential, or top shelf margarita. If you feel completely the opposite and you want to use Cointreau, it will work fine. (And if we ever meet at a bar, we will do a side by side taste test. 😛 )
The gold sugar is available here and the edible gold stars are available here.
Rock candy is available here on Amazon.
Obviously, you've GOT to try making this Black Margarita for your favorite holidays!
I'm talking Super Bowl margaritas, New Years Eve cocktail ideas, even Mardi Gras cocktails!! Hello, this baby is just begging to be served on Bourbon Street…
MAKE SURE YOU PIN IT FOR LATER!!!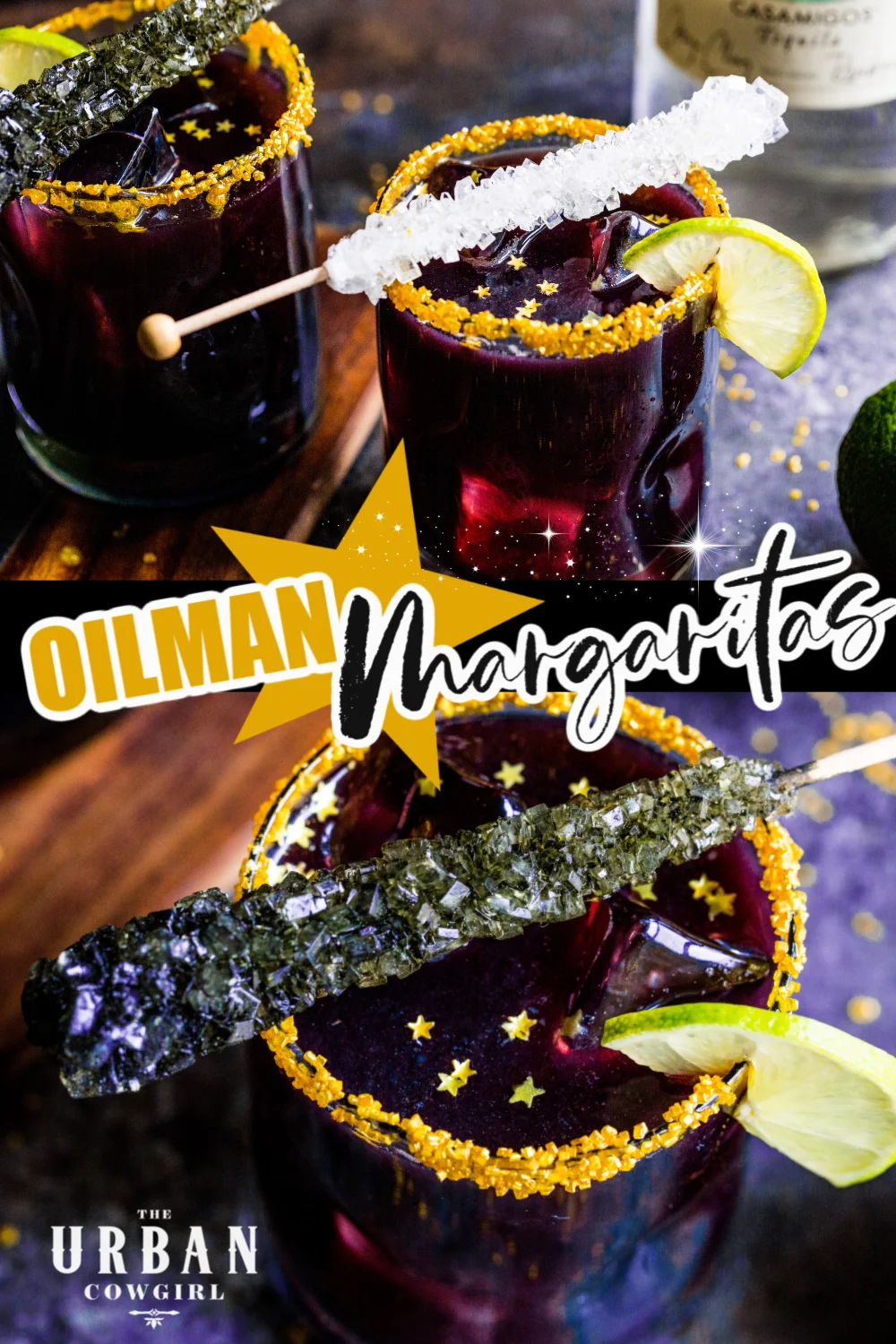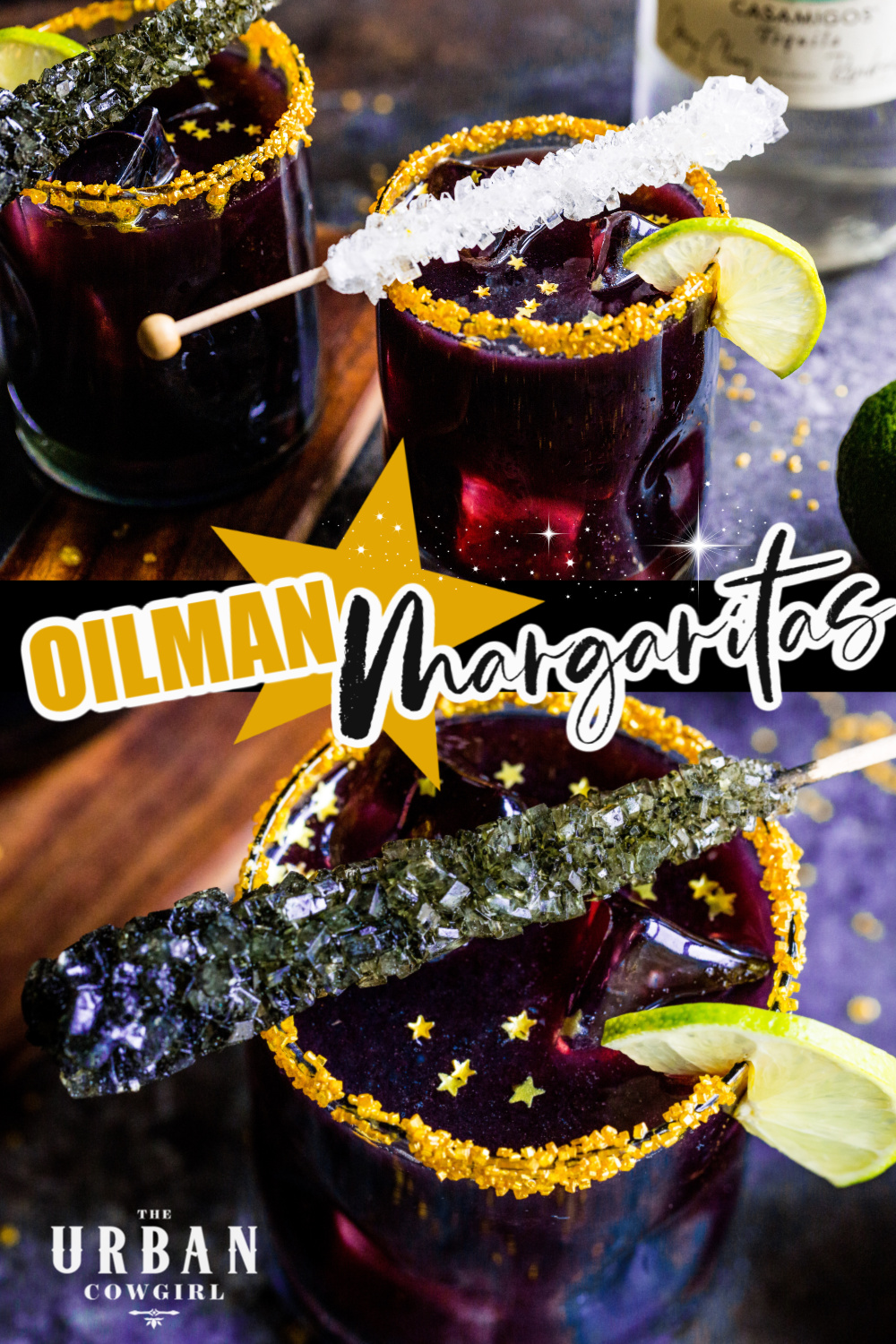 Here is the recipe for the Black Margarita Recipe,
AKA the Texas Oilman Margarita!
If you make the recipe and post it to social media, tag Urban Cowgirl! I'd love to see how it turns out!
If you're throwing a party, I've got some of my favorite party recipes right here…
Houston Rodeo Blue Ribbon Potato Salad
Yield:

1 cocktail with additional blackberry simple syrup
Oilman Margaritas Recipe
This black oilman margarita is a copykat version of the Dallas margarita of the year!
Ingredients
Serves 1 shaken in a cocktail shaker:
1 ¼ oz. tequila blanco
3/4 oz. grand marnier
1 oz. blackberry simple syrup (see below)
1 oz. fresh lime juice (1-2 limes)
Splash blue curacao
Pinch salt
Splash of water if desired (about ¾ oz.)
Gold Edible Sugar and Edible Stars
A saucer of corn syrup or rose's lime syrup to rim the glasses with gold sugar
Lime slices for garnish
1 rock candy per margarita
For the blackberry simple syrup:
1 small jar seedless blackberry jelly or jam
1 ½ c. water
Instructions
For the blackberry simple syrup:
In a small saucepan, empty the contents of the jar of blackberry jam and 1 ½ c. water. Bring to a boil and whisk until the jam melts down into the water. Simmer 5-8 minutes. Remove from the heat and cool. Transfer to a permanent storage container. (I use a squirt bottle.) The syrup should be kept in the refrigerator. Can be kept 1 month.
In a cocktail shaker add the tequila, blackberry simple syrup, blue curacao, fresh lime juice, Grand Marnier, pinch of salt, and a splash of water. Add a cup or so of ice and place the lid on the shaker. Shake 40 times.
To prepare the glass:
Take a glass and dip the rim in corn syrup (or any bar syrup) and then dip the rim into the gold sugar. Very carefully pour the shaken margarita into the glass so as not to disturb the sugar. Garnish the glass with edible stars and a rock candy stirrer. Garnish with lime.
Nutrition Information:
Serving Size:
1
Amount Per Serving:
Calories:

5
Sodium:

41mg
Carbohydrates:

1g
Sugar:

1g