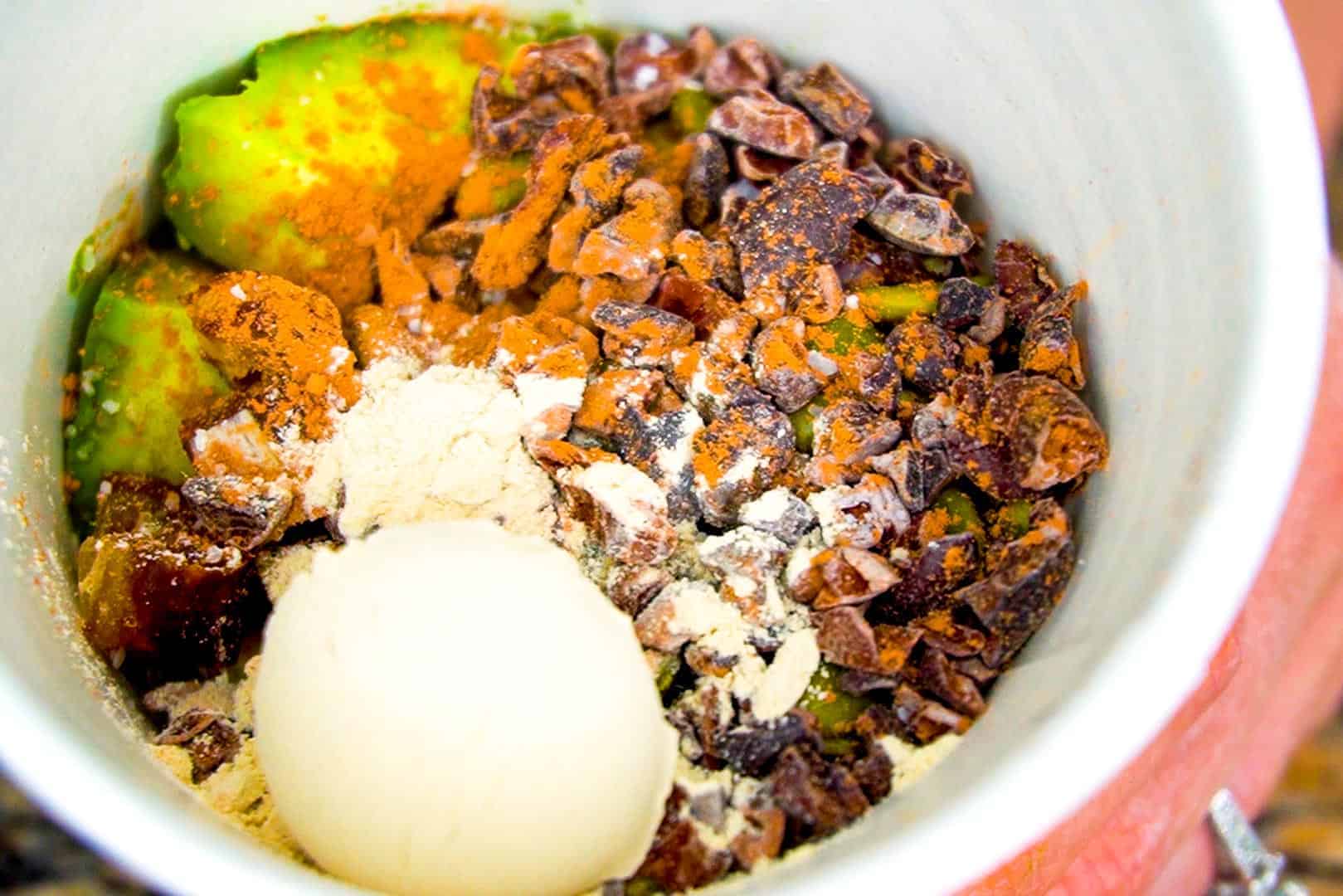 Today, I'm sharing my method for meal prepping smoothies just like the Daily Harvest Smoothie Subscription. We'll be specifically making a copycat version of the Avocado and Cacao Smoothie (which is our favorite), and I'll show you how we make them in freezer safe, disposable cups that are pre-prepped to grab and go!
(As an Amazon Associate, I earn from qualifying purchases.)
What is Daily Harvest?
Daily Harvest is a subscription meal prep provider, similar to Blue Apron or Sun Harvest. They deliver freezer-safe smoothie cups to your home (filled with mucho exotic ingredients), which you then fill with milk, blend in your home blender, and pour back into their disposable cup. We think the concept is great but along with other meal prep companies—the price tag is just beyond what most of us are able to fit in our budget.
How To Meal Prep Smoothies
You'll find methods of pre-prepping smoothies in zip lock freezer bags, but this is not our jam. I love the concept of pre-measured cups like Daily Harvest that the completed smoothie can be poured back into when you're done. For that reason, I measure my smoothie prep recipes into disposable coffee cups with lids. You can find these in the disposable plates and silverware area of your grocery store, or here they are on Amazon Prime.
For this Daily Harvest Smoothie Recipe, we recommend chopping and prepping all of the ingredients first, and then assembling. It only takes about 15 minutes. Let's look at some of the exotic ingredients we will be using in the Avocado Cacao Smoothie.
I was able to pick up all of the ingredients needs at Sprouts or Whole Foods, but if you cant find one of the ingredients here they are on Amazon Prime.
Links to the Ingredients:
Warrior Food Vegan Vanilla Protein Powder
I told you they really like to use fancy ingredients. 🙂
First we will start off by dicing the zucchini. If you would like a step by step of this process, just check out the YouTube video at the bottom of the page before the recipe card.
Dice up the zucchini and reserve. Do the same with the avocado and dates.
(If you need help with this just check out the step by step video here.)
Lay out 5 cups and place an equal amount of zucchini, avocado, and dates in each cup. Just eyeball it.
Measure in the cacao seeds, cacao powder, coconut butter… all of the rest of the measured ingredients go in assembly-line style.
The completed smoothie prep should look like this… YUM!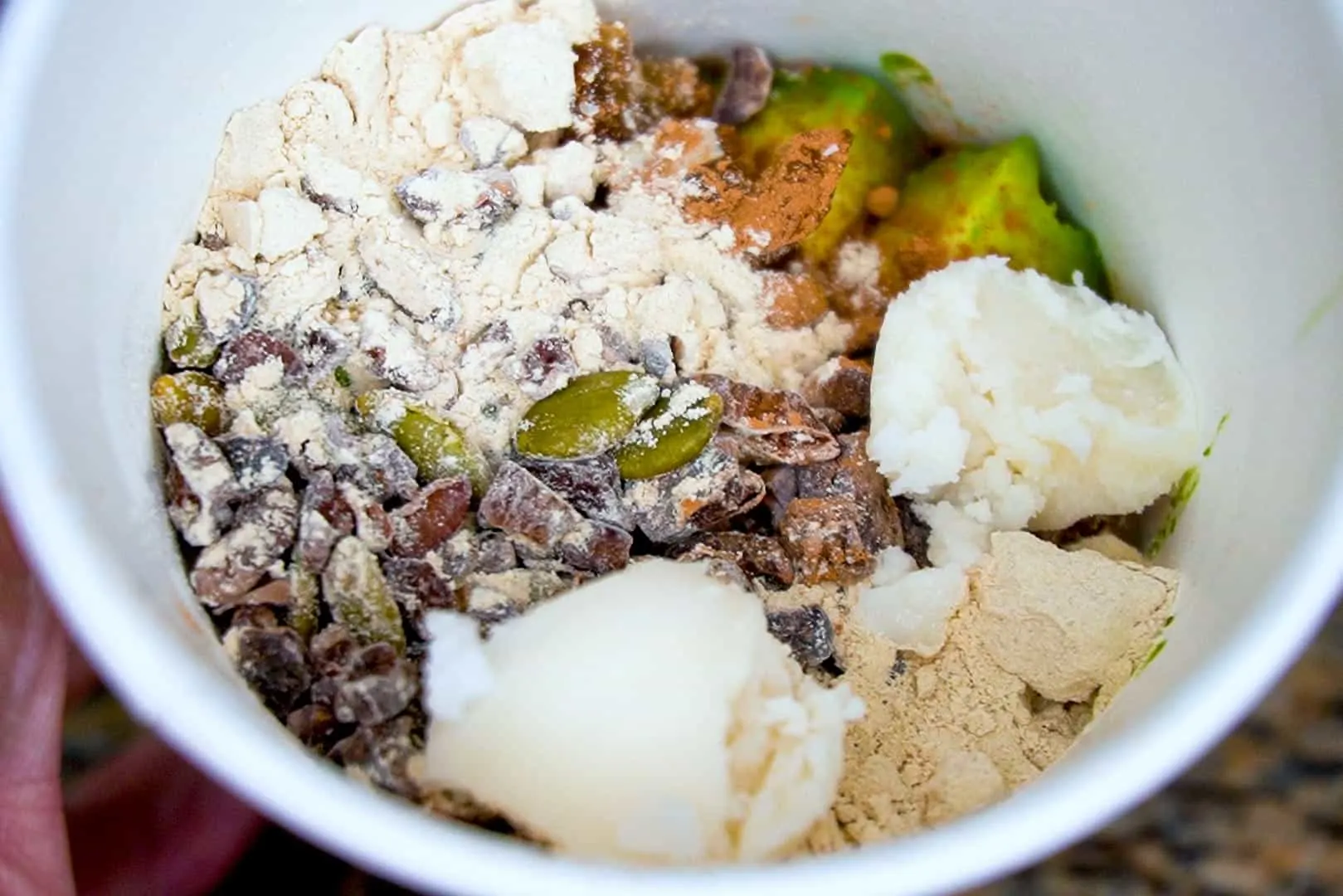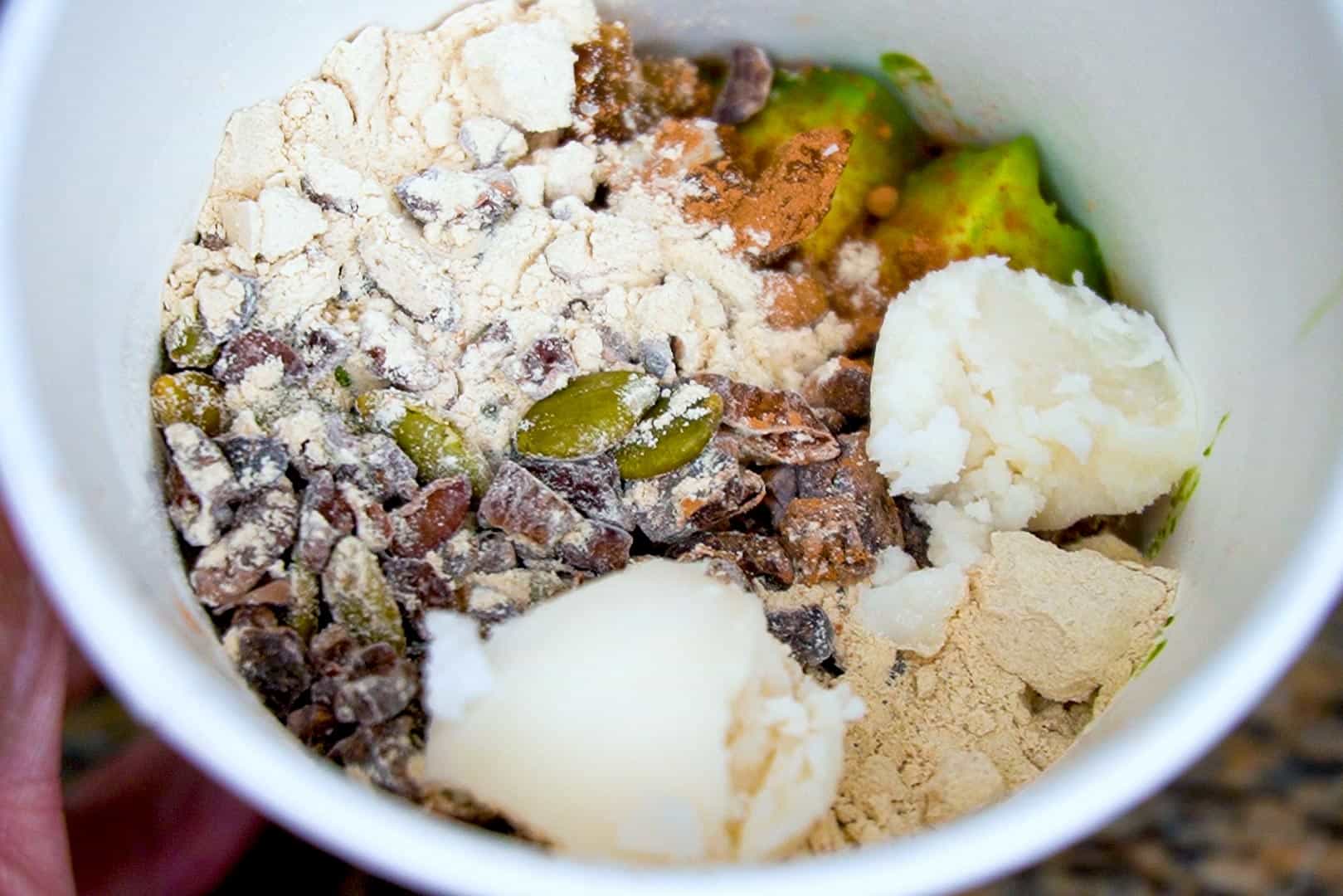 Freeze the cups until you are ready to use them. (Make sure you freeze them before trying out the smoothie recipe because the frozen ingredients really make the smoothie more icy and delicious.)
When they are ready to use, you can pull them out as needed and pop off the lid…
Pour in your favorite milk. I used Ripple plant-based milk because that is what I had on hand.
Pour the contents of the cup into the blender, and blend 1 min. My blender is the Vitamix featured here. If you have a standard blender you might need to go a little longer.
Walla! Delicious!!
Pour into your cup and enjoy! If you have any questions or you would like to see more Daily Harvest Smoothie Copycat Recipes, let us know in the comments! We would love to know exactly which smoothies you want to see. ♥
Yield:

5 cups
Daily Harvest Avocado Cacao Smoothie Prep Recipe
This recipe is our dupe of the Daily Harvest Avocado Cacao Smoothie. This is made to pre-prep 5 smoothies for your freezer.
Ingredients
2 zucchini, diced
1 1/2 avocados, peeled and diced
5 T pumpkin seeds (aka pepitas)
2 medjool dates, pitted and diced
5 T. Raw Cacao Nibs
3 T. Coconut Manna
2 T. vanilla protein powder (I used Warrior Food brand)
1/2 oz. Cacao Powder (or Cocoa Powder is fine)
1 t. salt
5 packages of stevia
5 disposable coffee cups with lids
Instructions
Dice all of the veggies (avocado, zucchini, and dates) and reserve for assembly. Lay out the 5 cups and have 1 tablespoon and 1 teaspoon set aside for measuring.
In each cup separate the zucchini evenly among the cups, the avocado evenly, and the dates evenly among all the cups.
In each cup place 1 T cacao nibs, 1 3/4 t. coconut manna, 1 package of stevia, 1 pinch of salt, 2-3 shakes of cacao powder (or you can use cocoa powder), and a heaping teaspoon of vanilla protein powder into each cup.
Place the lids on the cups and put them in the freezer.
To prepare a smoothie take the cup out of the freezer. Fill with the milk of your choice (milk is not included in my nutritional macro-nutrients and should be logged separately.) Pour the entire contents of the cup into a blender and blend for 1 min. (You can blend longer if you think it needs it.) Pour the smoothie back into a cup and enjoy!
Notes
I use 2 stevia packets in my smoothie, but have put 1 in the recipe so you can experiment on your own. You can also use sweet drops, erythritol, or honey if that is your preferred sweetener.
Nutrition Information:
Yield:
5
Serving Size:
1
Amount Per Serving:
Calories:

263
Total Fat:

16g
Saturated Fat:

5g
Trans Fat:

0g
Unsaturated Fat:

9g
Cholesterol:

1mg
Sodium:

499mg
Carbohydrates:

24g
Fiber:

9g
Sugar:

10g
Protein:

10g
This nutritional information is provided as a courtesy as an estimate only. Consult with a dietician for precise estimates. This website makes no claims that the nutritional values listed are accurate.