Alright, picture this: You're kicking back with your buddies, sharing laughs, swapping stories, and just soaking in those good vibes. Now, imagine adding a little extra warmth to the scene with a cup of Friendship Tea. It's not just your average tea – it's like a hug in a mug, a flavorful celebration of the awesome connections in your life.
So, let's spill the tea, quite literally, on how to whip up this friendship magic. Get ready to brew up some liquid camaraderie that's as easygoing and delightful as your best pal!
The History Of Friendship Tea
If you grew up in the 80s, you might have seen your mother or grandmother with a mason jar of powdered and swirled dry ingredients gifted to her by a friend around the holiday season. This Friendship Tea, also referred to as Russian Tea, or Christmas Tea, was a popular homemade gift to give acquaintances around the holidays.
It is passed from friend to friend in mason jars and stirred into a mug of hot water to create a fruity spiced sipping beverage. You'll find the original recipe in many old church cookbooks.
The first time I was served this homemade tea mix. I remember being delighted that it was kid friendly (because I was 8), thanks to the addition of dried lemonade drink mix and Tang (along with a healthy dose of Christmas themed spices).
This tea comes out sweet and spiced but not so overpowering that an adult wouldn't love to snuggle up with a mug under the Christmas tree.
Whether you have a sore throat and you're craving a steaming mug to soothe your soul on a cold day, or you're crafty and looking for a homemade gift to give someone a token of your affection, Friendship Tea is the perfect choice.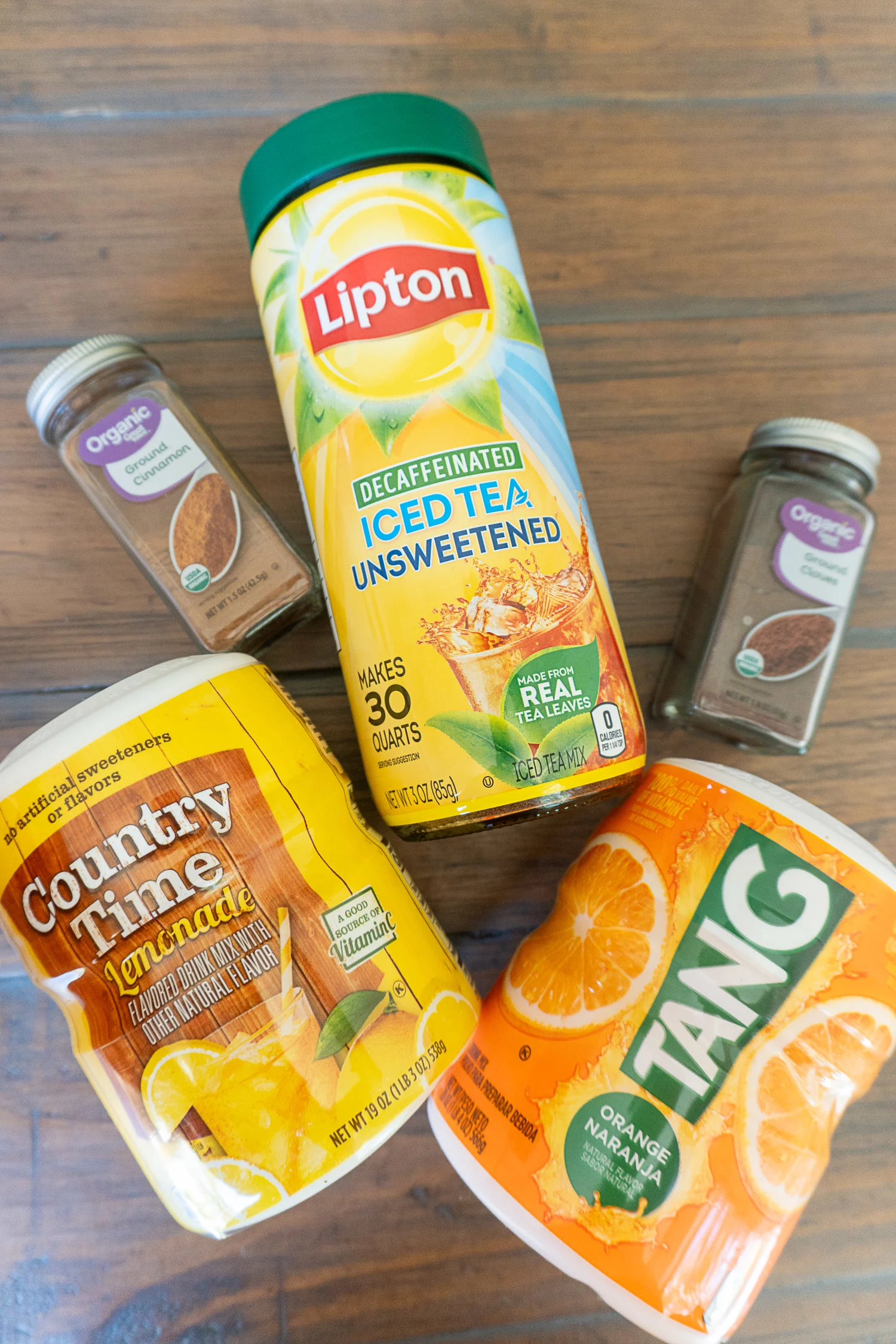 What is Tang?
Tang is a powdered orange drink mix that makes up the base of this russian tea recipe. It was wildly popular in the mid twentieth century, but it can still be found on grocery store shelves.
It tastes like a sort of cross between fresh orange juice and kool-aid. As a dry mix, it blends well into powder to make a shareable homemade drink base, also bringing a nice fruity flavor to the basic black tea formula.
How To Make Russian Tea with Tang
To whip up a batch of this Russian spiced tea all you'll need are a few simple ingredients…
Instant Tea (not dried tea bags, this is powdered black tea that dissolves in water)
Lemonade Mix
Tang Drink Mix
Ground Cinnamon
Ground Cloves
​Jars For Filling With Drink Mix if Gifting
Small Note or Recipe Card To Share Drink Ingredients With Friends
Friendship Tea With Tang
To make the spiced tea mix, you'll shake all of the ingredients together in an airtight container such as a large ziplock baggie, or whisk them together in a large bowl or food processor. Then fill a large jar with the instant spiced tea.
Instruct friends with a card or note that to serve they will mix 2-3 teaspoons of russian friendship tea with boiling water in a coffee mug. More mix can be added to taste!
Tang Hot Tea Recipe Variations
This tea is traditionally served as homemade gifts, but we've got some modern ideas to round out your celebrations.
During the Christmas holidays a big batch of this tea made be served buffet style. You can serve an entire recipe chilled in a crystal punch bowl similar to a cold apple cider. For adults, you may choose to spike the punch with a bit of brandy or whiskey.
Another method is to serve as the perfect warm drink in a festive mug, decorated with cinnamon sticks.
Hot Cocoa and Friendship Tea can be held warm on the stove or in a thermos for outdoor holiday events like caroling or viewing Christmas light displays.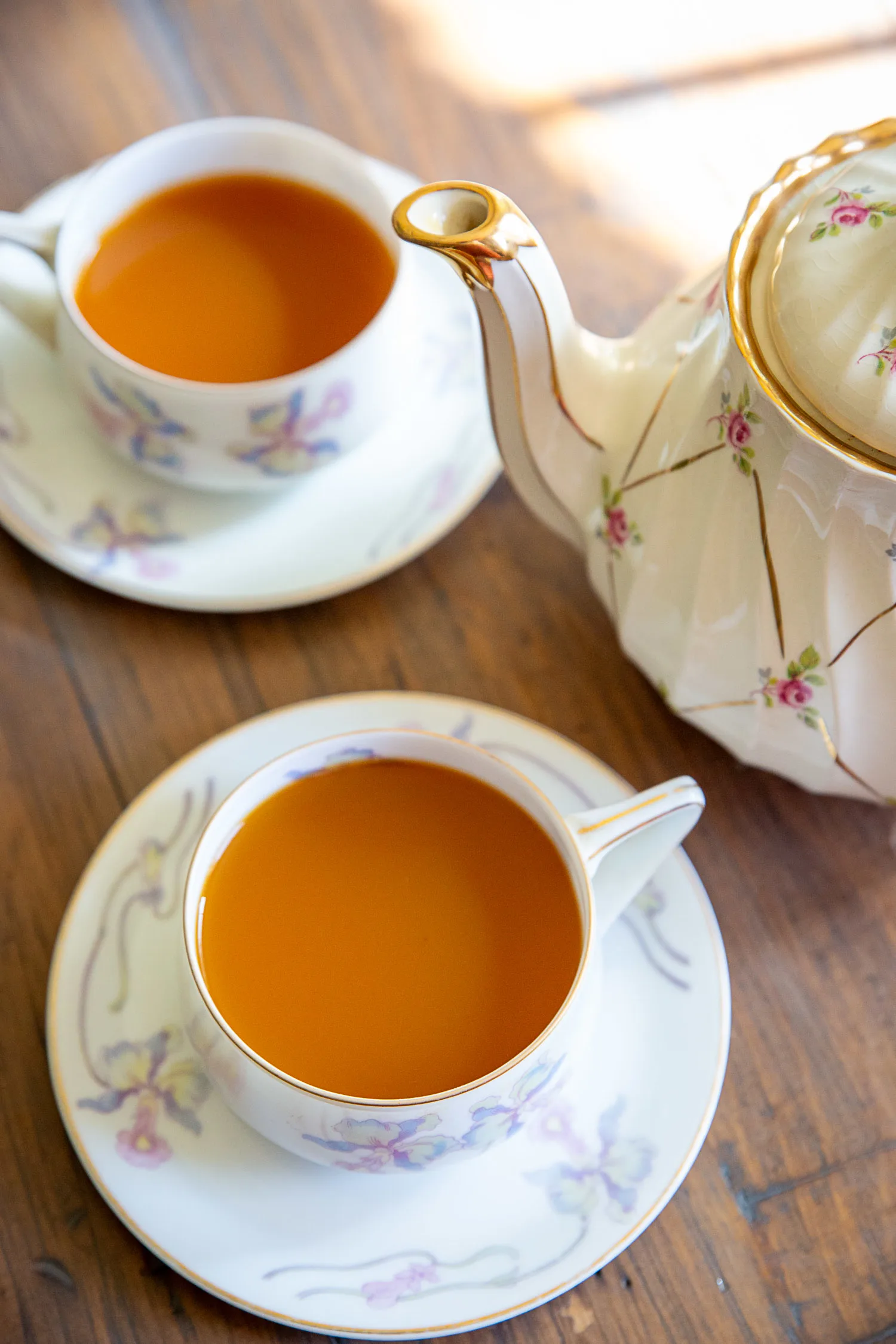 Tang Tea Recipe
Directions for the hot tea mix is to stir in 2-3 teaspoons per cup of hot water in a mug. The warm spice flavors are family friendly and a vintage southern favorite.
Yield:

2 mason jars dry mix
Friendship Tea Recipe (Spiced Tea Recipe With Tang)
Friendship tea is a spiced fruity tea mixture, used for homemade gifts during the holidays. Get this iconic recipe now!
Ingredients
1 container Tang (26.2 oz.)
1 cup unsweet instant tea (regular or decaf)
1 3/4 cups instant lemonade (such as Country Time)
2 teaspoons ground cinnamon
2 teaspoons ground clove
Instructions
In a large bowl, add the orange tang base, lemonade, and instant tea. Add 2 teaspoons each of ground cinnamon and cloves.
Mix well.
Transfer to glass jars as a perfect gift to friends to warm them in seasons of cold weather.
To make a cup of tea, fill a mug with hot water and stir in 2-3 teaspoons instant russian tea mix, to taste.
Can be served as a hot beverage or make a large batch and chill for holiday punch.
Notes
Russian spice tea can be made for those under the weather as an alternative to chicken soup.
Nutrition Information:
Yield:
40
Serving Size:
1
Amount Per Serving:
Calories:

5
Total Fat:

0g
Saturated Fat:

0g
Trans Fat:

0g
Unsaturated Fat:

0g
Cholesterol:

0mg
Sodium:

0mg
Carbohydrates:

1g
Fiber:

0g
Sugar:

1g
Protein:

0g
This nutritional information is provided as a courtesy as an estimate only. Consult with a dietician for precise estimates. This website makes no claims that the nutritional values listed are accurate.