Injecting meat is a new technique for the home cook, and it's a fantastic way to add loads of flavor to the inside of large cuts of meat.
Unlike a marinade, the injection stays in the turkey as it cooks, providing moisture that prevents the bird from drying out, while flavoring that succulent meat with aromatic garlic, real butter, and a zesty kick of spices.
Foodies collect secret marinade recipes, but it doesn't take long to learn that flavors cannot penetrate through more than about a centimeter of meat… no matter how long they sit. This can leave the inside of large cuts of meat bland. So what's the solution?
Two options home cooks are learning from the professional kitchen are brining meat or creating an injection. (The holiday season seems to be a great time to put in the extra effort that restaurants use to wow your family and avoid a dry turkey!)
Since we tackled our favorite turkey recipes for our apple turkey brine, our cajun turkey brine, and our turkey paint compound butter last year, we wanted to share a new technique for a juicy bird with a lot of flavor!
Our Reader's Favorite Turkey Recipes From Last Year:
Turkey brines can also be done before injecting if you want to do both, just reduce the amount of salt in your injection to avoid salty meat and make sure the flavor profiles are complimentary.
Whether you are roasting a turkey, smoking a turkey, or frying a turkey–an injection will deeply flavor the inside of the meat, creating a dripping with juices texture when your turkey is sliced.
This article will also teach you how to make your own turkey injection recipes so that you can fine-tune the flavors for Thanksgiving, Christmas, or a simple barbecue smoked turkey in the backyard year-round. It's time to get creative so let's learn everything about injecting a turkey.
Why Should You Make A Homemade Turkey Injection?
From a professional chef's perspective, you should make your own injection for both cost savings and ingredient control…nothing annoys me more than expensive "pro products" because I know those pros don't use the powdered products themselves!
Pro barbecue endorsed powdered injection mixes found at sporting goods and outdoor stores are priced around $25. This is for nothing but chicken bouillon, MSG, and powdered imitation butter products available to food manufacturers. Why on earth pay that much when the very same barbecue influencers create it from scratch in their own kitchens?
On the lower price spectrum, bottled Cajun Turkey Injections only come in one flavor (cajun) and are loaded with soybean oil and high-fructose corn syrup.
Making your own turkey injection is easy, cheap, and you probably already have most of the ingredients in your pantry. Because we are making it ourselves we can customize it to our tastes, and use high-integrity ingredients like real butter and herbs from the garden.
Injectable Turkey Marinade (How To Make An Injection)
Making a turkey injection is pretty simple… think of it as brewing tea. We will add liquid in the form of melted butter, apple juice, or broth, and fresh herbs, spices, or a sweetener like honey.
You'll steep these ingredients together over low heat in a small saucepan, then strain, and the remaining concoction, once at room temperature, will be your injection.
The flavorful marinade can be as elaborate or reflective of your personality as you like. The recipe I'm sharing below is my best turkey injection recipe after years of trial and error, but you can incorporate whiskey, bourbon, apple cider, cayenne pepper, or teriyaki sauce–to make it your own.
What To Inject A Turkey With:
For a large bird, I like to have about 2 cups of injectable marinade. Your injection sauce may contain anything you like, as many different flavors are compatible with a moist turkey. Here are some classic ingredients…
Butter or Olive Oil
Apple Juice, Apple Cider, Pineapple Juice
Chicken Broth
Fresh Herbs
Honey or Brown Sugar
Granulated Spices (Barbecue Rub, Poultry Seasoning, Cajun or Creole Seasoning)
Roasted Garlic
Hot Sauce or Cayenne
Lemon Juice, Worcestershire Sauce, or Apple Cider Vinegar
Dry Mustard, Creole Mustard, Dijon Mustard
​Pro Chef Tip: In the professional kitchen we're more likely to use bouillon pastes to boost the flavor of an injection. A home product has appeared on shelves called "Better Than Bouillon" which is a similar product to the professional versions. I use the roast turkey flavor in my injection to 10x the flavor and create a powerful savory turkey injection.
How Much Injection Do I Need For One Turkey?
Turkeys vary in size from 10 pounds to over 20 pounds, so every bird is slightly different. The best way to gauge how much turkey injection you need to create is to keep in mind these average quantities but remain generous in both applying the injection and creating it.
It's ok to create a little more than you need…you'll be surprised how much injection wants to drizzle out of the injection holes, so you'll want to inject the turkey meat from different angles.
After injecting, dispose of all unused turkey injection as the injection needle moving from raw poultry meat and back into the injection mix has contaminated it with the raw turkey juices. Alternatively, if you have made a butter based turkey injection like the one below, you can use it as a spread on the skin before applying a nice spice rub to the outside.
For best results, we create 1-2 cups of injection, depending on the size of the bird.
2 cups homemade injection for a whole turkey
1/2-1 cup for turkey breast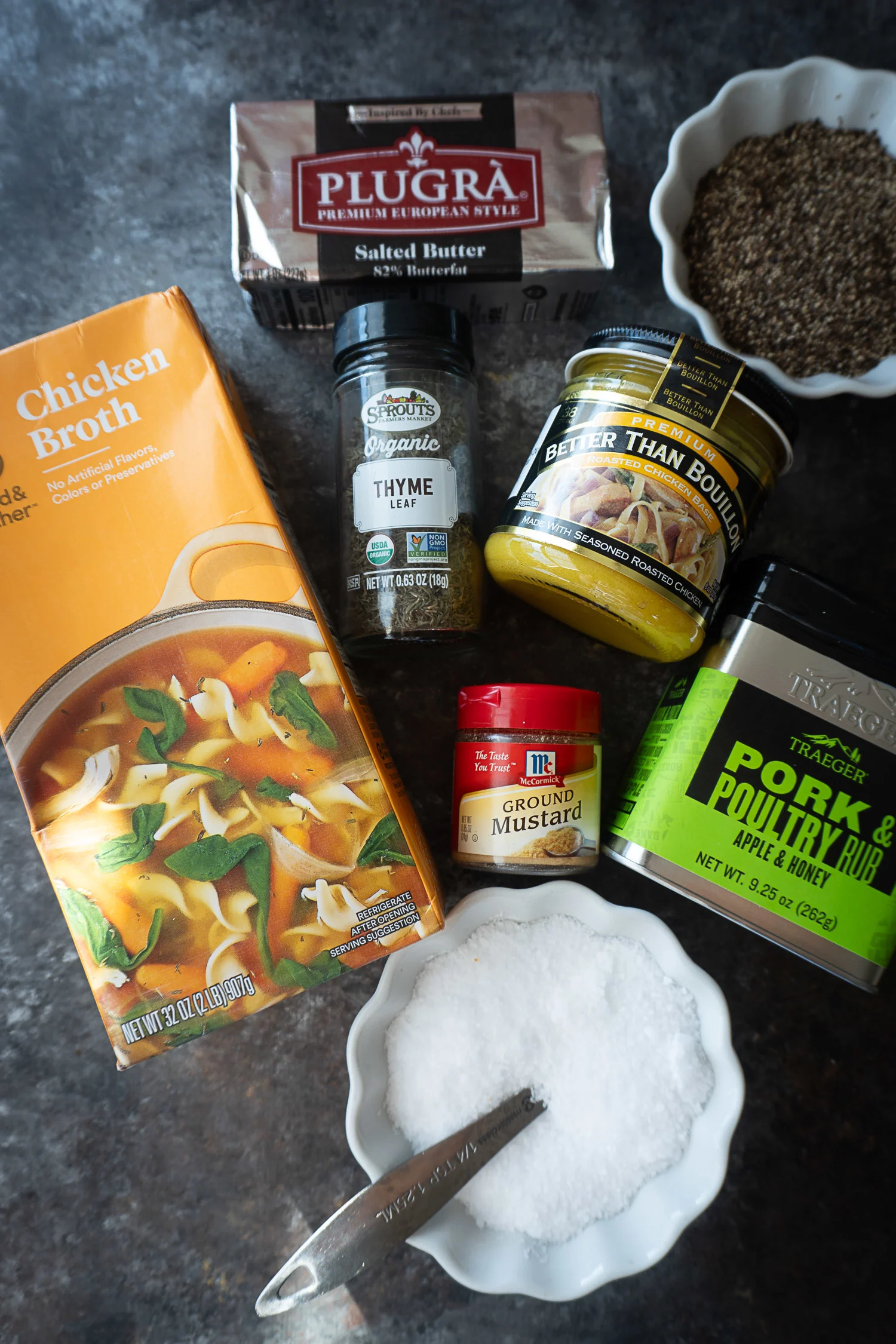 When To Inject A Turkey
You can inject a turkey for any of the big 3 methods…frying, smoking, or roasting in the oven.
After a frozen turkey is defrosted, you can inject up to 24 hours before cooking, but it's also okay to inject right before you begin cooking it.
This is one common misunderstanding as most marinades need time to work on the meat. With a turkey injection marinade, the fluid is trapped inside, flavoring and basting throughout the cooking process so it's an excellent choice when you haven't got 24 hours to prep your bird, (like with the brining method).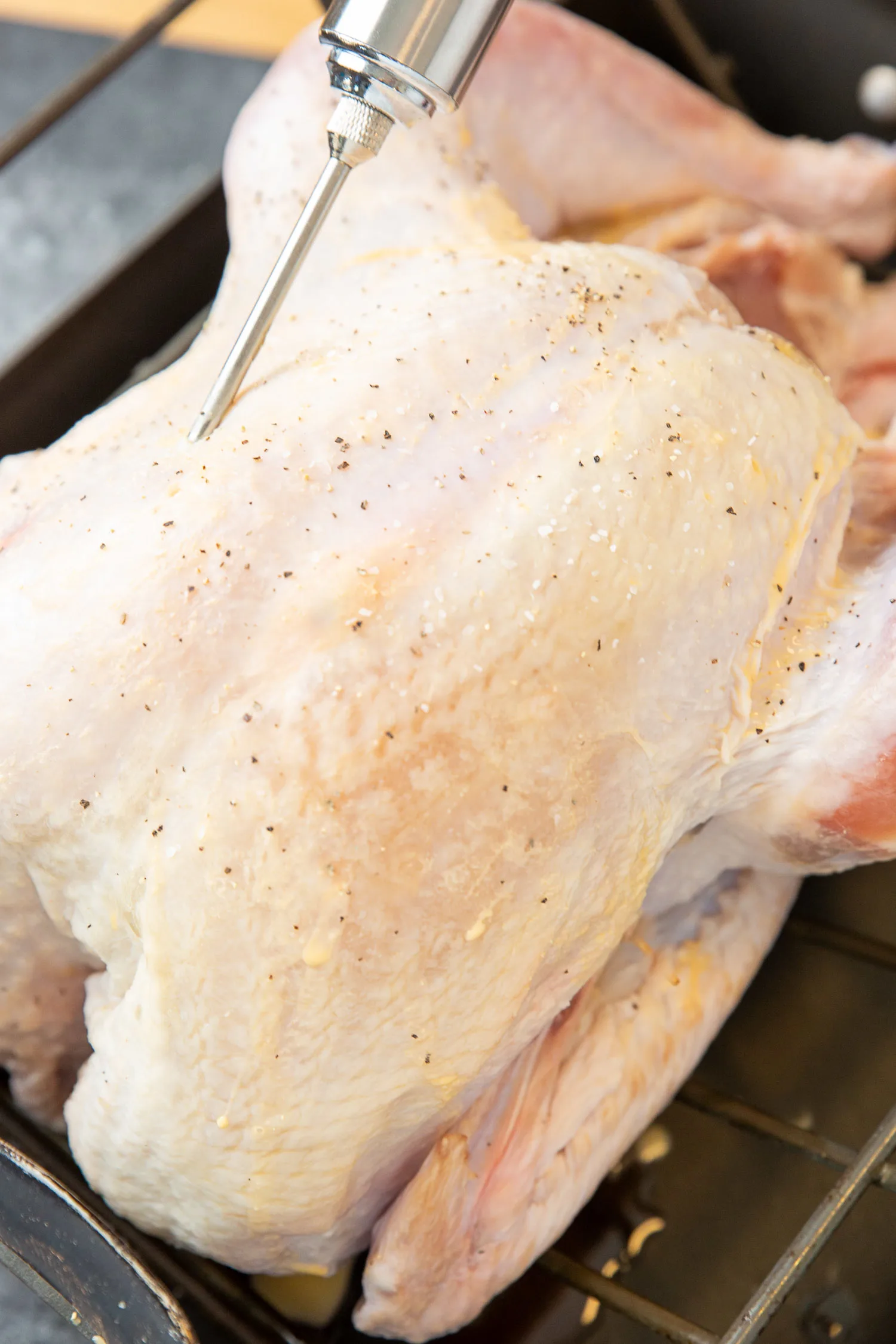 How To Inject A Turkey
Injecting a turkey is easier than you think. Once the injection is prepared you will assemble your meat injector and pull up a full syringe of fluid.
First inject the needle into each side of the breast, pushing the needle in deep and slowly withdrawing the needle as you press the plunger. This back and forth motion of pulling the needle out of the meat allows the fluid space to fill the hole. You can inject from many different angles throughout both the white meat and dark meat.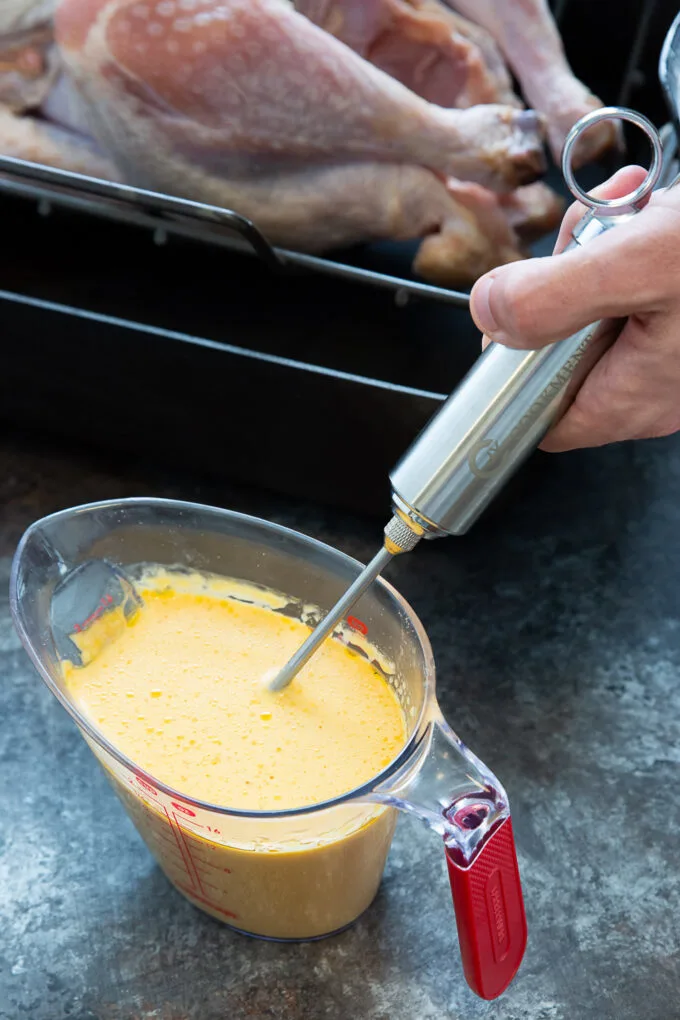 Favorite Turkey Injectors We Use
We have one injector with 4 different needles that can be screwed on to inject different meats and accommodate liquids of different viscosities.
I recommend a stainless steel meat injector that you can put in the dishwasher after you are done. I also recommend buying extra washers or making sure the company you buy from sells washers, as those degrade over time.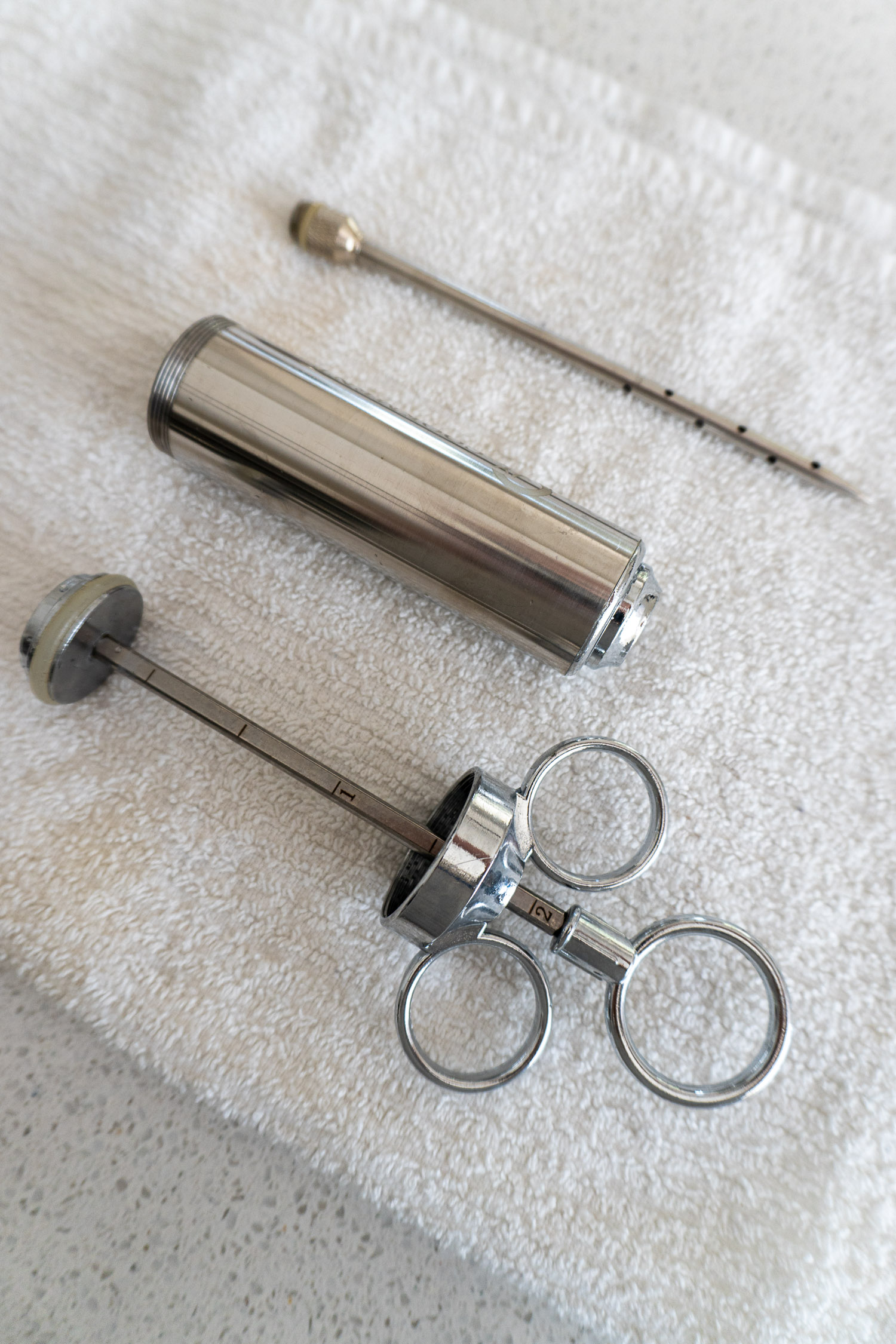 Injectable Turkey Marinade
The injection can be as elaborate or reflective of your personality as you like, my recipe below will provide the Best Thanksgiving Turkey, but I will show you in the recipe card how you can incorporate whiskey, apple cider, or teriyaki sauce, to really make it your own.
A flavorful turkey can come from a basic marinade of balsamic vinegar and garlic to a Thanksgiving appropriate flavor profile of chicken stock, compound butter, and fresh rosemary.
First, you'll want to consider the occasion as people fry and barbecue turkeys year round. A savory flavor is usually appropriate for fried turkey and smoked turkey with a good dose of barbecue rub on the surface of the turkey.
How Can I Make This A Cajun Turkey Injection?
To create a cajun turkey injection recipe, I recommend substituting the barbecue poultry seasoning for your favorite cajun seasoning.
You'll get all the flavors of this wonderful basic turkey injection with the added zest from the cajun seasoning. Please taste your seasoning before to determine whether the spice level of your cajun seasoning is appropriate for the whole family.
Thanksgiving Turkey Injection Modifications
An injected turkey is better than a bland turkey any day.
For this reason, I always say make the injection if you can, but don't be afraid to purchase an injection at the grocery store if you can't find the time.
If your grocery store does not carry turkey or chicken injections, the great flavors in Italian dressing are ideal to use as an injection. (Don't forget to strain out any chunky spices or use a spice grinder to finely ground any spices you add.)
Additionally, a turkey is so similar to a chicken that your favorite chicken injection recipes will also likely result in a perfect turkey.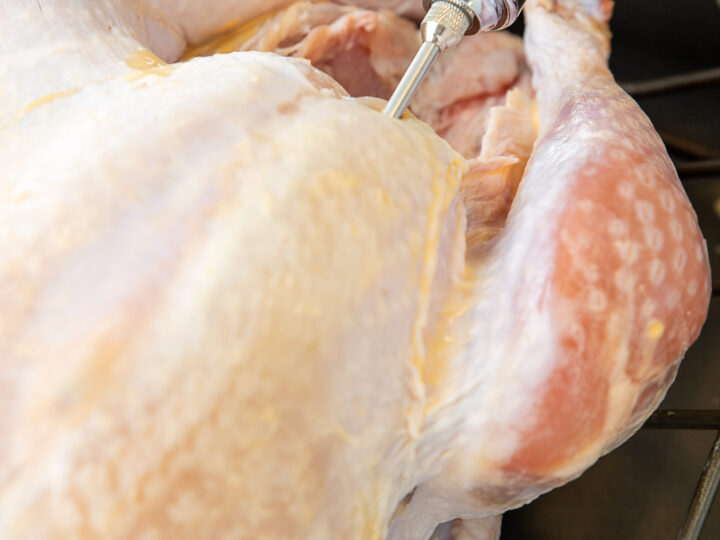 Yield:

2 cups
Turkey Injection Recipe (Ultra Juicy Butter Turkey)
Additional Time:
10 minutes
In this step by step guide learn how to make a savory butter herb turkey injection, plus tips for making your own injection recipes, and photos on the correct way to inject your bird.
Ingredients
8 oz. butter
1 cup chicken broth
1 heaping teaspoon Better Than Bouillon (I used Roasted Chicken)
2 teaspoons barbecue poultry seasoning (see note for recommendations and substitutions)
1 teaspoon black pepper
2 teaspoon onion powder
2 teaspoons garlic powder
1 teaspoon black pepper
1 teaspoon dry mustard
1 teaspoon dried thyme or sage
Instructions
In a small saucepan over low heat, melt the butter and add all of the spices, herbs, and seasonings, whisking well until the butter is melted.
Whisk in 1 cup chicken broth and bring to a simmer. Simmer 5 minutes and then remove from the heat and let steep like you do for tea. This allows the herbs and spices to infuse the injection liquid. The liquid must cool to about room temperature in order to inject the turkey.
Pour the room-temperature turkey injection mixture through a mesh sieve or strainer to strain the spices out. They will clog the needle and their flavor has already been infused into the butter.
Discard this debris and pour the pure injection into a tall, slender vessel to make pulling the injection up into the syringe easier for you.
**Hot injection fluid cannot be used and refrigerated injection fluid will clog the syringe. (See notes below for reheating chilled injection fluid.) Your fluid should be about 70-75 degrees.
When you are ready to inject place the whole turkey in a roasting pan or on aluminum foil (this can get messy).
Using a large syringe draw up the butter injection and insert into the breast of the turkey. The best method is to insert the needle fully and then pull back as you press the plunger down. You'll make injections all over the whole bird from different angles. Occasionally when injecting, extra injection will come out of previous holes you have filled. Just be gentle wiping away the excess with paper towels.
You may discard any excess turkey injection, or since it is butter-based you may coat the outside of the turkey with extra injection liquid before coating it with your favorite seasoning rub (kind of like a binder). Kosher salt and black pepper can also be used to season the skin of the turkey.
At this point you will add your instant-read thermometer into the thickest point of the breast and roast or smoke until an internal temperature of 165°F. Enjoy your Thanksgiving dinner with your favorite side dishes!
Notes
The barbecue poultry seasoning just means any chicken barbecue rub. You can substitute any chicken friendly seasoning for this. Many barbecue companies send us complimentary products and in this batch we used an apple rub. Most rubs taste similar and you can use whatever you have on hand.
Nutrition Information:
Yield:
15
Serving Size:
1
Amount Per Serving:
Calories:

115
Total Fat:

12g
Saturated Fat:

8g
Trans Fat:

1g
Unsaturated Fat:

4g
Cholesterol:

33mg
Sodium:

196mg
Carbohydrates:

1g
Fiber:

0g
Sugar:

0g
Protein:

1g
This nutritional information is provided as a courtesy as an estimate only. Consult with a dietician for precise estimates. This website makes no claims that the nutritional values listed are accurate.