Long gone are the days of flavorless Thanksgiving turkey–now we all know how easy it is to make a homemade turkey brine and infuse our bird with extra cajun flavor and juiciness!
We're such big fans of juicy turkey that this month we released two epic turkey recipes, our sweet apple cider smoked turkey brine, and this sassy cajun turkey brine for those who love that zesty, southern flavor.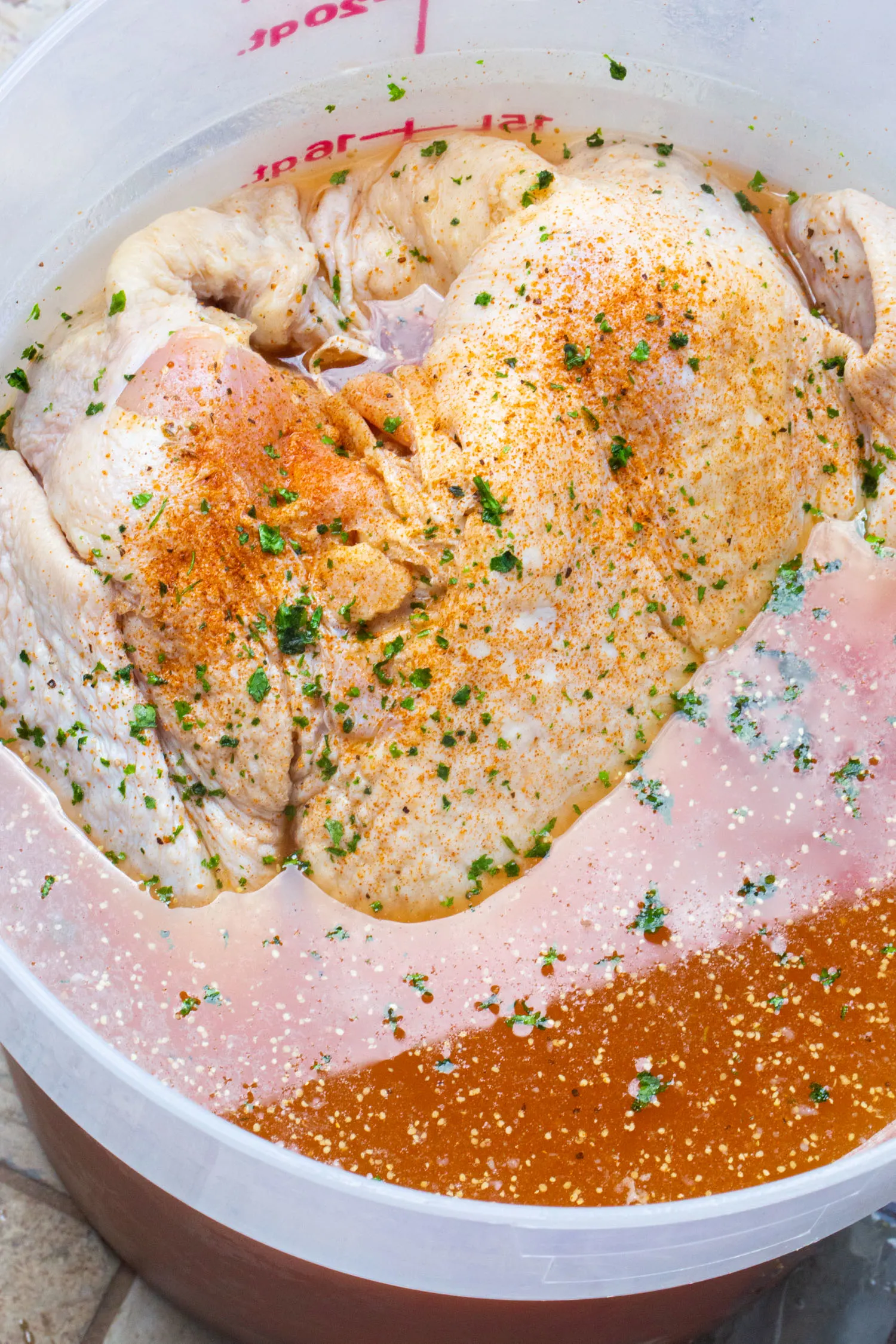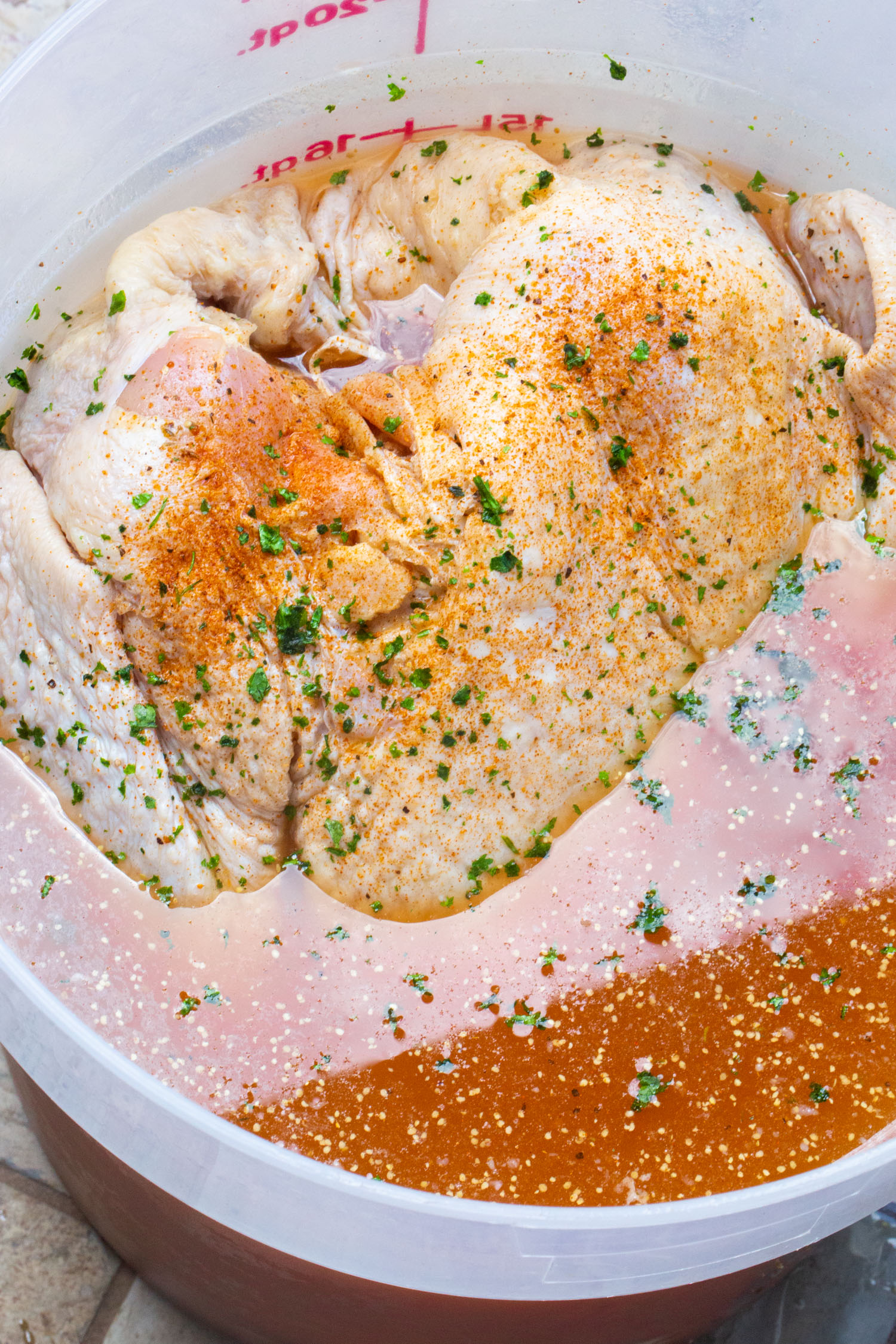 We recommend you paint either bird with our turkey paint (AKA turkey compound butter) just for good measure before roasting or smoking your bird this year!
How To Cajun Brine A Turkey
This recipe is simple enough, we will create "the brew" which is our cajun seasonings and spices, added to a gallon of water with our salt and sugar in a large pot.
Bring this mixture to a boil and heat until the salt dissolves.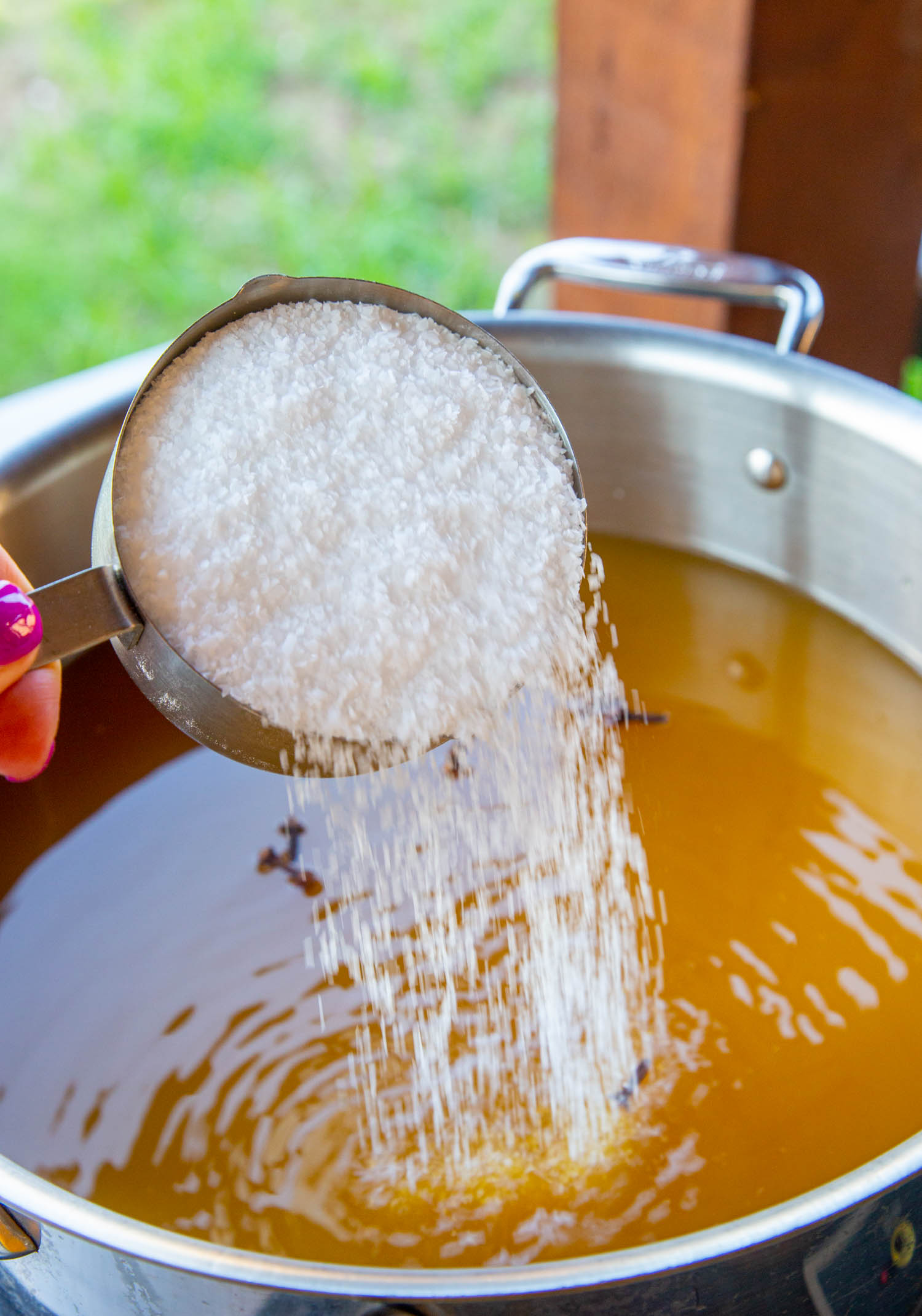 Then we cool this hot brine fully in the refrigerator.
Add the now cooled spicy brine, another gallon of water, and our entire turkey to a 5-gallon bucket. (You can pick one up at your favorite home improvement store in the paint department.)
How To Prepare A Cajun Turkey
To brine your turkey it must be completely defrosted or fresh. Frozen turkey will not brine because the brine solution can not penetrate frozen meat. Make sure to begin defrosting your bird in the refrigerator 3 days before you want to start the brine process.
Place the turkey breast-side down into the brine, You will want to rotate larger birds once during brining.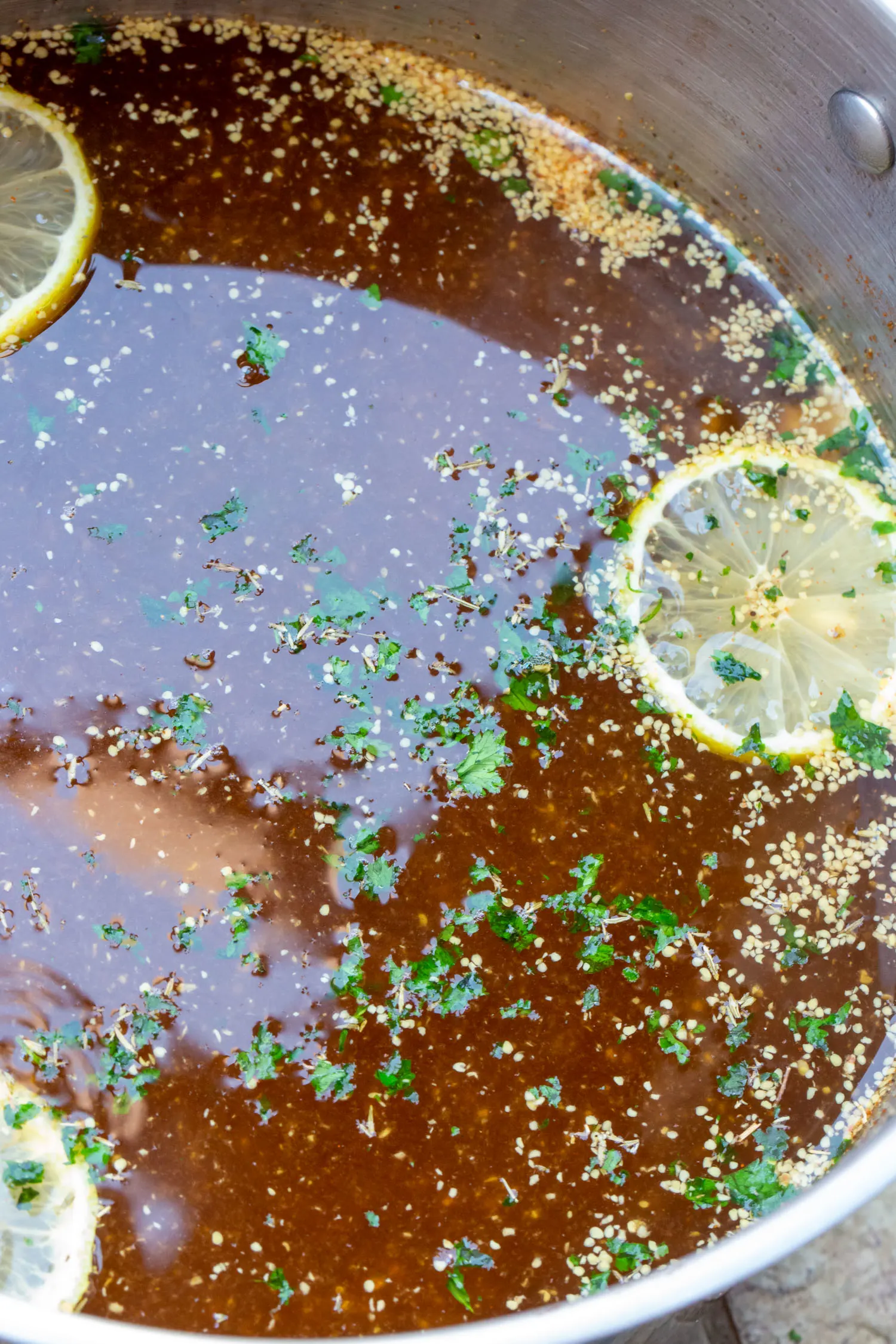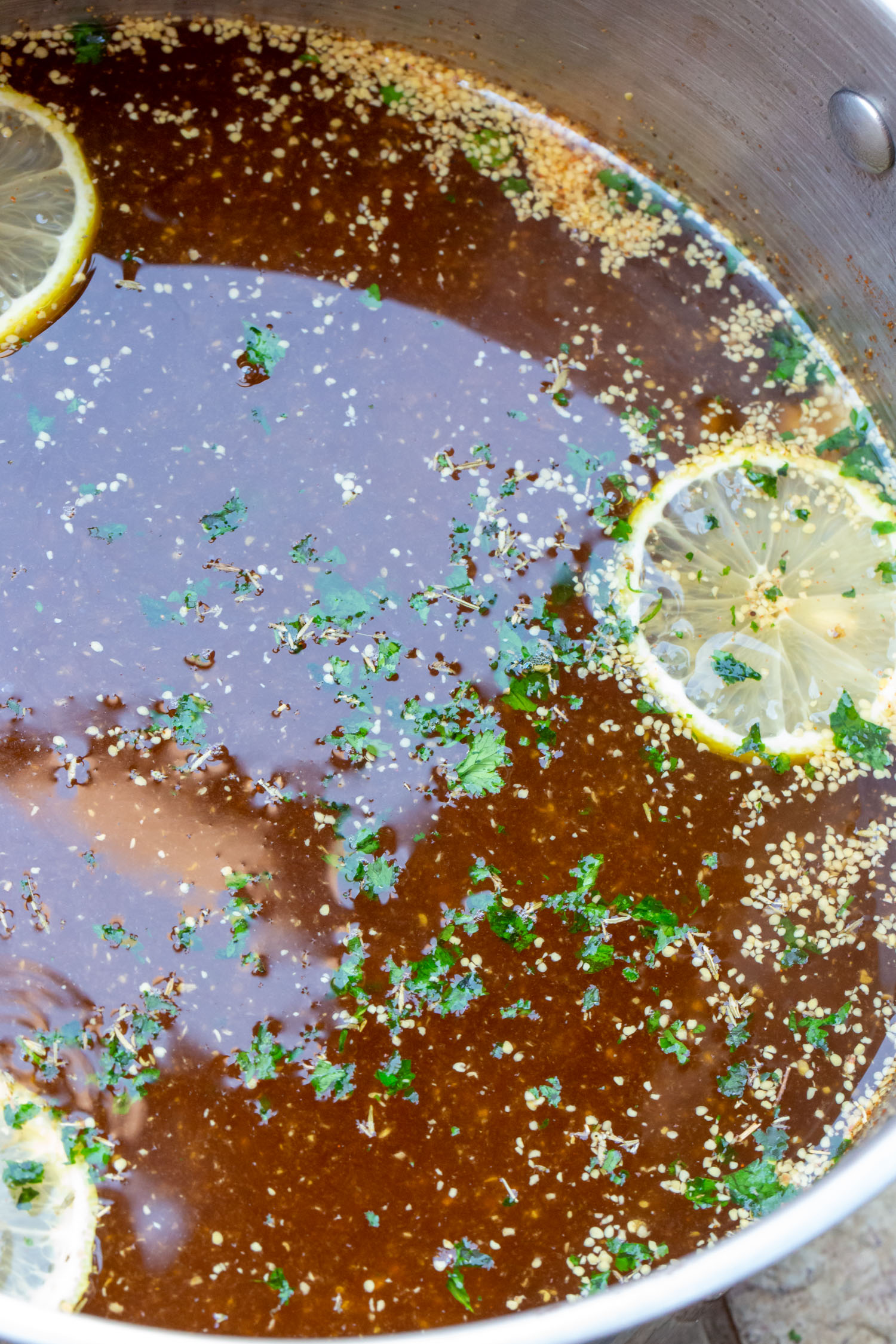 How Long Do You Leave Turkey In Brine Solution?
Brine overnight and up to 48 hours.
I have even gone 3 days in brine with this particular recipe with good results. We keep ours in a garage refrigerator, but those in colder climates might be able to place a lid on the brining turkey and keep in an ice cold area in the garage.
As long as the turkey is submerged in the brine and the brine and turkey stay at least 40 degrees or below, you'll be good.
We usually start breast side down and rotate the next day. At least a 24 hour soak is encouraged for maximum flavor, but you will get good results in as little as 10 hours.
Remove the bird from the brine and pat dry with paper towels. Discard the brine and cook as usual.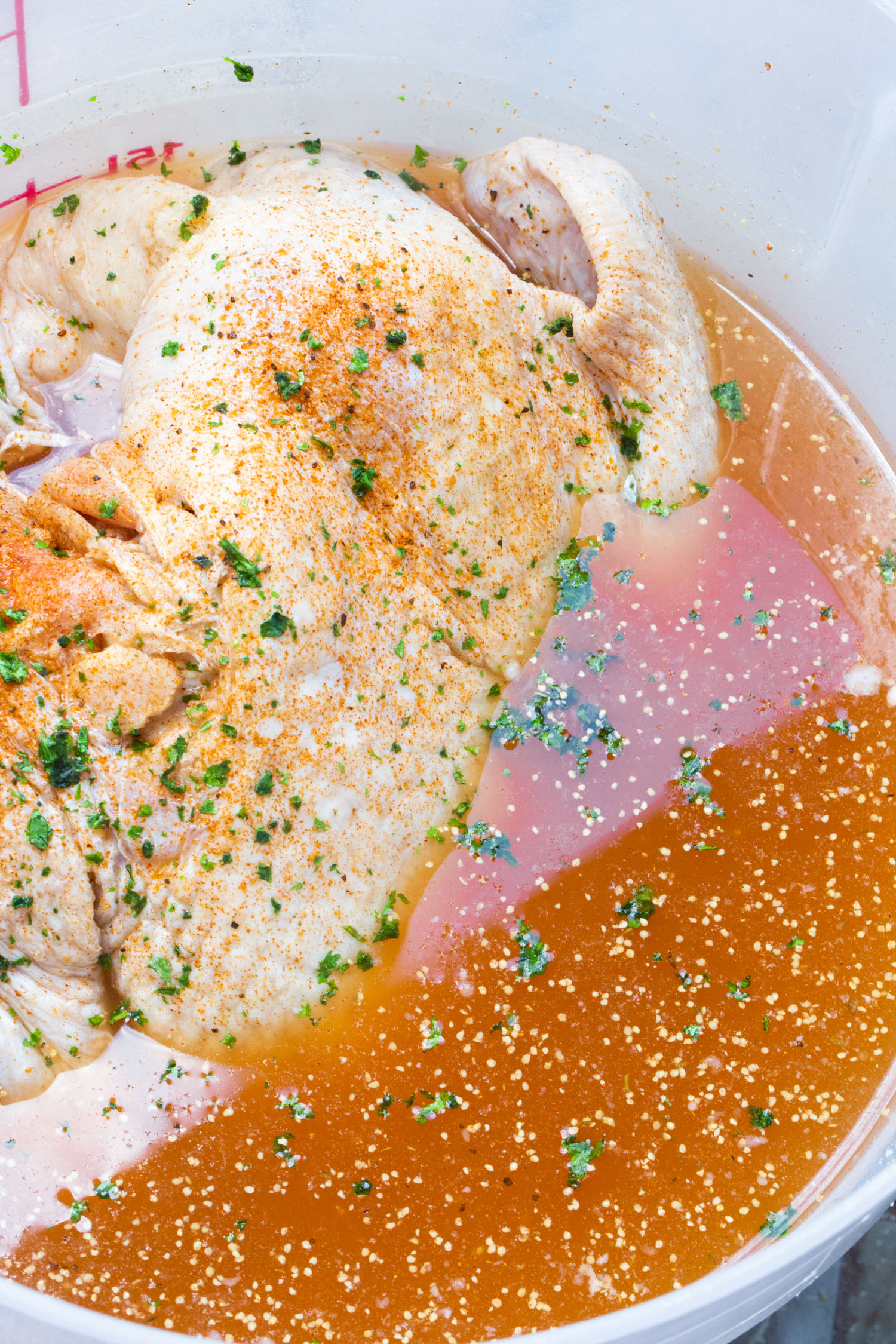 How To Season The Turkey After Removing From The Cajun Brine
You can oil your bird with olive oil and sprinkle with a cajun rub, or our favorite way to season is to paint the outside of the turkey with our turkey compound butter (AKA turkey paint).
It's a great way to get incredible flavor on your holiday bird and works especially well with cajun smoked turkey. The breast meat is very tender when using a wet brine and our compound butter makes sure the turkey skin is equally delicious!
However you choose to roast, fry, or smoke your turkey this is a great time to insert a meat thermometer into the thickest part of the breast.
Once cooking begins you will cook until the internal temperature reaches 165 degrees.
We've got some great Thanksgiving dinner sides as well! Check out these tasty recipes…
Yield:

1 turkey
Cajun Turkey Brine Recipe (For Ultra Juicy Cajun Turkey)
Total Time:
1 day
15 minutes
Juicy Cajun Turkey starts with a delicious, LOADED WITH SPICES cajun brine. We use fresh spices to create a brew that our turkey rests in for a day and results in succulent, zesty meat every time. Get the recipe now!
Ingredients
The Brine:
1 gallon water
1 c. kosher salt
½ c. sugar or brown sugar
1/4 cup creole mustard
4 -6 cloves garlic, minced or pressed through garlic press
1 lemon, juice
Homemade Cajun Spice Blend:
4 teaspoons salt
4 teaspoons paprika
1 teaspoon cayenne pepper
2 teaspoons onion powder
1 Tablespoon garlic powder
2 teaspoons dried thyme
1 t. oregano
1 t. white pepper
Finish With:
1 additional gallon cold water
1 turkey or turkey breast
Instructions
In a large stockpot, add 1 gallon of water, kosher salt, sugar, creole mustard, garlic and lemon juice. Over medium heat, heat this mixture while you measure the cajun spice blend in to a small bowl.
Add the cajun seasoning to the pot and bring it to a boil. Boil for 1 minute, or until salt and sugar dissolve, then turn off the heat and let the brine cool to room temperature.
When the brine is about room temperature transfer it into the refrigerator until cool.
In a large 5-gallon bucket, add 1 gallon of ice-cold water and pour the chilled turkey brine in. Insert your whole turkey or turkey breast. For a larger bird, the turkey should be turned once during the brining process. You can brine the turkey sufficiently overnight, but most people do at least 24 hours for maximum flavor. We have brined in the solution up to 2 days with excellent results.
To prepare the turkey for the next stage of cooking, remove it from the brine and pat the turkey well with paper towels. Discard the brine.
Your bird is now ready for roasting, smoking or frying. We recommend our turkey paint (creole turkey butter recipe) to paint your turkey with before roasting or smoking. You can view that recipe here.
Place a meat thermometer into the thickest part of the turkey breast through the skin of the turkey.
At this point, you may either place the turkey in a large roasting pan or place it in the smoker or fryer.
Nutrition Information:
Yield:
20
Serving Size:
1
Amount Per Serving:
Calories:

37
Total Fat:

0g
Saturated Fat:

0g
Trans Fat:

0g
Unsaturated Fat:

0g
Cholesterol:

5mg
Sodium:

3499mg
Carbohydrates:

7g
Fiber:

1g
Sugar:

5g
Protein:

2g
This nutritional information is provided as a courtesy as an estimate only. Consult with a dietician for precise estimates. This website makes no claims that the nutritional values listed are accurate.