We developed this copycat recipe for Texas Roadhouse's famous green beans for my catering company and you won't believe how delicious and easy they are!
Texas Roadhouse is a restaurant chain throughout the United States famous for hearty portions of barbecue, wood-grilled steaks, and their famous Texas Roadhouse Rolls.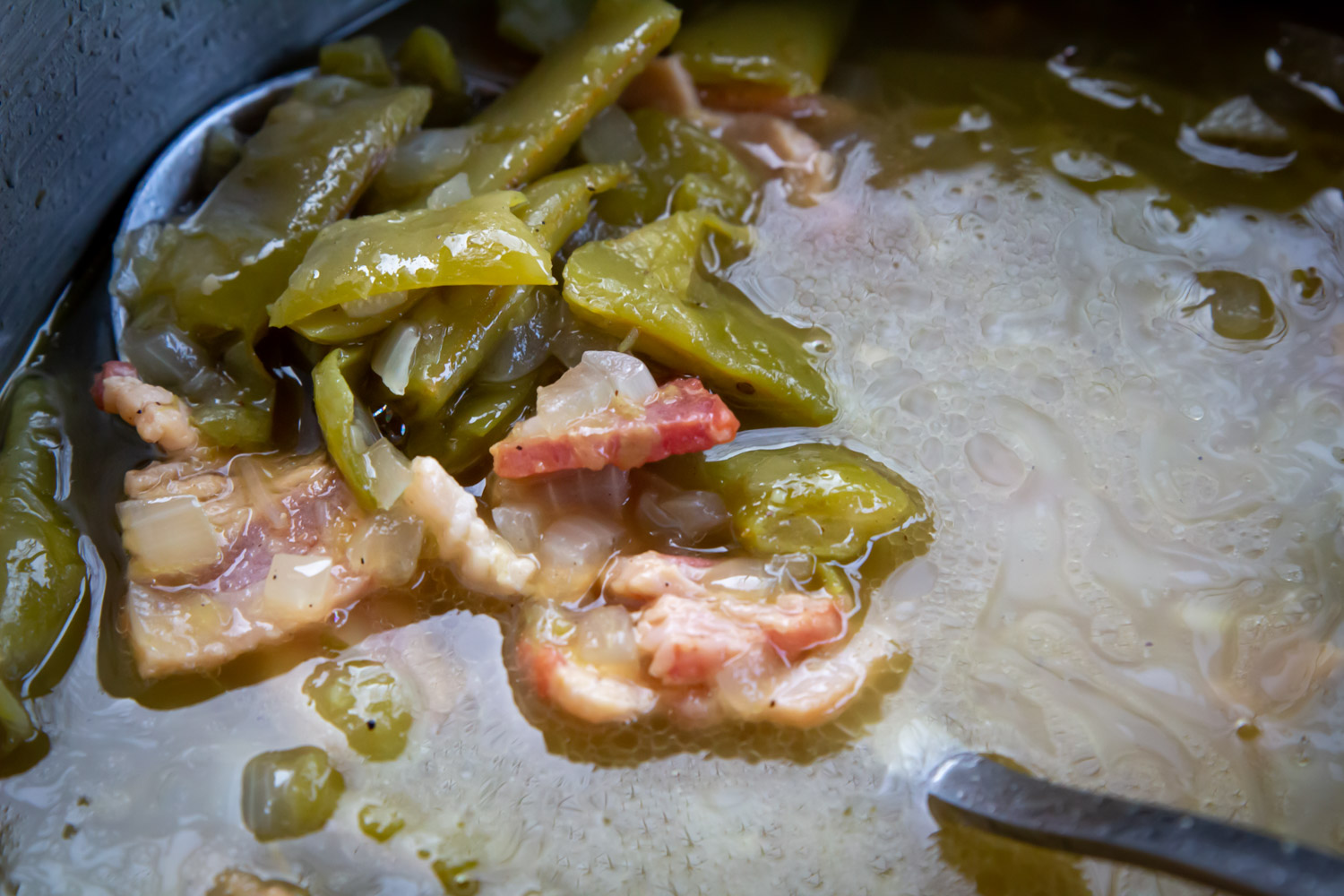 Out of their many side dishes, these southern-style green beans are one of the only low-carb or keto options, which is how they became important to our customers and why we started getting requests to recreate them.
It's a simple dish of canned green beans (specifically Italian style or Italian cut…more on this later), cooked bacon, onion, and garlic sauteed in bacon fat, black pepper, and a sweet and tangy dash of sugar and vinegar for brightness.
After giving them a try it's easy to see that this recipe, although spectacular, is very common in the south and just one of grandma's basic great recipes–a classic southern side dish that is both familiar and comforting, making it a suitable pairing for any family dinner you could dream up…except for maybe tacos!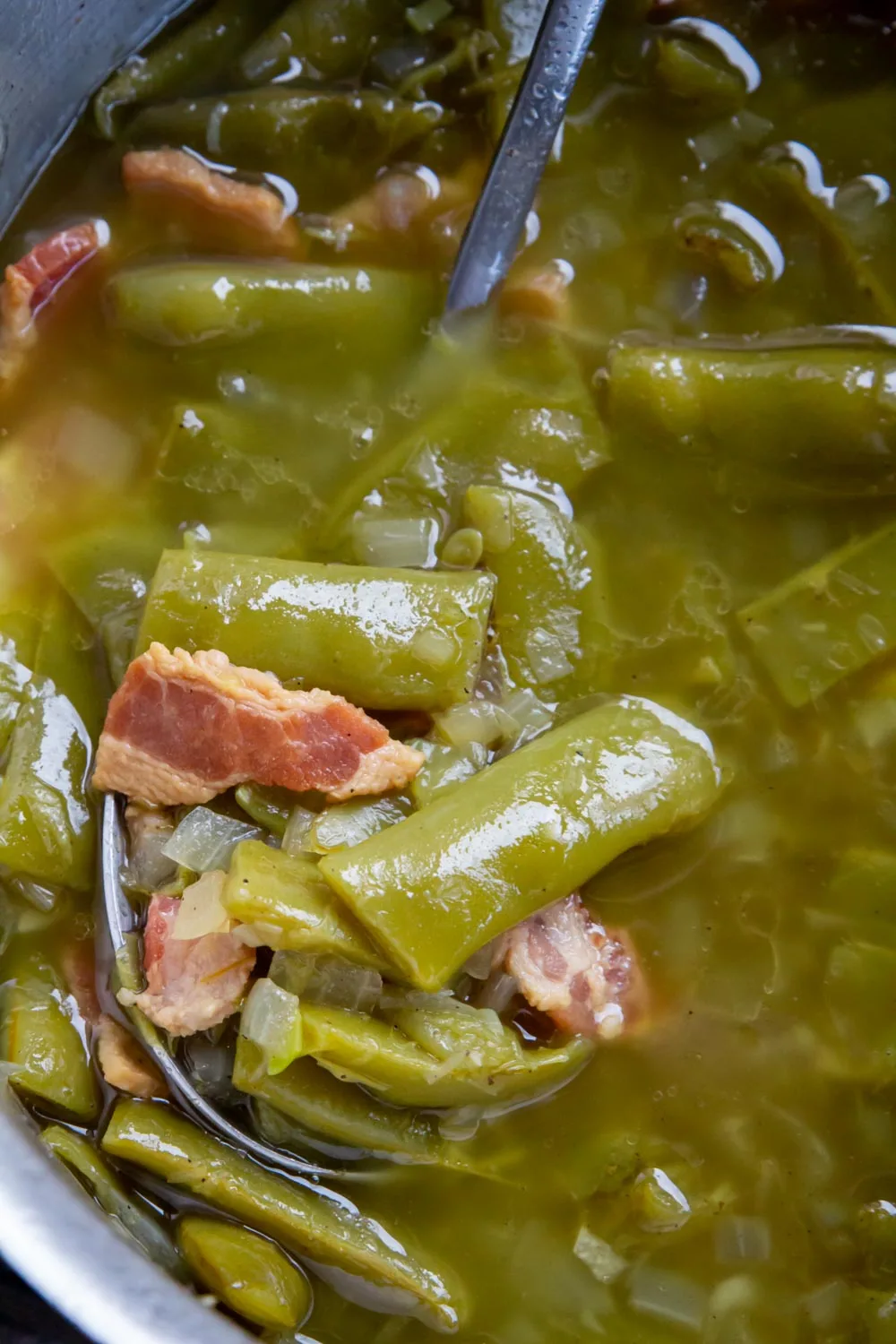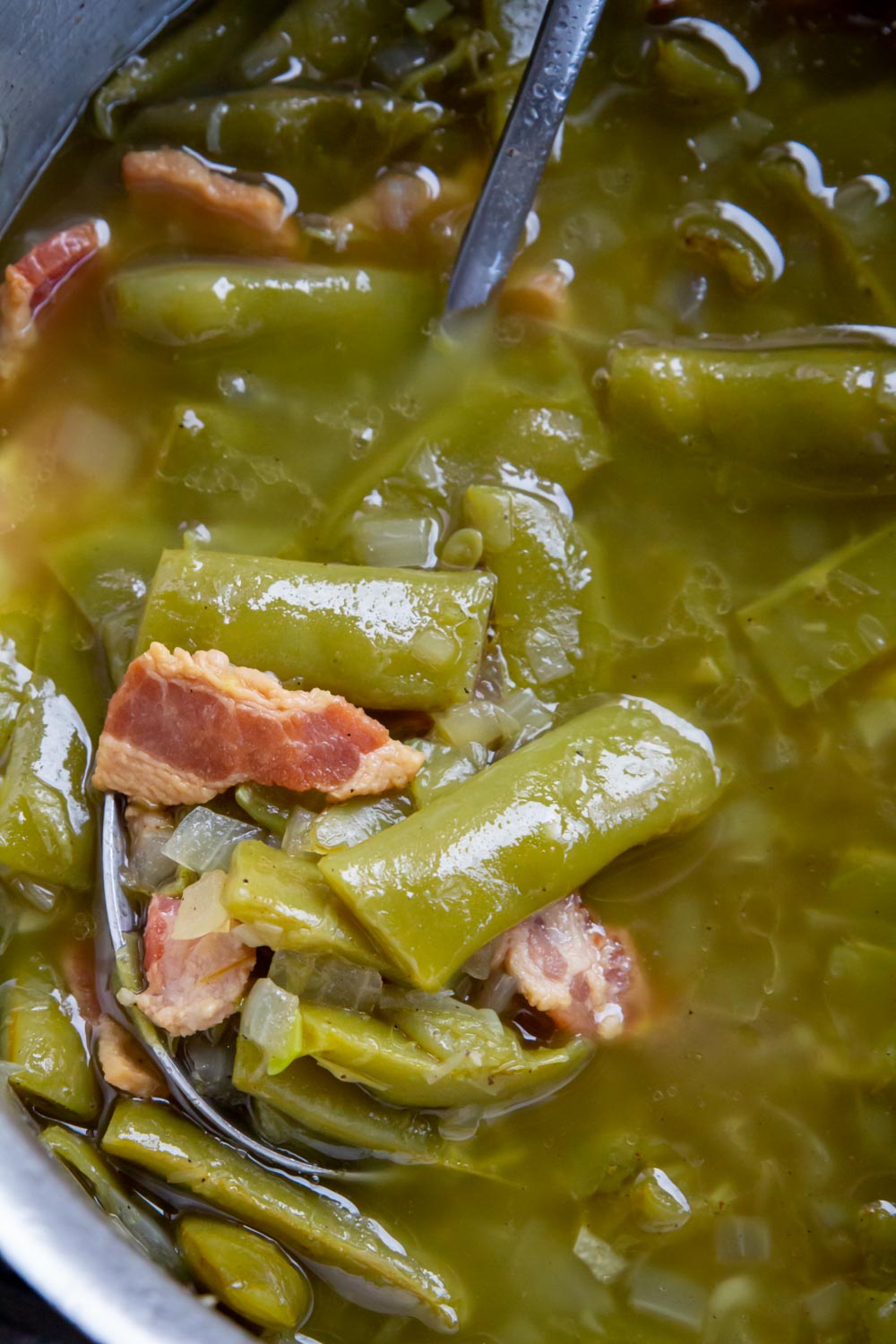 (Links are affiliate links to products we think are helpful and we may receive a small commission, at no cost to you, if purchased.)
What kind of green beans are used in Texas Roadhouse Green Beans?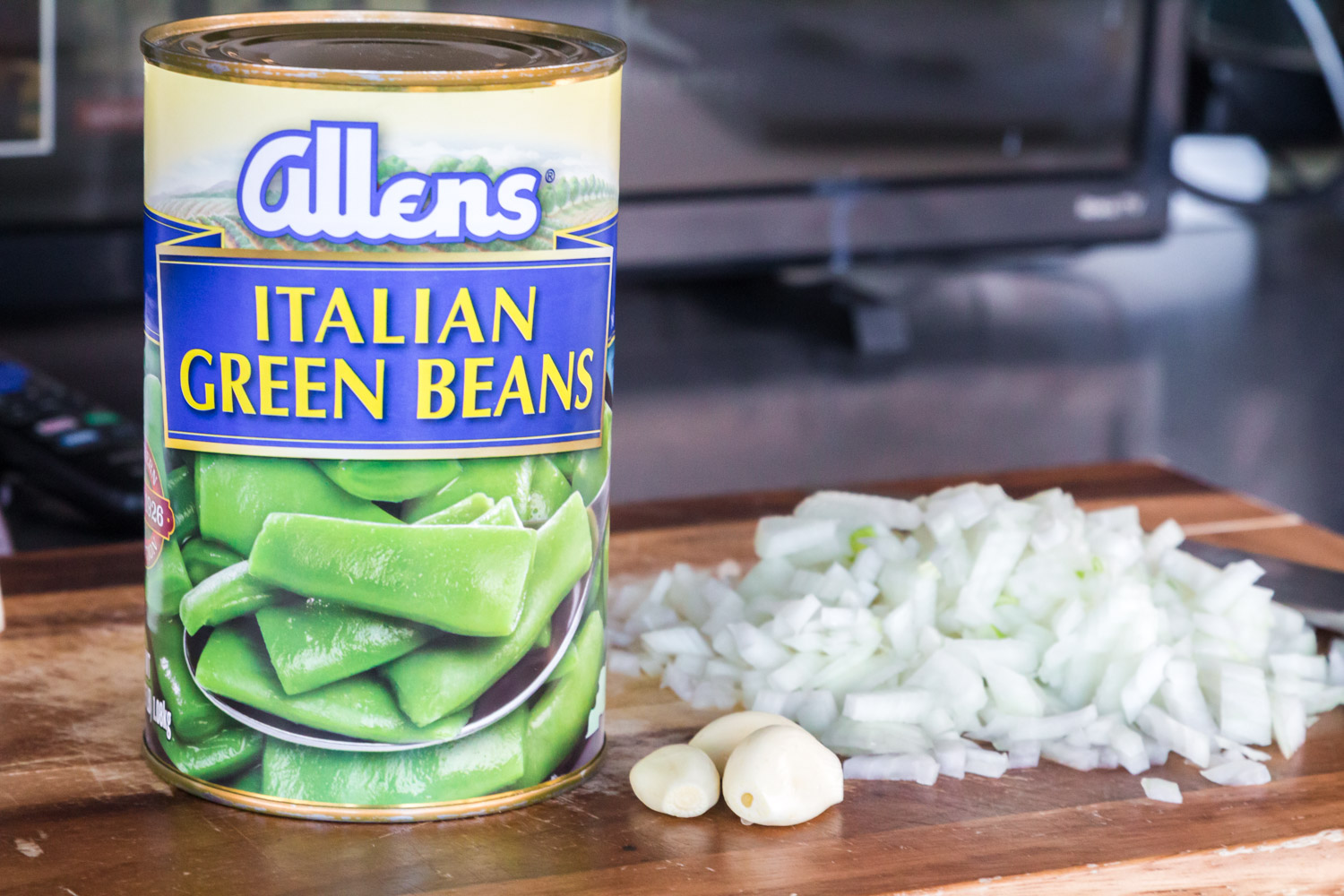 These are what we call Italian cut green beans, which look like big rectangles and can be difficult to find. I have found one brand that grocery stores stock near where I live and they look like this…
You can also find Italian green beans on Amazon here. You can substitute with other canned green beans if Italian cut is not available, but fresh green beans should be avoided if you're wanting to create a green bean recipe similar to Texas Roadhouse.
How to Make Copycat Texas Roadhouse Green Beans
These delicious green beans start by chopping raw bacon on a cutting board into half-inch equal size pieces. In a large medium-large saucepan, place the diced bacon and turn on the burner. Bring the pot up to a medium high heat. Cook bacon for 8-10 minutes stir the bacon with a large spoon. When the bacon is nearly crisp, remove it to a plate with a slotted spoon. Keep all of that delicious bacon fat in the pot.
Chop 1/2 a medium onion and mince 3 garlic cloves.
Add the chopped garlic and onion to the pan, cooking them in the bacon fat for about 5 minutes over medium heat, until they turn golden brown and translucent. Add 1 teaspoon kosher salt and 1 1/2 teaspoon pepper.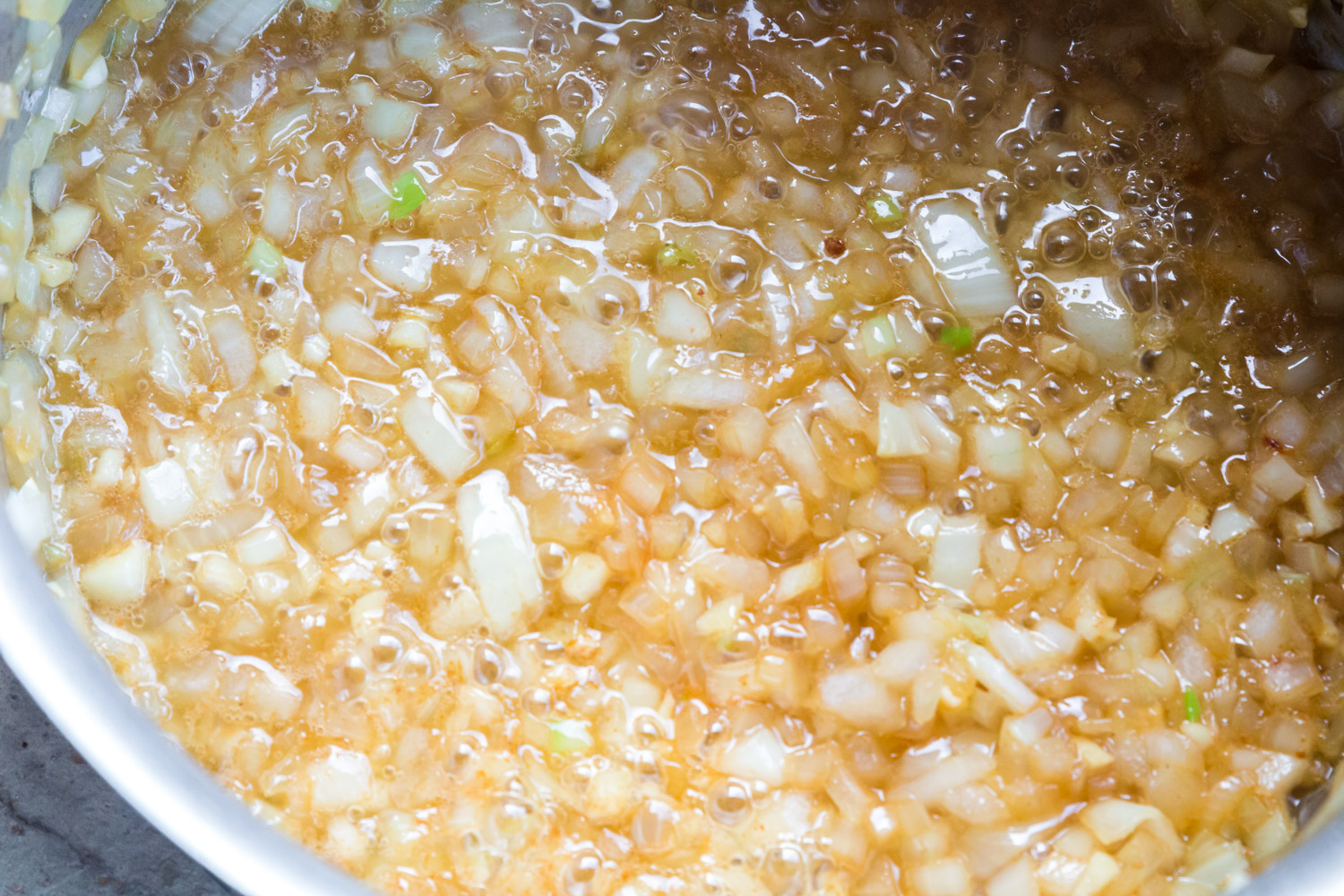 Stir well, add 2 t. sugar or brown sugar, and the entire can of Italian cut green beans and the juice of the green beans, this will make up our flavorful broth. Add the crisp bacon back to the saucepan and stir well.
Cook the green beans for 5 minutes, add the red wine vinegar and taste for seasoning. Depending on the bacon brand used the green beans may need additional salt. We simmer these delicious green beans over low heat for 15 minutes or more while cooking our other dishes and the black pepper really blooms.
How to Make the Texas Roadhouse Green Beans Recipe Low Carb
Many people are looking for healthy options these days, eliminating excess sugar and utilizing alternative sugars with zero calories. We substitute the sugar in this recipe (and frankly all our favorite recipes with monk fruit sugar. This is the brand of monk fruit sugar used in my house which has great flavor and the same texture as real sugar.
My husband who follows the keto diet absolutely loves this recipe and cutting the sugar makes it keto and Atkins diet-approved, with very little effort.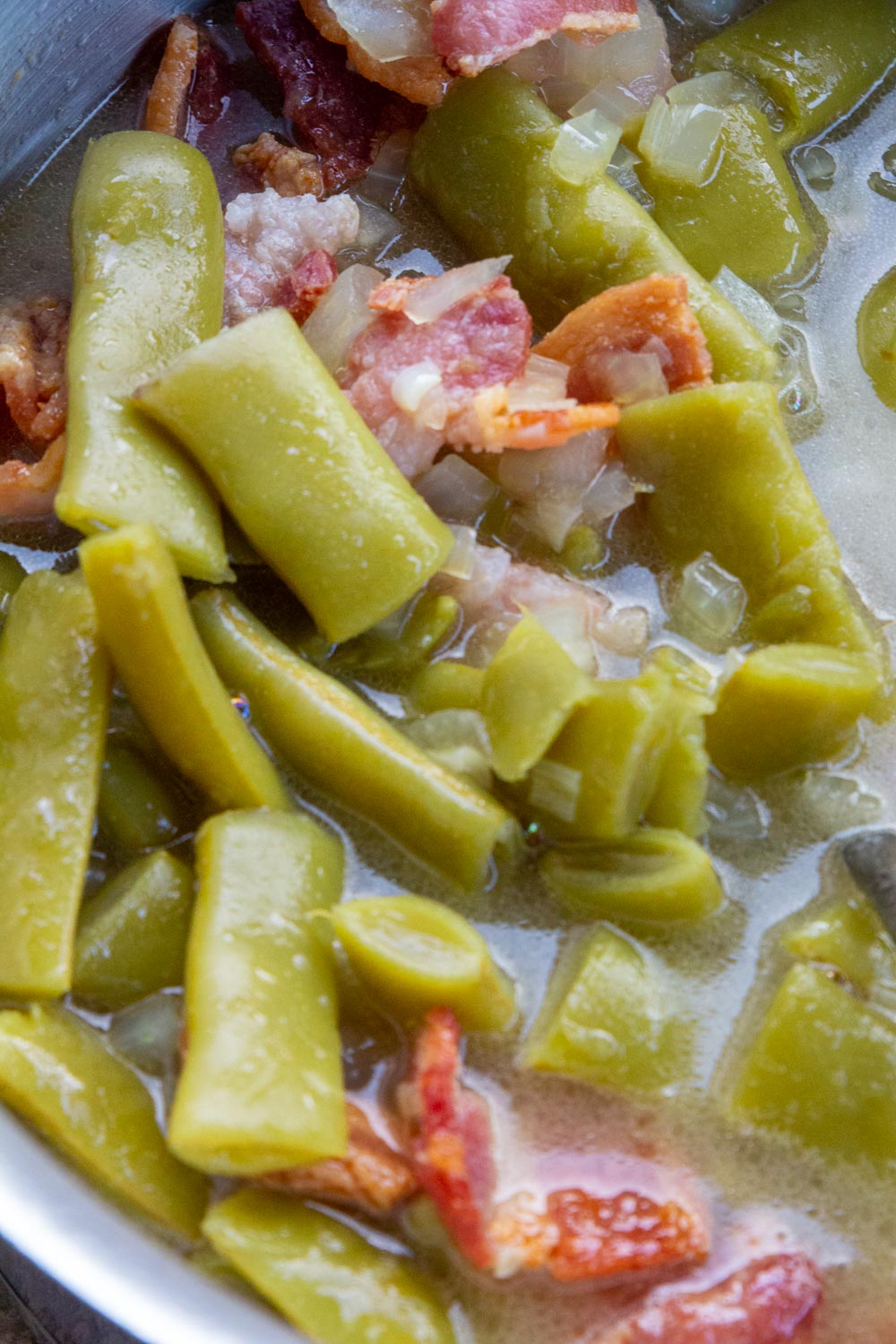 Can I make the Texas Roadhouse Green Beans in a Crockpot?
Yes! This recipe can be made in a crockpot after cooking the bacon crisp. Add the bacon fat to a crockpot and heat the crockpot to high. Add the white onion and garlic and cook until translucent. Then continue the rest of the recipe as stated. The recipe will need at least 1.5 hours in the crockpot to heat fully, and can be held 4-6 hours. The liquid mixture will evaporate so keep the lid on the crockpot and add a little bit of water as needed.
What Main Courses are served with Green Beans?
Yield:

6-8
Ultimate Texas Roadhouse Green Beans Copycat Recipe
These juicy, bacon-laden Texas Roadhouse Green Beans are just like the original restaurant favorite and ready for a big crowd!
Ingredients
38 oz. can of Italian green beans
4 slices thick-cut bacon and the rendered fat, chopped
1/2 onion, diced
3 garlic cloves, minced
1 1/2 t. black pepper
1 t. kosher salt
2 t. granulated sugar
1 T. red wine vinegar
Instructions
Chop the bacon into half-inch pieces.
In a medium saucepan, add the bacon to the cold pan and bring up to a medium-high heat. Cook 8-10 minutes stirring well until done. Remove to a plate.
Add the chopped onion and garlic into the pan with the bacon grease. Cook 4-5 minutes over low heat, until golden. Add pepper and salt. Stir well.
Add the can of green beans and juice in the can, add the sugar and vinegar and raise the heat to a gentle simmer. Cook 15 minutes.
Taste for seasoning and add more salt if needed or seasonings if needed. Hold over low heat and serve hot with the main dish.
Nutrition Information:
Yield:
8
Serving Size:
1
Amount Per Serving:
Calories:

85
Total Fat:

3g
Saturated Fat:

1g
Trans Fat:

0g
Unsaturated Fat:

2g
Cholesterol:

6mg
Sodium:

260mg
Carbohydrates:

13g
Fiber:

5g
Sugar:

6g
Protein:

5g
This nutritional information is provided as a courtesy as an estimate only. Consult with a dietician for precise estimates. This website makes no claims that the nutritional values listed are accurate.