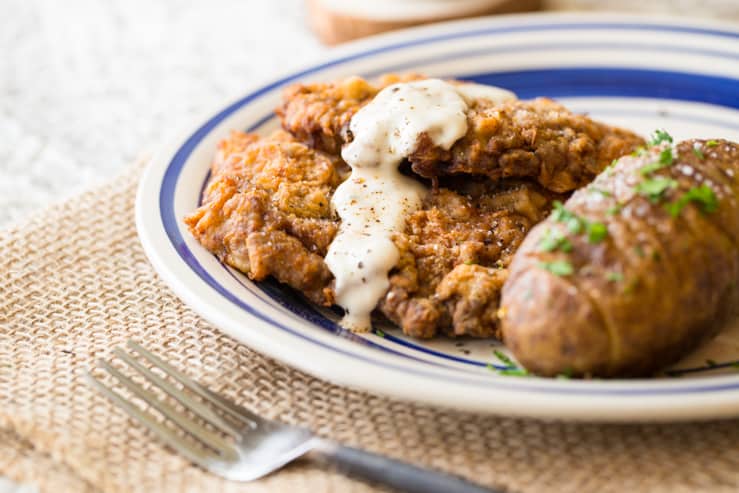 This "Ultimate Texas Chicken Fried Steak With West Texas Gravy", beat Grady Spears—cowboy food legend, James Beard award-winner, and my great friend, at the Golden Chile Awards, to take its place as the definitive chicken fried steak recipe.
The secret? Well, it's two-fold.
Like many girls, I was blessed with a grandmother I adored. I grew up listening to her stories and eating her homemade chocolate chip cookies while I watched her fry up dinner in her ancient cast-iron skillet. When my grandmother passed away, the entire family descended on the house to take care of my grandfather and help ourselves to a memento from her life.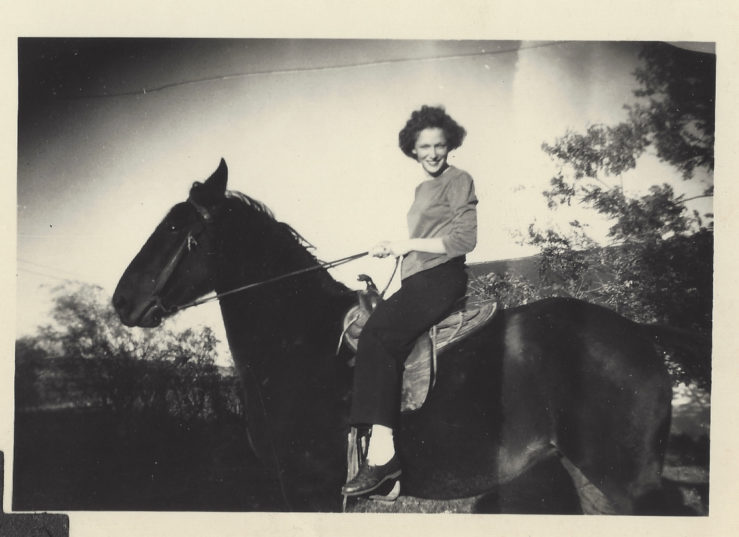 My grandfather leaned over, placing his calloused, life-weathered hand on my knee, and pinned me with his still sparkling blue eyes, "What do you want of hers, Sarah?"
I swallowed back tears and said, "Her cast-iron skillet."
The day I beat Grady, I was using her skillet.
I also used a secret ingredient my grandmother taught me during those lazy afternoons in her kitchen. The key to simply perfect country gravy is a couple cans of evaporated milk. It's a flavor that takes me back to traveling Route 66 with my grandparents, stopping at the little roadside diners along the way, and tasting complete gravy paradise coating the end of my fork.
It's sweeter, warmer, and, though it might sound crazy, it's almost as good as being safely wrapped in your grandma's warm embrace. 🙂
Here is the recipe for the Ultimate Texas Chicken Fried Steak!
If you make it, tag me on social media! I wanna see! 😛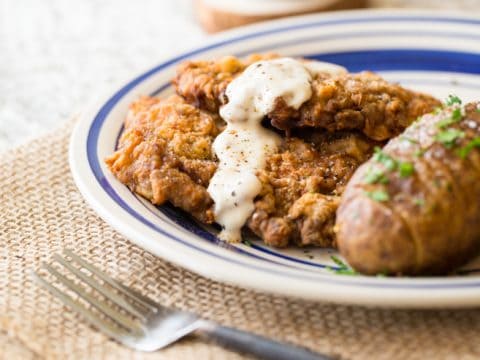 Yield:

4
The Ultimate Texas Chicken Fried Steak Recipe
This authentic Texas chicken fried steak recipe shares my family secrets to crispy, well-developed batter and rich and creamy gravy!
Ingredients
4 (1/2-inch-thick) steaks of eye of round
3 cups all-purpose flour
1 tablespoon seasoning salt
Freshly cracked black pepper
2 tablespoons cornstarch
3 eggs
1/4 c. milk
1/4 liter canola oil, for frying
West Texas Gravy:
3–4 tablespoons oil, reserved from the pan you cooked the steaks in
3–4 tablespoons flour (grab some of the seasoned flour from breading the steaks)
2 cans evaporated whole milk
1 1/2 teaspoons fresh lemon juice
1/2 teaspoon each garlic powder and onion powder
1 teaspoon salt
Freshly ground black pepper
Optional Garnish: I don't think there is anything better than fresh thyme!
Instructions
Begin with the round steak. Place the round steak inside the butcher paper it comes in, or use parchment or wax paper to cover the individual steaks on both sides while pounding flat. Pound out your steaks with a tenderizing mallet to thin 1/4-inch slices. They will get bigger and wider as you go. I alternate between the spiky side and the flat side of the mallet as I go.
Combine the flour, seasoning salt, freshly cracked black pepper, and cornstarch in a bowl and whisk it well, then place it on a large platter.
In a glass dish (big enough to dunk a whole steak) combine the three eggs and milk and whisk into a thin mixture to make an egg wash.
Dip each steak into flour, shake it off, then into egg wash, shake it off, then back into the flour. Place each steak on a nice big cookie sheet. Repeat with all the steaks, then transfer into the refrigerator for a half-hour. Do not skip this step. This is giving the flour mixture time to bind and develop. Meanwhile, you can clean up, remembering to reserve 4 tablespoons of seasoned flour for the gravy.
To cook the steaks, fill a cast-iron skillet about halfway with canola oil. Heat the oil to 350°F on medium-high heat. (You can test the oil with the back of a wooden spoon. When it bubbles around the spoon, it's hot enough. This happens at about 350°F.)
Using tongs, place a steak in the oil. It should immediately start to bubble and cook, but not explode with activity. If it does, you will want to turn the heat down a nudge. Depending on the size of your skillet, you can cook two or more at the same time. Especially if you preheated that cast-iron skillet. You may have to monitor the heat when adding new steaks. I think a good secret is to let the majority of the first steak get nice and well fried on one side before trying to add in another one.
Watch the edges of the steak for a golden-brown color. The edges will tell you what it looks like underneath! When you feel like the sides look golden brown, flip the steak and repeat frying on the other side, 4-5 minutes depending on the pan used.
As each steak is done, remove it from the pan and immediately salt it on each side. Hold on a cookie sheet in a preheated oven at about 225°F. This will keep them hot while you cook the other steaks, but they are best served quickly for maximum crispiness.
When all of the steaks are resting and toasting in the oven, pour all the grease out of the skillet except about 3–4 tablespoons and turn the heat down to low. Sprinkle in the reserved flour and whisk until a brown paste begins to form.
Slowly whisk in one can of milk and whisk until it is thoroughly combined. Turn the heat up to medium and whisk as the gravy begins to take form and thicken, which happens when the mixture starts to simmer. Little bubbles will begin to form. Keep the heat around medium.
I usually add another 1/2 can of milk as I decide how thin/thick I want my gravy . . . that's just a preference thing. Feel free to do what you like. Add the lemon juice, onion and garlic powder, and salt. We crack freshly ground pepper in just before serving and sprinkle on fresh thyme from our herb garden.
Top the chicken-fried steaks with gravy and serve with your favorite sides.
Notes
This recipe is delicious served with our Boursin cheese mashed potatoes recipe!
Nutrition Information:
Serving Size:
1
Amount Per Serving:
Calories:

3007
Total Fat:

256g
Saturated Fat:

25g
Trans Fat:

1g
Unsaturated Fat:

221g
Cholesterol:

223mg
Sodium:

1830mg
Carbohydrates:

135g
Fiber:

5g
Sugar:

7g
Protein:

47g
These nutritional values are an estimate only and provided as a courtesy. Different brands of ingredients may result in different calorie counts, and the software does not account for these differences. Consult with your dietician or doctor for precise nutritional values.