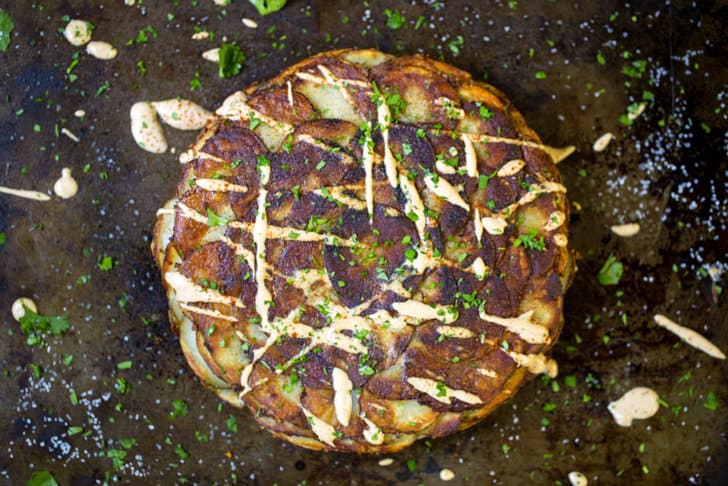 Texans love their hash browns — all day, always.
We eat hash browns served in tiny cast iron skillets at upscale steakhouses from Amarillo to Houston, or fried up in the kitchen for Saturday morning brunch and served alongside a passion fruit mimosa, and once I saw them fashioned into tiny birds nests for a country chic wedding by the lake.
All are wonderful way to dress up a humble, but delicious dish, but one of my favorites is the potato cake. And for this classic French technique, I took it upon myself to marry two distinct but equally celebrated cultures, classical French cooking and the American Southwest.
I will admit, it looks… ambitious. I chose to make it for my Food Network Star Tex-Vegas dinner because well, it's freakin gorgeous. Food Network fans will remember this dish brought home my first big win (and no I don't think it was because it was served next to a hand-cut wagyu ribeye drenched in diablo butter). Secretly, just between friends, I think the rustic potato cake tipped the scales in my favor.
Like hashbrowns, the potato cake is a pan of thinly sliced potato, fried crispy in butter. The advantage of the potato cake is that embedded in those paper thin slivers of russet coins, you'll find creamy knobs of manchego cheese tucked within the layers. When your fork cracks the crisp surface burrowing into the soft middle, you'll be hit with a savory creaminess, and the sharp parmesan-like fragrance.
Rich and decadent, the potato cake begs for a simple drizzle of crema, which just for good measure, I infuse with red chipotle liquor.
Yield:

8 slices
Rustic Potato Cake with Manchego and Chipotle Crema
Inactive Time:
10 minutes
Total Time:
1 hour
5 minutes
This delicious rustic potato cake is crispy on the outside like a potato chip, smooth and cheesy on the inside like au gratin potatoes. It may be devastatingly beautiful, but it's also relatively easy to make.
Ingredients
1 Cast Iron Skillet
6 Russet Potatoes- Do not use red potatoes or golden potatoes for this dish
2 Blue Potatoes (Optional for color)
1 Stick of Butter- we won't use it all but it's easier to handle as a stick
Manchego cheese- About ¾ a cup grated and reserved
Salt and Pepper
Fresh Chives
Chipotle Crema:
Chipotle Pepper Powder (found in the spice section of the supermarket), to taste
1/2 c. Crema or Sour Cream, thinned with a little milk
Lemon Juice, just a squeeze
Pinch of Salt
Instructions
Preheat the oven to 450 degrees.
To prepare the potatoes you need to own a razor-sharp knife to either slice them as thin as possible or use a mandolin for slicing. I like to cut long ways where the surface area of the potatoes is wider. Slice the blue potatoes thin as well.
On the stovetop, begin to heat up the cast iron pan. I grease the whole thing with butter including the sides and then I cut the stick of butter in half (1/4 c) and let it melt onto the pan.
Remove the pan from the heat and start placing slices of potato down, going around in a circle. I like to add in a blue potato here and there for color, but the majority of the potatoes need to be russet potato slices (which are high in starch), so the cake will form correctly.
After getting 1-2 layers down, salt and pepper the cake and sprinkle on the cheese. Add a couple knobs of butter about the size of a pea over the surface of the potatoes. Continue placing potatoes down in a circle for another 2 rotations. Salt and pepper lightly again.
Return the pan to the stove and begin to heat on medium heat for about 4-5 min. You will be able to hear the butter sizzling, and the potatoes that are laying flat on the skillet cooking and getting golden brown.
Without moving anything in the pan, use an oven mitt to place the entire thing on the second rack of the oven as far in the back as you can get it. Close the door. Cook 40 min.
Check the tenderness of the potatoes by inserting a knife to make sure they are soft, if they aren't, return to the oven for another 5-10 minutes.
When the potatoes are cooked, go around the edge of the "cake" with a knife to free it from the pan. Let cool for 10 minutes.
Place a cutting board on top of the cast iron skillet and flip the cake onto it. It should come out clean and easy.
Chipotle Crema: In a bowl whisk the ingredients together and allow it to sit until it becomes pink. Taste for seasoning. Chill.
Cut into slices like a pizza and serve with chipotle crema and minced fresh chives.
Nutrition Information:
Yield:
8
Serving Size:
1
Amount Per Serving:
Calories:

477
Total Fat:

24g
Saturated Fat:

16g
Trans Fat:

1g
Unsaturated Fat:

7g
Cholesterol:

69mg
Sodium:

358mg
Carbohydrates:

52g
Fiber:

5g
Sugar:

4g
Protein:

14g
These nutritional values are an estimate only and provided as a courtesy. Different brands of ingredients may result in different calorie counts, and the software does not account for these differences. Consult with your dietician or doctor for precise nutritional values.