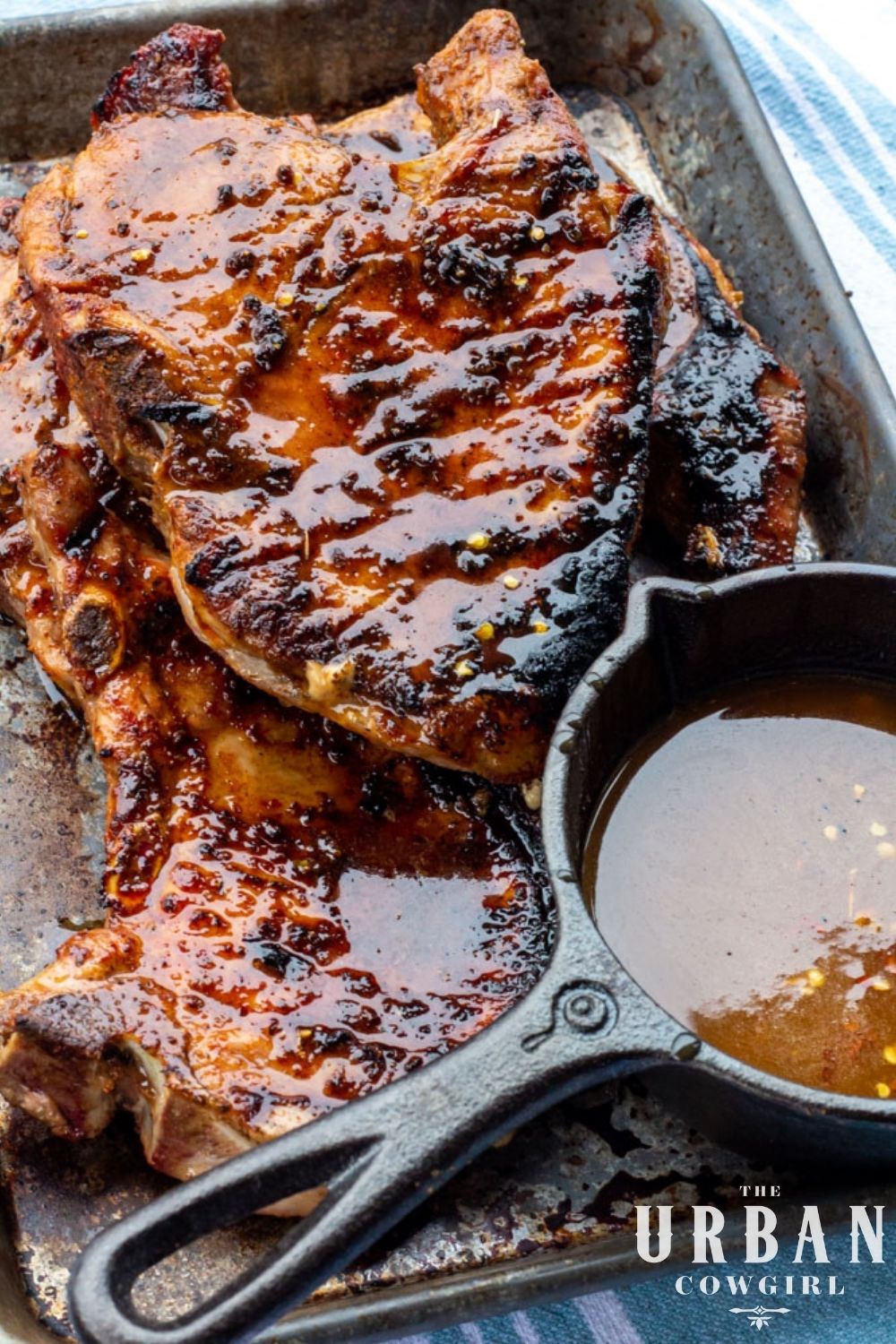 The secret to juicy, grilled pork chops is all about timing and grilling technique. Using this recipe you'll learn how to get a to-die-for sear loaded with flavor from a simple, pork chop dry rub, paired with a succulent hot honey sauce that naturally compliments and brings out the flavor in excellent pork chops.
The Secret to Juicy Grilled Pork Chops
For excellent flavor and juicy meat, you'll want to choose thick-cut pork chops when available. This ensures you'll get a nice crust on the outside while keeping the meat inside tender and juicy. You will want to choose pork chops that are at least 3/4 to 1 inch thick or more, avoiding thin pork chops which are best pan-roasted.
For added flavor, always chose bone-in pork chops which provide lots of meaty flavor to the final dish. All bone-in meats whether beef steak or pork chops derive flavor from the bone (which is why good stocks and broth are made from bones).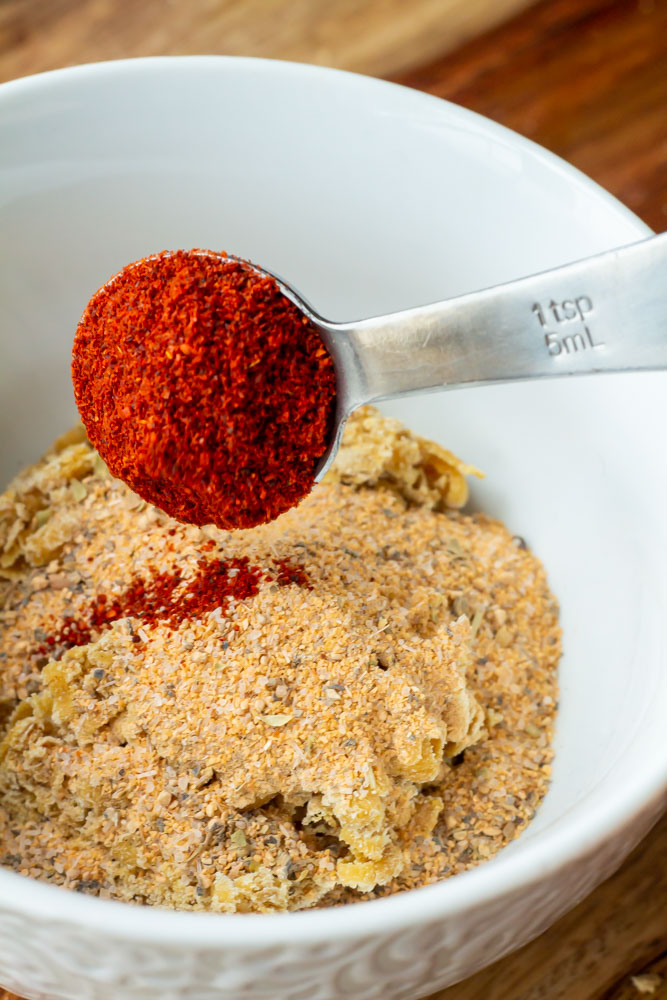 (Links are affiliate links to products we think are helpful and we may receive a small commission, at no cost to you, if purchased.)
Dry Rub for Grilled Pork Chops
Have you noticed how the best pork recipes always include brown sugar or honey? Think about it… honey ham, candied bacon, grandma's Easter ham with pineapple and cherries. The salty nature of pork balances well with a sweet glaze and grilled pork chops aren't any different. For this recipe, I've chosen a sweet and bold rub that you can whip up using ingredients you probably already have in the pantry.
In my pantry, we have a delicious style of brown sugar known as piloncillo, available in Texas and Mexican grocery stores. You can simply use brown sugar or you can try this wonderfully unique, unprocessed, brown sugar available here.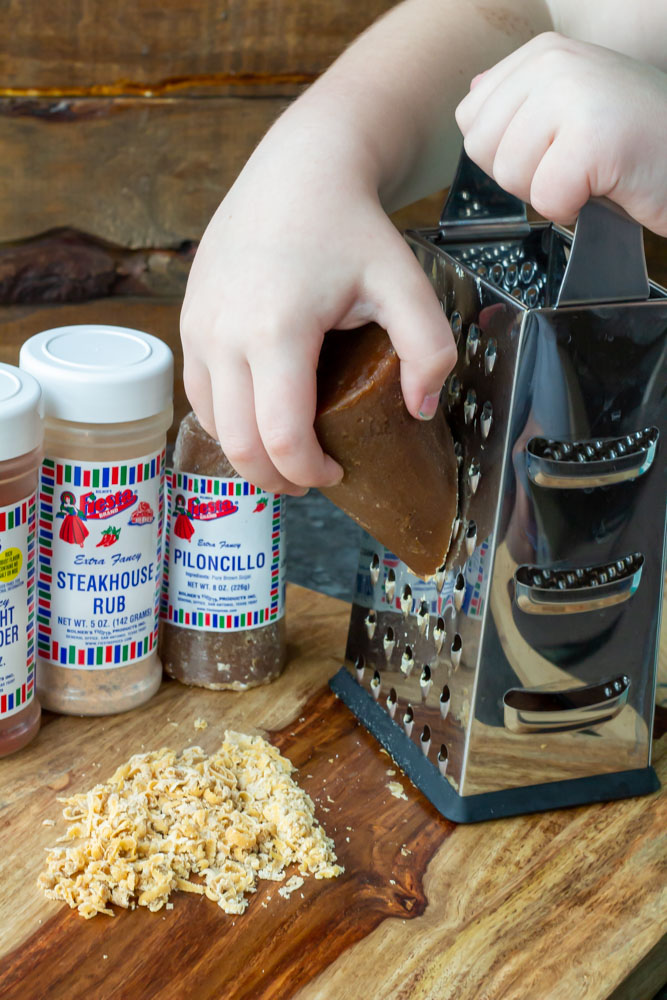 We will add it to a simple steak seasoning that I had in my pantry, or you can make your own with equal parts garlic powder, onion powder, kosher salt, and black pepper.
For a touch of the southwest, I'll add a dash of Texas chili powder. Coat the bone-in pork chops with a little oil and then apply the rub on generously.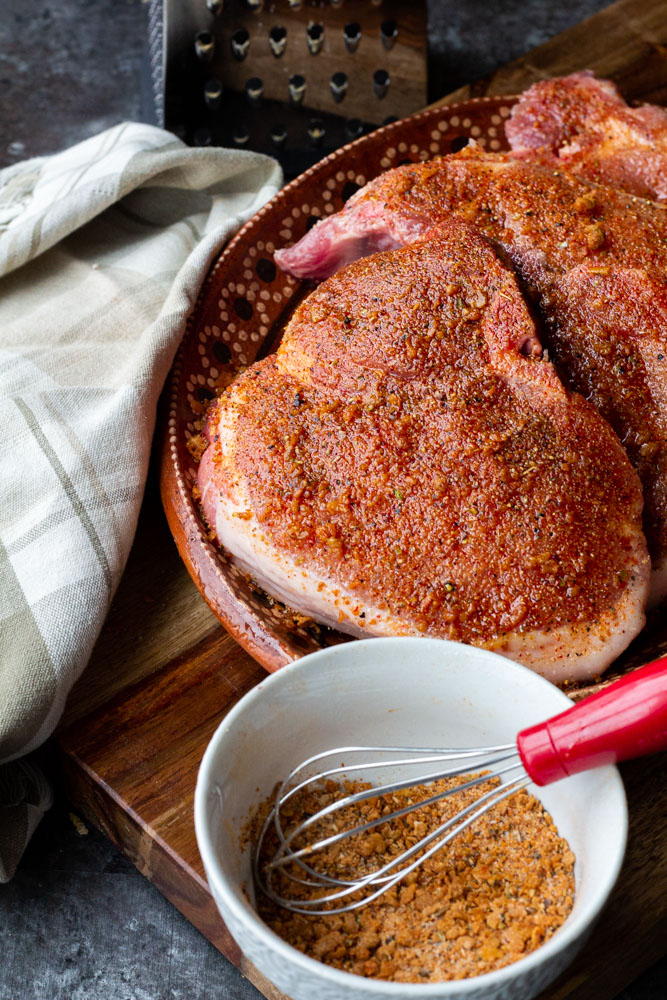 How To Grill Pork Chops
For the juiciest pork chops with a thick, drool-worthy crust we've got to get that grill up to maximum heat so we can get a true sear.
The searing of meat begins at 312-320 degrees… IN THE ABSENCE OF MOISTURE. (No water or marinade folks!) We've gone to great lengths to avoid using a wet marinade which would inhibit that sear, so the next step is high heat. That means charcoal as our fuel source.
Charcoal provides a smoky, chargrilled flavor, and gets incredibly hot, which will help us achieve a steakhouse-quality sear. Unless you have a very expensive gas grill (these start at like $5,000), I would recommend a simple weber charcoal grill for the best flavor! I use my little weber more than any of my other grills and smokers because a classic never goes out of style!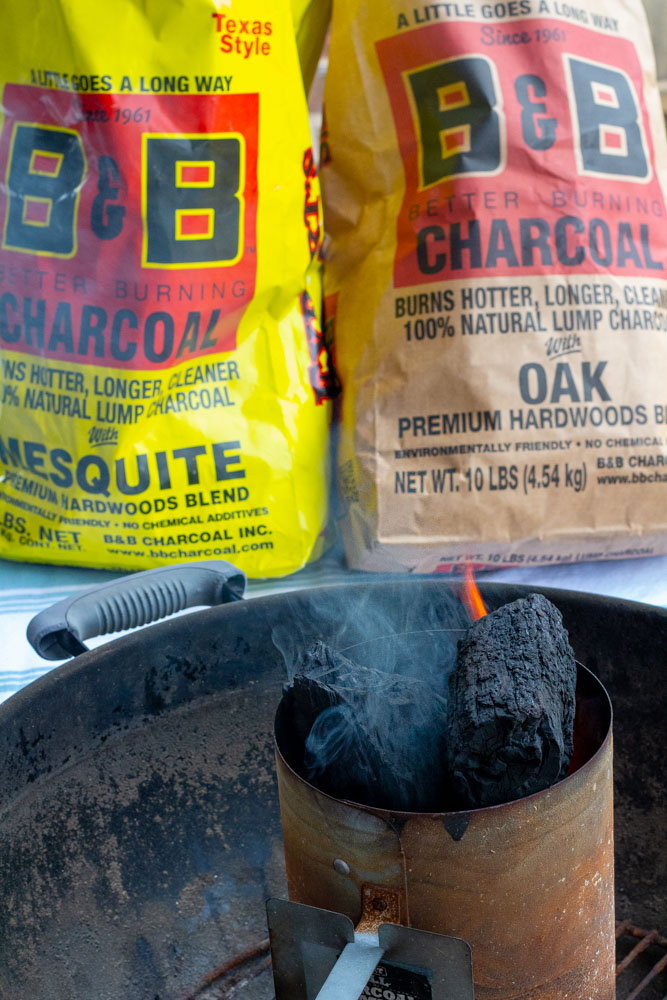 Outdoor cooking enthusiasts will use many types of charcoal, but for extra fun experiment with B&B charcoal which comes in a rainbow of wood fragrances! This charcoal is best used with a charcoal chimney that holds the charcoal together so that it lights and grays evenly.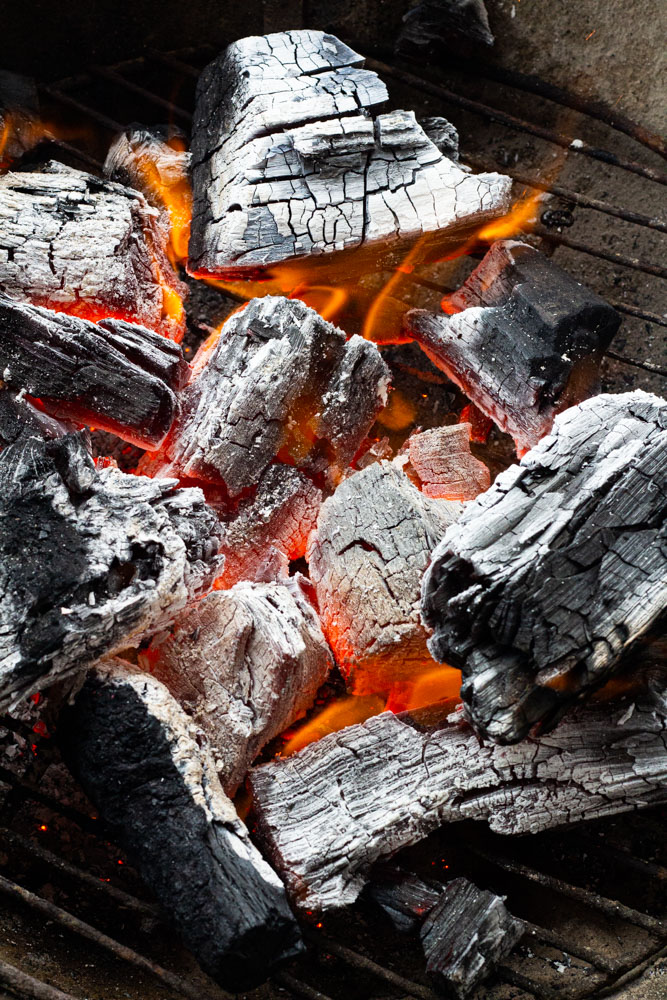 Hot Honey Pork Chop Glaze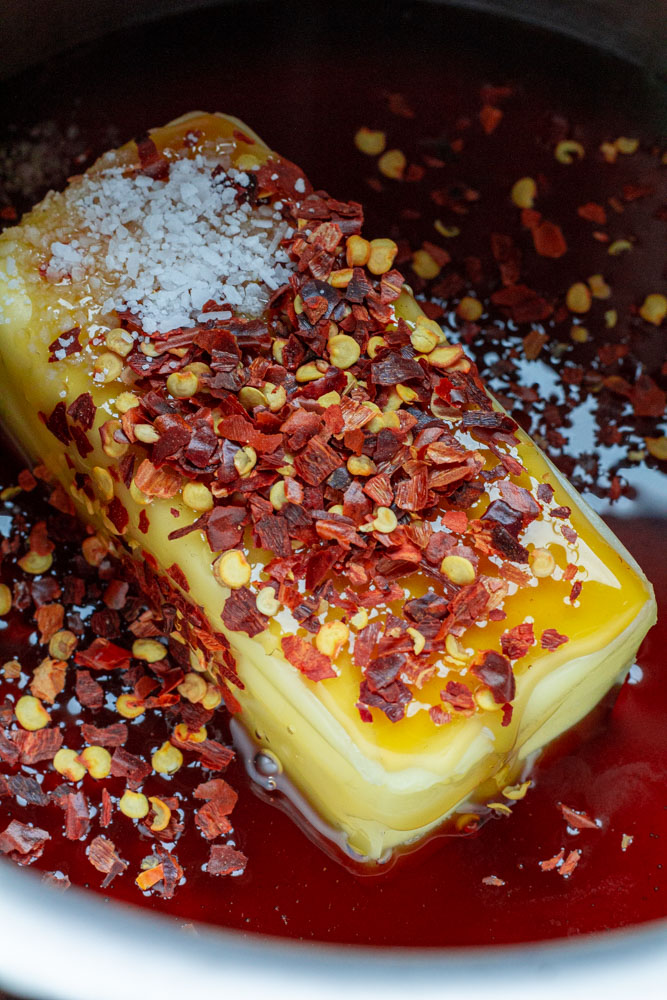 Helllllllo nurse! (That's what my husband said when he saw this melty, gorgeously sweet sauce melting on the stove.)
The recipe for the hot honey glaze can be made on top of the stove in a small saucepan, placed on the grill in a heat-safe vessel (like my Lodge cast iron saucepot), or even melted in the microwave (if you stir often and watch it closely).
This sauce recipe makes plenty for the grilled pork chops and if you have any leftover that you would like to save, place it in a Tupperware container and it should stay good for 1 week refrigerated. Remelt it in the microwave to bring it back to its glossy, saucy self.
Now it's time to check the charcoal and start grilling.
How To Grill Pork Chops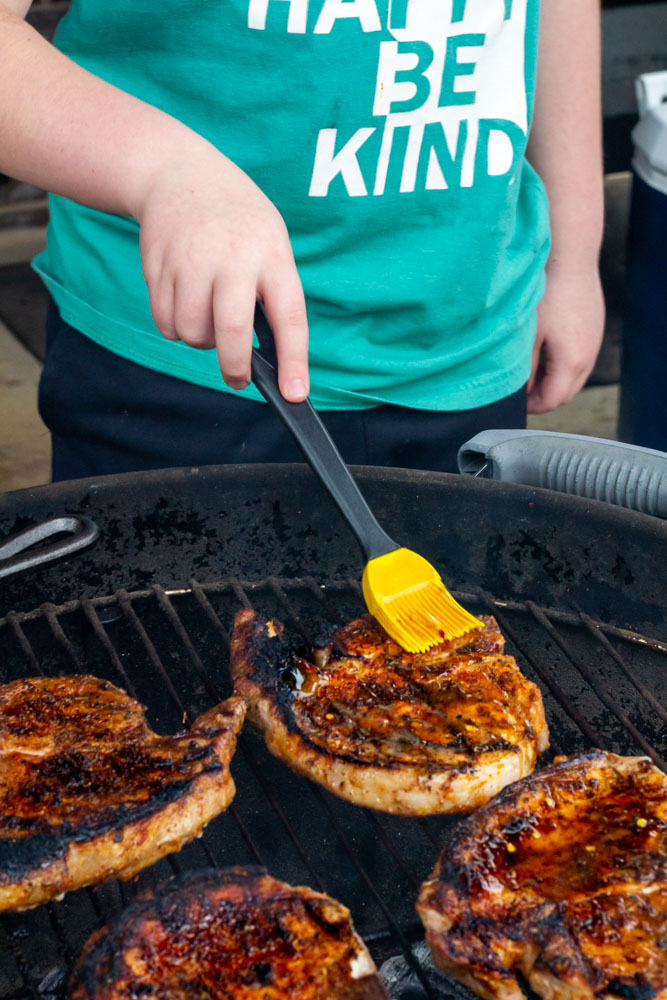 When you place your hand over the charcoal and can stand to leave it palm down for at least 3 seconds, the charcoal is ready to grill the pork chops. Place them down over the coals and close the lid of the grill. Begin by grilling 4-5 minutes. No peaking!
If you think you have a flare-up by all means open the grill to correct the problem, but if the coals are gray this shouldn't happen. After 4-5 minutes open the lid and check the results. You should have well-seared pork chop meat ready to flip and glaze. If not, you may need to adjust the amount of charcoal you use next time upping the amount for more heat or reducing the amount to cut down on heat (and/or making sure the charcoal is truly gray-white before cooking.)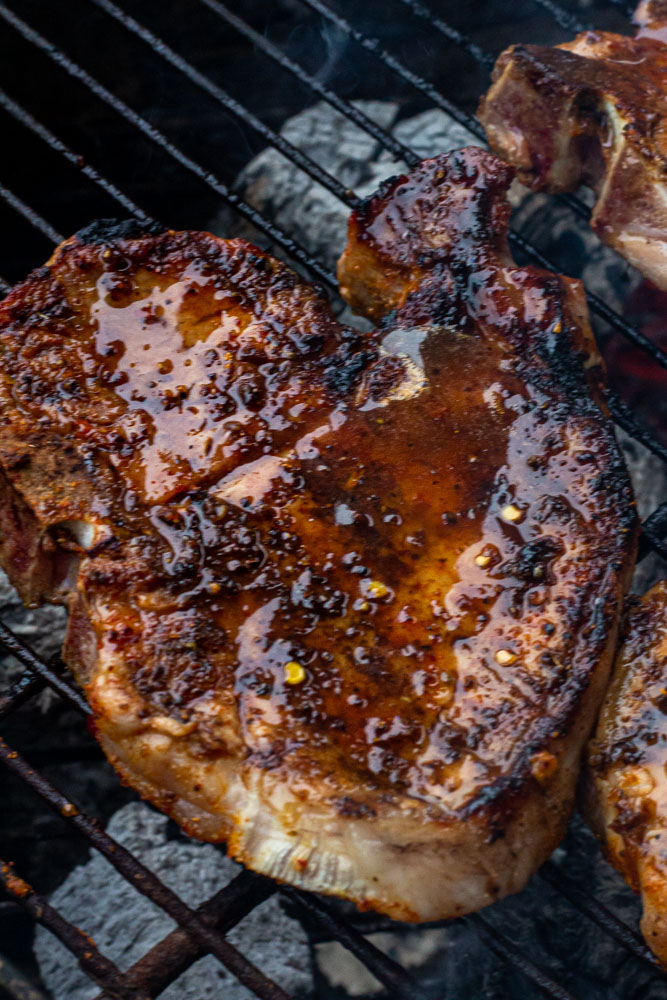 Flip the pork chop and glaze with the hot honey sauce (the seared side now facing up) and replace the lid of the grill. Repeat for the second side of the pork chops.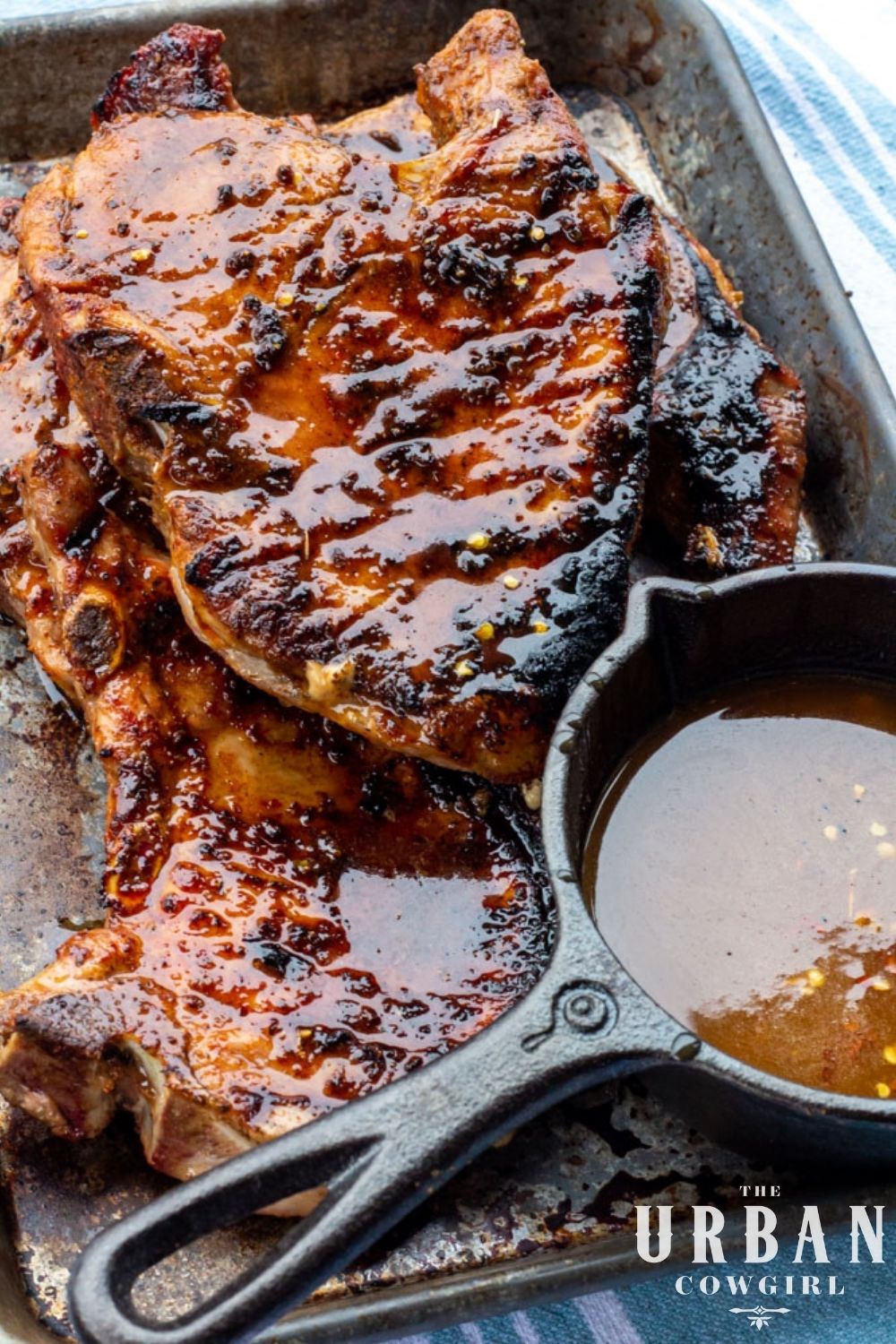 How Long To Cook Pork Chops On The Grill
Pork chops should be cooked 4-5 minutes on each side (lid-on) over properly prepared charcoal. To grill them just right, I use my meat thermometer to make sure each pork chop has been cooked to at least 145 degrees.
What Sides Are Served With Grilled Pork Chops?
I recommend these favorite recipes…
Yield:

4
Juicy Grilled Pork Chops with Hot Honey
Additional Time:
5 minutes
Make the juiciest pork chops ever with this straightforward recipe for grilled, bone-in, thick and juicy pork chops with hot honey butter.
Ingredients
4 thick cut, bone in pork chops
1 T. oil to coat the pork chops
Steak Seasoning Blend (I used Fiesta steak seasoning) see note*
1/4 c. pioncillo or brown sugar
1 t. chili powder
FOR HONEY:
4 oz. butter
1 c. honey
1 T. red pepper flakes (optional)
1/4 t. cayenne pepper (optional)
1 t. kosher salt
1 whole clove
Charcoal for your grill
Instructions
For the pork chops, dry them of any moisture with a paper towel and coat them with a little oil to help the seasoning stick.
Make the pork chop rub by combining in a bowl 2 T steak seasoning (I used Fiesta brand), 1/4 c. grated pioncillo sugar or brown sugar, and 1 t. chili powder.
Prepare the charcoal grill. Start the charcoal, I used 5-6 large chunks of mesquite charcoal made by barbecue and grilling favorite, BBCharcoal. You can use any blend of charcoal you like, just use plenty of it so you can get a good sear.
When the charcoal is beginning to gray over and you can hold the palm of your hand over the coals for at least 3 seconds without pulling it away, the charcoal is ready to begin grilling. Make sure to clean your grill with a grill brush for best flavor.
I place the ingredients for the hot honey butter in a cast iron pot right on my grill to melt and marry the flavors together. This can also be done over medium heat in a small sauce pan and the sauce can be brought out when you're ready to glaze the pork chops.
Place the pork chops on the grill grate. Cover with the grill lid. Cook 4 min, flip, coat with honey sauce using a grill brush. Cover with the grill lid, cook an additional 4-5 minutes, or until a temperature probe registers 145 degrees.
Use extra glaze to coat the pork chops if desired. Remove to a plate and let them rest 10 minutes before serving.
Notes
Steak Seasoning can be made from scratch. Just use a generous sprinkling of onion powder, garlic powder, kosher salt, and black pepper if steak seasoning is not available.
Nutrition Information:
Yield:
4
Serving Size:
1
Amount Per Serving:
Calories:

705
Total Fat:

36g
Saturated Fat:

18g
Trans Fat:

1g
Unsaturated Fat:

15g
Cholesterol:

127mg
Sodium:

687mg
Carbohydrates:

82g
Fiber:

1g
Sugar:

80g
Protein:

21g
This nutritional information is provided as a courtesy as an estimate only. Consult with a dietician for precise estimates. This website makes no claims that the nutritional values listed are accurate.