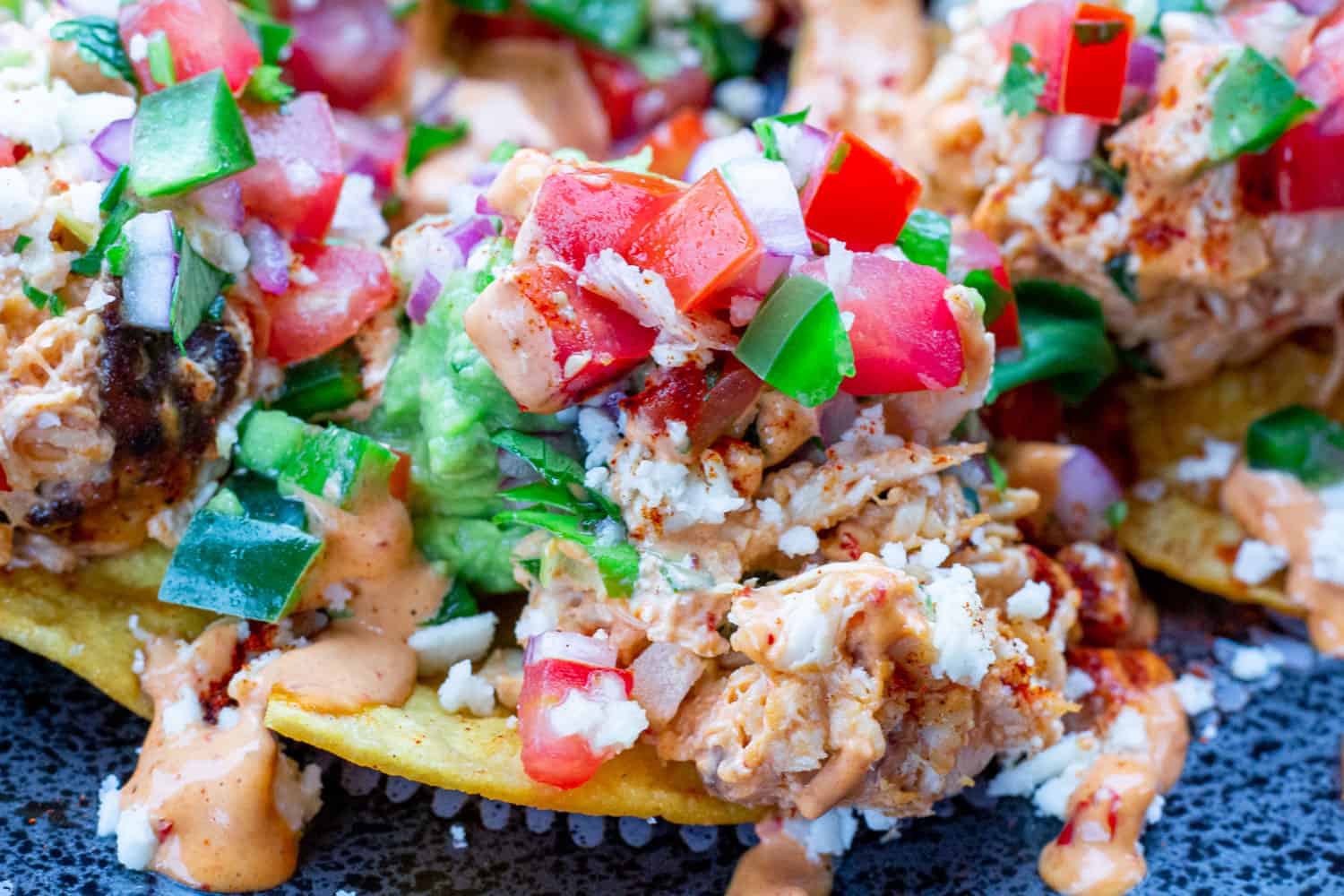 Smoked Chicken Nachos don't need a reason, do they?
You don't need me to tell you these homemade chicken nachos will be amazeballs for next weekend's snackathon, you already know chicken nachos gonna be bomb for the big game, you know all your friends are going to be sooo impressed with how dazzling they look for any occasion from happy hour to a hurricane, so let's just get right to how I made them. Shall we?!
It all starts with a smoked chicken, which I smoke myself, but you could also pick up half a barbecue chicken at your favorite barbecue joint. (You can also use a grocery store rotisserie chicken, which doesn't have a smoky flavor, but is tender enough for this recipe.)
(Links are affiliate links to products we think are helpful and we may receive a small commission, at no cost to you, if purchased.)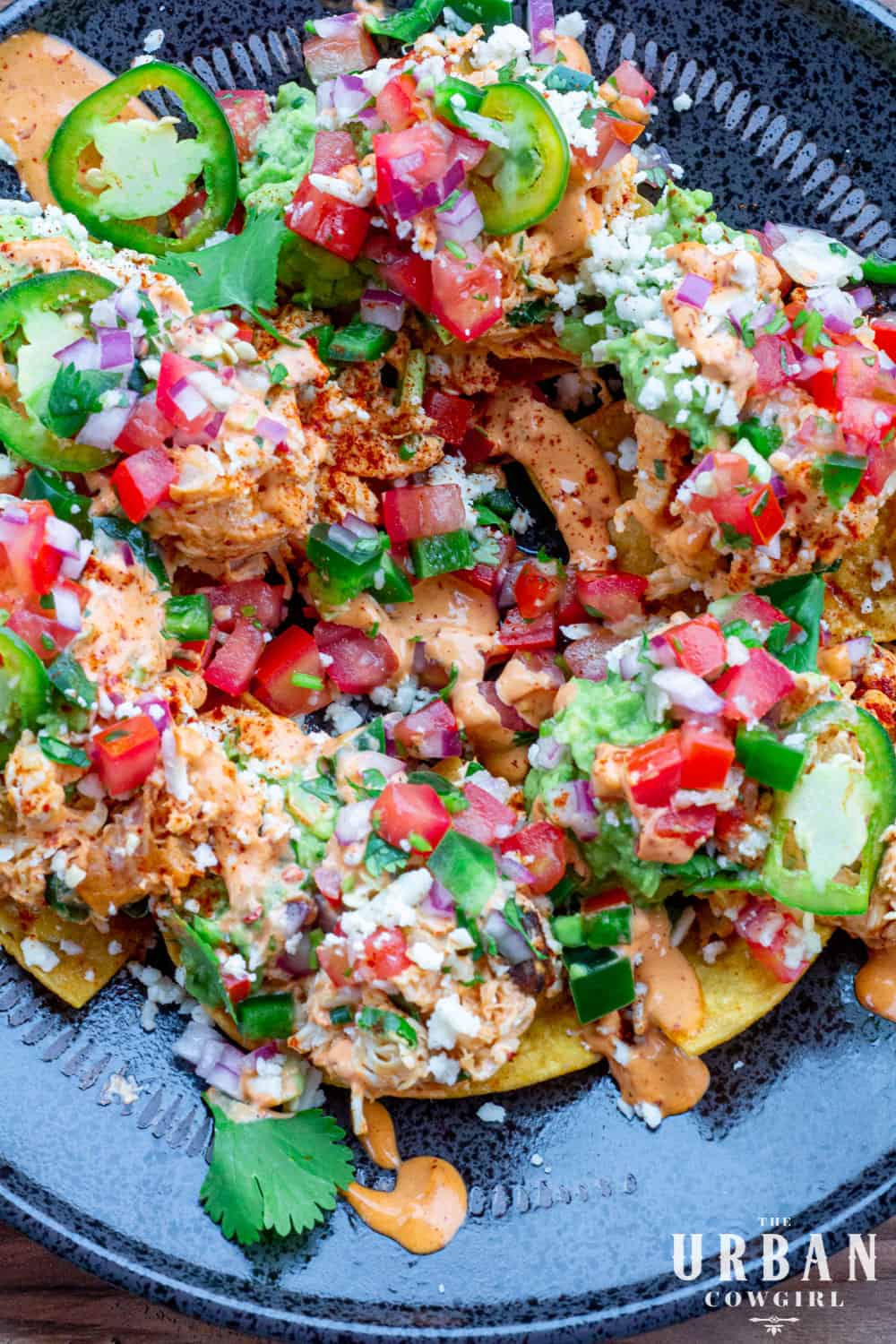 What Toppings are Served atop these Smoked Chicken Nachos?
The smoked chicken is bathed in a special chipotle mayonnaise that I fell in love with in the Yucatan. I go to Mexico 3 times a year to study cuisine and they serve this chipotle mayonnaise with chips, atop ahi tuna tostadas, on tortas (mexican sandwiches), etc… This stuff is delicious.
They serve it with many different dishes and we have the same ingredients to prepare it available here in Texas. (It's all about this specific McCormick mayonnaise with lime!) If you can find it, you really need to hunt it down because it has a signature flavor, unlike American mayonnaise, that's both savory and tangy. I found McCormick's Mayonnaise at the Mexican grocery store, but regular mayonnaise can be substituted. I found it here on Amazon fresh delivery.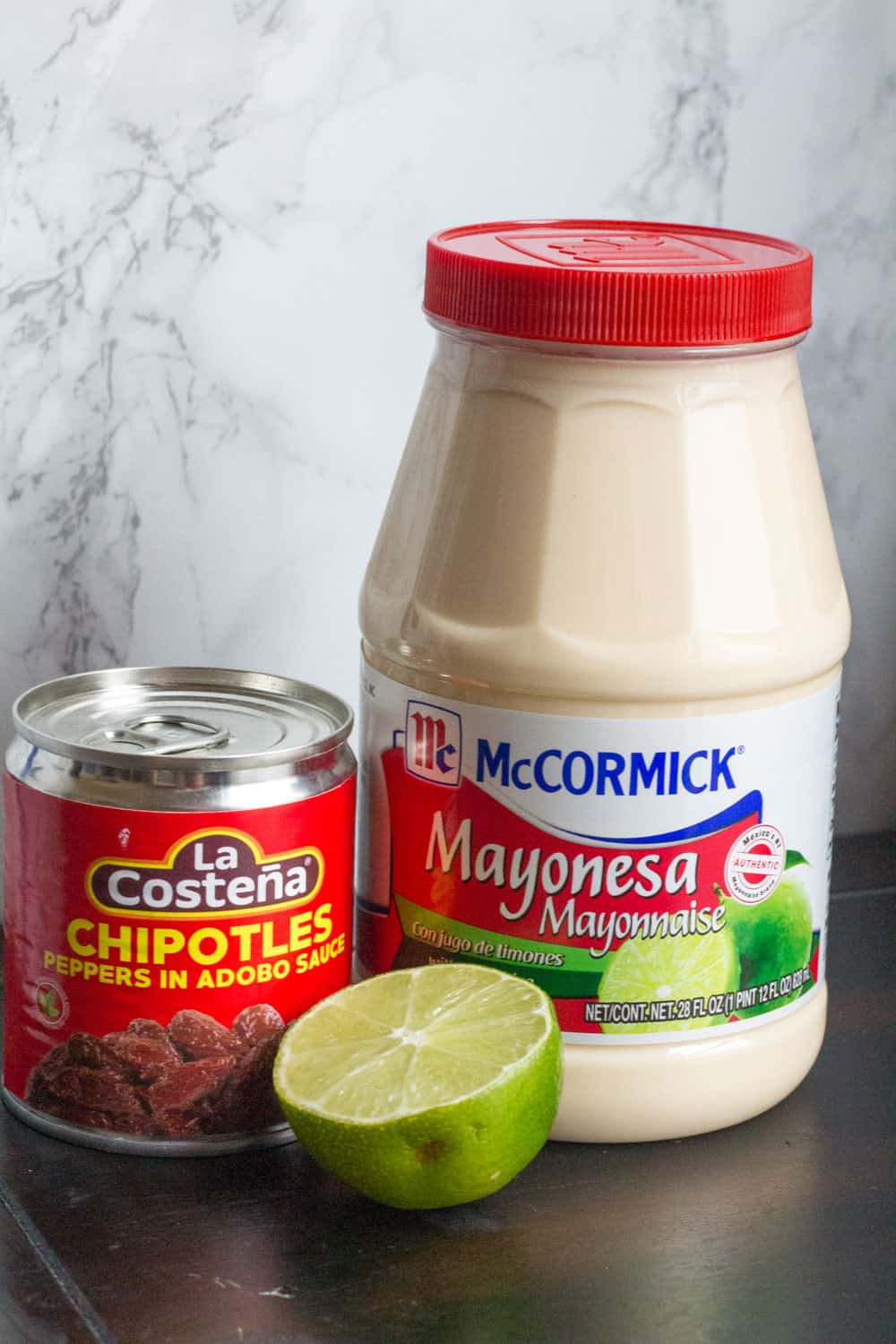 Add the ingredients to my BlendTec Blender and blendy blendy…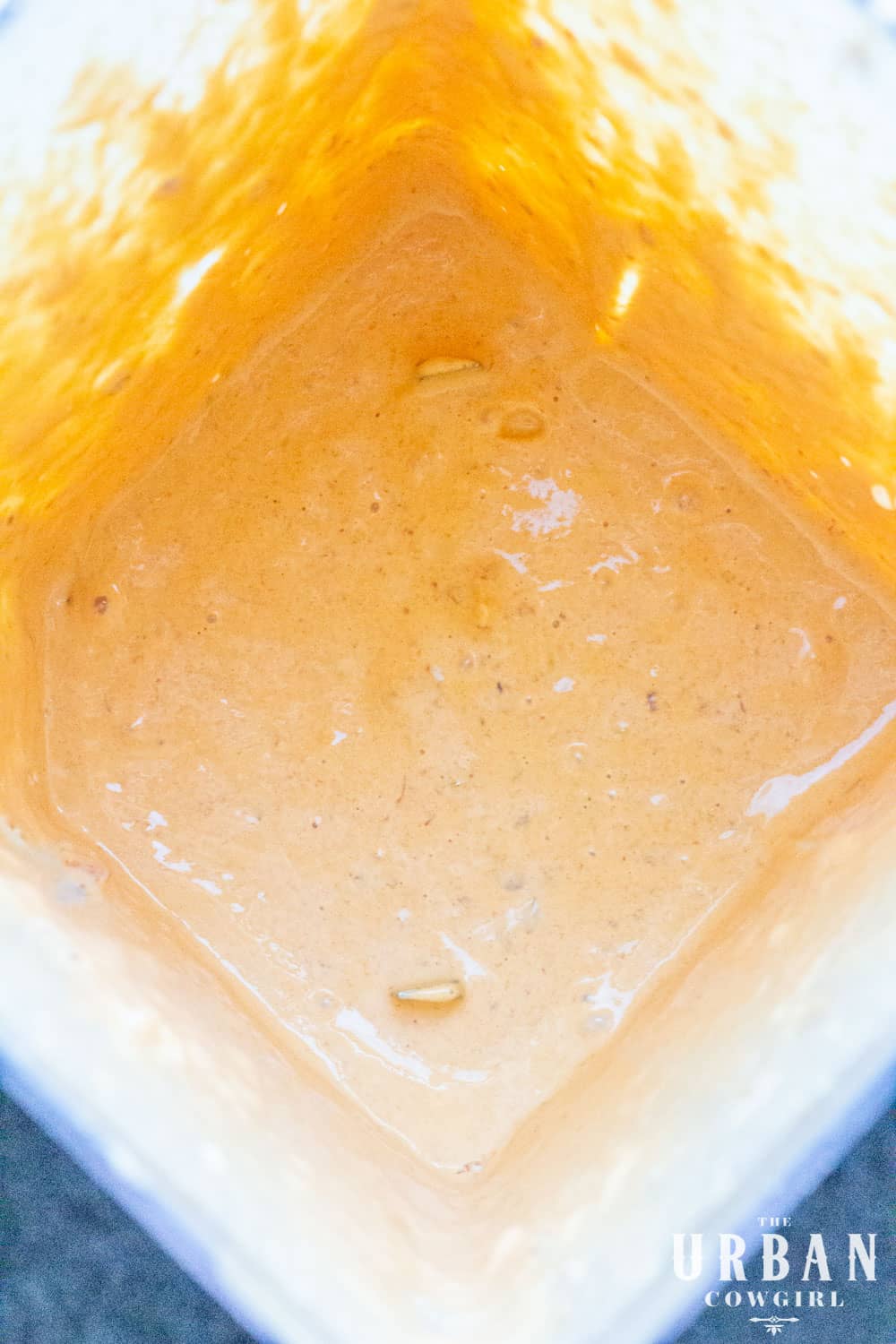 I pour this chipotle mayo straight from the blender into a squeezy bottle because it's good on everything including sammiches. 🙂
It's added into the shredded chicken with a little onion and spices for the base that goes on the chips. Speaking of chips! I made my own using corn tortillas which I cut into triangles and fried until crisp. If that's too much work for you, buy some chips that aren't crazy delicate and use them instead. Here is a link to my De'Longhi Countertop Fryer which has changed my whole life!!!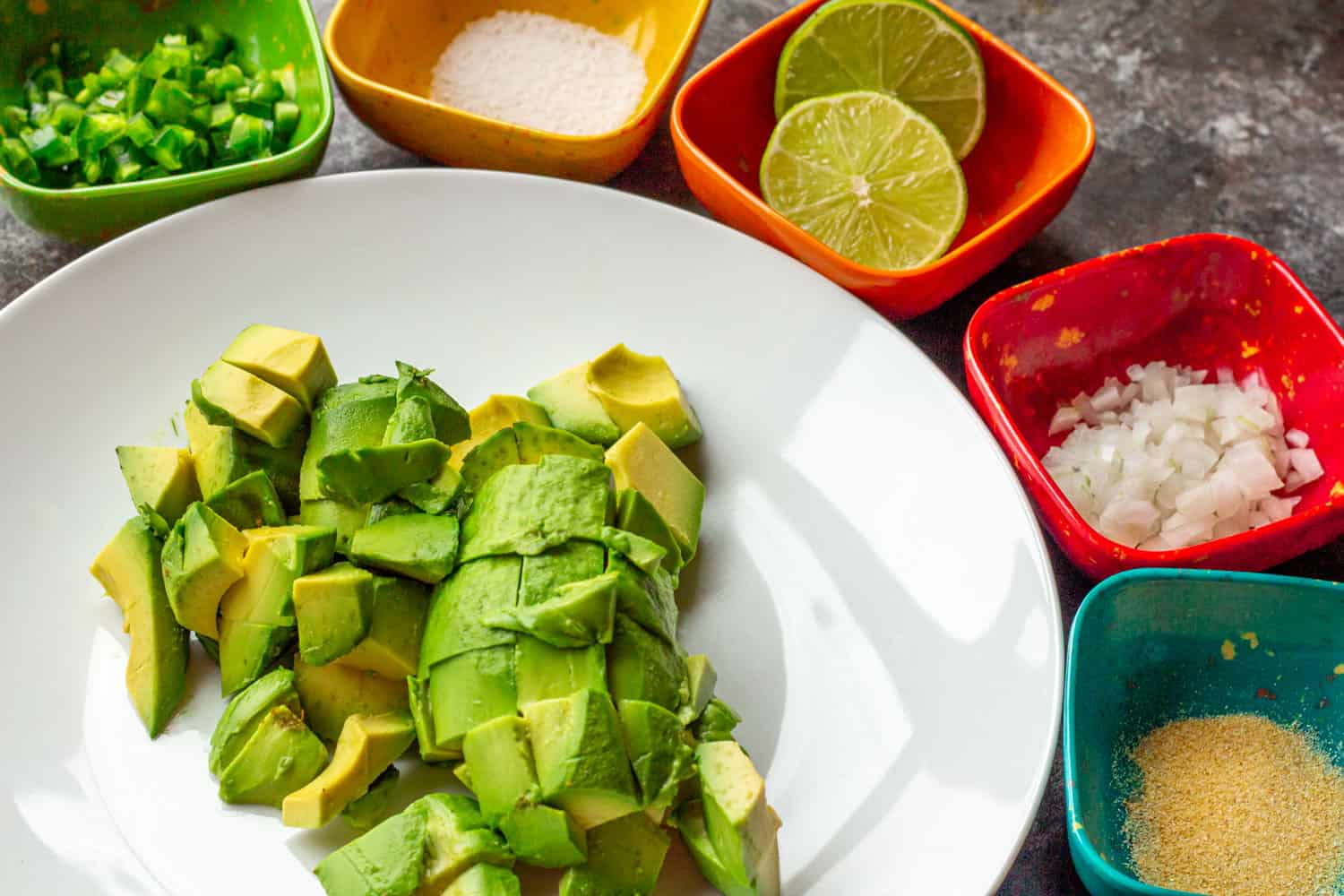 Making the Guacamole for Chicken Nachos
My guacamole has got all the goodies like onion, garlic, jalapeno, lime, and I leave it a little chunky for great texture.
I learned to keep it simple while working as the touring college chef for Avocados From Mexico and they have some great ideas about the various ways to make guacamole. This one is their go-to recipe, which I taught, and it has become my go-to recipe as well.
Making the Pico De Gallo for the Smoked Chicken Nachos Recipe
Next up is my favorite pico de gallo, which I sprinkle on the smoked chicken nachos last before a quick dusting of cheese. It looks like THIS. Muy delicioso.
You'll notice in this pico de gallo recipe I use red onion, which stands up better to the bold flavors in this tex-mex recipe like smoked chicken, and chipotle mayonnaise.
How to Build the Chicken Nachos On the Plate
Once you have all of the ingredients prepared, I lay good sturdy chips in a circle around my plate.
I use a meatball scoop to scoop up the chicken and place a bite on each chip. I top with a little bite of guacamole on each nacho, sprinkle with fresh pico de gallo, and add a final dusting of queso fresco or cotija cheese. You might want a little drizzle of additional chipotle mayo if your feeling lush.
Now share with friends. Or don't! That's between you and the nachos. 😉 No judgement here.
Interested in other REALLY COOL nacho dishes and appetizers?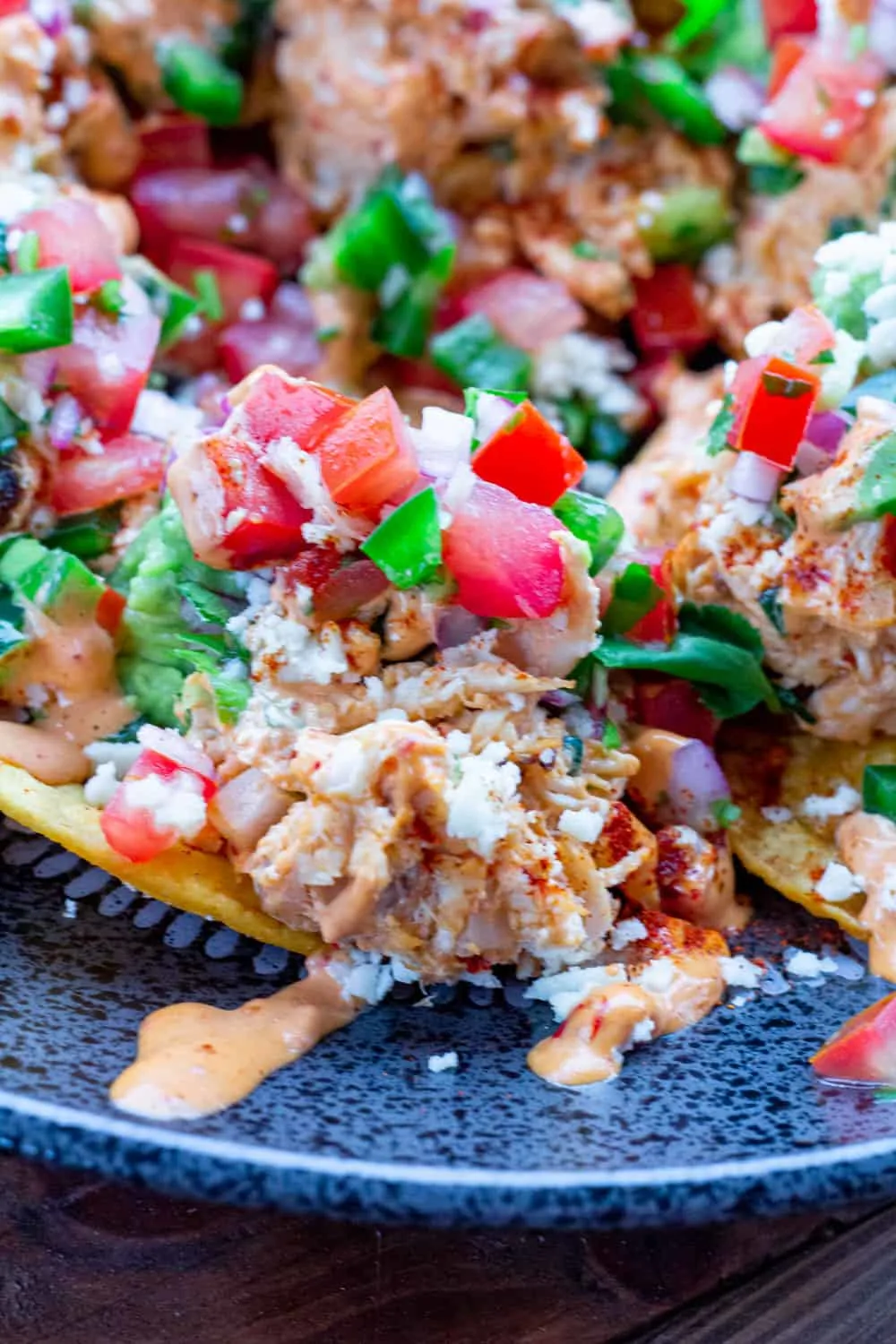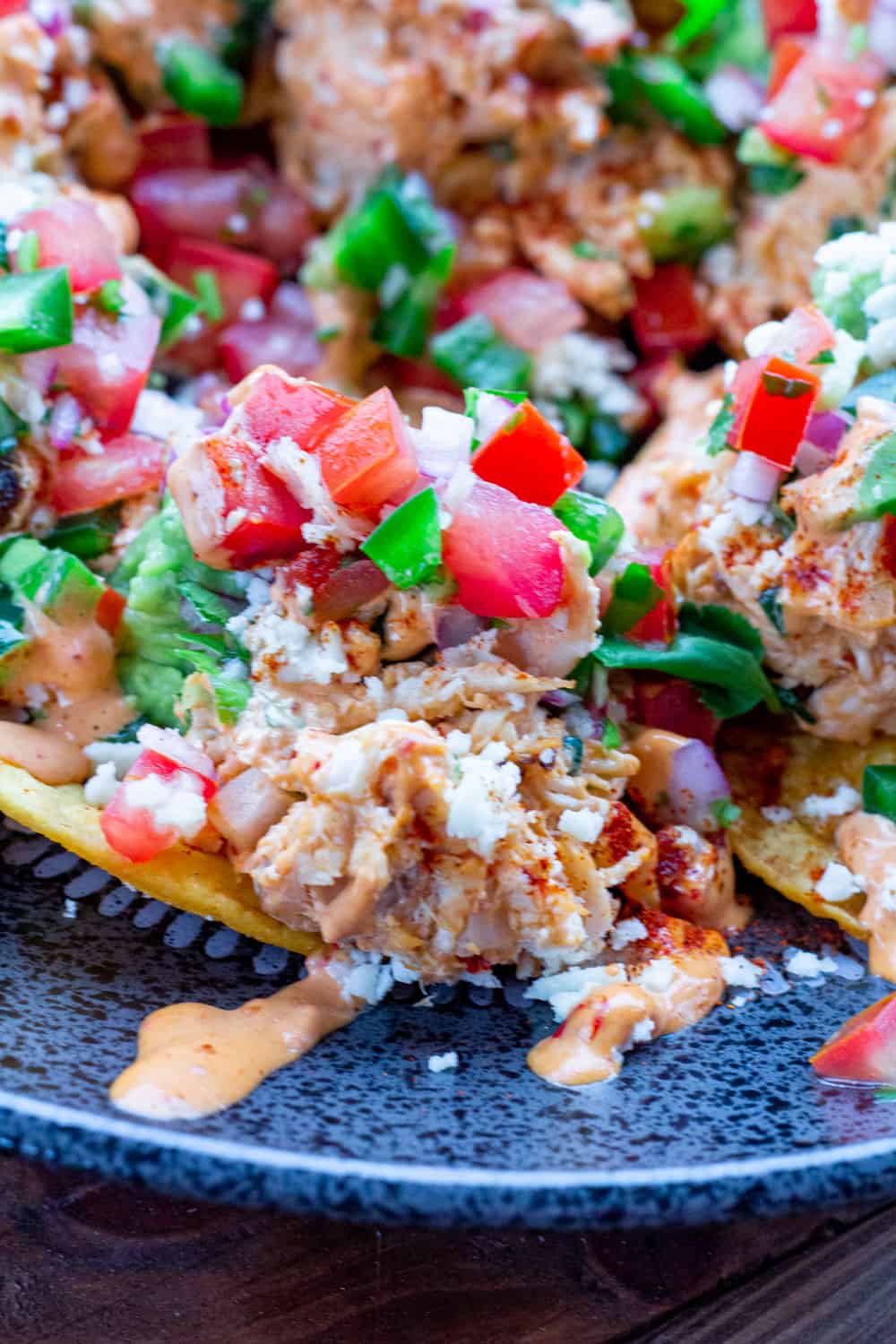 Yield:

36 layered chips
Smoked Chicken Nachos Recipe
These smoked chicken nachos make any occasion a party! The creamy chipotle mayonnaise is a favorite from our time in coastal Mexico and this recipe shows how to make a big batch.
Ingredients
SMOKED CHICKEN MIXTURE:
2 c. pulled smoked chicken (or you can use rotisserie chicken)
1/4 c. white onion, finely diced
1 green onion, finely diced
CHIPOTLE MAYO SAUCE:
1 c. McCormick's Mayonnaise (with lime)
2-3 Chipotles in Adobo Sauce (to taste)
1/2 a lime (juiced)
1 pinch of salt
2 T. water to thin if necessary
PICO DE GALLO:
2 roma tomatoes
1/4 c. red onion, finely diced
1 1/2 jalapeno, diced (seed if you want or leave the seeds for more spice)
2 garlic cloves, pressed through a garlic pressed or finely minced
1/4 c. diced fresh cilantro, to taste
3 limes, juiced
1 T. flavorless oil
1/2 t. kosher salt, or more to taste
GUACAMOLE:
2 avocados
1/2 jalapeno, small diced
1 1/2 T. diced onion
1 T. chopped fresh cilantro
1/4 t. granulated garlic powder
1/2 lime, juiced (to taste)
pinch of kosher salt
1 bag of chips or 9 corn tortillas cut into 4's and fried in hot oil.
Instructions
Chipotle Mayo: In a blender, add all of the ingredients for the chipotle mayonnaise. Add 2 chipotles to start and if desired you may add one more. Season to taste and store in squeezy bottles.

For the Chicken Mixture: Add the pulled chicken, and both diced onions to a bowl. Add enough chipotle mayo to make the mixture moist and look like a chicken salad type consistency. Reserve.
For the Pico De Gallo:
How to cut the tomatoes properly for pico de gallo-
Cut the tomatoes in half and then into quarters. Cut out any squishy seeds and discard. Cut each quarter of the tomato into long strips. Gather all of the strips together and cut perfect squares of tomato. Add to a large mixing bowl.
Chop the red onion finely and add it to the bowl of tomatoes. For the jalapeno, dice 1 1/2 jalapenos, reserving the remaining half for the guacamole. Dice well removing seeds if desired, add to the bowl. Add the minced or press garlic to the bowl. Chop the cilantro as finally as you like and add it to the bowl.
Juice the limes and pour that over the vegetables. Add the oil and salt and stir well. Season to taste and place in a refrigerator to marinate.
For the Guacamole:
Open both avocados, removing the seed, and scoop out the insides onto a plate. Add the garlic, lime juice, and a sprinkle of kosher salt on top, mash well with a fork, leaving some little chunks of avocado. Add in the last half of the jalapeno, diced finely, diced white onion, and chopped cilantro and fold into the avocado puree. Season to taste.
For our chips, we fried 9 corn tortillas (which we each cut into 4's) in my DeLonghi Fryer for a total of 36 chips. Salt well while still hot.
To Plate:
Place the chips down on a plate and top with the smoked chipotle chicken mixture. Top with a generous spoonful of guacamole, sprinkle with fresh pico de gallo, and garnish with jalapeno or additional sauce. Enjoy!
Nutrition Information:
Yield:
6
Serving Size:
1
Amount Per Serving:
Calories:

688
Total Fat:

54g
Saturated Fat:

9g
Trans Fat:

0g
Unsaturated Fat:

43g
Cholesterol:

72mg
Sodium:

558mg
Carbohydrates:

35g
Fiber:

9g
Sugar:

4g
Protein:

20g
This nutritional information is provided as a courtesy as an estimate only. Consult with a dietician for precise estimates. This website makes no claims that the nutritional values listed are accurate.