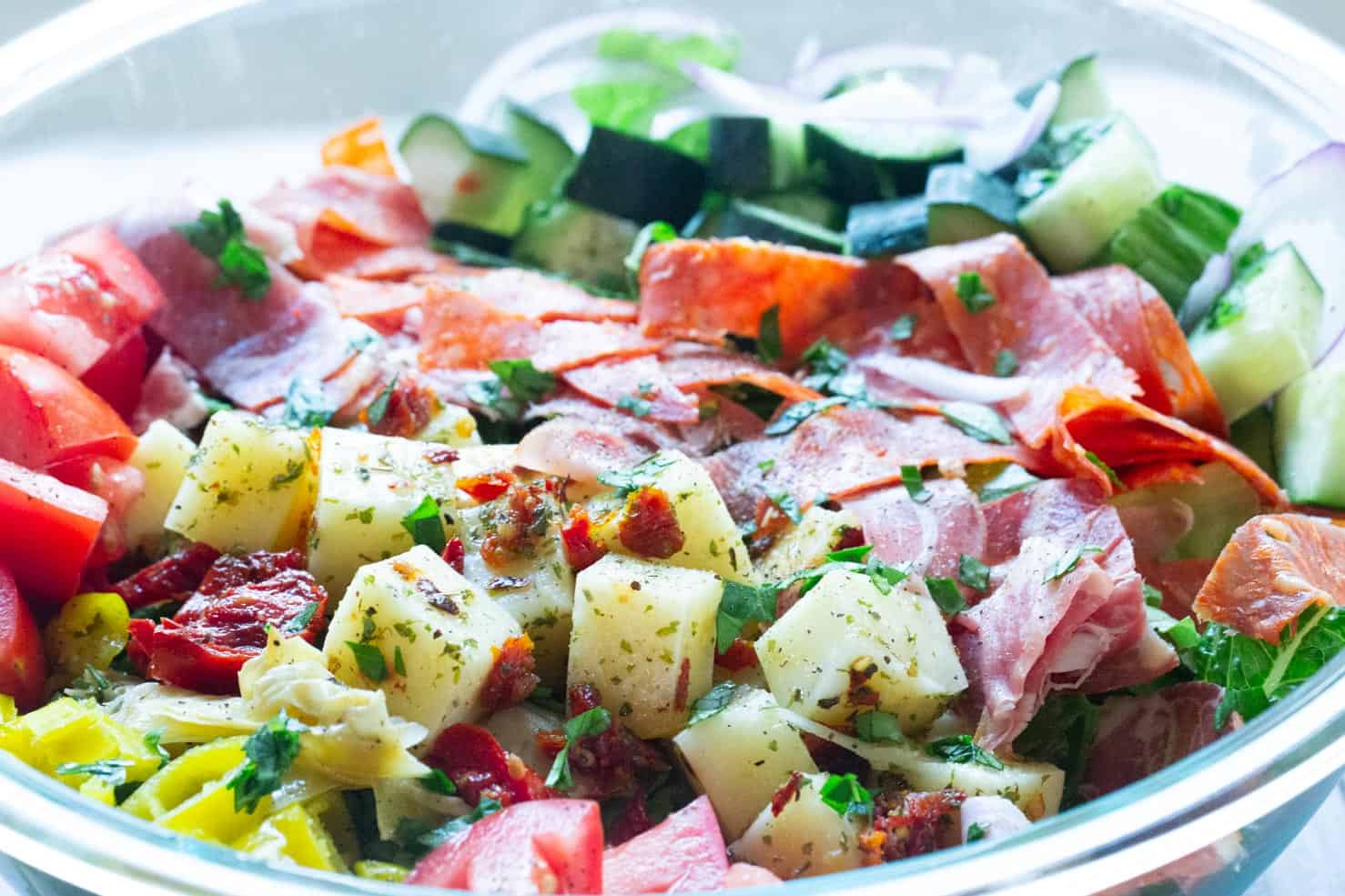 Antipasto salad is an easy side dish for parties, or a no-fuss, satisfying dinner for nights when you don't feel like turning on the stove– and this recipe is special given the addition of soft and zesty, marinated mozzarella!
This salad gets it's name, and inspiration, from the first the course of a formal Italian meal in which an "appetizer platter" of sorts is offered to guests. Similar to a "charcuterie board" this platter includes cheeses, pickled vegetables and peppers, cured meats, olives, and pretty much anything else you usually see at a grocery store olive bar… (and you are welcome to add or substitute any of your favorite olive bar items to this salad).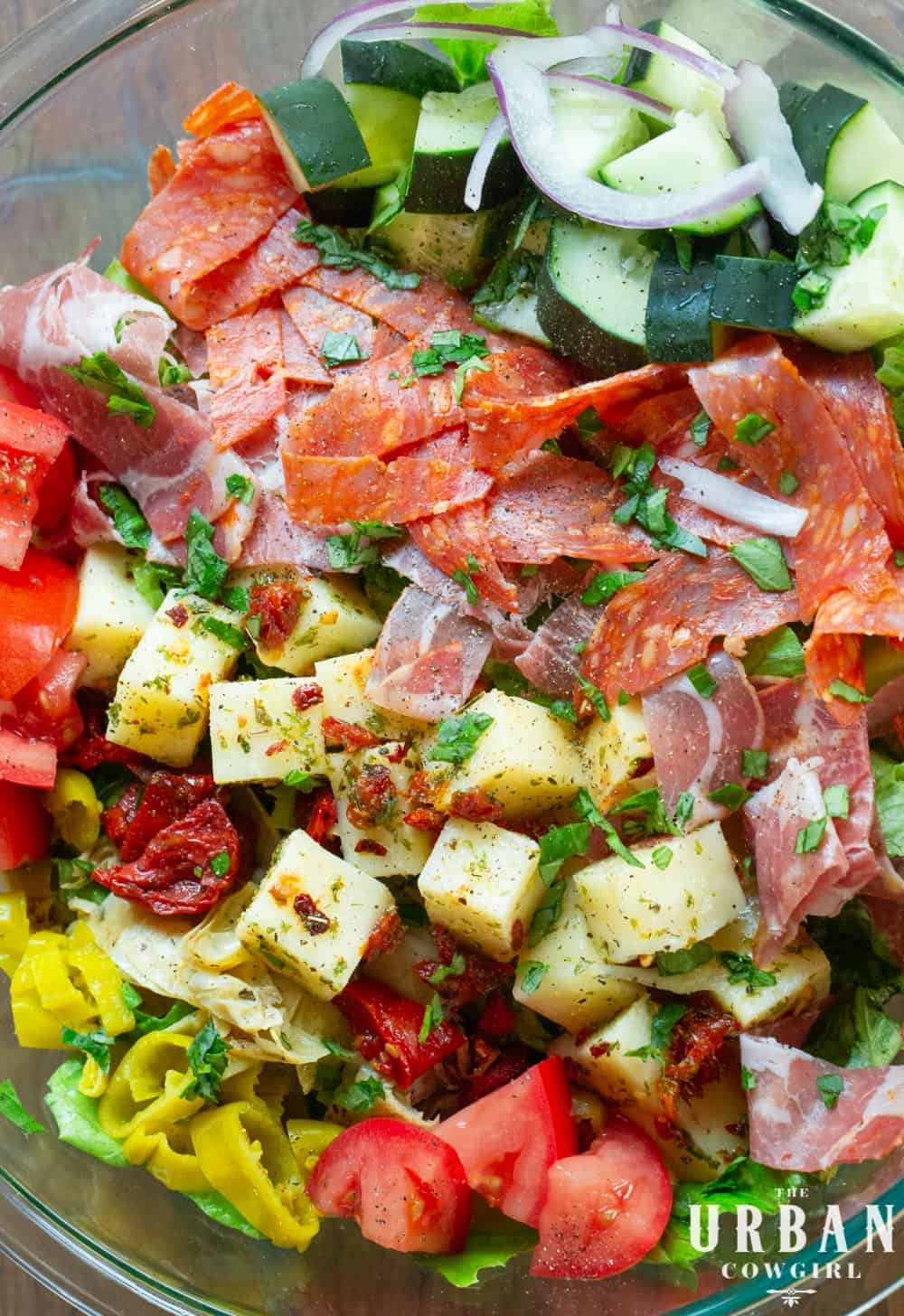 I added marinated mozzarella to my version because I make it each Christmas and my friends and family always rave about this recipe. It turns a simple (and cheap) package of mozzarella into a juicy little bite of olive oil, garlic, basil, and red pepper, similar to the flavors of tomato bruschetta.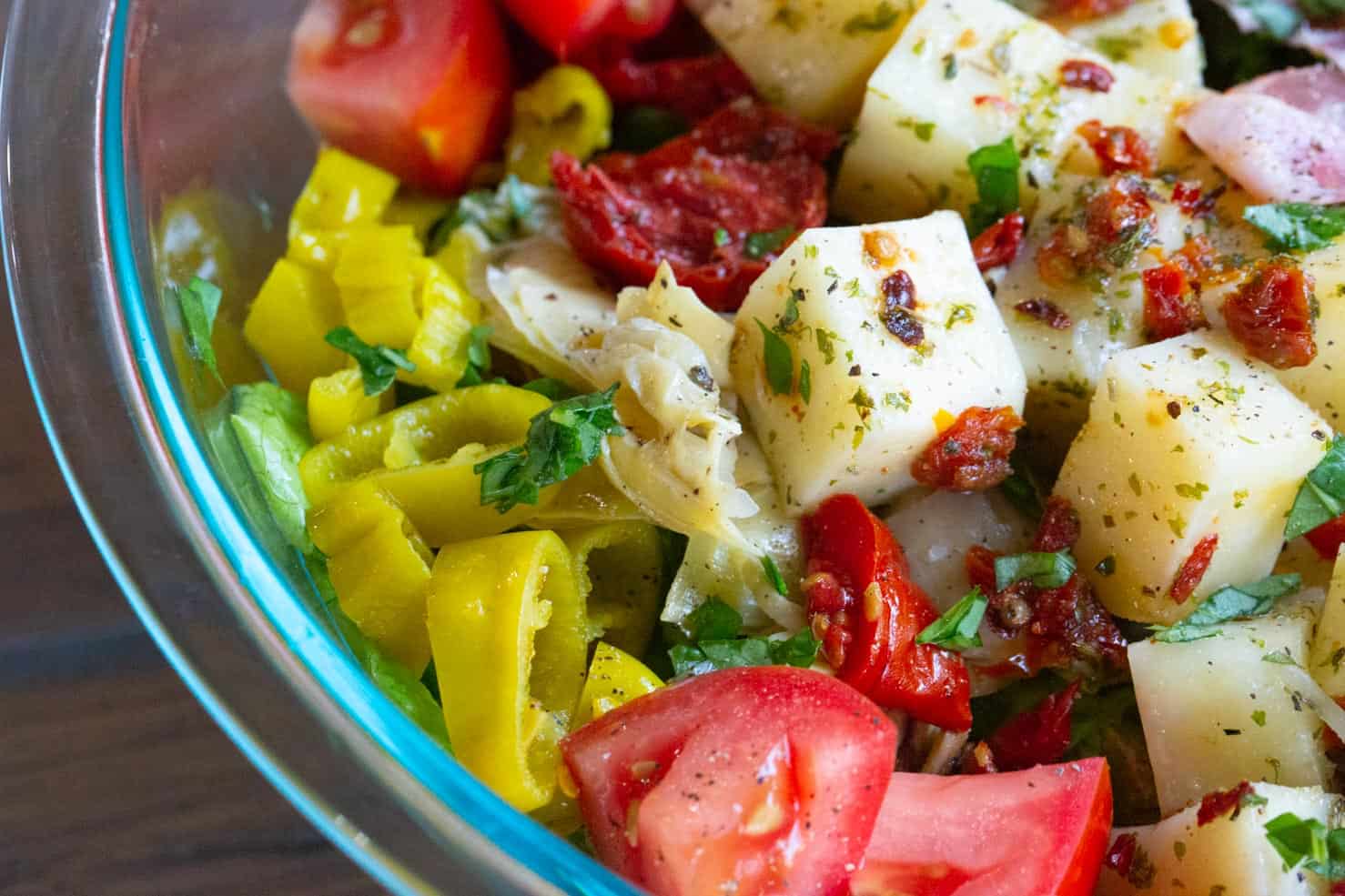 Marinated mozzarella naturally blends well with the Italian flavors in this salad, and the marinade enhances the buttery, yet mild flavor of mozzarella. Are you sold yet? Let's get down to the details!
Italian Antipasto Salad Recipe Ingredients
I think that this is the best antipasto salad in the world, but that's because it's fine-tuned to my tastes. The best part of this recipe is you can easily modify it to your tastes with just a few substitutions. For example, adding olives because you like them, or removing the candied tomatoes to make it acceptable for low carb and keto diets.
I use greek salad dressing because it's tangy and naturally low-carb but your favorite italian dressing, or balsamic vinegar and oil, would be lovely here as well.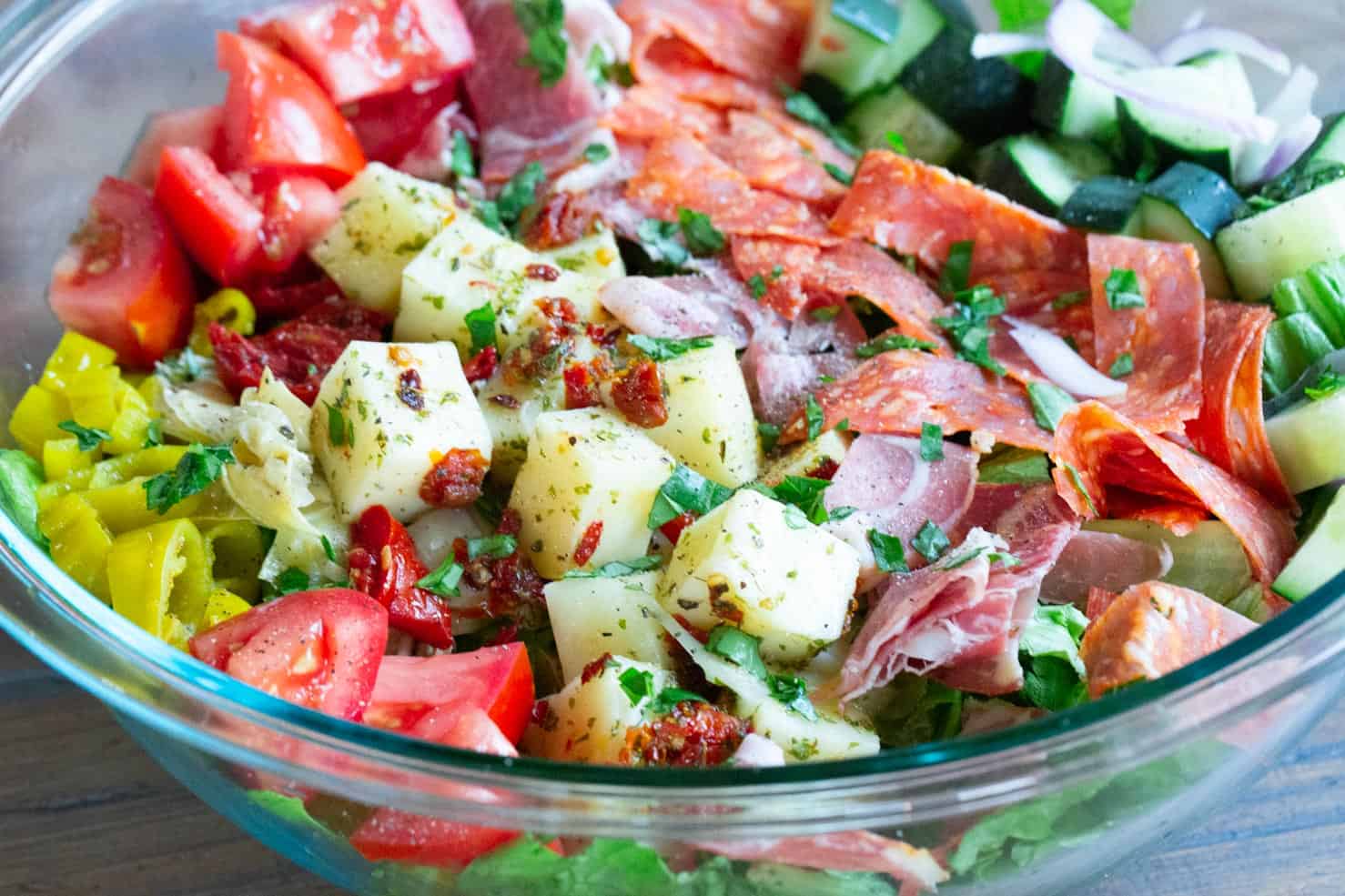 Can I use store-bought marinated mozzarella?
If you find yourself without the time to marinate the mozzarella, many grocery stores sell marinated mozzarella balls already prepared! They won't have as much flavor, but if you use this hack this salad can come together in 10 minutes or less! That alone makes it a great choice for last-minute potlucks and group dinners.
Interested in salad recipes? Here is a link to my favorite side dishes!
Yield:

Serves 6
Antipasto Salad with Marinated Mozzarella Recipe
Marinated mozzarella is bursting with rich, creamy flavor and brings contrast to this zesty antipasto salad featuring fresh veggies and all our favorites from the olive bar. Add in your favorites to make this salad your own!
Ingredients
8 oz. package mozzarella
2/3 c. extra virgin olive oil
1 garlic clove, minced or pressed through a garlic press
½ t. Italian seasoning
½ t. oregano
¼ t. salt
½ t. red pepper flakes (optional)
1 head romaine or green leaf lettuce, washed and torn into pieces
1 roma tomato
½ cucumber
1/3 small red onion
1/3 c. pickled pepperoncini peppers, deli-sliced
8 slices, large sliced pepperoni from the deli
10 slices thinly prosciutto, from the deli
½ c. (about 10) candied tomatoes, from the olive bar at the grocery store
½ c. marinated artichokes, from the olive bar at the grocery store
1 bottle, Greek salad dressing
4 fresh basil leaves, chopped
Instructions
For the marinated mozzarella:
On a cutting board, dice the mozzarella into bite-sized
squares. Place in a bowl and cover with the olive oi. Add all the rest of the
ingredients and toss well, chill covered in the refrigerator. Let sit as long
as possible, 4 hours or up to 3 days. This recipe can be prepared days before,
or for a dinner salad prepare the marinated mozzarella at lunchtime and chill.
For the salad:
Add the torn lettuce into a large salad bowl.
Dice the roma tomatoes down the middle and then into quarters.
Dice into bite-sized pieces. Repeat with the cucumber. (Peel the cucumber if desired
before dicing for an extra fancy touch.) Add diced vegetables into the bowl.
Slice the red onion into very thin slices and add to the bowl.
Remove the pepperoncini peppers from the jar and drain well. Add to the bowl.
On a cutting board, lay out the pepperoni and prosciutto. With a sharp knife slice into ribbons and add them to the bowl.
On the cutting board, drain the candied tomatoes and marinated artichokes from the olive bar. Chop them into bite-sized pieces and add to the bowl.
Using your fingers or a slotted spoon, remove the mozzarella from the oil marinade and drain excess oil off the cheese. (You want a little oil still on the mozzarella for moisture, just not the whole bowl.) Add all the mozzarella to the bowl.
Finish with freshly sliced basil leaves for garnish if desired.
Dress with your favorite Greek salad dressing, toss well before serving.