Isn't it a bummer when the Thanksgiving turkey never looks like the beautiful turkeys on the cover of a magazine? Today, I am going to reveal how that look is accomplished so you can share a turkey this gorgeous for your Thanksgiving dinner.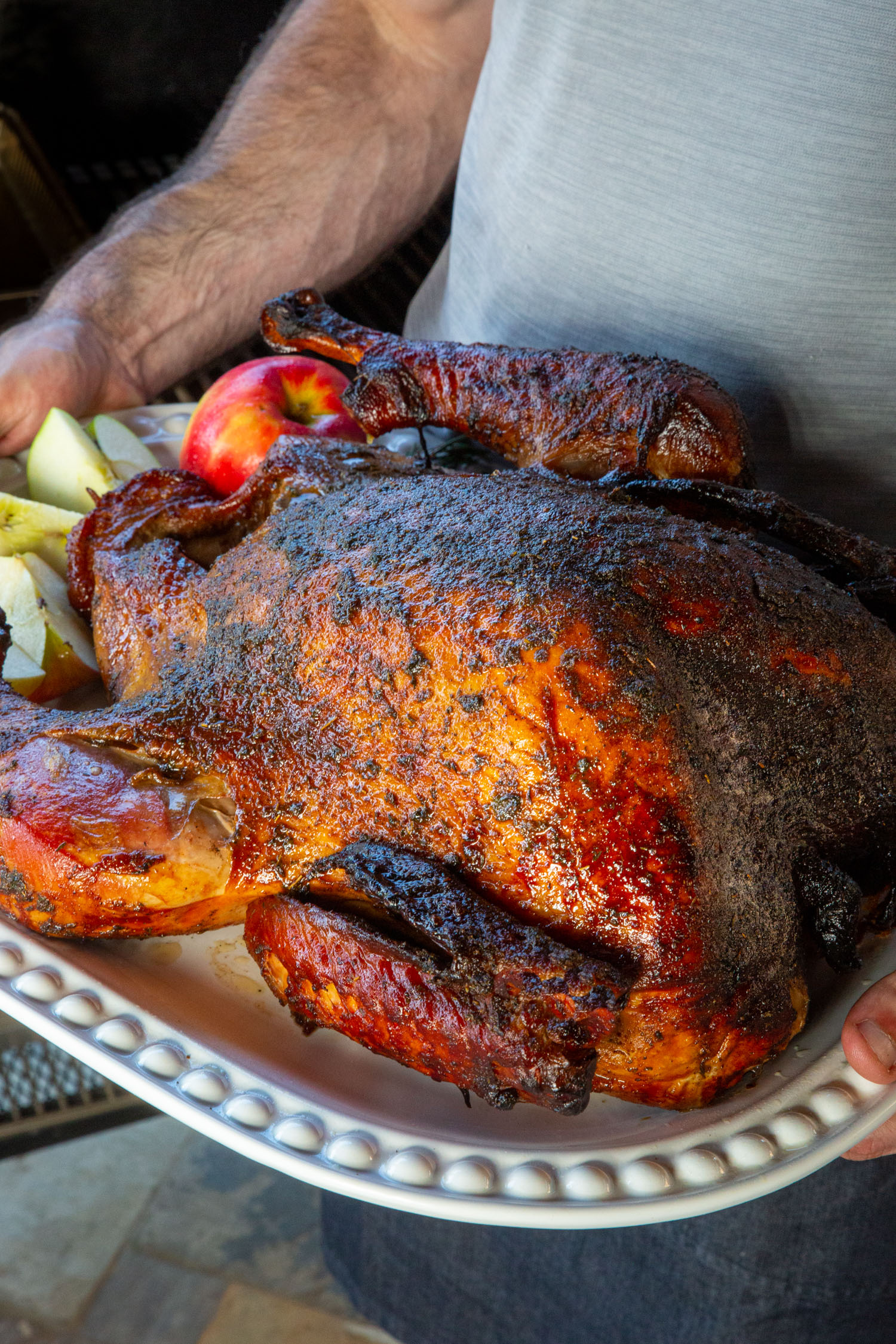 This "turkey paint" is a cooking hack that I created for my own catering company and always results in turkey skin with gorgeous golden brown color and herbaceous garlicky bite. I'm giving you my super-unique garlic herb compound butter recipe for a flavorful turkey that looks and tastes like a million bucks.
Below you'll also find instructions for roasting or smoking a turkey since we have readers that enjoy both cooking techniques.
With this cooking technique, I don't recommend basting the turkey very often (a process where people drizzle the pan juices back over their turkey with a bulb baster) because it can destroy the developing butter coating.
So, we always start this process by brining the turkey in one of two brines, which adds juiciness and salt to the meat.
Here you'll find my recipe for Apple Cider Turkey Brine and here is our Cajun Turkey Brine. The flavors in either brine are terrific with this seasoned compound butter.
(Links are affiliate links to products we think are helpful and we may receive a small commission, at no cost to you, if purchased.)
What's Different About This Compound Butter and Why Is It Called Turkey Paint?
I'll share the secret to my turkey compound butter right up front…I don't use butter, I use margarine.
You can substitute softened butter if you like, but you won't get the adhering power or the flavor with ordinary unsalted butter.
The problem with using butter is that under high heat it melts and separates into milk solids and clarified butter very quickly, taking the garlic and herb seasonings right to the bottom of your roasting pan.
Some cooks place the soft butter under the skin of the turkey thinking this will help hold the flavors against the meat of the turkey, but this doesn't greatly help either.
Butter immediately separates and melts, running through the seams in the skin and down into the bottom of your roasting pan.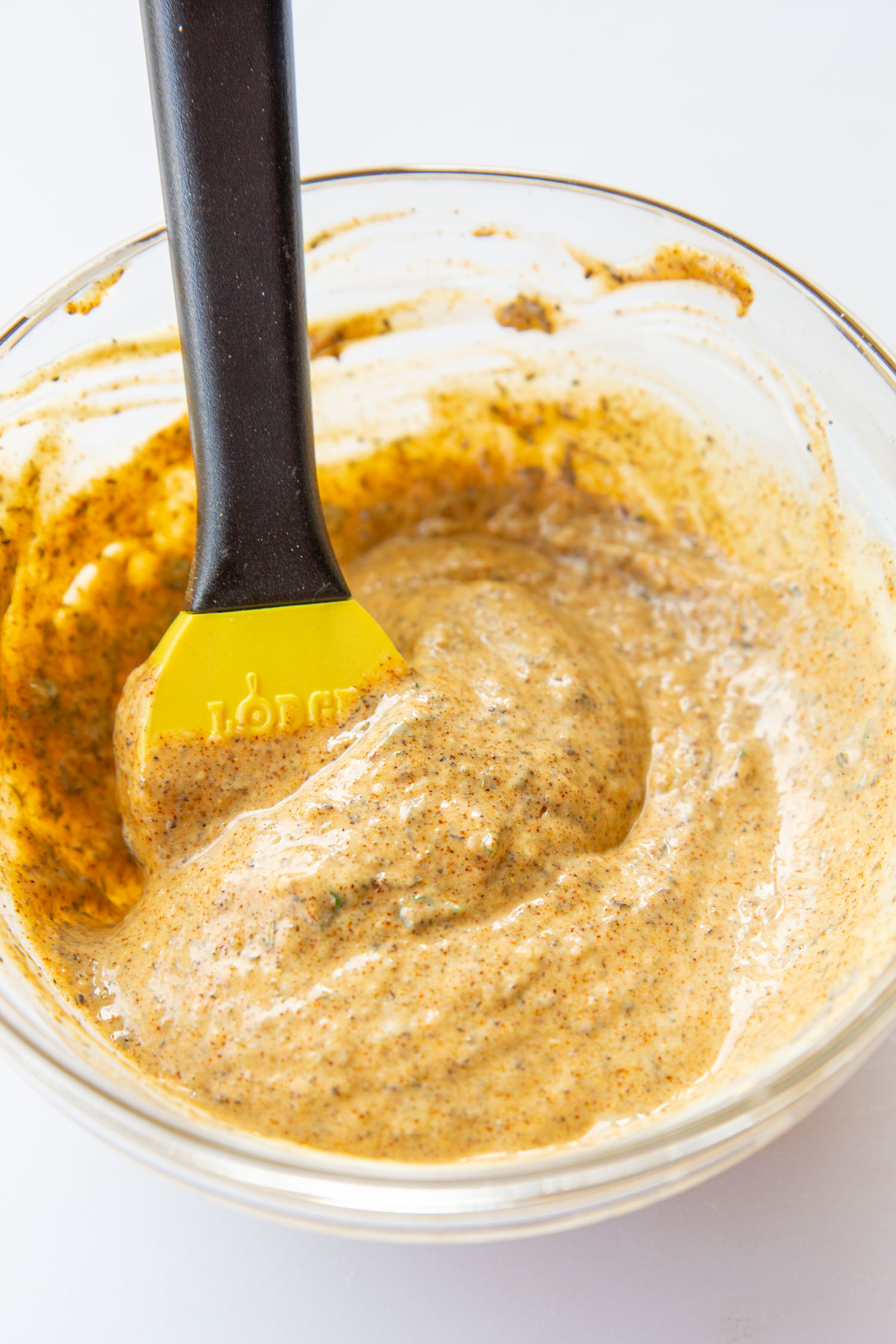 Why Margarine Spread?
Margarine spread is often used in competition barbecue for several reasons that can help solve our problem and add to the flavor of the entire bird.
It doesn't melt as fast as butter. Butter rapidly melts within the first 30 minutes of cooking. Large birds can be cooked for 5 hours, which means the majority of your flavorings are gone before 1/10 of the cooking is completed. No wonder most turkeys are flavorless! Margarine locks the flavors in place, where they can infuse herbs and salt into your meat for hours.
This butter actually does glide on smooth like paint, and it's a great carrier oil for the garlic and spices in this recipe. It's really easy to whip up straight from the refrigerator instead of waiting hours for butter to soften into the perfect consistency…not too cold, but not warm enough to melt.
Imitation butter flavoring in butter spread often tastes more buttery than actual butter. That's why it's used in competition cooking and baking. That amped-up flavor turns any turkey into a butter turkey.
And if you have any more concerns, it's 1/3 cup in the entire dish and margarine products with no trans fats are now available.
So, now that you're on board. Let's get started!
How To Make Compound Butter For Turkey
In a small bowl, add the squeezable margarine and all of the dried spices. I use fresh garlic pressed through a garlic press to get the smallest bits of garlic as well as the garlic juice. A great way to do this is to press it right into the bowl and shake it in, scraping the garlic out of the press.
Last, on a clean cutting board, chop up any fresh herbs you'd like to use. As a general rule, the traditional herbs used in Thanksgiving recipes are always excellent and those are sage, rosemary, thyme, and parsley. If you want to get creative you can also include a tablespoon or so of lemon zest or orange zest, and a dash of cayenne pepper is always nice for a kick.
Mix very well with a small spatula and you are ready to paint! You'll need a silicon basting brush like this one.
How To Apply Compound Butter To A Raw Turkey
A frozen turkey must be defrosted fully before beginning the application of the compound butter. Pat the turkey dry with paper towels and place on a baking sheet (if you will be placing the turkey in a smoker) or directly on the roasting rack, inside a roasting pan, if you will be cooking in an oven.
Breast side up, paint the outside of the turkey with the seasoned butter mixture applying the most to the breast and legs and getting just a bit of spread into the crevices.
Depending on the size of your turkey, you may make a little more herb butter or less, and you'll find it's very easy to squeeze in a bit more if you need to stretch the recipe.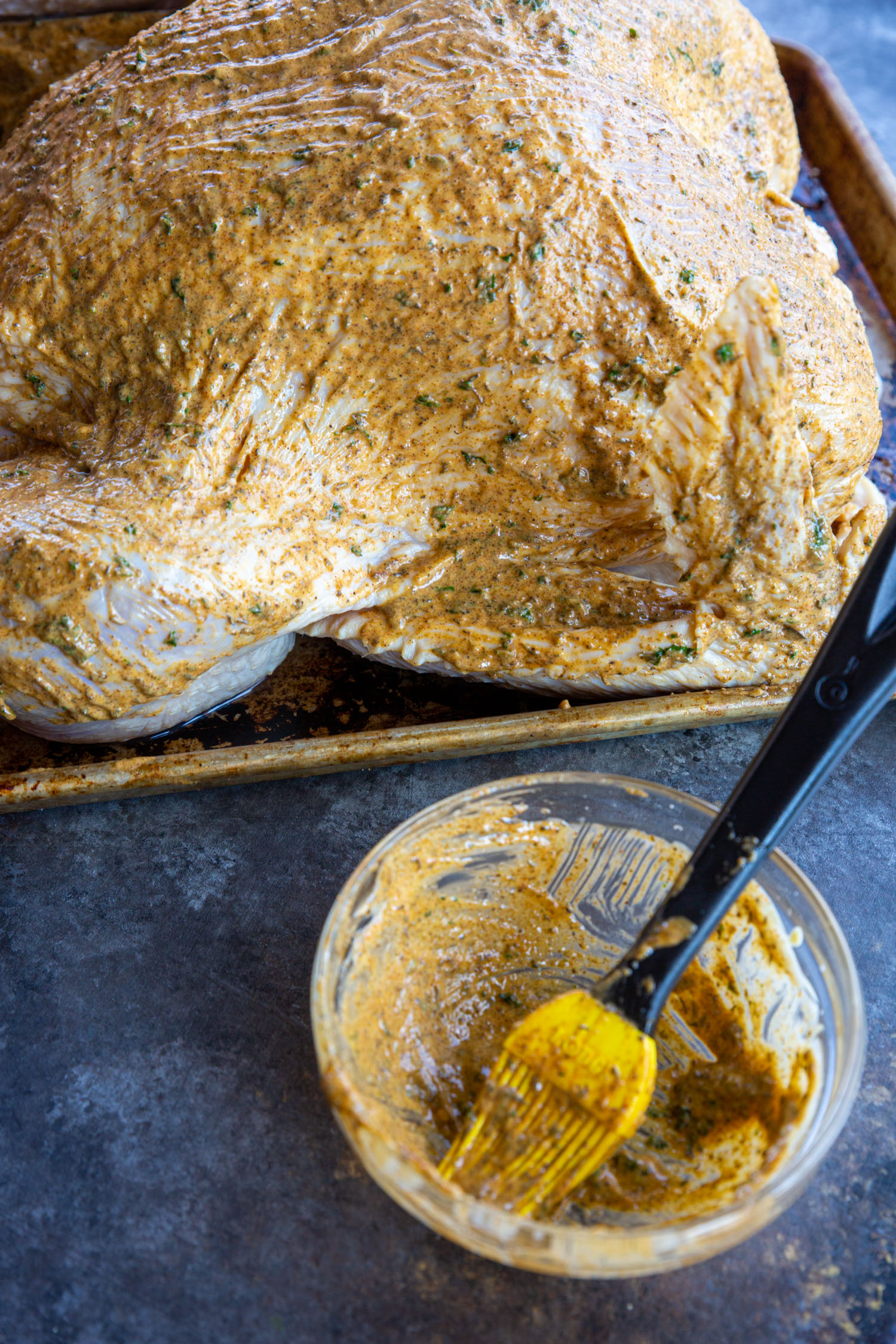 It's not necessary to add any compound butter to the inside of the cavity of the turkey. Add a probe thermometer into the thickest meat of the breast of the turkey for accurate readings.
At this point, you are ready to transfer the turkey to the preheated oven or barbecue smoker. Specific details for cooking are given below in the recipe card.
Here is the final look!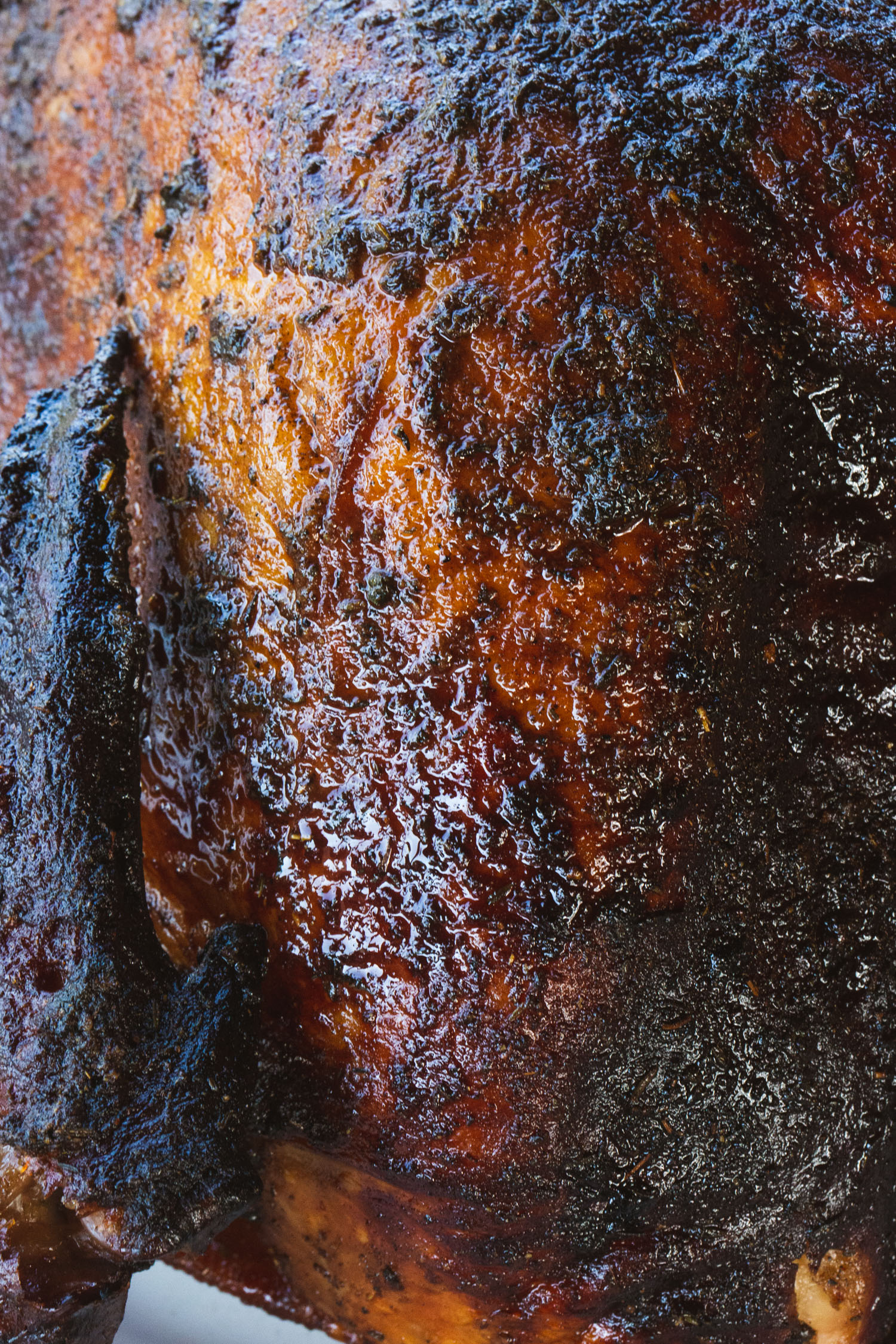 Yield:

1/3 cup
Compound Butter For Turkey (Turkey Paint)
This secret compound butter hack creates golden brown, juicy, and herb-encrusted skin that really gives the turkey presentation a professional touch!
Ingredients
1/3 c. squeezable margarine, such as Parkay (see note about using softened butter)
1 teaspoon dried thyme
1 teaspoon kosher salt
1 teaspoon poultry seasoning
1/2 teaspoon black pepper
1/2 teaspoon paprika
2 teaspoon fresh minced garlic (3-4 cloves)
2 t. fresh herbs such as parsley, chive, or rosemary, etc.
Instructions
Making The Compound Butter:
In a small bowl combine the squeezable margarine, and all dried herbs and spices.

The best way to combine the garlic with the compound butter is to place the garlic cloves through a garlic press and squeeze directly into the butter mixture. This allows you to catch some of the garlic juice and capture that flavor. If a garlic press is unavailable, mince the garlic with a pairing knife as small as possible and add to the mixture.

Take any fresh herbs you like (or that go with other Thanksgiving dishes or side dishes) and chop them very finely. Add about 2 teaspoons to the butter. (In the photo I used fresh parsley.) Stir well.

You will need to start with a fresh (not frozen) raw turkey. Pat dry with paper towels. Tuck wing tips back if you prefer that look. Make sure that the giblets and turkey necks, or any packaging are removed from inside the neck cavity.

Using a basting brush, paint the compound butter onto the skin of the turkey. I did not really do the very bottom of the turkey because it will immediately drip off. Start with the turkey breast and work down past the breast meat all along the turkey skin to the legs and wings.

Directions Below for Roasted and Smoked Turkey Options:

For Roast Turkey Recipe, preheat the oven to 350 degrees and place turkey breast side up on a roasting rack in a large roasting pan. Insert a meat thermometer into the thickest part of the breast and cook until the turkey reaches an internal temperature of 165 degrees, about 13 minutes per pound. If you don't have a roasting rack, simply fashion a rack using aluminum foil to elevate the bird off the roasting pan for better air circulation.

Most turkey cooks between 2 1/2- 4 1/2 hours, depending on the size (which can be calculated using the formula above). For very small birds (8-12 pound turkey) it is recommended to lower the oven temperature to 325 degrees, and the cooking time will be in the range of 2 3/4- 3 hours. Rest 30 min- 1 hr before carving.

For Smoked Turkey Recipe, preheat your pellet grill or smoker to 250 degrees.

Insert an instant-read thermometer into the thickest part of the breast meat (or some people prefer to probe in both the breast meat and the thickest part of the thigh).
We smoke the bird for about 2 hours before spritzing with PINEAPPLE JUICE. This allows the turkey paint to adhere into a nice coating. You can spritz with any type of liquid but we recommend pineapple juice for a little sweetness.
Spritz lightly only 2-3 times during smoking to avoid disturbing the look of the "turkey paint" which will develop into a beautiful and flavorful coating for your bird.
Smoked turkeys take about 30-40min per pound. Rest 30 min- 1 hr before carving.

Notes
For those who do not want to use margarine, unsalted butter, may be used in this recipe as a traditional compound butter. Soften it to room temperature first and then begin the recipe.
Nutrition Information:
Yield:
12
Serving Size:
1
Amount Per Serving:
Calories:

47
Total Fat:

5g
Saturated Fat:

1g
Trans Fat:

1g
Unsaturated Fat:

4g
Cholesterol:

0mg
Sodium:

105mg
Carbohydrates:

1g
Fiber:

0g
Sugar:

0g
Protein:

0g
This nutritional information is provided as a courtesy as an estimate only. Consult with a dietician for precise estimates. This website makes no claims that the nutritional values listed are accurate.